Have you ever considered: Does sesame oil go bad if you have bought it in bulk? How long can you use it?
Recently sesame oil is believed to be an inevitable ingredient as well as a helpful medicine. This is the result of its potential benefits and wide applications. It's no surprise to have more and more sesame oil-based products.
Unlike others, premium sesame oil for cooking brings me a unique experience and incredible deliciousness in cooking. So most of my fried dishes are commonly added to it.
However, can it last forever? Keep reading, and you will gain more valuable sesame oil-related knowledge in this article.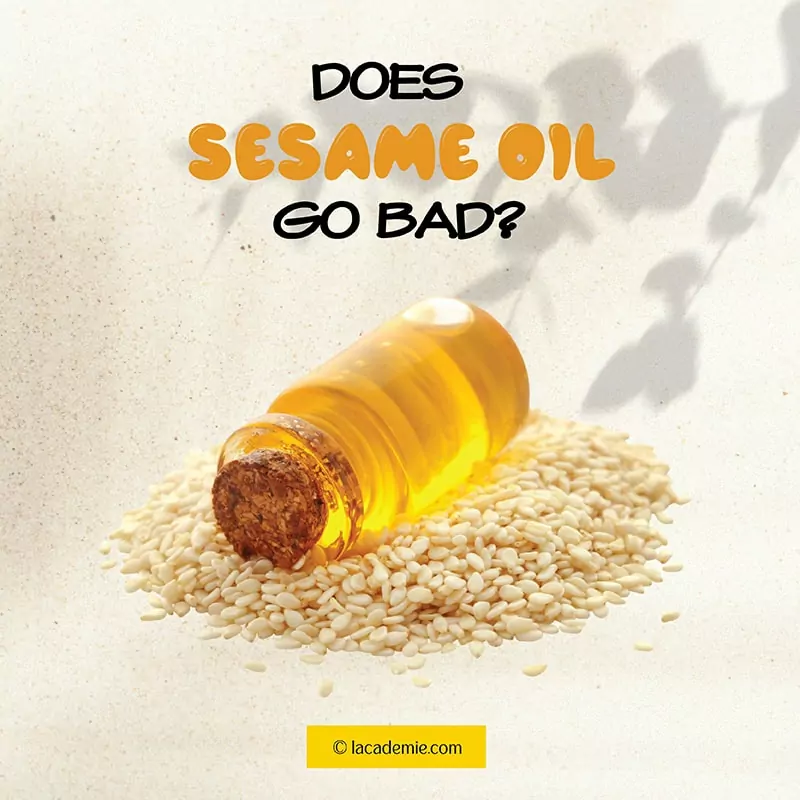 Does Sesame Oil Go Bad?
This is the most important part that you are possibly eager to read. Let's find out whether sesame oil turns bad.
The answer is yes. Sesame oil cannot last forever. It's safe to say that virtually all vegetable oils as well as their substitutes tend to go bad if you keep them for a long time at room temperature. Once this happens, the oil will turn a darker color, develop unpleasant odor, and have a similar taste to nail polish remover.
If you notice your sesame oil showing any sign mentioned above, please stop using it to make sure you are safe.
What Is Sesame Oil?
Sesame oil comes from the Pedaliaceae family, whose seeds are edible. Since it has a range of potential advantages and high nutritional qualities, it is usually called a "Queen of Oilseeds".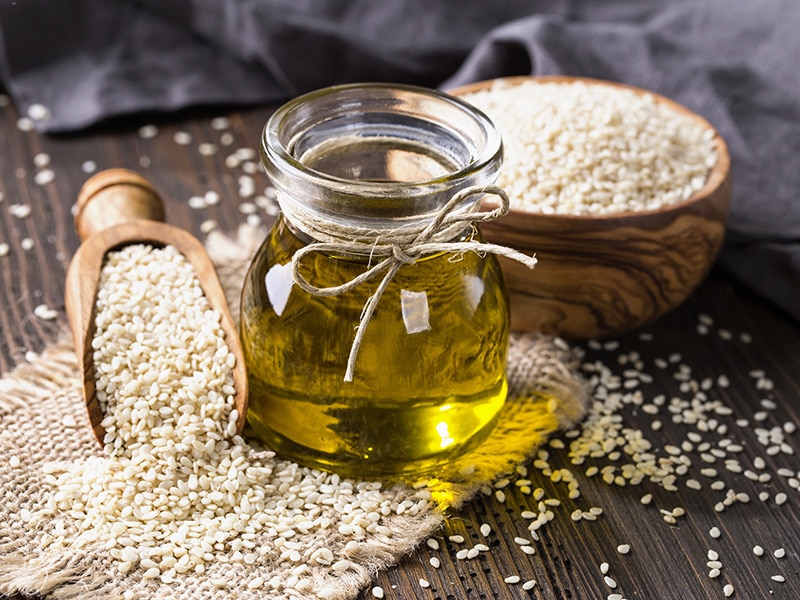 Sesame oil is another type of vegetable oil whose main material is sesame seeds. It is also a famous cooking oil in Asia because it can enhance food flavors and bring distinctive aroma tastes.
Besides cooking, sesame oil is used more frequently in medicine and cosmetic spheres based on its particular nutritional substances.
What Types Of Sesame Oil Are There?
In this part, I will help you to know more about the differences in sesame oil varieties. You can find them easy to separate based on my review below.
Sesame oil is divided into two types, including non-toasted and toasted versions. Both of them are commonly used in different recipes, though they differ in flavor and cooking uses.
More importantly, they are not interchangeable due to several succeeding reasons.
Non-Toasted Sesame Oil
Let's take a quick look at what non-toasted sesame oil is.
Non-toasted sesame oil is not as standard as toasted one. It is made from raw sesame seeds. Then, they are pressed at a high temperature to release their oil. The resulting oil which is made from this process is called white sesame oil or plain sesame oil.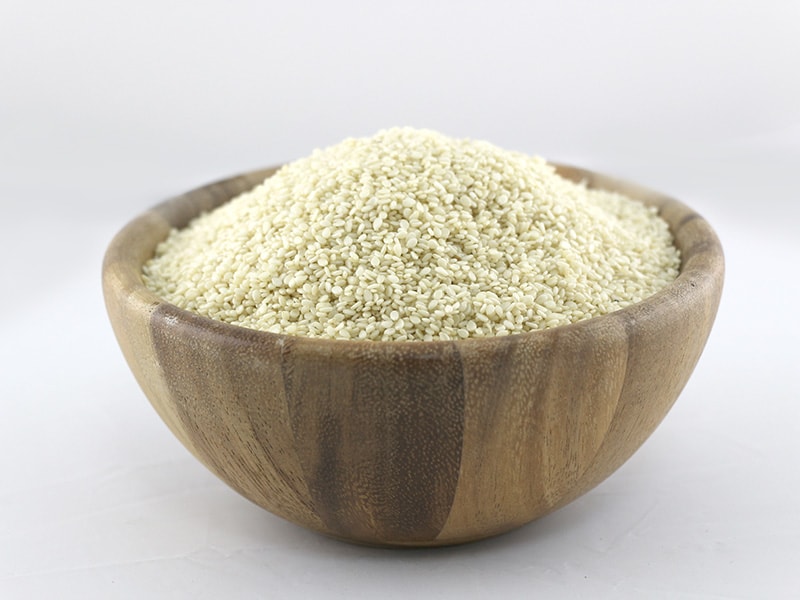 By contrast, sesame seeds which are probably crushed and extracted into oil at room temperature, are called cold-pressed sesame oil.
This type is considered to be used more because it is made without using heat. Another benefit is likely to retain sesame oil nutrition which may be affected by high temperature.
Untoasted sesame oil has a lighter color, milder flavor, and less nutty. Sometimes, it has almost no color, neutral flavor, and less aroma. And because of its special characteristics, it's used as cooking oil rather than marinades.
While you can use plain sesame oil as cold sauces, vinaigrettes, or dressings, cold-pressed sesame oil is typically added in various dishes in place of salad oil or walnut oil. In fact, considering salad oi's definition, sesame oil is indeed a variety of salad oil.
Aside from the applications I mention above, sesame oil is also something you can use to replace shortening when you're in a pinch. Although these two might not look similar, they can be used interchangeably with a 1:1 ratio.
Toasted Sesame Oil
You are familiar with this type of sesame oil due to its popularity. You can easily see several bottles of regular sesame oil in every niche, shop, and grocery.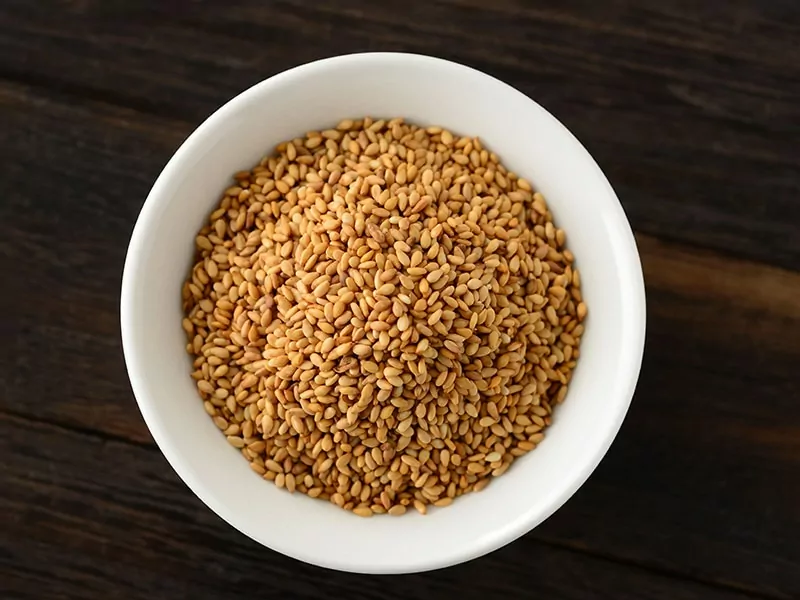 Most of the sesame oil is made of sesame seeds being toasted at a certain time. It has a deeper and darker color which is similar to the color of coffee or soy sauce. It also has a nuttier flavor and strong scent compared to non-toasted sesame oil.
Besides cooking purposes, toasted sesame oil can be used for seasoning or even added to finishing dishes to enhance flavor. So, it is also known as finishing oil in culinary applications.
You can see this oil in most Asian cuisines, especially in stir-fried dishes, marinades, and salad dressings. This type of sesame oil can be considered the best oil for air fryers.
Nutrition And Benefits Of Sesame Oil
You must be surprised to hear about sesame oil uses. And in this section, I will give you some noticeable advantages and nutritious substances of sesame oil.
Sesame oil is a well-known nutritious substance that contains 120 calories, 14 grams of fats, and is full of vitamin E within one tablespoon. Moreover, you will know why this cooking oil is necessary to your health through the list of benefits below.
Antioxidant content: Sesamol and sesaminol are two main ingredients in sesame oil that help you reduce cell damage and any related diseases.
Anti-inflammatory ingredients: The properties of sesame oil will give you strong power to avoid illness, joint inflammation, toothaches, and scrapes.
Reduce heart diseases: The richness of omega-3,6,9 fatty acids in sesame oil will bring you many significant benefits, especially it can reduce heart-related diseases and other risks.
Control blood sugar: You can regulate the blood sugar based on consuming sesame oil. More importantly, sesame oil is also beneficial to reduce diabetes.
Other benefits: Besides health benefits, sesame oil can help you to improve hair strength, heal burns and wounds, and relieve burn-related pains.
How Long Does Sesame Oil Last?
Similar to premium avocado, olive, corn, or top coconut oil, and even prime oil for popcorn, sesame oil has an expiration date. However, it should be better to know the life span of sesame oil.
Sesame oil is promoted to use before the best-by date. This does not mean sesame oil will go bad if you leave it after the expiration date, though the texture and quality of sesame oil may change.
Regarding the shelf life, toasted sesame oil tends to go rancid more quickly than sesame oil is made from raw sesame seeds regardless of the heat. On the other hand, the toasted ones, which are wrapped well, can last up to 1.5 to 2.5 years, which is longer than the pure sesame oil.
Hence the lifespan of toasted sesame oil not only depends on heat but also on the packaging.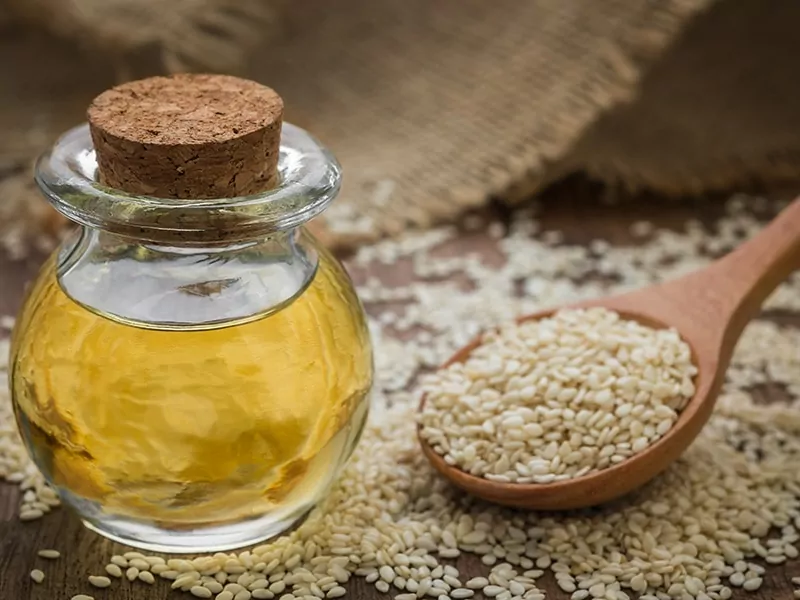 In addition, there are two conditions of sesame oil bottles that you may have on hand now. These are unopened and opened bottles of sesame oil.
It can last up to one year from the best-by date when it comes to unopened sesame oil. However, if you keep this oil longer, it is not safe enough to use. Even if you let it in the refrigerator, the quality of oil will be affected negatively.
On the other hand, opened sesame oil has a shorter shelf life. And the ideal time is six months if you store it at room temperature. This oil can last for one year in the fridge as well
The table below will help you use sesame oil correctly.
| Types | In the pantry | In the fridge |
| --- | --- | --- |
| Unopened sesame oil | 1 year | 2 years |
| Opened sesame oil | 6 months | 1 year |
Nevertheless, you should check your sesame oil, including sealed or unsealed ones. If there is any different change compared to the initial oil, stop using it. One more important thing is to have sufficient sesame oil. Oil tends to go bad if you buy it in bulk to use for a longer period.
Furthermore, what you need to know when examining your sesame oil will be mentioned in the next part.
How To Store Sesame Oil?
Although sesame oil is quite various, it should be preserved like other vegetable oils. And in this section, you will be supplied with proper and precise methods.
One of the best ways to keep sesame oil away from moldy substances is to keep it in good condition. Let me tell you some useful tips to prolong the sesame oil lifespan.
Purchase high-quality products. The quality of sesame oils is also the key factor in making sure sesame oil can last longer. Be wise and choose high-quality bottles of sesame oil for better uses.
Consider the packaging. With a larger size of sesame oil bottle, you can save more money. But it quickly turns rancid if you store it inappropriately. A clever choice is smaller packages, non-transparent, dark, green, or blue bottles to avoid heat and sunlight.
Refrigerate sesame oil. If you do not use sesame oil frequently, put it in the fridge. It probably keeps oils from rancid situations. This also retains the nutrients, color, and texture of sesame oil in a short time.
Keep sesame oil in dry and dark areas. It should be better to keep sesame oil away from sunlight that may harm the quality. Make sure your oil is far from heat sources.
Seal sesame oil tightly once opened. Since oil may become moldy by exposure to the air, you need to seal it tightly after each use.
Freeze sesame oil. Oil will become a consistent block that helps the inside texture unchanged and retain the quality longer.
Separate old oil with a new one. The older sesame oil may consist of various things while cooking. Try not to mix them if you do not want to throw the whole bottle of oil.
How To Tell If Sesame Oil Is Bad?
Let's take a closer look at how to tell ì sesame oil is bad. If you notice any sign mentioned below, it's time to toss the spoiled product away and consider getting an alternative for sesame oil. Now, some popular signs below will help you ascertain if your sesame oil has gone bad.
Label List
You can base each label on the bottle of sesame oil to check its best-by date. In case your oil is beyond the given date, you should not use it. This is the most common way to know whether sesame oil goes bad.
Smell And Taste
Sometimes, unopened sesame oil can last up to 2 years. You can examine its odor and taste. If there are any unpleasant smells and flavors, please discard the whole bottle of oil. It is not good for your health if you try to consume rancid sesame oil.
Color
In addition, the color of sesame oil can help you know whether it is still suitable to use. It tends to fade away, and oil starts to rancid faster if exposed to air, heat, sunlight, moisture, and humidity.
By contrast, if you leave sesame oil without using it for a long period, the color of the oil will become darker compared to the original one. This is another sign that sesame oil has gone bad.
Mold And Sediment
In this tip, you can easily see mold, fungi, or even sediment inside and bottom of oil bottles. It should be better to have a new bottle of sesame oil for quality purposes.
However, it's quite hard to see mold in the whole bottle of sesame oil, even if it turns bad in both quality and color.
Anyway, you should double-check or apply more than two given signs to make sure your sesame oil is good.
6 Uses For Rancid Sesame Oil
Are you concerned about the other purposes of rancid sesame oil? In the last section, I will give you some bonuses to reuse sesame oil which has gone bad.
What would you do with sesame oil which became worse? Do not hurry to waste ruined sesame oil. Although it cannot be used in cooking, it is likely to be applied in other applications. Let's find out what rancid sesame oil can do.
Here are some common functions of rancid sesame oil.
A lubricant and rust prevention. This rancid oil can be used as a lubricant and rust substance. You can apply it in cleaning or fixing squeaky hinges, tools, and household appliances.
Lamp oil. You will save a huge budget if you replace regular oil with rancid sesame oil. Fulfill this oil to lighten your space.
Conditioning and polishing. You cannot imagine that bad sesame oil can polish and restore the appearance of your wood furniture. It would be better to mix this oil with vinegar for higher productivity.
Remove paint. This function of unused sesame oil will be a huge benefit to you. Significantly, you will not worry about removing paints from your hands while painting.
Car cleaner: Oil can be used to get rid of any debris and tough dirt on the surface of cars. You can add sesame oil to a soft rag or towel to clean cars easily.
Good for animals. Although rancid sesame oil has a strange odor and unwanted ingredients, it is still suitable to feed animals. It can protect pets' fur, skin, and coats without any harmful influences.
Fast Facts About Sesame Oils
Under some special circumstances, sesame oil can be extended for a longer-term if it is preserved properly. You can keep your oil in a cool environment to prolong oil lifespan.
Besides, sesame oil probably becomes bad unless you place it near the microwaves, stoves, or some areas where the temperature is high. The color is likely to become lighter and disappear. This means both taste and aroma will be affected.
Moreover, the leftover sesame oil or used once or twice has a risk of health. These oils may contain unexpected stuff while cooking or remaining sediment, which possibly leads to changes in texture and oil quality.
There's no doubt that the more you pick high-quality sesame oil, the better your health is. In other words, choosing the best sesame oil is an ideal way to lengthen the expiry date and protect your health from diseases.
FAQs
Here are some frequently asked questions that I have collected from most-searched matters. I hope they will be beneficial to you.
What Is Your Purpose?
Before starting to use sesame oil, you should consider what your purpose is. And this part will provide you with chances to express your opinions.
Sesame oil is multi-functional vegetable oil. It becomes popular not only based on its varieties but its potential benefits. So, you may have several available bottles of sesame oil in the kitchen through a sale-off campaign or a large reduction while buying in bulk.
But you should keep an eye on their expiration date. Depending on your purposes, it should be better to have enough sesame oil. This helps you to retain its quality and texture.
After reading all my guidelines, have you ever seen rancid sesame oil or even tasted without awareness about it? And do you have any tips for reusing ruined sesame oil?
If you have a remarkable experience with sesame oil, do not hesitate to share with me via comments.