"How long does vegetable oil last" is one question you may ask sometimes. For example, you forgot a vegetable oil bottle in the kitchen cabinet, and now it runs out-of-date! So does your vegetable oil go rancid, and whether should you continue to use it or not?
If this is your case, let's go right into this post with me cause you are in the right place! I will let you know what you should do with that vegetable oil bottle and bonus some valuable tips to preserve your oil as long as you can.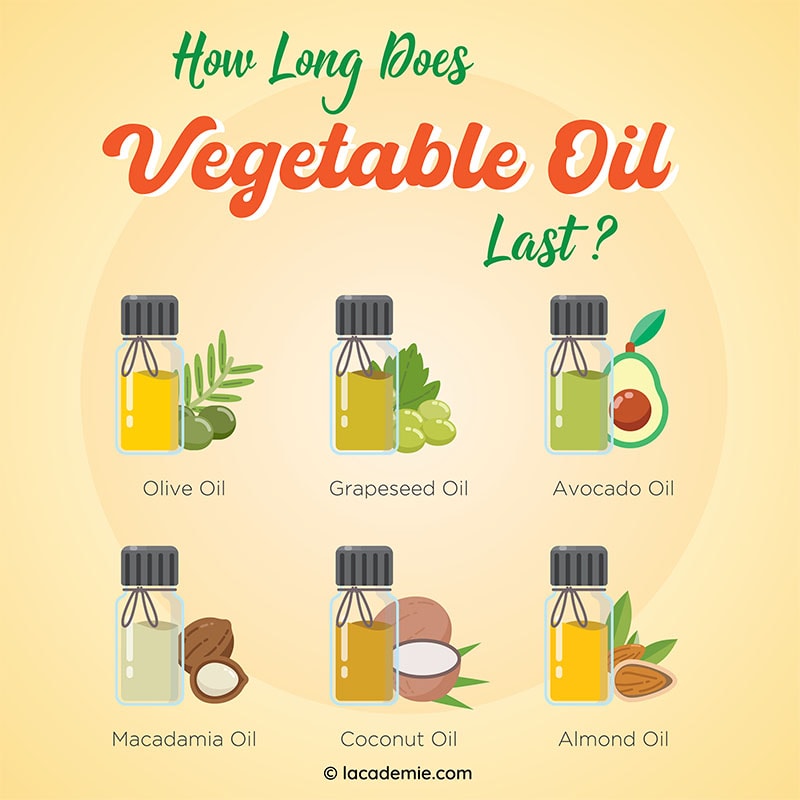 Definition of Vegetable Oil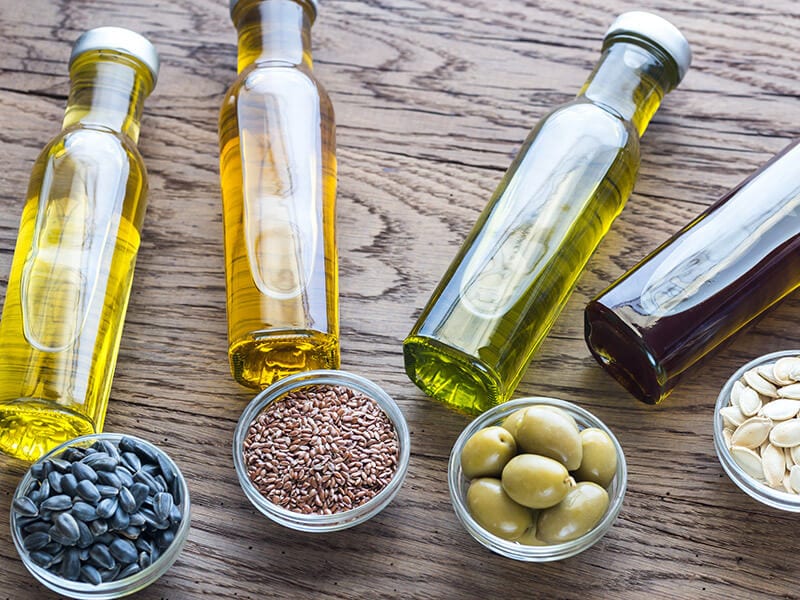 Vegetable oil is a broad term indicating vegetable-based cooking oil. In other words, vegetable oils are oils extracted, distilled, and refined from plants, seeds, or other components of fruits (1).
It is a subtype of cooking oil, and not every sort of cooking oil is vegetable oil. However, you can use those expressions interchangeably since most cooking oils are vegetable oil with a plant base.
Besides, not all vegetable oils are liquid under environmental conditions. They are usually clear yellow or white. Most of these oils are beneficial to human health and are commonly used with food.
How Long Does Vegetable Oil Last?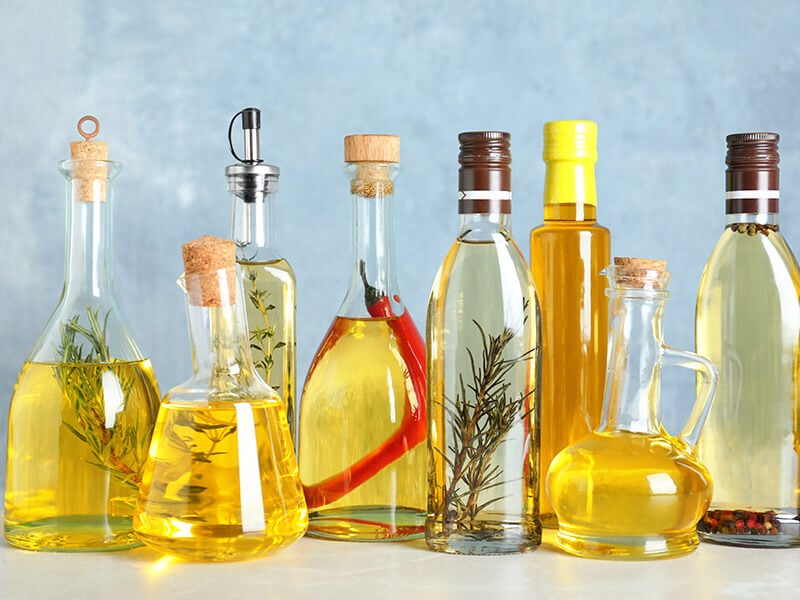 There are a lot of kinds of vegetable oils made from different veggies. Nevertheless, you can refer to the shelf-life chart below to see the difference between these vegetable oils:
| Vegetable Oil's Shelf-life | Pantry (Unopened) | Pantry (Opened) | Fridge (Unopened) | Fridge (Opened) |
| --- | --- | --- | --- | --- |
| Almond Oil | 12 Months | 6 Months | 2 Year | 1 Year |
| Avocado Oil | 9-12 Months | 6-8 Months | 1 Year | 9-12 Months |
| Canola Oil | 2 Years | 1 Year | 2 Years | 1 Year |
| Coconut Oil | 2 Years | 1-2 Years | N/A | N/A |
| Corn Oil | 1 Year | 1 Year | 1 Year | 1 Year |
| Cottonseed Oil | N/A | N/A | 6-12 Months | N/A |
| Grapeseed Oil | 3 Months | 3 Months | 6 Months | 6 Months |
| Hazelnut Oil | 1 Year | 3 Months | 1 Year | 9-12 Months |
| Macadamia Oil | 2 Years | 2 Years | 2-3 Years | 2-3 Years |
| Olive Oil | 2-3 Years | 2-3 Years | N/A | N/A |
| Palm Oil | 1 Year | 6 Months | 2-3 years | N/A |
| Peanut Oil | 3 Years | 2 Years | 3 Years | 2 Years |
| Pecan Oil | 2 Years | 6 Months | N/A | > 6 Months |
| Sesame Oil | 1 Years | 6-8 Months | 2 Years | 2 Years |
| Safflower Oil | 2 Years | 1 Year | 2 Years | 1-2 Years |
| Soybean Oil | 1 Year | N/A | N/A | 6-12 Months |
| Sunflower Oil | 2 Years | 1 Year | 2 Years | 1-2 Years |
| Truffle Oil | 1 Year | 4-6 Months | 1 Year | 6-8 Months |
| Walnut Oil | 1 Year | 3-4 Months | 1 Year | 6-8 Months |
Each type of vegetable oil can have an unequal shelf-life. However, their shelf life can be considered quite similar.
If your unopened vegetable oil is appropriately stored, its shelf-life can be prolonged to 2 years and even longer. Vegetable oil often retains the excellent quality for a few months after the best before date, maybe 4 to 6 months, depending on how you store it.
Once opened, the vegetable oil will continue its normal condition for at least one year. And most vegetable oils will last longer in the fridge, although there are some kinds of oil you should not freeze.
Should you fail to store your vegetable oil properly and it goes bad, toss the spoiled oil away. Find something else to substitute your vegetable oil. Don't risk using rancid oil, as it might pose many food hazards.
Valuable Tips To Keep Your Vegetable Oil Fresh Longer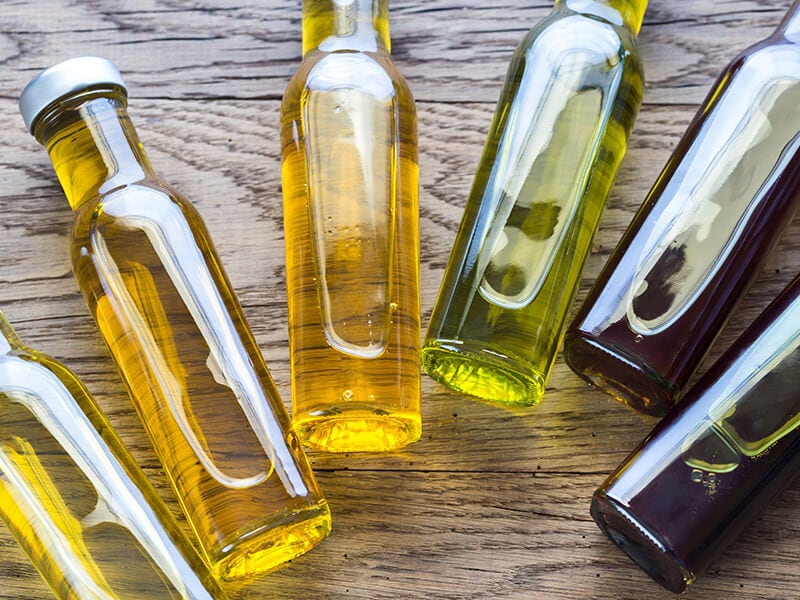 So, to prevent the rancid and spoilage process as long as possible, you must preserve your vegetable oil in the proper condition:
Store your vegetable oil in a cool and dry place such as a pantry, kitchen cabinet, cupboard, etc. You should keep it away from any heat source and direct light.
Once your vegetable oil bottle is opened, you must ensure to close it tightly after using to prevent air and other harmful agents from reaching the oil inside the bottle. The air-tight condition will partially prevent oxidation and keep your oil from being disqualified.
To keep your vegetable oil fresh for longer, you can consider storing it in the fridge. Just remember that the cold environment will cause your oil to crystallize and become cloudy, so you need to warm it up to get rid of those solid blocks before using.
If you find this problem too inconvenient, try to extract your vegetable oil into a smaller refill bottle and store the whole remaining oil in the fridge. Keep the smaller ones in your kitchen cabinet and refill them when it runs out.
Keep your vegetable oil properly for the most extended lifespan!
Will Your Vegetable Oil Go Spoiled?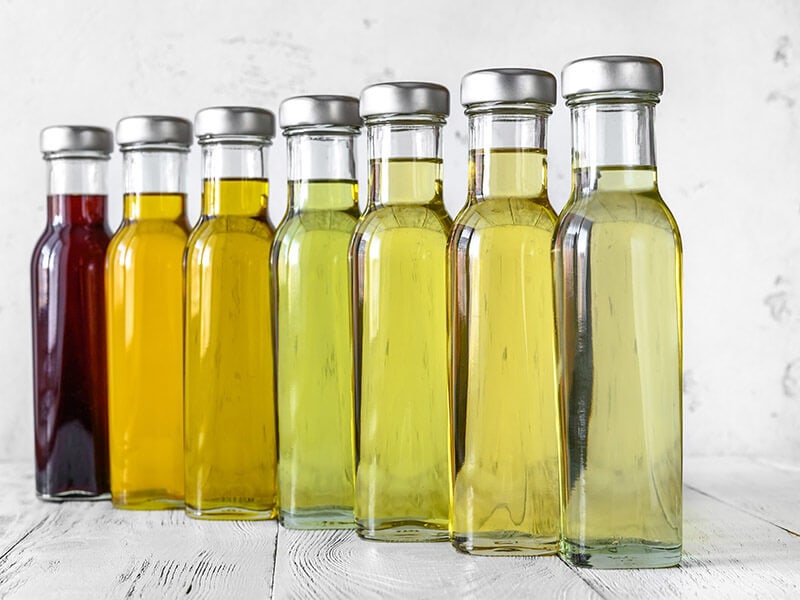 Throughout time, the flavor of your vegetable oil can change more or less. The oil may become rancid gradually, and you may not be so glad about this taste, especially when you eat it directly without cooking as a salad dressing.
Rancidification is the chemical process when the fat molecules break down. Once you open the bottle, this rancidification procedure will speed up since your oil is now exposed to air, light, and heat.
Some vegetable oils will go rancid faster than others due to their chemical structure. Therefore, it is worth paying attention to the specific characteristics of your oil and the storing method to slow down this process as long as possible.
A few months after the best before use date, the taste and smell of vegetable oil may change and not be ideal to consume anymore. However, no one can tell exactly how long you can keep your cooking oil after its date.
Therefore, instead of relying on the expiry dates, you would rather check the taste and texture of the oil directly for the correct answer.
Another worth noting is going rancid does not precisely mean going spoilage. Theoretically, you can still consume rancid vegetable oil if you are not sensitive to smell and taste.
However, for long-term health benefits, you should not. The rancid oil cannot make you sick right away, yet they have negative effects on your health over time. For that reason, you should notice when your oil really goes off to discard it.
Learn more about the oxidative rancidity happening in oil!
Signs Your Vegetable Oil Has Gone Rancid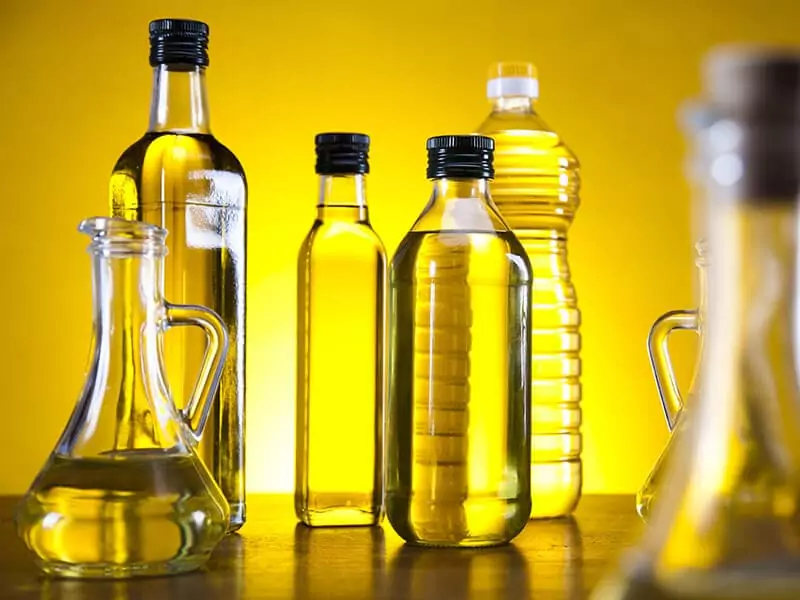 Vegetable oil goes rancid or spoilage as a matter of time, although you have stored it properly. There are some signs of spoiling you should notice to get rid of your rancid oil:
The Color
When the vegetable oil color becomes darker, it is a sign of rancid, and you should think of discarding it.
The Taste
If you taste your vegetable oil and notice a stale and unpleasant flavor, you should get rid of it. Instead of the light and neutral flavor, the spoiled taste can be sour, soapy, or harsh.
The Smell
Vegetable oil with an off odor is definitely rancid. This smell is somewhat like paint, crayons, metal, chemicals, and detergent-like, or it can be too harsh or too robust than the usual neutral taste.
The Mold
Mold is not a customary indication of vegetable oil spoilage unless the bottle is left in a moldy place for too long. If you find some mold or microbial growth in the vegetable bottle, you should definitely throw it away.
Other Signs
When you notice something else looks off, you can assume your oil is spoiled. You can test all the decomposition signals and decide whether you should toss out your oil or not.
Side Notes: Some bad signs may not indicate the decomposition. For example, crystallization or cloudiness appearing in the bottle is not necessarily a sign of damage. If your vegetable oil is stored at a cold temperature, these signs come up.
What happens when oil goes bad? Let's find out!
Does Used Vegetable Oil Go Bad?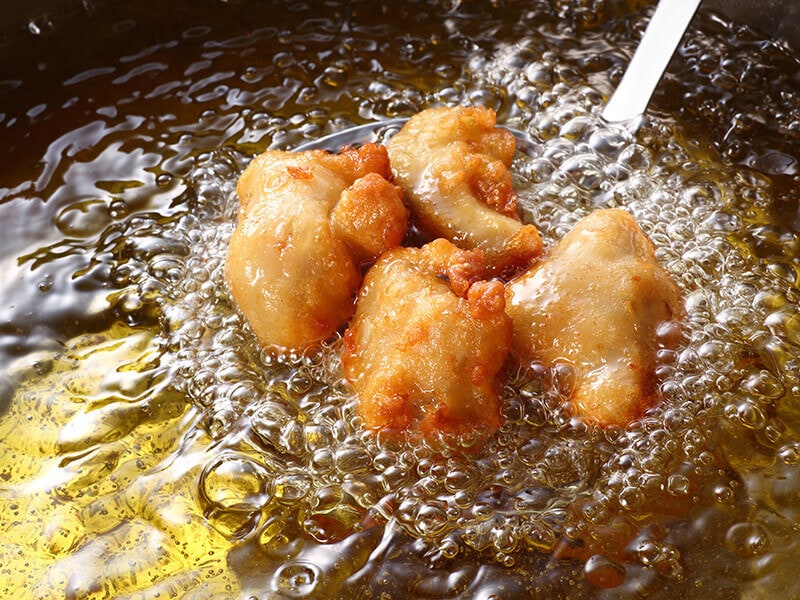 Vegetable oil is used primarily for cooking. Due to its high smoking point, it's the perfect oil for frying chicken and other foods. So cooking absolutely will not make it go bad! However, you know that overusing cooked oil is definitely not an excellent thought.
As I have said before, vegetable oil goes rancid quickly when exposed to oxygen, light, and heat. The cooking process contains all the favorable conditions for this rancidification process. It will speed up this process many times and disqualify your vegetable oil.
Furthermore, the polyunsaturated fats in vegetable oils are unstable, so they can be damaged after cooking. For that reason, whether your vegetable oil becomes bad after use or not, you better not reuse it over and over again (2).
Things To Keep In Mind When Reusing Vegetable Oil
If you are forced to utilize your vegetable oil in some cases, just remember the things below:
"Can I reuse cooking oil after frying chicken?" – is a question that many have. In short, you can. However, limit reusing cooking vegetable oil over and over again since it is not good for your health. You should reuse your oil a maximum of 2 or 3 times to preserve the flavor of your food and keep your health well.
The vegetable oil will absorb the taste of the food, so you should reuse it for similar or the same food. Hence, the taste of your food will not be affected by some unrelated flavor!
If your vegetable oil is combined with too many tastes, smells, or tiny pieces of the last cooking food, you should consider it "dirty" and get rid of it is the best way.
You should never mix fresh vegetable oil with used vegetable oil. This action will disqualify your new oil and not make your old oil any better.
What Are The Health Benefits Of Vegetable Oils?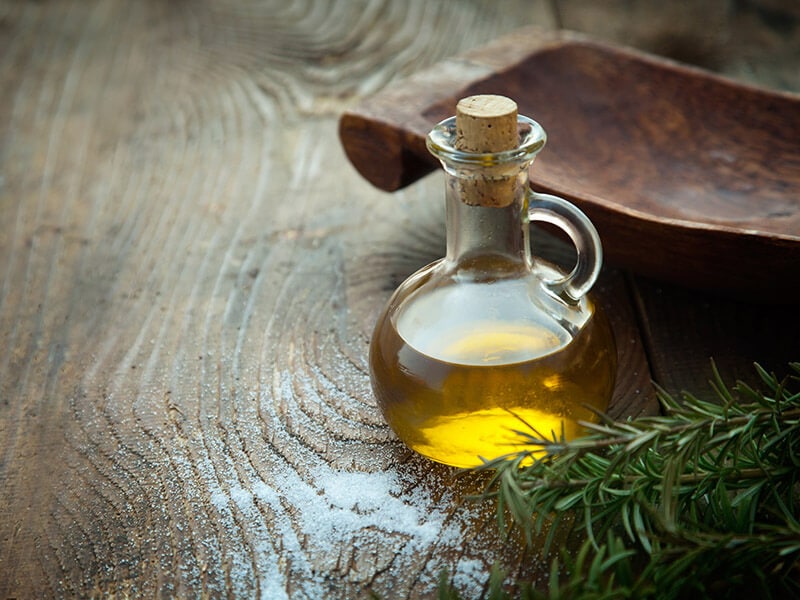 Vegetable oils not only help stir-fry, add flavor to dishes but also bring a lot of benefits to your health(3), such as:
Reduce Bad Cholesterol
Absorbing too much bad cholesterol will increase the risk of diseases caused by lifestyle habits such as atherosclerosis, high blood pressure, etc.
Vegetable oil is rich in vegetable fiber content, which is a component capable of inhibiting the absorption of this bad cholesterol.
Construct Body Structure
Fat plays a significant role in providing energy, ensuring smooth metabolic activities in cells, participating in building the body's structure: structure the cell membranes, support the development of brain, bones, vision, immune system, etc.
According to the recommendations of nutritionists, each adult should consume about 14g of fat per day. Vegetable oils are fats extracted from the nuts and seeds of trees and are considered a healthy fat source because of their balance of fatty acids and no cholesterol.
Trans Fats Free Content
Trans fats are often found in products made from animals, increasing the risk of coronary heart disease, type 2 diabetes, stroke, etc. However, you can safely use vegetable oil with complete peace of mind since they contain no trans fats.
Supply Energy
Carbohydrates, proteins, and fats are three groups of nutrients that are essential for maintaining life. While 1g of sugar or protein provides only 4 kcal, fat can bring up to 9 kcal. Thus, with only a small amount of fat, we can still get a large amount of energy for the body.
There are a few different types of vegetable oils used in cooking, such as sunflower oil, peanut oil, olive oil, and they are all good for health.
Rich Vitamin Content
Vegetable oils are all rich in vitamins, which are needed by the body for cell protection and growth. These vitamins bring a lot of benefits to our body, from improving the immune system to stimulating the digestive system. They also protect body tissues such as skin, eyes, breasts, testicles, and liver.
Provide Essential Fatty Acids
Vegetable oil contains large amounts of omega 3 and omega 6. This is a source of fatty acids that the body cannot synthesize on its own.
This group of fatty acids has the function of maintaining the vital activities of the body. The deficiency of any nutrient will cause developmental disorders, seriously affecting health.
Support Treatment of Acute Pancreatitis
Olive oil contains high levels of hydroxytyrosol and oleic acid, which may influence the development of acute pancreatitis. Components in extra virgin olive oil help prevent the risk of acute pancreatitis.
How to Use Vegetable Oil Properly In Cooking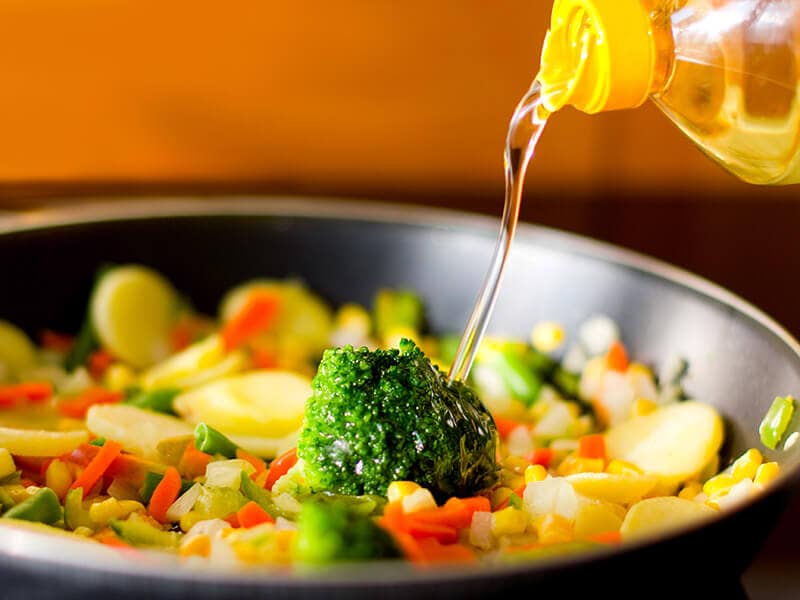 Vegetable oil is a necessary spice used daily to make dishes more attractive and nutritious. It has as many culinary uses as you can imagine. It also brings many health benefits, but only if you know how to use it properly.
The most critical thing you should note is that not all vegetable oils can be used for cooking at high temperatures. The reason is that too high a temperature can break down the beneficial fatty acids of the oil, causing loss of taste or making the dish contain more calories.
However, if all you need is a best-matched oil for making popcorn, then you'll have a lot of options available. In fact, you can even grab that bottle of olive oil in your house to whip up some tasty popcorn.
Therefore, you should carefully pay attention to the smoke point of each type of vegetable oil when cooking to ensure health benefits. The culinary uses of vegetable oils in food processing are classified as follows:
Used For High-Temperature Cooking
Vegetable oils such as refined olive oil, avocado oil, almond oil, sunflower oil will be suitable for deep-frying or pan-frying because of their ability to withstand high temperatures during cooking.
Used For Cooking At Medium Heat
Canola oil, pressed oil from small seeds (sesame oil, flaxseed oil), peanut oil, macadamia nut oil, extra virgin olive oil will be suitable for dishes that require low temperatures because their smoke point is not high.
Used To Cook Dishes At Very Low Or No Heat
Some vegetable oils, such as sesame oil, coconut oil, or pumpkin seed oil, should not be exposed to rising temperatures.
You can use these oils to blend salads, make sauces, dips, soups, marinate fish and meat, etc. They help you absorb well the vitamins A, D, E, K available in food, supplement essential fatty acids, and increase the taste of food.
Used For Suitable Recipes
Besides paying attention to the temperature when using vegetable oil, you should also choose the type of oil based on the specific recipe to create a suitably fascinating taste, such as:
For Asian dishes: You should use premium-grade cooking sesame oil, peanut oil, or almond oil.
For authentic Middle Eastern dishes: Olive oil or sesame oil would be appropriate choices.
For Mediterranean dishes: Using olives will be most appropriate.
For other dishes: In case you want a neutral vegetable oil that goes well with any dish, you can use avocado oil, canola oil, grapeseed oil, sunflower oil, etc.
FAQs
There is much more information around vegetable oil and its shelf life that you can discover right below:
Store Vegetable Oil Properly for Maximum Longevity!
By now, you know how long your vegetable oil will last, and it does go bad after time. You can use it a couple of months after the best before date if you have preserved it well. Just buy some new bottles when you notice its changing taste and rancid sign.
Always keep in mind that good health is the most important. Don't be sorry for a bit of oil that affects your long-term health. Share this post so anyone will acknowledge the shelf life of vegetable oil types and leave a comment about your experiences with vegetable oil lifespan!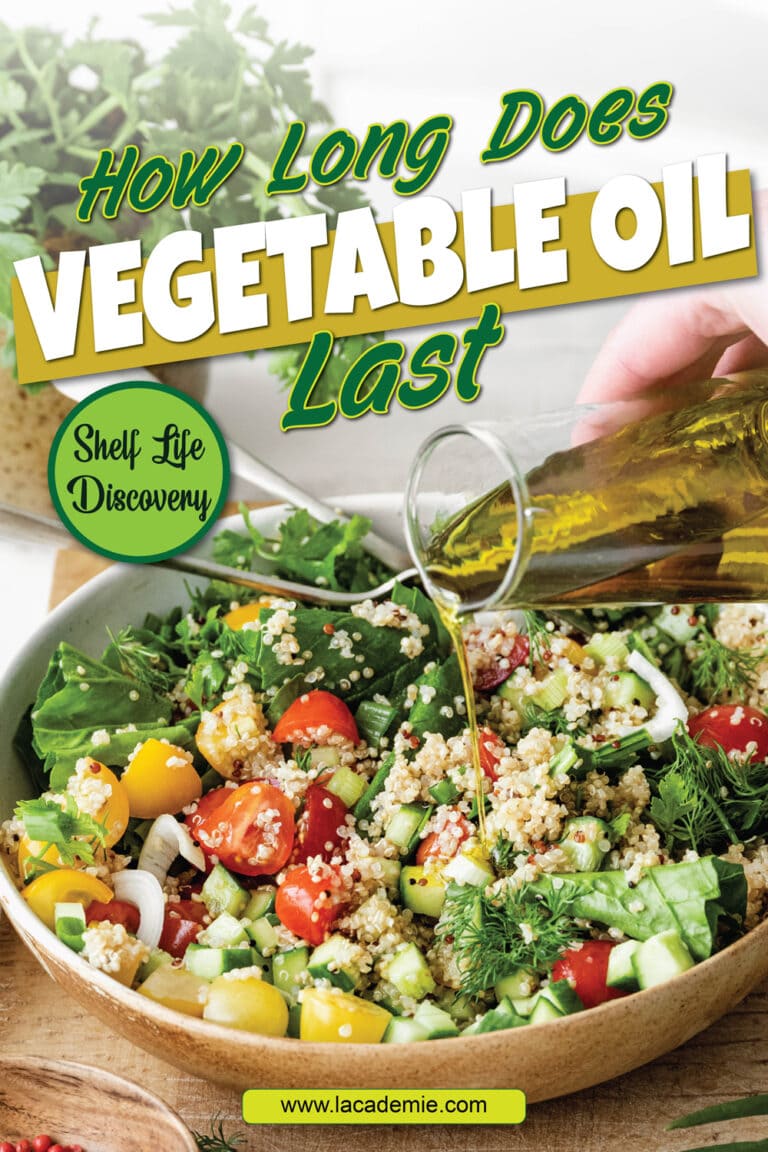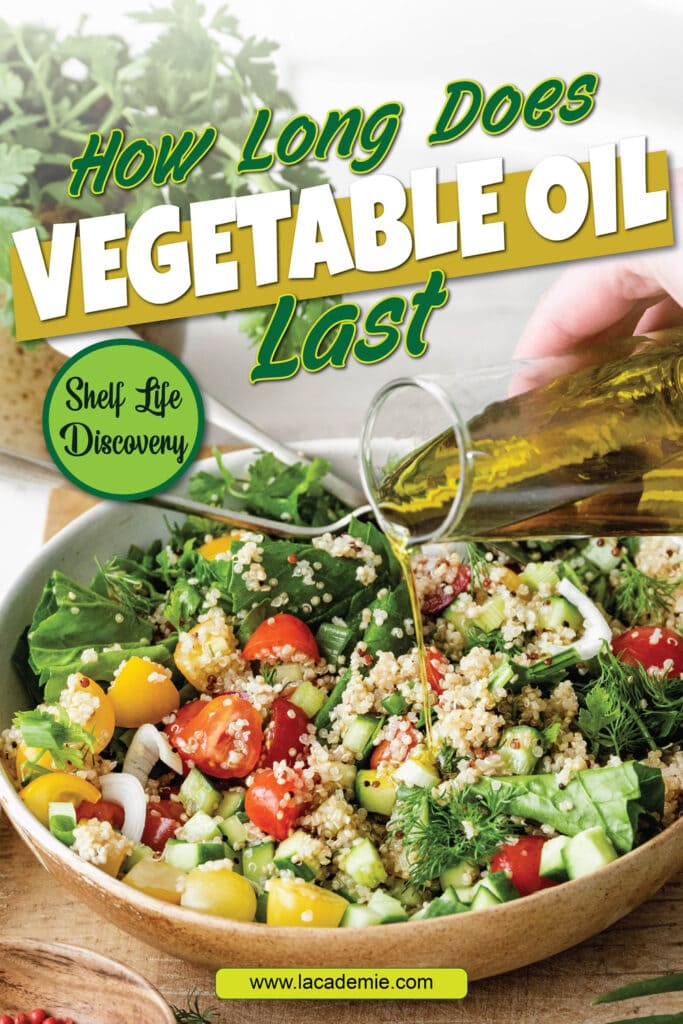 References
1. En.wikipedia.org. 2021. Vegetable oil – Wikipedia.
2. Harper's BAZAAR. 2021. Are the Oils You're Eating Ruining Your Diet?.
3. Healthline. 2021. Are Vegetable and Seed Oils Bad for Your Health?.