"Can coconut oil go bad?" If you're relatively new to cooking, perhaps answering this question is not that easy. After all, questions like "Will sesame oil get rancid" or "Should peanut oil go bad" and "Can coconut oil get spoiled?" are not simple matters.
So, let's find out about the shelf-life of this commonly used vegetable oil and its shelf-life. After this article, you'll be able to properly store this oil extracted from the flesh of the mature coconut. And of course, answering the question "Can coconut oil go bad" will become easy as pie.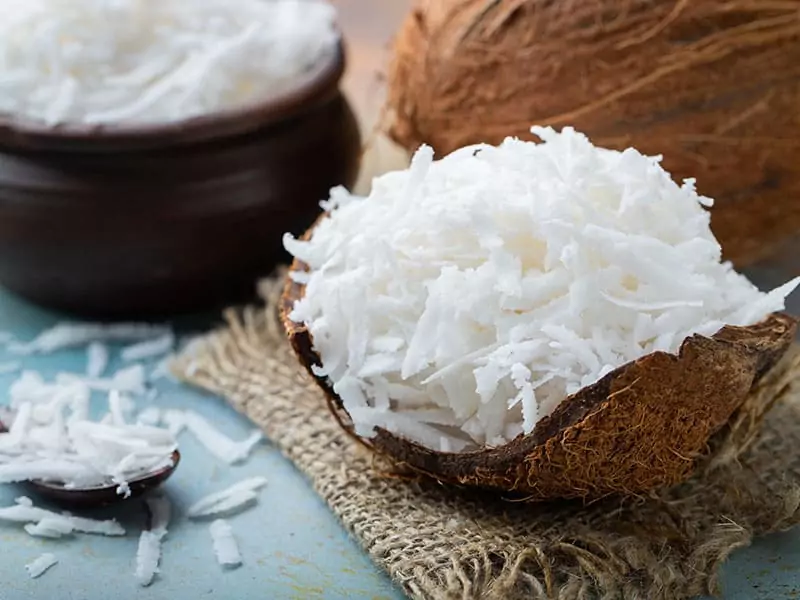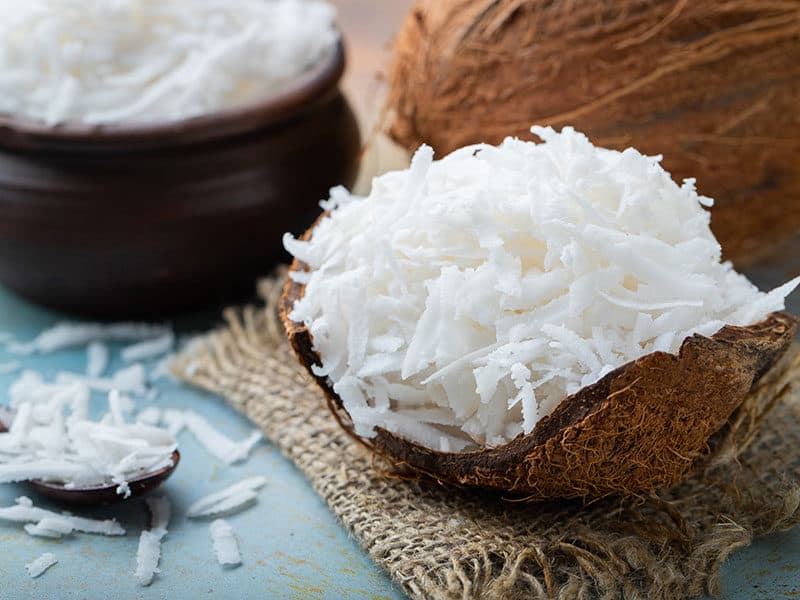 The oxidation of coconut oil is slow, and it can be stored for long periods. However, just like any other food, coconut oil has a shelf life, and it can spoil before this due to a variety of reasons.
In this article, I will show you the causes of coconut oil to go rancid and how to keep coconut oil for a long time. Let's keep reading.
Types Of Coconut Oil
While coconuts have a diverse range of species, coconut oil only has two types : refined and unrefined. And each has its advantages and disadvantages.
Refined Coconut Oil
Refined coconut oil is made entirely from copra, and the drying process produces impurities, so it must be bleached and treated to prevent bacteria. Then, coconut oil is treated with a high-heat process to extract the aroma and flavor.
Refined coconut oil pairs well with salads. And if you can define salad oil, you'll notice that coconut oil possesses pretty much all the salad oil's defining characteristics.
Although not all, many manufacturers may use chemicals to extract as much oil as possible from coconut meat or add sodium hydroxide to extend shelf life. Refined coconut oil is sometimes partially hydrogenated, creating trans fats.
Unrefined Coconut Oil
The unrefined coconut oil is called "pure" or "virgin" coconut oil, and you can find these words on the product.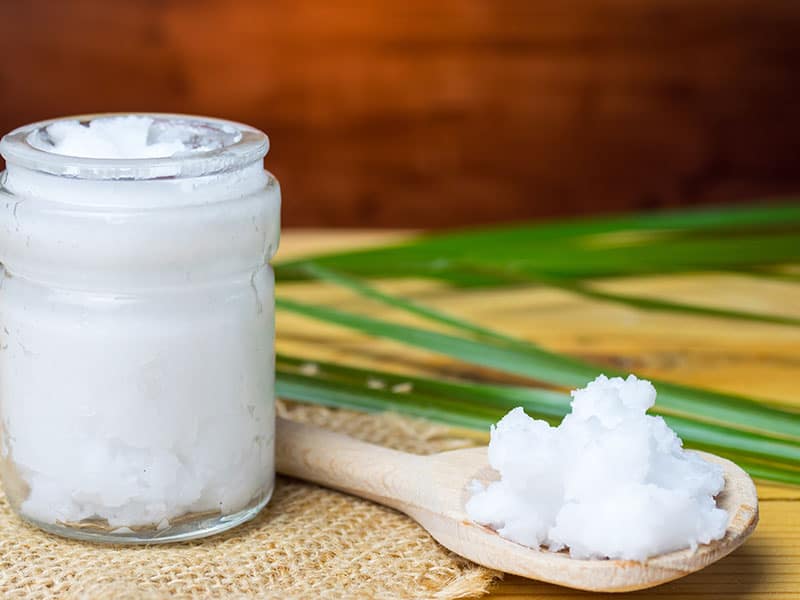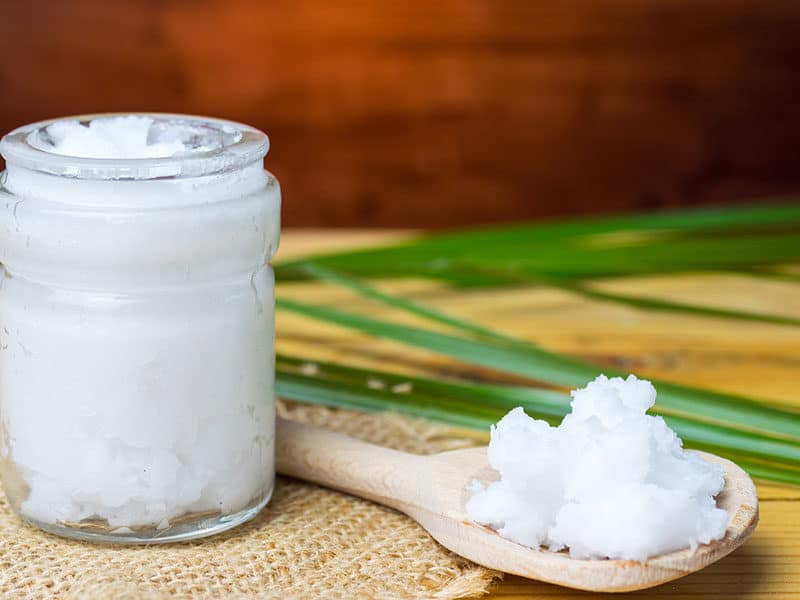 It is made from fresh coconut meat using a quick-drying method or wet crushing and drying, and then press the oil out by mechanical force. The coconut meat is processed into coconut milk, then boiled, filtered, or fermented, and separated by a catalytic enzyme or centrifuge.
Thank the rapid production process, coconut oil does not contain additives or bleach, and it also retains more coconut flavor as it does not process with high heat.
Unrefined coconut oil is the healthiest choice for food or beauty because it contains no chemicals and has not been hydrogenated, so it contains less trans fats than refined coconut oil.
Uses Of Coconut Oil
Coconut oil is a popular product, has many health benefits, and is used for a variety of purposes such as cooking to make the dish more attractive and flavored and can be used for beauty care or medicine.
Additionally, coconut oil is one of the best ingredients you can use to substitute shortenings. Coconut oil's applications don't just stop there. It's also a fantastic alternative for cocoa butter. Aren't you amazed by how versatile and flexible this oil is?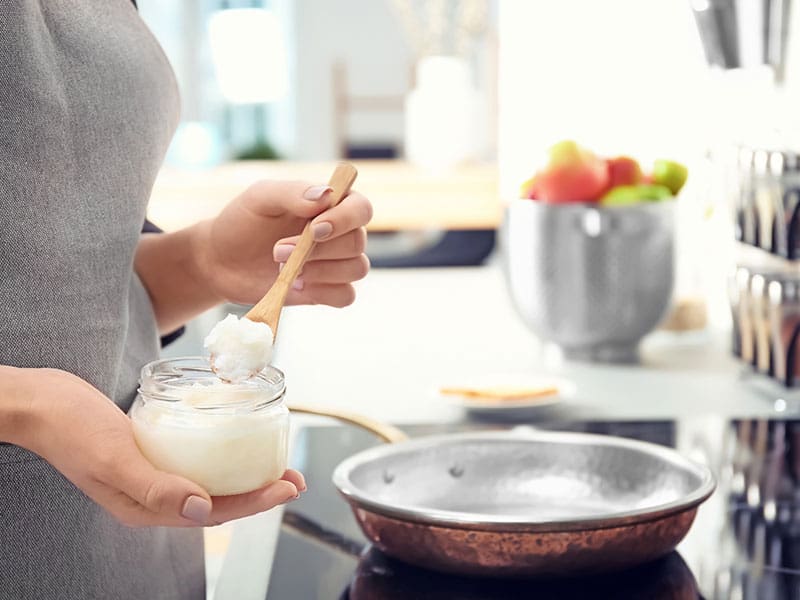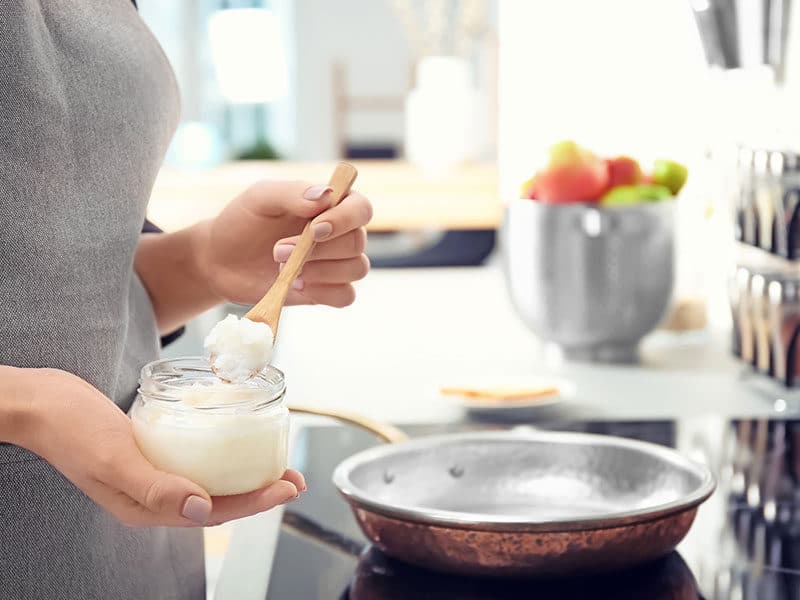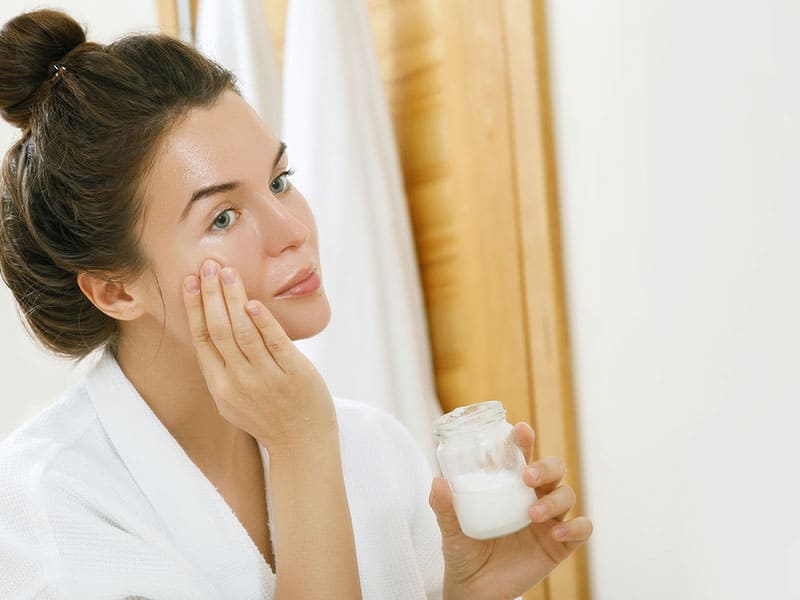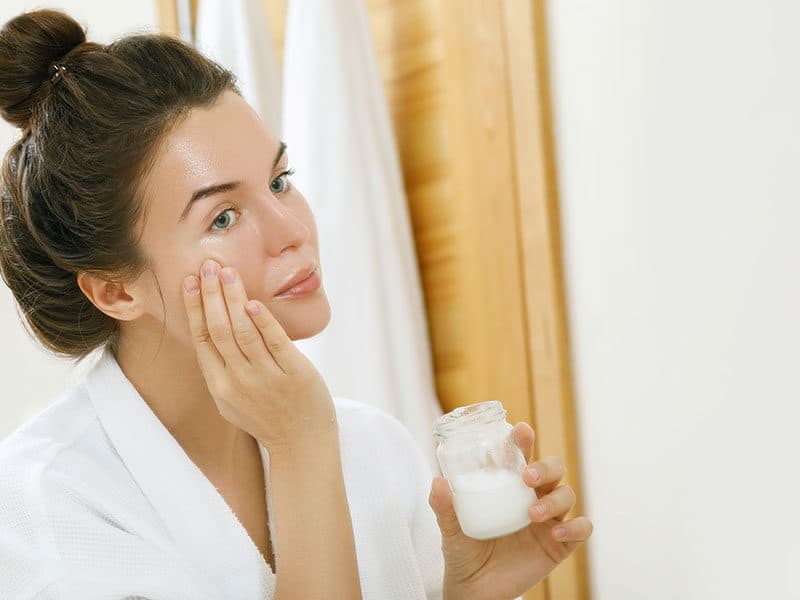 Nutrition Facts Of Coconut Oil
Coconut oil is almost 100% fat, most of which is saturated fat. However, the fat structure in coconut oil differs from that of many animal products, mainly consisting of long-chain fatty acids.
According to information from the U.S. Department of Agriculture, a 1-tablespoon serving of coconut oil has
Calories 121
Protein 0 grams (g)
Fat 13.5 g
Saturated fat 11.2 g
Carbohydrates 0 g
Fiber 0 g
Sugar 0 g
Besides, coconut oil contains amounts of iron, vitamin E, and vitamin K. It contains many phenolic compounds, which are natural antioxidants that help protect your body's cells from damage caused by free radicals toxicity.
How Long Can Coconut Oil Last?
Each jar or can of coconut oil will have a date of manufacture and expiry date. An estimated date tells you you should only use the product up to that date for the best quality.
Usually, it will be around 2 to 4 years after the date of manufacture. You can still use coconut oil after that date for a while if it shows no deterioration signs. However, your coconut oil can also spoil before the time on the package if you do not store it properly.
Therefore, it is more important than the date on the package to always check if coconut oil is spoiled, safe, or not before consuming it.
Why Does Coconut Oil Go Bad?
Coconut oil can spoil if you do not store it properly. And here are some of the reasons that can cause the coconut oil to spoil before its expiry date.
Contaminate with other foods, which can occur when you use the same spoon of other food to remove coconut oil from the bottle.
Oxidized by exposure to oxygen if you do not keep the cap tightly closed after use.
Store under unstable temperature conditions.
Signs Tell You When Coconut Oil Is Rancid
Using broken coconut oil is not only ineffective but also causes damage to your health. Therefore, it is essential to recognize when coconut oil is spoiled. Here are some signs that coconut oil is rancid and needs to be removed.
Turn yellow
Have an almost yogurt-like consistency
Have smells or tastes weird
Appear brown or green spots
When your coconut oil has one of these signs, stop using it and discard it.
Should Use Bad Coconut Oil?
Rancid coconut oil is bad for health because when the saturated fat in coconut oil is broken down, it turns into trans fat, which can be harmful to the cells. Although there are no specific and complete studies on the harms of using rancid coconut oil, studies show the negative effects of rancid vegetable oils on human health.
Therefore, you should not use damaged coconut oil for any purpose. It can lead to diseases such as heart disease and cancer. If you apply rancid coconut oil to your skin or hair, it can cause breakouts or infection.
How To Prevent Coconut Oil From Going Bad?
There are many ways to preserve coconut oil from spoil before its shelf life, and this depends on how it is prepared and personal preference.
Use BPA-free glass or plastic bottles to preserve coconut oil to avoid harmful compounds from plastic.
Store coconut oil in the refrigerator: Follow Harvard's instructions from T.H. Chan School of Public Health; you can store coconut oil in the fridge to help its temperature stabilize and ensure it does not spoil during use.
However, coconut oil can harden and make it a bit difficult to apply. You can then soak the bottle of coconut oil in warm water for a while, and it will return to a liquid state quickly.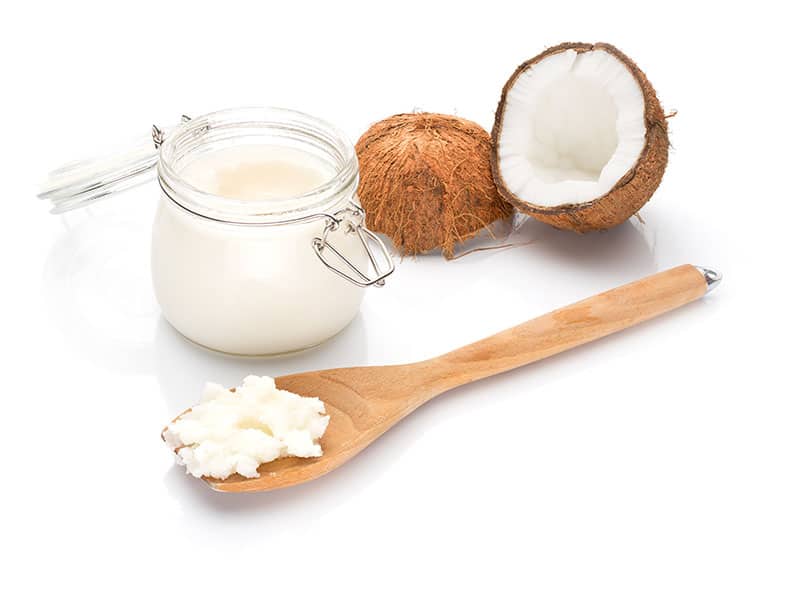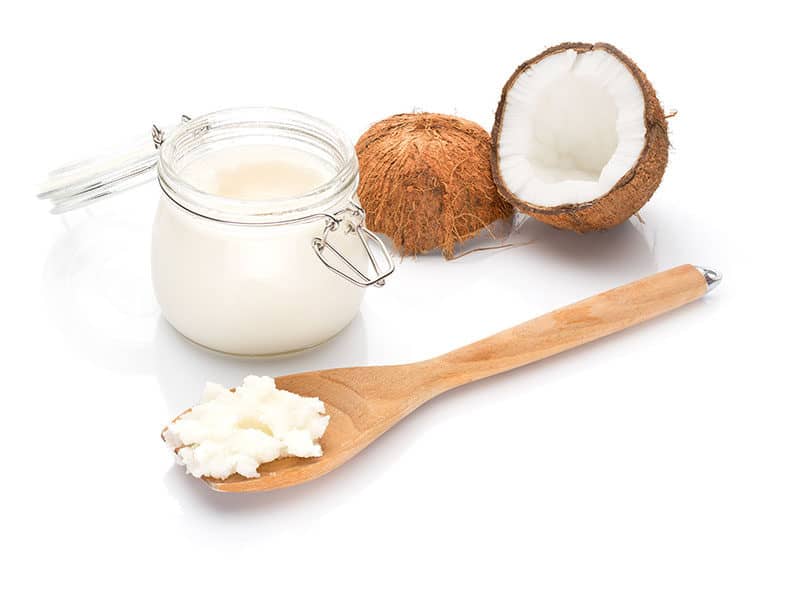 Keep coconut oil in a cool place without the sunlight: If you don't like storing coconut oil in the refrigerator, you can keep it in the pantry cabinet.
Because coconut oil has a low melting point (76 degrees F (24 degrees C)), it will almost always be in liquid form when at room temperature.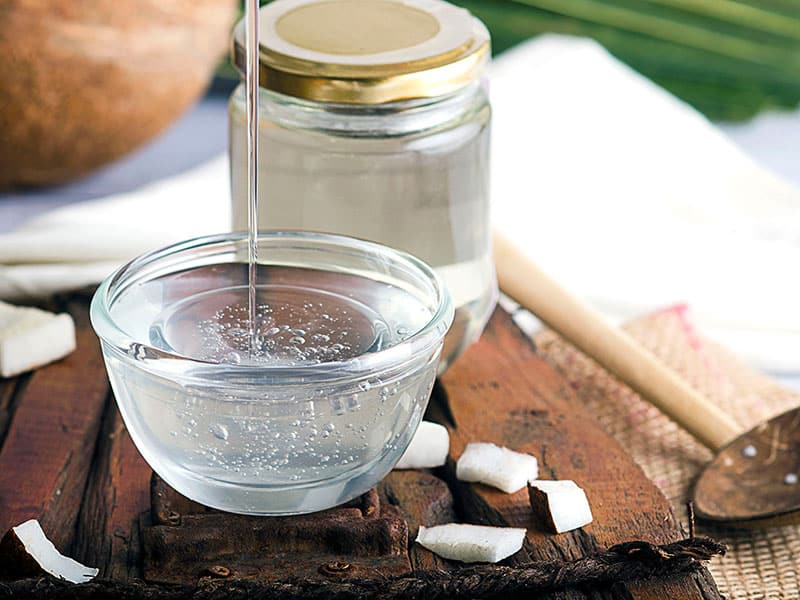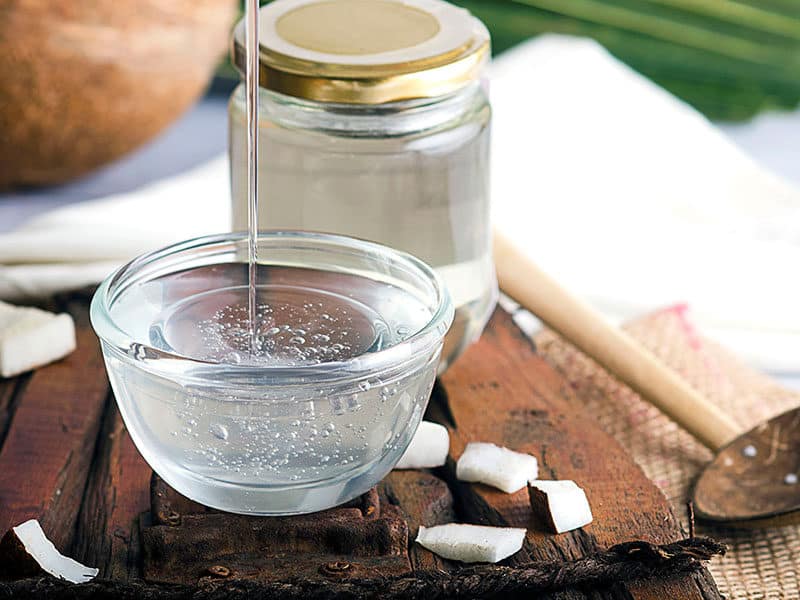 Use a clean tool to scoop out coconut oil: You should use a clean, non-contaminated spoon with other foods to scoop out coconut oil to avoid leaving behind any dirt that can lead to mold.
Close the lid tightly: After use, you need to keep the coconut oil jar seal tight, preventing it from oxidizing by contact with air will quickly deteriorate.
When properly stored, coconut oil can be safely used for 12 to 24 months, and however, if not stored properly, it can deteriorate faster than usual.
FAQs
Here are some questions and answers that will help you use coconut oil more effectively. Let's check them now!
Expectation Vs. Reality
Coconut oil has many health benefits and can last for a long time, but it can deteriorate over time for various reasons. Using spoiled coconut oil can cause long-term harm to your health. Therefore, before using, check to see if coconut oil is still safe or not. Take proper store to prolong the life of coconut oil and always have quality products to use.
What do you usually use coconut oil for? Do you care about the quality of coconut oil before using it?
I hope this article helps you answer your questions about whether coconut oil will go rancid and know how to keep coconut oil for a long time.
If you have any questions, feel free to leave a comment below, I will reply to you.