Apple cider vs. apple cider vinegar; is it too hard for you to differentiate them? When people hear these two concoction names, they confuse many people. As they think these names are called for one thing. However, it is not true.
Both are made from apples and are liquid. Because of these similarities, people often confuse apple cider and apple cider vinegar. However, the two are almost entirely different regarding tastes, making methods, and ingredients.
Best of all, the wine or apple cider vinegar versions include various beneficial uses that you need to know. Stick to the information in this article to be an expert on apple cider and apple cider vinegar.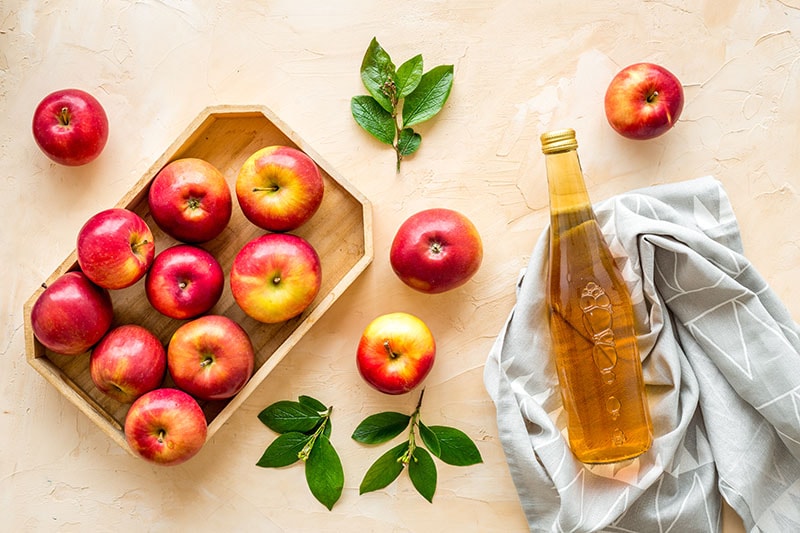 Are Apple Cider And Apple Cider Vinegar The Same Thing?
The similarities between apple cider and apple cider vinegar are not enough to consider them as one. While both are made from apples and are the product of fruit fermentation, there are some explanations as to why these are two completely different foods.
What Exactly Is Apple Cider?
Around September and October, you often see hundreds of fruit shops selling apples because it is their season. Therefore, apple cider is a sweet specialty of autumn.
Around 55 BCE, people began to use cider as a drink. Cider is relatively similar to apple juice in terms of texture. (1)
Cider is usually made by crushing fresh apples without filtration (or just minimal filtration). As a result, the liquid contains both the flesh and the rind of the apples.
It is attractively brown and hazy, with strong flavors that are fresh and reminiscent of pure apple.
Hard Apple Cider Vs. Soft Apple Cider (Alcoholic Vs. Non-Alcoholic)
Referring to hard & soft apple cider is quite confusing, but if it is the difference in alcoholic content, then it's easier for people to wrap their head around it.
Usually, soft, fresh apple cider wraps up the production after being pressed. However, if it undergoes further fermentation, it becomes hard apple cider, an alcoholic beverage. People also use yeast to turn sugar into alcohol.
The simplest way to infuse alcohol is to ferment soft apple cider without sterilization and refrigeration.
Fun fact, in the US, cider is mostly linked to soft cider, being the sweet and non-alcoholic type. However, in Europe and a few other places, people usually refer to cider as the hard variety, which contains alcohol.
Have you ever wondered what it's like to make hard cider at home? Check out this guide to know more.
Definition Of Apple Cider Vinegar
In the same manner, apple cider vinegar appeared a long time ago with many medicinal uses. In Western Europe, people used it as an effective weight loss remedy.
Moreover, around 400 BC, the father of modern medicine, Hippocrates, used a mixture of apple cider vinegar and honey to treat coughs and colds. (2)
Apple cider vinegar (a.k.a ACV), like any other vinegar, is the result of the fermentation of apple juice over a long period.
Or you can ferment the hard cider one more time to make it. The acetobacter bacteria present in the consumed apple cider release acetic acid and facilitate the rapid fermentation of apple cider vinegar.
Apple cider vinegar is well-loved and highly regarded because people see it as a beneficial vinegar version.
Check out these 8 tips to use apple cider vinegar correctly.
Distinguish Between Apple Cider Vinegar And Vinegar
Getting to know apple cider vinegar and other types of vinegar don't take much effort. Any mixture of water and acetic acid that ferments can be called vinegar. White vinegar is a good example of the most common type of vinegar on the market.
People make white vinegar mostly from ethanol as grain alcohol. It is a completely transparent liquid, just like water. In addition to the sourness, white vinegar has a rather strong pungent taste. As for apple cider vinegar, of course, it's brown and gloomy.
In addition, not only is the smell of normal sour vinegar, apple cider vinegar has a slightly fresh smell of apples. Both have many similar and different uses, especially in cooking, as both are edible and healthy.
However, apple cider vinegar is more appreciated. On the other hand, white vinegar is the most commonly used because it is available everywhere, cheap, and the smell is not too strong.
Can Apple Cider & Apple Cider Vinegar Be Interchangeable?
Apple cider and apple cider vinegar both have almost the same color. In addition, apple cider vinegar results from longer cider fermentation.
Therefore, many people wonder if they are the same or not. For a closer look, you can explore more of the comparisons below.
Differences
Apple cider
Apple cider vinegar
How it's made
Made from extracts of whole apples
Fermented apple juice or apple cider
Usage
For drinking
For cooking, cleaning, bathing

Use as toner and conditioner
Benefits
Improve heart function and metabolism

Fight free radicals and cell damage

Reduce the risk of cancer and diabetes
An antibacterial agent helps clean wounds, teeth, and throat.

Balance the pH of the skin and internal organs
How You Can Make Apple Cider And Apple Cider Vinegar At Home
You can make your apple cider at home, especially soft cider. The juice from the whole fresh apple includes the pulp and core extracted without filtration is the main character of it.
The mixture is then boiled for several hours to a desirable consistency. This raw apple cider does not keep for long, so bacteria can be removed by pasteurization and produces soft and sweet batches of cider.
You can enhance the flavor by adding cinnamon and syrup – a great combination for cold days. Hard cider is made 1 to 2 weeks later when the ethanol from the natural apple sugar breaks down by yeast.
Apple cider vinegar takes more skill to ferment than hard cider. Hard cider is often used as a base for the production of this vinegar. Acetobacter – a bacterium found in apples, consumes the alcohol during this long and thorough fermentation, releasing acetic acid.
Depending on the acidity and strength you want, you'll have to wait another week or two to get this precious apple cider vinegar.
With only nearly three minutes, you can understand how to ferment apple cider vinegar.
Usage
In fact, people from the beginning to the present day have used cider as a beverage, warming wine, or condiment in cooking. You can treat everyone with cider for weekend get-togethers.
Soft cider caters to children and those with alcohol allergies. In contrast, hard ciders are the best for people who want to enjoy the taste of apples with an alcoholic vibe.
In the same manner, people usually use vinegar for cooking. The acidic taste in them balances the sweetness and heat. It also creates a lively flavor to dishes such as salad or sauce.
Apple cider vinegar is also a good cleaner. The concoction can handle various stains, such as tea, coffee, soft drinks, or dirt in the toilet.
Apple cider vinegar is also a great helper for you to revamp your look:
For bathing: soak for about 20 minutes in a solution of vinegar and warm water and rinse with water. Vinegar helps to clean bacteria from your skin.
Use as a toner: toner has a deep cleansing effect, hydrates, and helps to better absorb other steps in a skin-care process. As facial skin is very sensitive, you must pay attention to the dosage when using apple cider vinegar instead.
Use as conditioner: after cleansing your hair with shampoo, apply apple cider vinegar evenly to your hair. It is effective for cleaning and reducing dandruff.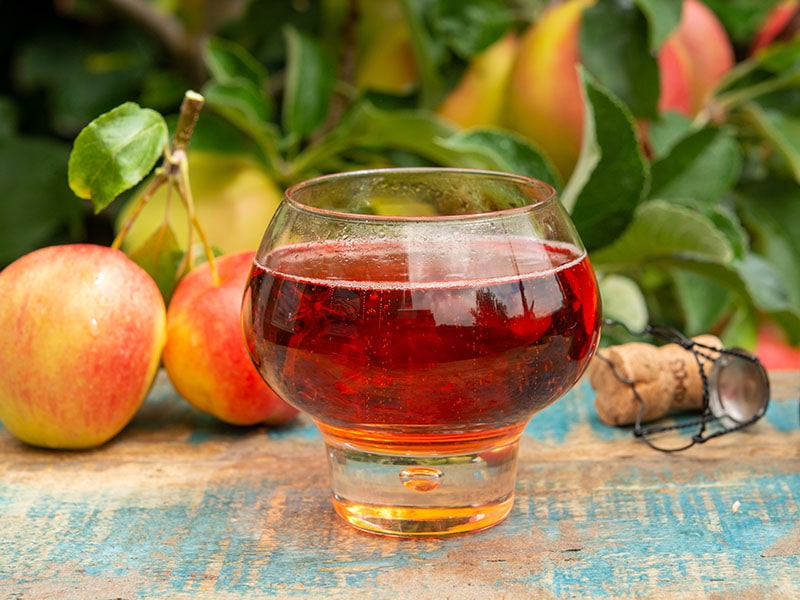 Benefits
An apple a day keeps the doctor away is never outdated advice. Luckily, if you want a change of taste, think about apple cider. It contains all the fiber of a whole fresh apple.
Besides, it also has other nutrient benefits, like improving heart function and metabolism. Therefore, you can have some apple cider with your meal. Moreover, it helps you fight free radicals and limit cell damage. Thereby, the body reduces the risk of cancer and diabetes.
Instead of using apple juice containing artificial sugar, the natural sweetness and strong aroma (for hard types) of apple cider are much better.
Apple cider vinegar is usually costly and has a sharp flavor, so it is not as popular as other types. However, with its use, it is worth the money you spend.
ACV can remove stains since it contains antibacterial ingredients. If you have wounds or problems with your teeth and throat, use diluted vinegar to deal with them.
The natural acidity of apple cider vinegar helps improve skin conditions such as psoriasis, acne, or eczema. You can use apple cider vinegar to balance, but make sure to follow the doctor's prescription. High concentrations of apple cider vinegar cause mild to severe harm if not used properly and in the right dose.
Apple cider has all the nutritional value of a fresh apple and even more.
How To Store Apple Cider & Apple Cider Vinegar Long Term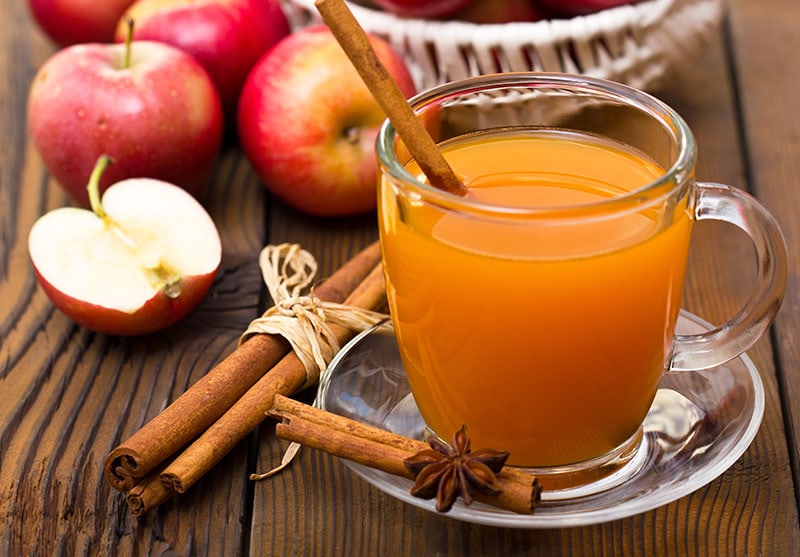 Normally, you can store cider in the refrigerator for up to two weeks. If you want to use it in 6 months, consider freezing it. There are a few precautions when storing frozen cider.
You should use the container or a freezer-safe bottle and pour the amount of cider at least 2 inches from the lid. Liquid can burst the container as it expands during freezing.
About apple cider vinegar, just put it in an airtight container and keep it out of the sun. Apple cider vinegar doesn't need to be refrigerated, and you can use it for two years if unopened. The shelf life of apple cider vinegar lasts about one year once opened.
What Are The Differences Between Apple Cider And Apple Juice?
Although both are apple juice, there are significant differences. For apple juice, it has a dreamy texture with a thin consistency and is free of any (even tiny) apple residues.
It should look clear like water and be as bright as possible. More than that, it has to go through the pulp filtration and sterilization stage.
On the contrary, as mentioned, fresh apple cider has a tangy taste and still has the flesh and peel of the apple intact.
That makes it thicker in texture, darker in color, and carries much more apple-flavored than juice. Compared to apple juice, it's more of a seasonal drink and doesn't need to be pasteurized.
Check out this short video for a step-by-step comparison between apple cider and apple juice.
FAQs
Below are some interesting, frequently asked questions. You can read more to unlock all the remaining hidden secrets.
Apple Cider Vs. Apple Cider Vinegar – No More Confusion
In a nutshell, apple cider and apple cider vinegar don't have to refer to the same thing. Both are worth trying once and maybe even more than once.
Rich apple flavor, gorgeous color, and many good uses are all the things that you can find in cider and apple cider vinegar. However, you should follow the guidelines when using and dosing to maximize their strengths.
Hopefully, this article has provided all the information you need to know about both versions of these apples. Please kindly share and comment on this article so more people can know about apple cider and apple cider vinegar.
Paragraph
WSU Cider. 2022. History of Cider | WSU Cider | Washington State University.
Extension.wvu.edu. 2022. Extension | Apple Cider Vinegar Myths & Facts.