Green vs red apples, which one should you choose? When standing at the fruit counter, you surely at least once feel confused. Don't worry; you are not alone. I am here to help you clear out the confusion in your mind.
Besides the obvious color difference, green and red apples also have many distinct characteristics. Let's see how different they are in terms of appearance, taste, nutrients, and effects on human health. Hopefully, after this article, you will have the answers to all of your questions.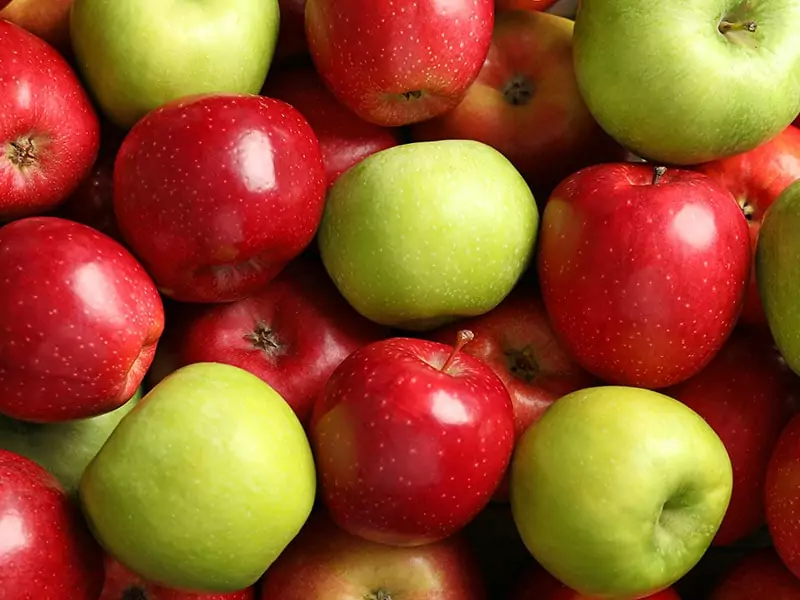 Common Knowledge About Apples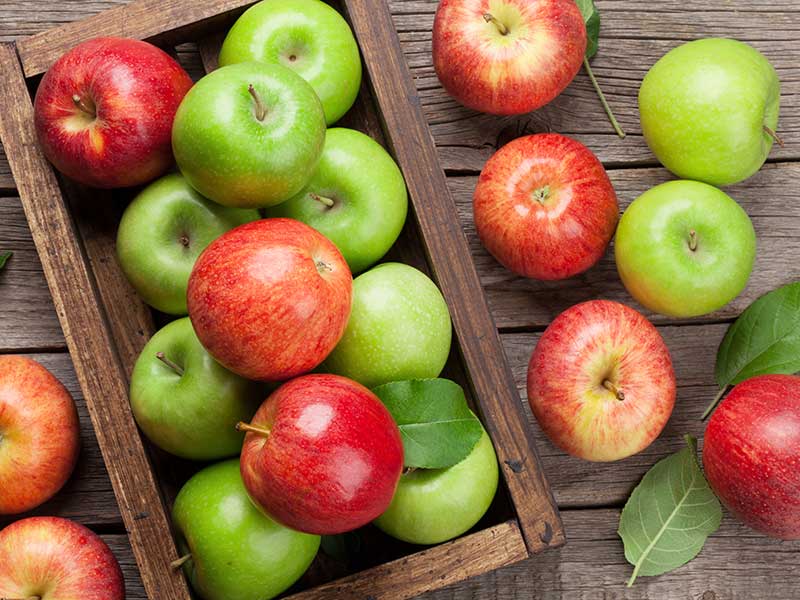 One apple a day keeps the doctor away. I think almost everybody knows this proverb. For a long time, people have known that the apple is a very healthful kind of fruit. It is not only good for cardiovascular diseases but also good for diseases relating to blood sugar and diabetes. (1)
That is why almost every diet includes apples.
Green Apples
Green apples don't offer many choices. The most well-known type definitely is Granny Smith. Some other popular green apple varieties are Shizuka, Pippin, and Crispin.
In addition to the lack of varieties, green apples don't taste as good as red apples. However, they contain rich nutrients. That is why people often have them raw.
Red Apples
Red Apples give you plenty of choices. You have many cultivars to choose from, such as Fuji, Gala, Red Delicious, Rome, and Cameo.
Red Apples are slightly not as nutritious as green apples. On the contrary, they are sweeter, so more people, especially kids, prefer red apples. In fact, most of the sweetest apple cultivars are red apples. They are often the ingredient for apple vinegar for their higher sugar level.
Let's take a look at some of the tastiest apple varieties.
Differences Between Green And Red Apples
Despite being the same kind of fruit, green apples, and red apples still have obvious differences in both nutrition and taste. Based on those characteristics, you can choose the right apple for you.
Quick Comparison
Let's take a quick look at the main characteristics of green and red apples. This table will give you an overview of the basic differences between them.
Main Characteristics
Green Apples
Red Apples
Appearance

Bright green
Round or round-conical shape

Bright red, dark red, intense crimson, or both red and yellow
Round, round-conical or tall-conical shape

Skin Pigment
Chlorophyll
Carotenoid and anthocyanin
Taste
Sourer and tart
Sweeter and maybe a bit sour
Skin Thickness
Thicker
Thinner
Feelings When Biting
Crispier
Juicier
Usage

Widely used for healthy juice or smoothie
Often eaten raw and fresh

Used for cake recipes
Better for making apple vinegar

Nutrient Value
Higher nutrients content but lower sugar level
Higher antioxidant content
Health Benefits
Better for cardiovascular diseases and overweight
Better for cancer and brain
Appearance
Green and red apples have obvious differences in appearance. It doesn't take you much time to recognize those characteristics.
Color
As the name suggests, the green apples' skin is bright green. The shade of green may be a little greener or more yellow, but the general color is still bright green.
Red apples' color is more diverse. They are not just red. They can be bright red, dark red, intense crimson, and even both red and yellow.
Shape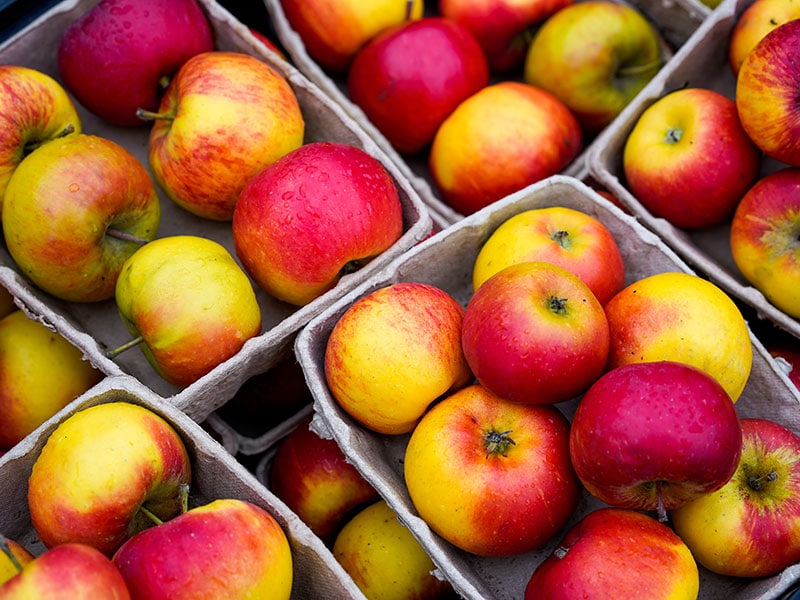 Almost green apples have a round or round-conical shape.
Red apples' shapes are also more varied than green apples. They can be round, round conical, or tall conical. Some varieties of red apples are even a little angular.
What Determines The Color Of Apples?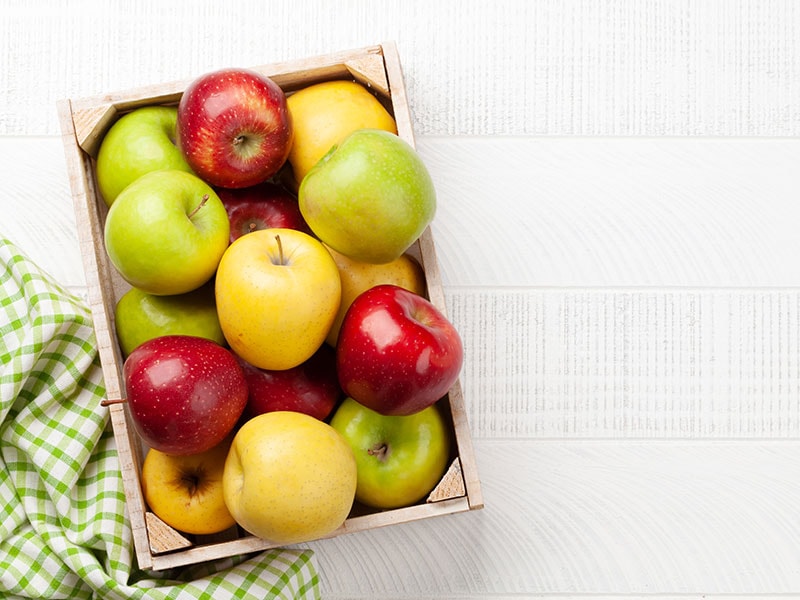 The color of apples depends on the pigments (namely chlorophyll, carotenoid, and anthocyanin) contained within their skin. It also depends on the fruit's ripeness, as this factor will decide the amount of each pigment.
Green apples contain mostly chlorophyll, either in their early or mature stage, hence the green color. The small amount of carotenoid makes the shade of the green color can be greener or more yellow. But in general, it is still bright green.
Carotenoid is the pigment for yellow. Yellow apples contain both chlorophyll and carotenoid at the early stage. But the fruit stops producing chlorophyll at the mature stage. That makes it yellow when it is ripe.
Red apples are quite similar to yellow apples, but the fruit starts to produce anthocyanins when ripened. This is why many apples are both red and yellow at the same time.
The amount of anthocyanin impacts the shade of red. The more anthocyanin the skin contains, the darker it is.
Feelings When Eating
This section is probably the one you expect most. Let's go through the taste, skin thickness, and juiciness of red and green apples to determine which one is right for you.
Taste
Thanks to a higher sugar level, red apples are sweeter and often considered tastier than green apples. As a result, many people prefer the red ones.
Green apples often taste a little sourer and more tart than red apples due to the lower sugar level. If you do not have a sweet tooth, try green apples.
Skin Thickness
Apple is a popular kind of fruit you can eat with the skin on. Therefore, the taste and thickness of apple skin do impact the experience while eating.
Green apples have thicker skin. That makes them crispier when chewing than red apples.
Red apples have thinner skin, so when eating, you can clearly feel the apple's pulp.
Juiciness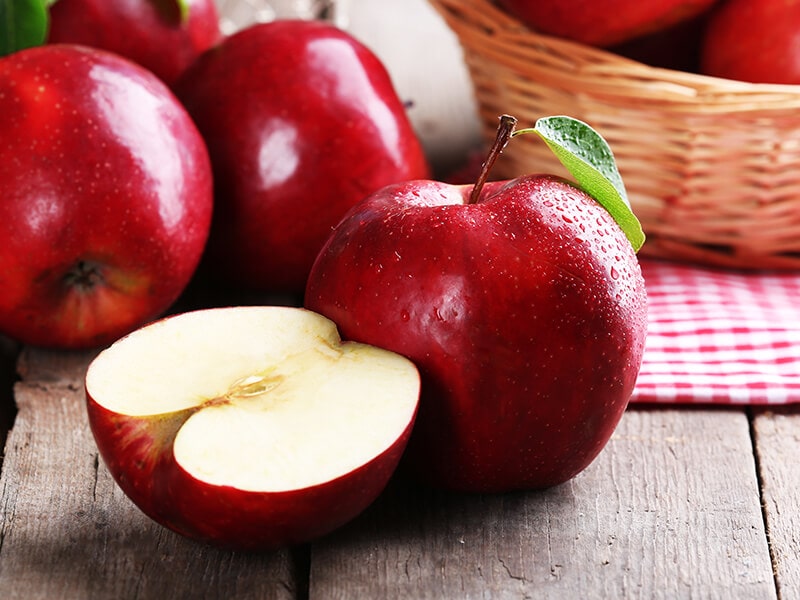 Red apples contain more juice than green apples. If you are in love with the juicy feeling when eating fruits, you should go for red apples. Some kinds of red apples are so juicy that you can feel the juice coming out of the fruit when biting.
Nutrition Facts
The table below shows the number of nutrients in a green apple and a red apple at medium size. If the nutritional value is your biggest concern when choosing fruit, this table will give you all the information you need.
| Nutrients | Green Apple (2) | Red Apple (3) |
| --- | --- | --- |
| Calories | 97cal | 125cal |
| Carbs | 22.73g | 29.81g |
| Fat | 0.32g | 0.42g |
| Sodium | 1.67mg | 1.5mg |
| Dietary fiber | 4.68g | 4.88g |
| Sugar | 16.02g | 22.2g |
| Protein | 0.73g | 0.57g |
| Vitamin A | 11.13% | 7.77% |
| Calcium | 0.84% | 1.27% |
| Iron | 1.39% | 1.30% |
From the nutrition fact table above, you can see that generally, the nutrients of green and red apples are quite similar. However, there are still some dissimilarities that make the two kinds of apples suitable for different diets.
Health Benefits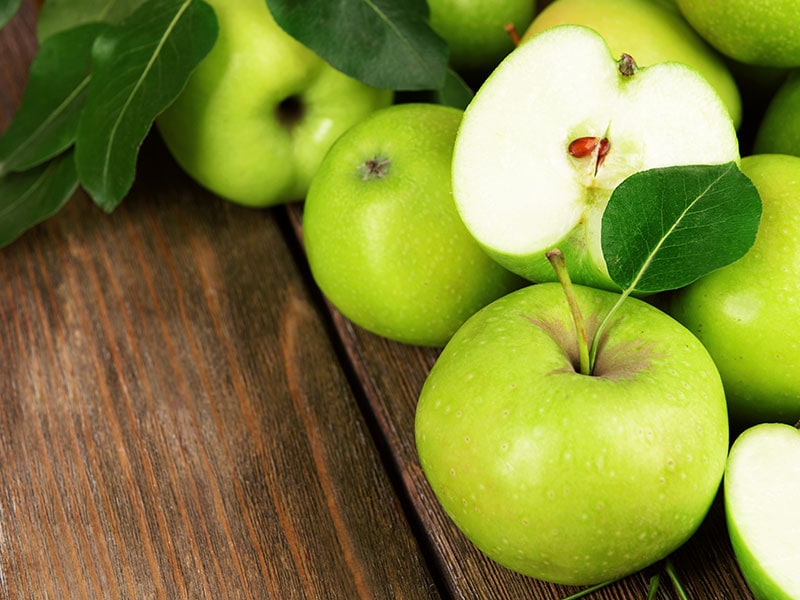 Most of the nutrients in green apples are abundant and higher than in red apples, except for the sugar content. For this reason, green apples are slightly healthier than red apples.
Green Apples
With high fiber but low sugar, green apples often appear in diets for people with heart disease or overweight people.
This cultivar of apples is ideal for people with diabetes or high blood sugar who need to consider the sugar level in fruits they take carefully.
Red Apples
On the other hand, red apples contain higher antioxidants. They are also very effective in protecting your body from diseases. With the ability to fight free radicals, red apples are good for preventing cancer. They also protect your brain cells.
Discover more details about the health benefits of apples.
Usage
Apple is a tasty and healthy fruit. Many people love using apples for food and drinks. In general, green and red apples have similar usage. However, due to the differences in nutrients and taste, people also have certain preferences when choosing green or red apples.
Green Apples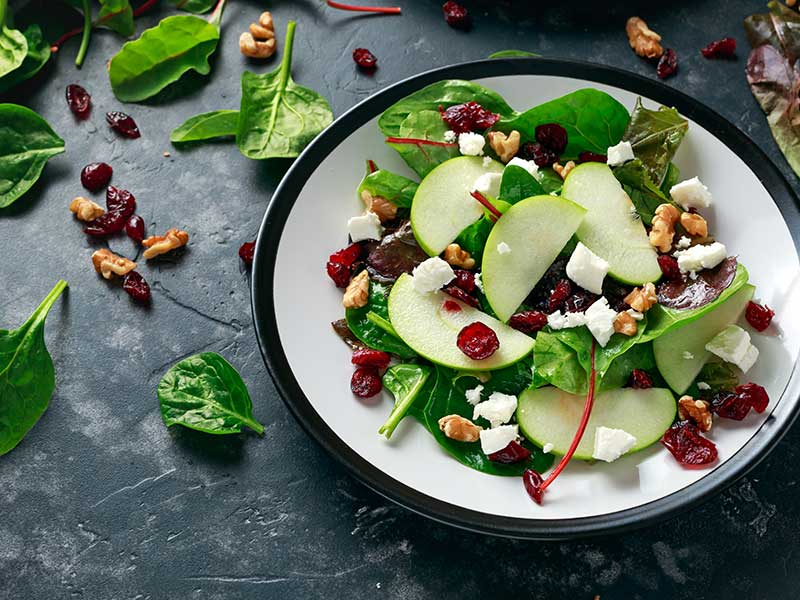 For the rich nutrients and crunchiness of green apples, they are better eaten raw. Using them raw and fresh can perfectly preserve their nutrients and vitamins. They also often appear in the best-tasting apple juice, smoothie, salad, and other healthy recipes without cooking.
Red Apples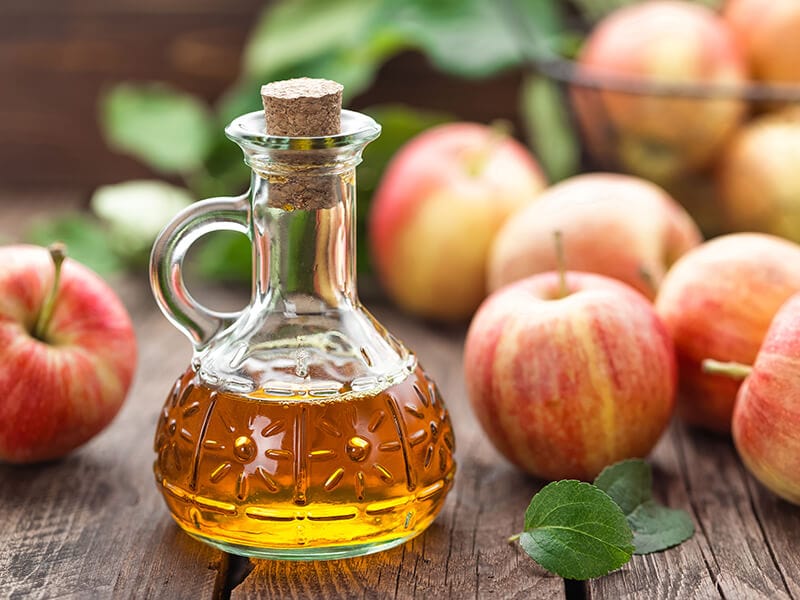 Of course, you can also munch on fresh red apples, as numerous varieties are pleasantly sweet.
The high sugar level of red apples is very suitable for making vinegar and cider. With high sugar content, the red apple is easier to ferment. Red apple is also a favorite ingredient for apple jam and apple sauce.
You can also see red apples in baking recipes. Its sweetness blends well with other ingredients. Everyone likes classic apple pies with the warm smell of cinnamon and the rich sweetness of apple sauce.
Can I Replace Red Apple With Green Apple And Vice Versa?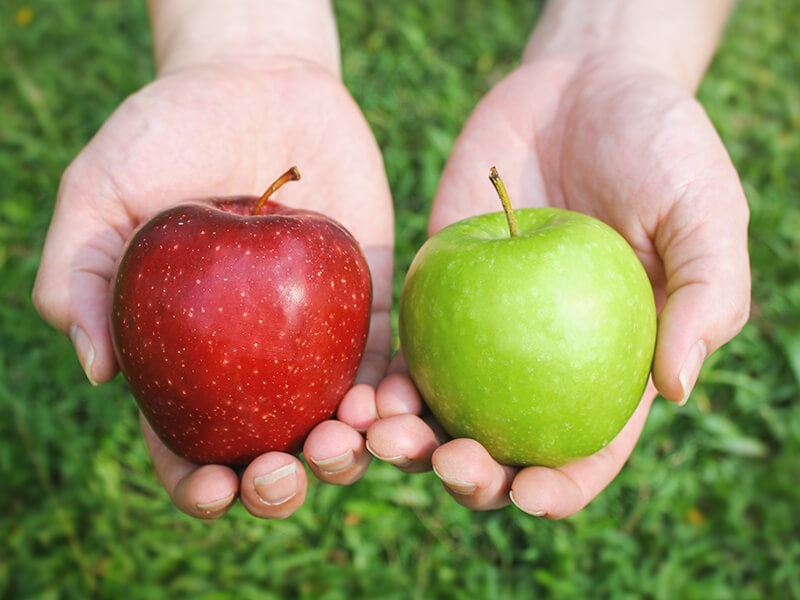 The answer is "Yes". Although green and red apples have some slight differences, their benefits are quite similar in general. So don't be too serious when choosing between them. Use whichever you like.
If you want the sweet taste for your smoothie but you only have green apples, just use them and add a little honey for sweetness. Don't limit your choices and miss the fun when cooking and experiencing different food recipes.
Handy Tips To Choose Good Apples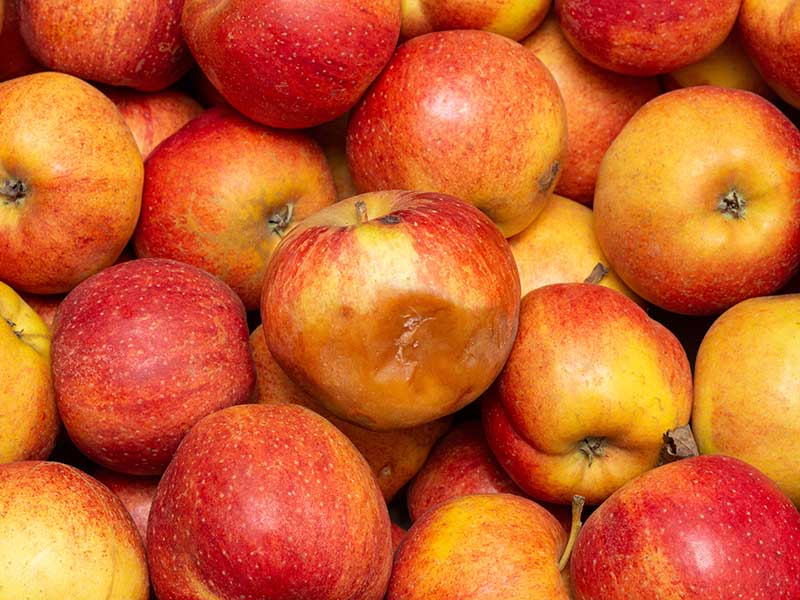 I'm sure that every one of you at least once doesn't feel satisfied with the apples you have bought. Here are some useful tips for choosing good apples.
The first factor in choosing good apples is buying seasonal apples. This tip also works with any other kinds of fruits or vegetables. Be sure to know the season of the apple you plan to buy to get the freshest apples.
Check the apple skin carefully. Different kinds of apples will come in different colors. Check the skin color carefully to see if it is normal or not. The color of the apple skin will tell you almost exactly how fresh it is.
Check the outside of the apple to make sure the skin is smooth and there is no bruise.
The next thing you can check is the firmness of the apple. Hold the apple in your hand to feel it. A good fresh apple will bring a firm and heavy feeling to your hand.
Another factor contributing to how you will choose an apple is the intended use. It is important to specify what you buy apples for. Do you plan to eat the apple fresh? Or use it for cooking, baking, or making vinegar? Pick your apples accordingly.
One more thing, remember to be gentle when choosing apples. Don't make apples bump too much and cause them to bruise.
Learn how to choose the best apples for different purposes
Delicious Recipes With Apples
Running out of ideas for apples in the fridge? Here are four simple recipes for you.
Making jam is an old-fashioned way to preserve fruits. Apple season often lasts during Autumn. So, make some apple jam if you want to use apples all year round. Apple jam is great for both food and drink.
A few slices of bread covered with apple jam is a good start for the morning. Apple tea is also great to lift the mood, hot for winter and iced for summer.
As mentioned above, apple is often one of the main ingredients for healthy smoothies or juices. This is a good recipe for detoxing your body.
This juice not only provides a rich content of natural vitamins but also offers a large amount of fiber. It supports your digestive system and strengthens your immune system. Remember to use green apples for the best effect.
Apple cider vinegar is very good for the body. One of the most famous benefits of apple vinegar is burning fat. With the ability to burn fat in the body and blood, it can also improve problems relating to blood sugar, cholesterol, and diabetes.
People with heart disease and overweight should add apple vinegar to their diet to support treatment and weight loss. Don't forget to use red apples for better fermentation.
A relaxing guide to making homemade apple cider vinegar.
FAQs
So far, I have provided you with pretty much all I know about red and green apples. Now, let's take some time to look into some other questions you may find interesting
No More Confusion About Green And Red Apples
After reading through this post, I'm sure you already have your own answer on whether red or green apples are the right choice for you. Next time at the fruit section, you won't have to feel confused between these two apple varieties anymore.
Please, share your thought and experience about this topic in the comment below. I'd love to hear from you. Like the post and hit the share button to spread it to everyone if you find it helpful. Thank you, and have a nice day!
Paragraph
PhD, A. A. B., (2019). Apples 101: Nutrition Facts and Health Benefits | Healthline.com
Myfitnesspal.com. 2022. Free Calorie Counter, Diet & Exercise Journal | MyFitnessPal.com.
Myfitnesspal.com. 2022. Free Calorie Counter, Diet & Exercise Journal | MyFitnessPal.com.