What are the sweetest apples? As there are seemingly countless apple varieties on the market, it's no surprise that you might be a little confused.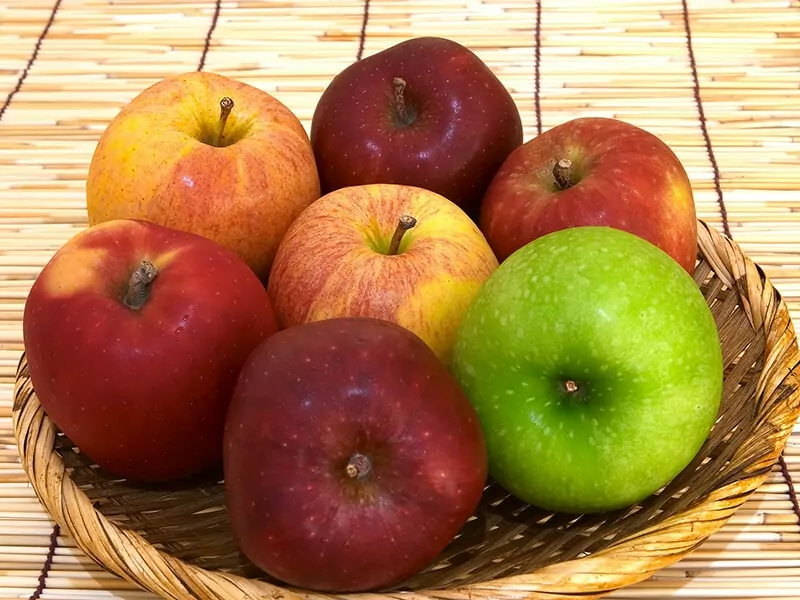 In this article, let's go through several worth-trying apple varieties that you can find easily at the nearby grocery store!
38 Best Apple Varieties For Sweetness
Here are 38 apple cultivars on the market if sweetness is your main goal. Each of them has its own unique characteristics. Just because one is lower rank doesn't necessarily mean they are less delicious. So remember to read through the end.
| Apples | Flavor |
| --- | --- |
| Fuji apples | Honey-sweet with citrusy notes |
| Kiku apples | Potent sweetness |
| Ambrosia apples | Honey-like sweetness |
| Honeycrisp apples | Balanced sweet-tart flavor |
| Gala apples | Sweet taste, slightly tart notes |
| Red Delicious apples | Balance sweet-tart flavor |
| Sweetie apples | Sweet, mild-flavored |
| Jazz apples | Sweet-tart with honey and pear traces |
| Envy apples | Sugary-sweet, refreshing tartness |
| Jonagold apples | Sweet and tangy with honey notes |
| Golden Delicious apples | Mellow sweetness with hints of honey |
| Opal apples | Sweet-tart with pear, coconut, and banana hints. |
| Macoun apples | Mild, sweet with berry notes |
| Ginger Gold apples | Pleasant, mildly sweet with hints of tart and spiciness |
| Braeburn apples | Sweet, contains traces of pear, cinnamon, nutmeg |
| McIntosh apples | Sweet-tart, wine-like undertones |
| Kanzi apples | Delicate sweet-tart taste with sharp bites |
| Pink Lady apples | Pleasant, balanced sweet-tart flavor |
| Mutsu apples | Honey-like sweetness mixed with sharp and tangy notes. |
| Winter Banana apples | Mild, balanced, and sweet, with tangy banana notes |
| SweeTango apples | Balanced sweet-tart |
| Dazzle apples | Sweet and full |
| Snow apples | Sweet with subtle hints of tart and wine-like notes |
| Cameo apples | Balanced sweet-tart taste with traces of honey and citrus |
| Spencer apples | Honey-like sweetness with acidic nuances |
| Autumn Glory apples | Candy-like sweetness with very little tart notes |
| Scarlet Crush apples | Sweet, citrusy flavor |
| Sweet Cheeks apples | Balanced sweet-tart taste |
| Ruby Darling apples | Extra sweet and refreshing |
| Cosmic Crisp apples | Extremely sweet with the right amount of tart |
| Pixie Crunch apples | Sweet and tangy |
| Rosalee apples | Gentle sweetness |
| Pacific Rose apples | Refreshing sweet-tart flavor |
| Hudson's Golden Gem apples | Sweet and nutty, pear-like taste |
| Idared apples | Sweet-tart flavor |
| Jonathan apples | Sweet flavor with a touch of tartness |
| Modi apples | Pleasant, sweet-tart flavor |
1. Fuji Apples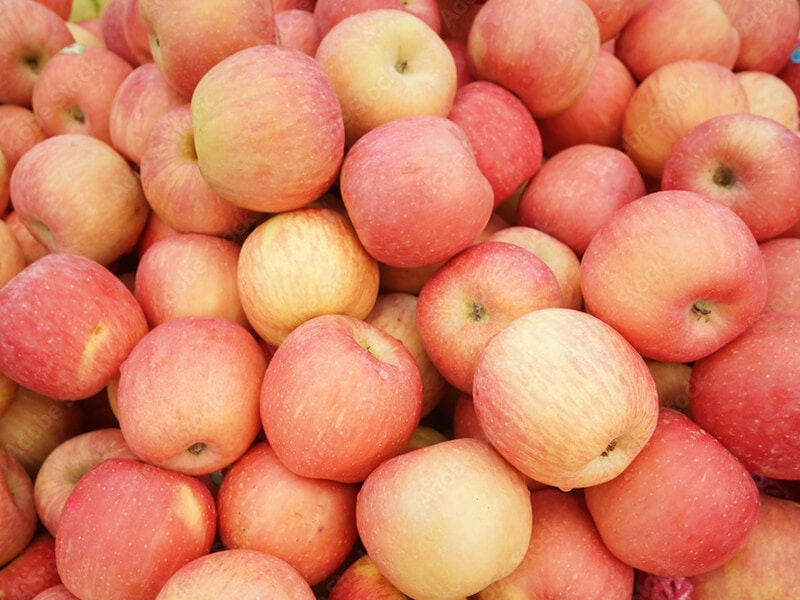 Developed in Japan in the late 1930s, Fuji apples are now one of the most well-loved and widely available cultivars on the market. These members of fruits and vegetables with "F" as the first letter have thick, waxy skins that can vary from red, yellow to green in color.
Thanks to their high sugar nature and low acidity level, Fuji apples have a potent sweet taste with citrusy notes that's often compared to honey. They also boast a dense, crispy texture with juicy bites that people just can't get enough of.
Another great thing about these apples is that they're commercially available year-round and will keep for a decent amount of time. You can enjoy them fresh, put them in a salad, or utilize them in an array of cooking recipes from baking, roasting to stewing.
Fans of juice can use this sugary-sweet apple variety to make irresistible and refreshing apple juice. Surprisingly, making apple juice is much easier than most people think, especially if you have a comprehensive and beginner-friendly juicing book.
2. Kiku Apples
Born from a natural mutation of the world-renowned Fuji apple, Kiku apple bears all the characteristics that its parents are known and loved for.
Unlike Fuji apples, whose colors can vary from red to yellow or green, Kiku apples are covered in beautiful ruby red skins with light-colored stripes. For this reason, they're also called the "Red Fuji".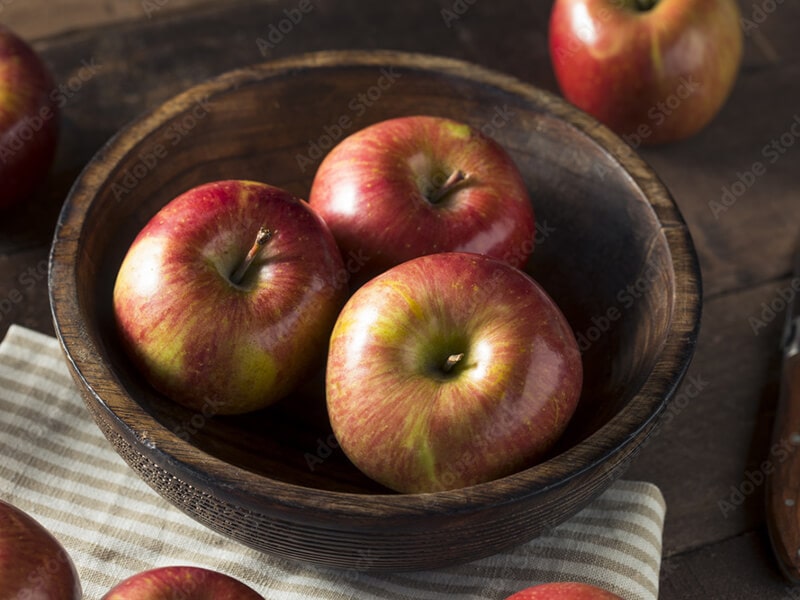 Kiku apples are large with a crunchy, juicy texture and firm flesh. Similar to their parents, they're one of the sweetest apples that you can find.
These apples make an excellent choice for pairing with a scoop of peanut butter, adding into fruit salads and baked treats, or simply enjoying on their own.
3. Ambrosia Apples
In Greek mythology, "Ambrosia" is the food of the gods, and this delicious apple variety surely lives up to its name. You'll find these "godly" apples wrapped in glossy, golden yellow, and red skin with off-white or yellowish pulp.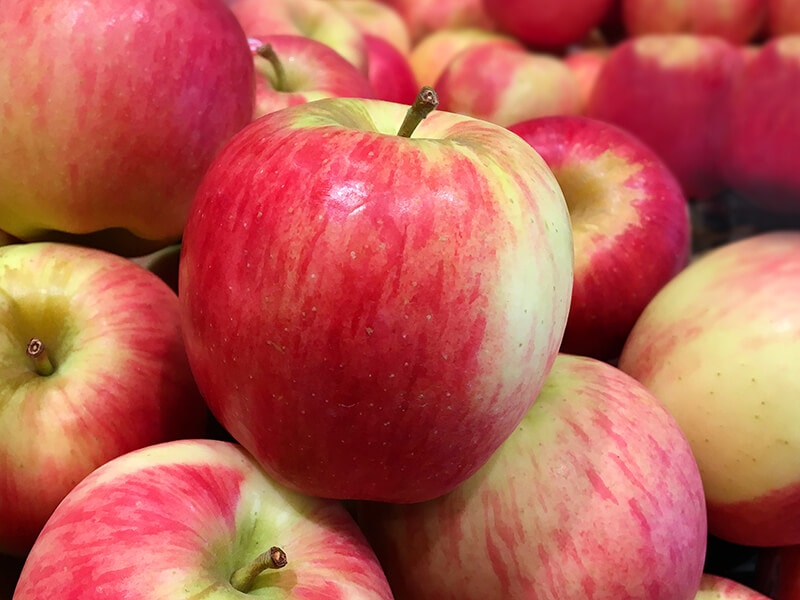 Ambrosia apples are praised for their incredibly honey-like sweetness, tender yet juicy texture, and rich floral fragrance. They taste exceptional on their own and will make an excellent addition to salads, pies, sauces, or any other recipes that you have in mind.
4. Honeycrisp Apple
If you're looking for an apple cultivar with a balanced sweet and tart taste, then look no further than the Honeycrisp apples. Thanks to their lovely taste, these bright red, green speckled skinned apples have now become a crowd-favorite.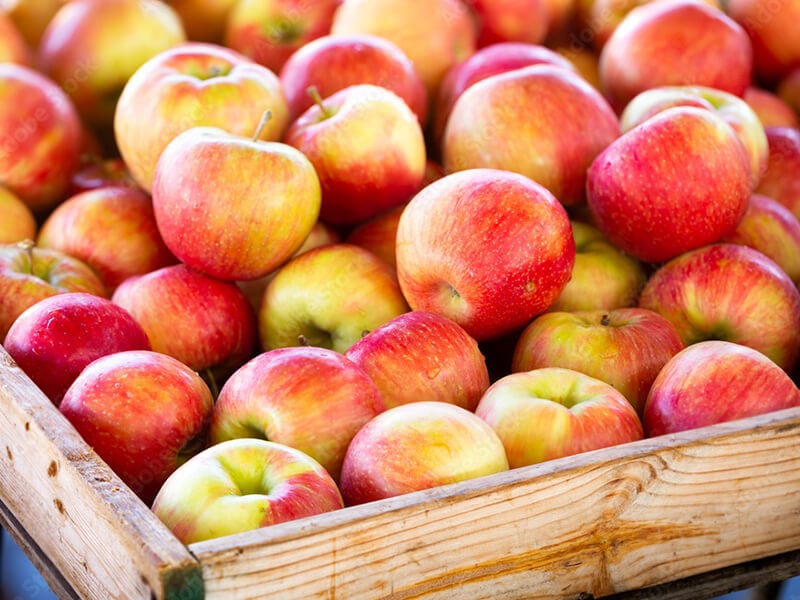 Not only do Honeycrisp apples possess a complex, aromatic flavor that combines sweetness with just the right level of tart, but they also boast creamy pulps with crunchy bites.
Honeycrisp apples are great in salads, sandwiches, or burgers. Also, since they won't lose any sweetness when cooked, you can turn them into a flavorful apple pie – a classic American dessert everyone loves, or peel and slow cook them to make applesauce, preserves, or apple butter.
I'm not kidding when I say that the honecrisp apple will expand your cooking horizon. As it's the primary ingredient for the ever-popular applesauce, honeycrisp apple allows you to make many lip-smacking recipes with sweet applesauce with ease.
You can see this video to know more:
5. Gala Apples
Gala is a New Zealand-originated apple variety that has made a name for itself in the States and all over the world.
Many people (especially children) adore these wonderful fruits beginning with "G" for their complex sweet-tart tastes, delightful floral aroma, and spectacular red, yellow striped skins.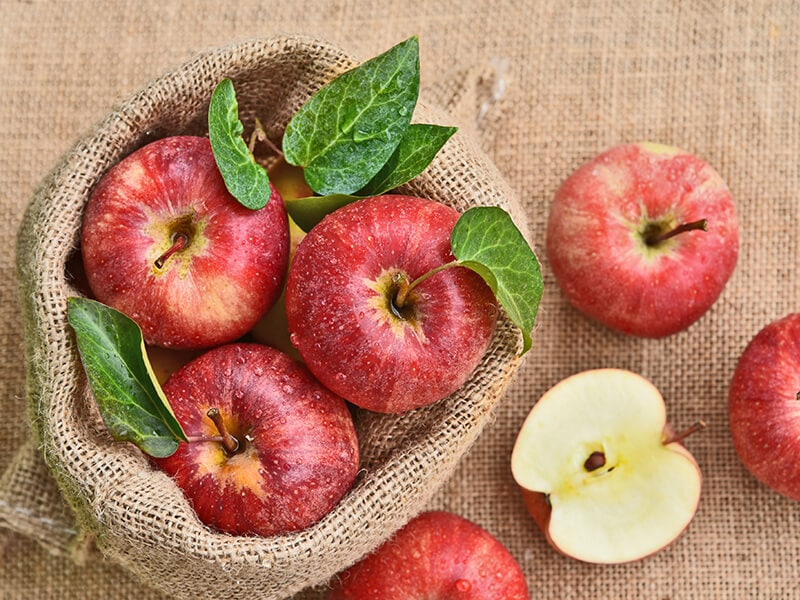 Gala apples have a sweet taste that is rounded out by slightly tart notes with hints of honey and pear-like flavors. Thanks to their crispy flesh, you can easily cut them with an excellent apple corer. They're tasty when eaten raw and will also work well in many salads, baking, or sauce recipes.
6. Red Delicious Apples
Red Delicious is an extremely popular apple cultivar in the U.S, and for good reasons. These delicious fruits beginning with "R" have deep red skin with a distinctive heart-shaped body and, as the name implies, are mouth-wateringly delicious.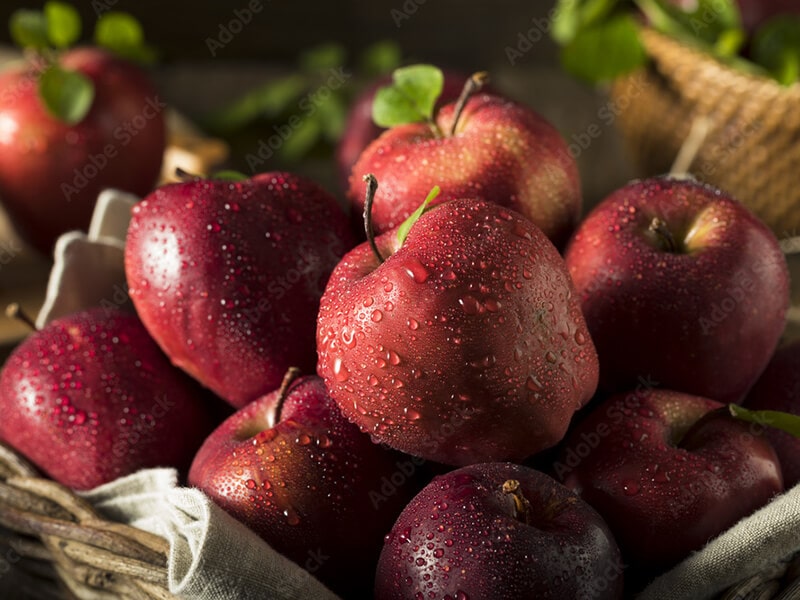 In terms of flavor, Red Delicious offers a pleasant balance between sweet and tart. Its texture leans more on the tender and soft side rather than crispy or crunchy.
For this reason, it is not recommended to use these apples for cooking as they'll shine best when eaten fresh or mixed into a bowl of salad. If you're looking for ideas to prepare a healthy meal with salads, this apple type might be a fantastic addition to your grocery list.
7. Sweetie Apples
If a variety has "sweet" in its name, you know that you're in for a real treat. Sweetie apples boast a low acidity level and superb sweetness that might even surpass their parents – the Royal Gala and Braeburn cultivars.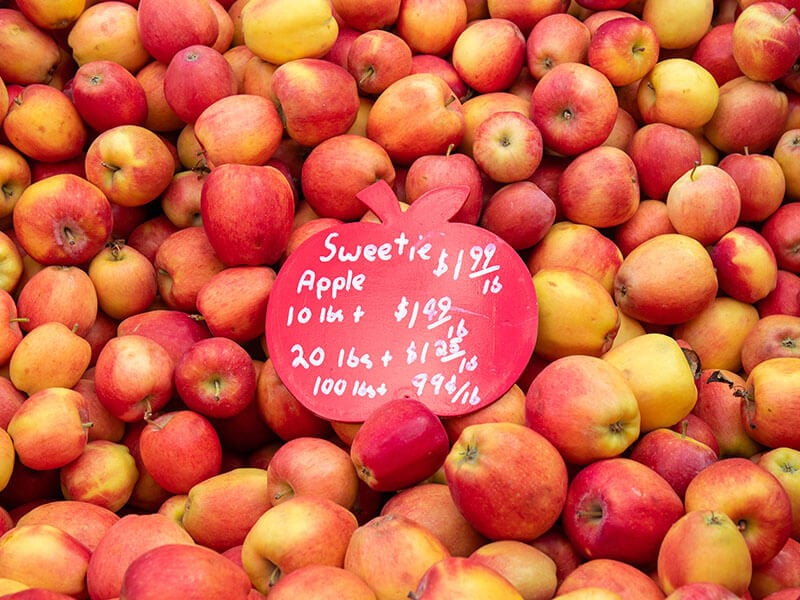 Under their semi-smooth, red-golden skins are crunchy, dense, and pale yellow flesh. Although these apples are super sweet, the potent sweet taste won't last for long on your palate. As a result, Sweetie is still considered a mild-flavored apple variety.
Sweetie apples are terrific in many sweet dishes such as pies, cakes, or muffins. However, their sweetness can be overwhelming in some recipes and will have to be balanced out by other apple varieties with a bit of tartness.
8. Jazz Apples
Jazz apples are another sugary-sweet hybrid variety coming from the Land of the Long White Cloud – New Zealand. They are well-known for having a dense, crispy, and juicy pulp with a sweet-tart flavor containing honey and pear traces.
One big plus for these apples is that you can find them quite easily in grocery stores or markets. If you want to give them a try, look for rosy red apples with seemingly random green, red, or yellow splashes on their skins the next time you go on a shopping trip.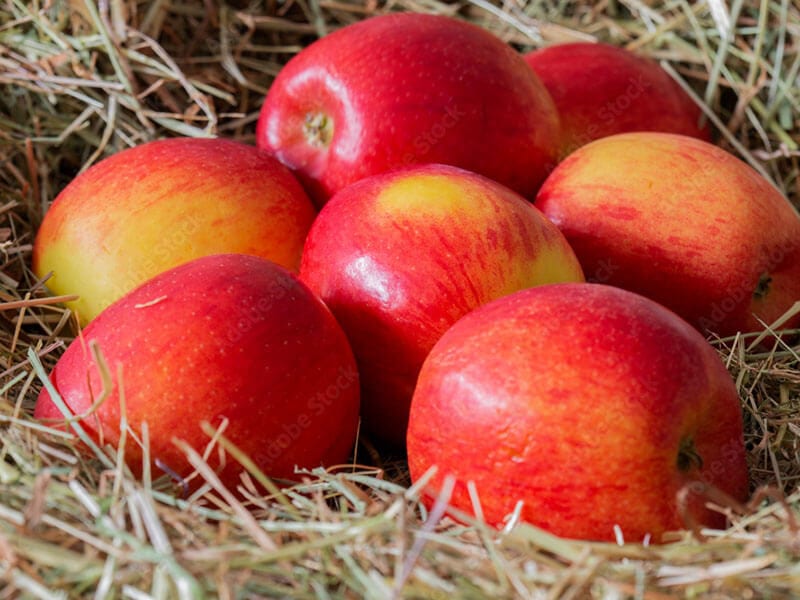 With Jazz apples, you're guaranteed a tasty treat no matter how you choose to enjoy them. They're great for raw eating and will fit flawlessly in every cooking recipe imaginable.
That said, if you have weak teeth, you might need to cut or slice them before eating as they can sometimes be a little too firm.
Let's see what this apple lover has to say about Jazz apples.
9. Envy Apples
Envy apple is another offspring of Royal Gala and Braeburn cultivars. They have thick, ruby-red skin with specks that indicate their sweetness level. Simply speaking, more specks means more sweetness.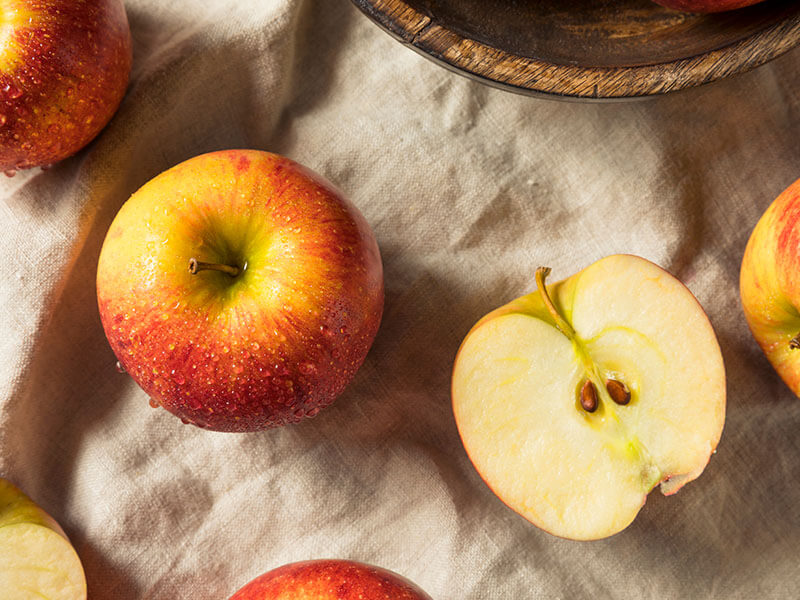 When it comes to flavor, Envy apples perfectly capture the sugary-sweet nature of Royal Gala apples and the refreshing tartness of Braeburn apples. Their white flesh is crunchy and has decent resistance to oxidation, meaning it will keep its pure white color for a long time.
Envy apples, like the majority of apples in this list, are really versatile. You can eat them raw, use them to make pastries, pies, cakes, or add them into a delicious fruit salad.
10. Jonagold Apples
Jonagold apples made their first appearance in 1953 and have been many people's favorite apple cultivar ever since. They were created by cross-breeding two famous apple varieties: Golden Delicious and the Jonathan.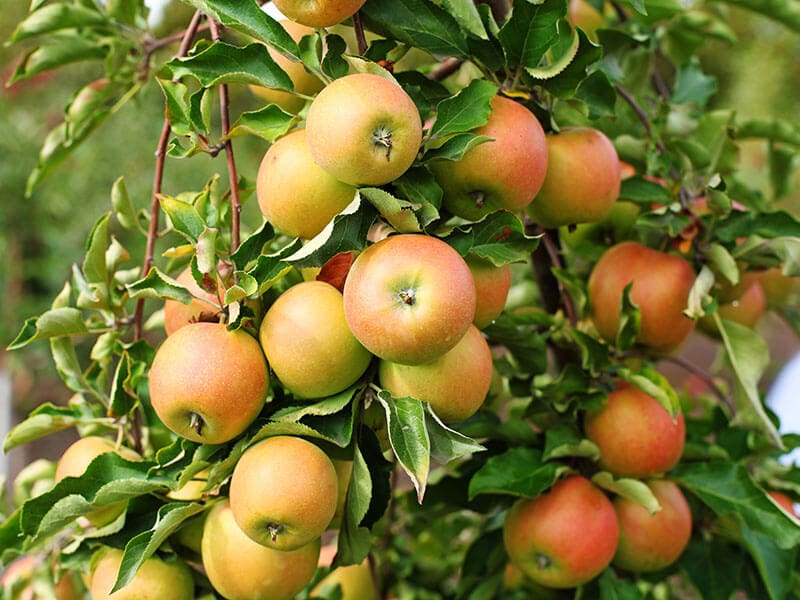 This hybrid variety comes wrapped in a crimson red on yellow-green undertones skin and is packed with a sweet-tangy flavor with subtle honey notes.
Jonagold apples are a great dessert option and are suitable to use in many baking recipes. They also make a splendid choice for making stuffed apples if that's your cup of tea.
11. Golden Delicious Apples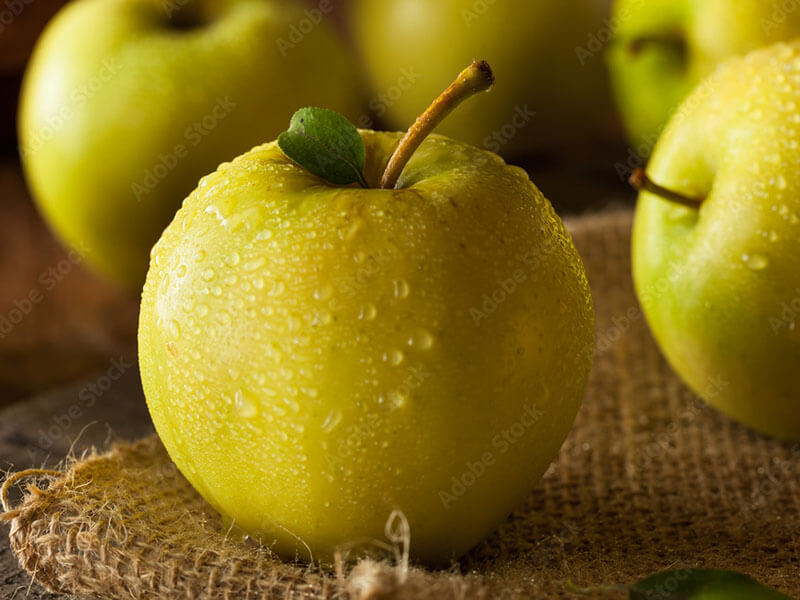 Don't let the name trick you. These yellow-green apples are not related at all to the Red Delicious. That said, they do share a similarity: both are tasty apples with sugary-sweet flavor.
Golden Delicious apples are one of the sweetest yellow-green apple cultivars on the market and will become even sweeter when allowed to ripe on the trees. Their mellow sweetness is accompanied by hints of honey and crispy flesh.
Golden Delicious apples shine in various cooking recipes, from baking to sauce making, and are also a fantastic snack choice. Since they have very thin and tender skins, you can leave the skin unpeeled when enjoying these apples.
In addition, as Golden Delicious apples are blessed with many desirable traits, they're often used in cross-breeding. The Sweetie variety is a great example of a tasty hybrid cultivar born from the Golden Delicious.
12. Opal Apples
Opal apples have a distinctive yellow skin that is inherited from their parents – the Golden Delicious cultivar. In addition, they also boast strong resistance to disease, which is a trademark of their other parents – the Topaz apples.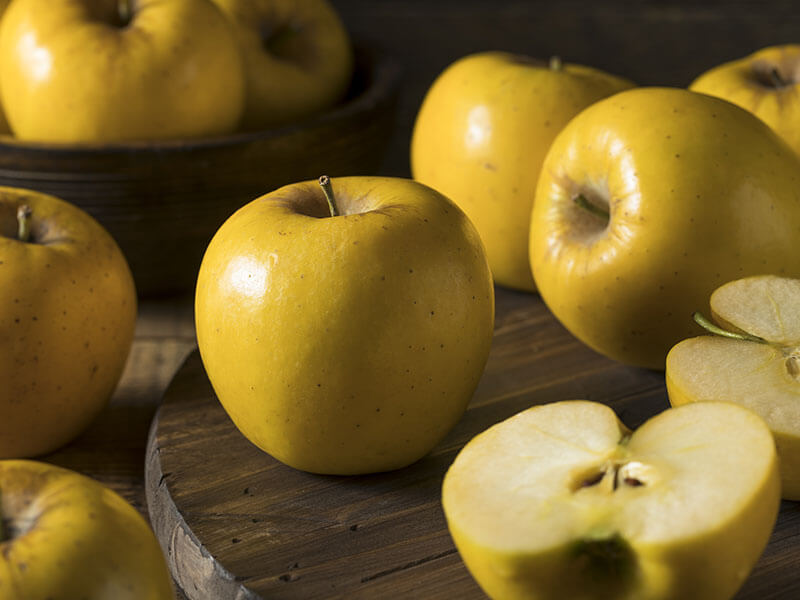 In terms of flavor, this fruit that begins with the letter O is sweet-tart with traces of pear, coconut, and banana.
One notable thing about these apples is that they're slow to turn brown, which makes them a solid choice for fruit salads, cheese boards, or kid's lunch boxes.
13. Macoun Apples
The Macoun apples got their name from W.T. Macoun – a famous Canadian horticulturist and fruit breeder. In addition to the abundant sweetness, these candidates for the list of fruits and veggies starting with "M" are also highly appreciated for their aromatic nature.
When ripe, these oddly shaped apples will turn deep red or purple and sometimes will even possess an almost black hue. They have a mild but extra sweet taste with underlying berry notes and juicy, tender-crisp texture.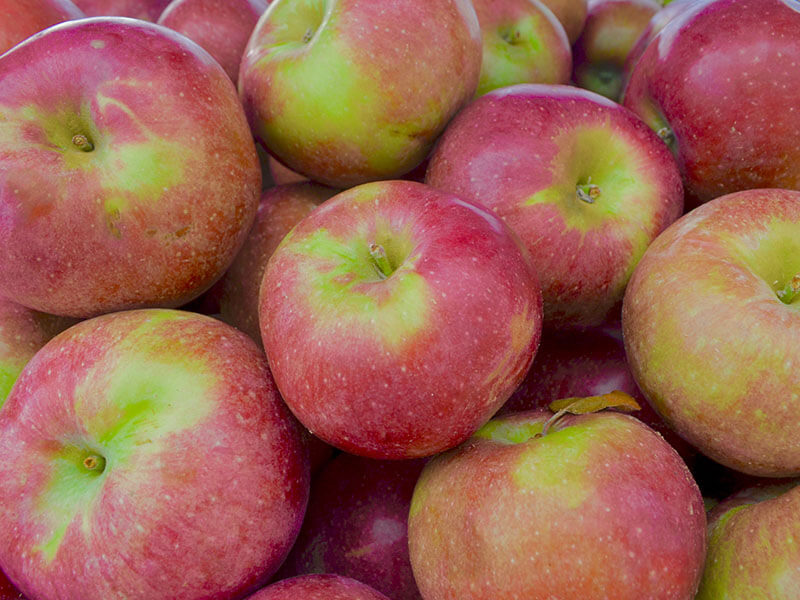 Macoun apples are excellent for eating raw and will elevate any sauces, salads, or baking dishes that you decide to use them in. To enjoy this yummy apple variety to the fullest, remember to purchase them in Fall.
14. Ginger Gold Apples
Ginger gold apples were first discovered in Virginia and are among the sweetest apples that ripe around the end of August. These fine-textured apples come covered in slightly russeted skins that are pale yellow to green in color.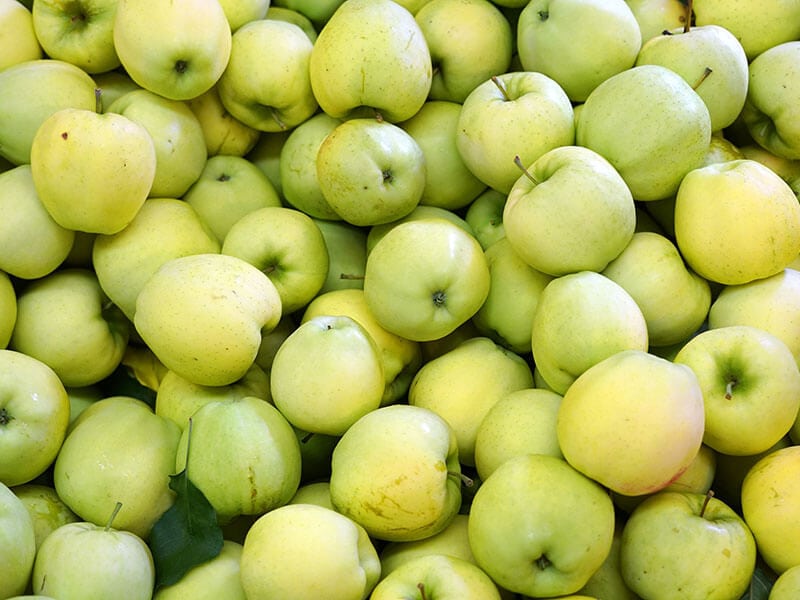 Their taste, although not the sweetest, is pleasant, with mild hints of tart and spiciness. Some might say their flavor is reminiscent of star fruits' flavor. However, I'd say that star fruits generally are not as sweet as these apples.
Since Ginger gold won't turn brown quickly after cutting, they make a great addition to fruit salads and lunch boxes with their cream-colored flesh and pleasing taste.
You can also make use of their sweet-tart flavor in baked treats such as pies or cakes.
15. Braeburn Apples
Similar to the Golden Delicious, Braeburn apples are also frequently utilized in creating new apple varieties. These New Zealand-originated apples have a complex-looking skin with yellow undertones combined with red to pink blushes and red stripes.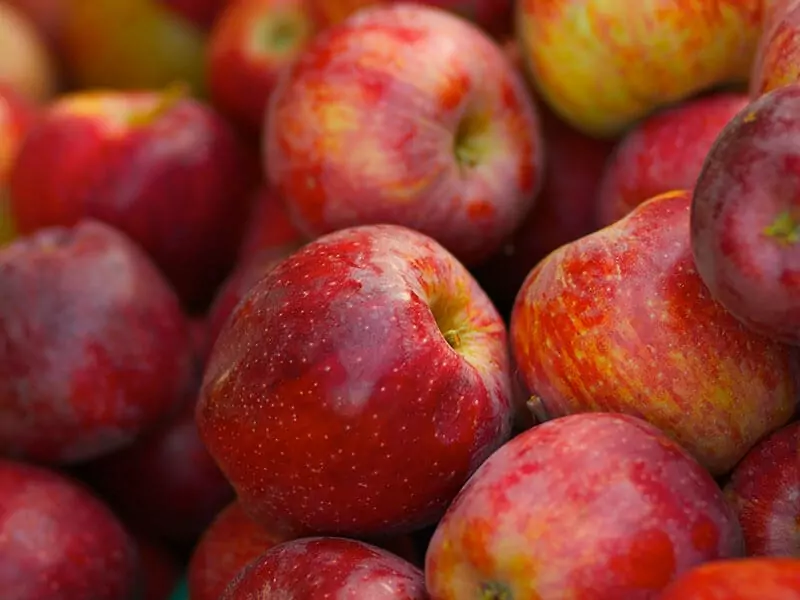 Braeburn apples are known for their signature sweetness that contains hints of pear, cinnamon, nutmeg, and a subtle spicy kick. Their pulp is incredibly crisp and juicy, with very few seeds in the middle.
You might find them in slightly different colors depending on their growing conditions. All in all, Braeburn is a well-rounded apple variety that will taste incredible, either eaten out of hand or used in cooking recipes.
16. McIntosh Apples
McIntosh apples have long been a favorite of North Americans. They boast vivid to dark red skin with bright green brushes and sometimes white lenticels.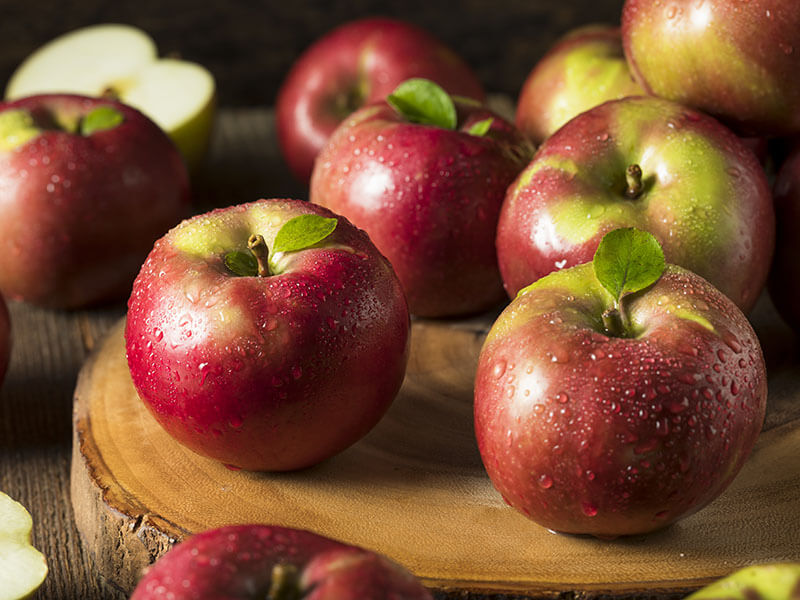 This variety is best known for its outstandingly juicy, crispy flesh and a unique flavor that blends sweet-tart with slightly wine-like undertones. However, these wonderful traits will lose potency pretty quickly, so make sure to enjoy these apples as soon as you can.
The appearance and flavor of McIntosh apples will vary depending on their harvest time. Early in the season, McIntosh will have a greener skin with flavor leaning more on the tart side. With time, their skins will turn redder, and the sweetness will become more apparent.
McIntosh is perfect for sauce making and mixing into salads, thanks to its tart notes. They can also be used in pies but note that their tender texture will break down easily when cooked.
Do you know which computer was named after this apple variety? You can see this video to know more:
17. Kanzi Apples
Kanzi and Jazz apples share the same parents – Gala and Braeburn apples, which explains their similarity in appearance and taste. However, many prefer Kanzi over Jazz since its flesh is easier to bite into while still retaining its brother's ideal juiciness and crispness.
In addition, they also boast a more delicate sweet-tart taste than Jazz apples with occasional sharp bites.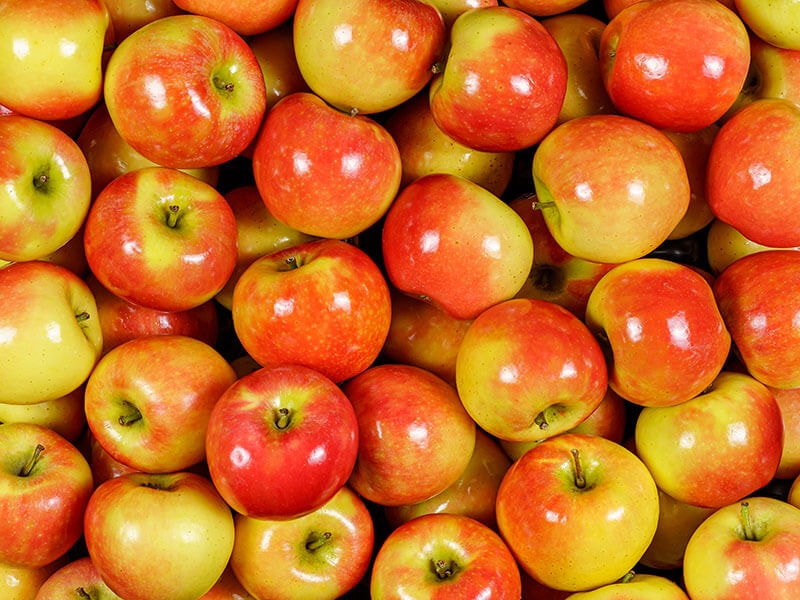 Kanzi apples are best suited for fresh eating, especially as a fruit dessert, and will fare decently in baking recipes. Remember to keep them refrigerated, though, as they won't be able to last for long otherwise.
18. Pink Lady Apples
Pink Lady is an Australian apple cultivar that is revered for its balanced taste and lovely appearance. If you've taken a liking to these bright pink-skinned apples, you'd be happy to know that they're widely available almost all year round.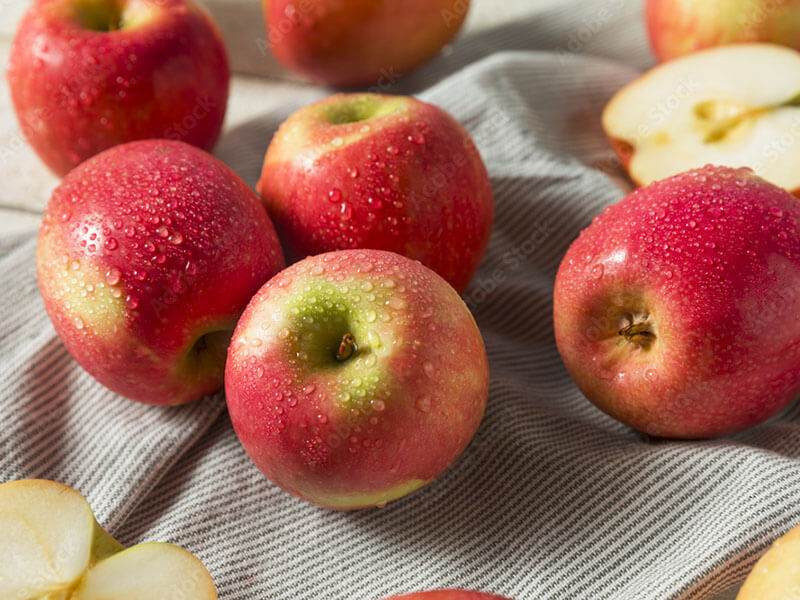 Visual appeal aside, Pink Lady apples have a pleasant and balanced sweet-tart taste that's made yummier by their crunchy flesh. They're also a very versatile ingredient that can fit well in pretty much every cooking recipe and are great for fresh eating.
19. Mutsu Apples
Japanese people surely know their way around making mouth-wateringly sweet apples as Mutsu is another wonderful variety coming from the Land of the Rising Sun.
From the outside, Mutsu apples have a waxy and smooth yellow to green-ish skin with some dark brown lenticels scattered on the surface. Take a bite into their crispy flesh, and you'll be greeted with a honey-like sweetness mixed with sharp and tangy notes.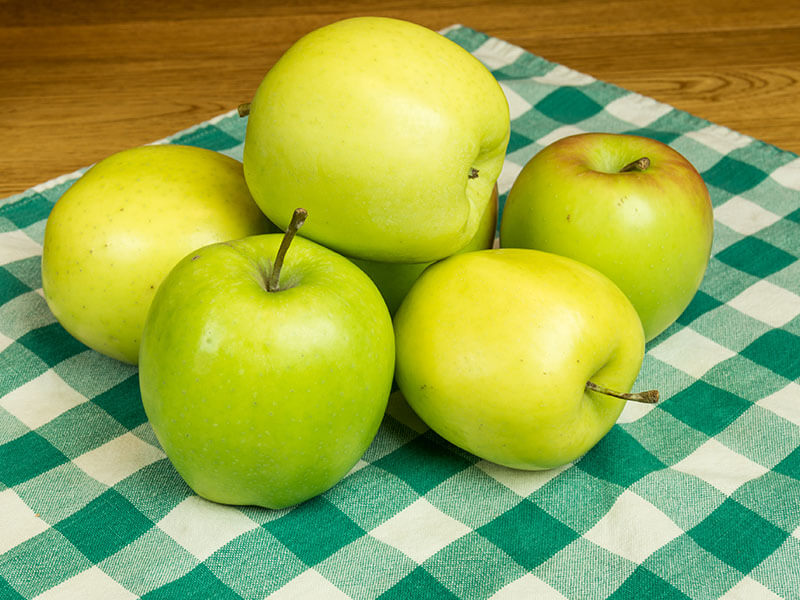 Mutsu apples will keep for 3-6 months in the fridge. They are best used for raw eating and can be integrated into an array of cooking recipes. You can also pair them with savory dishes like beef, pork, or fish.
20. Winter Banana Apples
As the name implies, the most distinctive feature of this apple variety is its banana-like flavor and aroma. You can only find them from late Fall to early Spring, so make sure to add them to your checklist for sweet winter desserts and snack.
Winter banana apples can be described as a happy coincidence since they're created by chance rather than deliberate breeding.
They have smooth, yellow-based skin with red and pink splashes. When they are ripe, you will be able to smell a perfumy, fruity fragrance with hints of banana and pear coming from these apples
In terms of taste, Winter Banana apples are mild, balanced, and sweet, with some tangy notes that are reminiscent of bananas. Thanks to their unique flavor, they're an ideal quick snack when eaten fresh and can also be utilized in cooking or juicing.
21. SweeTango Apples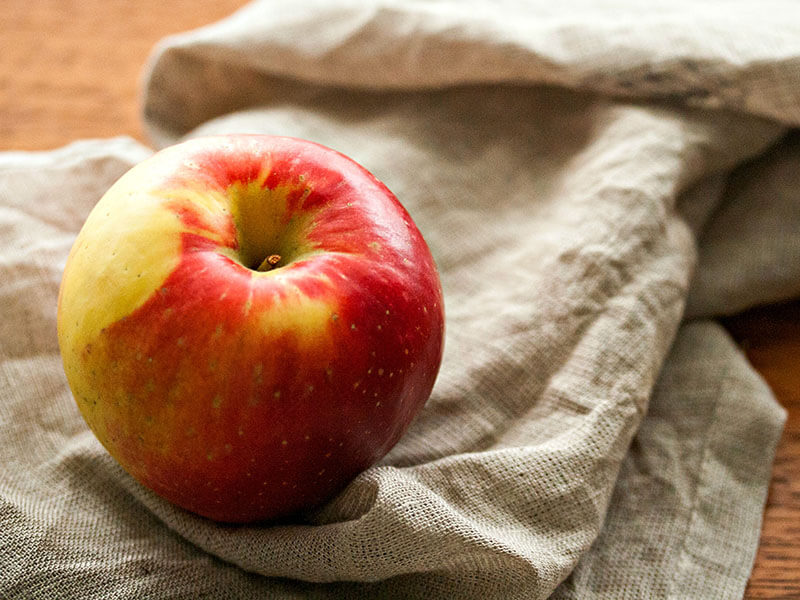 The SweeTango is a trademarked variety made by the University of Minnesota, the breeders behind the famous Honeycrisp cultivar. They're mostly farmed and sold in America and Canada.
SweeTango apples are vibrant-looking with bright red skin and yellow blushes. Their skin also contains many lenticels – a sign of potent sweetness, and they surely deliver.
Not only are these apples sweeter than their parents (with some tart notes), but they also have a crunchy texture that will make a satisfying sound when bitten in.
SweeTango apples are an excellent choice for fresh eating and making pies, muffins, or tarts. In addition, you can utilize their delightful color in a salad bowl to make it look more appealing.
22. Dazzle Apples
New Zealand is home to many outstanding apple varieties, and the Dazzle apple is one of them. These apples certainly know how to "dress to impress" with their bright red, shiny skin, and superb size.
Dazzle apples are full and super sweet in flavor with a firm and crunchy flesh. You can use them in cooking if you want, but these apples are best suited for raw eating.
23. Sugar Bee Apples
Sugar Bee apples are born from cross-pollination between a Honeycrisp and another unidentified apple variety. This is the reason for the "bee" part of their name. As for the "sugar" part, well, I think you know the answer.
Sugar Bee apples have a pretty complex-looking skin with a yellow-green base mixed with blushes of red and orange. Similar to other Honeycrisp offspring, their glossy coat also includes large tan lenticels.
They are aromatic apples with rich, incredibly sweet flavor and coarse, crispy flesh. You can use Sugar Bee apples for fresh eating, cooking (any recipe works!), and making cider or juice.
24. Snow Apples
Snow apple is an heirloom variety that first appeared in Canada in the 18th century. It is said that this is American poet Robert Frost's favorite apple variety and often made an appearance in his poems.
These apples have a round and quite symmetrical shape. The skin is matte with a yellow-green base and red blushes. They possess an aroma that might remind you of strawberries.
Their sweet taste is embellished by subtle tart hints and wine-like notes. This taste trait makes them a perfect addition to roasting, boiling, and baking recipes. You can also eat them fresh as a snack or use them to make delicious apple fruit, and cider.
25. Cameo Apples
The cameo apple's true origin is still unknown, but it is believed to have a close connection to the Red and Golden Delicious apples. First found in Washington State, these apples are quite unique in appearance, with red stripes covering their thin, light yellow skin.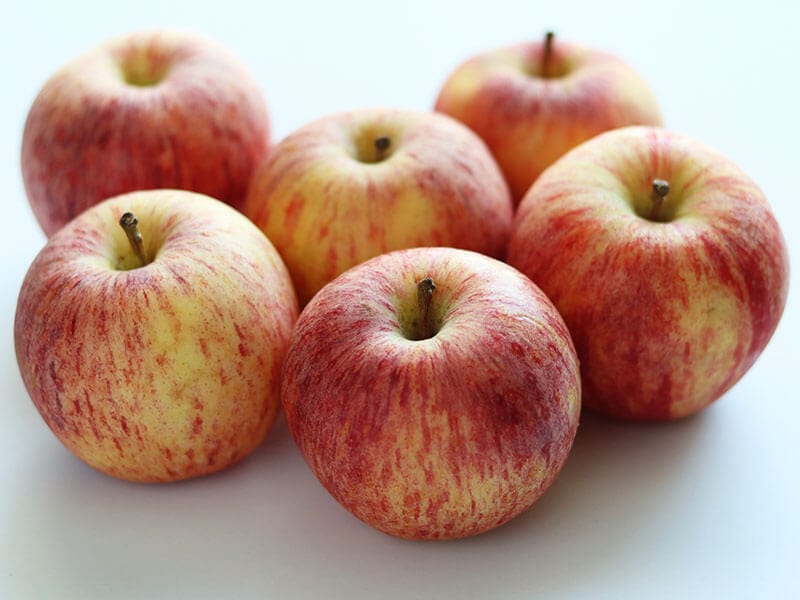 Their crispy and juicy pulp has a balanced sweet-tart taste with traces of honey and citrus. Cameo apples are great for both savory and sweet recipes. You can mix them in fruit salads, put them in sandwiches or even use them as pizza toppings.
26. Spencer Apples
Spencer apples are the descendants of Canadian McIntosh apples and American Golden Delicious. They have a yellow to green undertone that is largely covered patches of red-orange blushes. Their skins are also full of yellow pores.
When fully ripe, Spencer apples boast a wonderful sweetness that resembles honey with tangy, mildly acidic nuances. They are considered a well-rounded apple variety that can be enjoyed fresh, cooked, or baked.
27. Autumn Glory Apple
As the name implies, these large apples are a delicacy of Fall and will be available through Spring. Autumn Glory apple's skin is covered by red stripes with a yellow undertone. Behind the skin is coarse, crispy, and juicy yellow flesh.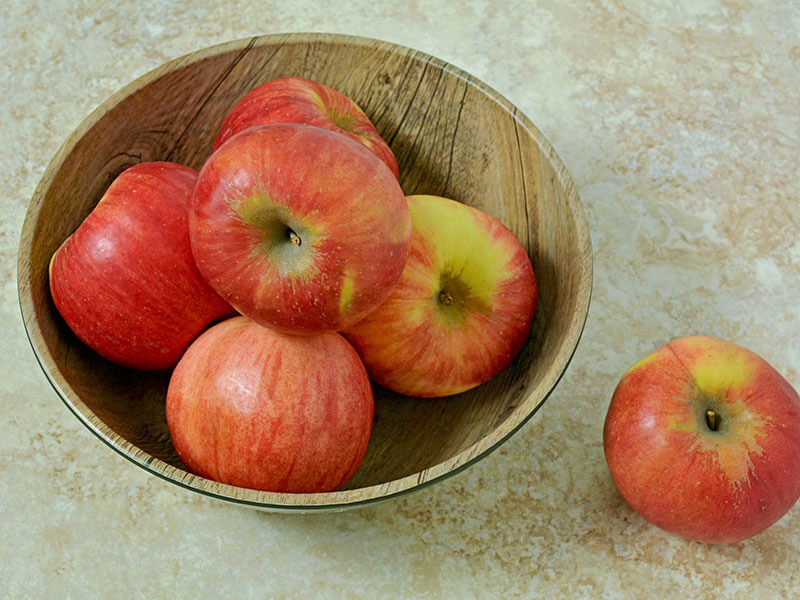 Thanks to their low acidic content, Autumn Glory has a candy-like sweetness with very little tart notes and a cider-like smell. These traits make them a solid option for baked goods, but you can always enjoy an Autumn Glory apple out of hand.
28. Scarlet Crush Apples
Although Scarlet Crush is a fairly new variety, they have already established a foothold in the competitive apple market. They have an eye-pleasing appearance with rosy-red skin and a conical shape.
Scarlet Crush has a sweet, citrusy flavor and firm, juicy flesh that is inherited from their parents: the famous Honeycrisp and Crisps Pink varieties.
Thanks to these superb characteristics, Scarlet Crush apples are an exceptional choice for both raw eating and cooking.
29. Sweet Cheek Apples
Similar to the Scarlet Crush, Sweet Cheek apple is also a new variety that was introduced in 2019. They are marketed as an apple for kids as their size is perfect for fitting into a children's lunch box.
Sweet Cheek apple is covered with red streaky blushes over a yellow base. Their crispy pulp is sweet but also contains tart notes for a more balanced taste. Feel free to eat them fresh out of hand or make use of their fine texture in various cooking recipes.
30. Ruby Darling Apples
These large apples certainly live up to their lovely names with their shiny, cherry-red peel and elegant shape.
Ruby Darling apples are extra sweet, refreshing with a crunchy flesh and very large cells. They're also quite versatile and can be used for both fresh eating and cooking.
31. Cosmic Crisp Apples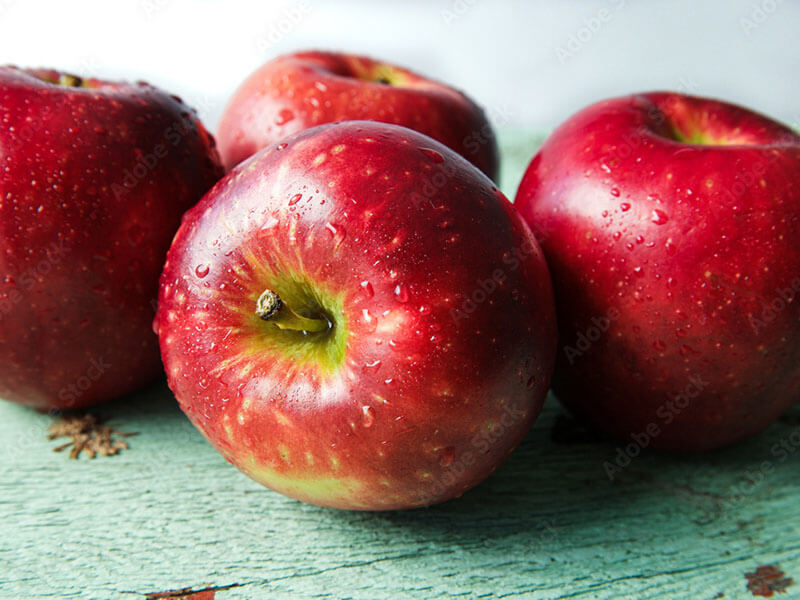 Cosmic Crisp apples are a cross between the widely loved Honeycrisp and the long-lasting Enterprise apple. For this reason, they boast the Honeycrisp's large size and crunchiness along with the surprisingly long shelf life of the Enterprise.
Their fancy name comes from the white lenticels scattering across the dark red skin, which can be described as a red sky full of stars. The cosmic crisp's extreme sweetness is toned down by well-timed tartness. They also have very juicy flesh.
Cosmic Crisp is best served as a dessert or used in fruit salads. They can keep their flavor for up to 1 year if refrigerated properly.
32. Pixie Crunch Apples
Pixie Crunch might be a bit smaller than other popular varieties, but that isn't necessarily a bad thing. Thanks to their petite size, these crunchy apples are perfect for children's hands and make a great addition to kids' lunch boxes.
When it comes to taste, Pixie Crunch apples are a bit sweeter than Honeycrisp apples but still contain slight traces of tanginess. They are wrapped around by a beautiful bright red skin with white pores spread unevenly across the surface.
Their sweet taste will work wonders in baking recipes, especially in no-sugar apple pies. You can also enjoy them fresh as a small snack or dessert.
33. Rosalee Apples
Rosalee apples are the result of cross-breeding two of the sweetest tasting apple varieties on the market: The Fuji and the Honeycrisp. As a result, they're incredibly sweet. However, their sweetness is a bit more gentle than their parents.
34. Pacific Rose Apples
Pacific Rose is a prime example of a "looks good, tastes even better" apple variety. They boast an appealing rosy-red blush skin with occasional light yellow lenticels.
Pacific Rose apples possess a refreshing, sweet-tart flavor and crispy flesh. They are perfect for pairing with cheese or smoked meat as an appetizer, slipping into sandwiches, and adding to a salad. In addition, they're also suitable for baking.
35. Hudson's Golden Gem Apples
Hudson's Golden Gem apple is a heritage apple variety that was first discovered in Oregon. They have a conical shape and smooth, russet skin. Their flesh is crisp, sugary, with a sweet and nutty, pear-like taste.
Although these apples are not the best choice for cooking or baking, they can be turned into delicious apple cider and juice. If you don't have the time to juice them, you can always enjoy a fresh Hudson's Golden Gem apple out of hand.
36. Idared Apples
Idared apples might not grow on the tallest tree, but they're indeed one of the best-tasting apples. Covering their round-ish shape is a vibrant red over a green background peel. The flesh is juicy but still has the firmness and crispiness of an ideal apple.
Idared apples are aromatic with a sweet-tart flavor. These medium-sized apples are famous for being an excellent cooking and baking ingredient. You can also pair them with soft cheese and blue cheese or simply enjoy them as they are.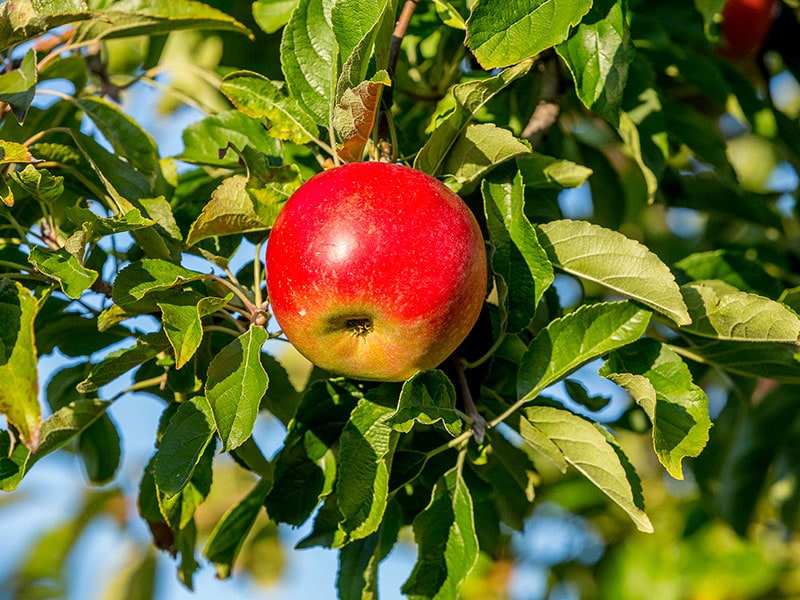 37. Jonathan Apples
The Jonathan is an heirloom apple variety that used to be extremely popular in the 19th century. While these apples have passed their prime, they're still delicious and worth giving a try.
Jonathan apple's skin is a combination between red and yellow to green blushes. They have a sweet flavor with a touch of tartness. Their flesh is fine-textured and full of juice.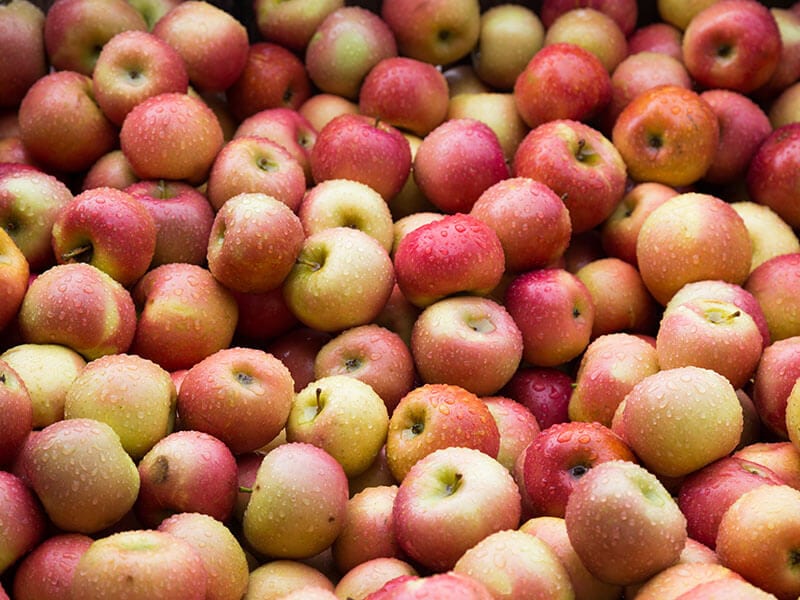 Jonathan apples are perfect for making sauces and caramelized apples when paired with dense apples like the Fuji. They also work great as stand-alone snacks and can be utilized well in both sweet and savory recipes.
38. Modi Apples
Modi apples are named after Modigliani, a well-known Italian artist with a love for intense red colors. Therefore, it comes as no surprise that these apples have dark, purple-red skin with yellow to green patches.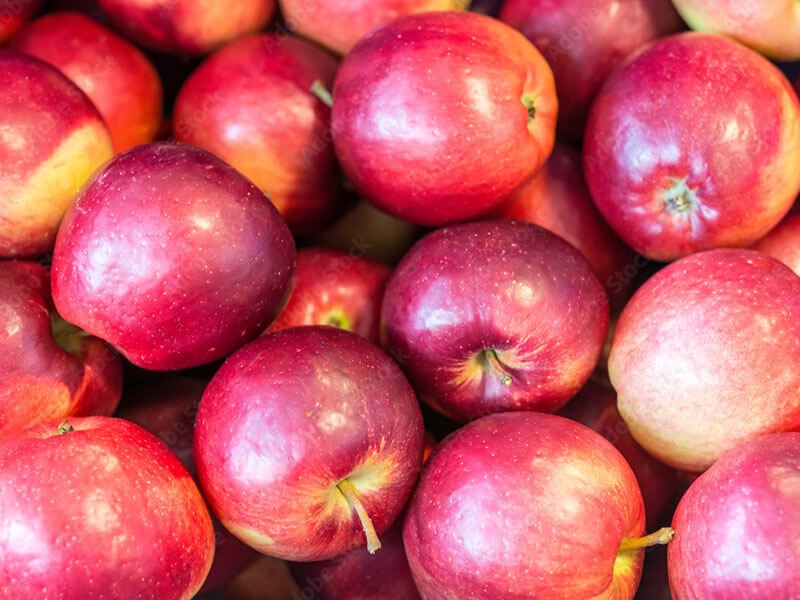 Modi apples have a pleasant taste with just the right amount of sweet and tart mixed together. As a result, they're very versatile and can be used in an array of baking or roasting recipes. Thanks to their juicy flesh, Modi apples will also make for a tasty, refreshing snack.
FAQs
Still want more information about apples? Of course, you do! Everyone loves to learn about this tasty, healthy fruit. Here are some frequently asked questions regarding apples to satisfy your craving for apple-related knowledge.
Apples Will Never Go Out Of Style
Not only do apples taste phenomenal, but they also bring enormous health benefits. You'll be doing yourself a huge favor by simply eating one apple a day!
Are there any other apple types that you'd like to suggest? Don't hesitate to let me know if I've missed your favorite varieties! If you want to support me, please leave a like and share this post.