It is hard to resist the fantastic taste of UAE foods, so let's try them right away if you can. UAE is a country that has a long-standing culinary background with many incredible foods. You will fall in love with them after enjoying them.
You will add a list of delicious UAE delicacies to your travel book from this article. This helps your travel planning become easier, so please focus your mind on reading it to gain helpful information.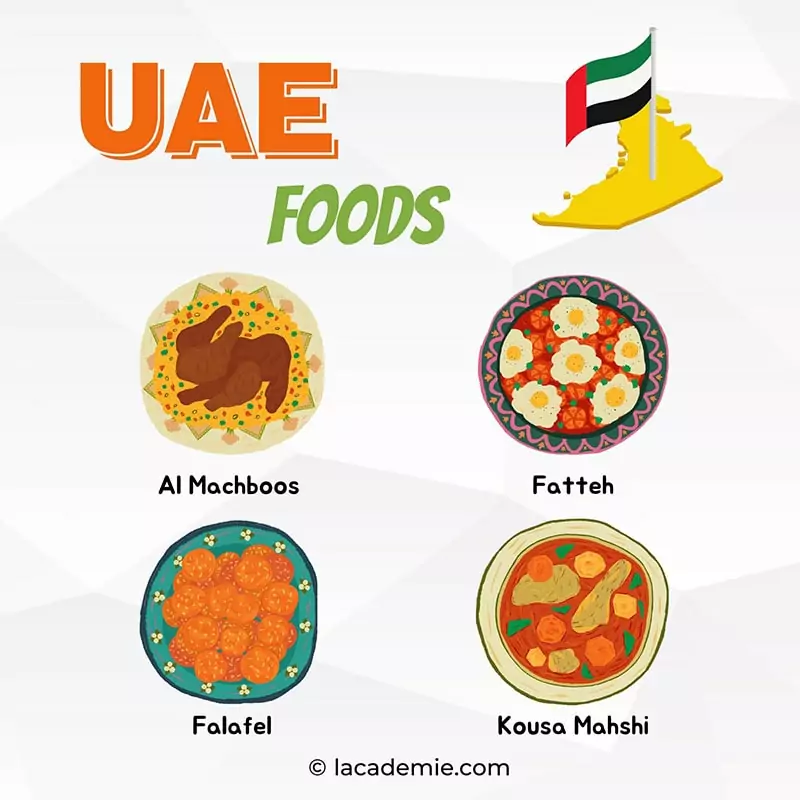 Do Not Worry About Hunger With UAE Main Dishes
If you have just experienced a long discovery day, these main dishes in this section will be valuable to you. They will ease your hunger immediately.
1. Al Harees – Meat Porridge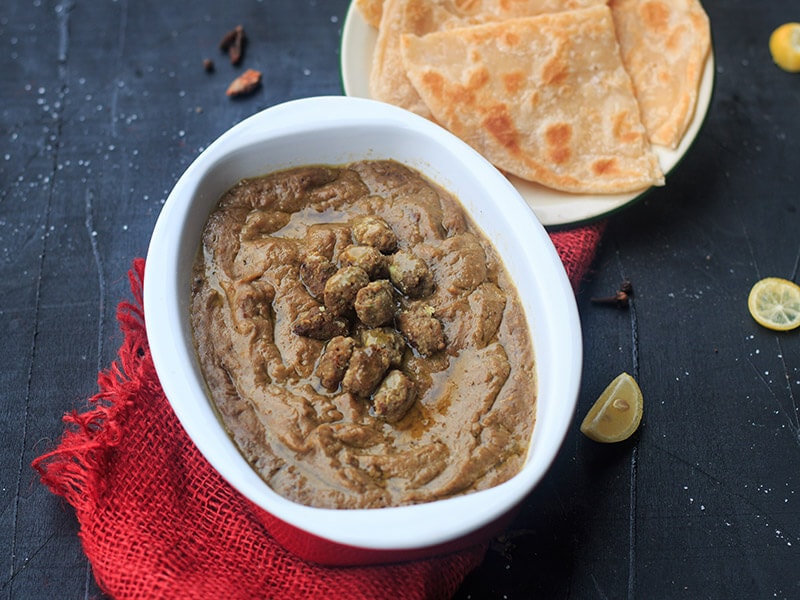 You should start the new day with the nutritious UAE breakfast recipe. Al Harees is an iconic food of the UAE and countries in the Arabian Peninsula, especially in the cuisine of Yemen.
It is a product of combining boiled ground wheat, meat, and spices. Its thick texture will fascinate you immediately.
Its name means "mash" in Arabic". This is a charity food for the poor when there is not enough sheep for people and wheat is used. Gregory the Illuminator, Armenia protection Saint offered this food of love for the poor.
This recipe appeared in the Kitab Al Tabikh cookbook for the first time in the 10th century. The UAE people often eat it on Easter, Ramadan, weddings, Eid ul-Fitr (religious holiday of Muslims), and other special occasions.
Get the methods to cook outstanding Al Harees at home.
2. Balaleet – UAE Sweet Vermicelli And Egg Omelet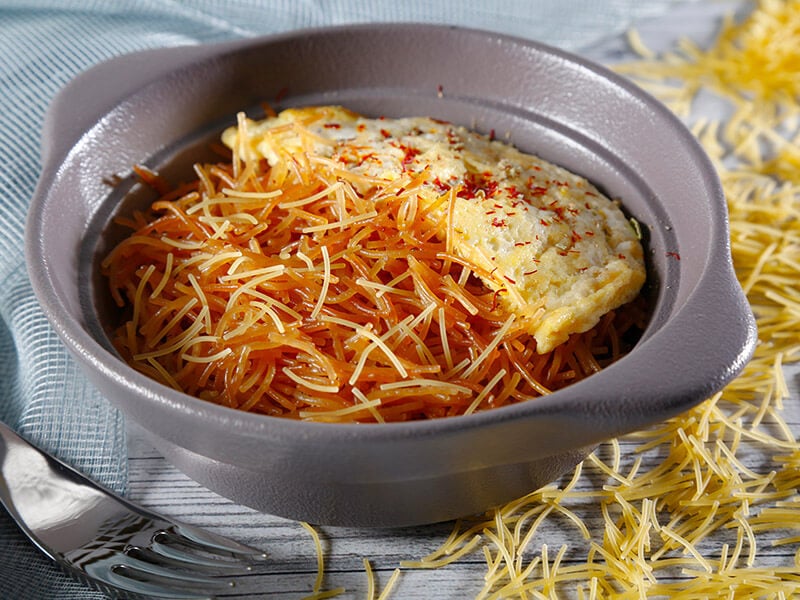 Balaleet is a favorite UAE breakfast recipe of many tourists when coming to the UAE. You can find the sweetness and saltiness of this food. Its vital ingredient is vermicelli. Moreover, the chef will add cinnamon, saffron, and rose water to create a sweet taste.
Your breakfast will be more fulfilling when eating it with an egg omelet and a few other appealing things like onions and potatoes. This incredible food originated from the Persian Gulf. You will easily find it during the Islamic holidays.
3. Fatteh – Pita With Chickpeas And Yogurt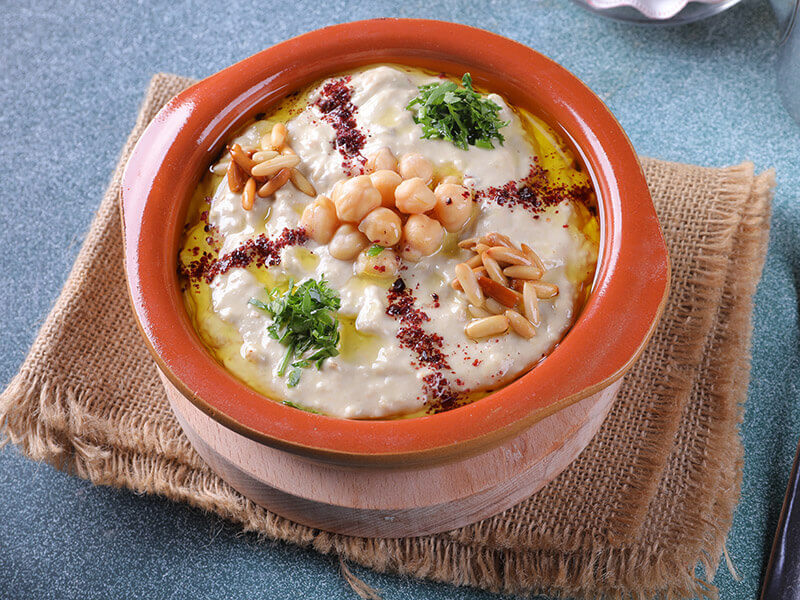 Your UAE dinner recipes menu will be more complete with Fatteh. This fantastic food usually has 3 layers. The bottom layer is made up of soaking bread in stock. The middle layer includes chickpeas and stuffed aubergines, and the top part is covered by yogurt and Tahini sauce.
Furthermore, you will feel the flavor of paprika, pine nuts, and parsley in this food. In particular, different regions will have various ingredients. This ancient food has existed since the Abbasid Caliphate era in the 13h century in the South of Levant and Egypt.
4. Tharid – Emirati Lamb Stew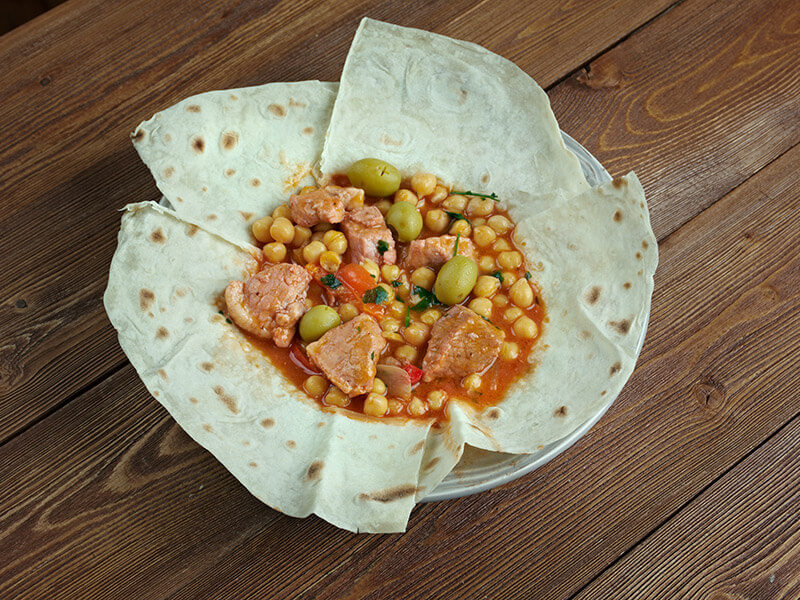 Tharid is one of the famous Arabian dishes favored by many tourists. This rich stew was made up of chicken, lamb, and vegetables like tomatoes, pumpkin, potatoes. It is a regular companion with Emirati Bread.
The UAE people often eat it in the Holy month of Ramadan. This fantastic food was born in the Arabian Peninsula and attached to Arab culture. This food also shows its influence by appearing widely in North Africa and Southeast Asian countries.
5. Khuzi – Rice With Lamb And Nuts
Besides Al Machboos, Khuzi or Quzi is a national dish of the UAE. Your hungry stomach will be complete after eating this rice-based food. Moreover, the appearance of a lamb, roasted nuts, and raisins will enhance the taste of the food.
Iraq is home to this incredible food. Its name comes from the word "Kuzi", which means "lamb" in Ottoman Turkish. It has many different variations, and it is an essential option to eat at festivals and special occasions.
6. Madrooba – Chicken Porridge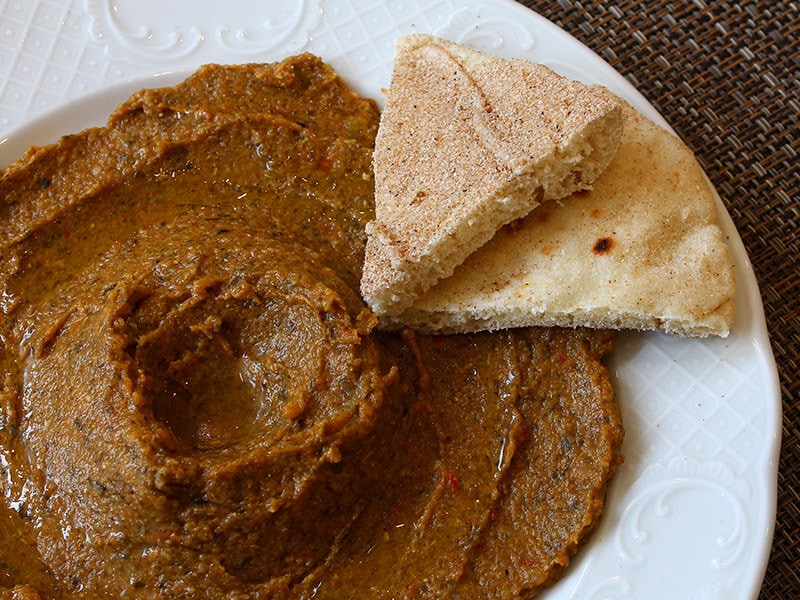 I am confident that you will be addicted to Marooba after enjoying it. The UAE people often eat it during Ramadan and at different festivals. This fantastic recipe does not appear on the menu of restaurants in the UAE since it is usually made at home.
If you need a nutritious and healthy recipe, it is a food you should consider. Its name originated from a large wooden spoon used to make it. The Emiratis will use a spoon to make the dense texture of the recipe.
Follow these tutorials to make mouthwatering Madrooba right now.
7. Al Machboos – UAE Chicken And Rice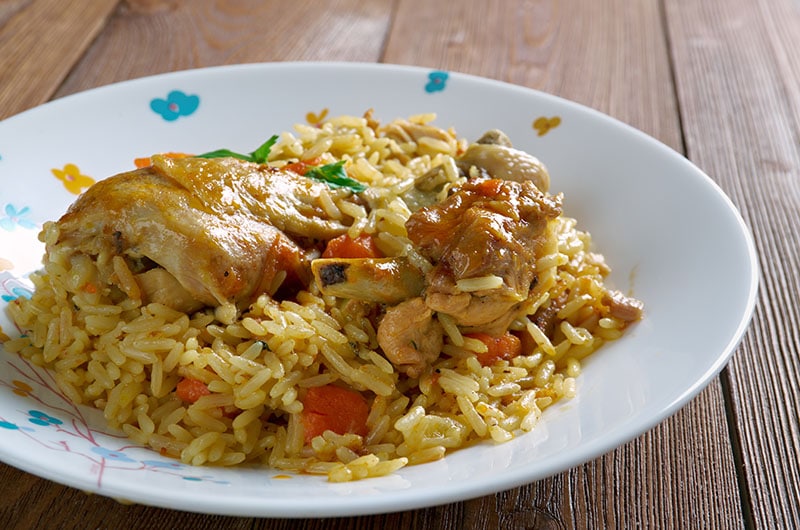 You should add Al Machboos to your UAE lunch recipes list right away because its flavor will fascinate you immediately. Red meat, fish, and rice are the main ingredients that create the attractiveness of this food. The UAE people often eat it with Loomy (dried lemon).
This particular recipe originated from the Kabsa region, located near Saudi Arabia, and it is one of the famous Saudi Arabian foods. It is famous in the UAE and known widely in other Middle East countries like Kuwait, Qatar, Bahrain, and Oman. Its name means "squeeze" in Arabic.
The chef will cook meat until it is soft. They will take advantage of the stock to cook rice to bring a rich taste to it. When it is cooked, meat and rice will be cooked with fried chopped onions, tomatoes, and potatoes together.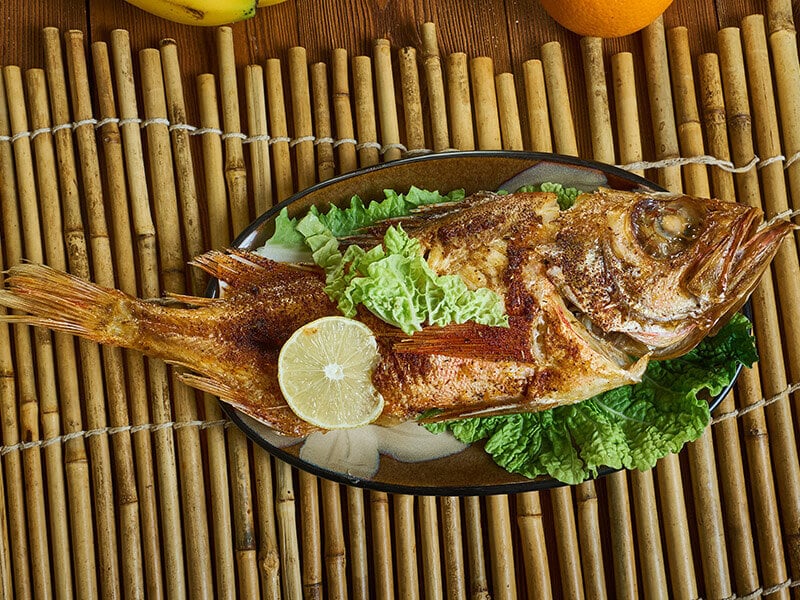 If you like the smoky flavor of grilled fish, you should not ignore Samak Mashwi. This food is a well-known Egyptian food originating from Alexandria city in Egypt. It is also pretty famous in Lebanon and UAE. Its characteristic flavor will leave an unforgettable impression on you.
This appealing flavor comes from date paste used to marinate fish. The UAE people will skewer fish into a stick and grill on a dome-like barbecue to make this food. In particular, they use scales to keep the fish away from breaking during grilling.
9. Shakshuka – UAE Poached Eggs In Spicy Tomato Sauce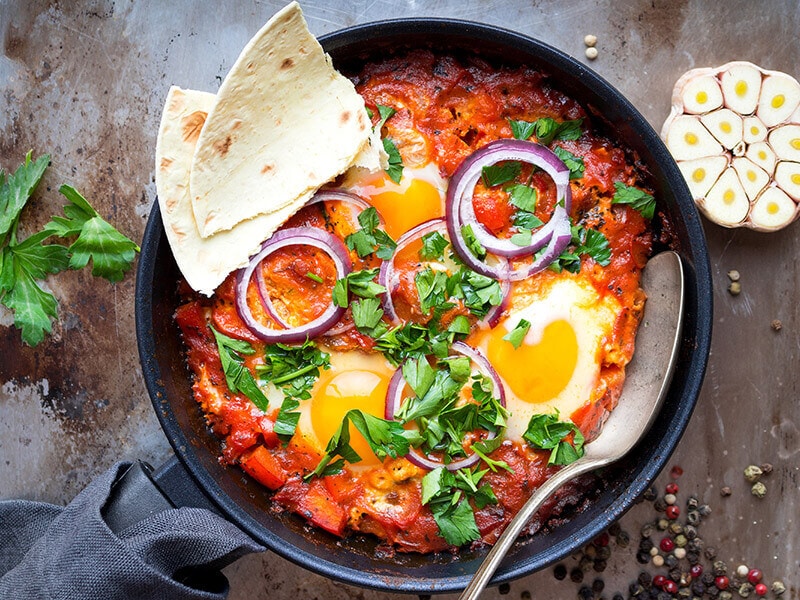 Shakshuka is a popular choice of the Emiratise for breakfast. You will go crazy over the wonderful flavor of scrambled eggs, pepper, and tomatoes, and a bit of thyme and coriander will make it more eye-catching.
Besides scrambled eggs, poached eggs are also commonly used. This food is derived from Libya. However, some other theories said it existed from the Ottoman Empire. Jewish immigrants of Libya introduced it to Israel in the 1950s and 1960s.
It has many different variants with spicy and sweet tastes. Some versions are made up of sheep milk cheese, lemon, spicy sausage, or eggs. Some recipes contain lamb mince, toasted spices, and yogurt.
Listen to some reviews after eating yummy Shakshuka.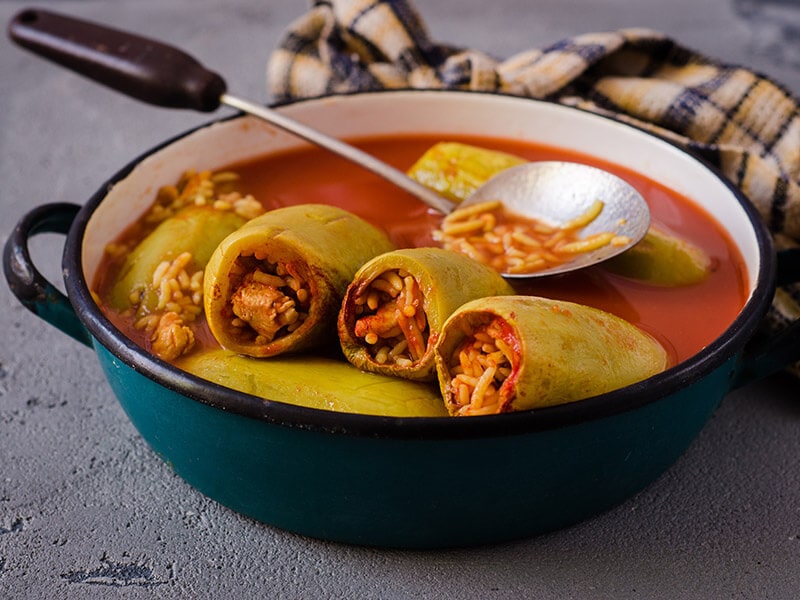 Most people in the old Ottoman Empire countries, such as the Balkans, the UAE, and Egypt, love Kousa Mahshi. To make Kousa Mahshi, the chef will stuff the rice inside the zucchini and cook in the oven. Sometimes, you can find versions that are stuffed with meat.
When you choose the meat version, the restaurants will serve it hot, while the non-meat version will be delicious when eating warm. Its Kousa Mahshi name means "stuffed squash" in Arabic. This food was born in a Turkish kitchen in the 14th century.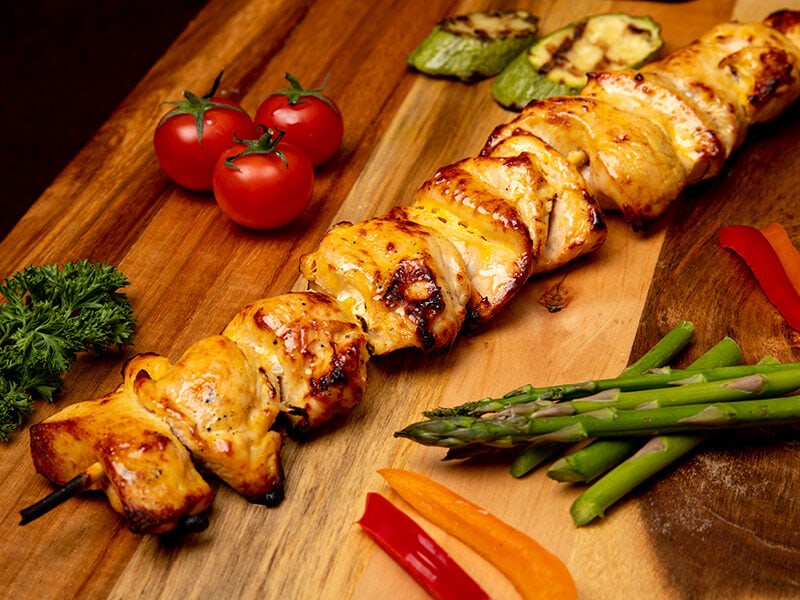 You will regret it if you ignore the attractive Chelow Kabab when you step into the UAE. This delicious food is derived from Iran in the Qajar dynasty, and Iranians consider it a national food. In the UAE, this food is a mixture of steamed rice and Iranian kebab.
In addition, it also contains butter, basil, grilled tomatoes, and sumac powder. It has many different variations. You can choose Barg with lamb or beef kebab. If you like ground lamb or beef kebab, you can select Koobideh. The Jujeh version is grilled chunks of chicken.
It is amazing to consume Chelow Kebab with butter, sumac powder, onions, and grilled tomatoes. The appearance of Doogh (an Iranian yogurt-based drink) will make the meal become better.
Your meal will be more diverse with these side dishes. They are suitable choices to combine with the main dishes above to create a perfect meal.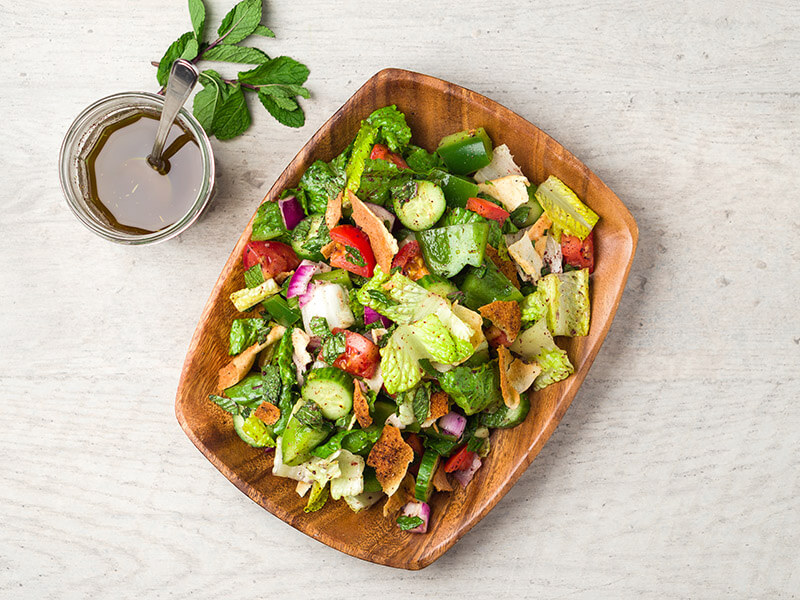 If you are addicted to the fresh taste of salads, Fattoush is a perfect suggestion for you. This recipe consists of fried Khabz (flatbread), radishes, tomatoes, and olive oil. It is loved by many people in the Levant and UAE.
Many people believe that this appealing food is an incredible invention of people living in the North of Lebanon, so Fattoush is also a well-loved Lebanese food. Farmers added leftover Pita bread into salads and added a bit of olive oil and spices, and the first Fattoush version was born.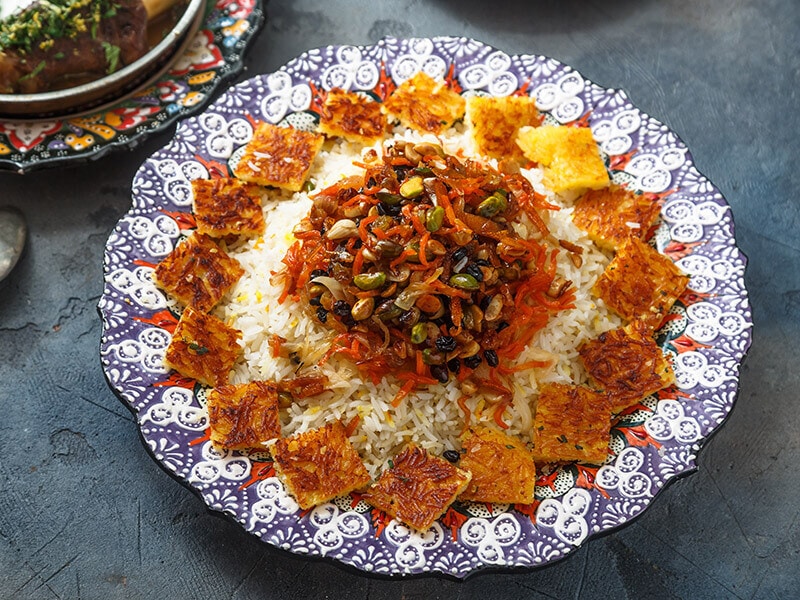 Shirin Polo is one of the specialties of UAE cuisine. It is also a Iranian food since it originates from Iran and is popular in many Middle East countries. You will love the gentle sweetness of steamed rice, and it becomes more flavorful with nuts, veggies, and dried fruits.
It is a Persian rice pilaf version known as Persian wedding rice. Therefore, it is an indispensable part of weddings and holidays like Purim, Rosh Hashanah, and high holidays. It is great to eat it with baked chicken.
After soaking and draining, rice will be marinated with cooking oil, saffron, and other spices. The chef will use tahdig to decorate the food. Dried fruits will be arranged on top to enhance their flavor.
Go to the kitchen to make delicious Shirin Polo immediately.
14. Tabbouleh – Parsley Salad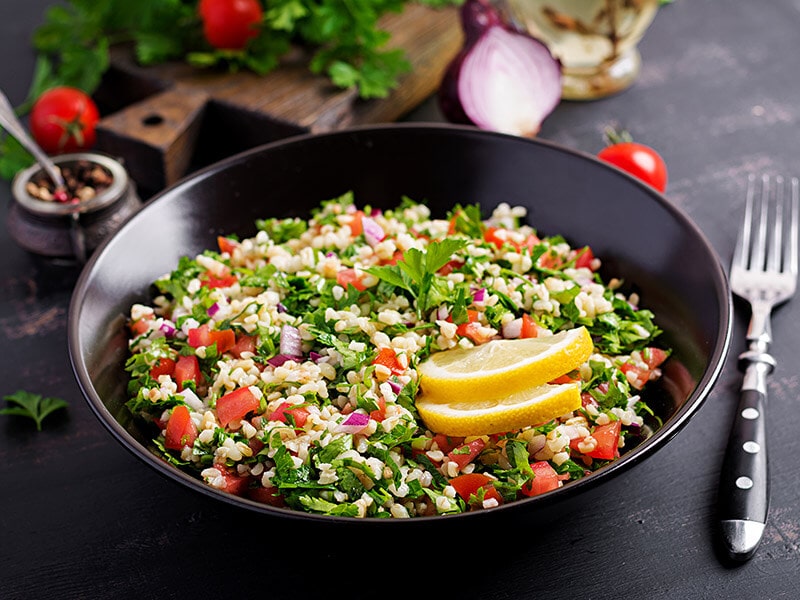 Tabbouleh is healthy and nutritious food for those who are following vegetarian diets. This fantastic salad recipe is a harmonious combination of chopped parsley, mint, bulgur, onion, tomatoes, olive oil, and lemon juice.
The UAE people often eat it as a part of Mezze (appetizer). Although it does not have originated in the UAE, the people here love it. It is a yummy Syrian food as it is an invention of people in the mountains of Lebanon and Syria. It was an essential dish in the Middle Ages.
There are many snacks you can eat in the midday meal to satisfy your hungry stomach. I hope you will love the flavor of these foods.
15. Shawarma – Roasted Meat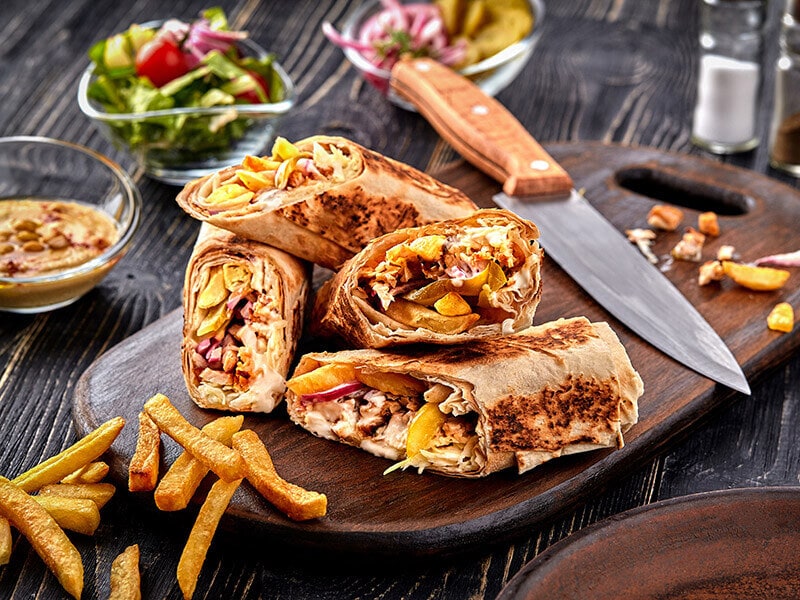 Shawarma is a famous street food that you can see anywhere in the UAE. In addition, it is also popular in many other Middle East countries. The chef will stack the slices of meat in the vertical rotisserie in a cone-like shape and rotate to roast.
The first Shawarma version was processed from lamb or mutton. Nowadays, you often come across chicken, beef, veal, and turkey in this food. The seller often rolls meat in a flatbread to sell to everyone as a snack.
This appealing recipe first appeared for the first time in the 19th century in the Ottoman Empire when the grilled technique with vertical rotisserie was first applied. Its name means "turning" in Arabic.
It is time to explore some essential things about Shawarma through a story.
16. Manakish – UAE Flatbread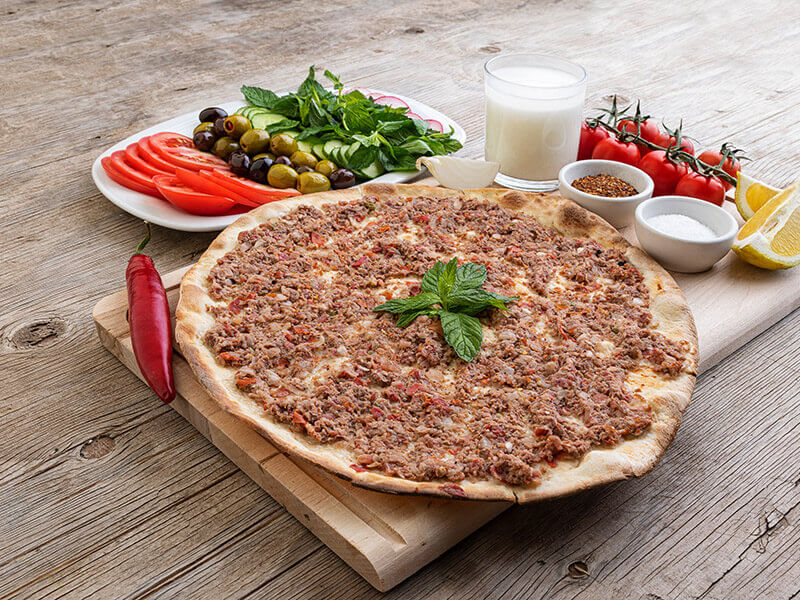 If you have the opportunity to go to the UAE, you have to try Manakish. This fantastic recipe comes from the Levant from ancient Phoenicia in 2500-539 BC. People created stone wheels to make the flour by crushing wheat at that time.
In the UAE, women often wake up early to bake Manakish in a communal oven for family breakfast. This incredible recipe includes flatbread and a layer of cheese, thyme, and ground meat on top. You will think of pizza when you see it.
17. Falafel – Chickpeas Balls Fritters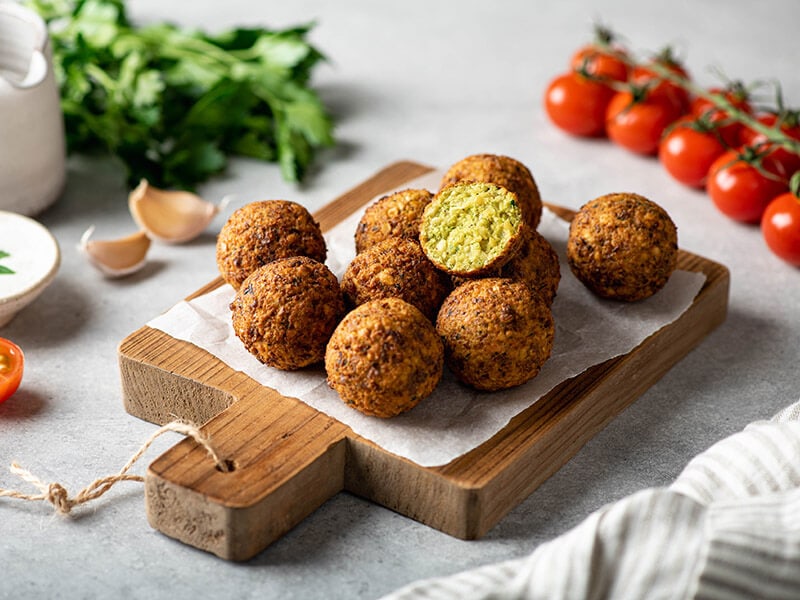 If you are looking for a snack in the UAE, I recommend considering Falafel. It is a kind of fritter with chickpeas, and broad beans are the main element. The UAE people often eat it with Pita or wrap it with a sandwich as a breakfast dish.
Its flavor will be more delicious when eating with salads, pickled vegetables, or Tahini sauce. There is many controversies about the origin of Falafel. Many people believe that it have existed for thousands of years, and the Egyptian Copts used to eat it as a meat substitute.
However, some other views said it appeared for the first time in India in the 6th century, while other theories noted that it was a modern invention in the 19th century.
18. Khameer Bread – Traditional Emirati Bread
When it comes to the softest bread in the world, it is impossible not to mention Khameer Bread. It is a kind of flatbread with a round shape and sweet taste. It has originated in the UAE and is one of the iconic dishes of this country.
Its enchanting sweetness comes from sugar and dates. In addition, its flavor will be more diverse with a bit of fennel, cardamom, and saffron. In particular, the butter or cream filling will make you flutter. The UAE people often bake bread in the oven.
Enjoy Your Meal With Mouthwatering UAE Desserts And Drinks
Desserts and drinks are indispensable parts of each party. You can refer to these mouthwatering desserts and drinks in this section right now.
19. Luqaimat – Sweet Dumplings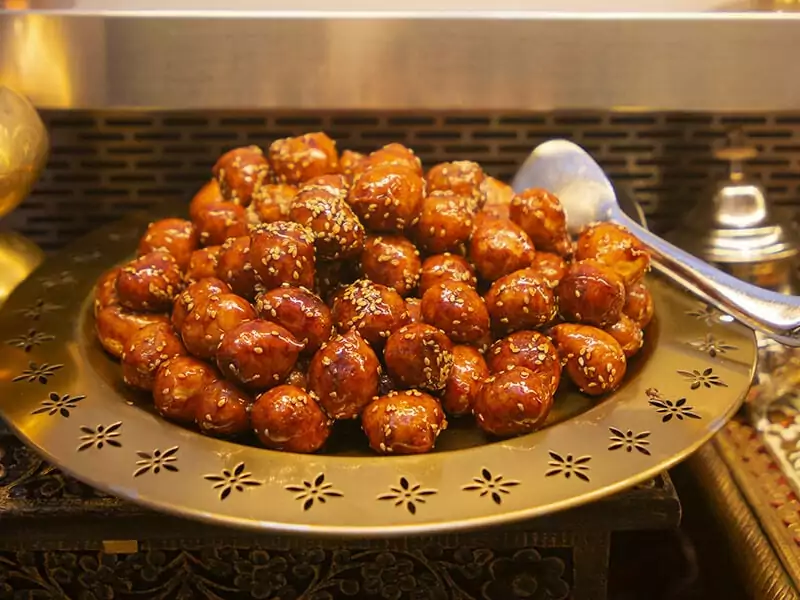 Luqaimat is a fine UAE dessert recipe derived from Saudi Arabia, and you can also find this treat in Middle East foods menu or other nations in this region. Its name means "small bites" in Arabic. You will love the crunchiness and sweetness of deep-fried dough balls.
Its sweetness comes from date syrup or honey. A bit of cinnamon and saffron will increase its taste. The people of the UAE often cook it during Ramadan. Many people think it was born in the 13th century in the Abbasid Caliphate period, as it appeared in many cookbooks.
An explorer caught it at a Multan dinner in the 14th century when he took a trip to Medieval India. It was prepared for centuries in the palace kitchen in the Ottoman Empire.
20. Mahalabiya – Middle Eastern Milk Pudding
When referring to UAE desserts, it is impossible not to mention Mahalabiya. It is a kind of custard of Middle Eastern cuisine. It is a favorite dessert of UAE people during Ramadan. It is also known as Muhallebi or Malabi in other Middle East countries.
This fantastic dessert was made of rice, milk, sugar, and semolina. Its sweetness and smooth texture will fascinate you immediately. A Persian chef named Sassanid Persia brought it to Arabs in the 7th century.
He introduced it to an Arab General, and this person named it by his name Al-Muhallab Ibn Abi Sufra. Its first recipes were born in the 10th century, and they began to appear in the cookbooks in the 13th century.
21. Knafeh – Middle Eastern Sweet Cheese Pastry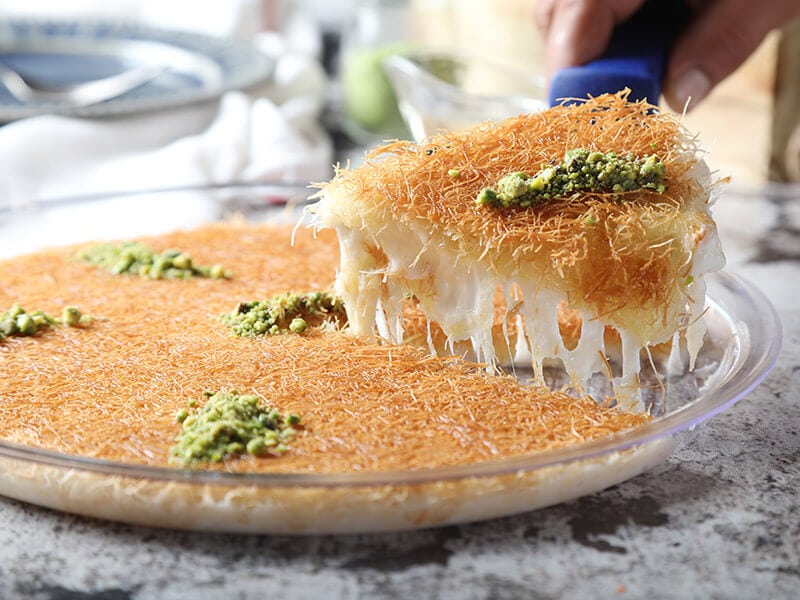 It is time to immerse in the sweet and excellent taste of Knafeh. It is famous in the UAE and other Middle East countries and the Balkans. In addition, it's one of the most adored desserts in Libya and North Africa. The dish is composed of spun pastry (Kataifi) sweetened with sugar syrup.
In addition, the layer of cheese, cream, and nuts on top will make it more attractive. There are various theories surrounding its origin when many people think it appears from the 15th century in Egypt, while some other views claim that it existed in the 10th century in the Umayyad.
However, the most famous story about it is that doctors created it first during Ramadan to relieve the hunger of Caliphs in the Umayyad Caliphate in Syria. Many other records show that it was of Fatimid origin in the 10th century.
Take a trip to the UAE to enjoy a fantastic taste of Knafeh right now.
Arabic coffee is one of the essential drinks in UAE cuisine. You will easily catch groups of people sipping coffee containing in a small cup with decorative patterns (Finjan) on the streets in the UAE. There are many ways to brew and prepare coffee, and you can feel the taste of cardamom when drinking it.
The UAE people often drink coffee with sugar or plain. The bitter taste is the typical flavor of Arabic Coffee. This drink is a crucial part of family gatherings and is commonly served to guests. Arabic Coffee is derived from Middle Eastern countries.
Yemen is the first country to witness the presence of Arabic Coffee and gradually spread to countries like Egypt and the Levant. It appeared in Europe in the middle of the 16th century. In particular, UNESCO recognized Arabic Coffee as The Cultural Heritage of Arab States.
23. Karak – Emirati Milk Tea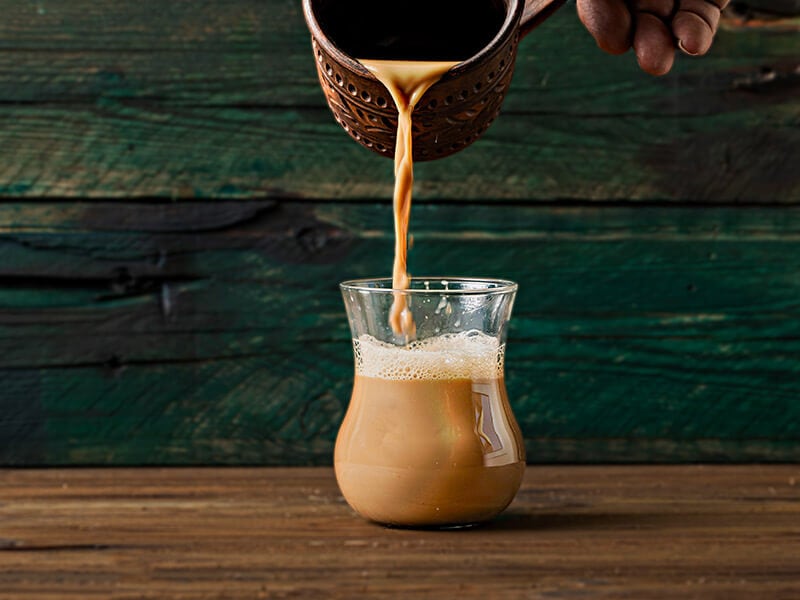 The UAE people consider Karak a national tea of this country. In the UAE, it is usually sold on sidewalks and is contained in paper cups. This recipe includes tea, milk, water, sugar, and cardamom. It is the perfect choice for breakfast with donuts and sweet cake.
Although it is a common type of tea in the UAE and the Middle East countries, it originated in South Asia in the 1960s, particularly in India and Pakistan. It has another name, "Masala Chai," which means "tea with spices".
It Is Time To Experience Delicious Emirati Foods!
If you are planning a trip to the UAE, this article will be of much help to you. You will not need to be nervous and think about choosing the food to eat anymore because it will give you all the necessary information to compare and choose.
I hope you will have a great trip. Do not forget to introduce it to others around you. In particular, share your thoughts and questions in the comment section; I look forward to receiving them from you. Thanks a lot.