Truly, it's impossible not to mention Lebanese foods when discussing the distinct flavors of Middle Eastern cuisine. Some of you might think they are not too famous in the culinary world, but what I am about to show you here shows the opposite.
From appetizers to desserts, every authentic Lebanese treat will tell you what perfection is. Moreover, you can make these delicacies from various veggies, whole grains, yogurt, meat, etc.
So get ready to expand your horizon with these insights about this special cuisine and its flavorful Lebanese dishes. Let's roll down the page to find out.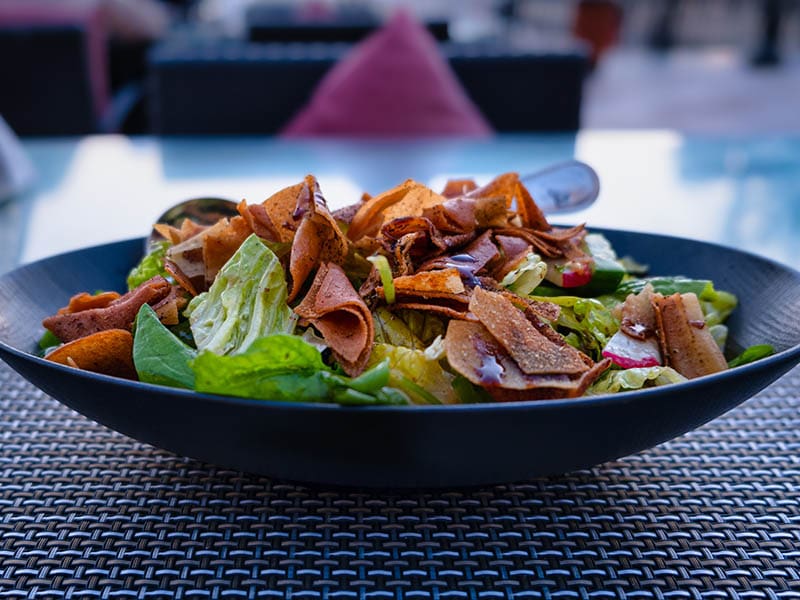 Overview of Lebanese Cuisine
Explore the vibrant tapestry of Lebanese cuisine, a gastronomic treasure trove steeped in history and culture.
Brief History Of Lebanese Cuisine
The rich heritage of Lebanese cuisine stretches back to the ancient culinary customs of the Eastern Mediterranean, shaped by diverse influences such as Phoenician, Egyptian, Persian, Neo-Babylonian, Greek, Roman, Arab, Byzantine, and Ottoman rule.
Over the past 500 years, the gastronomic landscape has been further enriched by the Ottoman Turks' introduction of lamb and the French culinary impact that followed World War I, which brought delights like eclairs, flan, and croissants.
The global Lebanese diaspora has also played a significant role in the continuous innovation of this cuisine, with chefs like Tara Khattar pioneering a captivating, progressive approach to Lebanese cookery that garners admiration both within and beyond the country's borders.
Importance Of Fresh Ingredients And Spices
The secret behind this culinary sensation lies in the vibrant spices and aromatic blends that elevate every meal:
Za'atar: An enticing mix of thyme, oregano, marjoram, and lightly toasted sesame seeds adds a unique twist to any dish.
Lebanese seven spices: This powerful blend of black pepper, allspice, cinnamon, cloves, nutmeg, ginger, and fenugreek creates a flavor explosion in every bite. Used to season various meats and dressings, this medley leaves a lasting impression on the taste buds.
Cardamom: Exotic, sweet-spicy ingredient with a subtle aroma is known for its aphrodisiac qualities. Often used in sweets, coffee, and tea.
Sumac: Adds a zesty kick to salads like Fattoush and Tabbule, and effortlessly balances the robust taste of meat dishes.
Dried green mint: Celebrated for its therapeutic properties, mint is generously incorporated into our recipes, adding a refreshing touch to Lebanese lemonade and a burst of flavor to salads.
Lebanese Food Culture and Customs
The smooth and captivating realm of Lebanese food culture and customs awaits you, emphasizing warm hospitality and communal dining as a means to create lasting connections and cherished memories.
Importance Of Hospitality
A crucial element of Lebanese hospitality revolves around the role of the "mekhtar," the Arabic term for "host." The mekhtar takes on the responsibility of ensuring guests feel at ease, welcomed, and well-attended to, catering to their needs and comfort.
Family-Style Meals
Lebanese meals are typically served family-style, with multiple dishes placed in the center of the table for everyone to share. This communal approach to dining encourages conversation and bonding over food.
Mezze, an assortment of small dishes, is a central aspect of Lebanese dining culture. Served as an appetizer or a light meal, mezze is meant to be enjoyed slowly and shared among friends and family, turning the meal into a social experience.
Traditional Food Preparation Techniques
Lebanese cuisine emphasizes traditional cooking methods, such as slow cooking, grilling, and baking. These techniques help preserve the ingredients' natural flavors and textures while infusing them with the aromas of herbs and spices.
Lebanese Appetizers
Nothing can start your meal better than a simple yet tasty appetizer. And under this circumstance, let's see how people have in their Lebanese starter menu. Check it out, now!
1. Falafel (Deep-fried Balls)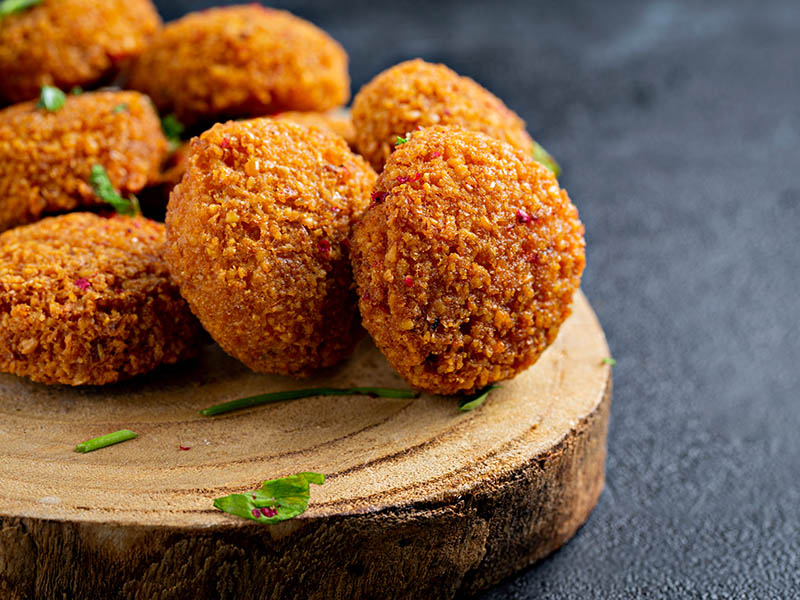 No one can be sure about the exact origin of falafel. Some believe this dish was derived from Egypt, while others think falafel was influenced by Israeli cuisine.
But today, Falafel is a famous food that can be seen on streets throughout Middle Eastern regions, including Lebanon, especially in Beirut – the capital of Lebanon. These foods with "F" as the starter have the shape of little balls that are deep-fried and served as a part of the mezze platter or snack.
There are many Falafel recipes based on their countries. Still, in the Lebanese version, these balls include dried chickpea, fava beans, garlic, onion, parsley, cilantro, cumin, coriander, bicarbonate of soda, and spices.
With these ingredients, Falafel is a good choice for vegetarians and vegans. They are a crunchy and full-of-flavor dish, but you can boost their deliciousness with tahini sauce mixed with lemon juice. Or you can top your falafel with fresh vegetables like salad or pickled veggies.
2. Tabbouleh (Parsley Salad)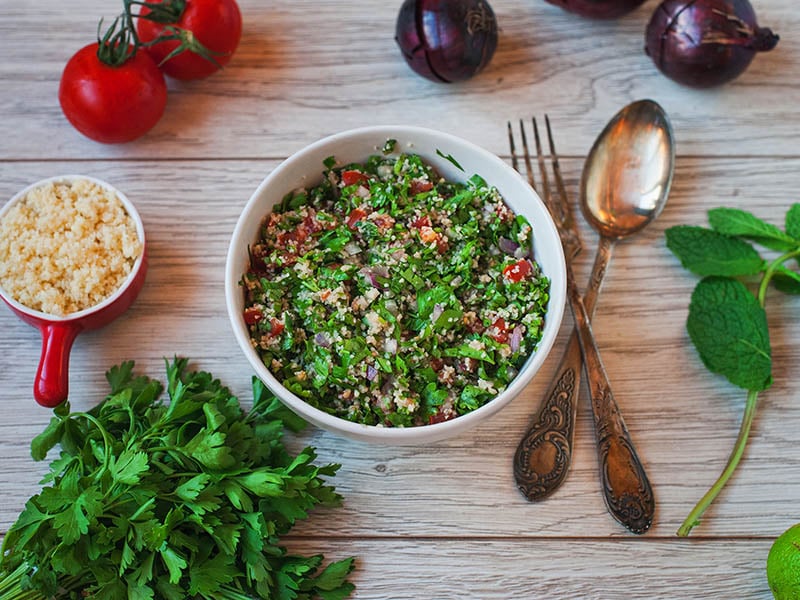 Tabbouleh (or Tabbouli, Taboulah) is an important dish in Arab food in general and Lebanese cuisine. Moreover, they are made from many herbs, including parsley (essential ingredient), tomatoes, onions, bulgur, lemon juice, etc.
Derived from the Arabic word "taabil," which denotes the process of adding seasonings or spices, the name "tabbouleh" has a rich history. This dish is thought to have first been enjoyed more than 4,000 years ago in the elevated territories of Syria and Lebanon.
Today, you can find this salad in many Lebanese restaurants since they are a famous salad dish in Middle Eastern cuisine. And you can enjoy Tabbouleh before getting into the main meals.
Also, this salad typically appears as a part of Mezza – a set of small dishes in the appetizer. You can prepare them ahead as it would be better to enjoy this salad when it is cold. What's more, if you are looking for a low-in-calorie salad, you should try it someday.
3. Hummus Kawarma (Lamb Hummus)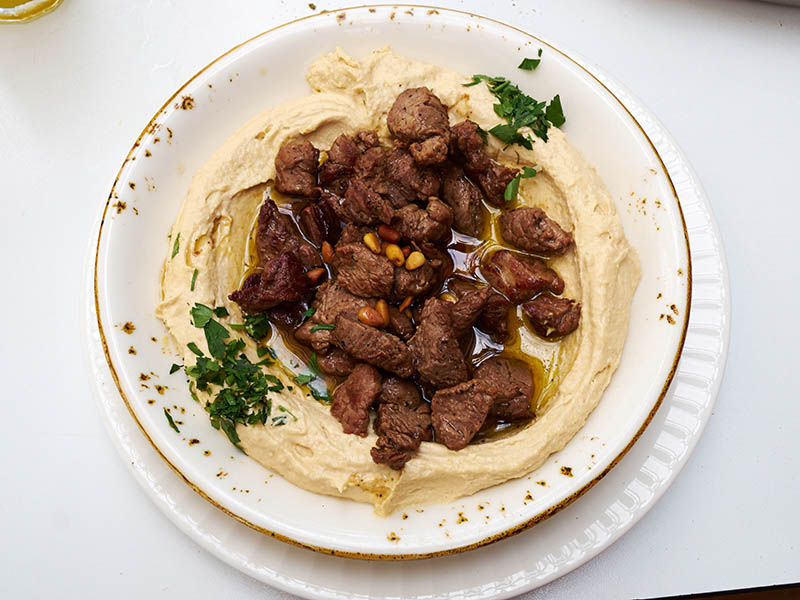 Based on many historical research, people claim the first hummus was in Egypt in the 13th century as chickpea – the key component of hummus has been found a lot in the Middle East regions.
This widely enjoyed Middle Eastern dish has ignited a dispute over its roots and ownership, with critics arguing that Israel's embrace of the dish amounts to appropriating Lebanese, Palestinian, or Arab heritage.
In response, the Association of Lebanese Industrialists approached the Lebanese Ministry of Economy and Trade in October 2008, seeking protected status for hummus from the European Commission as a distinctively Lebanese dish. As of 2009, they continued to amass evidence to back their case.
One attractive note is that Lebanese and Israeli chefs have taken part in a Guinness World Record competition to determine who can create the largest hummus dish as a way to challenge each other's claim to the dish.
As of 2021, Lebanon holds the record with an impressive hummus dish weighing around 10,450 kg (23,040 lb), crafted by 300 cooks in the village of al-Fanar, close to Beirut.
You might try a basic hummus dip, but hummus kawarma (aka lamb hummus) is more special. It is a toothsome combination of chickpea dip, fresh herb sauce, and tender meat, in this case, lamb.
This dish is also seasoned with many flavored ingredients like cinnamon, nutmeg, allspice, and more. You can enjoy it with pita or any Middle Eastern flatbread. Grab a bite of them, and tell me how you feel.
4. Hummus Beiruti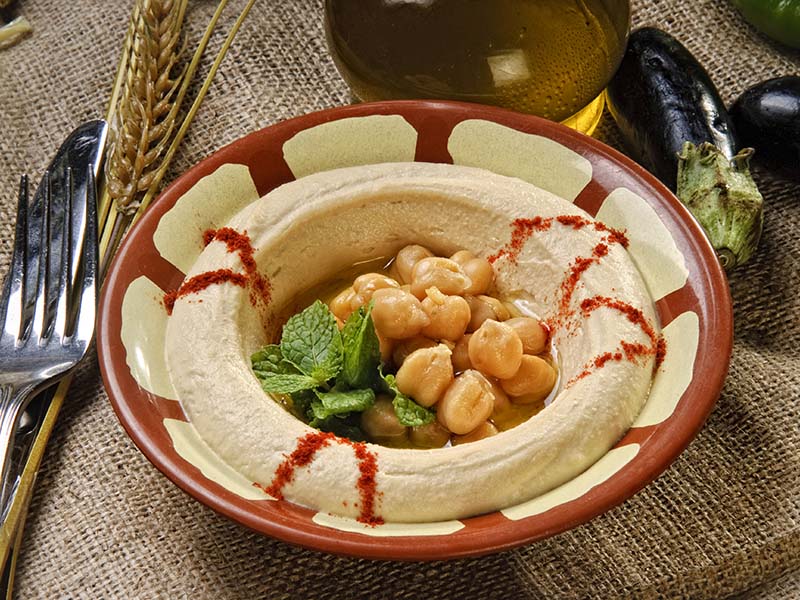 Similar to the above hummus, Hummus Beiruti is another specialty of Lebanon that you should not miss. Basically, you can understand this is a Lebanese style of hummus. And, of course, it is another variation of chickpea dip.
In this dish, there is no meat ingredient. They are a mixture of mashed chickpea, yogurt, olive oil, chili pepper, garlic, herbs, spices, and lemon juice.
The distinction between hummus Beiruti and regular hummus is the spiciness. Chili peppers can boost the typical umami flavor of hummus to another level of tastiness. Ideally, you can serve hummus Beiruti as an appetizer or snack with crackers.
Frankly, you might not be attracted by its look at first, but when you dip your pita chips, crackers, veggies into it or spread it on your sandwiches, you will find them so delicious, especially if you are a big fan of hot dishes.
5. Mutabal (Eggplant Dip)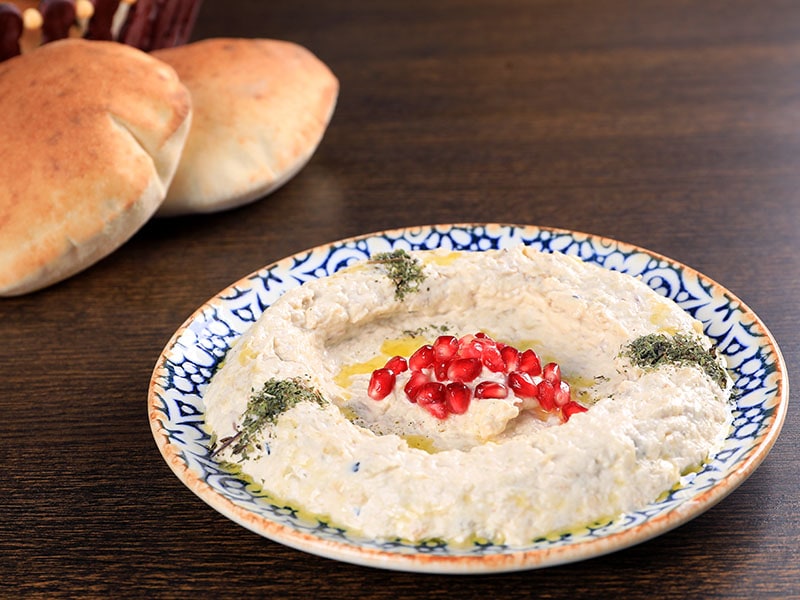 Mutabal (or Moutabal) is a popular eggplant-based dish in Middle Eastern delicacies. In fact, the original form of Mutabal is Baba Ghonoush or Baba Ghanouj – a Levantine mashed eggplant dish with many seasonings.
Both of them share some same ingredients like grilled eggplant, olive oil, garlic, and lemon juice. However, you will taste a more creamy taste in Mutabal as it contains yogurt, while Baba Ghonoush does not.
Moutabal is also known as a spicier variant of Baba Ganoush, distinguished by the inclusion of pomegranate (anar) seeds. Some Lebanese versions of Mutabal also add tahini, spices, or chili pepper.
Preparing and cooking this dish is simple. Place your eggplant at 450 F degrees in the oven, then combine everything in a big bowl to create a thick dip. That's why they are perfect for consuming with vegetable sticks or pita, tortilla chips.
6. Fattoush (Fried Bread Salad)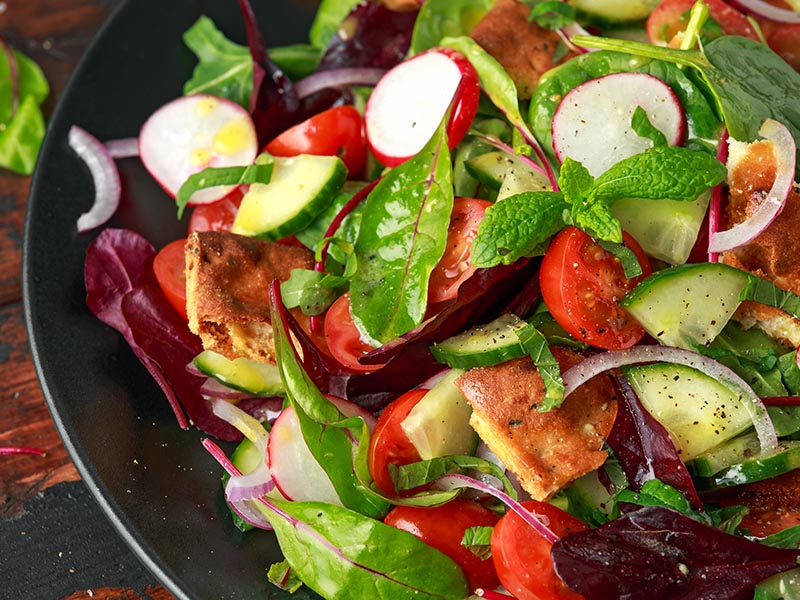 Fattoush (or Fattush, Fattouche) is a salad made from fried (or toasted) bread, particularly pita bread, mixed with various greens, veggies, and dressing.
Fattoush is believed to have originated from Northern Lebanon. They claim that Lebanese farmers found a way to reuse their leftover pita bread, which they dried, then cut into small pieces and combined with vegetables.
Some people fry these bread pieces with olive oil as well. Overall, you will find numerous adaptations of this salad in various countries, including some of the top Israeli dishes, but I am sure all of them are tasty, healthy, and easy to make.
7. Batata Harra (Spicy Potatoes)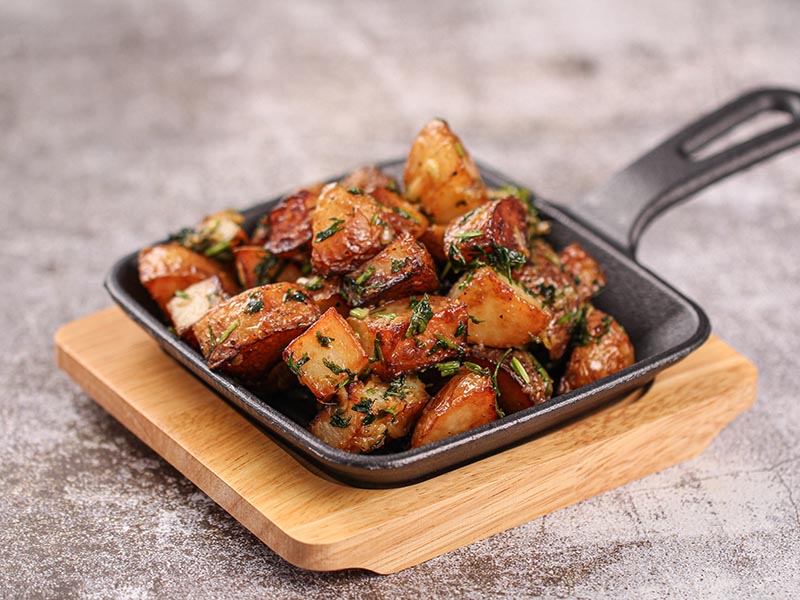 Looking for a melt-in-your-mouth dish with potatoes in Lebanese cooking style? Search no further because this Batata Harra is the ultimate answer for you.
Batata Harra is a Lebanon and Syria-originated dish, including potatoes, chili, garlic, red peppers, coriander, and fried in olive oil. The etymology of the word "batata harra" literally means "spicy potatoes". So if you love spicy food, you will love this idea.
There is nothing that can challenge you to make this dish. You can deep fry or roast your potatoes to have a crispy and golden-brown exterior yet so delicate and fluffy inside. And mix it with herbs, spices, and a bit of lemon juice to finish. See, very easy to cook!
8. Raw Kibbeh Nayeh (Raw Meat Kibbeh)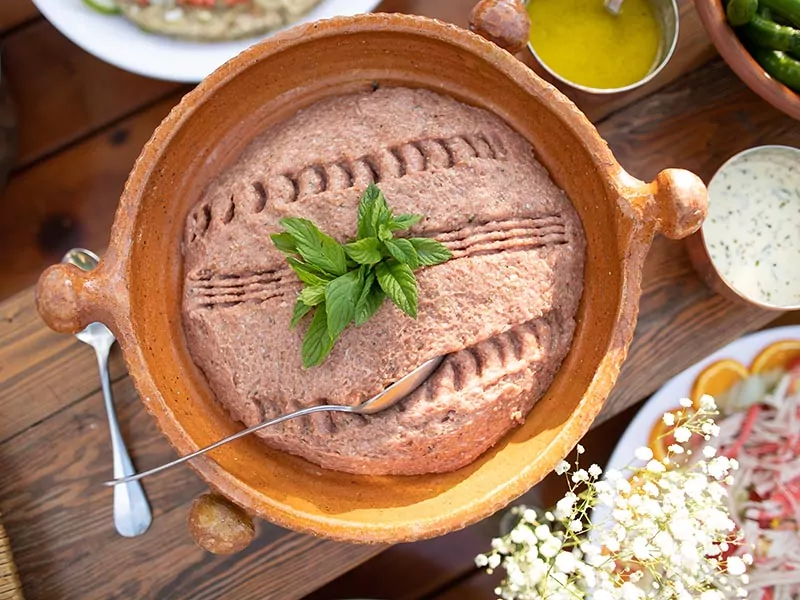 Raw Kibbeh Nayeh (or Arabian Tatar) is Lebanese people's authentic raw meat dish made from raw lamb or veal. I know you are questioning whether it is safe to eat. But trust me! As long as you use high-quality meat, raw Kibbeh Nayeh is absolutely safe.
Different areas of Lebanon have various recipes to make this food. You will sense a strong cumin flavor if you try South Lebanon's version, while other regions might use red chili powder or fresh herbs to make it.
Moreover, Kibbeh Nayeh does not include pieces of meat. Instead, they will have a thick, soft, and consistent texture as the meat already processed by a food processor, or you can use a strong and quality meat tenderizer to pound and soften them.
For the best result, serve it with bread, and don't forget to sprinkle a few fresh herbs on top.
Are you curious about how to make Kibbeh Nayeh? If yes, check this one out!
9. Arayes (Meat-Stuffed Pitas)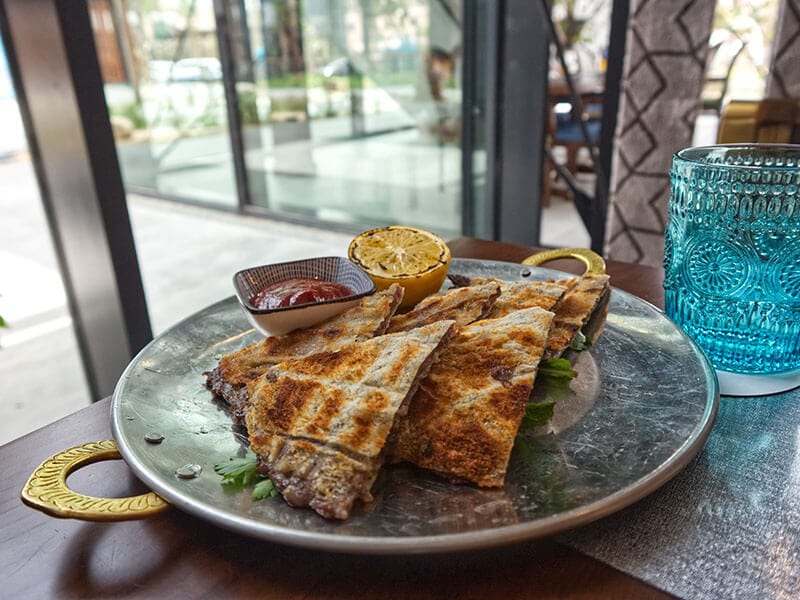 It's time to feast your senses on Arayes, the enchanting Lebanese creation that brings together the joy of grilled pitas and the succulence of juicy, spiced meat.
Perfectly suited for any occasion, these stuffed pitas have a fascinating backstory, with the name "arayes" stemming from the Arabic word "aroussa," meaning "the bride." While the origins of this name remain a mystery, some believe it's linked to the way they were initially sold wrapped in white paper, reminiscent of a bridal gown.
Whether you're craving a snack, appetizer, or main course, Arayes effortlessly fit the bill. To elevate the experience, serve these grilled gems with a homemade garlic or tahini sauce for an extra burst of flavor.
As a beloved Middle Eastern street food, Arayes boast a delectable blend of spiced ground beef (or kofta) nestled within grilled pita bread.
The meat mixture, reminiscent of kafta, is seasoned with minced onions, aromatic spices, and fresh herbs, creating an irresistible marriage of flavors. Prepared by grilling or pan-frying, these mouthwatering morsels promise a delightful crunch with every bite.
And the charm of Arayes doesn't end there; the dish has even inspired a scrumptious Egyptian adaptation called Hawawshi. So, get ready to explore the delicious world of Arayes, where every bite is a celebration of taste and tradition.
10. Rakakat Jibneh (Crispy Cheese Rolls)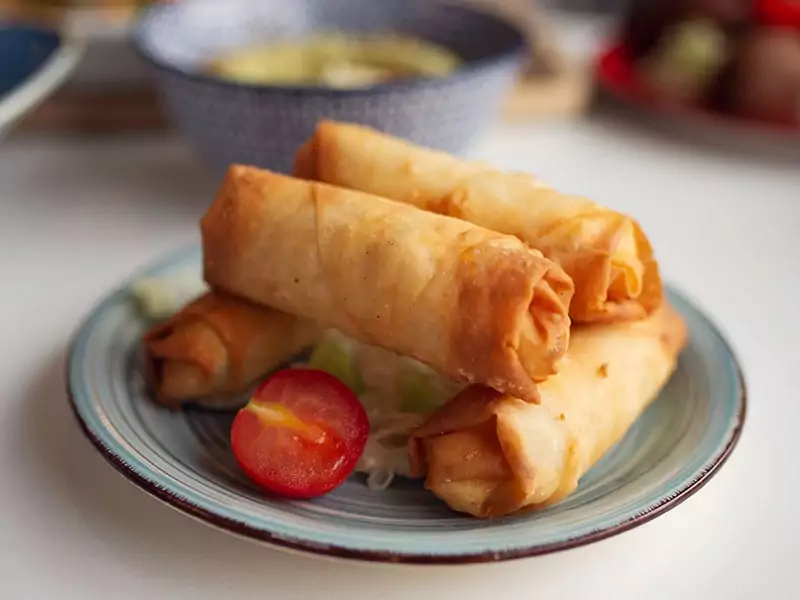 Let's dive into the world of warm mezzes with the delightful Lebanese Cheese Rolls, a scrumptious appetizer that's become a mainstay in Middle Eastern restaurants. These crispy rakakat cheese rolls feature a perfect balance of crunch on the outside and gooey, cheesy goodness on the inside.
Crafted with delicate layers of phyllo or spring roll sheets, these cheese rolls envelop a luscious filling of the renowned Akawi cheese.
Hailing from Lebanon, this cheese is celebrated for its rich, distinctive flavor. If you're looking for alternative options, consider Syrian or Halloumi cheese, both of which hold their shape and won't melt so that they ensure the perfect consistency every time.
Infused with a harmonious blend of fresh herbs, each cheese roll is meticulously rolled before being baked to a crispy, golden perfection. The resulting delicacy is an irresistible fusion of textures and tastes that will leave you craving more.
---
In this part, I will divide these tasty foods into 2 key categories: Breakfast and Lunch/Dinner. And with 15 following ideas for the main course, you may broaden your understanding of this unique Lebanese cuisine and explore how wonderful they are.
Lebanese Breakfast Dishes
Indeed, if you have Lebanese friends, you can impress them with these Lebanese breakfast delicacies, even though you are not native. Or, if you have a chance to visit Lebanon, there is nothing better than these treats to start your new day.
11. Manakish (Flatbread)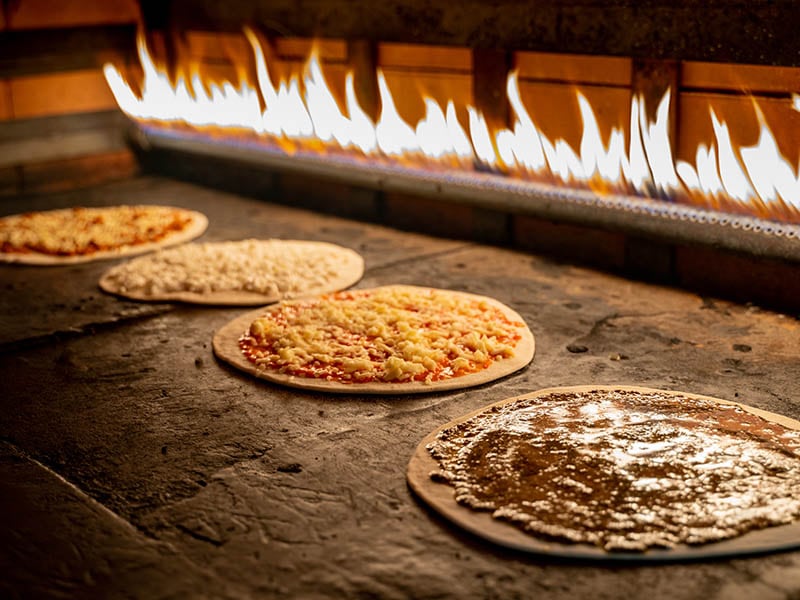 Let me start this list with bready goodness. Manakish, Manaqish (or Manakeesh in plural form) is a special Lebanese flatbread with a long history.
From 2500 BC – 539 BC, the ancient Phoenicians, who occupied the Levant's coast, found a way to use wheat to make bread. And this was the first form of this Manakish dish.
Today, Manakish has been a typical Lebanese dish that includes dough and is topped with za'atar – a mixture of sesame seeds, dried herbs, sumac, and olive oil. The other variations might be topped with cheese, meat, or eggs.
Like pizza, you will need to cut them into smaller pieces before consuming them. You can enjoy it on breakfast, or it is also good on its own as a kind of snack.
12. Ka'ak (Purse Bread)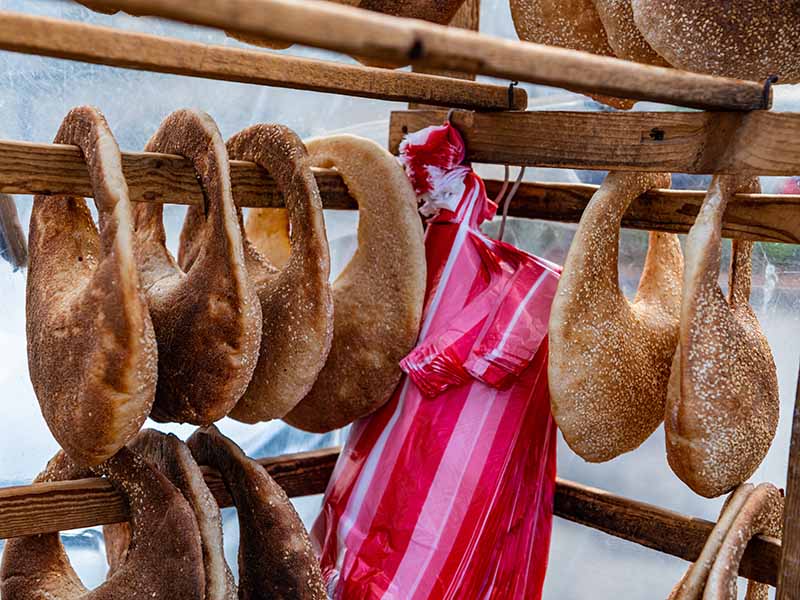 Suppose you are wandering the streets of Beirut city of Lebanon; I guarantee you will see many vendors selling this bread. It is called Ka'ak, an iconic street food with a funny look. That's why they have the name "purse bread".
This food has been found from the Roman era with a Latin name as Buccellatum (means soldier biscuit). In Arabic, Ka'ak means cake, referring to cookies as well, particularly crown-shaped ones. In addition, Ka'ak can be various baked dishes in the Middle East.
But in Lebanon, this is a simple bread topped with sesame seeds and has a purse-shaped form. Ideally, you can eat it for breakfast to combine it with other dishes like hummus or Falafel.
Ka'ak – a simple-yet-special bread that you can find in many Lebanese streets.
13. Fatteh (Fried Bread with Chickpeas)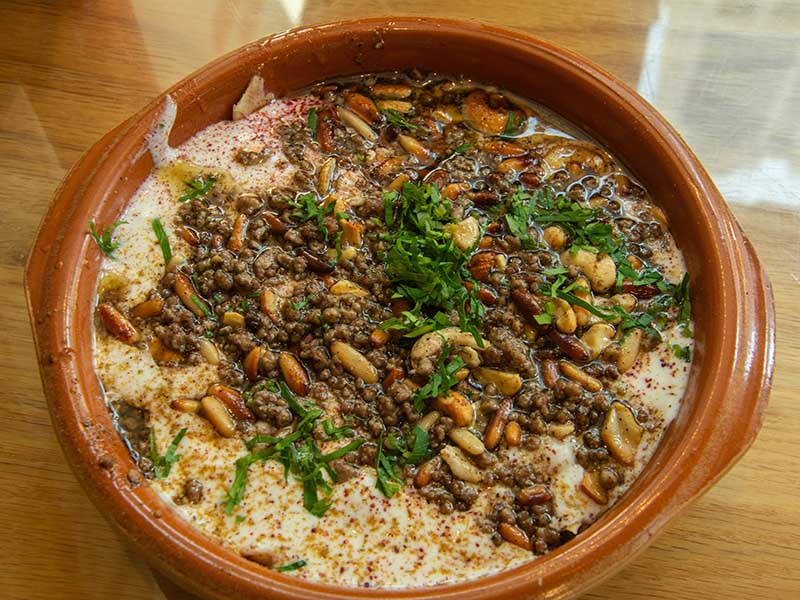 Fatteh (or Fattah, Fetté) in Arabic means crushed, which implies the main ingredient in this recipe is crumbled bread. Moreover, it is a fabulous recipe letting you use up leftover bread. Savory and hearty, this Lebanese dish makes a fine choice for breakfast.
Normally, the crumbled bread will be toasted or fried, then covered by yogurt-based sauces and chickpea, meat, or veggies. There are different recipes for Fatteh, so don't be surprised if you find plenty of ways to make it.
In many Levant regions, which consist of Lebanon, the citizens also eat Fatteh as dinner. Overall, if you need a flexible yet delicious dish with the least preparation, trying Fatteh is a must.
You may also find a recipe named Fatteh as a staple dish in Egyptian cuisine as well. However, when you compare Lebanese Fatteh and Egyptian Fatteh, you'll see many clear differences. For example, Lebanese Fatteh usually includes chickpea, whereas the Egyptian version doesn't.
Some people believe that the roots of Fatteh can be traced back to the 13th century, in the time of the Abbasid Caliphate. Typically, it is a staple food item for breaking the Ramadan fast, enjoyed as the initial breakfast meal following the conclusion of the ninth month of the Islamic calendar.
14. Lahm bi Ajeen (Meat Pies)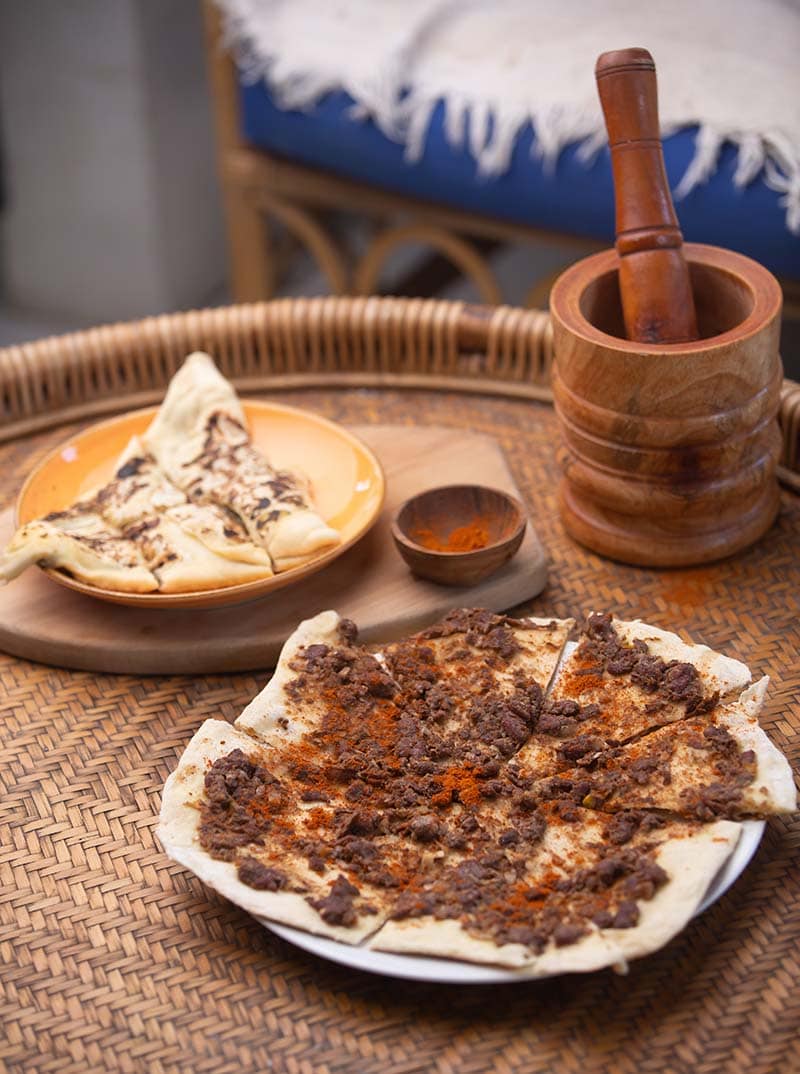 Lahm bi Ajeen is an important meat pie of Lebanese people. This term has a literal meaning of "meat in dough", which refers to how they are made.
They have various shapes, but the most common is flat like a pizza. In many Lebanese bakeries, you will find many pizza-sized meat pies, which will be folded in half.
And when people cook them in a communal oven (called furun), you can smell this comforting dish from miles away. The versatility of this dish is unlimited as you can eat it in any way you like, as the main course, appetizer, or side dish.
15. Ful Medames (Fava Bean Stew)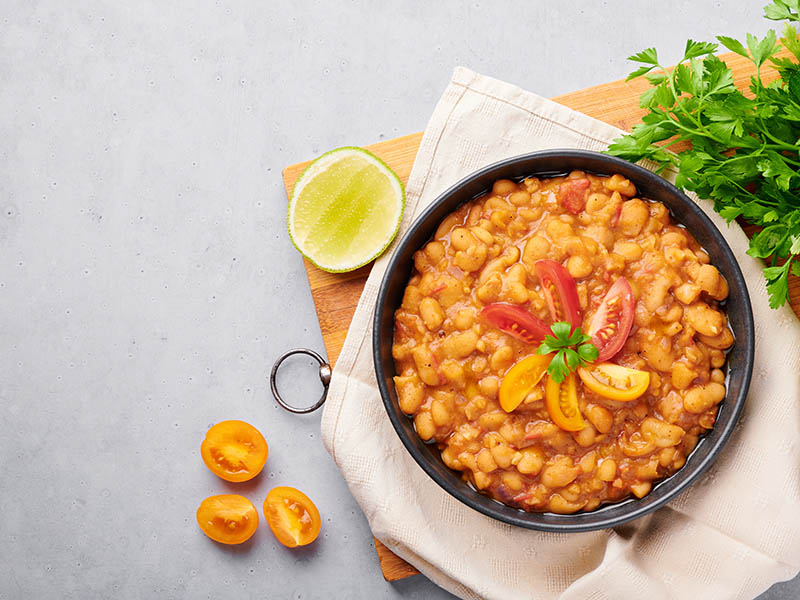 Another wonderful savory breakfast choice in the Lebanese culinary world that you can try is Ful Medames (or Foul Mudammas). It is a fava bean stew with a combination of lemon juice, herbs, chili pepper, olive oil, and spices.
The origin of Ful Medames is still a debate, but many researchers believe its root was from ancient Egypt. It has become a staple breakfast in Middle Eastern countries, especially in Lebanese and Syrian culinary cultures. It is also an essential dish during Ramadan.
This hearty and creamy stew should be served warm with fresh pita bread. With a lot of nutrition from beans and herbs, this is a healthy breakfast (or brunch) that can satisfy you and your stomach.
16. Balela (Chickpea Salad)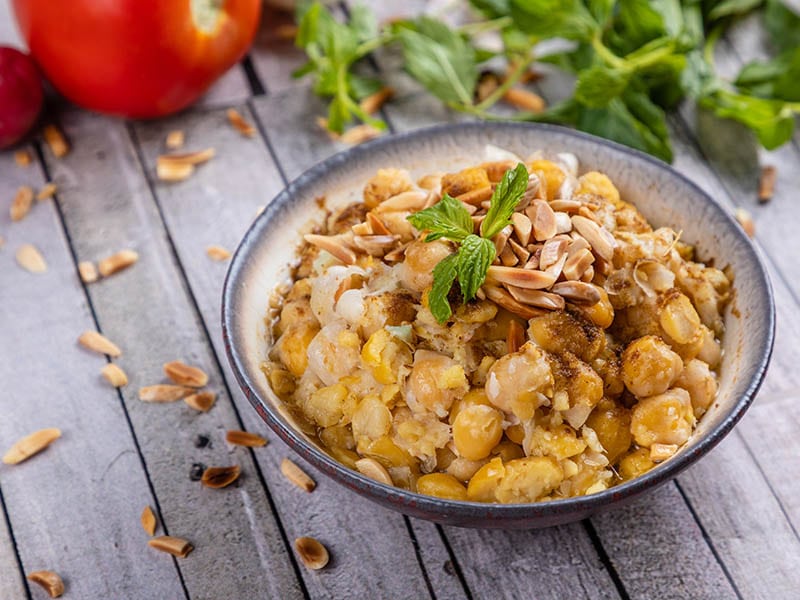 Belela is an old-school Middle Eastern salad with chickpeas. The term Balela is cooked chickpeas, so you can imagine what the main star of this salad is.
Technically, the recipe of bean salad is popular worldwide. But this Lebanese Balela salad is unique in its own way. Made with chickpeas, onions, herbs, cumin, and tomatoes, this salad provides a bright and delightful breakfast.
On the other hand, you can use it with your flatbread and turn the whole treat into your fantastic lunch or dinner. If you want to increase the creaminess of this dish, add a teaspoon of tahini sauce.
17. Labneh (Middle Eastern-style Strained Yogurt)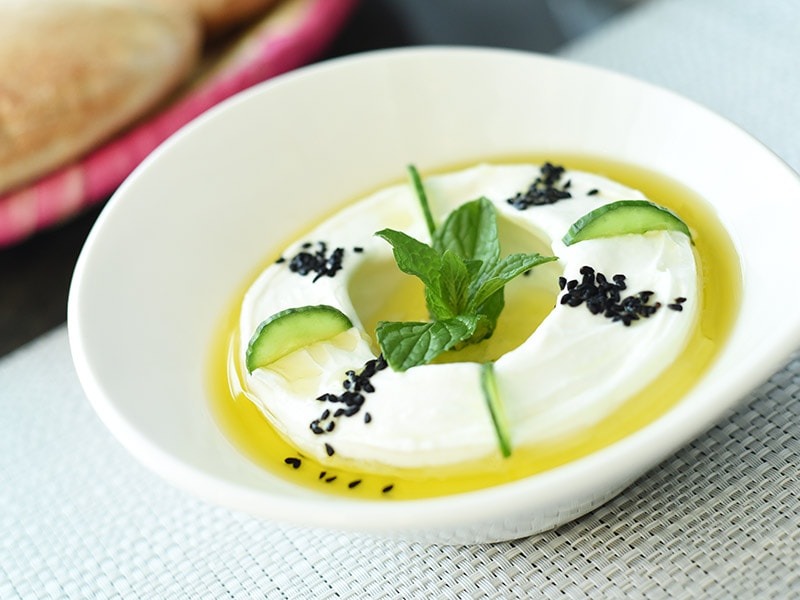 There is no clear evidence to prove the root of Labneh. But this is a strained yogurt that has been consumed in the Levant for decades.
And in Lebanon, you will find them at the breakfast table with veggies, fresh pita, or falafel. You can also drizzle a bit of olive oil and za'atar for the most pleasant treat.
Plus, Labneh varieties are different based on the kind of milk people choose to make. It is also an excellent probiotic food that can improve your immune system.
Labneh cheese is also a good provider of protein, contributing to numerous health benefits such as weight control, blood sugar regulation, and improved bone strength.
Lebanese Lunch and Dinner Dishes
And here are 7 main courses for easy Lebanese lunches or cheerful dinners in Lebanese spirit (some are even popular street foods). So keep reading to explore.
18. Lebanese Chicken Shawarma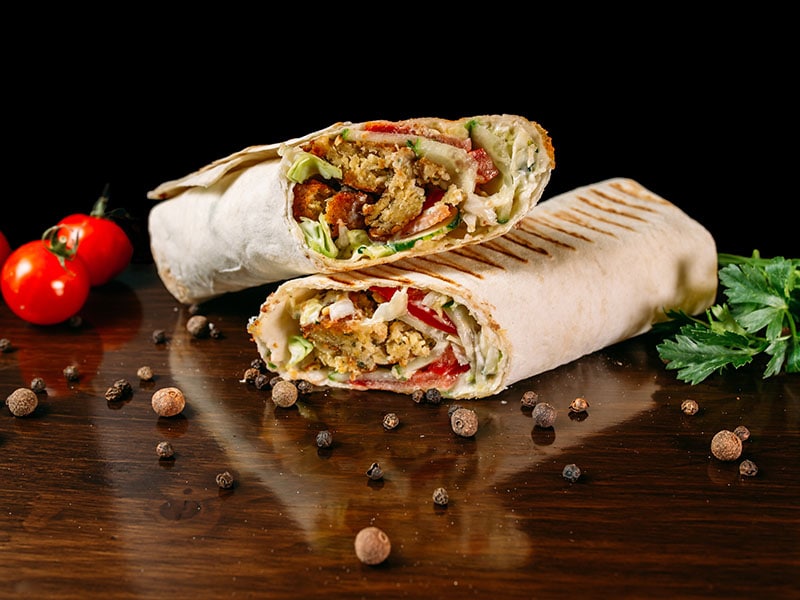 Shawarma in Arabic means "turning", which refers to turning rotisserie. This is one of many kinds of meat kebabs, making them a famous street food in Middle Eastern countries. Besides being well-loved in Lebanon, it's also an iconic dish in Saudi Arabian cuisine.
The appearance of Shawarma was from the 19th century in the Ottoman Empire, which is now doner kebab in Turkey. And people think Shawarma is derived from this food.
On the street, people display Shawarma with many thin slices of meat cut, placed in a cone-shaped, then roasted by a vertical rotisserie.
Shawarma usually consists of chicken or lamb, but you can find other versions with beef, veal, or turkey today. The best thing about this dish is the marinated meat. You can saute, grill, or roast it at home. Then wrap it with thin pita bread and top your food with sauce and veggies.
19. Kousa Mahshi (Stuffed Zucchini)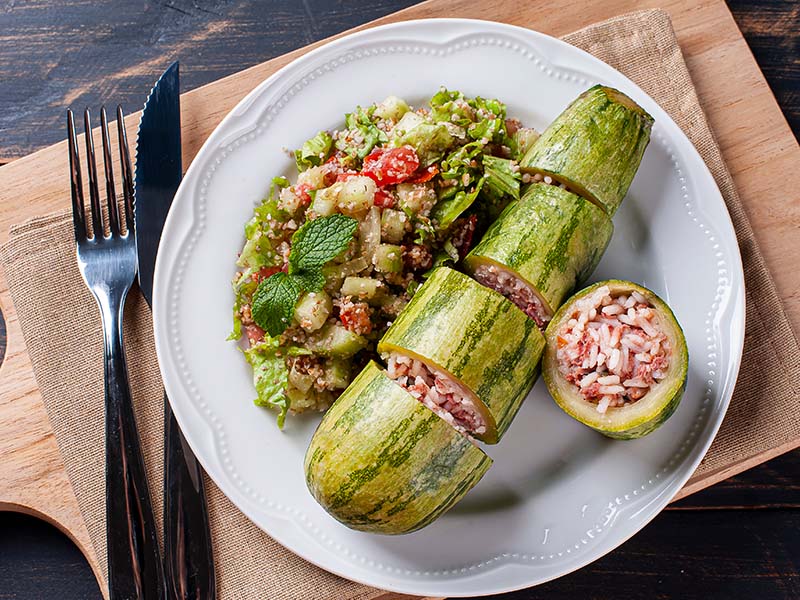 If your favorite vegetable is squash or zucchini, then you will love this treat for sure. Kousa Mahshi is a famous stuffed zucchini dish in most Middle Eastern nations. People claim this recipe's root is from Syria, while Greek and Turkish people believe this is their food.
Nevertheless, regardless of its complex origin, Lebanese have developed their own way of cooking this dish, making it a specialty that everyone must try when they have a chance to visit Lebanon.
The main ingredient in Kousa Mahshi must be zucchini. You can remove the zucchini's core, then stuff them with a mixture of rice, minced meat (could be lamb or beef or both), butter, and spices. Some versions come with herbs as well.
The best way to serve them is with pita bread, or you can accompany it with pickled veggies like radishes, cucumber, or carrots. And Kousa Mahshi should be hot or warm when consumed.
20. Hashweh (Loaded Lebanese Rice)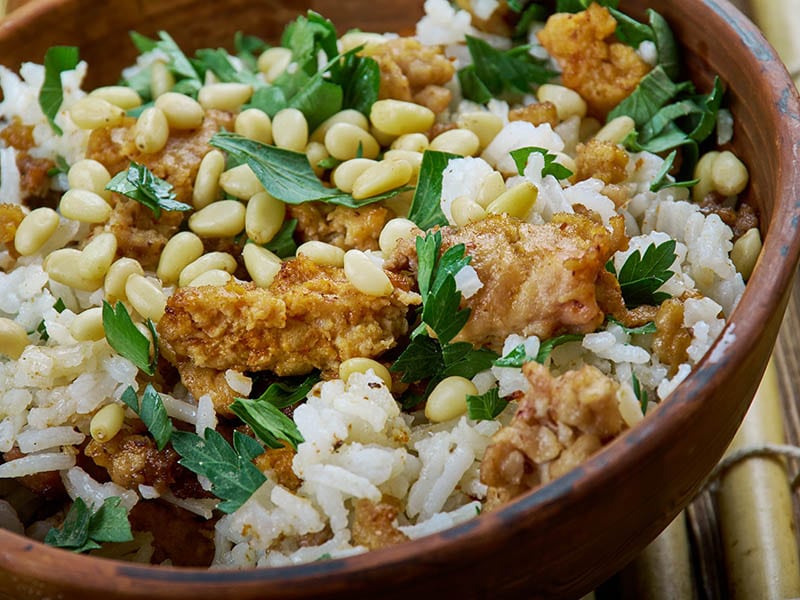 Hashweh is a subtle dish from Lebanese cuisine. It is a dish consisting of rice and ground lamb (or beef) with a pack of flavors from various types of spices, for example, clove, allspice, and cinnamon.
Hashweh, on the other hand, means stuffing. But in this recipe, you do not need to stuff it into any ingredient. They are simply a one-pot treat with rice that provides you with the most comforting feeling when consuming it.
If you have a rice cooker at home, be sure you are familiar with the appropriate rice-to-water ratio to avoid too-soft or too-hard rice. And don't forget to top your food with pine nuts, raisins, and a bit of parsley.
21. Beef Kafta (Kabob)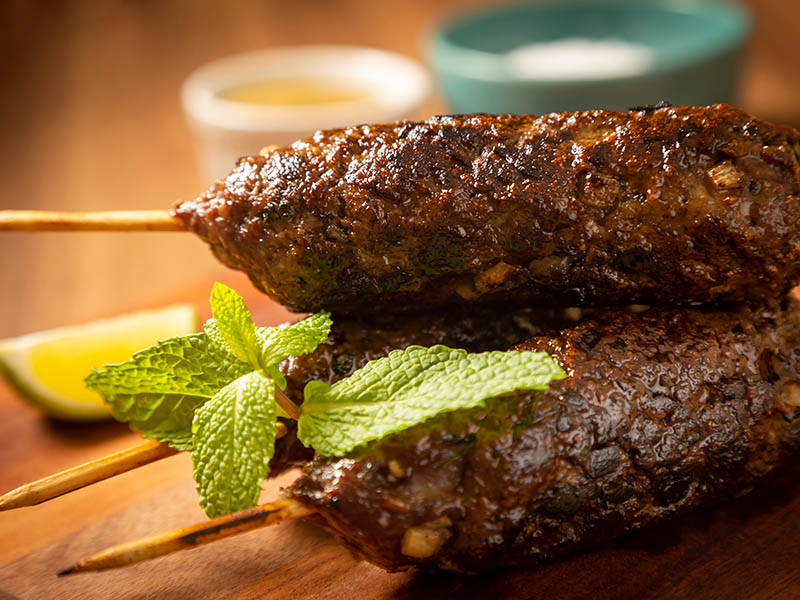 Kafta (or Kufta, Kofta) is a meatball dish made from ground meat, like lamb, mutton, beef, chicken, or the mixture of them. The oldest variation of Kafta in ancient Arab cookbooks was made from ground lamb.
Nowadays, each nation has its Kafta ideas with different shapes like cylinders, balls, or patties. But beef Kafta is the most traditional style of Lebanese people, including few ingredients like ground beef, parsley, onions, and spices.
So if you have not had a chance to visit Lebanon yet, you can make this dish at ease right in your house, with the help of a food processor and a grill. And do not overcook your kafta as it might be too dry to eat.
22. Kibbeh (Fried Kibbeh Balls)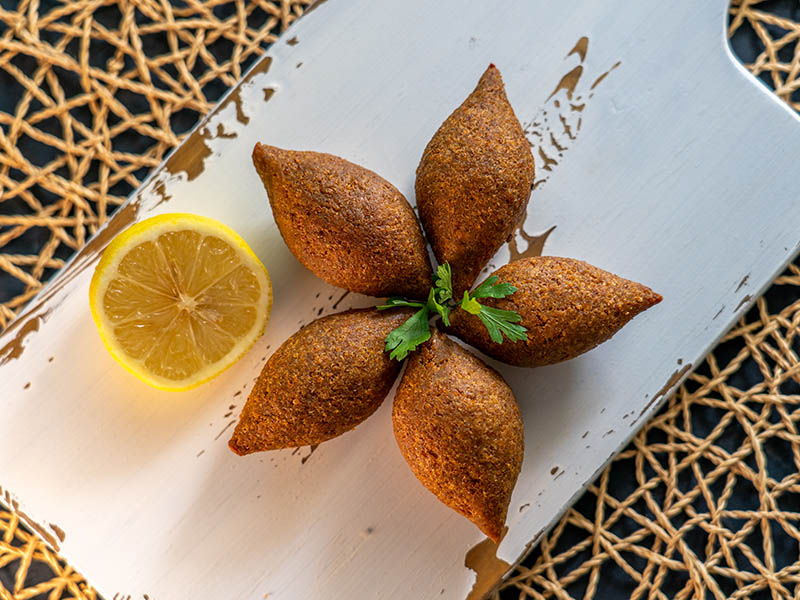 Kibbeh is a familiar Middle Eastern delicacy. On the other hand, it is also considered Lebanon's national dish. Kibbeh usually contains bulgur wheat – a light and nutty ingredient with the origin of Western Asia, lean minced meat (lamb, beef, goat, or fish), onion, and spices.
Making Kibbeh is a work of art that you have to ensure they have a perfect shape. They should not be too big or too small. Therefore, if you want to make them at home, you should spare at least 1 hour to prepare them.
The versatility of Kibbeh is impressive as you can serve it as a main dish, starter, or side order, based on your preference.
Curious about the distinctions between kibbeh and kafta? Kafta incorporates a greater variety of spices. In terms of ingredients, kibbeh contains cracked wheat or bulgur mixed into the meat, while kofta is entirely wheat-free.
As for cooking techniques, kofta is typically grilled, whereas kibbeh can be baked, fried, or even enjoyed raw.
23. Bamia (Okra Stew)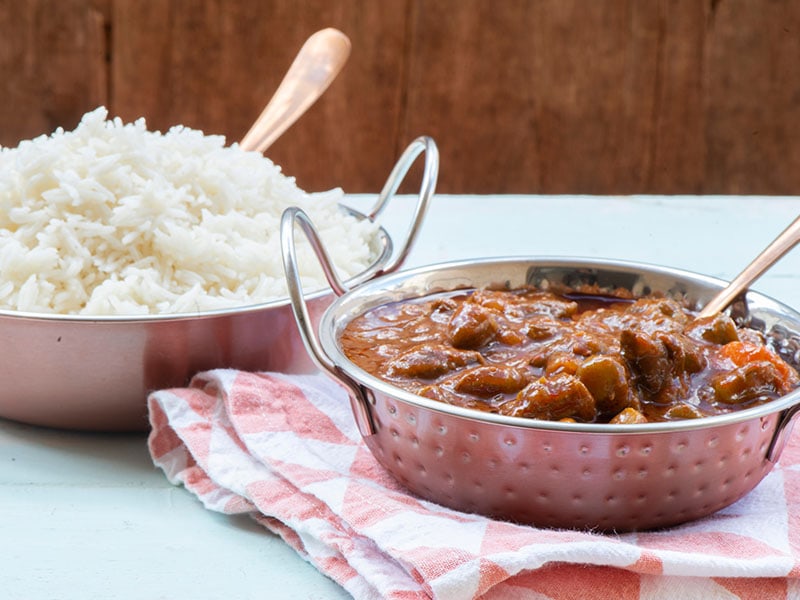 In Arabic, the term Bamia refers to okra. Therefore, Bamia (or Bamiya) is basically an okra-based stew with other ingredients like lamb and tomatoes. This is the Middle Eastern-originated food that you can find in many Arab countries, including Lebanon.
Obviously, there will be many Bamia styles in various countries. Though they all have different names, they are hearty dishes commonly served with rice. The cooking part is also easy, so you can prepare it right in your kitchen.
You can use fresh or canned okra; it will not change too much the texture of your stew. Plus, this okra stew can be your favorite plant-based treat if you skip the meaty ingredients. With all components' blended flavor, you will now have a tasty, sweet-and-sour dish to enjoy.
24. Warak Enab (Stuffed Grape Leaves)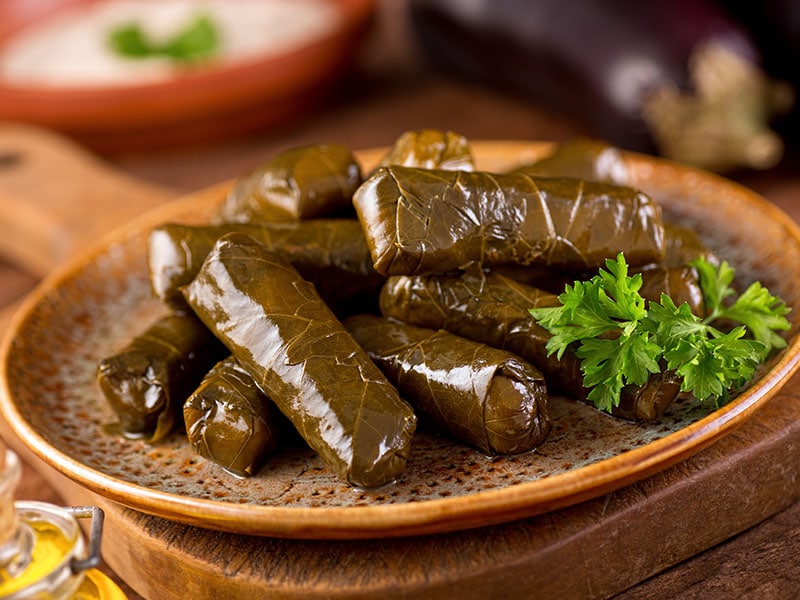 Warak Enab in Arabic is grape leaves. This is also known as Dolma – traditional Greek stuffed dishes with many different types made of fruit, whole vegetables, seafood. Some Dolma versions use leaves to wrap the meat filling, like this Lebanese Warak Enab.
Stuffed grape leaves dish has many names. You can find them as Warak Dawali in Palestine and Jordan's cuisine or Mahshi Warak Enab in Egypt. Another Lebanese name for this dish is Warak Al-airsh.
With this dish, you can also make it a vegetarian dish without using meat. Moreover, it is totally fine to serve Warak Enab as an appetizer in your Lebanese meal.
25. Maqluba (Upside Down Rice)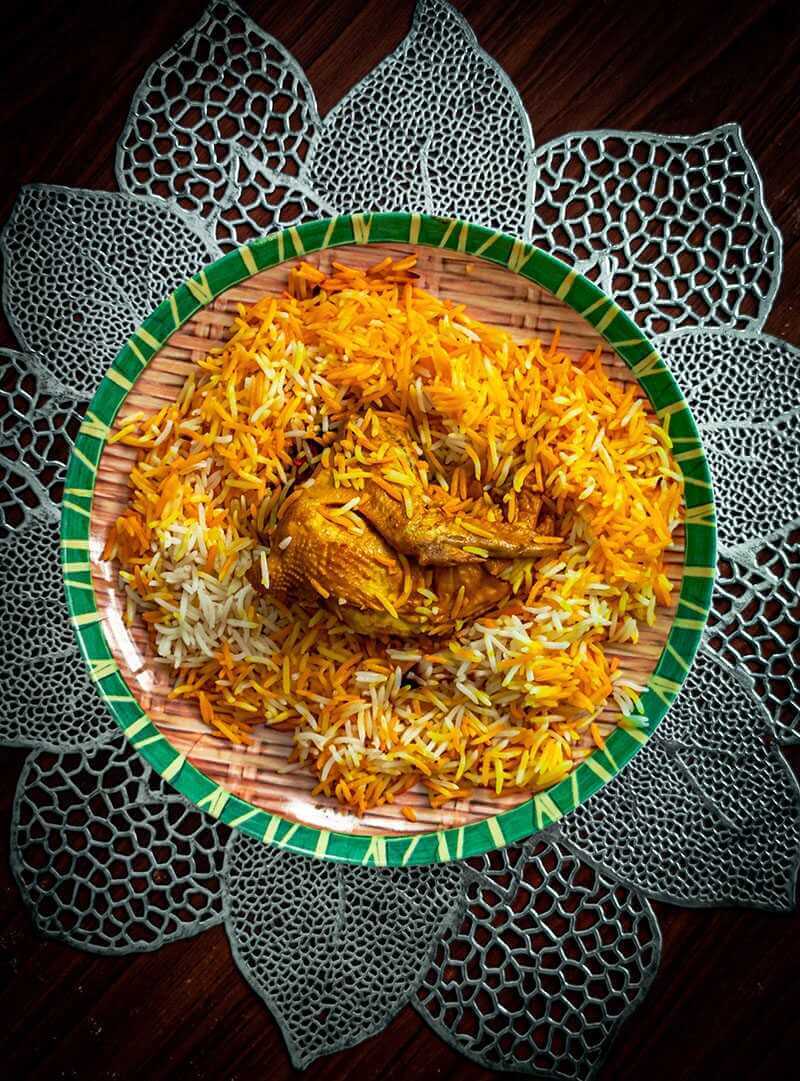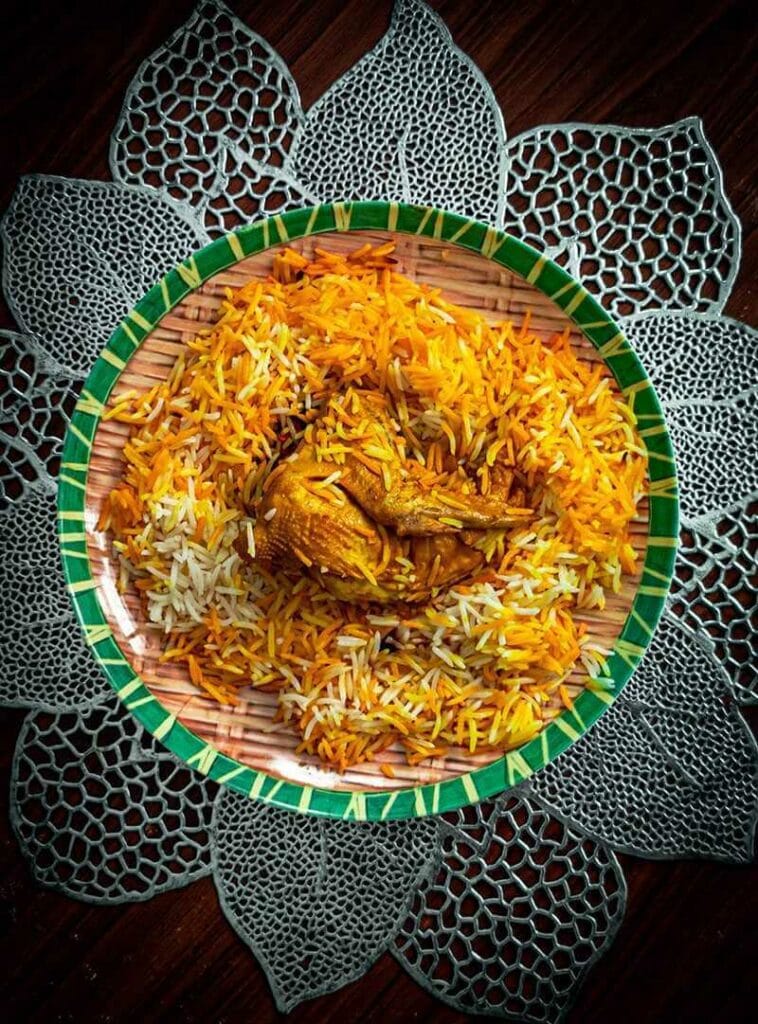 Maqluba or Maqlooba is a tantalizing culinary treasure hailing from the vibrant Levantine region, encompassing Lebanon, Iraq, Palestine, Jordan, and Syria. With roots dating back to the 13th century, this centuries-old dish brings together the flavors of history and tradition in one scrumptious meal.
The name of Maqluba literally translates to "upside-down," paying homage to the unique way it's served. Imagine a pot brimming with layers of fried vegetables, succulent meat, and perfectly cooked rice, carefully arranged to create a dish that resembles a savory layer cake when flipped for presentation.
You can delight in the diverse medley of flavors from wholesome vegetables like potatoes, fried tomatoes, eggplant, and cauliflower, each contributing its own unique essence. The crowning touch comes with the garnishing of aromatic pine nuts and freshly chopped parsley, adding a dash of sophistication and a pop of color.
Maqluba doesn't stop there! Often accompanied by a refreshing salad and creamy yogurt, it strikes the perfect balance of flavors and textures for a truly satisfying dining experience.
As a dish frequently prepared for feasts and large gatherings, Maqluba brings people together with its sumptuous taste and captivating presentation.
26. Moussaka (Eggplant Chickpea Stew)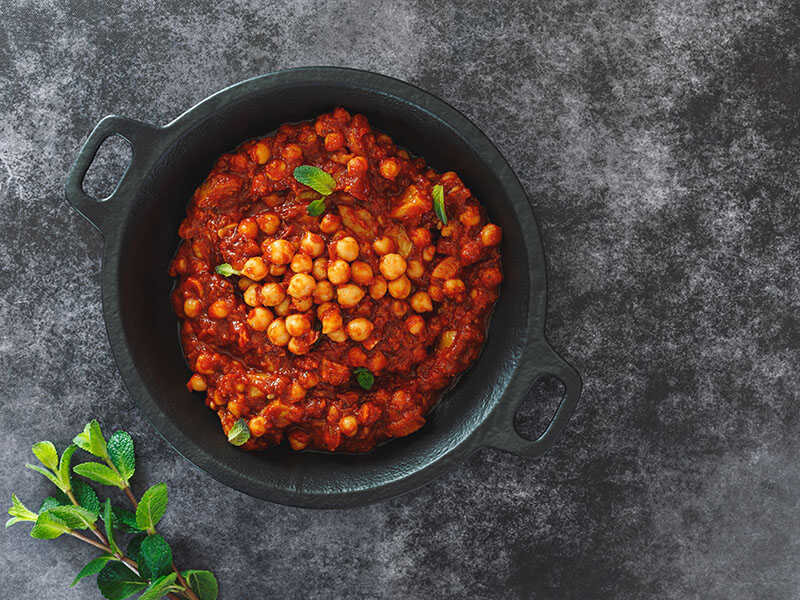 Lebanese Moussaka is a light and refreshing vegan dish that stands apart from its Greek counterpart. With a rich tapestry of flavors, this popular Middle Eastern eggplant chickpea stew goes by many names, such as Maghmour, Msaka, Msakaa, M'saka, Musakaa, or Moussaka Batinjan – with "Batinjan" translating to eggplant in Arabic.
The combination of eggplant, chickpeas, onions, and tomatoes are all masterfully seasoned with garlic and a medley of spices. Best enjoyed chilled with pita bread, this versatile aubergine and the chickpea dish can be savored hot or cold, making it the perfect option for any occasion.
Whether you're planning a simple weeknight dinner or a fabulous feast, Lebanese Moussaka is an excellent choice. Its make-ahead potential ensures a stress-free mealtime, while its compatibility with a variety of accompaniments allows you to tailor the experience to your taste.
You can serve it at room temperature with pitta bread or fresh crusty bread, or pair it with a crisp salad or a side of rice. For a more elaborate affair, include it as part of a meze spread.
27. Shish Tawook (Grilled Chicken Skewers)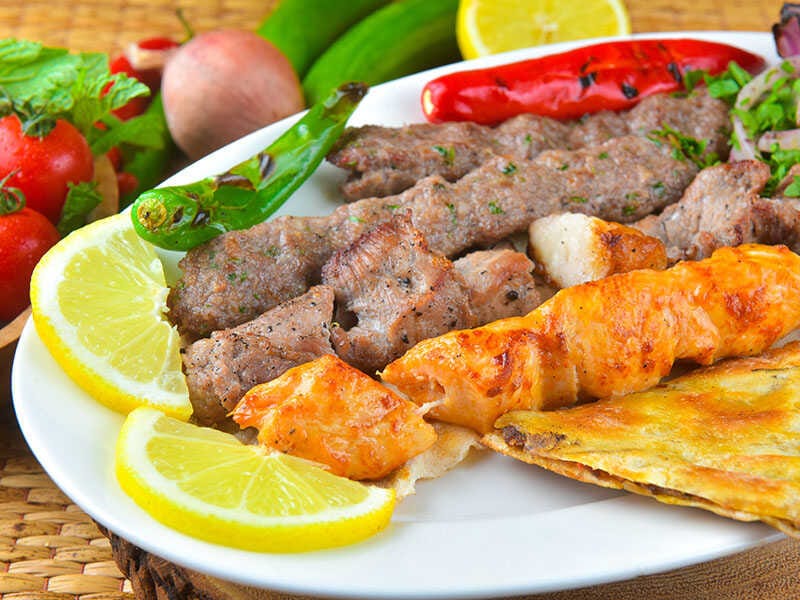 Shish Taouk is a marinated chicken shish kebab that traces its origins back to Ottoman cuisine and has since become an integral part of Middle Eastern culinary traditions. These popular Lebanese grilled chicken skewers boast a captivating blend of flavors, leaving you longing for more with each delicious bite.
You can savor the unique taste of Shish Taouk, as the combination of creamy toum (garlic paste sauce), smooth hummus, and refreshing tabbouleh provides the perfect accompaniment to these succulent skewers.
Found in most fast-food restaurants across Lebanon, Shish Taouk is a staple that's equally at home on an outdoor grill, even during the chillier winter months.
Picture a scrumptious sandwich of grilled chicken, lovingly enveloped in a warm pita bread, adorned with a generous dollop of Lebanese garlic sauce, salty pickles, crispy fries, and a touch of lettuce and mayo. This heavenly creation is sure to steal your heart and leave your taste buds dancing with delight.
The secret to Shish Taouk's irresistible appeal lies in its marinade, a harmonious blend of yogurt, lemon, and garlic. This trio of flavors not only lends the dish its distinctive color and taste but also tenderizes the chicken to achieve a melt-in-your-mouth texture that's truly unforgettable.
Lebanese Desserts
It would be a huge mistake if there were no dessert to finish your meal, right? So let's find out what Lebanese sweet treats are and what makes them unique compared to other cuisines.
28. Knafeh (Sweet Cheese Pastry)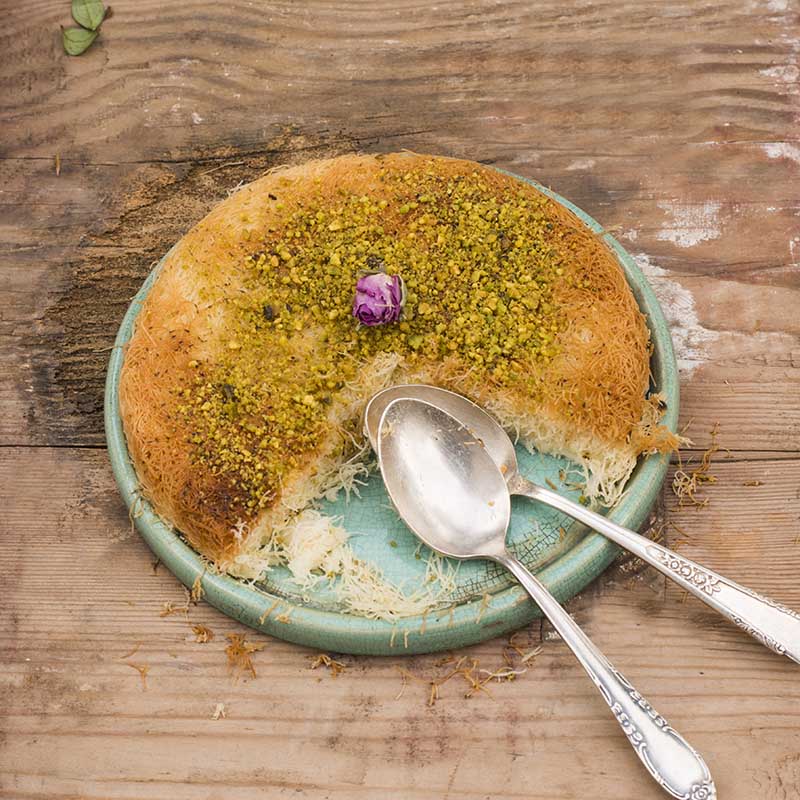 The first dessert that I would like to introduce to you is Knafeh. It is a classic Middle Eastern pastry that can mesmerize your sweet bud.
There are many Knafeh styles in different countries, but in Lebanese Knafeh, they are made with dough and layered with cheese or other fillings.
The origin of this dish is still in question. But it is reported that Knafeh was a dish to fulfill the hunger during Ramadan in Fatimid Egypt or Syria. However, the past and today's Knafeh versions are not the same.
Overall, you should enjoy this dish in hot or warm conditions. Additionally, you can serve it as breakfast, like how you enjoy pancakes in the morning.
29. Namoura (Semolina Cake)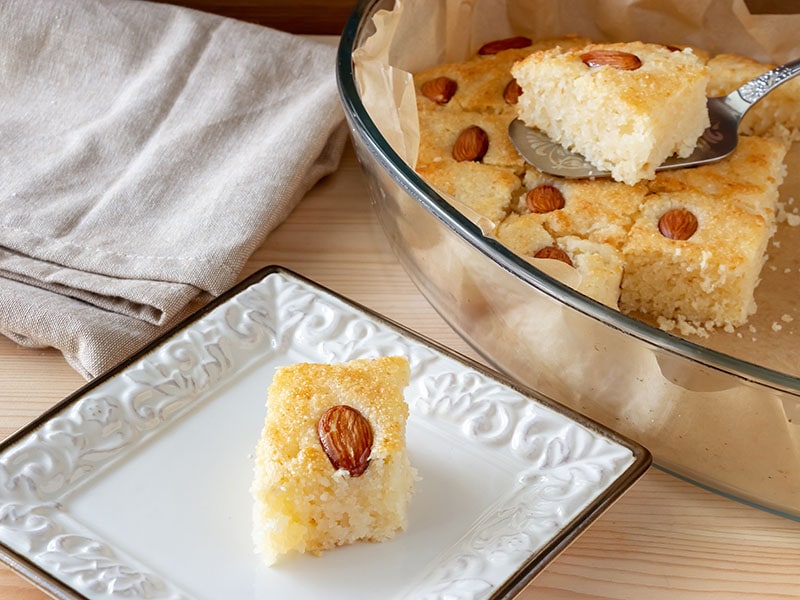 Namoura, also known as Namora or Namura, is a traditional Lebanese dessert recipe. This dish has various names, like Basbousa in Egypt, Harissa in Palestine, or Shamali in Armenian. With different geography and culture, this dessert might be quite different from each other.
Namoura is made from semolina, shredded coconut, rose water, sugar, etc. Several people also use orange blossom water instead of rose water. They have a dense texture with rich flavor. With one bite, you can feel both soft and crispy from inside and outside.
It is the perfect sweet treat in many festivals, and they are truly a crowd-pleaser. What's even better, they are totally suitable for a vegan diet that will not take too much effort or time.
30. Riz bi Haleeb (Rice Pudding)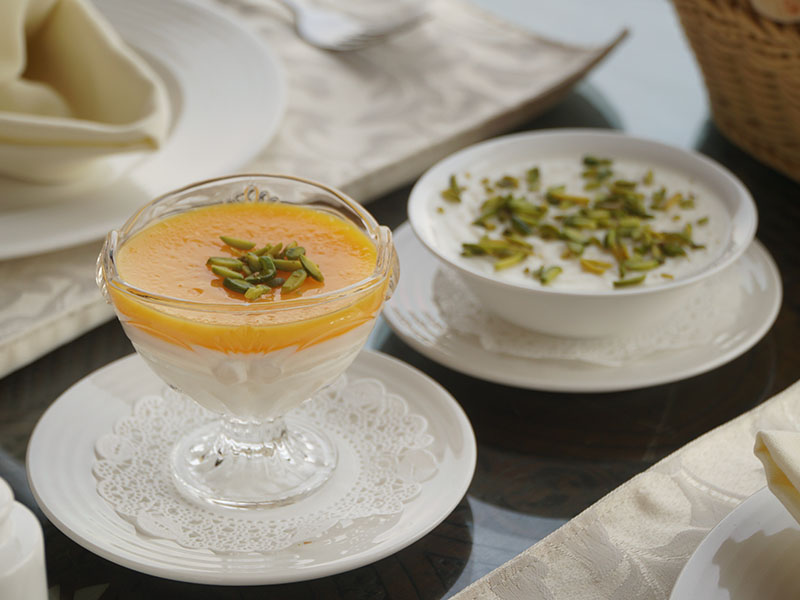 Fun fact: Feel free to enjoy Riz bi Haleeb for your sweet breakfast. They will ensure sufficient energy for you to study or work.
So what does Riz bi Haleeb mean? In Arabic, it means "rice pudding", which contains rice (obviously), milk, sugar, and other ingredients to add sweetness and flavor.
It is clear to see that rice pudding is a pleasant dessert in many cuisines, like those in sweet Chinese desserts. And now, with a touch of orange blossom water and rose water, you can add some Lebanese vibe to your treat.
And don't worry if you are not too good at cooking because you can make it in around half-hour with minimal prep. So, it is time to let rice shine in this dessert instead of the main savory foods.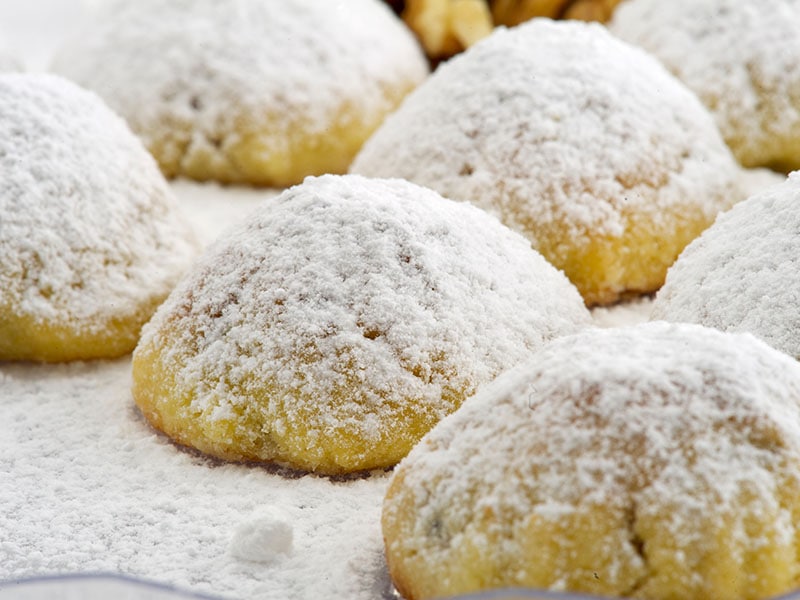 When it comes to Lebanese shortbread or cookies, it must be the classic Ma'amoul. They are a street treat from ancient Egypt with another name is Kahk. Nowadays, ma'amoul is a staple dessert in Easter or Eid al-Fitr – a big Islamic holiday.
These cookies are typically made of semolina flour and stuffed with dates or other dried fruit or nuts like walnuts, pistachios, or almonds. They come in a small shape, which is perfect for your mini-sized dessert ideas too. And you can consume it along with your coffee or chocolate.
On the other hand, you can shape them with a wooden mould (called tabe), or you can use your hands to create a ball-like form.
32. Lebanese Baklava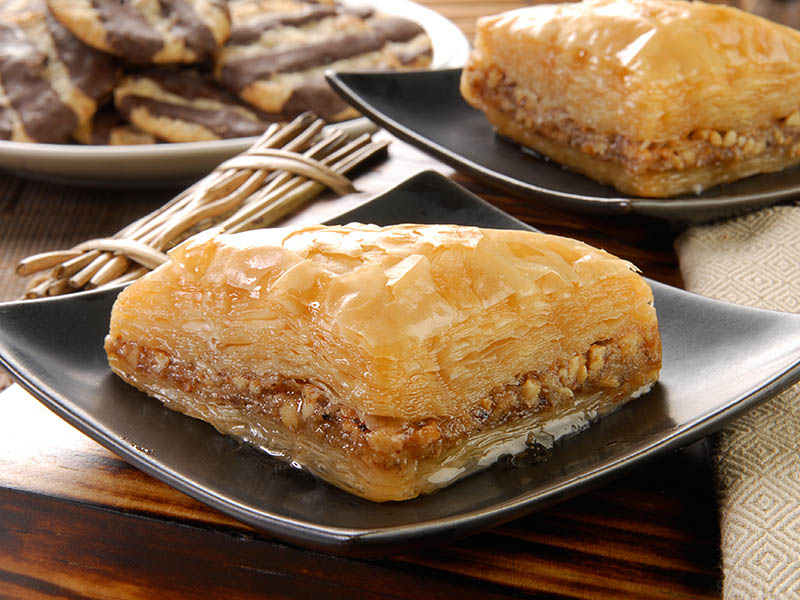 Baklava's origin is unknown, but it was documented from the Ottoman empire, and it was one of the most famous sweet pastries of Ottoman delicacies.
It also spread popularity in other countries like Turkey, Iran, Arabs, Levant, and of course, Lebanon, especially in the city of Tripoli. In the Lebanese version, baklava consists of filo dough sheets (aka phyllo dough) with the filling mixture of nuts and syrup, like orange blossom water or rose water.
The making process is also easy as all you have to do is pile up the ingredients in a baking pan, then bake them in the oven at around 350 F degrees until they turn into golden brown color.
33. Halva (Middle Eastern Confectionery)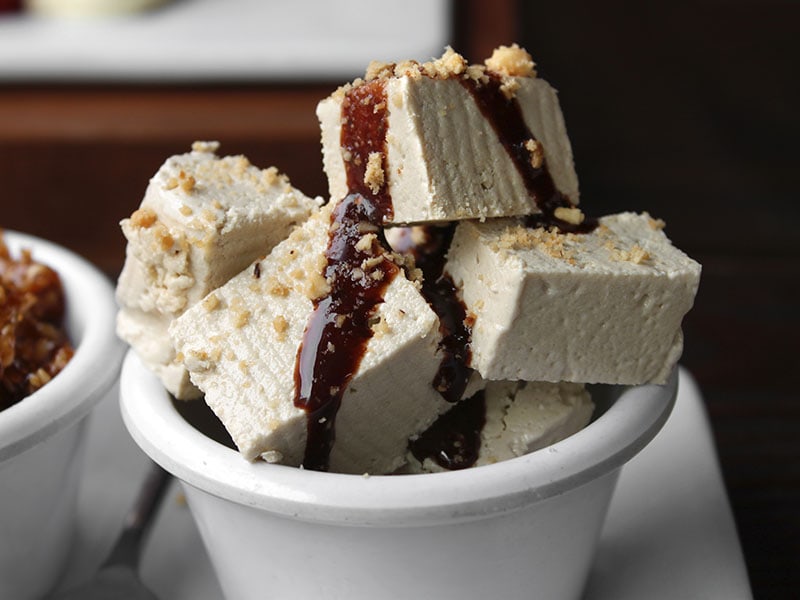 Halva (or Halwa, Halawa) is a traditional and favorite confectionery-style dessert in the Middle East, and so is in Lebanon. The dessert's popularity has also spread to Central Asia, where a variation called Halvaitar is a beloved dish of Tajik cuisine.
They are a fun treat that you can keep in your pocket and enjoy anytime you want.
You can find Halva in many forms with different ingredients based on regions or countries. However, these foods starting with "H" all share the same characteristic is their density and sweet flavor. The two most common styles of Halva are flour Halva and nut/seed Halva.
And the most recognized version in Lebanese style is tahini or sesame-based Halva with specific dry and crumbly textures. They can be flavored with varied ingredients. It could be almonds, pistachios, or even chocolate.
34. Sfouf (Turmeric Cake)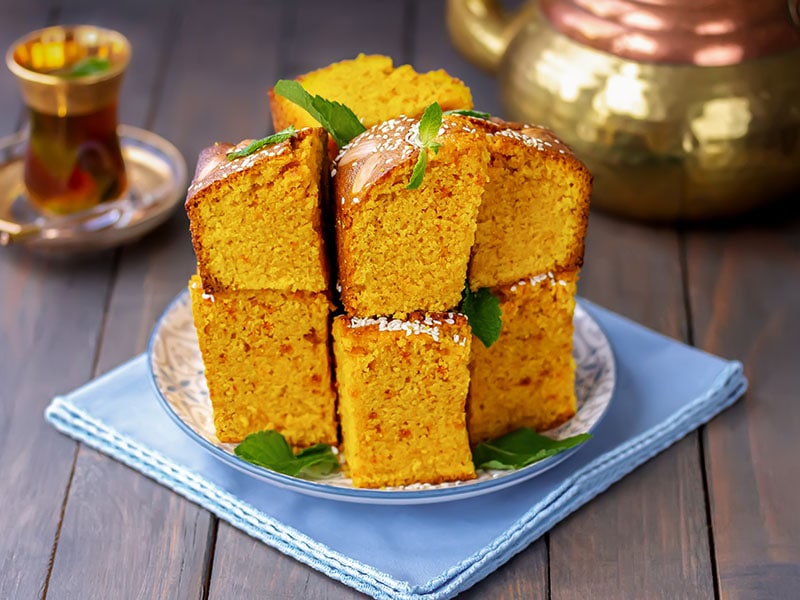 What kind of dessert is best suited for potlucks, birthdays, or any religious holidays? It is Sfouf – a Lebanese turmeric cake that consists of semolina, sugar, aniseeds, baking powder, sesame paste, and topped with pine nuts or almonds.
Sfouf is ideal for pairing with a cup of tea or coffee. And with its yellow color from turmeric, its appetizing appearance will catch your attention from the first look.
You will need a spare baking pan to bake them, like those high-quality pans you usually use to make brownies. Moreover, this Lebanese dish can come in moist or dry styles. But one thing to be sure about them is you can hardly get enough of them.
Turmeric is a heavenly-sent ingredient, and sfouf is truly the best dessert to cook with turmeric.
35. Halawet el Jibn (Sweet Cheese Rolls)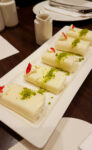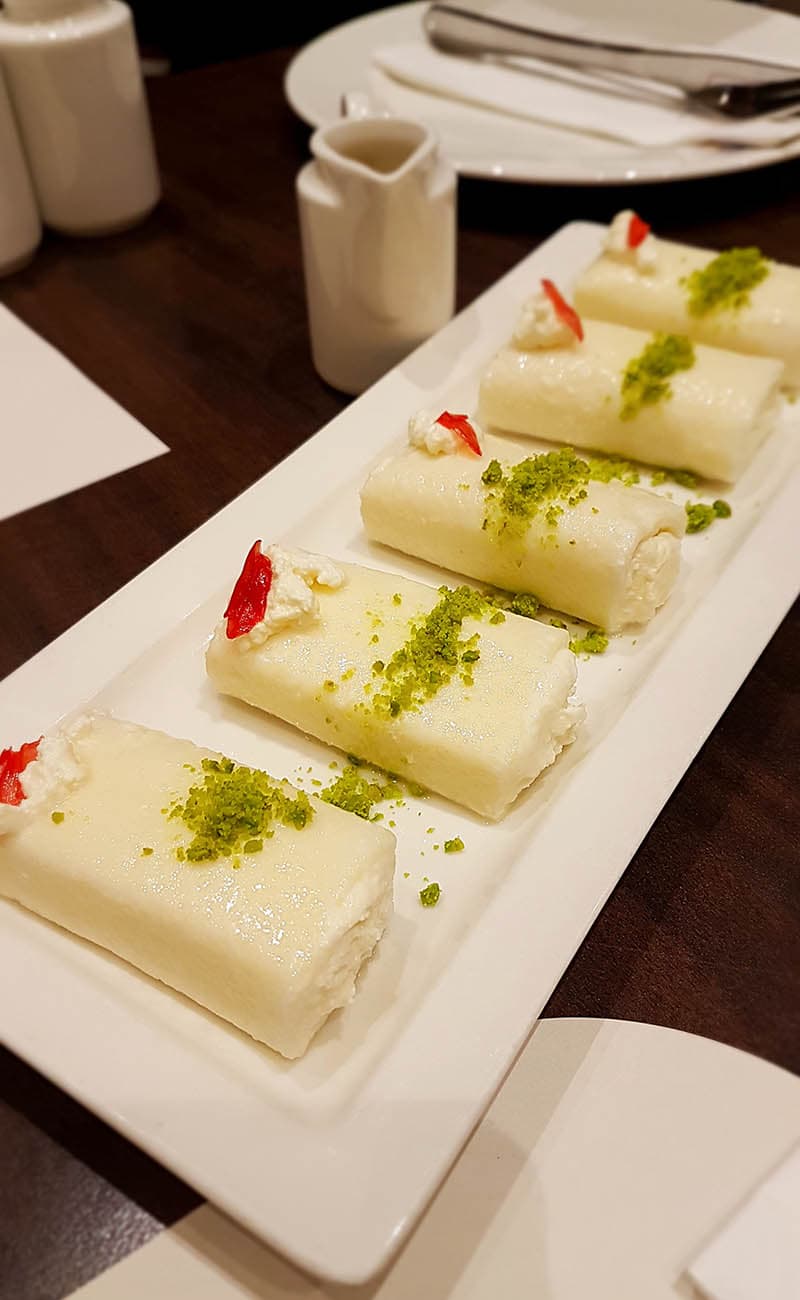 Halawet el Jibn is a dessert with sweet cheese, and semolina, then filled with cream and has a rolled shape. The dish was initially a Syrian sweet treat from Hama, a city in this country.
However, these rolls can also be seen as a specialty of Homs, another big city in Syria.
The popularity of Halawet el jibn is significant in Lebanon as well. Who can resist a soft, delicate, and sweet dessert? I highly doubt it. These cheese rolls are genuinely a game-changer in Lebanese desserts with special Middle Eastern flavors, including rose water or orange blossom water.
As cheese is the main ingredient, the ideal type is Akkawi – a brined cheese made from cow's milk. But if you can not find it in your nearest supermarket, replace this ingredient with the best-rated mozzarella cheese. No one can tell the difference in the final flavor.
36. Jallab (Fruit Syrup)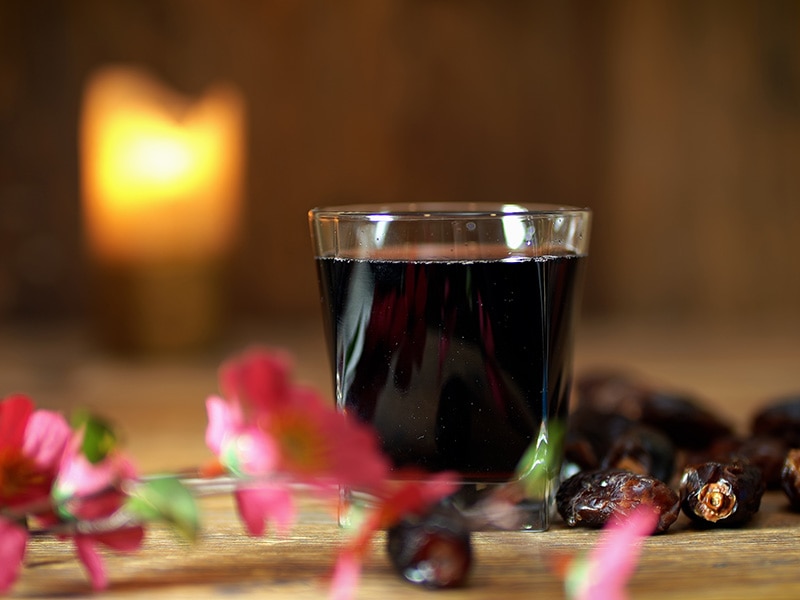 Unlike all the above desserts, Jallab is a fascinating Middle Eastern drink inspired by Lebanon. This drink is also popular in Syria, Jordan, and Palestine gastronomy.
Technically, Jallab is the name of a fruit syrup made from dates, grape molasses, carob, and rose water. You can buy this syrup in any Middle Eastern-themed grocery store. And you can turn it into a refreshing dessert by adding crushed ice and pine nuts or raisins.
A touch of molasses and rose water in Jallab will deliver the best floral taste on your tongue. Of course, this flavor is so special that you will never forget it. But please remember to mix Jallab with a few cups of water.
37. Sahlab (Middle Eastern Rice Pudding Drink)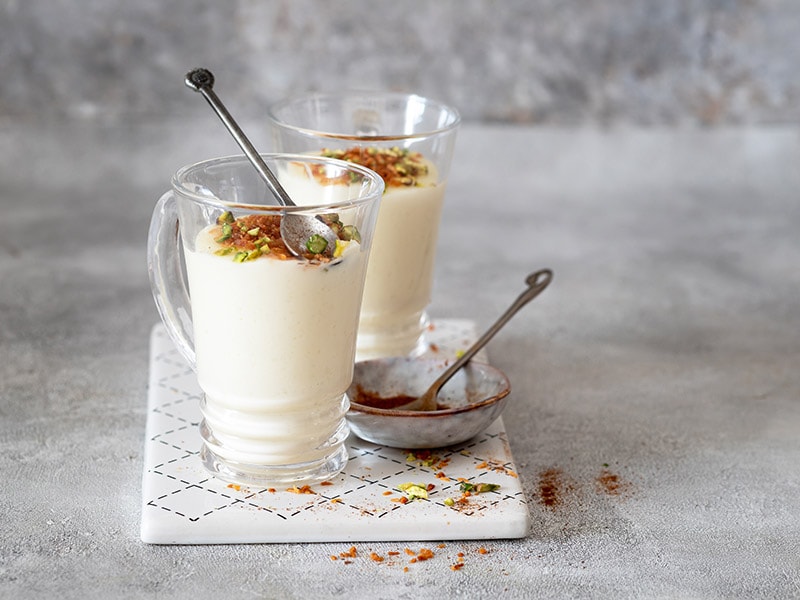 The last dessert in the form of a drink is Sahlab (or Salep) – a famous beverage that you can buy in any Lebanese coffee shop. Its origin was from the Ottoman Empire, when they dominated Lebanon.
But today, this beverage is widely consumed in Greece, Turkey, and many Middle East countries, especially in the Levant. It only takes around 10 to 20 minutes to prepare it, so even if you are not a barista, you can still make it with ease at home.
Many people choose this drink to enjoy in the winter as it is most enjoyed warm. It has the creaminess of milk and aromatic flavor of vanilla extract or rose water. Plus, another base ingredient is potato starch, which creates the thickness of this drink.
What I really love about Sahlab is it is not too sweet yet so flavorful. Moreover, you can top your drink with any type of nuts, dried fruits, or spices like cinnamon, cloves, or nutmeg.
Lebanese Food FAQs
Welcome to the FAQs section, where I answer your most pressing questions and unravel the fascinating world of Lebanese cuisine.
What is the renowned dish of Lebanon?
Kibbeh, the national dish of Lebanon, is primarily made of spiced ground meat and bulgur wheat. With countless variations, each family and region in Lebanon boasts its unique version of this flavorful dish.
Are there similarities between Lebanese and Turkish food?
While Lebanese and Turkish cuisines share some dishes, they exhibit distinct regional flavors and preparation techniques. Each region's unique spices and flavors contribute to the diverse and delicious nature of these cuisines.
What characterizes the Lebanese eating style?
Lebanese cuisine represents a fusion of Mediterranean, Middle Eastern, and French culinary traditions, with Mediterranean influences being the most dominant. Staples include grains, legumes, vegetables, fruits, and nuts, with olive oil and garlic featuring prominently in many dishes.
Is Lebanese cuisine primarily vegetarian?
Lebanese food is frequently vegan by nature and is highly favored by vegans and vegetarians. Recent research even ranks Lebanese cuisine as one of the top vegan-friendly options in Ireland.
Do Lebanese people enjoy spicy food?
Spicy foods hold a significant place in Lebanese cuisine, with a long history dating back to ancient times. Spices not only enhance flavor but also contribute to the health benefits of these dishes.
What is an appropriate gift for a Lebanese dinner?
Suitable gifts for a Lebanese dinner host include flowers, sweets, small presents for their children, or alcohol. However, be mindful that Lebanese Muslims may abstain from alcohol consumption.
Are Lebanese dishes rich in carbohydrates?
Similar to other Middle Eastern cuisines, Lebanese dishes are carbohydrate-heavy, featuring staples such as rice, bulgur, and bread.
---
What Do You Think About These Must-try Lebanese Delicacies?
In conclusion, Lebanese cuisine is a secret that everyone wants to explore. Myself, as a foodie-holic, I barely stopped myself from devouring these treats when I was in Lebanon. And I bet you will feel the same.
So tell me about your experience with these spectacular dishes? Do you love them as much as I do? I look forward to hearing your feedback in the comment section. And if you know other Lebanese dishes besides these ideas, please leave your thoughts below!
Thank you and bil hana!