If you are tired of eating the same old dishes every day, it's time to rock your meals with these exciting Indian side dishes! Indian cuisine has always been famous for its exquisite seasonings and the heat coming with them.
Moreover, my 27 Indian side dishes can go with almost any leading food, especially the stews and curries. You don't need to fret about whether it's suitable for vegetarians because here, I've included all the twists and changes you can make with them.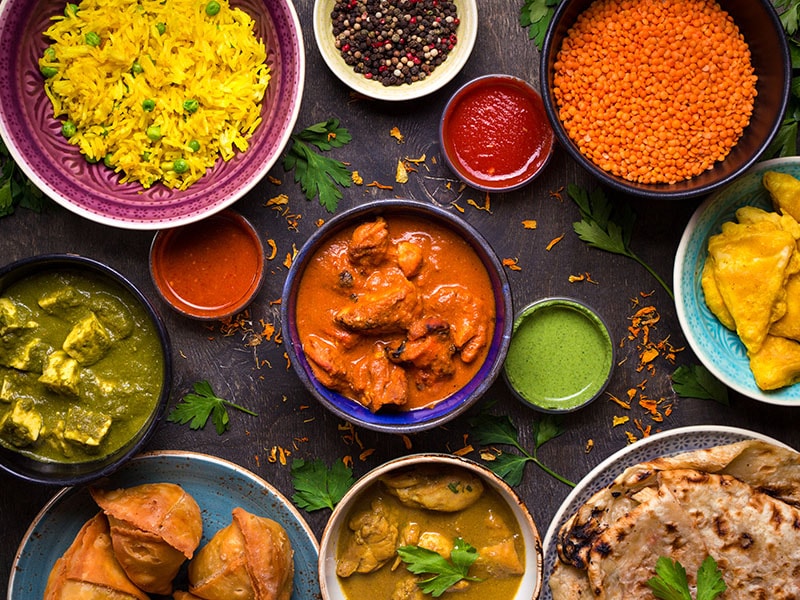 What Are The Most Appetizing Indian Side Dishes?
Those side dishes I'm about to introduce to you now are not only suitable with Indian dishes. You can combine them with regular American recipes or foods coming from other countries. The result may be shocking, in a good way.
Basmati Rice
Pulao
Kitchari
Missi Roti
Naan Bread
Chapati
Paratha
Poori
Bhatura
Papadum
Papri Chaat
Aloo Gobi
Sag Aloo
Bombay Aloo
Onion Bhajis
Malai Kofta
Punjabi Chole
Rasam
Pakora
Paneer Tikka
Dal
Tomato Chutney
Palak Paneer
Rava Upma
Samosa
Rasgulla
Modak
So, what are you waiting for? Scroll down for more details!
27 Savoring Side Dishes For A Genuine Indian Experience
Side dishes may be small compared to the main ones, but it's an irreplaceable factor to elevate the whole meal. And some of them are suitable to serve as appetizers in Indian meals. So let's check these recipes below and how they do a fantastic job in that aspect!
You can't talk about signature Indian dishes without basmati rice. The word "basmati" means "full of aroma", a trademark feature of Indian cuisine. Just like its name, chefs will cook this long grain rice with whole spices and fried onions.
For the best result, you should rinse the rice first to get rid of all excess starch. This will take a couple of washing for it to completely clean. If you want more flavor, replace water with stock or add saffron while cooking.
This rice is a perfect match with curries and lentils.
Do you want to know how to make perfect Basmati rice? Let's check this video!
While many people consider pulao the main course to serve with salad and yogurt, you can take it as a side dish for your butter chicken, Indian curries, gravies, and lentils. Simply put, pulao is long grain rice cooked in stock water with spices and herbs.
Sometimes, you will find numerous appetizing Indian fruits, meat, or vegetables in the broth for a deeper flavor. You'd better use basmati rice for pulao so that the grains are not too sticky. Don't forget to eat the golden crust at the bottom of the pot. It's the best part of pulao!
Indian people consider proper meals equal good health. And that reflects in a dish called kitchari. Simply put, kitchari is like a porridge made with basmati rice and mung dal beans. This mixture is simmered in several spices like cumin, mustard, ginger, turmeric, and black pepper.
All these spices are warming types that can detoxify your body. Also, instead of powder, in this recipe, you'd better use the whole spices for more freshness and flavor. You can eat kitchari at any time of the day, but it mainly appears at lunch or dinner.
Missi roti is a traditional Indian flatbread made with whole wheat flour and besan (a type of chickpea flour). The ratio between both these ingredients differs among various recipes. Some say you should half and half, while others go with a 2:1 proportion. So the decision is all on you.
Apart from the flour, Indians usually add vegetables to missi roti like onion, spinach, methi, etc. However, if you want to stray entirely away from the traditional road, consider putting milk yogurt into the dough, as it will make your missi roti a bit softer.
Indian roti has also made its way to Caribbean regions and become an especially beloved food in Saint Lucia – an island nation in the Caribbean. Here, roti is often used to wrap curried chickpea, meat, veggies, etc. to whip up a quick yet hearty meal.
This video will reveal the secret behind genuine missi roti!
It'd be a waste to talk about Indian cuisine without mentioning naan bread, a unique food in Asian side item menus. Among all Indian bread, naan must be the most famous one. Some can mistake it with pita bread, but not me.
In fact, if you pay attention to their texture, you can quickly point out the differences. Pita is harder, while naan is richer as it contains eggs and buttermilk.
It's mainly served with curry dishes because naan's texture is suitable for soaking in the gravy. Aside from that, today, chefs also use naan in various recipes, like making quesadillas or pizzas with it.
If there's an arch enemy of naan bread, that'd be chapati. Since they hardly use utensils for eating, Indians invent various kinds of bread to spoon their meal instead. And chapati is a regular choice as it can go with all the dishes.
The origin of chapati is quite funny if you ask me. Before, people prepared the dough by slapping it between the palms, hence its name (chapati is from the word "chapat", which means "slap"). Nowadays, they change the process into grilling it on a griddle.
Besides the plain chapati, there are various kinds for you to choose like cheese, vegetable-stuffed, or radish one.
Another well-known flatbread I want to talk about is paratha. Compared to chapati, paratha is much thicker as it consists of multiple layers folding on each other. Stuffed ones are even more substantial with all the fillings like cauliflower, potatoes, green beans, or carrots.
You can eat paratha with any Indian dishes you like, for example, curries or stir-fries. Apart from that, paratha is also an everyday breakfast in India. Serve it with milk tea, curd, fried egg, ground mutton, and you have a full Indian breakfast.
Do you know there are three ways to make paratha? Check this video to see what's suitable for you!
These fluffy balls have captured my heart right on the first try. And you may experience the same when you eat them. Poori, also called puri, is made from unleavened wholewheat flour and fried until it puffs up.
While most flatbreads are used in savory dishes only, with poori, you can eat it as a sweet treat when combined with kheer (a rice dessert in India) or halwa. Of course, poori is suitable to accompany different savory recipes like curries or bhajis too.
Bhatura looks like a giant version of poori. However, there are specific differences between these two. And the key one is what flour is used in them. While poori is made from wholewheat flour, Indians use plain flour for bhatura with a leavening agent like baking soda.
This component helps bhatura to rise and expand when frying. Yeast is a replacement for baking soda but less flavorful. According to the traditional recipe, bhatura needs to rest for 5-6 hours to rise properly.
However, today, with the help of baking soda, it doesn't take that long anymore. Also, you should enjoy bhatura when it's freshly fried with chickpea curry.
Papadum is a flatbread with a cracker-like texture. It's made from various flours, such as black beans, lentils, chickpeas, rice, tapioca, millet, or potatoes. Then, they will add water, spices, and some salt to the flour mixture.
The remaining process depends on different recipes. The dried dough will get deep-fried, roasted over an open flame, toasted, or microwaved. The result is always a crispy, crunchy bread that goes perfectly with chutney, curries, or sauces.
Follow this video to make some for yourself!
Having papri chaat on your dinner table will make your meal have a more Indian feeling than ever. Papri chaat is a fried wafer (called chapri) topped with boiled chickpeas, potatoes, yogurt, and tamarind chutney.
The tanginess of chutney accompanied with cool yogurt and crunchy chapri will burst right in your mouth. When you have the chance to go to North India, make sure you try this dish at various mobile food stalls.
In India, "aloo" means "potatoes", and "gobi" means "cauliflower. So yes, Aloo Gobi is a curry made of these two vegetables. Both are steamed first, then fried until they are dry and crispy. Aloo Gobi is usually eaten as a main dish with yogurt or basmati rice.
However, you can serve it as a side dish for other foods like butter chicken, tarka dhal, tandoori chicken,… in a big meal. Also, you are free to alter the spicy level of this recipe by adding or reducing any seasonings to your liking.
This dish can't make you worried anymore after this video:
If you have several leftover potatoes in the fridge, use them to make this sag aloo. Just mix some spices and fry them with garlic, ginger, and potatoes until all turn soft. Combined with spinach, this dish will take you to India with just one bite.
And the best part about sag aloo is anyone can eat it, even vegetarians or people on diet. You can switch spinach for kale for a change of flavor if you want. Sag aloo is a perfect combination of curries and dal. Or you can use it with yogurt for a quick lunch.
If you want a dish that's not too spicy but still full of flavor, this bombay aloo is just for you. Also known as bombay potatoes, this recipe is simply boiled potatoes that get fried and seasoned with numerous spices. The only heat source in bombay aloo comes from smoked paprika, which doesn't contain much heat.
However, if you want more heat in this dish, feel free to add cayenne pepper or its alternatives, cumin, and cilantro. You can find bombay aloo beside curries or raita in various Indian meals. Some even eat it alone or with dal.
You can hardly find any Indian take-outs without this dish. What if I say you can make these fried onions at home instead of buying them? They are an effortless dish as you would only need 20 minutes to make them.
Onion bhajis taste the best when you slice all the onions thinly, making them easier to cook. However, if you cut them too big or too thick, it'll take longer to fry them thoroughly. This leads to oil-drenched or raw onion bhajis.
With this video, your onion bhajis can even outshine those in restaurants.
It's hard not to fall in love with malai kofta for its rich and creamy texture. Basically, malai kofta is a tomato-based curry with kofta balls made of potatoes and paneer cheese. But, of course, you can use only potatoes for a completely vegan version.
You should also add cornstarch to kofta balls so they won't fall apart when deep-frying. While tomato-based one is always the standard choice, there is a white version without tomatoes.
You can't find any wedding ceremony in North India without this dish. It can even appear at other parties or get-togethers. That's how much Indian people love this chickpea curry. Maybe it's because Punjabi Chloe includes lots and lots of spices.
I can't even tell how many spices are in the mixture called "Chole powder". But most of the time, the main ingredients are cumin, cloves, coriander, peppercorn, and cardamom. You can buy a ready-made powder in any Indian store to save your time.
If there is a king of soup in Indian cuisine, rasam must be a potential candidate. This dish is popular in Tamil Nadu and all over South India with its distinct flavor that is spicy, sweet, and sour at the same time.
That's because rasam's base is made of dried green mango juice, tomatoes, cumin, chili, and pepper.
Nowadays, people ground all these seasonings into powder and sell it as rasam powder. Besides the original one, there are plenty of variations for you to choose like rasam with gooseberries or with ginger.
This video will show you every step to make a rasam:
Pakora is an Indian equivalent of Japanese tempura. However, instead of just coating the filling with eggs and flour, pakora's coating consists of various spices, thus creating layers of flavors. These chosen spices differ in each region, including both fresh and dried ones.
Initially, pakora uses multiple vegetables like onions, eggplants, potatoes, spinach, cauliflowers, tomatoes, and many more. But nowadays, the varieties of pakora have increased tremendously.
You can find several pakora versions sold as finger food on different Indian streets. People swap veggies to meat, seafood, or even cheese in new variations.
You can't come to India without trying paneer tikka. It's like an Indian version of BBQ skewers. But instead of meat, you'll get chunks of paneer cheese and vegetables on sticks grilled in a tandoor.
The key of this dish is how you marinate paneer cheese. Make sure all these cubes are soaked thoroughly in yogurt and spices. And don't forget to wet all sticks to prevent them from burning when grilled. Paneer tikka goes best with mint chutney, salad, pilau rice, or naan.
If you are familiar with Indian cuisine, you must know some varieties of dal. Having other names like dhal or daal, this soup is made of dried pulses or legumes like lentils, beans, or peas. It's a dish that's suitable for every class. No matter whether you're rich or poor, dal has a version for you.
Like I've said, there are multiple types of dal, depending on what ingredients you use. For example, some dals need split lentils, whereas others just use them whole. Indian people also have chickpea dal, black lentil dal, and butter ones.
Let's see how a professional chef makes a dal with this video:
When summer comes, it's time for grilling dishes. And it can't be satisfying without the appearance of tomato chutney – a perfect accompaniment in your BBQ gathering. So what criteria makes it so special?
Its fresh flavor will lighten up all your summer parties. Not to mention, making it is easy. All you have to do is wait until the chutney thickens.
And compared to those ready-made, homemade tomato chutney is easier for you to season. You can add red chili powder or dry mango powder for more heat and sourness in the sauce. Or leave out fenugreek seeds if you don't like their bitter taste.
Vegetarian eaters, here I present to you this flavorsome dish called palak paneer. You may wonder what it is, and I'll answer right away. Basically, it's an Indian spinach curry. But it's not just a simple one, it's a curry with paneer cheese.
And that's the reason why this yummy keto Indian dish is so famous all around the world. Just imagine the rich, fresh sauce made of spinach with chunks of rich cottage cheese. Not to mention, palak paneer is not over spicy with just an appropriate amount of cumin and coriander in it.
Want to impress your Indian friends? Click here and follow this precedure:
When your main dish is rich, like coconut curries or butter chicken, you may need a light side dish to balance the flavor. And rava upma is that side dish. On its own, upma tastes pretty bland with just toasted rava in water seasoned with oil, lentils, dal, onion, ginger, and several herbs.
However, you can level up this dish by adding more ingredients like shredded coconut, corn, or milk. The elevated upma will be creamier, suitable for a breakfast or light lunch. Some even use this food with U-something name along with chutney or sambar.
Another must-try Indian side dish is samosa, which is also an ideal appetizer idea to use air fryers to cook. Brought to India by Middle Eastern traders, samosas look like Mexican empanadas: Both are fried pastries filled with vegetables and meat.
Samosas have many shapes, but the typical one is a triangle. Traditional samosas are filled with spicy fried potatoes, which is also the most preferable type. Now, you can find various samosas with different fillings, such as minced meat with spinach, lentils, or fruits.
Thanks to their alluring taste, samosas have become popular in several South Asian countries. These triangle pastries are one of the most popular dishes in Nepal. However, unlike Indian samosas, the Nepalese version usually omits meat, making the treat suitable for vegetarians.
Serving sweets with savory foods is one way to improve appetite. So, there's nothing wrong with using a dessert like rasgulla as a side dish. Its mild sweetness makes a flavor change without opposing too much against the main dish.
At first glance, it's pretty easy to make rasgulla. All you have to do is boil chena dumplings (or curdled milk) in sugar syrup until they all puff up. However, the reality is different from theory as your chenas can break apart when boiling. So I recommend you make them mini-sized first to prevent that instance.
Rasgulla is not prevalent in Indian cuisine alone. If you ever have a chance to discover the most popular dishes in Bangladesh, it's not hard to come across a Bangladeshi variation of rasgulla.
After watching this, nothing can stop you from perfecting it!
Another sweet side dish I want to talk about is modak. Though people usually use it as an offering for god Ganesha in the Ganesh Chaturthi festival, modak makes a decent combination with savory dishes.
Modak is a dumpling made with rice flour. Generally, it's filled with coconut and jaggery or cane sugar. But now, there are more options for you to choose like bananas, saffron, or nutmeg. After that, people will either steamed or fried modak for the last step.
A Few Words Of Advice
If you aren't familiar with Indian cuisine, it's easy to get scared with all the spices. But just take it easy. Use what you're familiar with first, make some alterations until you reach the result you want. From there, you can start making your mixture with different kinds of spices.
If you find this article helpful, don't hesitate to share it with your relatives. And please share your thoughts with me in the comment section below, whether they are about what recipes you like or your own experiences.
Nutrition Facts
4 servings per container
---
Amount Per ServingCalories68
% Daily Value *
Total Fat 3.6g

6

%
Sodium 3mg

1

%
Potassium 1mg

1

%
Total Carbohydrate 8.3g

3

%
Protein 0.8g

2

%
---
* The % Daily Value tells you how much a nutrient in a serving of food contributes to a daily diet. 2,000 calories a day is used for general nutrition advice.