Nepalese foods attract tourists because of their simplicity but are still full of sophistication and flavors. And it would be best to start discovering these delicacies through my detailed article.
Nepalese cuisine has dishes that are a harmonious synthesis of inspirations from big countries' culinary cultures, such as Chinese cuisine and Indian cuisine, and the diversity of indigenous ethnic communities and geographical positions. It is time to stick in and learn more about them!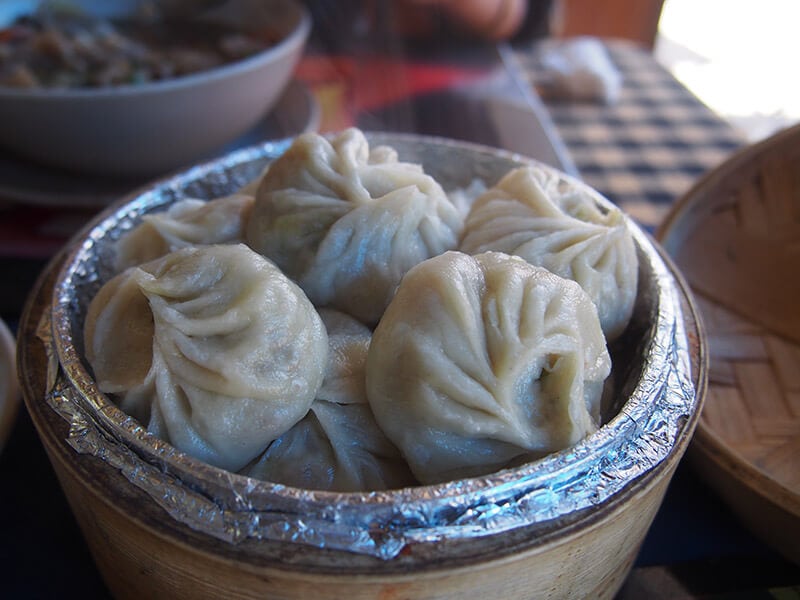 Indigenous Nepali Dishes To Go On Your Dining Table
The diversity of ethnic cuisines holds an important role in creating a whole distinctiveness of Nepalese culinary culture. Therefore, I will start this list with some prevalent foods in Nepal that you should try once if you have a chance.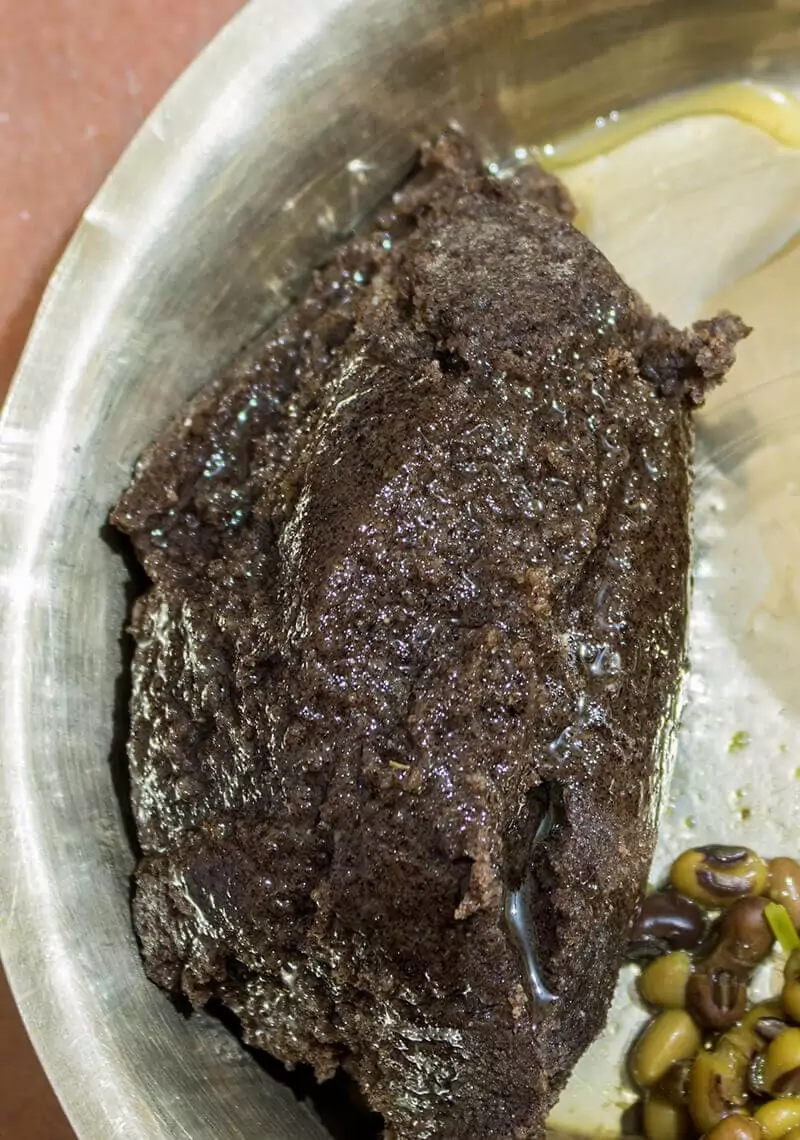 The first recommendation is a prevalent condiment that you can regularly find in many Nepalese dishes, Dhido. The dish is also considered a staple or national food of Nepal.
It is from the remote regions of Kathmandu (which is famous for Newars cuisine) or the Thamel areas.
To make a portion of Dhido, they use several basic components like millet (with water and salt), cornmeal, buckwheat flour to pair with pickled/fermented greens leafy veggies.
Those ingredients are milled by hand and using stone as a tool. When cooking, Nepali people will use a spatula and taapke (cast-iron pan). They will try to create a smooth, paste-like consistency.
The best pairings for Dhindo/Dhido are vegetable curries (lentils stew/soup), meat soup, yogurt, buttermilk/butter, or pickles for both lunch and dinner.
This complete introduction will show you a lot about the traditional Nepali Dhido.
2. Dhikri (Nepali Steamed Rice Cake)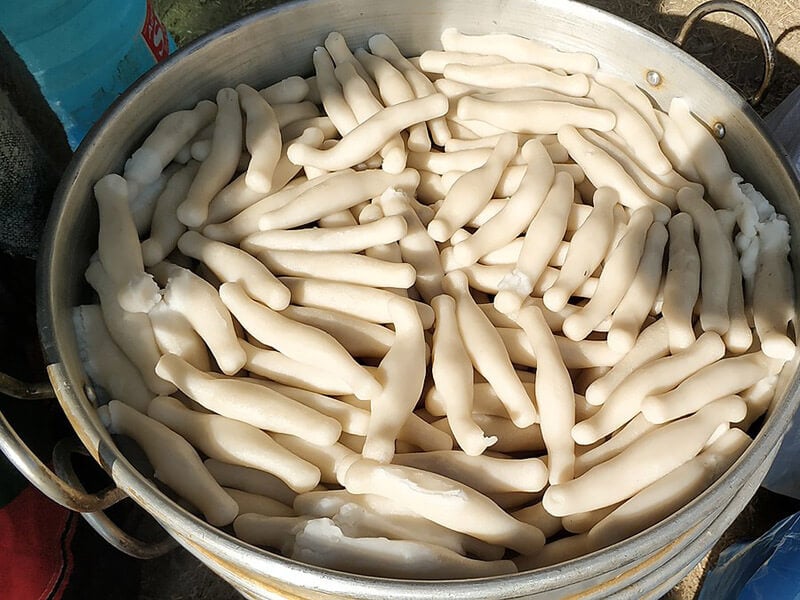 Stand for the western Tharu cuisine of Nepal; this palatable rice-making Dhikri usually has the elongated and some others based on the makers' creativity. It looks like a sausage in an elongated shape, but there is no meaty component. Dhikri is made of 100% rice powder.
Since the Dhikri is relatively bland, you should eat it with savory dishes like spicy chutney (a tasty ingredient in many Indian starters), curry, or lentil soup. So pairing it with something hot, salty, and flavorful will make your meal with Dhikri more enjoyable.
Tharu people will enjoy serving this Dhikri on Maghe festival (the first day of Nepali traditional Magh's month). If you have come to the Tundikhel area on this occasion, you might have got the chance to try it already.
Do you know what the most favorite meat is in Nepal? It is the lamb! Because of that, lamb is a special meat part that is widely used in various Nepali recipes, and using it for a hearty curry is not a bad idea.
This dish is prevalent in Nepal and exists in almost every region, so there is no official theory about where it came from. For sure, the Gorkhali lamb is luscious, and you should definitely try it once you come to this beautiful country.
Nepali people will apply the slow-cooking method to process this recipe. Besides the lamb meat, they also use some potatoes, onions, and several signature hot spices for this curry.
After a time, the meat will be taken out of the pot and grilled together with some spicy chili.
The intense pungency helps to enhance the pleasing effect for the whole treat. People in Nepal love enjoying Gorkhali lamb with rice or roti bread for winter (or when the weather gets colder).
You won't regret knowing more about this Gorkhali Lamb here!
4. Kwati Dal (Mixed Bean Stew)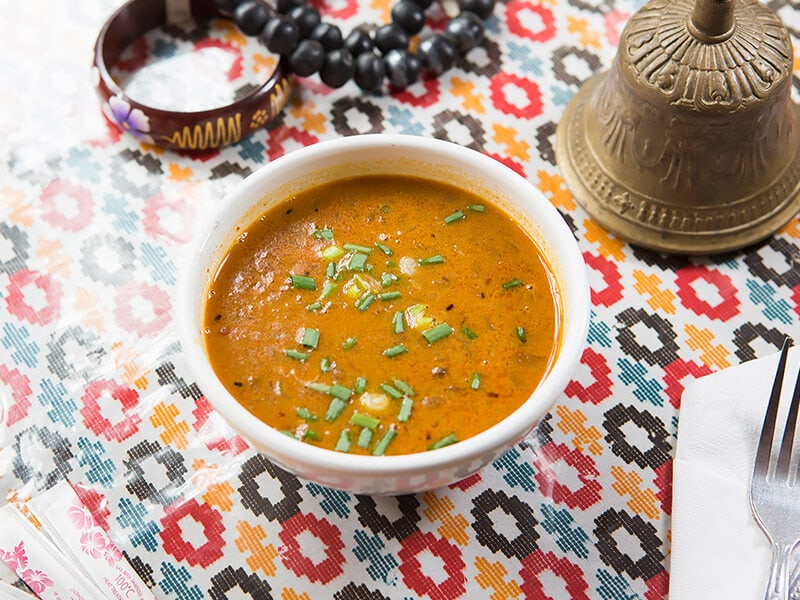 Bean stew might not be a strange thing to you if you are interested in Asian cuisine. This Kwati Dal can become your first hearty stew for a hearty Nepali mid-day meal since it is quite easy to eat.
Unlike those famous Dal stews that only call for lentils, this Nepalese traditional Kwati Dal includes many beans: chickpeas, soya beans, kidney beans, mung beans, lentils, and white peas.
Some people will have even more beans in their recipe, yet, those mentioned types are classic. If you want to find a vegetarian-friendly treat when visiting Nepal, you should opt for this Kwati Dal. It will provide all the proteins and vitamins you might need for a day.
People in Nepal also believe that the food can support the recovery process of the weak/ill people and the pregnant women's health as it will provide nutritious protein through beans.
My tip for you when eating this dish is to pair it with flatbreads; any kind will work. Although you can easily find this Nepalese mixed bean stew every day in a year, it is more popularly used on Janai Purnima Day ( a day to celebrate the bond of pureness and security).
5. Chhurpi (Yak Cheese)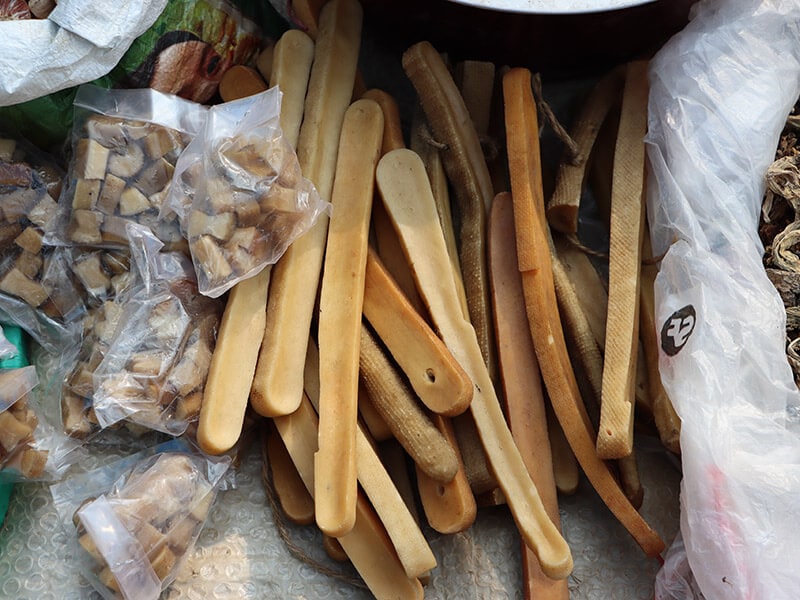 Let's move to the Himalayan region! In this area (Himalayan), the two most significant flows of cuisines are Thakali (by Thakali people living in Thak-Khola Valley) and Tibetan-influenced cuisine. And this Chhurpi is a hard cheese variation from the Thakali.
Chhurpi, also known as Yak cheese, is made from the rare Yak buttermilk since not many families in this area have their cattle. People regard it as the hardest/toughest cheese in the world, and if you want to verify that word, you might want to experience it yourself.
When eating, if you think the Chhurpi is quite hard, don't try to chew it. Instead of that, you should keep it in your mouth until the cheese is moistened, and you can chew it like chewing gum.
One fact is you can find this specialty almost everywhere in Nepal, for example, Kathmandu. Yet, it is best to experience this delicacy in its motherland.
They believe that the Chhurpi from the Himalayan is much creamier and softer than the other regions. The cheese factories in the Himalayan are also open for visitors and tourists so that you can taste the cheese "hot and fresh".
Take a closer look at the Yak cheese production process with me now!
6. Sekuwa (Nepali Grilled Skewers)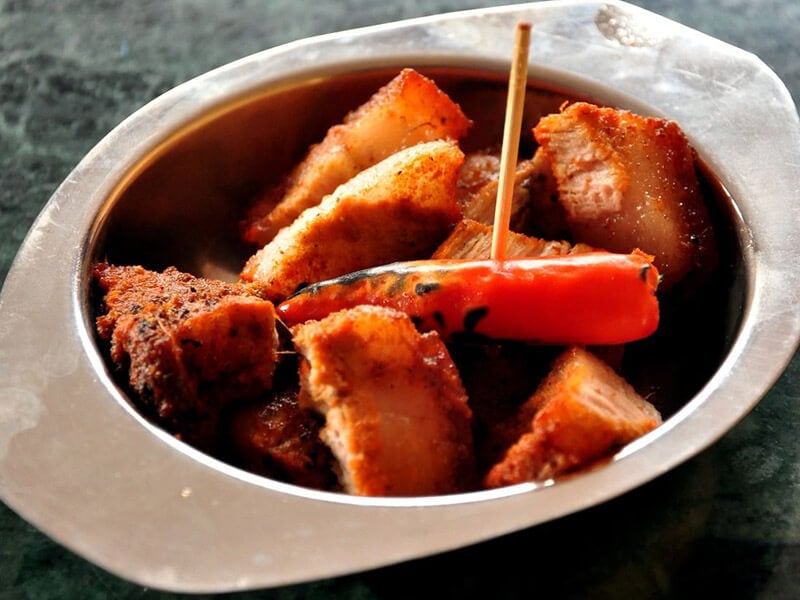 Sekuwa or Nepali-style meat skewers is a specialty that can stand for the rusticity of Nepali cuisine. One good thing about this treat is there is no limit of choices for the meat part. You can have various options, such as chicken, pork, goat, or lamb meat.
Since Nepalese people apply many spices into their food, they also upgrade the flavor profile of this Sekuwa with a variety of fresh herbs and condiments when marinating the protein.
When eating, you should pair this dish with some Nepali Achar (Pickled Tomatoes) and Baji (beaten rice). These components will add a bland, starchy base and a gorgeous sourness to the whole plate.
Although Sekuwa is loved in every corner of Nepal, Dharan and Tarahara (a town in Eastern Nepal that belongs to Sunsari District of Koshi State) are seen as the "Sekuwa's capitals "of this country.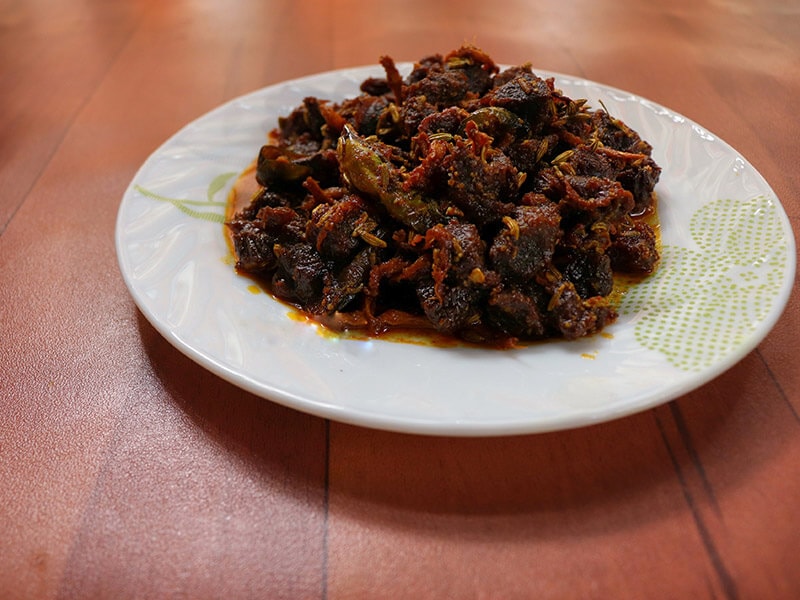 Sadheko Sukuti or Nepali dried meat pickles is ideal for meat lovers. With the diversity of condiments used, such as raw onions, garlic, and chilis, the dish can appeal to anyone with its enjoyable smoky, spicy and meaty flavors.
Nepali people don't usually serve this dried meat alone; they prefer making it a protein part for a fresh salad. Freshly chopped root veggies like carrot, radish, and some other things (pickles, beaten rice, cucumber) often go with this Sukuti.
Then where does this dish come from? The answer is Himalayan cuisine. To be more specific, it is an everyday dish for Limbu and Gurung people.
Although it is from Nepal, you can find other variations in the neighboring countries like Tibet, where they use buffalo meat more than the different kinds.
The story behind the origin of this delicious Sadheko Sukuti started a long time ago, in the time when animal sacrifice was still a prevalent custom that took place every year.
After the sacrifice ceremony, they took the sacrificed meat for cooking and dried it to eat gradually in the cold winter.
Until now, when fast-food or fresh meat has been sold in many shops during winter, the tradition of making Sukuti meat remains unchanged. People who live in Nepal and the Himalayas are still in love with this staple food.
This is a must-watch instruction to make a palatable Sadheko Sukuti!
8. Baji / Chiura (Nepali Beaten Rice / Flattened Rice)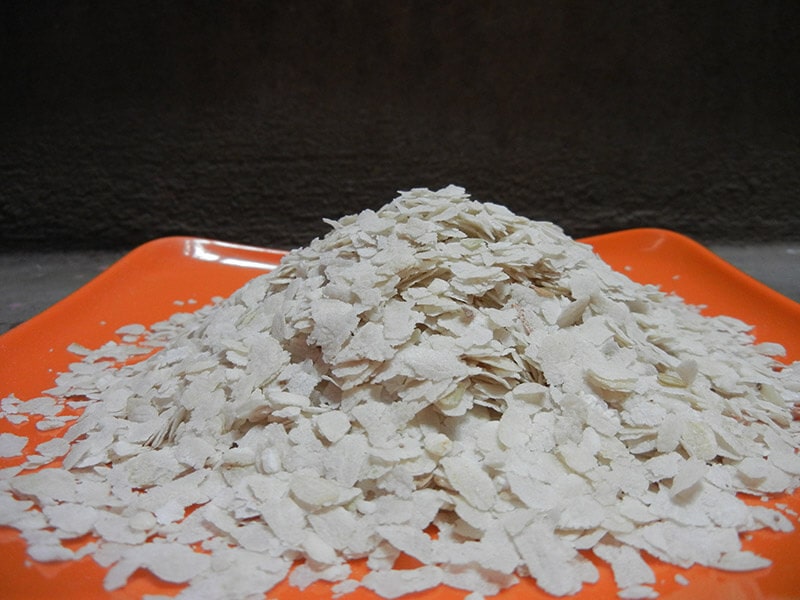 Although I have mentioned a " Baji " in the previous category, this Baji is a bit different and a snack (or side dish). The name " Baji " is used more often in Newar culture (in Kathmandu Valley), while in the other territories, you can find it as "Chiura".
There are two main variations of Baji, including white (Tuyu Baji) and red (Hyangu Baji). These two have a slight difference in texture. While the white Baji is soft, the red one is crispier, which creates an exciting effect when chewing.
When eating alone or paired with yogurt and tea, Baji is a tasty snack, but this food can perform better than that. You can pair it with several other savory and hearty treats so that Baji can be a great bland base or side dish.
Nepali people will prepare this food more often on special occasions like weddings, other ceremonies, and feasts. Field workers also love the treat since they can eat it as a light snack after work.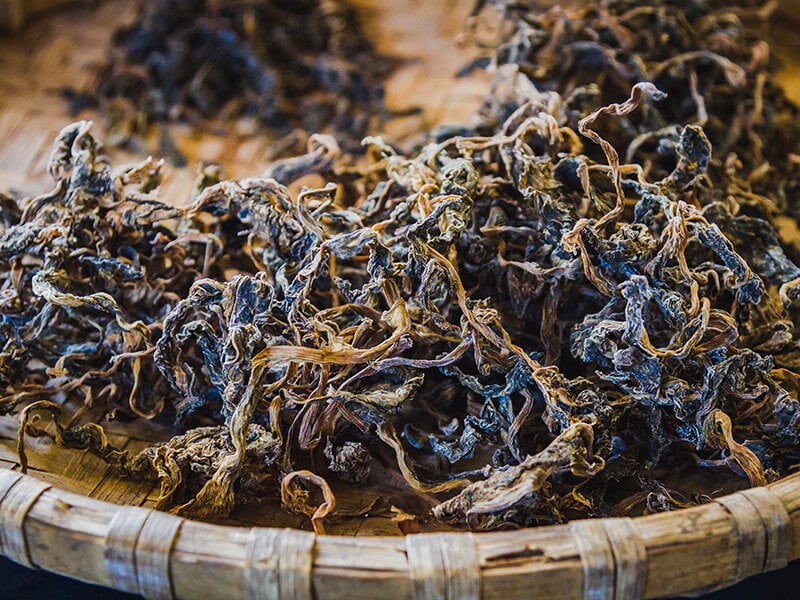 Did you know that there is a dish made similar to Korean kimchi or Chinese pickled radish in Nepal? This Gundruk is a dish like that; this special fermented veggies dish can pair with many Nepali dishes.
Nepalese love to eat it as an accompaniment to a Nepali-style dinner (or lunch) or even just a snack. At first, it will also be a bit difficult to smell due to the sour smell like other pickles. However, after eating it many times, you can become addicted.
To make Gundruk, Nepali people will use a variety of vegetables' leaves, including radish, cauliflower, and mustard greens. The harvested leaves will be cleaned, dried in the hot sun in a well-ventilated place, and then processed for sour fermentation within 1 week.
This signature Khas dish is a source of minerals needed for the poor meals of the past with only corn porridge and starchy tubers.
Believe me, this Gundruk-making guidance is the best one you can find!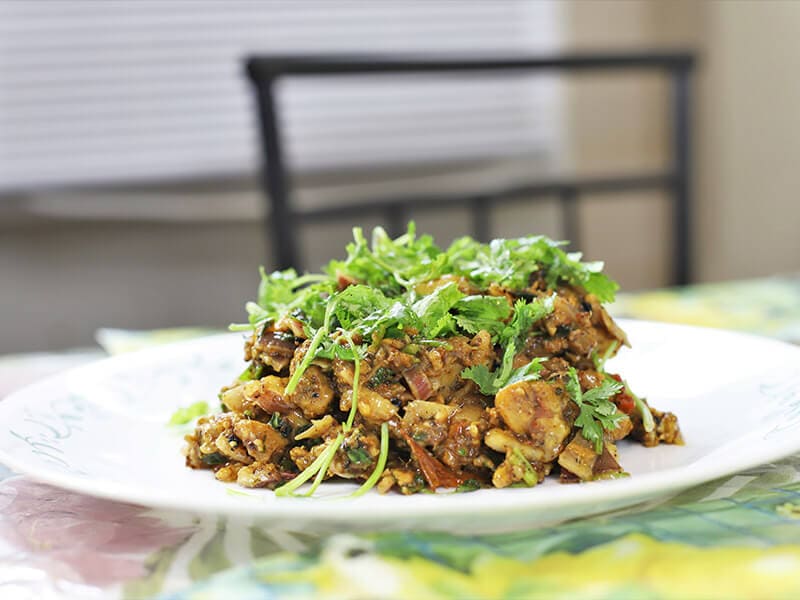 Chhwela, Choila, or Chhoyela describes a traditional Newari spiced grilled buffalo meat (or lamb/chicken/mutton/duck/mushroom), and it can be a perfect treat for your Saturday dinner. Almost all types of proteins can be used to create this delicacy.
To boost the spiciness of the food, Newari people use a variety of spices such as red/green chilis, fenugreek seeds, and some turmeric (for a better coloring effect). When eating, Nepalese people love pairing it with rice flakes the most.
Otherwise, this Choila can be a part of the famous festive treat Samay Baji below. In short, the treat is palatable, and you shouldn't miss it when visiting Nepal.
11. Shakpa / Syakpa (Sherpa Stew)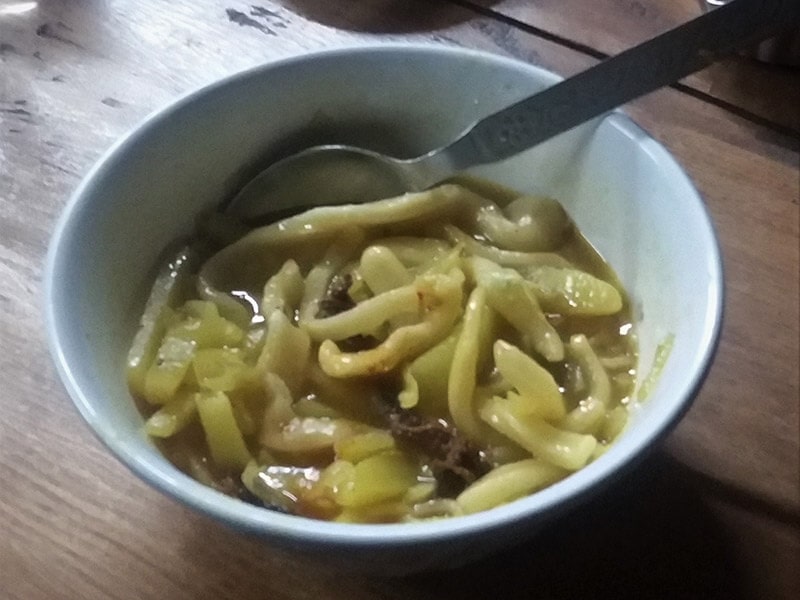 If you are preparing for a Mount Everest expedition/trekking and you don't know where to stop and eat, this Shakpa stew of the locals should be your first choice. It will be a filling, hearty treat for lunch or dinner.
Shakpa, or Sherpa stew, is made of all the simple ingredients, just like the signature Sherpa culinary culture features. The allurement of this stew lies in its simplicity. The local chef will use various dried/fresh meats (sheep/yak) and locally grown veggies in the stew.
Some pungent spices are also added to enhance the body-warming effects and help you fight the cold in the highland.
The noodles used in Shakpa are hand-pulled, flat noodles, as illustrated. The thick strands make the noodles pair well with the mildly salty and spicy soupy dish.
That is why this food is also considered an energy boost dish (you only need to have a small portion, and you can be full for the whole day).
Although it is a specialty in the Himalayan region, only a few restaurants include Shakpa Stew in their menu. Therefore, don't be shy and just ask for help from the locals.
Let's look at the right Nepali way to create this rustic Shakpa.
12. Samay Baji (Newari Food Platter)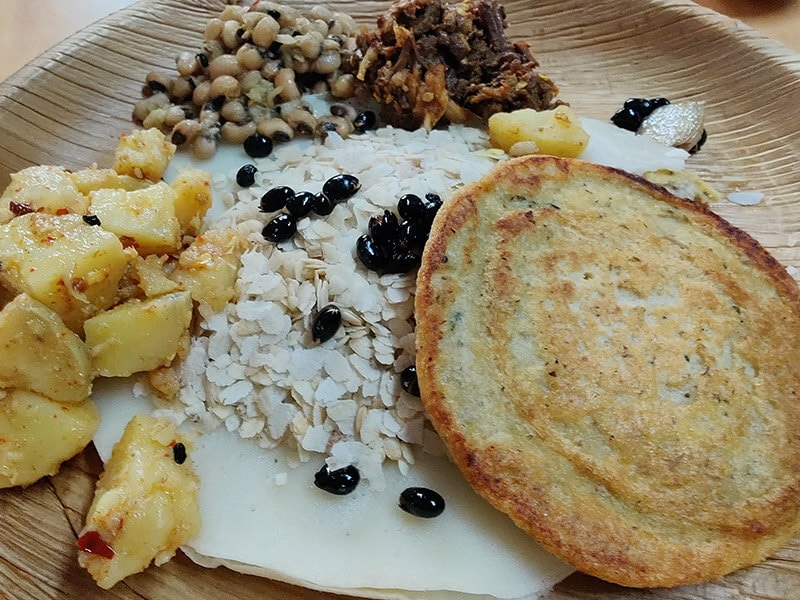 Samay Baji is verified as the authentic treat of the Newari cuisine, a traditional sacred dish in Nepal. Nowadays, this food is gradually becoming more prevalent around the world.
Samay Baji is especially consumed in Newari Festivals, family gatherings, or auspicious occasions (Tihar, Indra Jatra, Dashain, and so on). You can still find it on a normal day in the restaurants since it is pretty easy to prepare, so don't worry too much.
A traditional platter of Samay Baji includes various ingredients. The favorite ones are Chatamari, beaten rice (Baji/Chiura), Chhwela, and some condiments like thinly sliced ginger, spices mixed with boiled beans, or other things.
Let's talk more about the origin of this delicacy. In the past, Newari people lived in a close community, and their houses were near each other. The point was that their farms were relatively far, so they needed to prepare a nutritious and convenient dish.
The Samay Baji was created to meet that requirement. That situation was also the reason for the existence of Baji or Chhwela (those components don't need to be re-cooked when eating).
The word "Samay Baji" means "it's time" in English, so you shouldn't wait any longer; it is time to experience this heart-filling dish.
Non-Indigenous Delicacies That Nepalese Will Surely Suggest You
Although other Asian regions heavily influence Nepali dishes, they do not lose their own identity. Let's see some of my recommendations in the upcoming section and know more.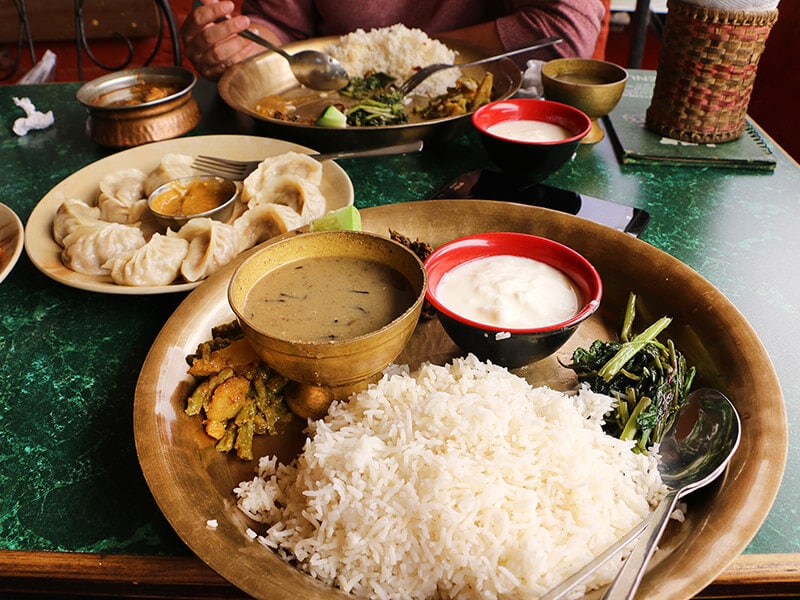 Dal Bhat is a famous rice dish with Indian roots but is renowned in many countries in the Middle East and South Asia; Nepal is not an exception. In this country, Dal Bhat has become a national dish and is an utterly filling food with trekkers.
In this beautiful country, people typically eat Dal Bhat for their luscious Nepali breakfast because it will be so nutritious and easy to consume. Now, let's talk more about the components of this yummy rice dish.
A standard Dal Bhat vegetarian rice plate consists of 2 parts: Dal (lentil soup) and Bhat (rice). The side dishes beside it are optional; you can choose from tomato slices, chaar pickles, and stir-fried green veggies.
If you prefer savory foods, you can ask for meat and fish instead. In some highlands in Nepal, rice is not their specialty and is often of poor quality. Therefore, the people in these areas will replace Dal with cereal grains (barley, maize, buckwheat) or Roti bread.
The best review about Dal Bhat Tarkari you should never miss!
14. Nepali Aloo Dum (Spicy Nepali Style Potato Curry)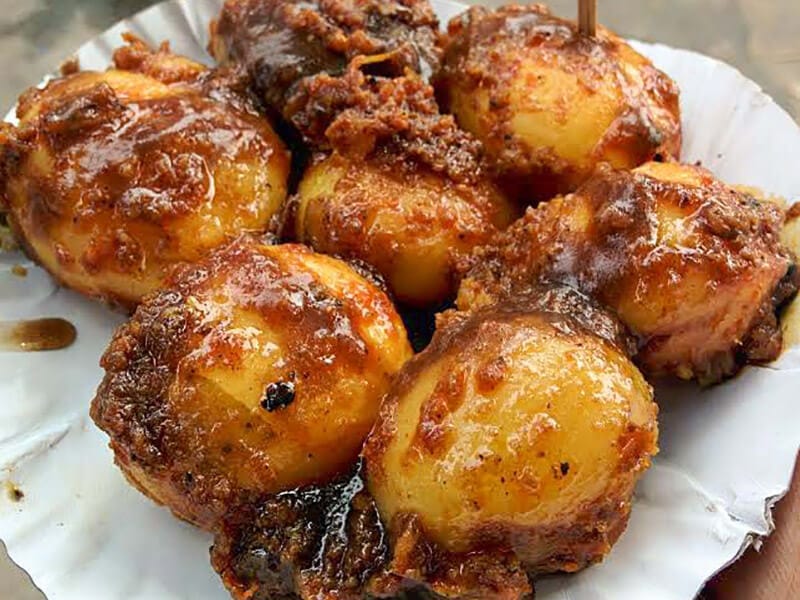 Aloo Dum is not an authentic Nepalese delicacy, but it originated from the hill station of Darjeeling, India. And this one is also a famous dish in Kashmir. So if you are in the mood for spicy food, this curry will be the best option for you.
Besides using the similar ingredients to the original recipe from India (spices, turmeric, red chili powder, kaala jeera, and some other signature condiments), Nepalese people also develop some recipes that call for other veggies like cauliflowers.
This dish is easy to make and easy to eat; there is no reason not to try such a palatable delicacy. You can pair it with some rice or naan like Indian Aloo Dum or ask for the seller's suggestions. They know how to make their dish taste like heaven.
15. Aalu Tama / Aloo Tama (Bamboo Shoot With Potato And Black Eye Beans Curry)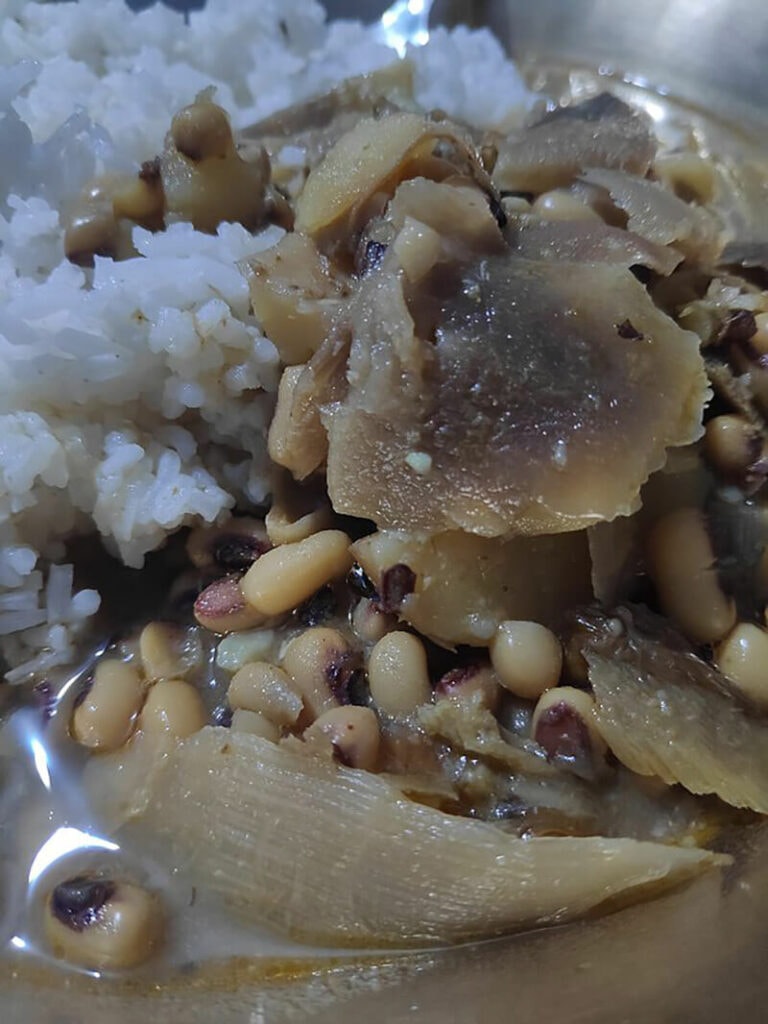 You can find Aalu Tama with other names, such as Aloo Tama and Aloo Bodi Tama. This treat is a harmonious combination of Indian and Chinese cuisines, demonstrating the significant effects of those cultures on Nepalese cuisine.
Fermented bamboo shoot (called "Tama") is not a common ingredient in Indian foods, while Chinese people use it a lot.
Calling for only potatoes, black eye beans, pickles/fermented bamboo shoots, this curry is a hidden treasure of Nepal and has been a comfort food in many Nepalese people's hearts. It is also an ideal food for vegetarians, so you can go for it if you are on that diet.
The overall taste of Aalu Tama is sour and spicy. I have to admit that it might be a bit too much for the first time, but it will be more addictive when you are more familiar with it.
To enjoy the treat, Nepalese people will suggest you eat it with some Sel Roti (Nepali Fried Bread), rice, or as a part of the famous Samay Baji.
This easy-peasy Aalu Tama-making will tell you more about the food.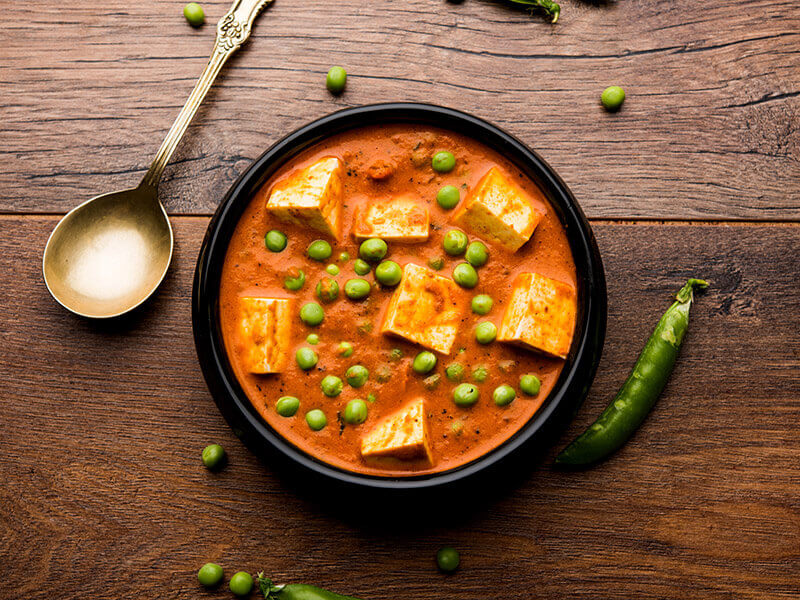 Another treat from India, this Nepali-style Mattar Paneer offers a distinguished taste from the original version.
In the Indian version, this dish is a vegan/vegetarian treat that includes no meat in the ingredients. Meanwhile, in the Nepali variation, sometimes, they apply meat Masala rather than the regularly-used Garam Masala.
In Nepali, Mattar Paneer Curry is a festive dish and frequently appears on special occasions or family gatherings. The bland base for the curry is varied; you can use Naan, Roti, or rice. But believe me, rice will be the best match.
The secret behind the goodness of a perfect Mattar Paneer Curry bowl.
17. Thukpa (Tibetian-Inspired Noodle Soup)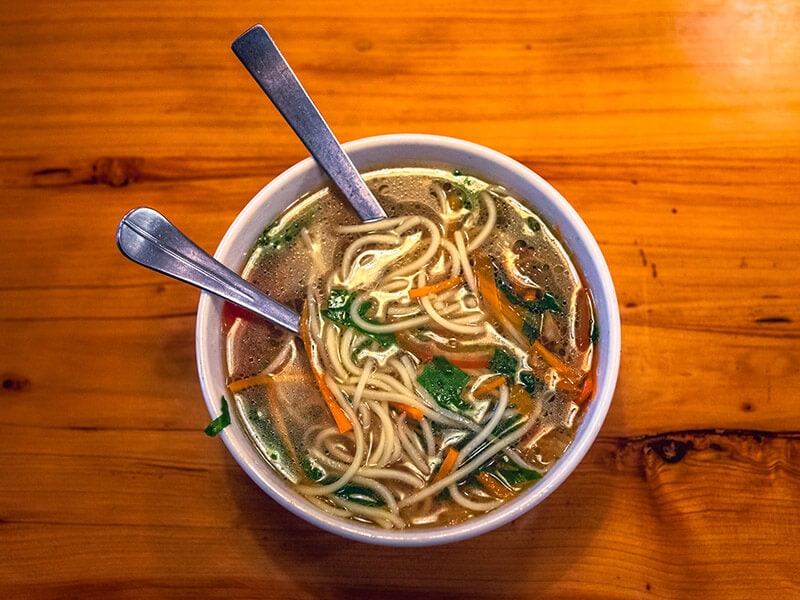 Thukpa is Tibetian-origin, yet it is a specialty of Sherpa people in Nepal. Thukpa also resembles the traditional Shakpa (Sherpa Stew) with all the sauce and noodles. Additionally, it's a beloved delicacy in Kashmiri food culture.
The most significant difference is the noodles used; Nepali people prefer using the long strands. The ingredients of this Thukpa are also basic, and you can have both meaty and vegetarian options.
But, the meaty option (with yak/goat/lamb/chicken) is more famous in Tibet, while the Nepalese people serve the more vegetarian-friendly recipe (with kidney beans, gram, tofu, paneer, chickpeas, and so on).
You can also expect the intense spiciness from the Nepali Thukpa variation, as you might need something like that to fight the winter in the mountains.
18. Momo (Nepalese Dumplings)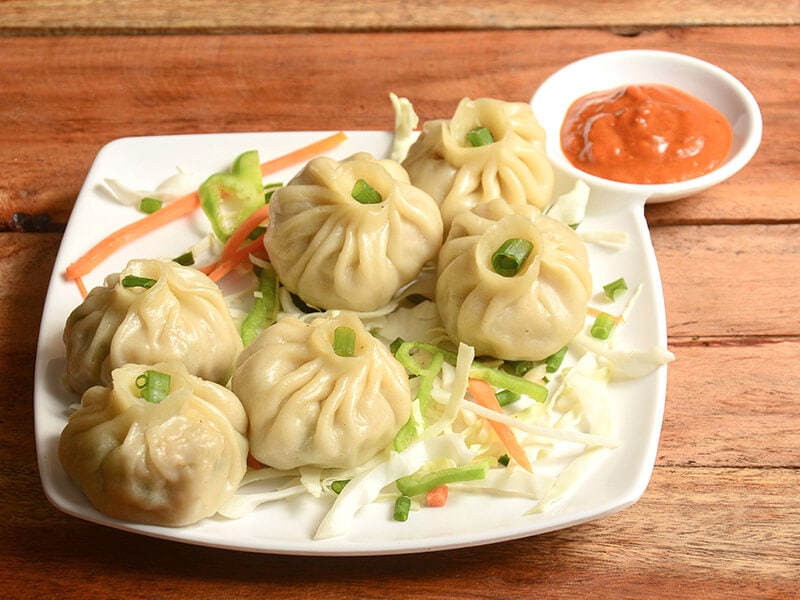 Nepalese wasn't the one to create Momo; the Newar merchants brought this treat to this country (specifically the Kathmandu region). This delicacy is native to Tibet and has variations in many countries globally.
Momo is a dumpling quite similar to Chinese dumplings with fillings generally containing vegetables, tofu, and loaded with meat. Nowadays, the ingredients for Momo's filling mixture have developed, and people add cheese or mashed potatoes into the mix for more flavors.
Nepalese will make this Momo with a big batch first before steaming them. They will also fry Momo up or serve it "half steamed, half fried".
When eating, they will serve these delicious dumplings with fermented vegetables and Momo sauce so that the refreshing sourness and richness can help with decreasing the greasy feeling.
This introduction will show you how to hunt for the best Momo in Nepal!
The Most Famous Desserts And Snacks In Nepal
A perfect food recommendation list needs a category of suggested desserts or snacks. Believe me, these scrumptious Nepalese sweet treats and light meals will surely please you!
19. Sel Roti (Nepali Fried Bread)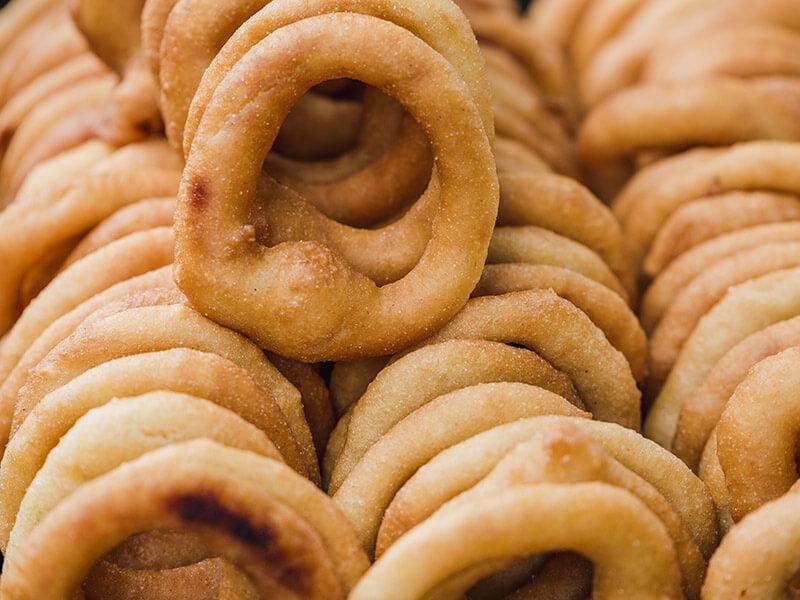 Sel Roti is made from rice flour and will offer you a sweet, crispy crust and soft puffy dough after deep-frying. All of that creates an irresistible deliciousness that won't let you stop eating.
Once mentioning Sel Roti, Nepali might immediately think of a popular breakfast/lunch treat with veggies, yogurt, or tea on a side. The food is loved even more by people who live in the highland. You can also easily find Sel Roti from street vendors as a famous roadside snack.
Furthermore, this food is essential for this country's special occasions. Nepalese people often prepare Sel Roti during the religious festivals of Tihar (a five-day Hindu festival) and Dasai/Dashain (a day to celebrate the victory of Ramayan over Ravana – a demon king).
A chilling instruction that shows you the best way to create Sel Roti.
20. Chatamari (Nepali Pizza / Rice Crepe)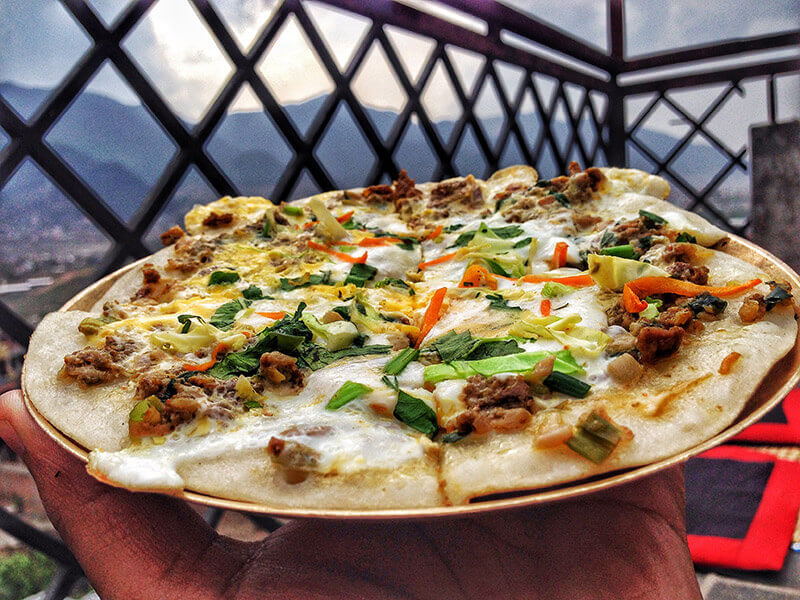 Newari cuisine seems to play a significant role in the Nepalese culinary culture as many Newari-origin dishes have appeared on this list so far.
In English, you might find it as both pizza and rice crepe, yet, crepe seems to be more precise since the crust of Chatamari is relatively thin. By frying the liquid batter mix on a flat pan, Nepali people can create the extremely thin and crispy piece of Chatamari in a snap.
The traditional toppings for Chatamari (garlic, eggs, minced meat, spices) are not the same as pizza, yet with the twist in modern Chatamari's toppings, it does look a bit like pizza. Chatamari is a widely-loved snack in Nepal; you can easily find it on the roadside vendors.
You can also find it on important occasions, for example, Sithi Nakha (a day to celebrate the birth of Kumar Kartikeya, son of Lord Shiva and Goddess Parvati) or Jatra (a street Newar Festival).
21. Samosa (Deep-Fried Triangular Pastry)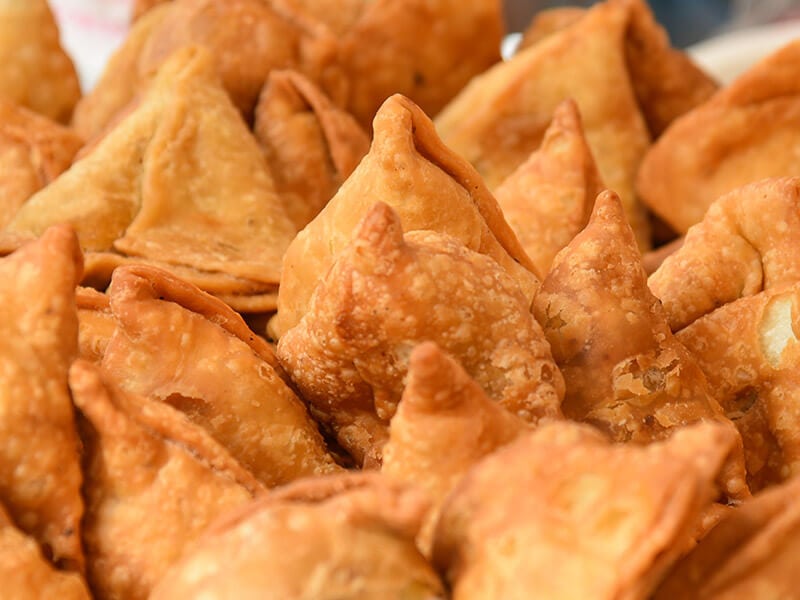 Samosa is a spicy delicacy made of mashed potatoes and condiments like hot spices and herbs. All the ingredients are wrapped in a triangular white flour wrapper. Then, the casing is fried to make it crunchy and easily crumble on your finger.
Samosas are a popular Indian dish, especially for appetizers in Indian style, but they can also be found hot on your table in Nepal and many other countries influenced by Indian cuisine. The Nepali-style Samosa is usually vegetarian, and ingredients such as minced meat are omitted.
You can find Samosa in Nepal since it is a famous street food. As I have mentioned, the delicacy is quite spicy, then if you're not fond of spicy food, take a bite and check it first.
These delights are served with a delicious red chutney, and they're usually enjoyed just out of the pan.
22. Yomari (Newari Rice Flour Dumplings)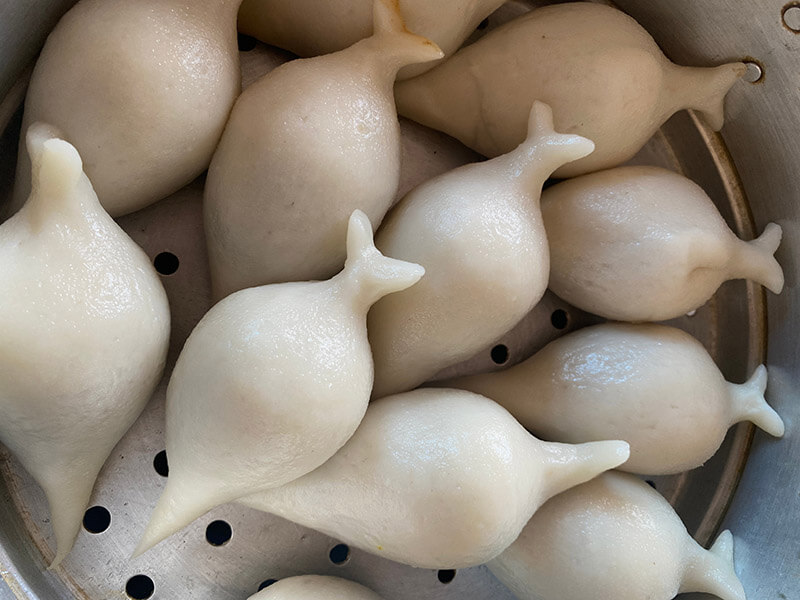 The name of Yomari is derived from "ya," meaning "like/love," and "mari" meaning "good food". You can see how much the Newari people love this delicacy by combining the two-term.
Yomari is a unique food from Newari cuisine; it even has its own festival called Yomari Punhi (usually held on the second day of the full moon in December each year). It is believed to originate from today's Panauti area or the former Panchal Nagar.
Newari people will make and eat Yomari on the last day of Yomari Punhi to celebrate the success of the rice harvest.
The treat usually has the glutinous rice shell (teardrop, triangular or fish-shaped) and is filled with coconut, sesame seeds, some sweet molasses, or sometimes lentils and meat.
It might be pretty challenging to find this treat on regular days, but it is not impossible. Here is my tip, you can go to the Bhat Bhateni Supermarket's bakery section or the Village Cafe on Pulchowk (in Lalitpur).
Or you can find it in some Newari restaurants. Yet, not all of them offer the Yomari in their menu, so you might need to check for the menu online first before going.
Do you wonder how Yomari is made in Nepal?
23. Juju Dhau (King Of Yogurt)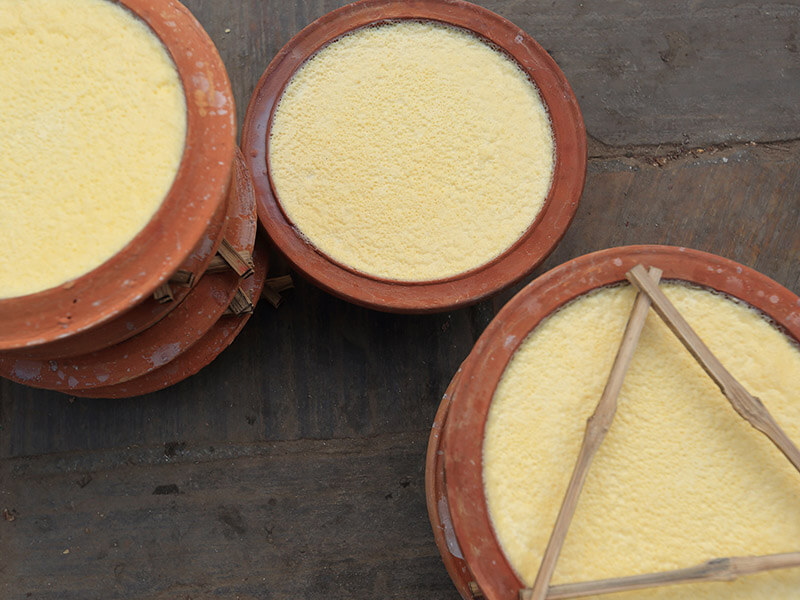 To be honest, it is not an exaggeration to call this delicacy " King Of Yogurt ". This dessert is incredibly tasty and offers you a wonderfully dense, creamy texture that will not fall off when you hold it upside down. Juju Dhau in Newari cuisine stands for pureness.
Juju Dhau is made from sweetened buffalo milk, left until fermented in a clay bowl. They will keep the food in a warm area in the fermenting steps. They will also serve this Bhaktapur Newars community's treat besides savory dishes or rice to balance the taste.
For example, Dal Bhat can work well with Juju Dhau. The suggested toppings are cloves, cardamom, and coconut shavings. Yummy!
Because the food is enjoyable and straightforward to make, you can easily find it on both regular days and special Nepalese occasions (auspicious Sagan ceremony or else) or as a sweet snack.
24. Lal Mohan / Lalmohan (Deep-Fried Rice Balls In Sugar Syrup)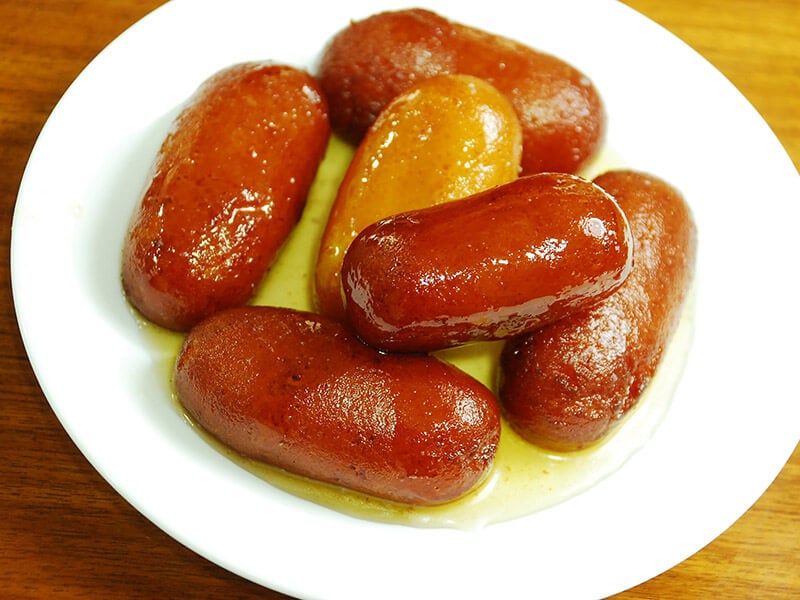 Do you want to refer to another Indian-originated Nepali sweet treat? Lalmohan is a long-favored deep-fried sweet snack in Nepal (the original name is Gulab Jamun). It has many other variations in other countries, and each of them has its own highlights.
The idea to make this food is quite simple as you just need to make some fried rice balls and soak them in a small bowl of syrup when serving. Although it seems too basic, I assure you that it will be scrumptious.
The Nepalese people will usually prepare the food for Tihars or some other sacred occasions. But if you visit there on the regular days, you can still straightforwardly find it on the street.
25. Pani Puri (Fried Round-Shaped Hollow Balls With Fillings)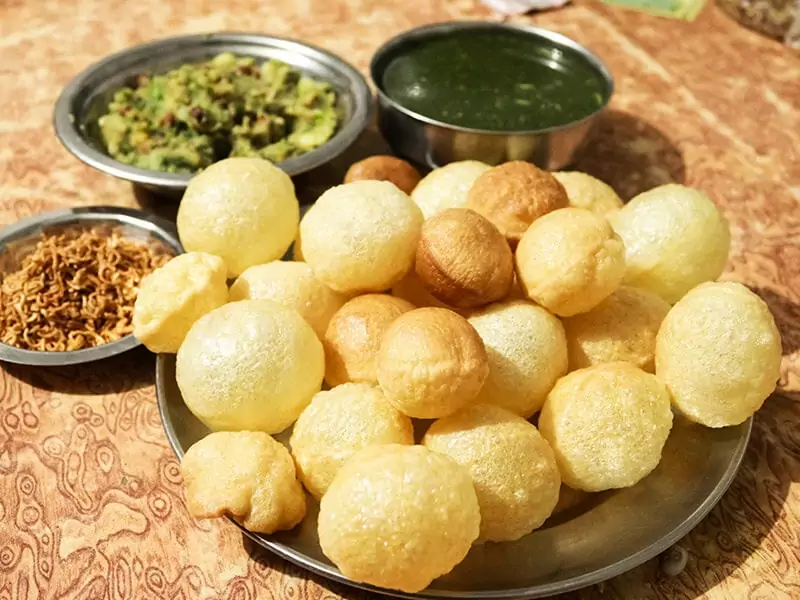 Yes, it is another Indian-inspired dessert, and you might have noticed it from first sight because the original version (in Golgappa) is so prevalent globally. While the Lal Mohan has a dense interior, these Puri balls' interior is hollow to stuff some fillings.
In reality, Pani Puri is also a well-known dish in Pakistan. However, the Nepalese-style Pani Puri might be a bit different that require some flavored water for the fillings. They even use the fruity water with the tamarind or mint scent to add a tangy taste and a refreshing feel.
Otherwise, they will use mashed potatoes with spices and condiments mixed for the solid filling. Pani Puri is also a famous street food in Nepal that many people love since it is pretty affordable.
26. Jeri / Jerry (Syrup-Dipped Fried Batter)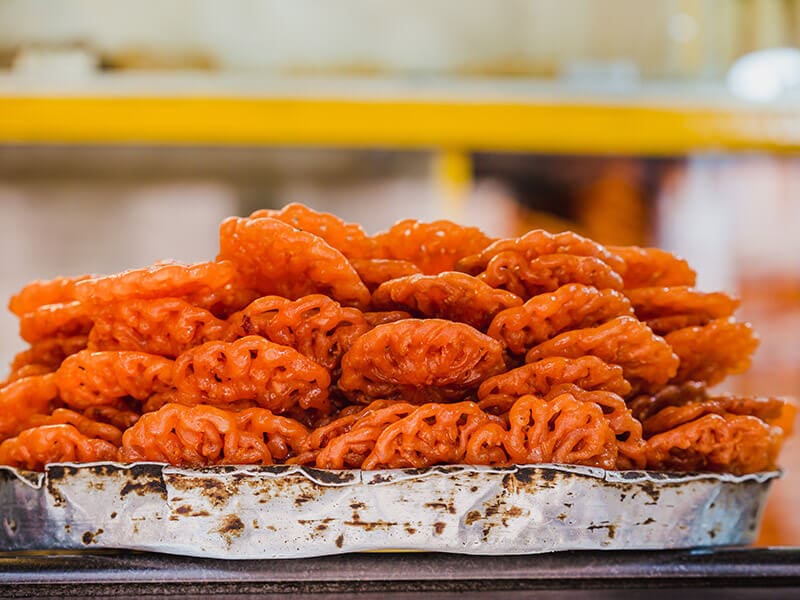 In Nepal, you can find this food by calling it in various names such as Jalebi, Jilphi, or Jerry, and it is also a famous Nepali sweet.
Jeri's most common shapes are the pretzel-shape or yellow-orange loop-like. They will dip the treat into a special saffron syrup after deep-frying.
I recommend you to eat it when it is freshly made or just comes out of the pan because the crispier the treat, the more delicious it is. The sellers might suggest you have it with swaari, a special soft bread of Nepalese cuisine.
Don't worry if you want to bring it home as a gift for your loved ones. Although it genuinely tastes better when hot, the cool and crystallized filling Jeri will still taste fantastic.
A fascinating documentary about Nepali Jeri you should take a look at.
27. Gudpak (Nepali Sweets With Nuts And Grated Coconut)
Gudpak is a kind of sweets that looks like an energy bar. The origin of this food is still unclear, but no matter how it was created, Gudpak is scrumptious and widely loved.
Usually, a Gudpak consists of almonds, wheat flour, grated coconut, etc., and most importantly, milk and sugar.
Thanks to that, although it is a sweet treat, Gudpak is believed to provide a variety of health advantages. Therefore, Nepalese people suggest new mothers are the ones that should consume this treat.
Other family members and children also love it so that you can bring it home as a meaningful and delicious souvenir after your Nepali trip.
Are You Ready To Try Some Nepali Treats?
Nepal is recognized for its stunning mountains, historic temples, religious leaders, and delectable food. There is no reason not to give yourself a chance to experience such a palatable culinary culture that cannot be mistaken elsewhere.
Today's suggested foods are not all of the delicious dishes that can stand for this one-and-only cuisine; therefore, if you know some other luscious Nepali treat, feel free to share your experience with me. I welcome all the contributive action.