What are the best BBQ side dishes? Corn on the cob? Coleslaw? Yes, there are thousands of answers to this question, but let's address the real one: how can you make the best BBQ side dishes?
With this question, many people will have to scratch their heads. People also seem to pay more attention to steak and skewers rather than side dishes, and that's a shame. It's time to take justice back to these side dishes!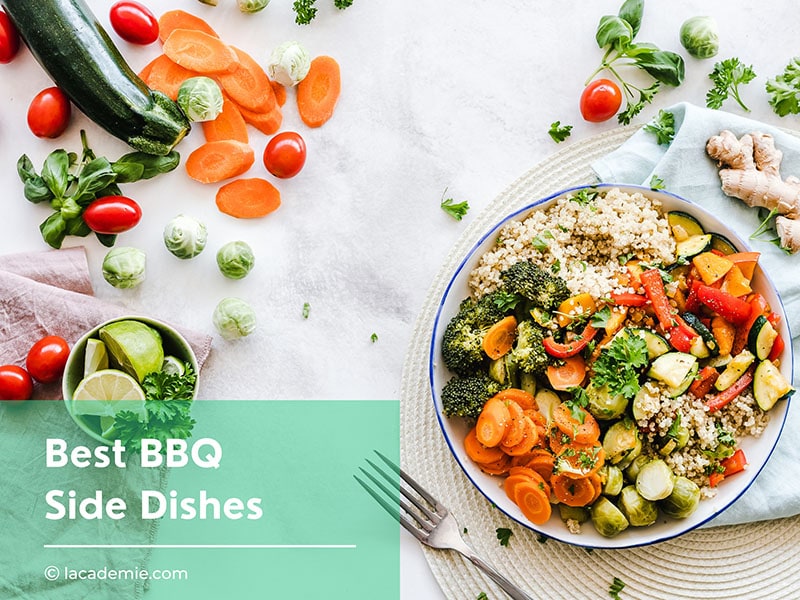 Top 46 Crowd-Pleasing Side Dishes For Summer Cookout
Even if you've settled on what appetizers to serve for BBQ parties and what main dishes to prepare, coming up with side dish ideas can still give you a headache. How about checking out the list below, where I have rounded up side dishes for you.
BBQ Vegetable Salad Side Dishes
Ranch Chopped Salad
KFC Coleslaw
Green Goddess Potato Salad
Arugula Salad
Loaded Cauliflower Salad
Mexican Corn Salad
Summer Panzanella
Antipasto Salad
German Potato Salad
Cowboy Caviar
BBQ Fruit Salad Side Dishes
Watermelon Feta Salad
Grilled Balsamic Steak Salad with Peaches
Strawberry Watermelon Caprese Salad
Melon-berry Salad with Cheese and Honey
Peach Caprese Salad
Grape Salad
BBQ Pasta Salad Side Dishes
Italian Pasta Salad
Greek Pesto Pasta Salad
Chipotle Pasta Salad with Mozzarella
Mexican-style Macaroni Salad
Japchae (Stir-fried Glass Noodles)
Spicy Thai Noodle Salad
BBQ Grilled Side Dishes
Grilled Lemon Garlic Zucchini
Grilled Haloumi
Grilled Brussels Sprouts
Grilled Sweet Potatoes with Lemon-herb Sauce
Grilled Carrots
Grilled Ranch Potatoes
Marinated Grilled Vegetables
BBQ Salsas And Dips
Grilled Pineapple Salsa
Mojo Sauce
Easy Red Salsa
Grilled Onion Dip
Smoky Guacamole
Chunky Buffalo Blue Dip
Bacon Dip
Pepita Guacamole
Other BBQ Side Dishes
BBQ Baked Beans
Poblano-potato Bundles
Mac and Cheese
Fresh corn Casserole
Giardiniera
Spicy Baked
Sesame Noodles
Homemade Pickles
DIY Burger Bar
Cornbread
Are you with me? Let's go!
Healthy And Refreshing BBQ Salad Side Dishes
Grilled steak and smoky skewers are only perfect when some fresh greens and herbs sit next to them. When it comes to salad, not only the vegetables are involved; there's fruit and pasta salad as well, and they are also dense in essential nutrients.
BBQ Vegetable Salad Accompaniments To Your Grilled Main
Vegetables and their versatility never cease to amaze me. There are endless flavor combos, and despite their differences when they are on their own, everything is a harmonious blend when sitting together in a bowl.
It's always a good idea to throw a garden cookout with a side of ranch chopped salad. With an intricate blend of fresh greens and herbs topped with shredded cheddar, this salad is more than perfect. Feel free to add some bacon, chicken, or any meat of your choice.
This copycat recipe is even better than the original, and you have to agree with that. Cabbage and carrots are finely chopped, then mixed with the signature creamy dressing and served. You can have it with fried chicken or steak, but it goes with anything, really.
No more takeaway food – make this KFC coleslaw right at home! Check out this video:
If goddess were a salad, this side dish would be it. With wavy textures, red potatoes are the premium choice for salad; they have a slightly sweet flavor that is improved to the fullest when the dressing comes in. If only I knew about it sooner!
Do you know why I love arugula? It has that spicy kick that adds to the flavor quality, and that beautiful green color always draws my attention. Arugula is delicious on its own, so you only need some salt, pepper, and parmesan to complete the dish.
You can't resist this fresh arugula salad! Check out this video to know how to make restaurant style arugula salad:
If you hate cauliflowers, it's probably because you haven't enjoyed them the right way. Let me show you how to do it: combine mayo, sour cream, vinegar, and a pinch of salt and pepper, then pour the creamy mixture all over the cauliflower pieces, bacon, and cheddar.
Corn is a powerhouse ingredient, and I love to have it in my salad because of its sweet and buttery notes. This salad is inspired by elote, a Mexican street snack, with a little twist – the corn is lightly charred and mixed with mayo, herbs, and spices to kick it up a notch.
It's not summer without seeing panzanella on the table, and you know that's true. It's a joyous celebration of colors and flavors in a single dish, with zucchini, tomatoes, basil leaves, and mozzarella cubes. Scarf down while it lasts!
This salad is a fixture on many dining tables in Italy. With keto-friendly ingredients, you don't have to worry about stepping on the scales anymore. Instead, relish the rich flavor of salami, the crunchy pepperoncini, and the artichoke hearts with herbaceous undertones.
When it comes to German cuisine and its side dishes, it's impossible not to mention potato salad. What differentiates this dish from classic American potato salad? Well, it's the focus of flavors. In the German version, you'll notice that vinegar and bacon are the highlight of the dish.
So when life gives you potatoes, make sure to prepare some German potato salad. Potatoes are boiled and sprinkled with sweet bacon bits for a classic sweet-and-savory combination. Green onion and dill also join the fun to bring a grassy flavor to the salad.
Let's Have This German Potato Salad At The Next BBQ Party! Check out this video:
Yeehaw, cowboy caviar is back in action this summer! A simple dish that can be prepared with canned corn, cowboy caviar is a myriad blend of different summer ingredients that make your guests go wild. The highlights are indeed the flavorful black beans and the black-eyed peas.
Succulent Fruit Salads For Any Barbecue Dishes
Summer is when many fruits are in the season, blossoming with vibrant colors and full flesh. That said, why don't you whip up some fruit salads for your next BBQ party?
Nothing quenches your thirst better than juicy watermelon, but I prefer to turn this summer fruit into something even more luscious. I sprinkle some feta crumbs and fresh basil leaves on the watermelon cubes and adjust the taste with some simple dressing to create a healthy summer treat.
When preparing this dish, remember to save some watermelon to whip up watermelon granita later. The refreshing feel this luscious desserts for BBQ can bring about will quench your thirst after eating so much grilled food. No one will be able to say "no" to this slushy treat.
Try This Healthy Watermelon Feta Salad – You'll Love It! Let's see this video:
Tender flank steak is nice, but the centerpiece of this salad is the perfectly charred peaches with a smoky sweetness. Meanwhile, romaine lettuce brings a refreshing vibe to the plate, and basil balsamic dressing adds a final touch with its sharp flavor.
Who doesn't love strawberries? Besides its wide application in desserts, strawberries are also an excellent ingredient for making a salad. Their slight tartness is perfectly balanced with the sweetness of watermelon, and don't forget to add mozzarella and basil leaves.
As the key behind this dish is the freshness of the fruits, you should opt for freshly harvested food. If you shop a few days in advance, store your fruits well, and remember to see whether watermelons can go off. Likewise, it'd be wise to gauge the freshness of your strawberries.
This salad encapsulates the whole summer with its ingredients. An assortment of sweet berries is combined with refreshing melon chunks, while goat cheese sweeps your taste bud with its earthy flavor. With such intricate flavors, you just need to dress a little more honey.
Peach is a summer fruit with a lovely floral sweetness, and you don't want to miss it at the next barbecue party. In this recipe, crisp peaches meet juicy watermelon cubes, and the salad is brought to life with fresh greens, basil, prosciutto, and mozzarella.
If burgers are a must-have dish for your BBQ, then you need to have this caprese salad as well. Why? Because peach caprese salad is the perfect companion alongside burgers. A light salad and juicy, smoky burgers together, what more can you ask than that?
Make Peach Caprese Salad To Cool You Off During Summer by this video:
Grapes are more than just great, but you know what's even better? Plump green and red grapes are covered in a rich and creamy dressing and topped with crunchy pecans. Remember to soften the cream cheese beforehand to avoid lumps while mixing.
Innovative Pasta Salad Side Dishes For A Big Crowd
If vegetable and fruit salads have become such a boring rotation, how about adding some pasta in your greens bowl? Yes, I'm not kidding. Take a look at some recipes below.
What's in this colorful Italian salad bowl? You can never name all the ingredients with just one look. It's a scrumptious concoction of salami, bell peppers, tomatoes, onions, cheese, and Italian seasonings. Rotini lends vibrant colors to the salad, and you have no choice but to indulge right away.
And with its delightful flavors, this dish can be made with leftover pasta and still, everyone will be none the wiser. Truly, it's hard to tell that Italian pasta salad is made from leftovers when it's the peferct harmony of flavors and colors.
I can't remember when I started the habit of adding pesto to everything I eat. However, I don't regret that since pesto can improve the flavor of many dishes to a great extent with its herby notes. Toss in some pasta, feta cheese, and black olives, and you have just finished a healthy salad.
Your summer body goal is possible with this easy chipotle pasta salad. It's a delicate balance between health and taste that eases your mind, so don't hesitate to savor the fusilli pasta and the crunchy bell peppers drenched in the spicy, creamy chipotle sauce.
Macaroni and cheese are good, but it's time to put them aside. When the heat strikes, you want something lighter – a salad, perhaps. What I'm suggesting is some macaronis mixed with black olives, roma tomatoes, corn, and onions showered in a Mexican-style dressing. Sounds good, right?
Japchae has all the makings to become the next hit at your cookout party. What's the secret? The unique stringy glass noodles are loaded with a heft of vegetables, namely carrots, spinach, and mushrooms cooked to al dente.
Let's Make Korean Stir-Fried Glass Noodles, Or Japchae! Watch this video below:
Salad is not just about throwing a slew of ingredients and mix; it's about cherry-picking the right components with flavors that complement each other well. Here's an example: red cabbage, bell peppers, jalapenos, cilantro, peanut sauce, and noodles make a winning team.
Small Grilled Sides, Big Thrills, No Spills!
You know the rules: grilled dishes are the best when served with grilled side dishes. Let's find out what fruits and vegetables you can bring to the fiery grill besides corn.
Zucchini has an assuming taste, and it only shows its true potential when it's on the grilled racks. The edges are nicely charred to give a smoky feel with a slight lemony finish, thanks to the full marinade. You will make this again soon, I'm sure.
Cheese lovers are going to get crazy over this! Halloumi is a premium cheese with a semi-hard texture and a distinctive milky taste. When above the fire, halloumi releases an extra subtle saltiness. You can serve grilled halloumi alone, with fresh greens or blueberry-balsamic jam.
Brussels sprouts display appealing green hues when on and off the grills, but they have more than just an excellent curb appeal. When grilled in a foil pack, brussels sprouts become tender and easy on your tongue. They are rich in antioxidants, too – what's not to love?
Let's grill brussels sprouts to celebrate summer! Check out this video:
From small picnics to large crowds, these grilled sweet potatoes don't fail to catch people's attention. They are crisp, starchy, and the flesh has an underlying sweetness that pairs well with the lemon-herb sauce. I'm drooling already!
These grilled carrots are so palatable and textural that you may want to bring home some! Carrots showcase their woody tones best when they are grilled, and their harshness breaks down nicely, so they are somewhere between firm and fork-tender. Glaze with any dressing of your choice.
Summer main is not complete without a side of grilled potatoes. With hearty cheese and crispy bacon toppings, you will end up eating more than you could. Of course, ranch dressing is included to create the final creamy touch.
Besides sunburns and the oppressive heat, summer is the best time to grill up some fresh veggies. You can grill anything, really, from zucchini, bell peppers, to red onions. The flavors are woken up by a marinade made with olive oil, soy sauce, lemon juice, and garlic.
Superb Salsas And Dips That Electrify Your Taste Buds
The following condiments are going to change your grill game. They add layers of textures, colors, and flavors to many main courses, and sometimes you will find yourself finishing the condiments before the food!
What's the fun in throwing a cookout without inviting pineapple? The fruit flaunts a unique taste that resembles apples with a dash of citrus. As usual, jalapeno increases the heat with its pungency, and garden-fresh cilantro and lime juice guarantee to refresh your senses.
Mojo sauce is more than just a condiment. It is also used as a base or a marinade to enhance the flavor of roast meat. Mojo sauce typically comes in two colors, green and red, with thousands of variations that stand the test of time.
The name says it all – this salsa recipe is a walk in the park! The magic happens within only ten minutes, and the result is a sure-hit: it's a spicy kick in your palate imparted by jalapeno or serrano peppers with a deep finish of cilantro, onion, and lime.
Experience Authentic Mexican Cuisine With This Red Salsa by this video below:
Onion rings are repetitive and overdone, so let's bring something new to the next potluck party. Here's my recommendation: creamy dip made with grilled sweet onions, cream cheese, sour cream, and mayo. Serve with chips or onion rings if you can't get enough of onion!
Guacamole, or guac, has taken the world by storm since its first appearance in the 1980s. The base is made with grilled avocados with a hint of earthiness blended with coriander, tomatoes, red onions, and a splash of lime juice to taste. Yummy!
If you haven't jumped on the blue cheese bandwagon, it's not too late to do that now. Its strong odor may repel you, but the taste will grow on you. It's thick and tangy with full-bodied flavors that you cannot resist the urge. Adjust the taste to your liking with garlic, vinegar, salt, and pepper.
Your Buffalo Wings Need This Blue Cheese Dip. Let's see this video to collect more understandings:
This bacon dip is loaded with warm and gooey cheese goodness that makes all your guests turn their heads! With cream cheese, sour cream, and cheddar, it's hard to get that creamy mouthfeel out of your mind. Oh, and don't forget the bacon and the scallions.
It's a holy moly guacamole-y goodness at the very first dip! When it comes to snacking dips, this one immediately springs to my mind with the incredible relish of avocado roasted pepitas and other supporting ingredients. Dip in the chips and feel the heat racing down your throat!
Other BBQ Side Dishes
A few more options to spice up your cookout and add whole new taste dimensions are listed below. Check them out!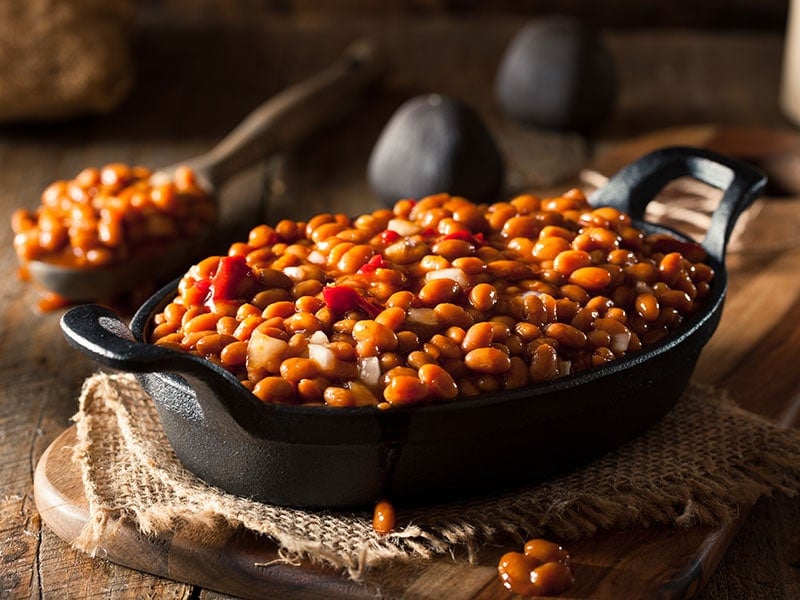 As its name suggests, these baked beans are a must-have dish at every BBQ party. What I love the most about this recipe is its versatility. While it has bacon, pork, and sausage for an umami flavor, you can leave them out for a vegetarian-friendly dish.
Aside from canned baked beans, you can also use fresh beans. I recommend navy and pinto beans since they can retain shape after a long simmering time.
Let your guests reveal the big surprises under these foil bundles – ta-da, it's poblano potatoes! Unlike other members of the potato family, poblano potatoes are pretty spicy, and the kick is intensified many times when they are cooked. Honestly, they are even hotter than summer.
The British staple macaroni and cheese has never gone out of style, whether it's breakfast, brunch, or outdoor grill. With a generous portion of cheese and more cheese, I can tell that this side dish won't last long on the table.
Corn brings color and crunch to many dishes, so there's no surprise to see endless recipes you can make with this superfood. A typical example is this stellar Italian casserole filled with cheesy deliciousness that no one can turn down.
This Is The Best Corn Casserole Recipe On The Internet! Check out this video:
Giardiniera is an Italian relish of pickled vegetables, and its taste ranges from mild to extra-hot! It is packed with juicy crunchiness and robust flavors that you love to have with hot dogs, burgers, nachos, or antipasto platters for a full-bodied meal.
Many people believe that cold sesame noodles were invented by chef Shorty Tang about 40 years ago. Although he's no longer with us, his legacy lives on – sesame noodles have become a prevalent takeaway food and can be served either hot or cold.
These homemade pickles are so delicious that you may want to drink the brine straight from the jar! Pickles can be enjoyed alone if you don't mind the tanginess, or they can be served with burgers, sandwiches, and salads.
You can see this video to know:
There's nothing more enjoyable than customizing your own burger. Keep your guests entertained and filling with this grab-and-go burger bar, where everyone can help themselves with a host of ingredients: the beef, the vegetables, and the dressing.
With that tantalizing smell, you know it's light and moist cornbread that has just come out of the oven. Cornbread has a sweet side, so it's a brilliant idea to team up with savory or spicy options like jalapenos, pork, or hot dogs. Yes, you can have it with salad as well.
Gas Up And Grill On!
I bet those were some of the best BBQ side dishes you have ever come across. With these recipes on your side, everyone will be impressed and ask you the secrets. Don't be reluctant to share this post to help them out!
Summer is coming, and I hope you will have a ball enjoying these summer sides. Indeed, I can't include everything on this list, so feel free to share some BBQ side dishes you know. I would be more than happy to make them next time. Thanks in advance!
Nutrition Facts
6 servings per container
---
Amount Per ServingCalories268
% Daily Value *
Total Fat 21.5g

34

%
Cholesterol 52mg

18

%
Sodium 1034mg

44

%
Potassium 167mg

5

%
Total Carbohydrate 5.7g

2

%

Dietary Fiber 0.8g

4

%
Sugars 1.5g

Protein 13.2g

27

%
---
Calcium

172

%
Iron

1

%
Vitamin D

2

%
* The % Daily Value tells you how much a nutrient in a serving of food contributes to a daily diet. 2,000 calories a day is used for general nutrition advice.