Can you microwave parchment paper? This useful kitchen tool can be used for various purposes. But when it comes to cooking appliances that contain fire hazards, such as microwaves, is parchment paper safe to use?
In this post, you will find everything you need to know about parchment paper. So, if you are still vague about it, don't hesitate to read this article. This article also includes information regarding how to use parchment paper, safety tips, and some highly recommended products to get home.
What Is Parchment Paper?
Parchment paper is a useful tool for many home cooks. However, it can be new to some people. And even if you are familiar with this kitchen tool, how well do you know about it?
Parchment Paper Is Kitchen Paper With Silicone Coating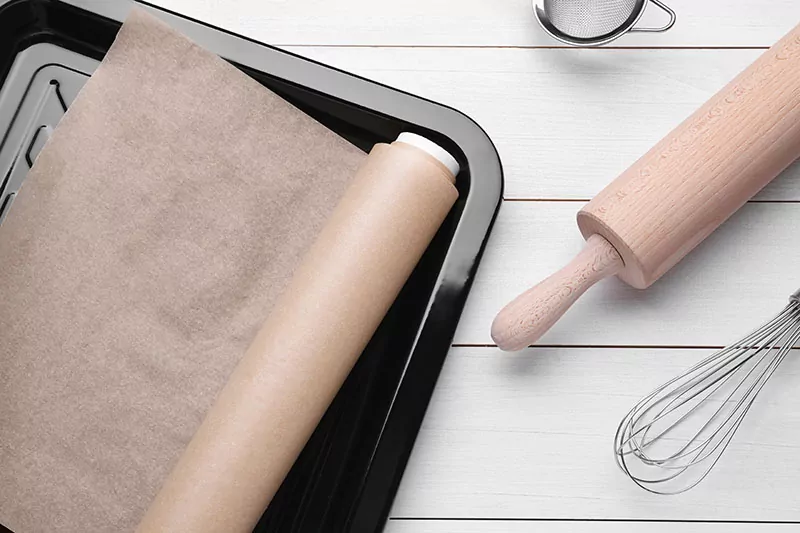 Also called baking or bakery paper, parchment paper derives from cellulose fibers in fir trees, cotton, or flax (1). It is coated with an ultra-thin layer of silicone. For this reason, parchment paper is nonstick, heat-resistant, and moisture-resistant.
Due to its superiority in cleaning and removing food, it is ideal for various kitchen tasks, including lining baking pans, funneling ingredients, and more.
This kitchen tool is available on rolls; thus, it is convenient for you to tear off the amount of paper you need. Another design of it is a pre-cut paper sheet. There are a lot of sizes for you to choose from, but the most common size is 12×16 inches.
Perforated parchment paper with circles is also popular with people who have bamboo steamers and air fryers. If you have trouble spacing cookies and macarons, parchment paper with imprinted patterns is your solution.
The interesting process of making culinary parchment paper will mesmerize you.
Unbleached Vs Bleached Parchment Paper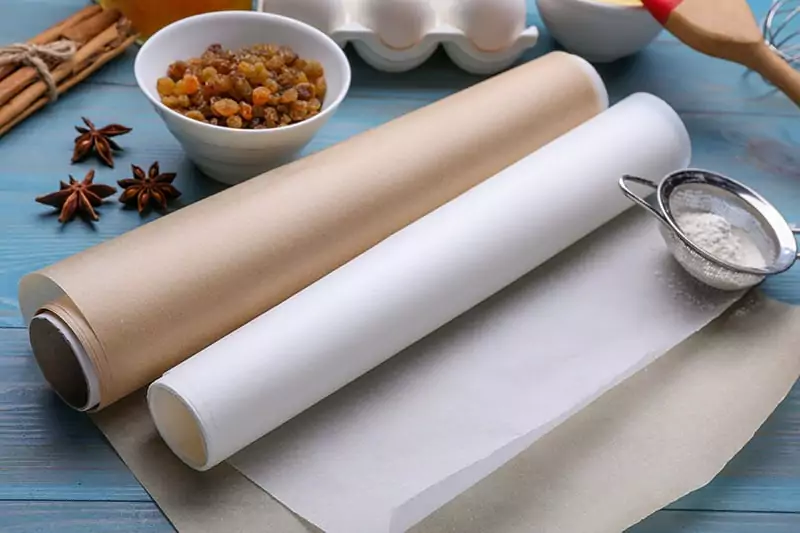 The biggest difference between unbleached parchment paper and bleached one is color. While the former keeps its original brown color, the latter is treated with chlorine to become white.
You may think that white parchment paper contains toxic chemicals due to its artificial color. However, it is completely safe to use in the microwave, and the treatment of paper will not affect the quality of your food.
Although unbleached parchment paper is slightly more expensive than its bleached counterpart, the utility does not differ much. So, rest assured that you can use both types interchangeably.
Parchment Paper Is Microwave Safe If Used Properly
It is quite scary to expose the paper to heat, but parchment paper is actually safe to microwave. That said, there are some limitations you have to keep in mind. So, let me walk you through the noteworthy things you need to know.
Does Parchment Paper Catch Fire In Your Microwave?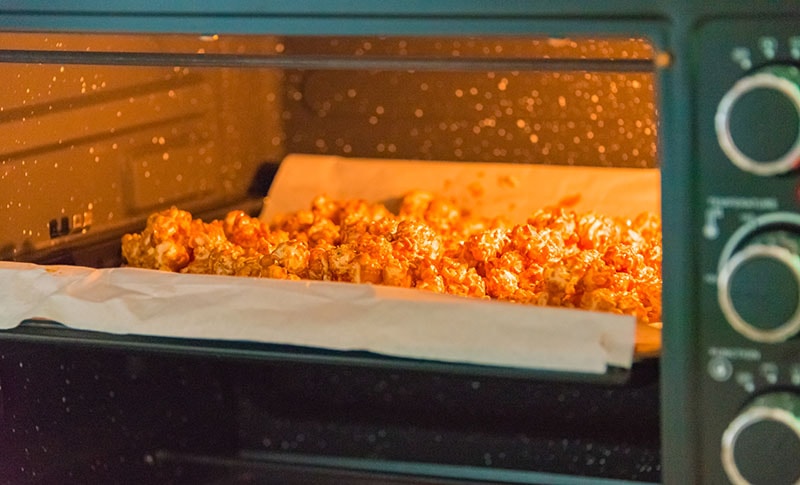 The microwave works by generating radiation to heat up the food. The particles in your food can easily absorb the radiation and transform it into heat, which causes your food to heat up.
The particles of parchment paper, however, don't absorb the radiation. The heat they receive is from the food kept inside.
Most parchment paper is safe to use at temperatures under 420 degrees F (450 degrees F for some particular products). Normally your food would not reach this point, as the water boils at 212 degrees F, and very few types of food can get to be twice as hot as boiling water.
But fatty food like bacon or food with a lot of oil is different. Fat and oil can heat up beyond the burning point of parchment paper. Once the temperature exceeds this point, the paper starts to curl, brown, produce smoke, and eventually burn.
Moreover, metal utensils like spoons or forks should not go with parchment paper in the microwave as they can cause sparks.
How Long Can You Microwave Parchment Paper?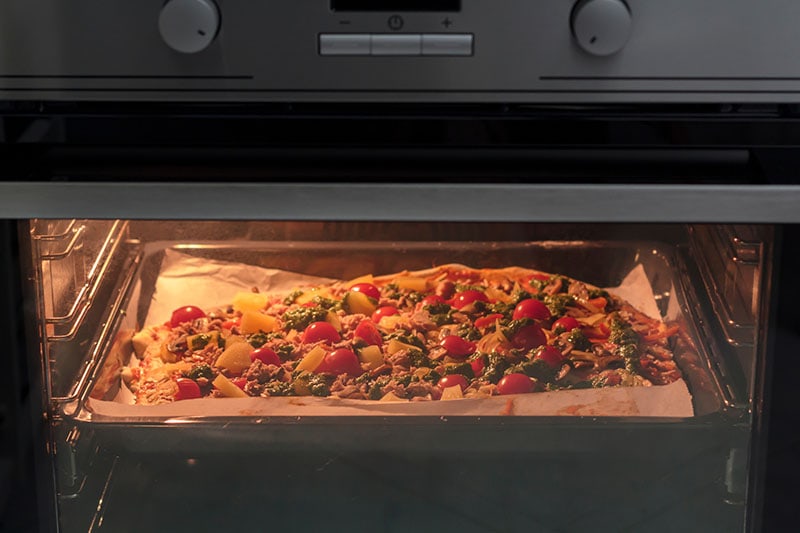 According to the burning temperature of parchment paper, it is advisable to microwave your food for no more than 2-3 minutes. If you leave it for too long, the heat will rise tremendously, and as I have said before, it may cause a fire in your microwave.
Thus you should be careful and keep an eye on your parchment paper. Take it out as soon as the food is done. If you don't know how long it will be, go for 2 minutes, just to be safe.
Check The Label For Microwave Safe Products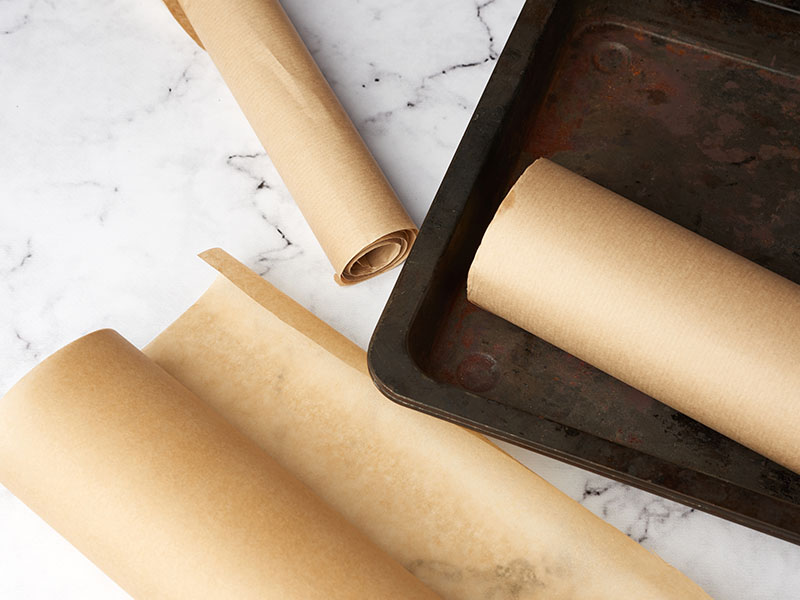 Most parchment paper is safe to microwave, but not all. Some products are not meant to be in the microwave. Therefore, it is best to check the label before buying or using one.
A product that meets the criteria must be labeled as "microwave safe" or "microwavable" with some wavy lines symbol. If it does not say anything about that, just don't buy that product!
Various Uses Of Parchment Paper In Microwaving
Parchment paper is a great companion for cooks and bakers. Yet, if you are new to this product and wondering how useful it is, read this section now!
Baking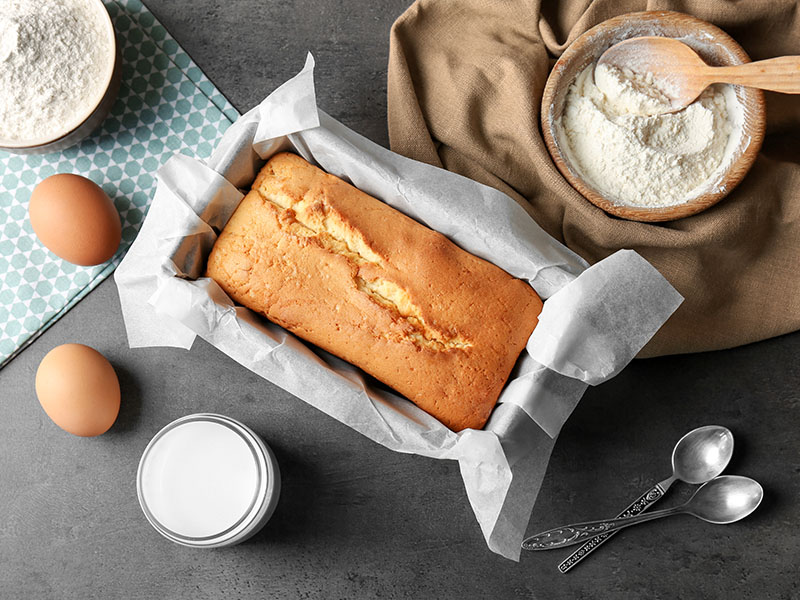 Lining the baking pan is probably one of the most common uses of parchment paper. Thanks to its nonstick coating, this kitchen tool helps your food come out easier than ever.
When making cookies, the last thing you want to see is finding your delicious treats getting flat and greasy. Parchment paper will be a good aid for you in this circumstance. It provides a surface for the cookies to hold on to and minimize overspreading.
In addition, some baking pans or sheets may not distribute the heat evenly. They usually have hot and cool spots, which can lead to undercooked or overcooked food. Parchment paper helps to regulate temperature and enhance heat distribution.
Check out this tutorial to line different shapes of cake pans with parchment paper.
Prevent Stickiness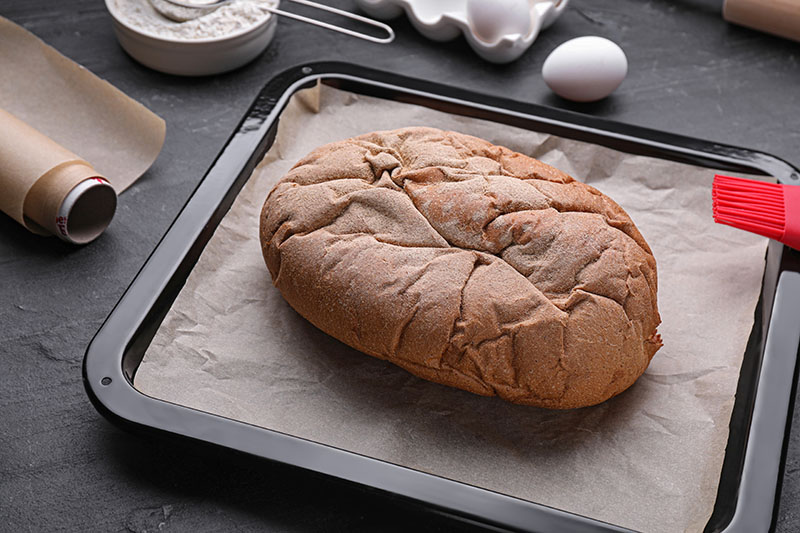 Feel free to use a piece of parchment paper to cover a work surface. Since the paper is nonstick and moisture-resistant, you can place it on your counter and do some grubby tasks, such as mixing/rolling dough, and shaping meatballs and chocolates, etc.
You may want to put some tape on the corners of the parchment paper before starting to do your job. Afterward, just loosen the tape and throw the paper away.
Cleanup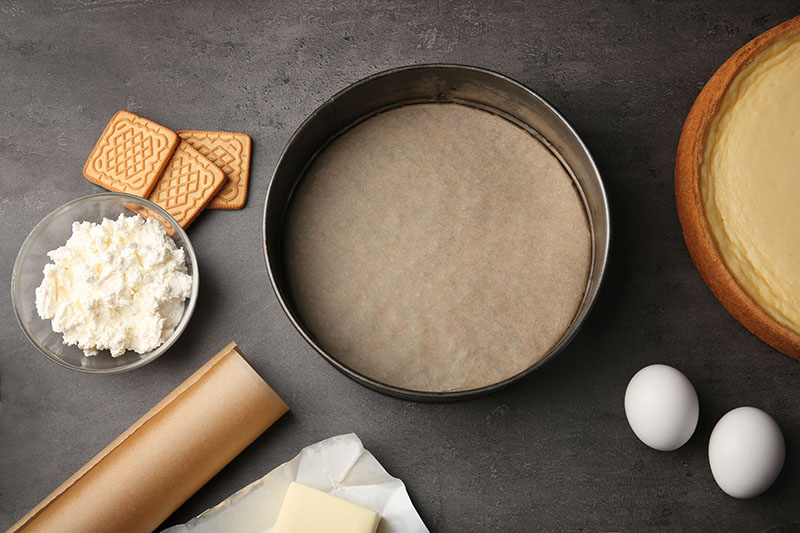 If you think washing pans takes too much time, let parchment paper do the job. It creates a layer between your food and the cookware. Because it is moisture-resistant, you will not spend any effort cleaning it up.
When you finish the food, toss the dirty parchment paper away when you finish the food and rinse your cookware with warm water.
Make Makeshift Bag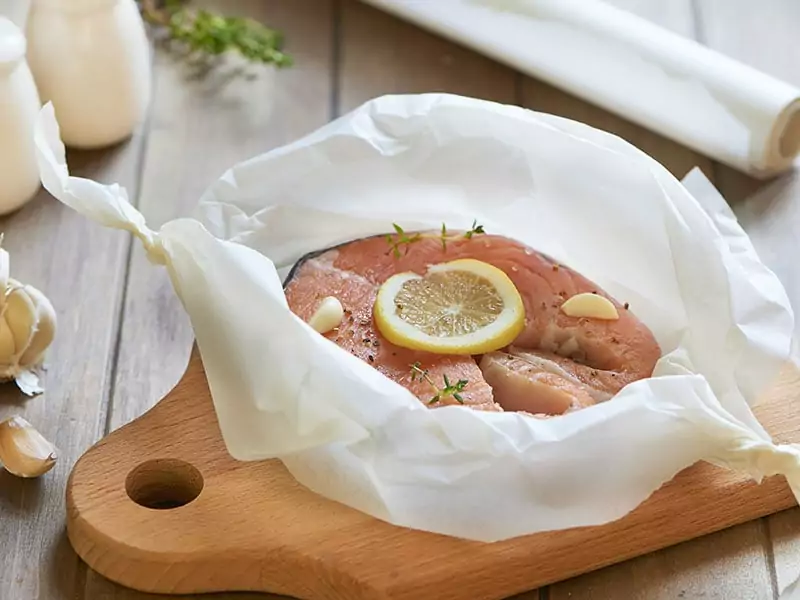 Parchment paper can be formed into makeshift bags to cook fish, vegetables, rice, or grains. It is not hard to make a makeshift bag. You can fold the paper and seal it with kitchen twine, then add the food inside and secure part of the top.
Learn how to fold parchment paper to steam fish with this guide!
Reheat Food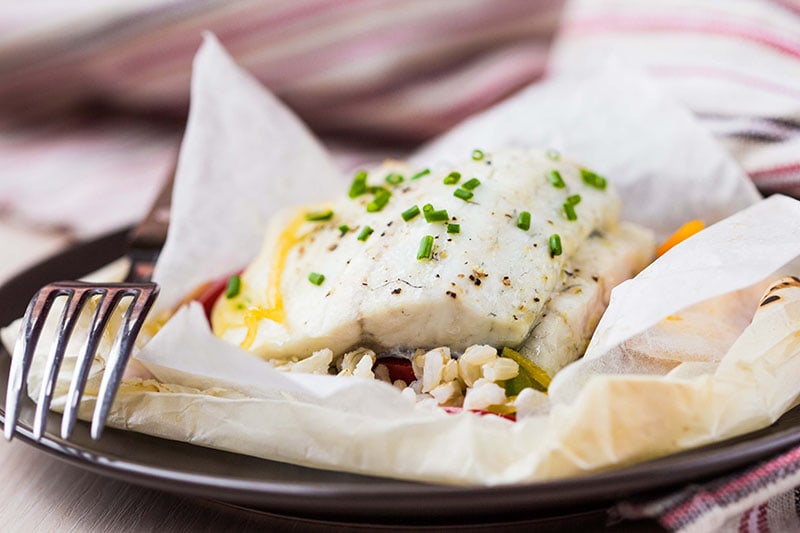 The basic function of the microwave is reheating, and parchment paper is also safe for doing that. A small sheet of parchment paper over your foods can prevent splatters and mess inside your microwave.
However, you have to be cautious when reheating food with parchment paper. As I said earlier, it contains fire hazards, and you should only reheat it in a short amount of time.
Tips For Using Parchment Paper In The Microwave
There are a lot of tips for using parchment paper in the microwave that you might not know. These little tricks will ensure your safety and make it easier to handle in the microwave.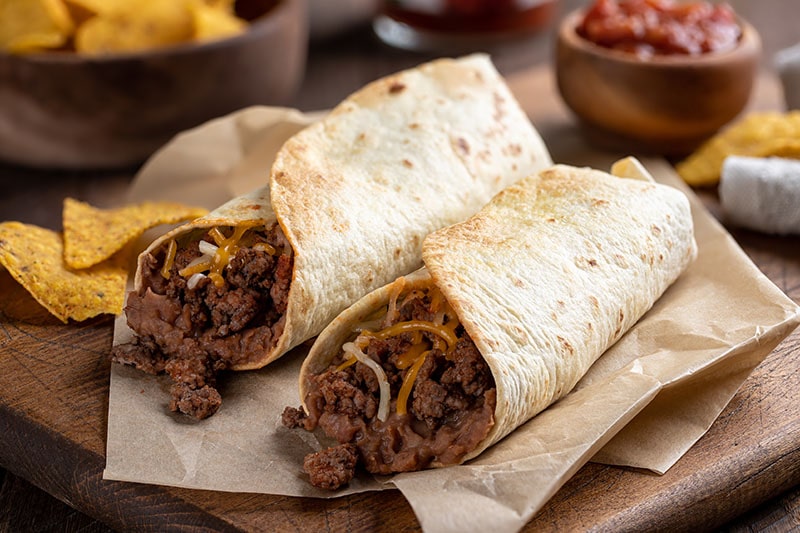 Even when parchment paper is microwave-safe, it can heat up extremely during the process. So, when you take it out of the microwave, be careful not to hurt yourself!
When you line the parchment paper in your microwave, do not let it touch the sides of the microwave, as they produce a great amount of heat. Your parchment paper may catch fire then.
If you use parchment paper to line the food in a microwave-safe container, ensure it is completely flat before placing it in the microwave. Otherwise, your food may be unevenly cooked due to the lumps.
Although parchment paper is nonstick, the steam generated when microwaving may make it stuck to your food. Thus you need a little caution to avoid damaging the food.
Do not let the parchment paper stay in the microwave for longer than it needs. Take out your food as soon as it's done.
You can line your food with parchment paper but don't cover the top of the dish. The steam will buckle your paper.
Types Of Food That Shouldn't Go Into The Microwave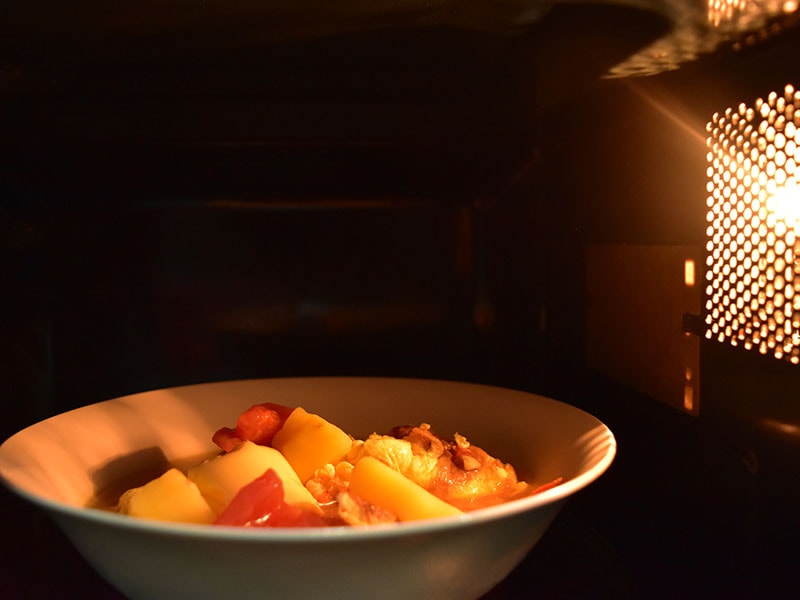 In addition, there is some food that you should not reheat in the microwave:
Vegetables that contain high amounts of nitrates: when green leafy vegetables like spinach or celery, turnip, carrot, etc., are reheated, they produce toxins that can lead to cancer.
Rice: once you reheat the rice and leave it at room temperature, the toxic spores inside can multiply and cause food poisoning when consumed.
Mushroom: if you cannot eat mushrooms right away after cooking, just eat them cold later. Do not reheat mushrooms as the nitrogen can be oxidized and result in serious health problems.
Egg: like mushrooms, nitrogen in eggs can also oxidize and cause cancer.
Processed meat: microwave radiation may convert chemicals and preservatives in processed meat into unhealthy substances.
Potatoes: reheating, again and again, makes potatoes yield bacteria which results in Botulism.
Parchment Paper And Wax Paper? Which Is Optimal For Microwaving Food?
Do you know that parchment paper and wax paper are 2 different types? Although they can be a perfect substitute for each other in some tasks, when it comes to microwaving food, the thing takes a whole turn.
| Factors | Parchment Paper | Wax Paper |
| --- | --- | --- |
| Coating | Silicone | Soybean, purified beeswax, or paraffin wax |
| Heat-Resistant | 420 - 450 degrees F | Lower than 200 degrees F |
| Microwave-safe | Yes | Yes |
| Water-Resistant | Yes | Yes |
| Flavor Change | No | Yes |
| Price | High | Low |
| Compostable | Depend on types | Depend on types |
| Uses | Baking, grilling, steaming, lining pans, wrapping food for cold storage, etc. | Things that are not related to heat |
Coating
The primary difference between parchment paper and wax paper is their coating. While parchment paper has a thin silicone layer on the surface, wax paper is coated with soybean, paraffin wax, or purified beeswax.
Heat-Resistant And Microwave Safe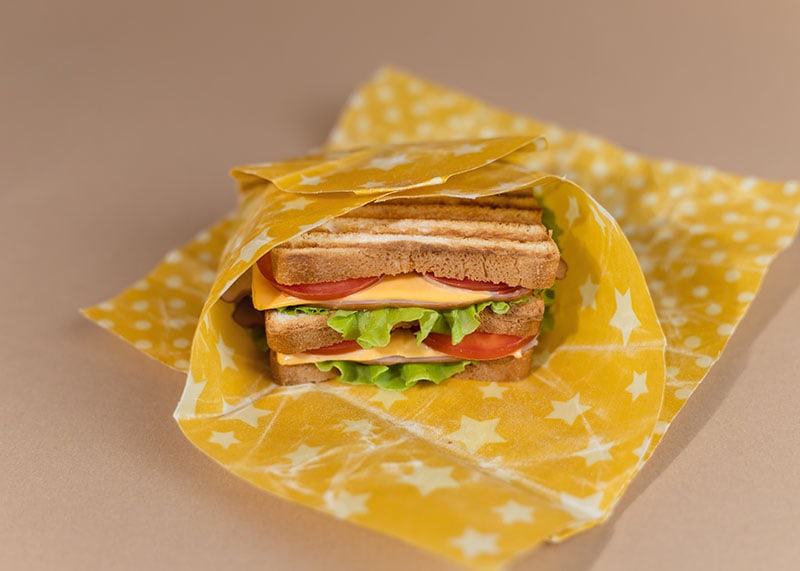 Both parchment paper and wax paper are microwave-safe under their burning temperature. Heating wax paper in this manner will not cause you any trouble. However, each type has different limitations.
Parchment paper can withstand a temperature of up to 420-450 degrees F. Wax paper, however, has a much lower melting point (200 degrees F).
Most dishes in the microwave require higher temperatures than this threshold. Once it surpasses this temperature, the wax paper starts to liquefy, produce smoke, and eventually burn.
Water-Resistant
Both parchment paper and wax paper are water-resistant. The silicone coating of parchment paper insulates the food inside and makes it resistant to changes in moisture. The soybean or paraffin wax coating of wax paper also has the same function.
Flavor Change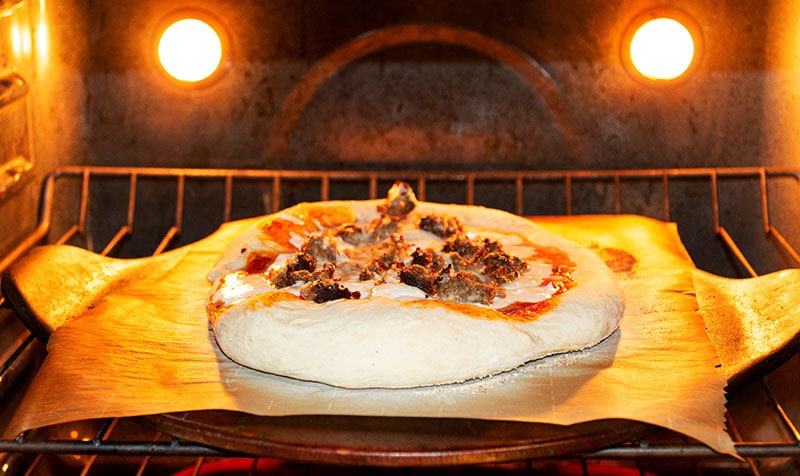 Parchment paper is superior to wax paper when it comes to things related to heat. Since wax paper is coated with wax, it will melt when exposed to high heat. The wax then soaks into your food and causes a change in flavor.
Price
Overall, wax paper is less expensive than parchment paper. Therefore, it is a great option for tasks that require large sheets and no heat exposure, such as rolling pie dough on a countertop.
Compostable
The compostability of the paper depends on the type of coating. Unbleached parchment paper is biodegradable and compostable. The chlorine-bleached type should not be composted as the microbes cannot break down the silicone layer.
Wax paper coated with paraffin wax is unsuitable for composting, whereas paper with natural coatings is safe to compost.
Uses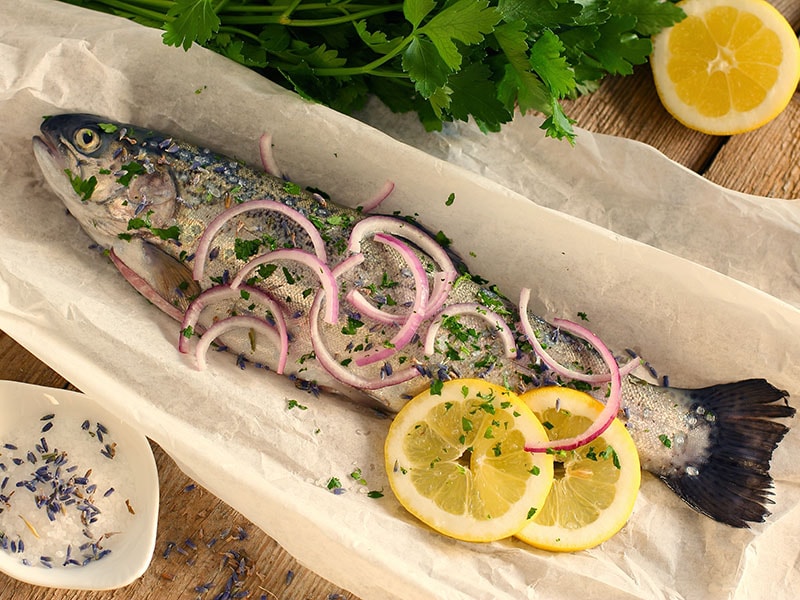 Parchment paper can work as a wax paper substitute in almost all tasks. However, the reverse does not happen. Wax paper can be used for rolling dough, decorating cakes, wrapping goods for cold storage, and lining fridge shelves.
Nevertheless, when it comes to tasks that require heat, wax paper is a big no. As I said earlier, the melting point of wax paper is too low, causing flavor change and fire hazards. So, you have to make the right choice for each task.
Why You Should Have Parchment Paper In Your Home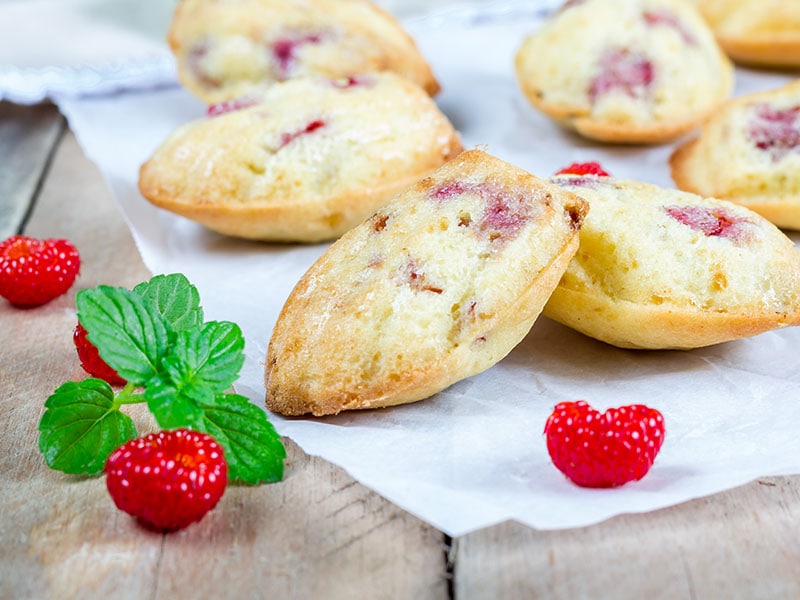 Parchment paper deserves a spot in your kitchen, given that it offers so many benefits. Other than using it for microwave purposes, you should look over these ways so as to take full advantage of parchment paper.
Unlike foil or plastic wrap that allows no air to go inside, parchment paper is not completely airtight. It enables your food to breathe a little bit and prevents them from getting soggy.
Parchment paper can act as a funnel to pour your dry ingredients into the mixer or to transfer grated cheese to a container. You only have to gently pick up the sides and bend them to create a funnel. It is very neat and convenient.
Parchment paper is also perfect when used as a warp for sandwiches, cookies, candies, and solid food in general. Just wrap them tightly and then seal them with tape for cold storage.
Learn how to make a funnel bag using parchment paper right now!
Top Picks For You
There are many parchment paper products on the market, so it is quite confusing to choose from the wide variety of them. To achieve the best outcomes when cooking, you should check out these most popular parchment paper items.

This unbleached parchment paper appears in rolls with a total length of 70 square feet, twice the length of many other brands. Its utilities include baking, roasting, reheating food, and more. It is microwave-safe up to 428°F.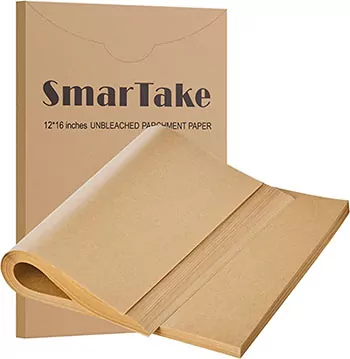 Do you want to get rid of cutting parchment paper? This product is for you! Comprising 200 unbleached and pre-cut sheets, Smartake parchment paper is guaranteed to withstand temperatures up to 450°F.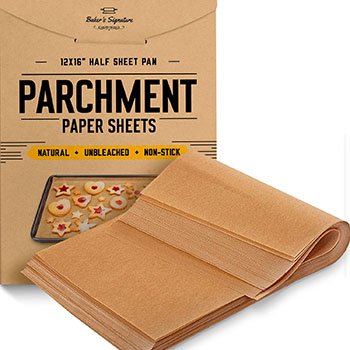 These parchment paper sheets are waterproof, greaseproof, and perfect for baking and grilling needs. They do not curl, contain no chemical bleach, and the most important thing is that these sheets are safe to microwave.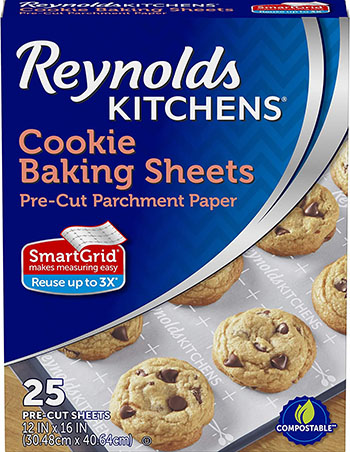 Bring home these high-quality parchment paper sheets now! With the ability to be reused up to 3 times, this product also has grid marks to help you measure better. It is a perfect choice for lining pans and cookie sheets, while steaming or grilling may not be ideal.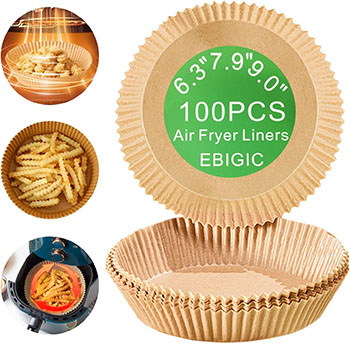 Are you struggling to find the parchment paper that fits your air fryers? Look no more, as these perforated sheets are just what you need. They are heat-resistant up to 420°F, eco-friendly and odorless.
What To Do When You Do Not Have Parchment Paper?
Despite being useful, parchment paper may not be available in your kitchen all the time. So, you had better prepare yourself with several alternatives to deal with that situation.
Grease The Pan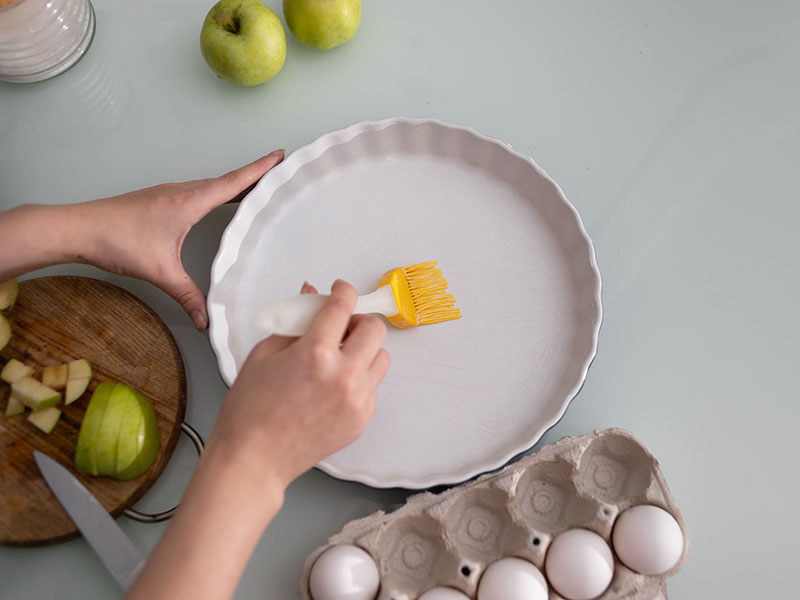 Instead of taking advantage of the nonstick coating of parchment paper, you can grease your pan for the same result.
Before putting your food in the pan, make sure to add a layer of vegetable spray, butter, or oil. This way will prevent the food from sticking to the pan and make it easier for you to remove it.
Use Silicone Bakeware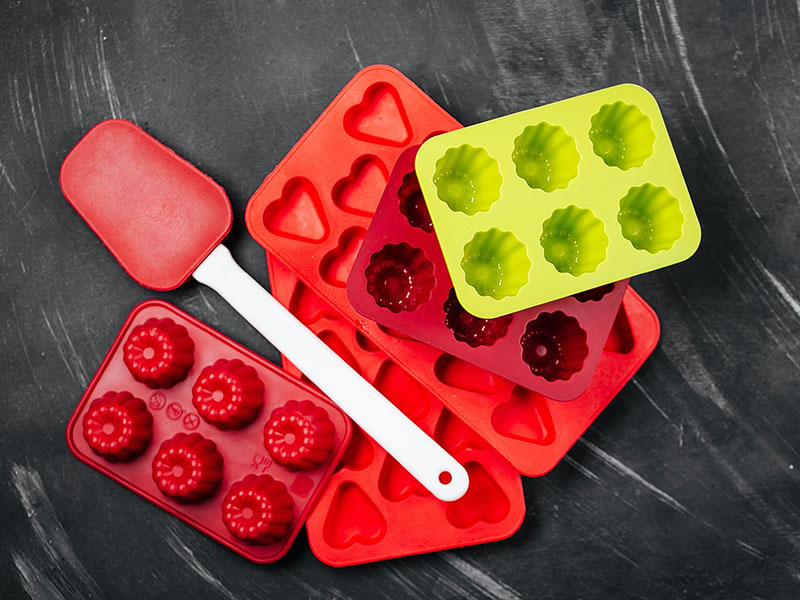 If you are uncertain about greasing, silicone bakewares are your safer option. With this tool, the stickiness will never be your concern. They also require very little effort to clean up afterward.
Silicone molds are microwave-safe. They contain no harmful toxins, unlike most plastic. Temperature changes in silicone bakeware will not cause any bad effects on your food, which makes them a great substitute for parchment paper.
Make Use Of Aluminum Foil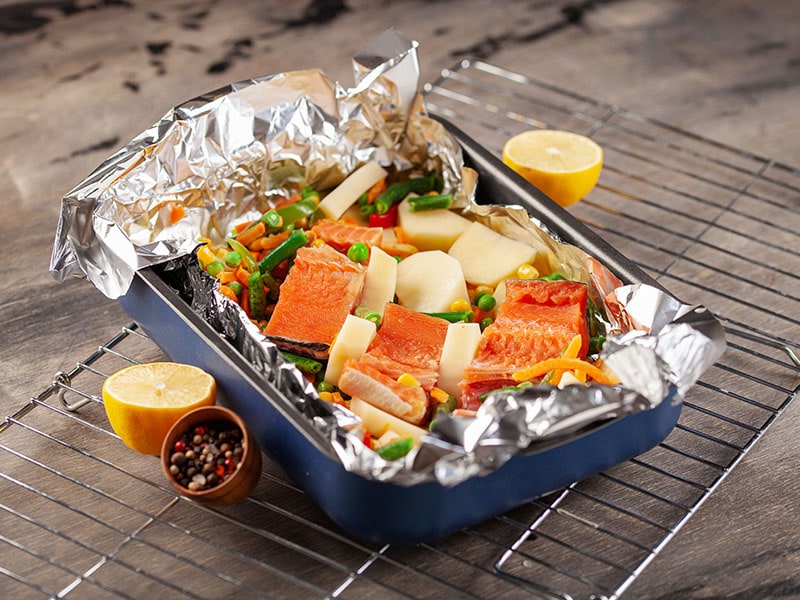 Aluminum foil can be another substitute for parchment paper. However, it does not come with nonstick properties. When lining pans with aluminum foil, you should grease the foil to help your food come off easily.
Other ways to use this tool include wrapping food, such as meat or sandwiches, steaming chicken, fish, or vegetables, and more. However, you should not overuse aluminum foil in cooking, especially when it comes to cooking with acidic food like tomatoes or lemons (2).
FAQs
Did the sections above provide you with all the information you need? If not, try reading these frequently asked questions to find out the answer to your queries.
Get Ready To Stack Your Kitchen With Parchment Paper!
Parchment paper is an extremely useful tool for your kitchen. With dozens of benefits, it is worth adding to your list of must-buy items.
Now you know that parchment paper is safe to microwave and how to use it safely. So, why don't you try using it to make delicious food for your beloved this weekend? I am sure the result will surprise you.
Have you ever had any problems with microwaving parchment paper? Do you have any tips to share? If the answer is yes, leave a comment below and let other readers know about your experience. Finally, make sure to share this post with your friends and family in case they are in need.
Paragraph
en.wikipedia.org (2022), Parchment Paper.
healthline.com (2017), Is It Safe To Use Aluminum Foil in Cooking?.