If you are looking for a quick breakfast recipe, what to serve with BLT sandwiches will help you do that.
I'm a worker and I'm always busy with my hectic schedule, even cooking time. And classic BLT sandwiches are my ideal option for every morning meal.
They give me not only strong health but also convenience. I can fulfill my hunger within a click, though I'm becoming tired of ordinary flavors.
Then I decided to pair my sandwiches with other food. There are several recipes, ingredients, and materials I have used. And honestly, I cannot stop eating them for many weeks.
Do you want to know what they are? Drag your mouse and wow!!!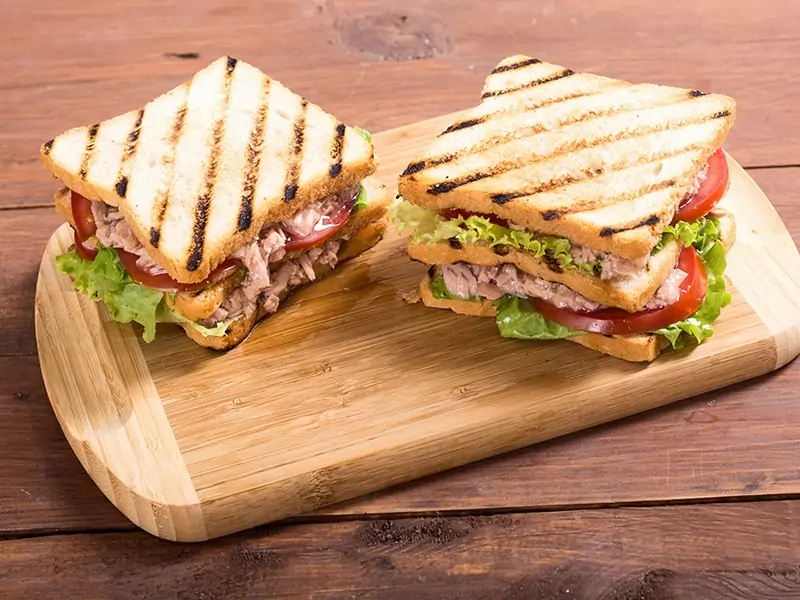 23 Stunning Matches With BLT Sandwiches
This is a shortlist of side dishes that you can serve with BLT sandwiches.
BBQ Potato Chips
Fried Potatoes
Baked Potatoes
Potato Cheese Soup
Pickled Vegetables
Tomato Soup
Fruit Salad
Pasta Salad
Macaroni Salad
Olive Salad
Onion Rings
Coleslaw
Carrot Slaw
Guacamole
Baked Beans with Molasses and Bacon
Grilled Corn on the Cob
German Potato Salad
Honey Mustard Sauce
Mandarin Oranges Salad
Lemony Green Beans
Deviled Eggs
Macaroni and Cheese
Grilled Asparagus
Amazing Facts
You might have heard many things related to sandwiches. What about BLT sandwiches? Let's read and find out some amazing facts about them.
BLT sandwiches are one of the most common sandwiches after World War II. They were super popular because of the longer shelf life of ingredients. With the rapid booming of supermarkets, they can be considered the representation of fast food.
BLT in sandwiches is the abbreviation of bacon, lettuce, and tomato. You can find two slices of toasted bread along with them.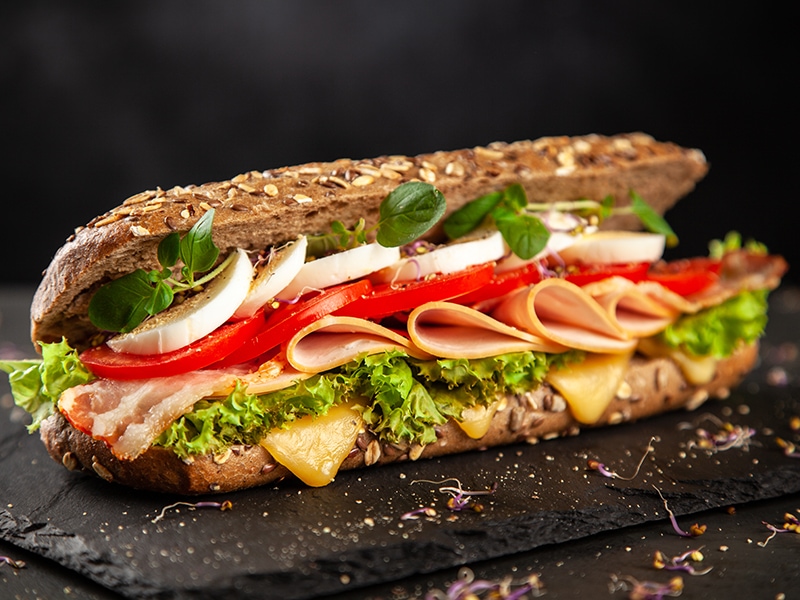 Instead of serving the traditional BLT sandwiches, several variations are getting to dominate the market with a variety of new ingredients and tastes.
What Do BLT Sandwiches Taste Like?
The taste of BLT sandwiches depends on what inner ingredients there are. There are some extra ingredients that give a huge contribution to the flavor of BLT sandwiches.
The initial version of BLT sandwiches is a combination of three main ingredients. You can taste a little bitterness, sourness, richness, and sweetness, which is the flavor of lettuce, tomato, and bacon.
However, BLT sandwiches have many variations which bring numerous flavors as well. Here are some additional ingredients you may find in other types of sandwiches.
Fried eggs: A rich, eggy, and runny yolk is a good choice for your toasted bread.
Sprouts: Sprouts have a crunchy texture, nutty and mild tastes. It would be an excellent match for BLT sandwiches.
Avocado: If you need a new taste in BLT sandwiches, avocado can bring you a buttery consistency, creamy texture, and slight sweetness in your mouth.
Mayonnaise: BLT sandwiches will have a tangy, sweet, and creamy flavor if they contain mayonnaise.
Hot peppers: The spicy, tangy, and warm hot peppers will increase the taste of BLT sandwiches.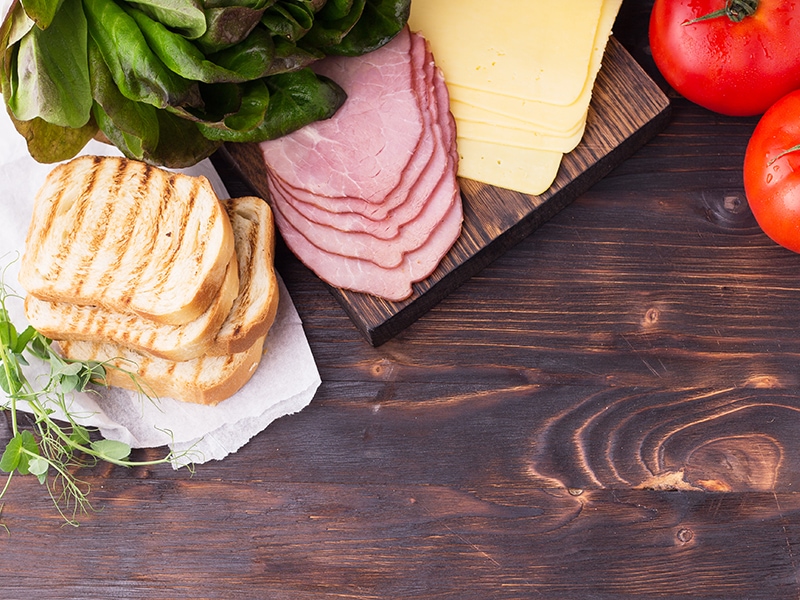 What To Serve With BLT Sandwiches?
Beyond consuming the original version of BLT sandwiches, you are able to make them better with 23 new side dishes.
BLT sandwiches are easy to match with other sides. You cannot imagine that your dishes will become perfect with the recipes below.
A mixture of barbecue sauce spices and cayenne pepper, potato chips are the ultimate companion for all kinds of sandwiches, including BLT. This dish is suitable for eaters who love homemade chips with smoky, sweet, and spicy flavors.
Are you ready to taste hot BBQ potato chips with BLT sandwiches?
They can be a good choice if you are interested in crispy and sweet tastes. Are you ready to make a combination of BLT sandwiches with super delicious fried potatoes?
Just with an air fryer, you do not need time to heat all potato chips in the oven. All you need is to prepare high-quality potatoes and enjoy your meal.
A wise choice for BLT sandwiches is fried potato.
A busy person will love baked potatoes with their sandwiches.
This dish is another version of potato-related recipes. It's a super easy pair with BLT sandwiches. This dish requires olive oil and salt to enhance the flavors. Remember not to overcook to get the perfect crispy outside and delicious softness inside.
Potato cheese soup is believed to work well with BLT sandwiches based on its unique flavor. This soup consists of potatoes, cheese, milk, onions, garlic, and a creamy consistency. Bacon can be added to potato cream soup for more flavorings.
If you are looking for a great dipper for BLT sandwiches, you cannot miss this recipe. However, this dish requires more than 30 minutes for cooking and it's not an ideal choice if you have a hectic schedule.
If you love veggies, the pickled vegetables will belong to you. Pickled vegetables are the next side dish you can eat together with BLT sandwiches. Some of them are carrots, peppers, and cucumbers.
Pickled vegetables are a dinner option to give fewer calories and fats to the whole dish. A flavorful combination of salty, sour, savory, and rich in a bite of BLT sandwiches will give you a deep impression.
This recipe is easy to make at home. You need to steep veggies, which are cut into stripe shapes, in a dressing with salt, sugar, vinegar, and water for a couple of days.
Besides, you can do some experiments with many types of vegetables to get your desired tastes. So, even if you can't distinguish pickles from gherkins, it's still easy as pie for you to follow this recipe.
Tomato soup is a great choice with BLT sandwiches for a cozy and warm atmosphere, especially in any family reunion or important celebration. And the main flavor here is tomatoes.
It would be better to add some toppings and seasonings such as thymes, red peppers, salt, sugar, or chicken broth. This will help you increase the flavor and aroma as well.
You also do this soup at home with super simple ingredients in your kitchen. More importantly, tomato soup probably works well with your sandwiches if it is creamy and smooth. This soup will make your dish unique, impressive, and subtle.
An eye-catching tomato soup can be served in a warm environment. Match tomato soup with BLT sandwiches and you cannot eat within a bite.
This is combined with a range of fruits. This salad is simply made from yogurt, berries, apple, and pineapple. Both of them are cut into small pieces to use together with BLT sandwiches.
The taste of the tomatoes' creamy texture, crunchy and rich in bacon and lettuce goes well with sweet and fresh fruit salad.
A bowl of fresh fruit salad is better for a healthy diet.
Pasta salad is a good pair with BLT sandwiches. It is creamy, crispy, and slightly bitter and sour. You can find bacon, peas, carrots, cucumbers, and lemony dressing in this recipe. These toppings can be considered a flavor enhancer.
Pasta fresh tomato salad is better to serve with red onion.
This type of salad is a Hawaiian recipe. It is an ideal choice for summer days due to its unique cold and creamy flavor. This salad is mixed with mayonnaise, milk, apple cider, vinegar, onions, and carrots.
You can add more ingredients for your preferences. Classic macaroni salad will have more nutrients to mix with BLT sandwiches. If you love this, consider if you should freeze macaroni salad to save some for later – it's always a pleasure to have some tasty ready-made meal.
When you're not sure if olives can get spoiled, and you don't want to risk leaving them in the fridge for too long, you definitely should make this olive salad. Flavorful with exciting taste, this salad is one great way to jazz up your unfinished olives in the fridge.
This dish will stop your hunger within 10 minutes with olives, several peppers, onions, red wine vinegar, dried herbs, and other spices. Spread it to your bread to make it tastier.
I also highly recommend you to consume refrigerated olive salad. This will increase the flavor and leave a deep impression on your sandwiches. Mediterranean peppers mix with olives.
Onion rings are an indispensable side dish to match with BLT sandwiches. Fried onion rings are popular in most side dishes.
Onion rings are a pretty unique dish because they are made from beer-based batter and smoked paprika. This makes onion rings crunchier and slightly spicy.
They are deep-fried onions that contain a high level of calories, minerals, vitamins, and antioxidants. Make sure both sides of the onion rings are golden brown. Leave them in the inner of BLT sandwiches for tastier.
If you are wondering what dishes can match with BLT sandwiches, you can choose coleslaw for many reasons. Coleslaw belongs to veggie lovers.
Coleslaw is a mixture of fresh, crunchy, and tangy vegetables. In the classic coleslaw recipe, you can add red cabbage, carrots, lettuce, salad, and other spices such as onions, garlic, salt, etc.
Besides, mayonnaise, buttermilk, and white vinegar can be used to increase creamy, and slightly sour tastes.
If you are a big fan of carrots, you can have carrot slaw. This is a dish that is made from many strips of carrot. Sour cream is considered to add to this recipe for creaminess and tanginess.
What if you don't have sour cream at home? Although there are quite a few distinctions between sour cream and yogurt, in this case, you can opt for yogurt as an alternative. For a better result, you should choose Greek yogurt, which has a more similar taste and texture to sour cream.
You should serve these recipes with BLT sandwiches. You will quickly become a slaw lover.
This video will help you know how to make carrot slaw quickly:
A high-class version of avocado is possibly guacamole. Many ingredients are flavors beyond avocados. A mixture of guacamole will bring you stunning BLT sandwiches.
If you want to enhance the flavor, guacamole is your ideal option with avocados, onions, lime, and tomatoes. It is a gourmet staple in most side dishes.
More specifically, BLT sandwiches are its real love. Spread guacamole on the surface of the bread, you can enjoy delectable sandwiches.
The most important thing here is how to choose tomatoes and avocados. However, if you do not have fresh tomatoes, try to do experiments with the best canned tomatoes to renew flavors.
Do you love meat? Are you fond of baked beans? Baked beans with molasses and bacon are perfect for you. A mixture of baked beans and bacon can be added to BLT sandwiches.
This recipe requires a lot of time to cook. It is a combination of baked beans, smoky bacon, and sweet molasses. This dish is a good match in both taste and texture. When bacon is soft and everything smells well, you can put baked beans into the mixture.
Try to cook until baked beans with molasses turn into the sauce. In case you do not have molasses, try to replace it with some perfect substitutes for molasses such as honey, sorghum, or maple syrup. Even when you can't use real molasses, the taste will not disappoint you.
Baked beans can be made in a large batch and stored in the fridge for the following day's meal. But what about the freezer? Can you store baked beans in the freezer? Well, this depends on a lot of factors, such as whether you like a slight change in texture and flavor.
The last side dish you can eat with BLT sandwiches is grilled corn. It is a super easy ingredient to add to sandwich-related recipes. Corn cobs are grilled and mixed with lime and coriander. Are you wondering about their tastes?
They have a golden color which looks so amazing. They also have tasty, aromatic flavors. However, they also need some seasonings to keep them salty, juicy, and spicy.
Add these grilled corn cobs to the inside of BLT sandwiches and enjoy together.
You should not choose this recipe if you don't want to be addicted. This recipe is a mixture of onions, potatoes, and celery seeds.
Besides, the most important topping is sliced bacon. You may be in the middle of German with this potato salad and BLT sandwiches.
If you are into sweetness in BLT sandwiches, you should taste the honey mustard sauce. You can add it to both sides of sandwiches and consume it together with bacon, lettuce, and tomatoes.
A bit of sour vinegar, the sweetness of honey, and creamy mustard will create a wonderful combination in BLT sandwiches.
A mixture of diverse fruits, including mandarin, walnuts, cranberries, oranges, and other ingredients. The most particular taste in this salad is sweetness. It will make your sandwiches distinctive.
If you like salty and sour flavors, add some peppers, salt, and vinegar to balance the tastes.
Do you want to taste green beans with lemonade? A special flavor in lemon zest combined with mellow and buttery green beans will make your BLT sandwiches perfect.
Green beans will be cooked until they become softer and tasty. Add a little bit of lemonade and garlic to enhance the flavor as well. If you want to find a stunning match for sandwiches, try this one.
The simple-and-easy recipe to make lemony green beans is attached to this video:
Coming from a simple ingredient but a unique decoration, deviled eggs are completely great for mixing with BLT sandwiches. They are hard-boiled and added mayonnaise, sour cream, lemon juice, and spices.
The balance of color will be the most impressive highlight to serve at the table.
A great companion with BLT sandwiches that you should not miss is macaroni and cheese. Cheesy, tasty, and salty are some common flavors in a combination of BLT sandwiches and this side dish.
Since this dish does not require much time for preparing and cooking, it would be an ideal choice for a busy person.
Grilled asparagus is a versatile dish that you can mix and match with other products. It's a great way for you to enjoy the fresh flavor of asparagus. Oil, salt, and peppers are added as the veggie is grilled until tender. You can add more seasonings to get your desired flavors as well.
FAQs
There are some interesting frequently asked questions in this section. I hope you can look through it for further information. Sometimes you can find yourselves here.
Enjoy Your Side Dishes
BLT sandwiches are common and convenient on every busy day. It would be better to match with other dishes to escape from the daily tastes. If you have time, try to practice slow-cooked food to renew your old flavors.
Although classic versions are special in both flavor and aroma, you can add or change any ingredients, spices, or herbs to create different versions of BLT sandwiches. Have you ever done any side dishes? What kinds of food did you mix with sandwiches for your breakfast?
Feel free to share your experience and tell me how good your performance is via comments. And now, are you hungry? Do it right now!
Nutrition Facts
4 servings per container
---
Amount Per ServingCalories131
% Daily Value *
Total Fat 8g

13

%
Sodium 594mg

25

%
Potassium 638mg

19

%
Total Carbohydrate 15g

5

%

Dietary Fiber 3.8g

12

%
Sugars 9.3g

Protein 3g

6

%
---
* The % Daily Value tells you how much a nutrient in a serving of food contributes to a daily diet. 2,000 calories a day is used for general nutrition advice.