The perfect cornmeal substitute is what many housekeepers are always looking for. Initially considered a familiar food in recipes and baking recipes, cornmeal is no stranger to homemakers.
However, thanks to the ability to be flexible in processing, we often take advantage of cornmeal and use it regardless of the content without knowing that eating a lot of cornmeal will harm the body.
Cornmeal is very high in carbs and has a high glycemic index, and it is also low in fiber. Regular consumption of refined carb-rich foods like cornmeal can affect heart health. Therefore, there are times when you want to replace cornmeal with something healthier for your body.
I had that in need, too, so I researched and tried through 14 cornmeal substitutes that could be said to be awesome! If you want to know what they are, how they resemble and differ from cornmeal, please continue to accompany me in this article!
What Is Cornmeal?
Cornmeal is a fine powder made from the core of the corn kernels, a type of flour that is widely used in cooking or baking. Cornmeal is used to create adhesions and thickeners in different dishes. Unlike flour, cornmeal is shaped after it is cooked.
Besides, cornmeal is considered an indispensable ingredient for any type of dessert, like Jamaican sweet courses, with several baking recipes, making ice cream, or processing some dishes.
Some fresh cakes and cupcakes, or some dry cakes such as coconut cake, cookies, etc., can be used 10-20% cornmeal to replace flour to make the product tastes more delicious crunchier.
When using cornmeal in water dishes, one must dissolve cornmeal with a little water and then put it in a pot of hot water so that the cornmeal will promote adhesion, making the dish viscous and not lumpy.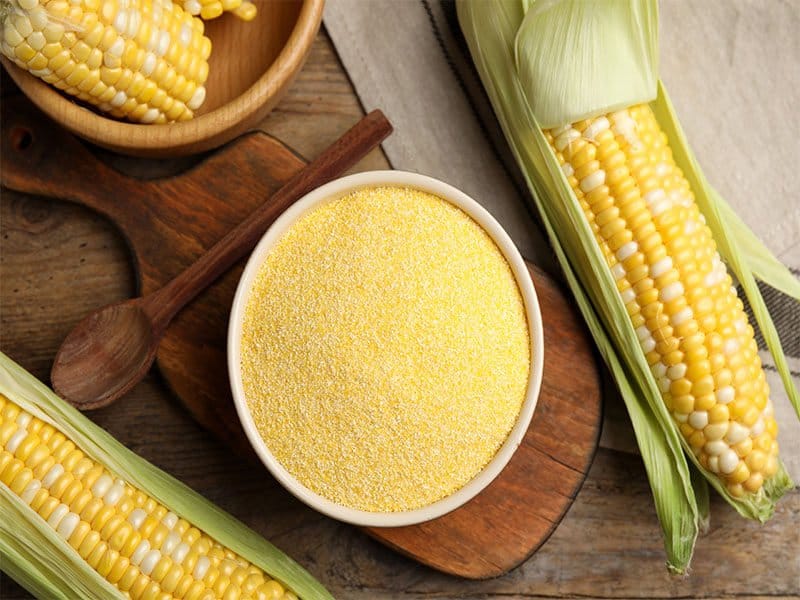 How Is Cornmeal Processed?
With modern processing technology, corn kernels are divided into starch, corn germ, fiber, and protein. After separation, fiber and protein are used for animal feed, corn germ is refined to make corn oil, and starch is used in food processing or confectionery.
Corn starch is produced from the process of soaking, grinding, separating, filtering, and drying. Corn is soaked in water for 30 – 48 hours to ferment slowly.
The germ of cornmeal is separated from the endosperm, and the two components are separated from the corn grain (while the corn is still soaked), then filter the core of the corn.
Next, it is dried by a centrifuge and used for specific purposes. Leftover products from each stage are used for animal feed and other products.
Cornmeal's Nutritions
As you may know, cornmeal is used to thicken and as a binder for dishes. Cornmeal also contains many essential nutrients for the body, such as fat, sodium, potassium, fiber, sugar, protein, vitamin A, calcium, iron, vitamin B6, magnesium, …
Cornmeal helps balance blood fat, thereby preventing cardiovascular diseases. Still, cornmeal produced from refined starch will not have many nutrients due to loss of fiber, protein, and some minerals contained in the outer shell of the seed and seed.
The Uses Of Cornmeal
Gives a thickening consistency and delicious taste to soups, sauces, biscuits, cakes, etc.
Use cornmeal is a good method to thicken chili, soups, sauces, teas, puddings, and creams.
Used as auxiliary dough for baked goods, biscuits, baked goods.
Used to produce dextrose amino acids, alcohol, monosodium glutamate, etc.
In some countries, cornmeal is also used to process coffee.
Things To Notice When Using Cornmeal
When processing cornmeal, attention should be paid to cornmeal stirring at the last stage of the dish when cooked or boiling. In baking, put in with the flour.
Do not add cornmeal to acidic water solutions such as lemon, vinegar, apple juice, or orange juice as they will not adhere.
Cornmeal Substitutes
There are times when you want to replace cornmeal with something healthier for your body, or you are just running out of cornmeal. Whatever the reason is, I will introduce you to the best substitutes for cornmeal that you will need.
To make this distinction, I will divide the 14 cornmeal substitutes today into two groups, the corn-contained group, and the non-corn group. It is easy to find the best substitute for your purposes, whether you want to avoid corn or simply want a different taste:
Corn-Contained:
Corn Flour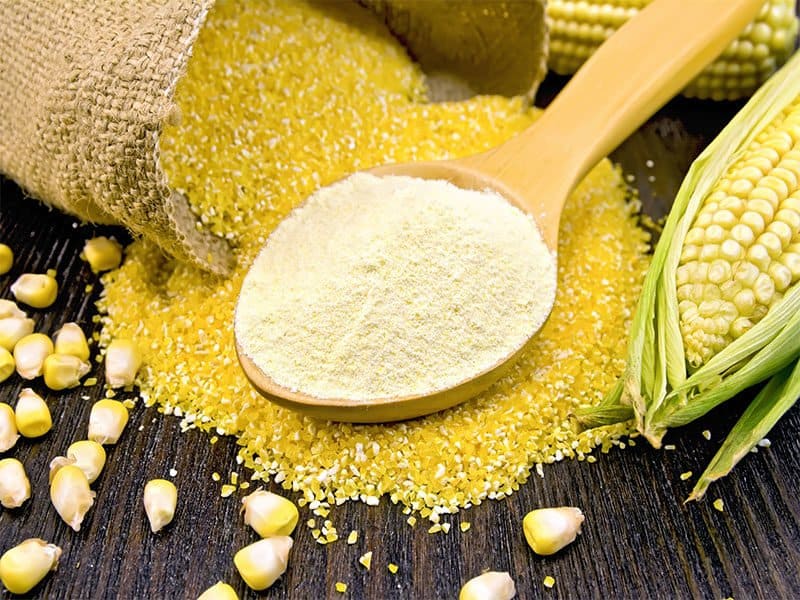 Corn flour is a powder that is finely ground from the whole grain of corn. Therefore, it contains protein, fiber, starches, vitamins, and minerals found in corn. Corn flour can be white or yellow, depending on the variety.
Made from whole grain corn, the cornmeal has the smell of corn and is very sweet and fragrant. Corn flour can be used with flour or replace flour to make bread, waffles, and cakes to create a special aroma and supplement nutrients.
Similar to cornmeal, corn flour has a sweet taste. It can be used as a substitute for cornmeal in many sweet and healthy breakfasts like bread, pancakes, waffles, and cakes to add a corn-like flavor.
Corn flour is sometimes confused with cornmeal. In the US, it refers to a coarser powder from the shell and core. Corn flour has a different taste than cornmeal.
You can use cornflour instead of cornmeal to make bread, pancakes, biscuits, waffles, and cakes. Besides, you can add or replace flour. The product will have a characteristic corn flavor and yellow color.
You might wonder if corn is suitable for a gluten-free diet and, as a result, is cornflour gluten-free or not. Well, the answer here is "yes" and "yes."
However, since corn flour is gluten-free – the main protein in wheat increases the elasticity and strength of bread and baked goods, resulting in corn flour that becomes thicker and more fragile.
Besides, cornflour is mainly used to thicken soups, stews, sauces, and gravies. To avoid clumping, mix it with cold water before adding it to hot dishes.
Corn Grits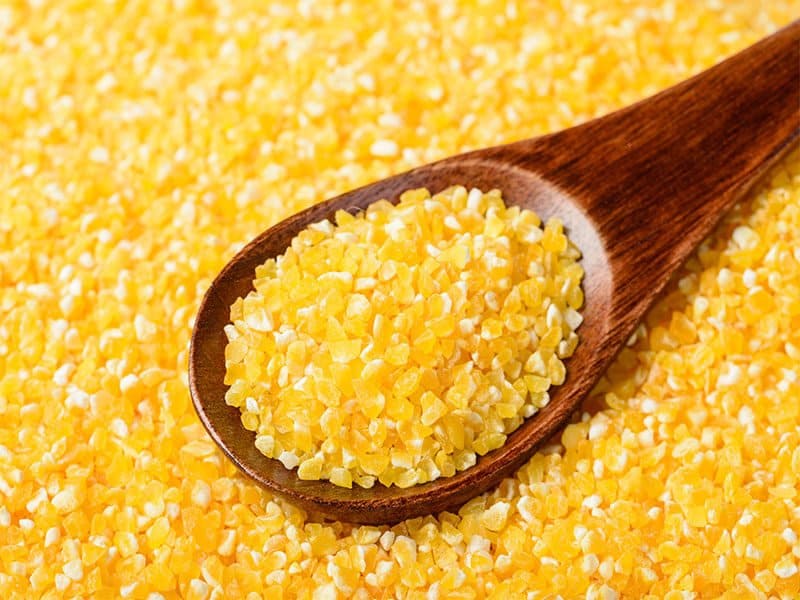 Corn grits are corn-based grains that are an excellent gluten-free source. Corn grits are a very good and easy substitute for cornmeal, thanks to their origins. Corn grits will give an identical flavor to cornmeal.
However, there is a difference in texture because corn grits have a grainy and gritty texture. You can grind corn grits for a viscous smoother feeling for dishes. Corn grits are also ineffective if you're looking to eliminate high-carb corn from your diet.
Corn grits are also relatively heavier than cornmeal. So, if you are looking for lighter, more airy recipes, it won't be the right alternative. However, corn grit will be very good when used to help foods have a more natural aroma.
Keeping in mind when using corn grits as a substitute for cornmeal is that it must be cooked with more water than cornmeal.
And the number of corn grits you use may start best with the amount of cornmeal you need in the recipe. I usually use corn grits to make pancakes and cornbread.
Polenta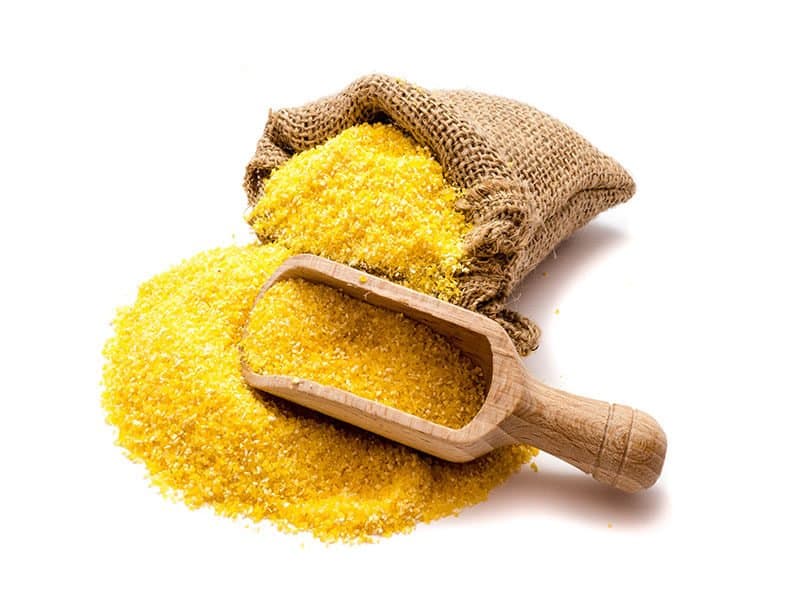 Polenta made from corn is not as smooth as rice flour. It can also be enjoyed as a side dish or cooked cereal when used in the form of cornmeal.
Polenta is a delicious dish made by cooking ground cornmeal in saltwater. As the seeds absorb water, they soften and turn into a cream-like dish. You can add herbs, spices, or grated cheese for added flavor.
In Northern Italy, polenta is inexpensive, easy to process, and extremely versatile, so it's worth a look. You can also use pre-cooked polenta packaged in a tube. As long as the ingredients are only water, cornmeal, and possibly salt, the nutritional information must be kept.
Slippery polenta without cheese or cream is quite low in calories and contains negligible amounts of various vitamins and minerals. In addition, like other grains, it is a good source of carbs.
Like rice, polenta is often used in cornmeal as a side dish or base for other foods. It contains less protein and fat and blends well with meats, seafood, or cheese to create a complete meal.
The granular texture of the polenta remains even after cooking. This is a delicious alternative to cornmeal in sauces, vegetables, and meat. It provides a shredded texture and corn flavor to a gluten-free recipe.
Masa Harina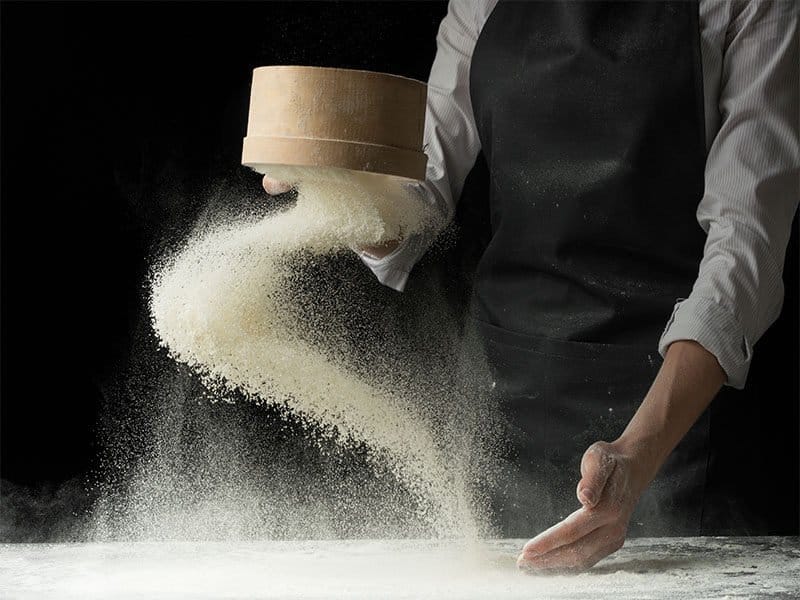 Masa Harina is the perfect staple food for Mexican and Latin American food lovers. You can use masa harina to replace cornmeal, and likewise, cornmeal is an excellent alternative for masa harina. Now you have more options in replacing one for another.
It is made from certified organic corn that has been cooked, treated with lime juice, and ground into a fine powder. This will create a thick texture similar to cornmeal so that it can be used instead.
This powder is ideal for traditional foods like tamales, but it is also a great addition to baked goods. Masa harina is often added as a thickener to soups, including chicken and chili tortilla soup.
The method of making masa harina is yellow or white dried corn kernels soaked in water and lime. Then the hull is removed, and the remaining corn kernels are dried and ground into cornmeal perfect for masa flour.
Masa harina will help you create a premium corn cake: mix it with water and a pinch of salt to create a smooth dough. It is often used to make Mexican tortillas.
Corn Chips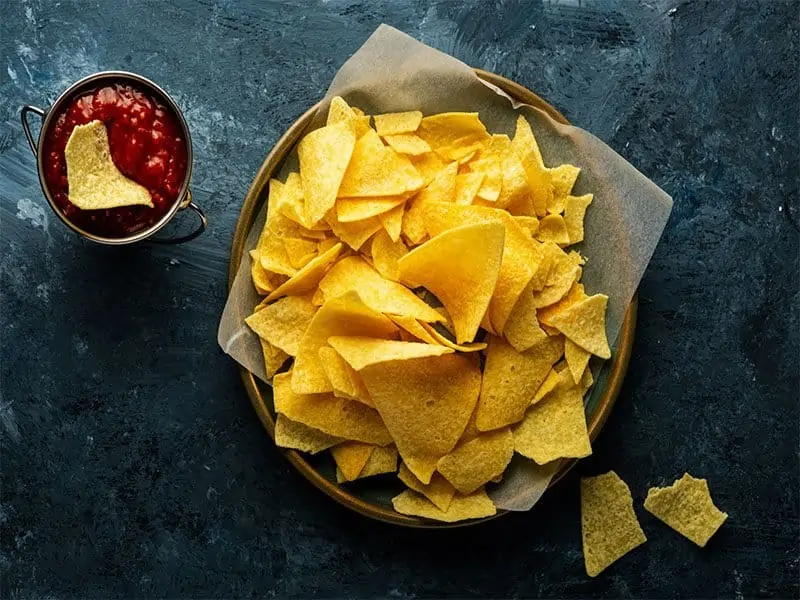 Corn chips are a type of snack food made from cornmeal fried in oil or baked. You can grind it out and use it as a substitute for cornmeal because it has a similar taste to cornmeal due to being made from corn, although this is relatively time-consuming.
Corn chips made from corn undergo nixtamalization, resulting in a lighter flavor and aroma and a less stiff texture. Therefore, corn chips also tend to be thinner.
Besides, corn chips are usually in the shape of small fibers. It has a hard texture and is very brittle. Corn chips are also often salted, fragrant and bring the rich flavor of roasted corn to your dish.
Tortilla Chips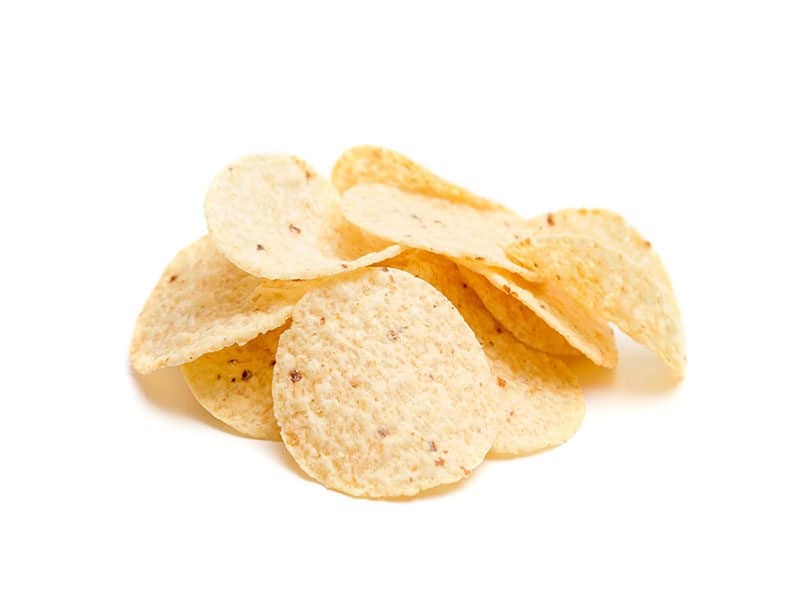 Tortilla chips originating from Mexico are a thin, flat, round cake made from wheat flour or cornmeal. Tortilla is considered a kind of cake crust, and can be served along with guacamole, soup, or inside combined with meat, vegetables, eggs, etc., to create a perfect cake.
To replace tortilla chips with cornmeal, you need to crush them into flour. This is relatively time-consuming, but you can do it in the event of a force majeure. However, you won't avoid corn if you use tortilla chips.
Non-Corn Substitutes
Semolina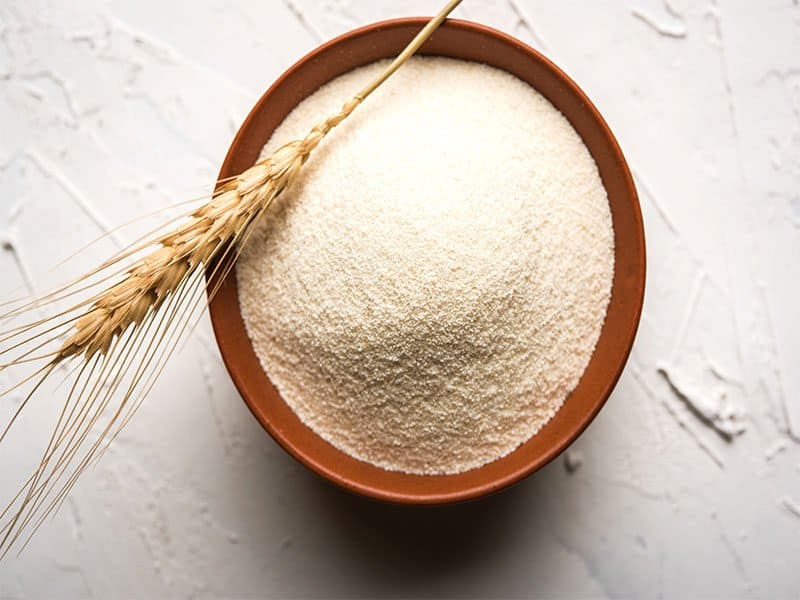 Semolina is a flour made from hard, amber-colored wheat that is widely used in baking and cooking. In particular, semolina is an important ingredient to create various kinds of noodles with red, yellow, green, black, etc.
To create semolina, people grind raw grains (most hard wheat), then they are thoroughly dried and screened so that semolina has no bran or grain germs.
The composition of semolina contains the highest protein content of all types of flour. It is considered quite ideal for making pasta and making some sweet desserts with puddings. Very versatile, isn't it?
Because it is made from cereals, you can use this powder instead of cornmeal, which is also used in some dishes and other cakes such as Semoule, soup, Couscous, spaghetti, pasta, etc.
Normally, the cakes and pasta dishes made from semolina have a rather thick texture. When eaten, they will feel the taste of wheat very clearly, and it contains a lot of protein as well as many healthy nutrients.
Also, when added to the soup base, semolina will give the soup the perfect consistency and a very special flavor. With the protein content and minerals in semolina, this is one of the ideal choices for mothers when choosing baby powder.
Coconut Powder And Almond Powder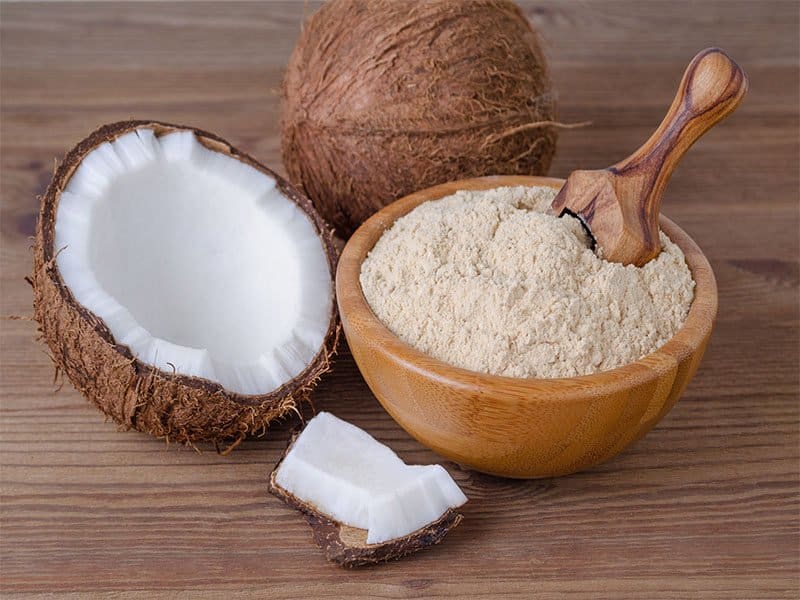 If you are following a keto regime, coconut powder is a healthy powder. Taking advantage of the many benefits of coconut, this powder produces a dense end product like cornmeal but is softer, as it absorbs a lot of water. Try some recipes with coconut powder instead of cornmeal.
Super-popular in the keto diet is that almond powder contains healthy fats and boasts some benefits such as heart support and potentially cancer-reducing risk.
Almond flour can replace cornmeal to create a less dense baking dish. However, it will not give the dish the same consistency as cornmeal. You can use it to make some treats like macaroons.
Wheat Flour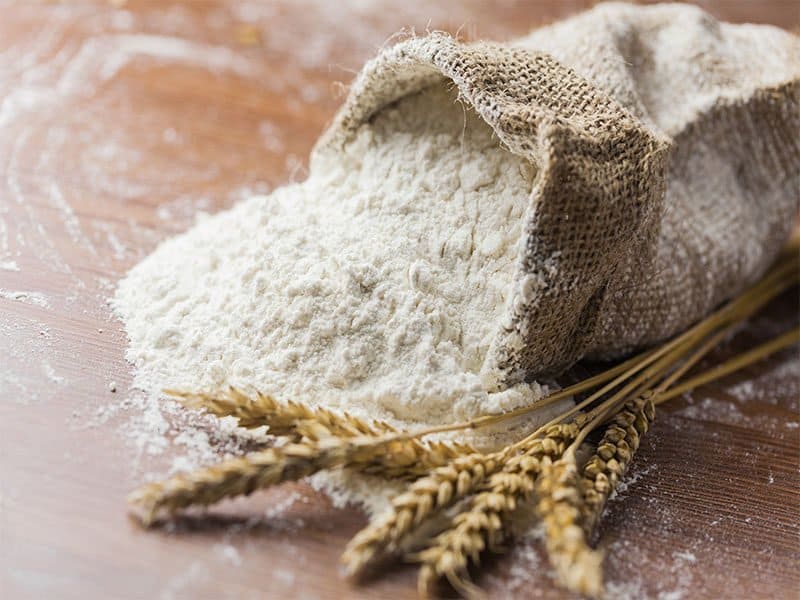 Wheat flour is one of the most popular flours used by many people to make cakes or additives in the cooking process. Besides using it to replace cornmeal, this is also an ideal ingredient to swap for cornstarch, although it is not made from corn and the taste is a little different.
Wheat flour or Wheat flour is a type of flour produced from wheat milling and used as an essential ingredient in the bread manufacturing process. Wheat flour is produced more than other flours.
Wheat flour is produced by grinding wheat or other grains. In this process, the bran and embryo are separated. The remainder of the wheat grain is ground to a suitable fineness, relatively similar to cornmeal.
Wheat flour can replace cornmeal in recipes for making biscuits, bread, cakes, and cakes. If it is flour that you have a high protein content, you can use it as a pizza crust, baguette, etc., because this cake dough, after being done, will have tougher than other types.
Rice Flour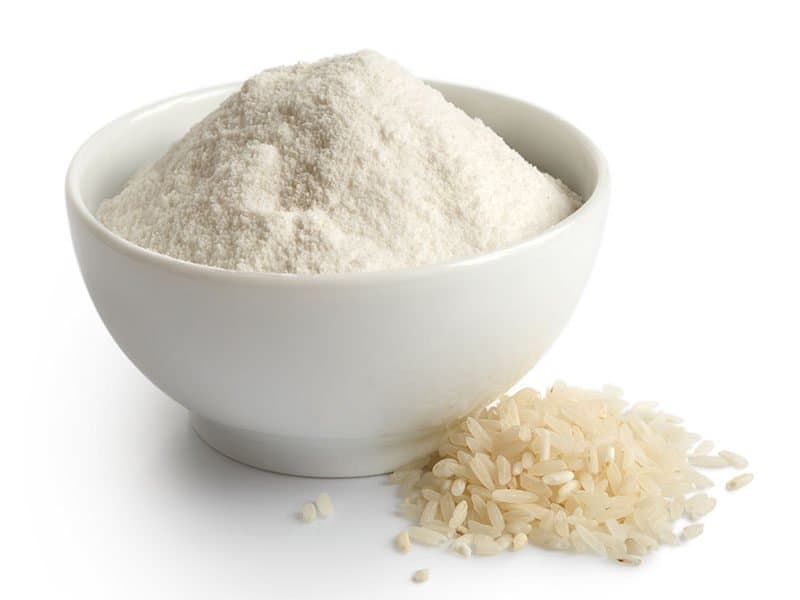 Rice flour is a powder processed from the fine grinding of rice grains. Rice flour is milky white and slightly dull. The rice flour is very soft and smooth and almost prevents the food from drying out after processing.
Rice flour is commonly used in the cuisine of Asian countries. You can use rice flour as a substitute for cornmeal or flour in some recipes.
Oats
Oats are a whole grain that doesn't taste like cornmeal, but the texture is pretty much the same. It will produce a creamy dish or a relatively chewy cake.
The oats are naturally yellowish-white in color. The taste of the oats is pale but fragrant and tender. This is a suitable product for vegetarians to supplement their yummy savory breakfast daily. And of course, it is very healthy.
In terms of nutrition, this is considered to be a rich source of fiber for the body, especially beta-glucan and a range of other essential antioxidants, vitamins, and minerals.
Not only that, but ground oats also have higher protein composition and good fat content than many other grains.
Ground Flaxseed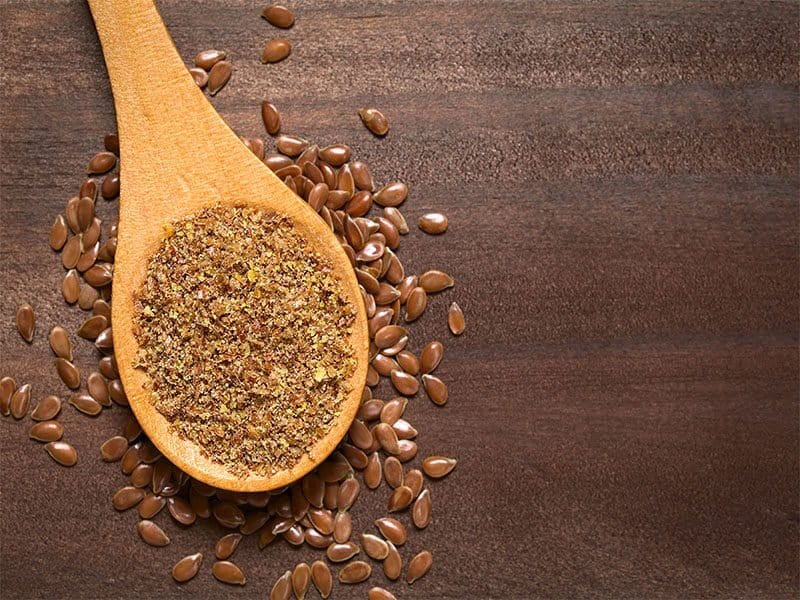 If you want to avoid cornmeal for weight loss, then this is a great option. Ground flaxseed is a nutrient and fiber-rich crop with many uses. Plants were grown to get seeds can be ground into ground flaxseed powder, pressed into oil, or spun into flax fibers.
The health benefits of ground flaxseed come from its unique nutritional properties and molecular composition. Ground flaxseed is rich in fiber. When you eat fiber-rich foods, you will feel full for longer.
This can help stave off your appetite if you are cutting calories for weight loss. Besides, your digestive tract is also stimulated by fiber-rich foods.
Some people believe that flaxseed ground can be used in the diet to initiate or speed up weight loss. Studies are conflicting, but there is reason to believe that ground flaxseed may help some people lose weight.
Cereal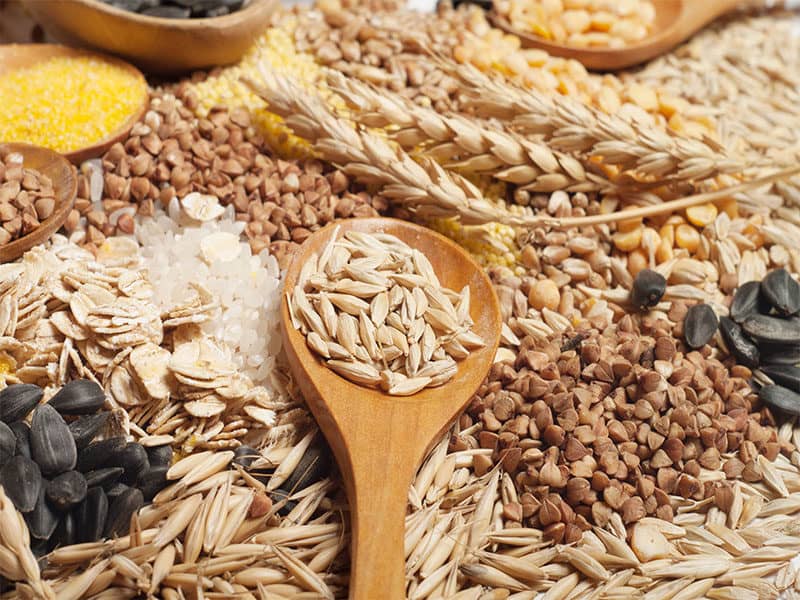 Cereal is the common name of the food made from 5 different types of seeds that are researched and confirmed by folklore and modern medicine to bring many nutritional values.
Usually, whole grains are made from five common grains: sesame, glutinous rice, non-glutinous rice, wheat, and legumes. Grains are lower in calories, richer in fiber and protein than cornmeal, making them a good alternative, although the taste may vary.
Furthermore, whole grain flours are very nutritious but low in calories and fat. Grains are rich in fiber, making them easy to digest, reducing bad cholesterol. You can use it to make chicken nuggets, cereal biscuits, or whole-grain fried chicken.
Nuts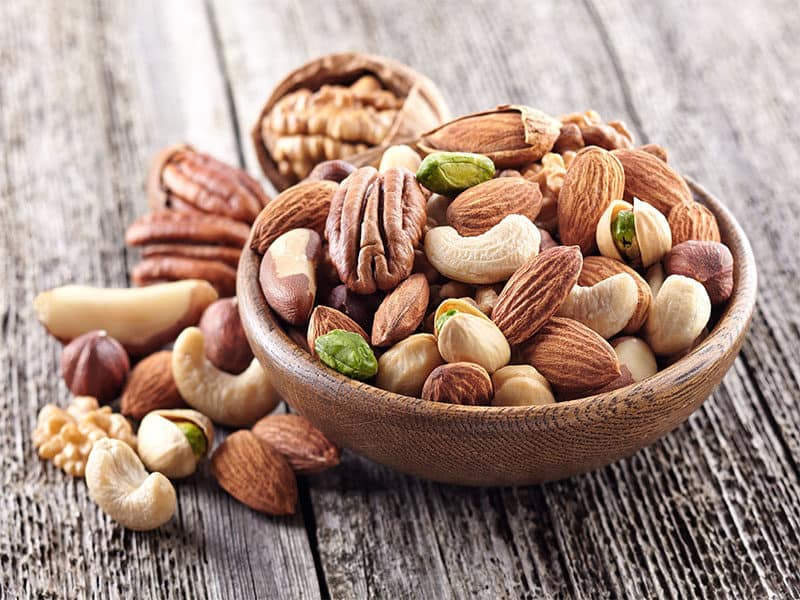 There are many types of nuts that have health benefits and are recommended for regular use. You can mash them as a substitute for cornmeal in dishes if you want a healthier meal.
Nuts are rich in fiber and protein. If added to dishes, it will provide not only nutritional benefits but also flavor.
Nuts come in various uses, from eaten directly as a healthy snack, added to smoothies, or used as ingredients into various dishes.
FAQs
Check out some of the questions below to find the right alternatives to your recipe.
Tips Of Consideration
Above is the sum information about what cornmeal is, the composition of the use of cornmeal. You also know what to replace cornmeal with, with the pros and cons of each.
You see, despite the relatively similar alternatives, cornmeal still seems to be unique, and it isn't easy to find a suitable substitute for both texture and flavor. However, in necessary cases, you can still do it.
With the information above, hopefully, you can learn how to use these ingredients better. I wish you success with delicious food, and don't forget to share this article with those who need it!