Chadian foods constantly stimulate the curiosity of everyone. I publish this article to answer any questions about the beautiful dishes of this cuisine. Your culinary knowledge will expand after reading this article.
It is time to immerse yourself in the world of great Chadian foods. Let's focus on reading this post to discover all the wonderfully delicious dishes that this African country can offer. You can amaze your friends with the interesting facts gained from this article.. Scroll down to see for yourself!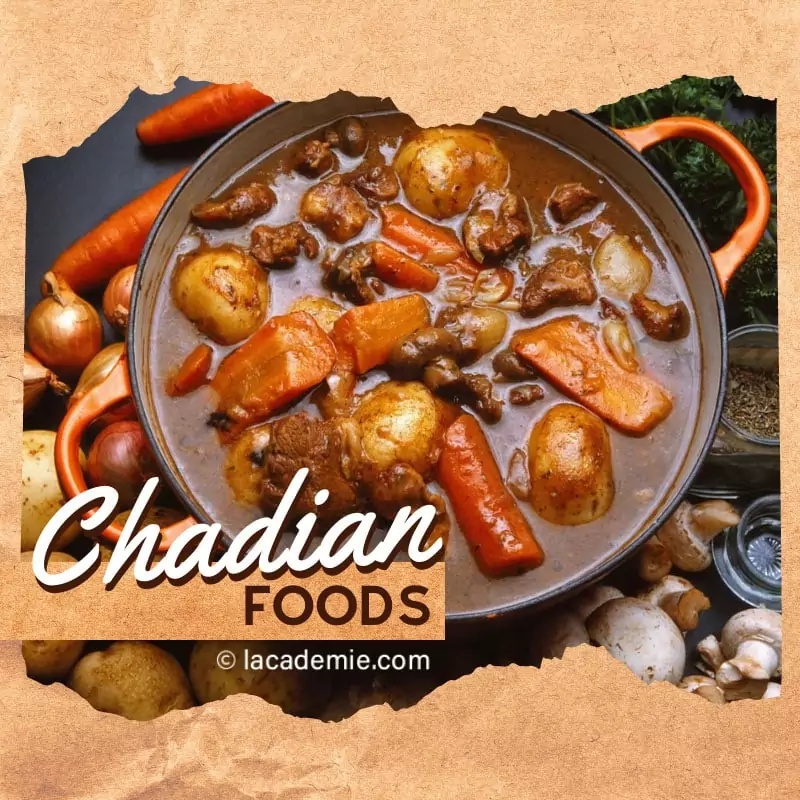 Main Course
This section will show you a list of incredible Chadian main dishes to fill your hungry stomachs after a lengthy discovery day. Let's enjoy their taste right now.
1. Jarret de Boeuf – Beef Stew With Carrots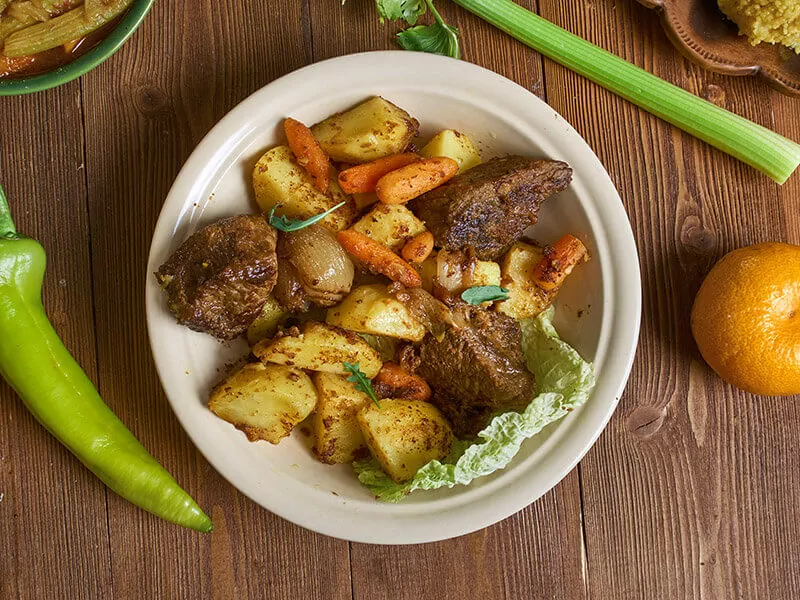 Jarret De Boeuf is one of the Chadian dinner recipes that will make your meal more interesting. This vegetable and beef stew is a favorite food of people in the south of this country. Its rich flavor will make you want to savor it again and again.
Simmering for hours makes the beef so tender that you can easily separate it into small pieces to enjoy. It was a French-originated dish and came to Chad when the country was under French colonial rule. You can eat it with rice, Fufu, and other carbohydrate-based staples.
The French named the dish when they invaded Chad from 1920 to 1960.
2. Maharagwe – Spicy Coconut Bean Soup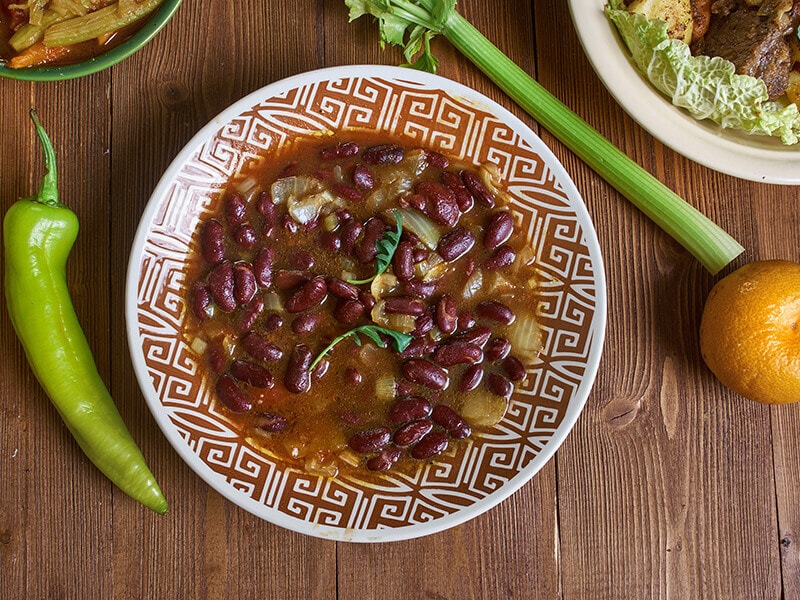 Maharagwe is a simple yet famous and flavorful recipe. Besides Chad, it's also a widely loved dish in Kenya and other East African countries. Its other name is "Maharage Ya Nazi". Red beans, haricot, or French beans are the common elements to create this delicacy.
Its name means "Beans" in the Kiswahili language. This dish will provide you with the exquisite taste of beans stewed with coconut milk, cardamom, cinnamon, and chili. You can choose the savory or sweet version to consume.
It is an exciting experience when cooking Maharagwe in your kitchen.
3. Bangaou – Lamb Stew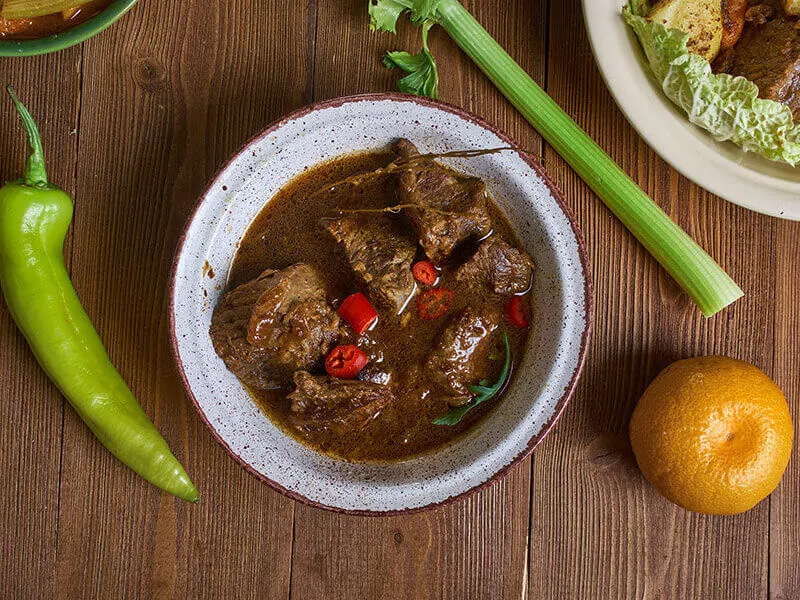 There are many options to add to the Chadian lunch recipes menu, but Bangaou is an ideal choice to appear on this list. It will help you supplement proteins and fiber, thanks to its large quantity of meat and vegetables. Bangaou is the perfect food to consume with rice or couscous.
This food originates from the culinary tradition in the north of Chad. One bite will reveal to you the softness and succulency of meat as if it is melting in your mouth. Tomatoes, bouillon cubes, potatoes, and beans will help taste become more diverse.
To keep the moisture of the lamb, it is necessary to brew the meat in a pan with oil. Moreover, doing so turns the meat softer.
4. Daraba – Creamy Peanut Vegetable Stew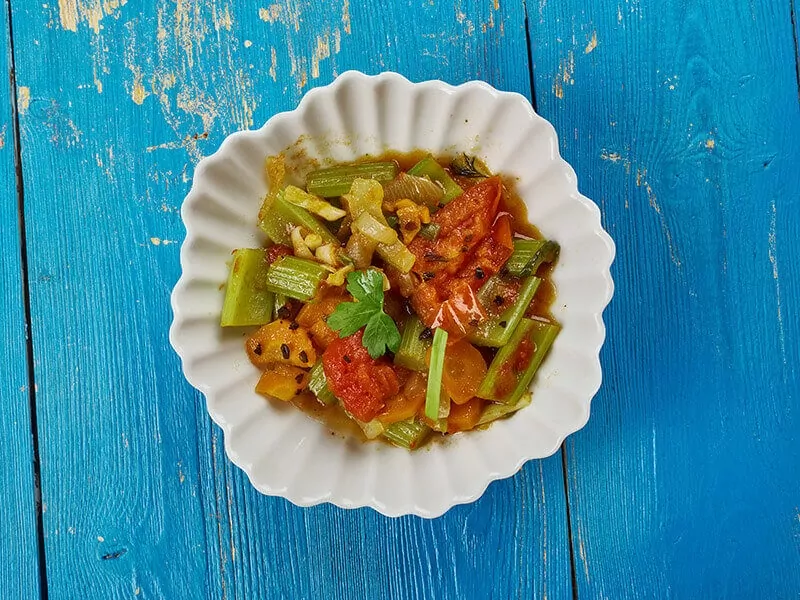 If you want cheap yet nutritious African foods, Daraba is a perfect choice for you. It is not only famous in Chad but also in many other neighbors. You will find many vegetables like tomatoes, potatoes, and aubergine (eggplant) in this recipe.
However, the characteristic flavor and thick texture of Daraba come from okra. Also, to enhance its taste, the chefs will add ground peanuts. It has many different types depending on the season, and you can buy it at the markets in the south.
I almost forgot to mention the characteristic spiciness from cayenne pepper in this food. Good Daraba also needs a bit of bouillon cubes for the umami flavor.
5. La Bouillie – Chadian Porridge
La Bouille is a Chadian breakfast recipe that you can come across on dining tables of people across Chad. It has a consistency pretty similar to porridge. You will find the flavor of wheat or rice in this recipe quite fascinating.
La Bouillie may remind you of rice pudding. After boiling milk with rice or wheat, you will get a fantastic mixture to enjoy. A bit of sugar and peanuts on top will bring even more sweetness and fattiness to this food.
You can enjoy it hot to warm your body on cold days. In addition, it is also an incredible dessert that you should not ignore in the evening.
6. Peanut and Squash Stew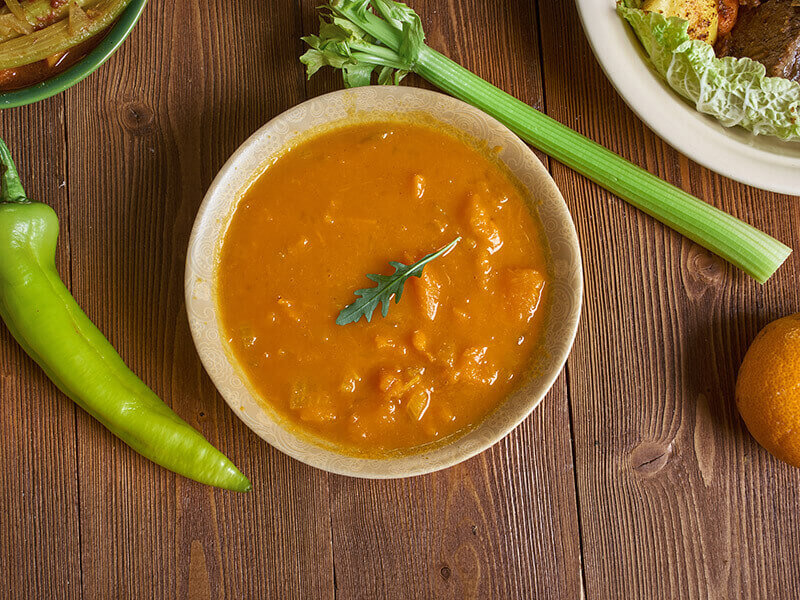 Peanut and squash stew is an indispensable dish on the dining table of Chadians. Locals usually rely on this rich and flavorsome stew when preparing dinner. Its tasty and enchanting flavor will tickle your taste buds instantly.
Peanuts and local squashes are 2 essential ingredients in this stew. Furthermore, the food will become more flavorful with the appearance of tomatoes, spinach, red peppers, and coconut milk. People usually add meat to the dish when making it for special occasions.
Learn the ways to make yummy Peanut And Squash Stew.
7. Maboké de Capitaine – Steamed Fish In Banana Leaf
When you arrive in the southern region of Chad, you should find and enjoy Capitaine. This fish is pretty common in many African rivers and lakes, particularly Lake Chad. If you are unfamiliar with the French name, this big and delicious type of fish is known as Nile perch or African snook in English.
There are many excellent recipes prepared with Capitaine. But I recommend Maboké de Capitaine, a steamed dish that you can find on the menu of many restaurants in Chad. After that you can try the deep-fried Capitaine, BBQ, or sun-fried versions of the fish.
Desserts and Snacks
Desserts and snacks are essential parts after each meal. It is time to take a trip to Chad and immediately enjoy the fantastic flavor of these delicious snacks and desserts.
8. Kissar – Chadian Sourdough Pancake
The addition of Kissar will help your Chadian sweet menu become more complete. This special sourdough pancake is a popular traditional dessert in African countries. This fantastic recipe is an essential part of special occasions in Chad.
Locals combine rice flour, yogurt, sugar, and yeast to make this memorable dessert. You will like its tenderness and smoothness that tastes like a flawless combo of porridge and custard.
9. Aiyash – Millet Flour Balls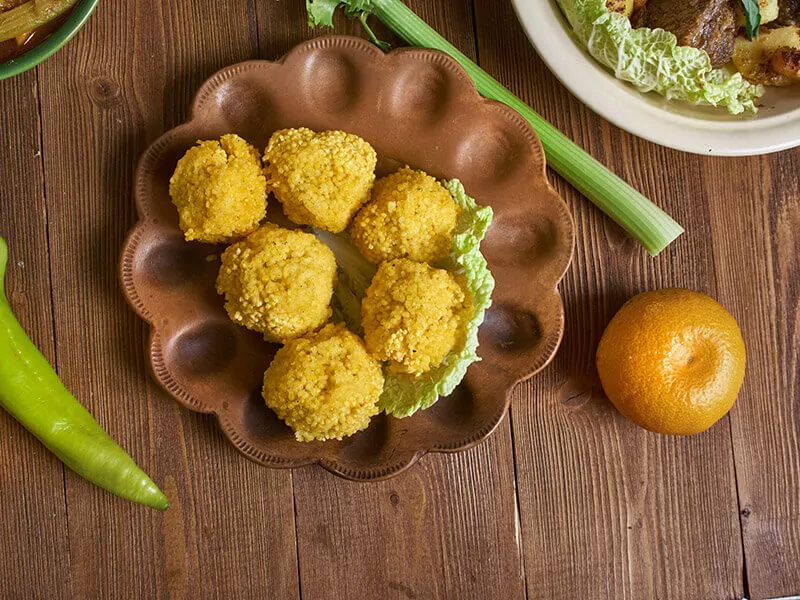 It is an excellent idea to enjoy crispy and delicious Aiyash with friends in Chad. It is a traditional dish of Chadians. The main component that makes these eye-catching, croquette-like balls is millet flour paste. Bite them, and you will feel how powerfully their crispness can please you.
The flavor is pretty plain when you eat them alone, so don't forget to serve them with sauces. Many different sauces are used, but the most common choice is peanut sauce. In addition, you can combine it with a sauce containing saka-saka (green cassava leaves), spinach, and okra.
10. Kisra – Sorghum Crepes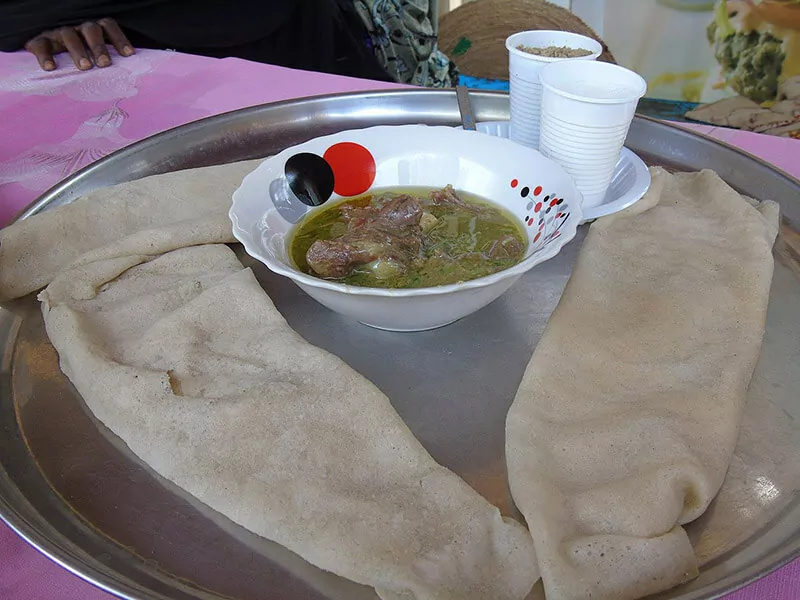 When it comes to famous African desserts, it is impossible not to mention Kisra. It is a fermented bread processed widely in the food culture of Sudan, Chad, and other African countries. It consists of durra (Sorghum) and wheat.
It has two different versions. The porridge form of Kisra is known as Aseeda. Meanwhile, many Chadians roll dough into a thin round shape to create a flatbread version called Kisra Rhaheeefa. A large quantity of sorghum in Africa goes into making those two varieties.
11. Jus De Fruit – Chadian Smoothie
Jus de Fruit is a perfect choice to finish your party or start a new energy-filled day. This fresh recipe includes fruits, ice, milk, and cardamom. Popular fruits of this dish consist of pineapple, mango, papaya, and orange.
You can easily buy it to refresh everywhere in Chad. Each season will have different fruits used. You can enjoy it as a nutritious smoothie or dessert after a meal. So, do not miss the appealing taste of it.
Expand Your Knowledge About Chadian Customs
Chad is a country with ethnic and language diversity, but French and Arabic are common languages. This nation is located in Central Africa and declared independence from France in 1960.
About festivals, this country has about 8 national holidays, and Muslim and Christian festivals are the main event in this nation. People often hold many exciting activities, such as dancing, singing, cooking, etc, on holidays.
You can find about 200 ethnic groups in this land. Most of them follow Islam, African tribal religions, and Christianity. Mountains are the main terrain in this country. Moreover, it has 3 big rivers and Lake Chad.
Thanks to the semi-tropical climate and many large farms, agriculture is the primary sector in Chad. Another major source of food comes from fish caught in the country's numerous rivers and lakes.
Chadians consider the meal in the middle of the day an essential part. In particular, guests should not refuse to enjoy a meal when visiting the home. Usually, dishes will be arranged on a mat, and everyone will start eating after the host prays.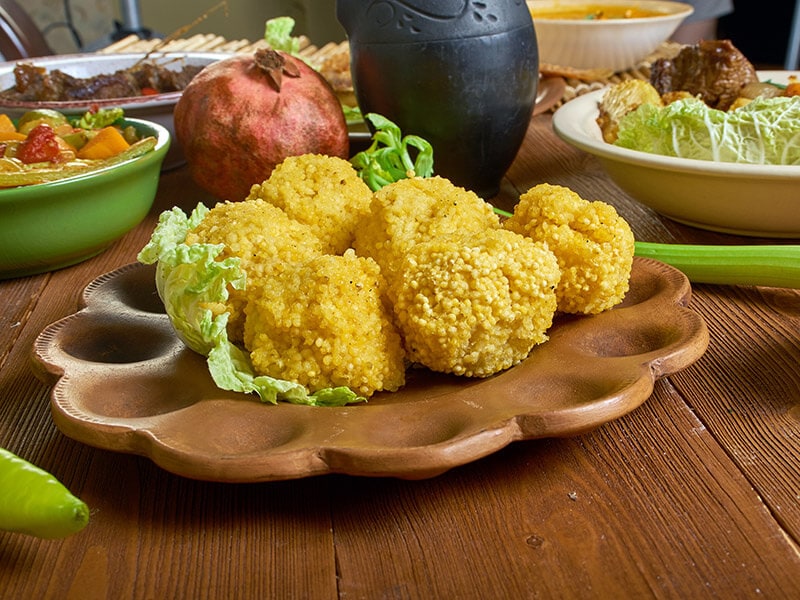 Do You Know These Facts About Chadian Cuisine?
It is simple to make delicious Chad food because Chadians only use simple devices and recipes. Occasionally, they only need a skillet or outdoor grill to make a characteristic barbecue food of Chadian cuisine.
In addition, most households in Chad have a non-stick pot or pan to create attractive foods. In particular, wooden stirrers are an indispensable part of the Chadinian kitchen.
Nomadic lifestyle affects the northern cuisine of Chad when milk, fish, and meat are used a lot in this region. Meanwhile, Chadians in the south will eat fruits, vegetables, and grains produced from large farms.
Boule is considered a national dish in this country when it appears during Chadian's daily meals. Millet is an essential material in Chadian cuisine as it appears in many different dishes.
Besides millet, rice and sorghum are other main starchy foods in this African nation. Chadians often consume beef, chicken, sheep, and goats as their main source of proteins.
Veggies are also an important part of Chadians. It appears with meat in many foods like stews, soups, salads, kebab, etc. Gala is a common alcoholic drink in Chad. It is used much in the north because Muslims in the south do not drink alcohol.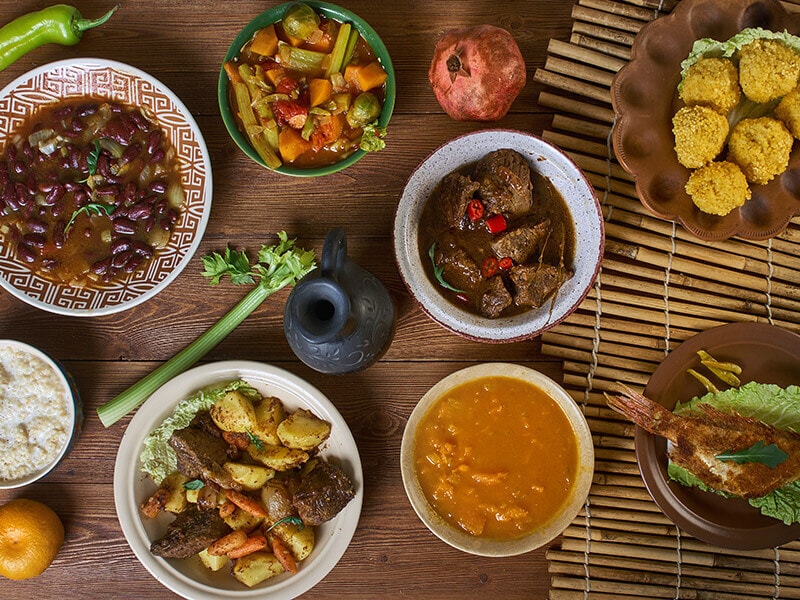 ---
Enjoy A New Breath Of Life With Chadian Foods
Are you satisfied with the foods I have introduced? Many fascinating things are waiting for you to discover in Chad, so please carry the backpack up and experience the delicious dishes of this country when possible.
I hope to get your comments after reading this article. Also, if you have any questions, do not forget to leave them in the comment section. Let's introduce this post to people around you now. Thanks a lot!