Singapore foods, thanks to the effective globalization of their country, have become more and more prevalent in the world. Do you want to know more about these tasty delicacies? My humble article will help you do just that! 
The diverse culture of Singapore is reflected in the country's architecture and cuisine. When going deeper into discovering the exquisite culinary culture of Singapore, you will fall in love with its colorful, diverse, and unique features. Let's start right now!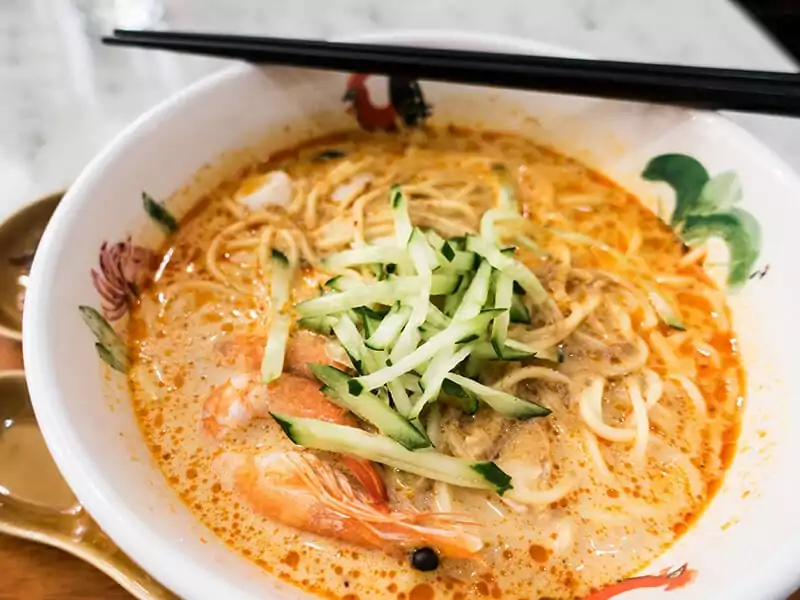 Brief Introduction About Singaporean Cuisine
You will definitely be amazed by how diverse Singaporean cuisine is since it is a harmonious combination of various other cuisines globally.
Talk a bit more about the past; in 1819, Singaporeans became a big British port that was extremely crowded and popular. Various boats, ships, and people came to this country and brought their countries' signature culinary features.
Time passed; nowadays, you can find various foods from other cuisines on this island. Those considered to take the most massive influences are Chinese, Indian, and Malaysian.
Besides them, traces from Indonesia, Peranakan, Japan, and Korea can also be noticed here. Therefore, if you are a picky eater, you can have various food options in this beautiful country. In case you don't have any ideas in mind, turn to my post!
Singaporean Meat Dishes
Although Singapore is an island country, there are various meaty dishes in their cuisines, and all of them are delicious.
1. Kǎoyā (Roast Duck)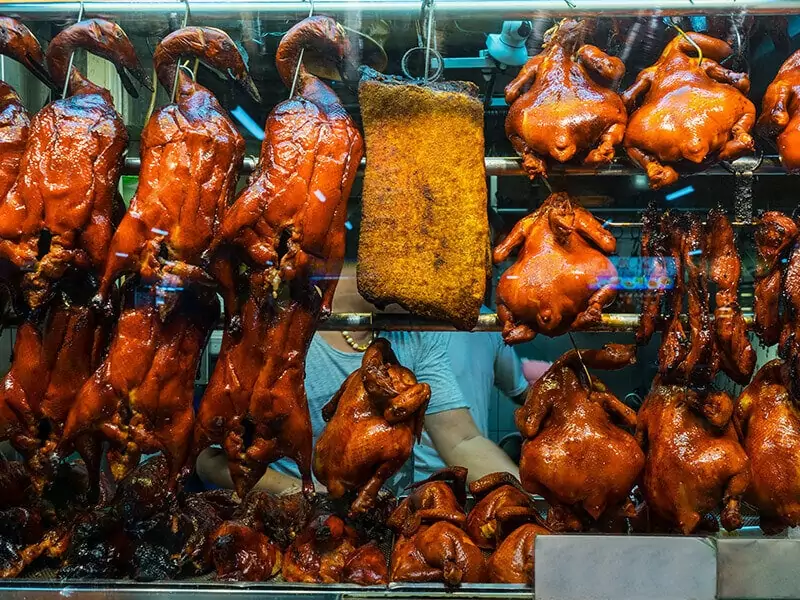 The Chinese are the largest community in Singapore, accounting for nearly three-quarters of the country's population. Therefore, it is not surprising that many Chinese signature dishes occupy a prominent place in Singapore's culinary culture. And this roast duck is solid proof.
This Singaporean Roast Duck is derived from the authentic Cantonese Peking Duck from Beijing with crispy, dark amber skin and tender, juicy meat. The mildly sweet, smoky, and savory flavors will surely appeal to your taste buds.
When ordering this Kao Ya (Roast Duck), don't forget to order rice. Nothing is better than rice in balancing the flavors of this specialty.
An introduction of the famous Roast Duck you shouldn't ignore.
2. Satay (Grilled Meat)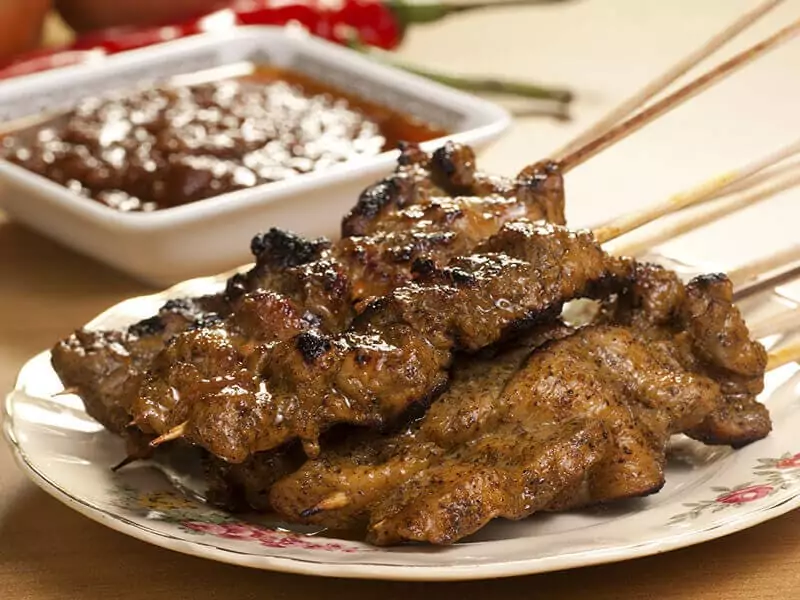 I started this category with a roast dish; let's move to a grilled one with Satay. It is one of the famous Singaporean BBQ meats normally seen as a street snack or a delectable appetizer in Asian cuisine. Trust me; you won't want to miss this delicacy when coming to Singapore.
This Indonesia-originated meat dish is marinated with sate, turmeric, lemongrass before being skewed and grilled on a charcoal stove (which helps to enhance the smoky taste). You will have various options for meat in this dish, from chicken, beef, pork to mutton.
When eating, you can serve this dish with some rice cake (ketupat), fresh veggies like cucumbers, onion, or a special spicy peanut dipping sauce.
3. Bak Kut Teh (Pork Bone Tea)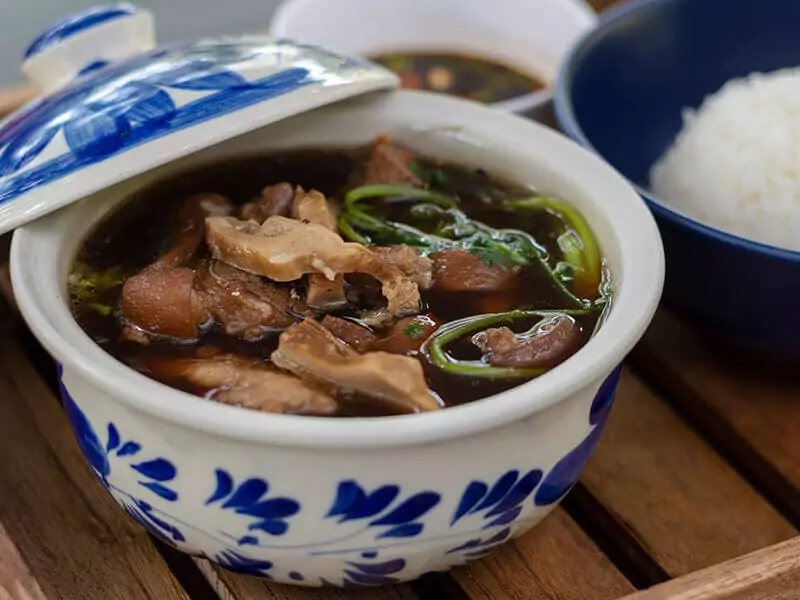 How can a meaty dish be called "tea"? Is the meat cooked in tea? Actually, this treat's name refers to a kind of Oolong tea (a famous Chinese beverage) served with this treat. Chinese people believe that tea will help reduce the fat content of the food.
This dish is made from fresh, succulent pork ribs. The Singaporean chef will lightly boil, then marinate the meat with spices, herbs and stew the ribs over low heat for hours. Thanks to that, the food will offer delicious and exquisite flavors.
There are three main types of Bak Kut Teh in Singapore that are sorted based on its ingredients: Hokkien-style soy sauce soup base, Cantonese herbal base, and another one with Teochew's peppery-garlicky base.
In Singapore, people can have it with rice, mustard greens, or braised tofu as complementing dishes. Instead of being a part of a nutritious Singaporean dinner, people in this country prefer having this dish for breakfast or lunch.
Bak Kut Teh can help nourish the body and offer various health benefits; therefore, locals, visitors, and diners from all over the world love it a lot.
4. Soup Tulang/Sup Tulang (Mutton/Lamb Bones Soup)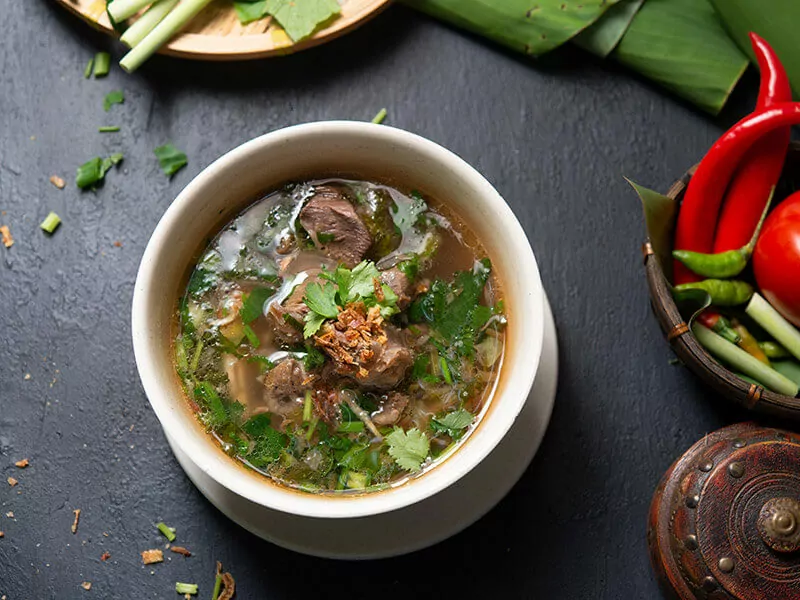 You shouldn't misunderstand this dish with the previous Bah Kut Teh; they are two totally different things. Although they all have bones as the main ingredients, the Sup Tulang calls for mutton/lamb bones, not the pork ones.
Furthermore, this dish has Indian roots since the one who made it was Abdul Kadir (an Indian Muslim food stall owner). He created this treat in Jalan Sultan, Singapore, from the 1950s and first sold it in his hawker.
The highlight of this Sup Tulang is the greasy hone marrow inside the meat bones. I promise you will be surprised by the incredible richness of that part. With the combination of the flavorful gravy base, this delicacy will linger in your mind for a long time.
To eat it in the right Singaporean way, you have to use the straw to sip it or tap it out to the plate and eat it with a spoon. Don't forget a piece of napkin to wipe off the spilled soup or the grease from your hand. It might be a bit messy when enjoying the food but it is yummy!
5. Ngoh Hiang/Loh Bak (Five-Spices Pork Rolls)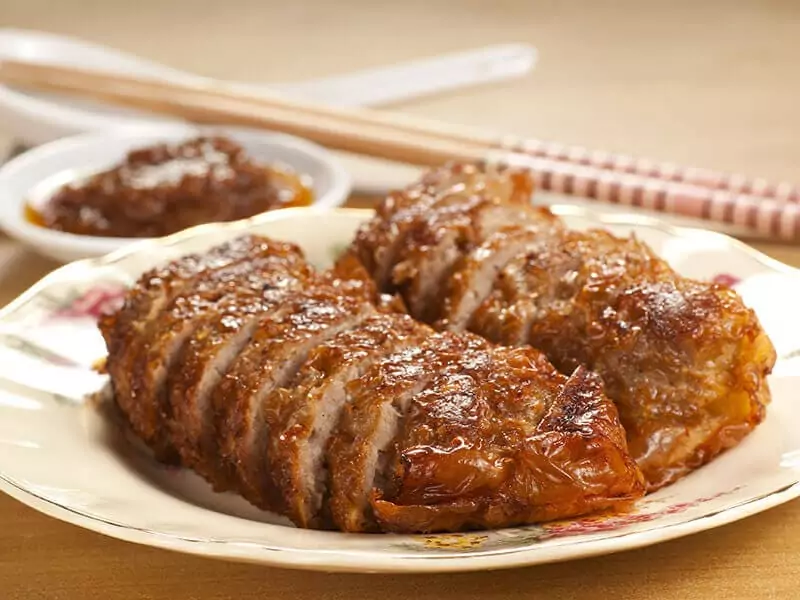 Another dish came from Southeast Chinese communities, specifically Teochew and Hokkien cuisines. The idea to make this treat is to wrap the filling mixture (with minced pork, chicken meat, shrimp, taro, and some other veggies) inside a layer of bean curd.
After that, the whole piece/roll will be deep-fried in sizzling oil until crunchy. The highlight of the filling lies in the five spices used to flavor the stuffing. When eating, your teeth will go from the crusty exterior into the robustly flavored meat inside.
The best partner of this Ngoh Hiang is the secret dipping sauce, and every stall has their unique recipes. It is not challenging to have a bite of this food; you can easily encounter street vendors selling them while wandering on the Singaporean sidewalks.
This introduction will tell you why you should try Ngoh Hiang now!
Singaporean Seafood Dishes
Singapore is covered with beaches and has an incredibly long coastline. Thanks to that, the seafood cuisine in this country is also developed. If you don't know which one to eat first, refer to the foods below!
6. Oh-Luak (Oyster Omelet)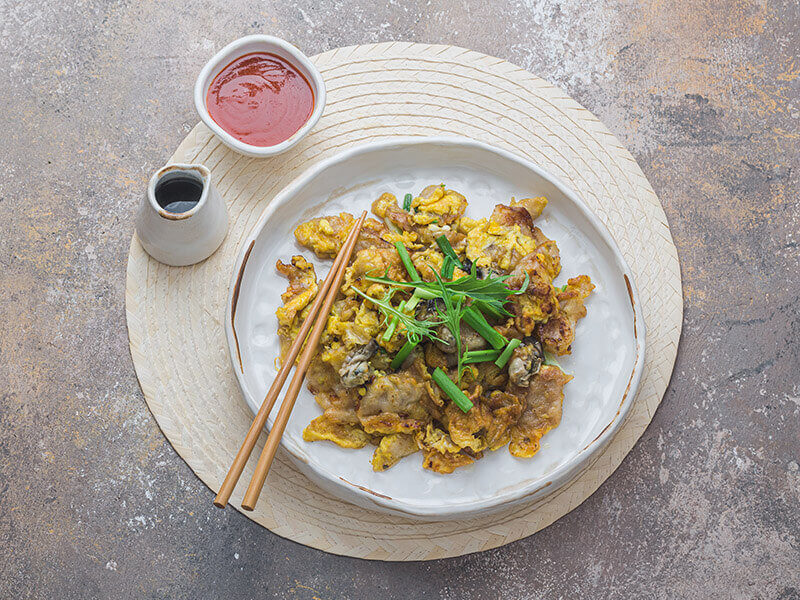 Oyster is also a specialty in the Singapore sea. When combining it with the fried beaten eggs with potato starch, you will have an extremely nutritious dish. The oyster on top of Oh-Luak is usually uncooked so that the eaters can feel the pure freshness, the richness of the seafood.
When finding it at the street stalls, you will see two options for you in the menu of this food, one with and one without the potato starch.
The potato starch is added to create the porosity, yet, if you don't like that, you can opt for the full-egg one (which is a bit more expensive). In addition, there is a unique chili vinegar only for this egg-fried oyster dish in Singapore.
One thing you should notice is that Oh-Luak is very nutritious, so it is not suggested to have this dish every day. It would be better to eat this treat occasionally.
7. Sambal Stingray (Grilled Stingray)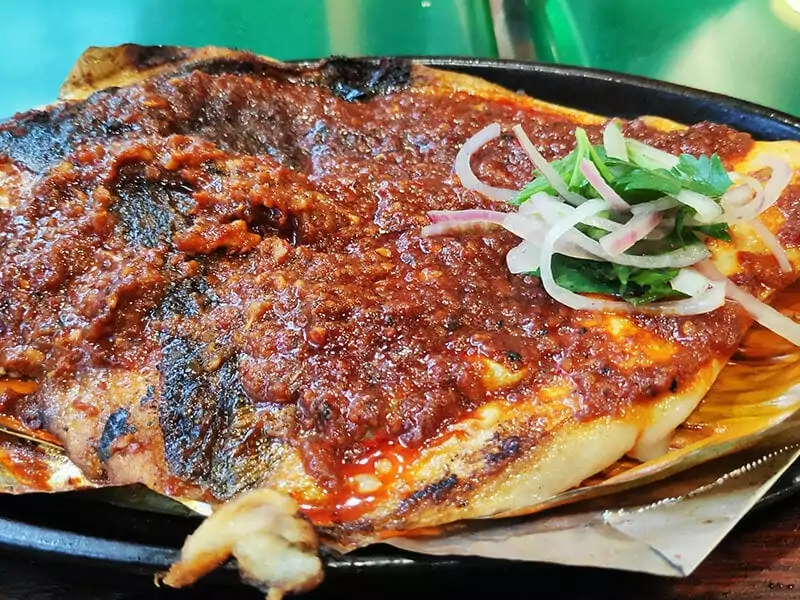 At first, the Singaporean fishermen just grilled/fried the fish to mask the fishy odor after being left out in the open for days. Therefore, it was not very delicious and considered cheap seafood.
But, when combined with a special Sambal sauce, the unique ingredient shines and becomes a part of the signature street food of Singapore. It is also known as Ikan Bakar (meaning barbecued fish) on this island.
Sambal is a Malaysian-inspired sauce made from a mixture of chili, cane sugar, belacan (shrimp paste), chives, and spices. The sauce will be spread onto the fish to have the best effect after cooking.
Then, the chefs will wrap the fish inside banana leaves to help preserve its natural flavor and the juiciness of the flesh when grilling. Furthermore, the rustic essence of banana leaves is also palatable.
When serving, you should add some drops of lemon juice, and I am sure the fish will taste even more heavenly.
8. Chili Crab – Singaporean National Dish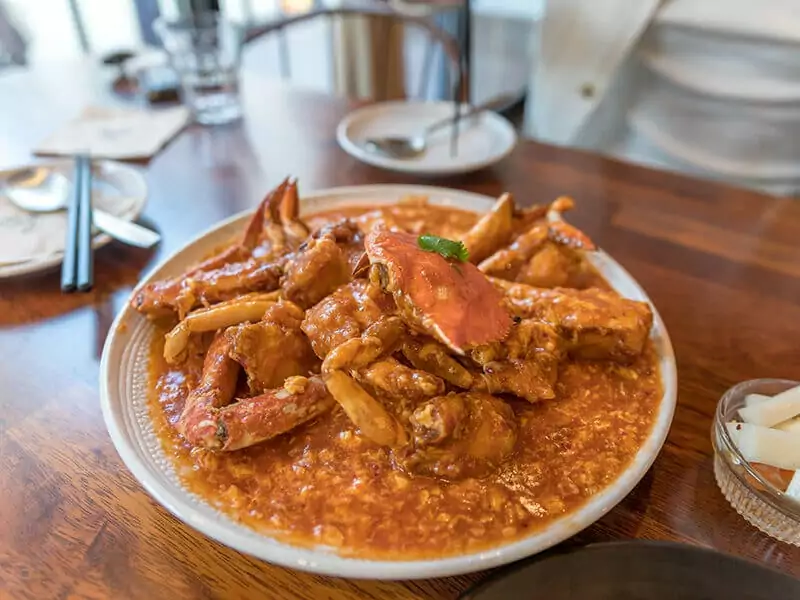 I am not going to lie, but this Singaporean national dish, Chili Crab, might be the best crab dish you have ever had in your life. It was even ranked 35th on CNN Go's list of The 50 Most Delicious Foods In The World in 2011.
Chili Crab is authentic Singaporean food created on this island in 1956. The one who made this food was Cher Yam Tian and her husband, Lim Choo Ngee.
They tried to create another way to process crab rather than just steaming, and they chose to stir-fry it with sauces. Later on, Hooi Kok Wah, a famous Singaporean chef, did some twists to the original version of the Lim-Cher's recipe in the 1960s with the chili sauce added.
That idea was genius, and their pushcart has become more widespread until now. The best crab kind to go in this Chili Crab dish is the black mud crab (or mangrove crab, which is generally meatier than the other species).
Don't worry; the pepper/chili will not be too spicy! It only provides a robust flavor that contrasts the sweetness of the crab meat and creates a pleasant feeling to the whole treat.
Chili Crab can be served with fried dumplings or crispy bread. Dipping the crispy bread (dumplings) into the thick spicy sauce (or some with salted eggs) will help you thoroughly enjoy the exquisite flavor.
You might wonder what this Chili Crab tastes like; here is the best review for you!
9. Otak Otak (Fish Cake)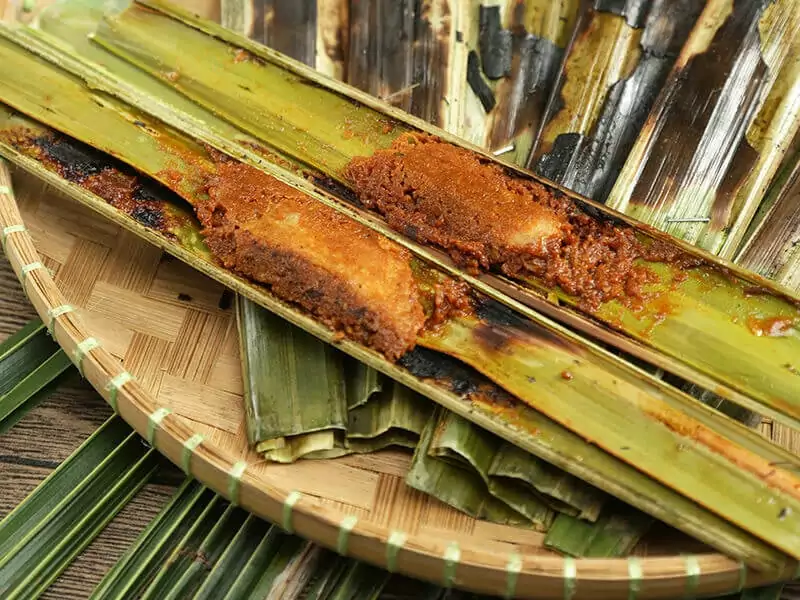 You can find Otak Otak as Otah Otah, but don't hesitate, it is the same kind of food. And Otak Otak is a diner-friendly dish. While the processing method is not too complicated, the taste brings a smooth feeling that you cannot ignore.
Otak in Malay means " brain," referring to the dish's appearance, not the ingredients. Apart from Singapore, you can also enjoy this tasty dish as a street snack in Malaysia and Indonesia.
It is simply a grilled fish ball on the stove. The fish cake consists of meat flesh put in a mortar with other ingredients such as red onion, chili, pepper, lemongrass, turmeric, chicken eggs, and a few spices to taste. The chef will grind the mixture until smooth.
Identifying the Otak Otak vendors in the markets is not too difficult. Sometimes they are simply bikes with an Otak container at the back and a rear grill. Sometimes they are small stalls right at the market corner with long charcoal or the modern grill and the electric oven.
Going from afar, you can already smell the aroma of this dish. Remember to dip Otak Otak into spicy peanut sauce or chili sauce for the best taste.
10. Yú Tóu Gālí (Fish Head Curry)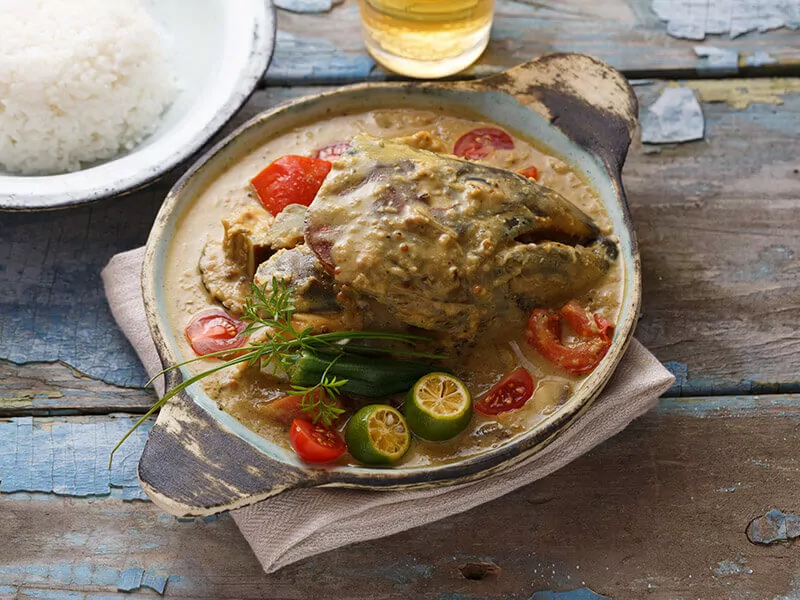 If you have never eaten fish head, you have missed a scrumptious delicacy. In some specific cuisines, they will not use the fish head for foods, yet, in Asia, they will utilize everything, and they always have ways to make a humble thing absolutely exquisite.
There are some controversies about the true origin of this Fish Head Curry, between Indian, Malay, or Chinese cuisines. I can make clear to you that this food contains all the signature of these mentioned cuisines, which makes it memorable.
One fascinating story of the delicacy I have collected is about an Indian chef. He once had to cook for Chinese people, while the authentic Indian curry was known for its distinctive pungency and heavy flavors.
The chef then decided to make a curry with one of the Chinese's favorite fish parts, the head, which became a huge success.
Nowadays, the Fish Head Curry includes a half (or the whole) red snapper's head stewed in a curry base with vegetables such as eggplant and okra. You can also find an Assam variation of Fish Head Curry with Assam fruit (tamarind).
Something you should know this intro will show more about Singaporean Fish Head Curry here!
11. Yú Tóu Lú (Fish Head Steamboat)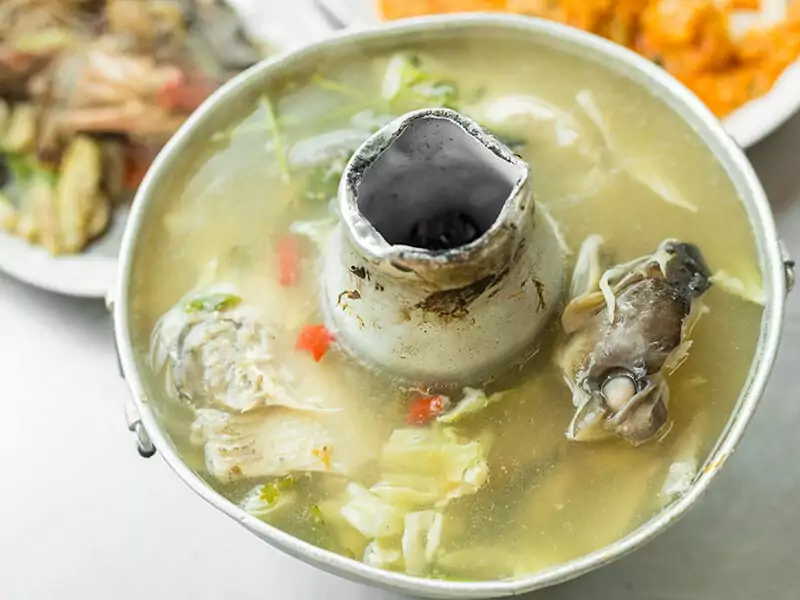 Another use of a fish head is to make it into a hot pot. About the origin of this treat, Singapore has many fishermen, and they will go offshore to catch fish and bring it back for processing and selling at the port market.
This steamboat is the traditional cookware used especially for hot pot dishes. The charcoal will then be put in the middle tray, and keep heating all the ingredients while cooking.
Significantly, this steamboat will offer a layer of smoky scent into the delicacy, which electric or gas stoves cannot do.
Hot pot is usually cooked from a mixture including fried potatoes, fish bones, vegetables, or sour plums to enhance the soup flavor's depth. The most important part of this treat is fresh fish, and they prefer using fresh grouper snapper since those suit this treat the most.
Singaporean Rice Dishes
Like other Asian cuisines, Singaporeans cannot omit rice from their regular diet. Their rice dishes also provide some distinctive, fascinating experiences that you might not see in other gastronomies. Take a look at my suggestions below.
12. Hǎinán Jī Fàn (Hainanese Chicken Rice)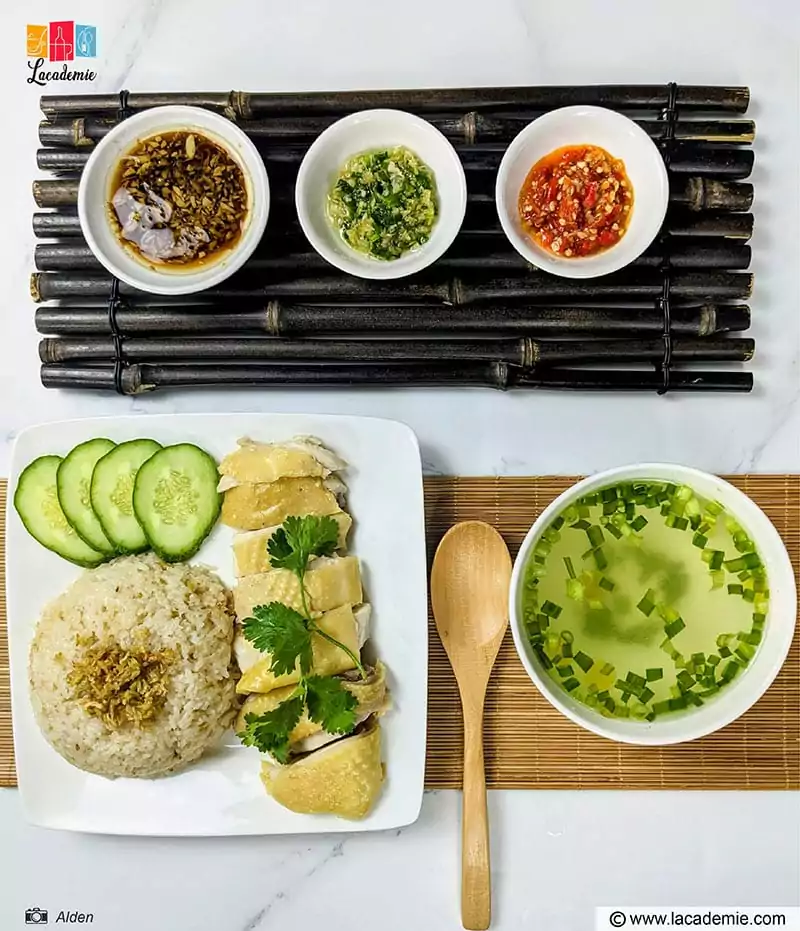 The Hainanese chicken rice was brought to Singapore by the Haian settlers from China in the 19th century. The first plate of Hainanese Chicken Rice was sold in the 1940s at a street vendor.
With its appealing appearance and tempting taste, the food quickly won the people's hearts and became an indispensable national dish when mentioning Singaporean cuisine.
The idea of making this delicacy is quite simple, and you can recreate this Asian recipe with an instant pot right at home. 
The main protein, chicken, will be meticulously boiled with some fragrant Southeast Asian condiments. After that, they will put it into ice water so that the poultry will be coated with firmer, jelly-like skin.
The chefs need to be careful as they have to keep the chicken juicy and succulent because this poultry is easy to overcook and dry. The chicken broth can be used for various purposes, including making chicken soup to eat with rice.
There is another variation of this chicken rice which uses roasted chicken (black chicken) instead of the boiled ones. You can opt for both of them to know which one you prefer.
About the rice part, Singaporeans also cook it with chicken broth, some ginger, garlic, turmeric, and pandan leaves (sometimes) to enhance the flavor profile of the starch base. Because of that, the rice part of Hainanese Chicken Rice is distinctively flavorful.
But that is not all; the chefs will add a bit of sesame oil mixed with soy sauce on the plate. Furthermore, the sellers will serve the chili sauce made from garlic and red peppers on the side to add to the food if you want.
13. Yā Fàn (Duck Rice)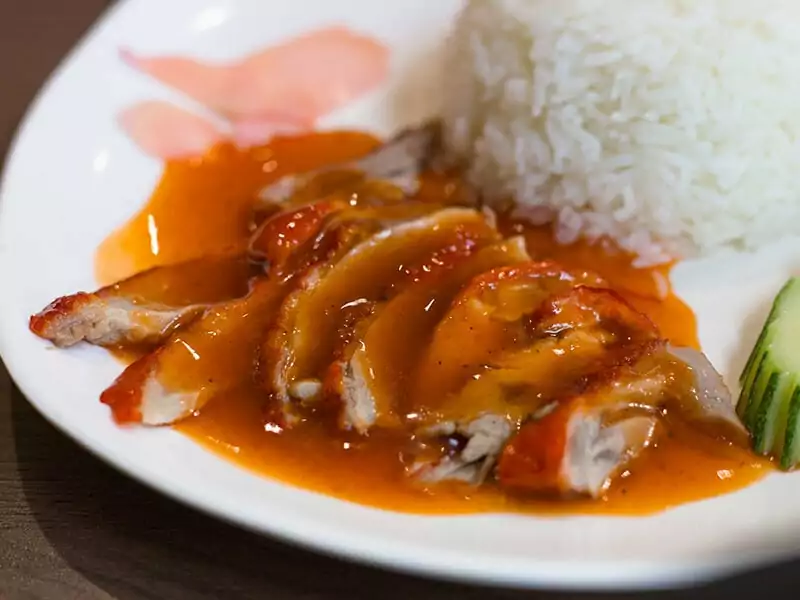 Besides the chicken rice, Singaporean Duck Rice is also note-worthy. Instead of using the boiled duck, this dish calls for the roasted or braised duck to pair with the braised yam/white rice.
There are actually two variations of this Duck Rice: Hong Kong and Teochew-style. When served as a Hong Kong-style dish, it will include white rice. On the other hand, the Teochew one will have the yam rice.
Although both include the braised sauce for flavoring, the Teochew variation also includes taupok (beancurd puffs), eggs, and some roasted peanuts. Sometimes, preserved salted vegetables also offer a more refreshing taste.
It is pretty easy to find this food; you can also see it on the menu of the Hainanese Chicken Rice shops. Yet, I suggest you go to the Duck Rice store instead because they are more professional in making their specialty.
14. Nasi Lemak (Coconut Milk Rice)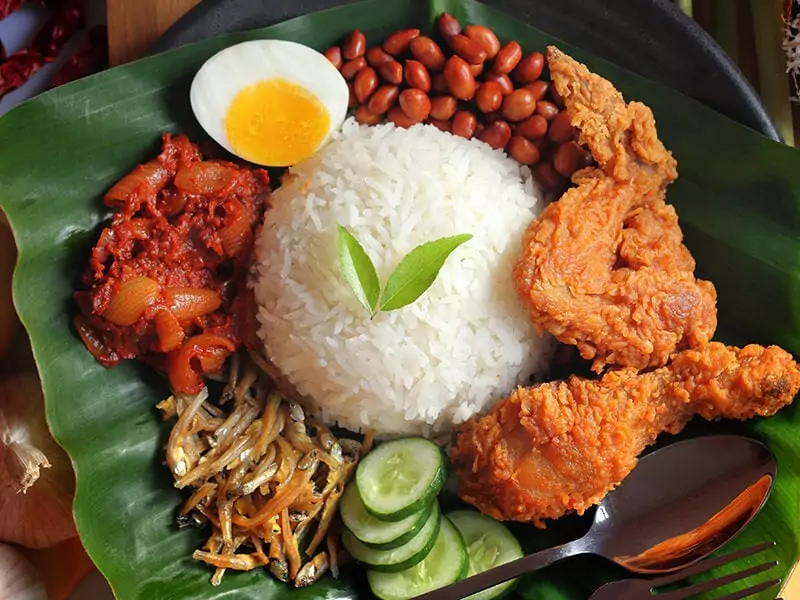 Nasi Lemak was once a staple Singaporean breakfast food, but now, Singaporeans love eating this food for any meal of the day. The name of this food, Nasi Lemak, means " rich rice " in English, with the "rich" referring to the richness in flavors.
Although originating as a traditional dish of Malaysia, when coming to Singapore, people there changed the food a bit in the processing steps. The Nasi Lemak in Singapore successfully retains the original rich and fatty flavor while still accentuating the Singaporean cuisine.
The rice part in Nasi Lemak is typically steamed with coconut milk and mixed with pandan leaves, creating a very distinctive baby green color and a milky-like, floral scent.
Nasi Lemak is served with deep-fried fish or chicken wings, Otah (grilled fish cakes), Ikan Bilis (fried anchovies), peanuts, eggs, fresh cucumber, and sambal (spicy chili sauce) or curry (sometimes).
This review will tell you where you can have the best Nasi Lemak in Singapore.
15. Bāo Zǐ Fàn (Claypot Rice)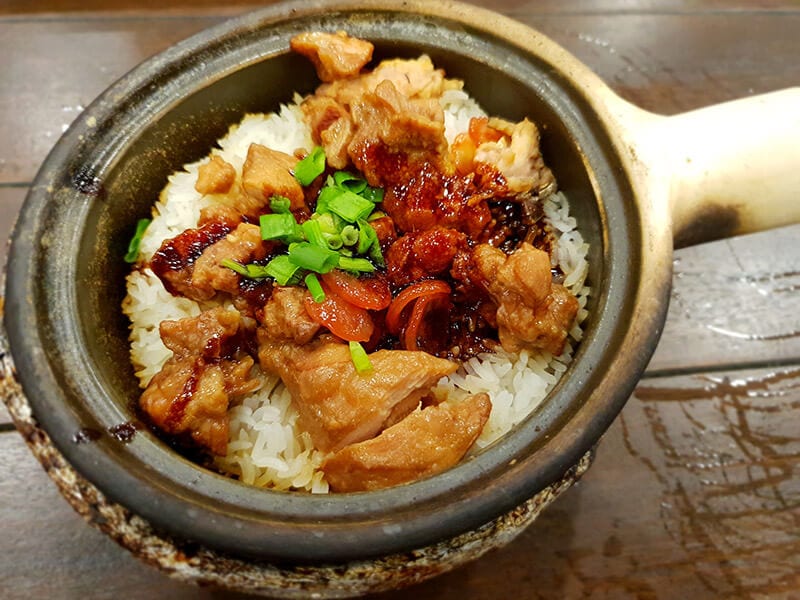 When coming to Singapore, this Claypot Rice is also a must-try food you should experience once! There must be a reason for the food's popularity in other countries, like Malaysia and Hong Kong. It is time to discover!
With the unique cooking method, the chicken part will be soft and succulent while still retaining the sweetness of the poultry meat. The Claypot Rice is cooked on a brazier/pot from the bottom up, with tender pieces of meat/poultry (chicken) seasoned to perfection.
The chef adds some boiled cabbage and dried shrimp when the rice is cooked. Singaporeans will serve the Claypot Rice with a ginger dipping sauce on the side.
Crispy dried shrimp and delicious sausages toppings will also surprise you how harmonious they are when going with the Claypot Rice and chicken. The rice crust is what to expect a lot in this delicacy; thinking about its crunchiness makes my mouth water.
16. Biriani/Biryani (Chicken Rice)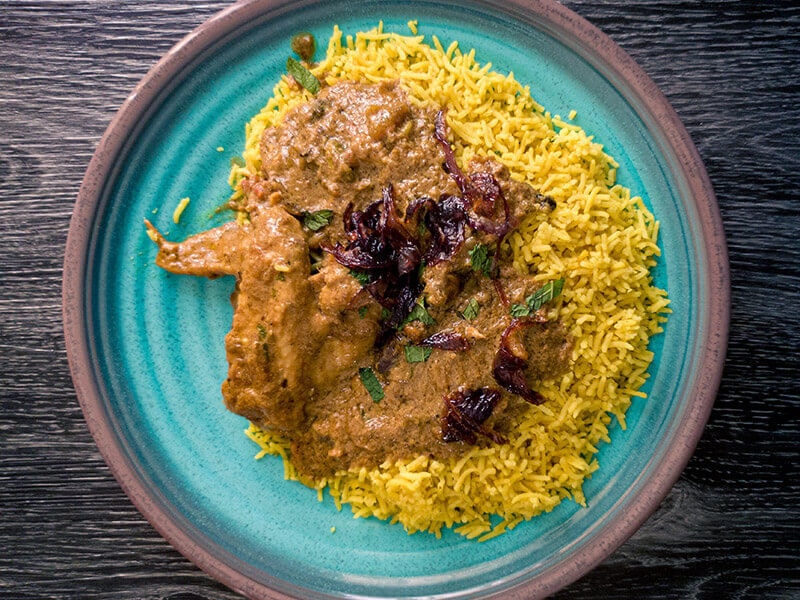 The Singaporean-style Biryani still retains the rusticity and the traditional features of the original version. They still use Basmati rice (signature Indian long-grain rice) as the main ingredient for the dish, a little bit of saffron will also be added to create a lovely yellow hue.
The fragrance is also vital to any Indian Muslim dish, so they also use some spices such as bay/clove leaves, nutmeg powder, cinnamon, etc. The traditional use of protein is also kept, and you can also have the options of chicken, beef, mutton.
Yet, it is not 100% the same as the original version. Since it has been on the island for a long time, Singaporeans did some twists to the food and made it more versatile and fit the Southeast Asian people's palate.
For example, they also have vegetarian-friendly Biryani in Singapore because the locals prefer something lighter and not including meat.
Let's discover more about this Singaporean Indian biryani!
17. Congee (Rice Porridge)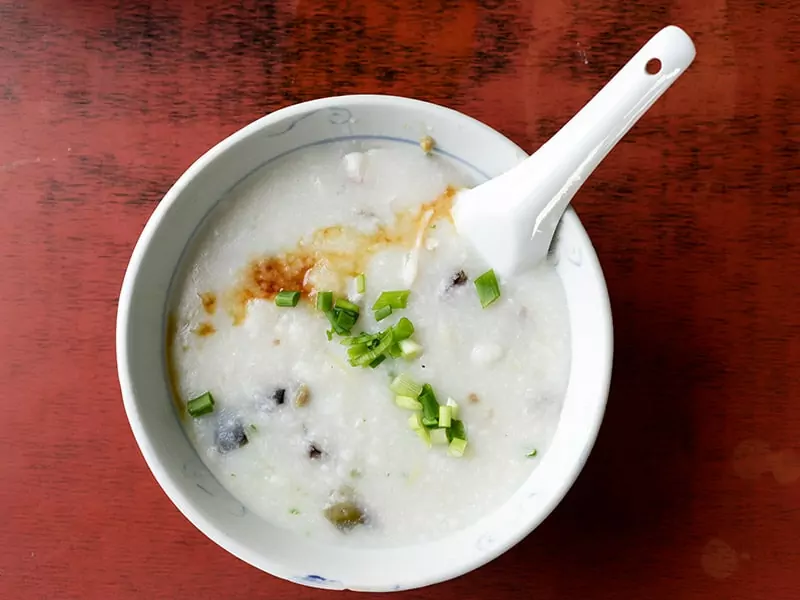 Congee is perfect Cantonese-based dish for a light and quick first meal of the day if you are too busy for that, and it will still offer you enough nutrition to work. You can still opt for it in the other meals as long as you are comfortable with that.
Congee is one of the oldest rice dishes of humankind; it was first created in China in 1000 B.C. and now has various varieties globally. The most famous Singaporean Congee is derived from the Teochew variation and there is almost no limit for the dish's toppings.
Yet, the most frequently chosen are Lor Bak (braised pork), Otak Otak (fish cake), steamed fish, salted egg, tofu, omelet, minced meat, braised Tau Kway, Kangkong Goreng (stir-fried water spinach), or veggies.
Singaporean Noodles
Being strongly influenced by various Asian cuisines, Singaporean culinary culture globally offers plenty of exquisite noodle dishes. The below recommendations will suggest which one you should start trying first.
18. Laksa (Coconut Laced Curry Noodle Soup)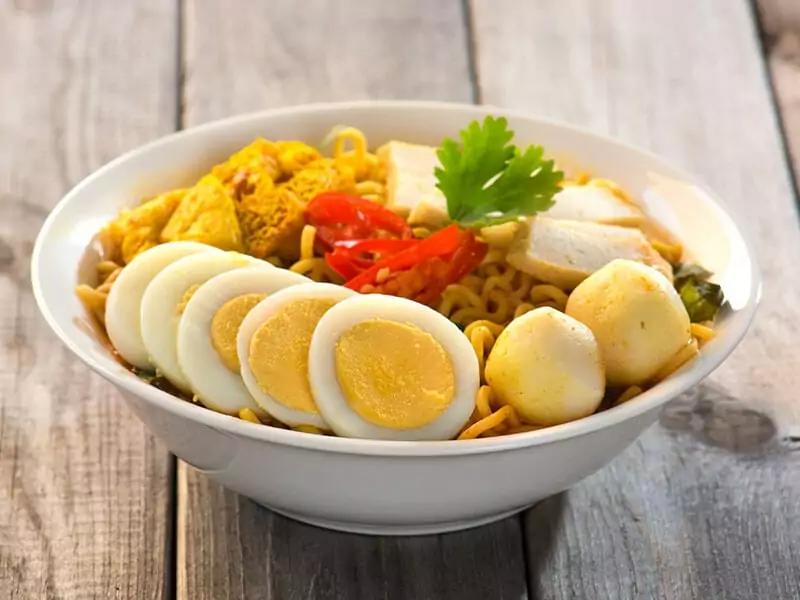 Laksa is a noodle/vermicelli dish from the Peranakan people, who are Chinese people living in the Malacca Strait and have a 1000-year heritage. Laksa gradually gained popularity in Singapore, Indonesia, and Malaysia.
The remarkable point in a bowl of Laksa is that the ingredients are appropriately incorporated into the broth! Each strand of white vermicelli has a warm, spicy, and creamy flavor that pairs well with seafood, including shrimp, squid, and fish cake inside a coconut curry.
You can have it for a quick lunch in Singapore. The noodles are cut into short strands so that you can eat the food conveniently with only a spoon.
When mentioning the variations of Laksa, people will usually mention Curry Laksa and Assam Laksa (with sour tamarind). Yet, the food has 3 main variations, and the third one is the combination of Assam and Curry Laksa, Sarawak Laksa.
This Sarawak Laksa is cooked from fish broth with coconut milk and does not use the spicy spice of the curry. Therefore, anyone who can't eat spicy food should opt for this variation.
19. Char Kway Teow (Fried Flat Noodles)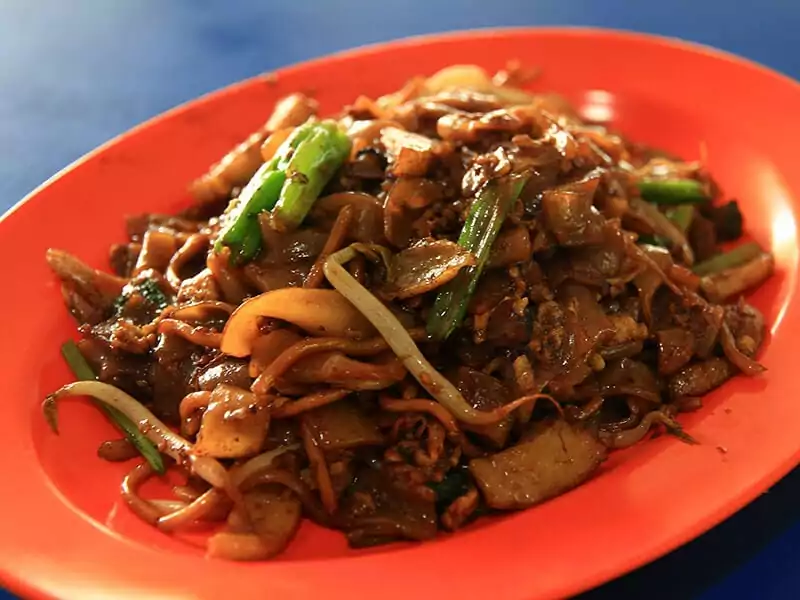 Char Kway Teow, or "fried rice noodles," is a dish comprised of fried flat rice noodles served with a white or black sauce. The vendors will then enhance the dish by adding Belachan (shrimp sauce), tamarind juice, bean sprouts, chives, sausages, and cockles.
Originally, Char Kway Teow is also stir-fried with lard and uses crispy fatty shrimp to create a characteristic greasy taste.
However, this dish was changed a bit in recent years to be healthier when the chefs added more green vegetables and reduced the fatty lard.
Not only does this make the food healthier, but the greens and bean sprouts also add freshness, adding quality to the iconic dish.
This widely consumed stir-fried noodle dish has a fascinating backstory. Fishers and farmers were the first ones to prepare Char Kway Teow in the evenings to support their families.
To make a complete meal, they frequently combine the food with various low-cost, high-nutrient ingredients. Therefore, there is no official recipe for this treat and each bowl of Char Kway Teow you eat from the different stalls will offer distinctive flavors.
20. Bak Chor Mee (Minced Pork Noodle)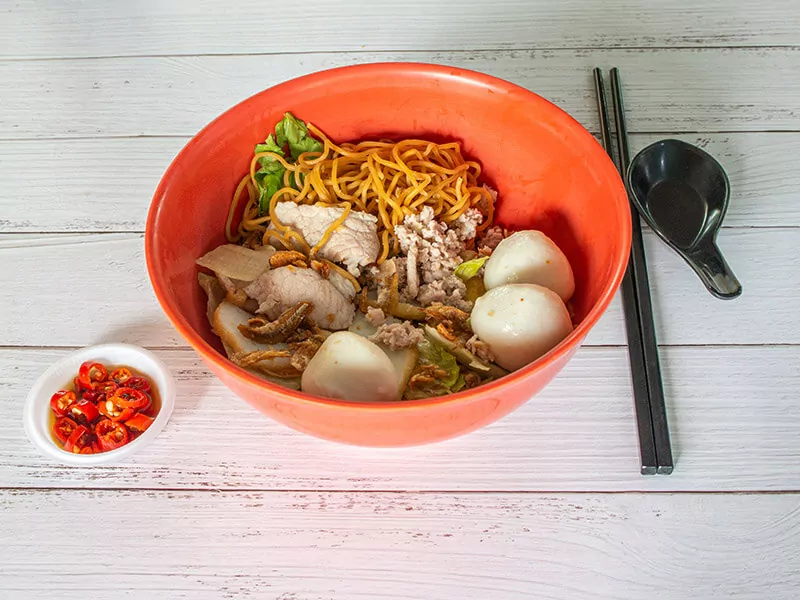 It might look like Chinese noodles or some other Asian countries' noodles, yet, this treat was created in Singapore (and yes, by the Chinese community). Bak Chor Mee is also renowned as a dry noodle dish that has various toppings on a separate bowl of soup.
Yet, there is still a variation of Bak Chor Mee that is served with soup. Each of them has its own goodness, so there is no reason to not give them both a try.
Singaporeans love eating Bak Chor Mee with minced pork, pork liver, meatballs, sliced Otak Otak, and a few drops of vinegar to make the dish moist. The light and refreshing broth will be love at first slurp.
In case you are confused by deciding which one to try first, this Bak Chor Mee will be a great nominee. Believe me, you can expect a lot from the treat since it is added to the top street food by a reliable Congress.
This is the right way to eat and make a bowl of Bak Chor Mee for a beginner.
21. Hokkien Mee (Fried Hokkien Noodles With Prawns)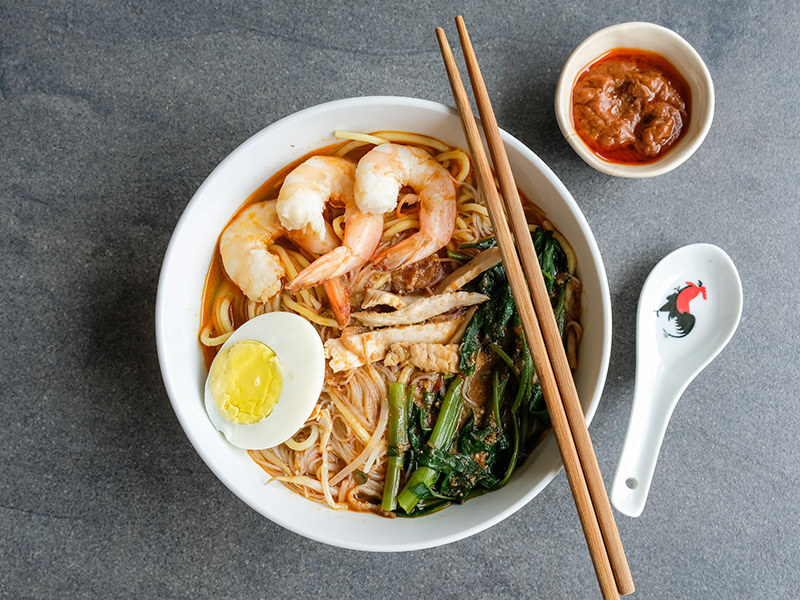 Applying a similar idea with Char Kway Teow, this Hokkien Mee is usually served dry with the sauce finely mixed. It is said that this dish was initially called Rochor Noodles (Rochor Mee) because it was first sold at Rochor Road.
Hokkien sailors who worked at noodle factories in postwar Singapore used to gather on this road in the evenings to make stir-fry leftover noodles from their factories. Others say that a food stall next to the 7th Storey Hotel near Rochor Road was the first to prepare this dish.
There is also an opinion that Rochor Noodles belong to the Peranakan gastronomy as the food includes a lot of sauce when cooking and is usually served with Sambal chili sauce.
Where the food came from is not that important anymore, Hokkien Mee's taste will surely awaken your taste buds.
22. Wanton Mee (Wonton Noodles)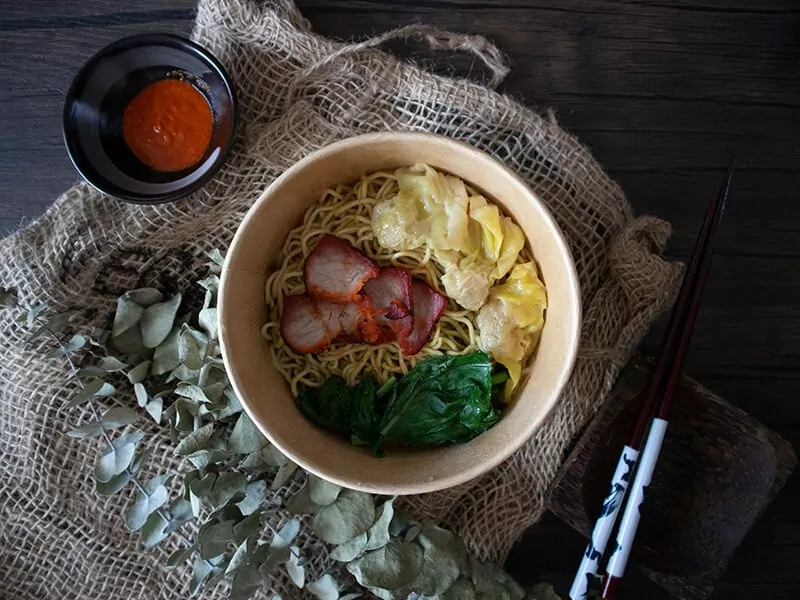 The Singapore Wanton Mee is usually eaten "dry" (without soup in the noodle bowl), and the sellers will mix the yellow egg noodles with a bit of sweet sauce before eating.
Some slices of roast pork and pork-filled dumplings (fried or boiled) will be put into a small bowl of soup and served on a side the main part (noodles).
The children or the non-spicy variation of Wanton Mee will be mixed with a distinctive tomato sauce. Or, if you love something spicier, there are hot chili peppers or chili sauces on the side for you to mix into the noodles.
Thanks to the inspiration of the signature Hong Kong's Wonton Noodles and some twists, this Singaporean dish is a staple in every hawker/food court.
Wanton Mee's eating challenge that will show you how delicious it is.
23. Fish Bee Hoon (Fish Vermicelli)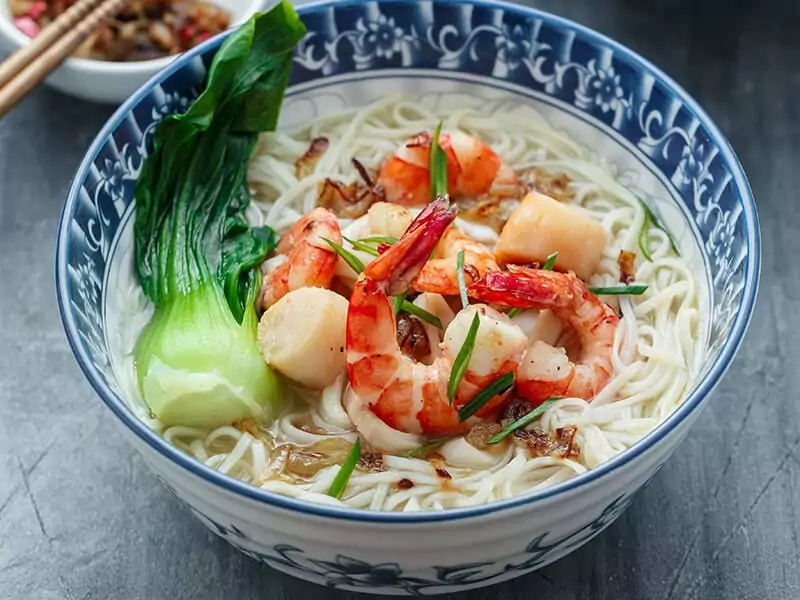 "Bee Hoon" means "vermicelli/rice noodles, " which mentions the components of the treat. The rice noodles that are used in this dish have their origin in Guilin, China, and they can pair so well with the broth of this Fish Bee Hoon.
The soup base of this food is made of simmered fish/fish bones and light herbs that will offer a lovely sweetness as well as a mildly herby fragrance to the noodle dish.
In Singapore, you can easily find it at the hawker stores so there will be almost no obstacle to prevent you from eating such a delicacy.
Singaporean Desserts
Now, let's turn to the Singaporean desserts and their favorite snack! As mentioned, Singaporean cuisine is infused with many other big cuisines, so you might find some of the other countries' famous foods in Singaporean-style in this category.
24. Curry Puff (Fried Stuffed Pastry)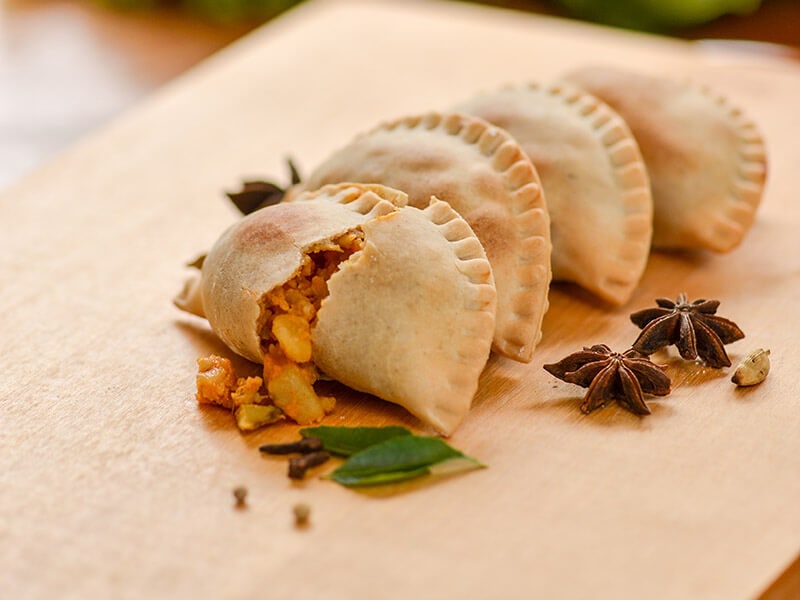 If this fried treat reminds you of the Samosa, it does have a relation to the delight but let me tell you some more about it.
One fact about this dish is that its origin is quite unclear since it not only resembles the Indian Samosa but also looks like Portuguese empanadas or the British Cornish pasty. Some think that it has Malaysian roots and was created during colonization.
They all sound reasonable, yet the food's deliciousness is indisputable no matter where this treat came from.
The luscious thick curry gravy with an add of potato and egg is the most basic fillings for this dish. But you can find some other variations with yam, Otak Otak, or durian.
Believe me, the Chinese and Indian spice mixes used in the fried puff pastry's fillings will absolutely be flavorsome!
25. Cendol (Jelly Noodles Dessert)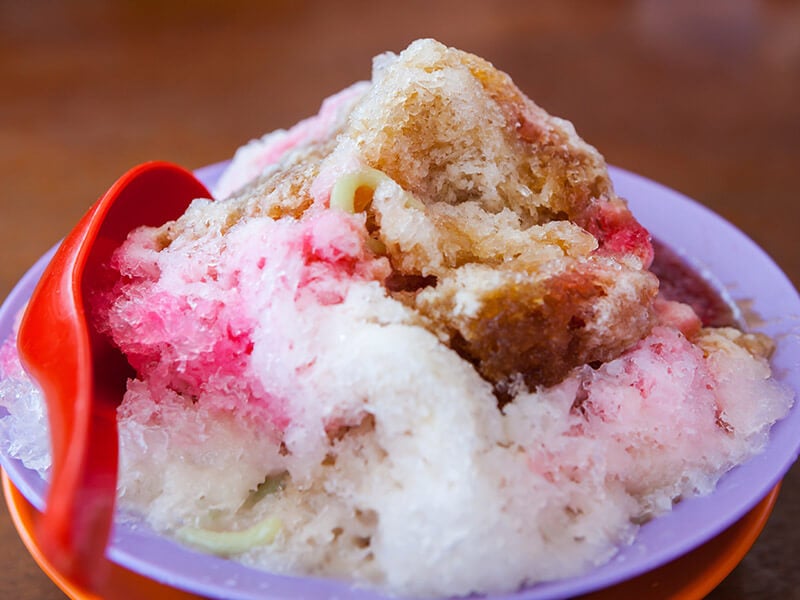 To be honest, the origin of this well-loved Asian dessert remains unclear since various Southeast Asian countries include it in their cuisines. Yet, the most supportive theory for the root of this Singaporean Cendol is that it came from Dawet, an Indonesian sweet.
Dawet was created in the 12th century in Java, and Javaian prefers consuming it as a drink rather than a sweet snack.
One fact is that the Cendol found in Singapore is much alike the Malaysian version with various similarities from the uses of toppings, ingredients, and ways of serving.
The most common toppings for Cendol are green rice flour jelly, sugary palm syrup, coconut milk, and soft sweetened red azuki beans or fresh fruits (diced jackfruit/durian).
Don't forget some ice cubes or shaved ice! They will enhance the coolness and refreshing effect of the food.
26. Ice Kacang (Shaved Ice Dessert)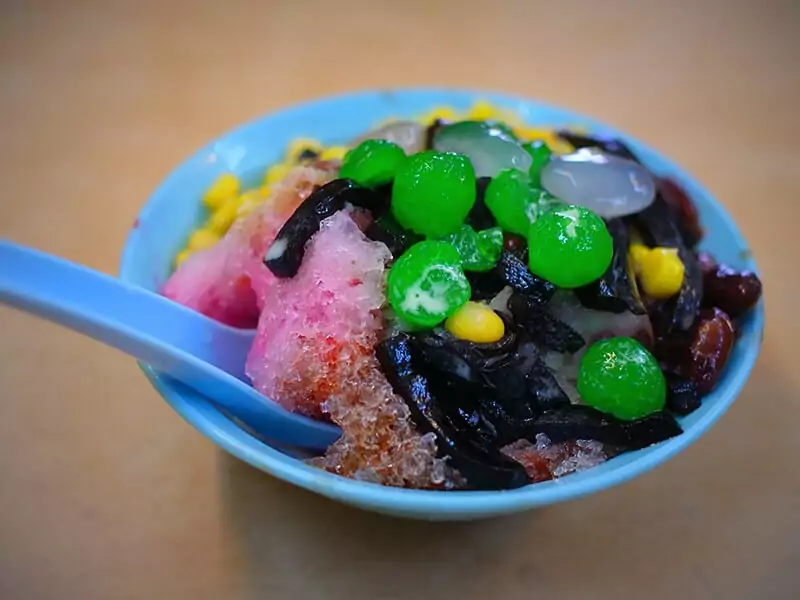 If you have a sweet tooth and come to Singapore in summer, this Ice Kacang is a dish you should never ignore!
Ice Kachang was the first icy dessert in Singapore, dating back to the 1950s and 1960s. Almost every tourist in the world is fond of this dish because it offers the eater an instant delightful and refreshing feeling.
The locals first sold it on the sidewalks and targeted working-class's children. Ice Kachang, on the other hand, has become increasingly popular on Lion Island thanks to the more elaborate processing.
Visitors will love finding the various variations of this shaved ice with beans, jellies, and cream, in addition to the refreshing shaved ice coated in bright syrup and aromatic condensed milk/corn milk.
A standard portion of Ice Kachang includes the ice-shaved particles that are small and able to melt into your tongue immediately. Who doesn't want something sweet, cold, and refreshing when the weather is hot?
27. Chwee Kueh (Water Rice Cake)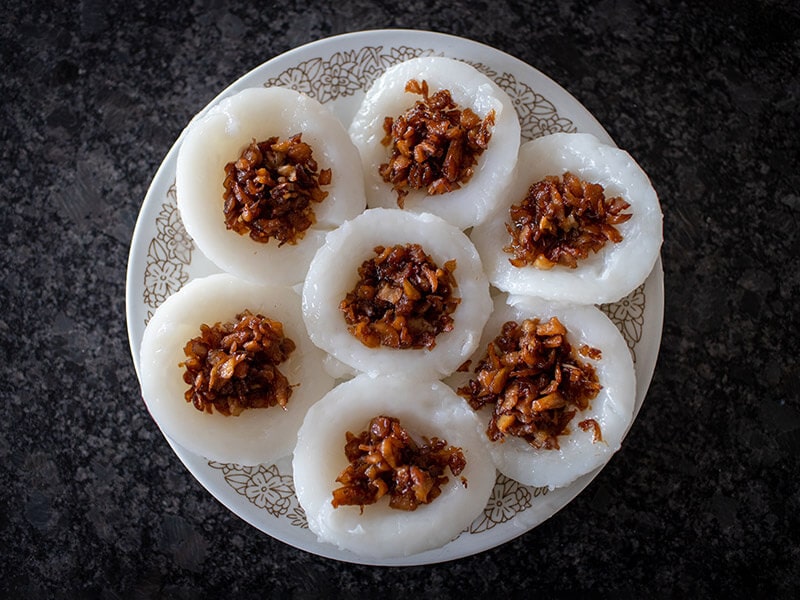 Chwee Kueh is a hidden treasure of Singaporean cuisine, and it tends to fade away after time. Here is something you should know about the delicacy!
The name "Chwee Kueh" is derived from its Chinese name, "Shuǐguǒ" which describes a type of steamed cake including liquid rice flour mixture. The chefs will pour the batter into the typical Chwee Kueh trays and cook for a while until the cakes provide a fine consistency.
When eating, Singaporeans love enjoying it with some preserved radish (Chai Poh) and some spiciness from chili. This Teochew-origin food is a perfect suggestion for a light breakfast in Singapore, but you can also have it for lunch.
Chwee Kueh is delicious and it might need your little help to be preserved after time. If you have a chance, please take your opportunity and experience it.
A typical day in a Chwee Kueh store that might raise your curiosity about the food's flavors.
28. Tau Huay (Tofu Pudding)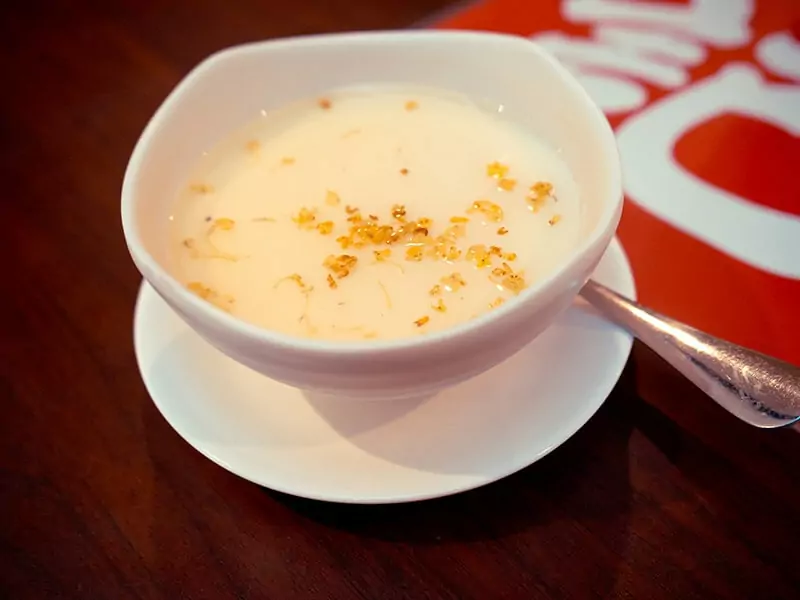 This soft and fatty dessert is the Singaporean version of Tau Huay, a dessert of the same name that originated in China.
To make the tofu part chewier, the sellers will add in some gelatine. When putting the spoon onto the whitish tofu, you can see the lovely bouncing effect. Singaporeans have the food with toppings like sugar syrup, crunchy nuts (ginkgo nuts, almonds), and fresh diced fruits.
Jelly or special soy milk will also be added as Tau Huay's topping as well. You can also have this Tofu Pudding for breakfast. In the breakfast version, you will have a youtiao (fried dough sticks) and a perfect piece of Portuguese egg tart on the side.
If you feel greasy from all the fried street foods, switch to this elegant sweet dessert. It will be a perfect end for a food tour around Singapore, isn't it?
Other Singaporean Dishes
How about finding more information about some other dishes in Singapore? Many tempting delicacies are waiting for you. Let's reveal the secret now!
29. Durian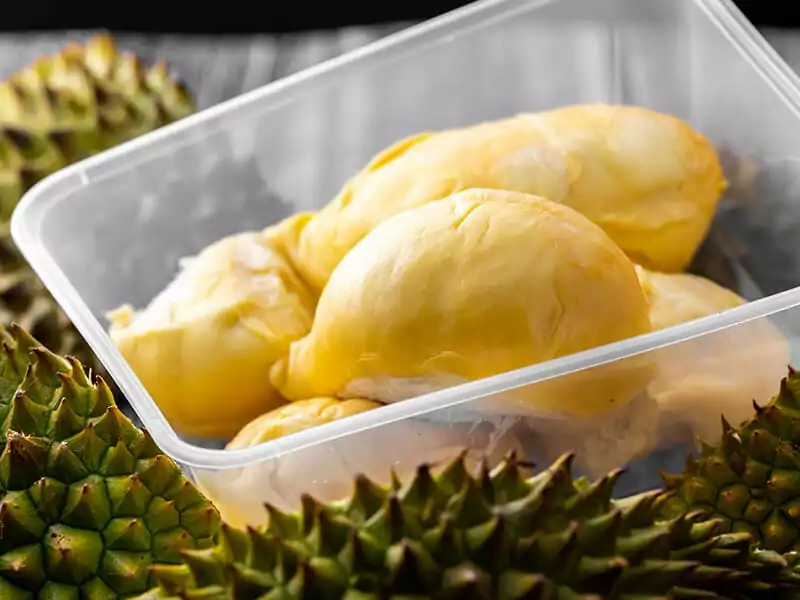 In Southeast Asia, durian is loved and known as the King of fruits. Singaporeans even made it their national fruit and built a theater inspired by the durian shape.
With the creamy, custardy, and mellowy flesh, durian is the favorite ingredient for various sweets dishes such as cakes, tarts, desserts, and milkshakes.
One fascinating fact about durians is the smell. If you love the fruit, you might think its smell is a robust sweetness. On the other hand, if you don't like it, you can think of the smell of dirty socks or raw sewage.
There is a small note because the smell of durian is quite unpleasant to many people, you can smell it very clearly even from a far distance.
Therefore, even though Durian is the national fruit of Singapore, it doesn't mean you can bring this fruit to any public place you want. You might be punished if you do it, so pay attention!
30. Kaya Toast (Butter and Coconut Jam Toast)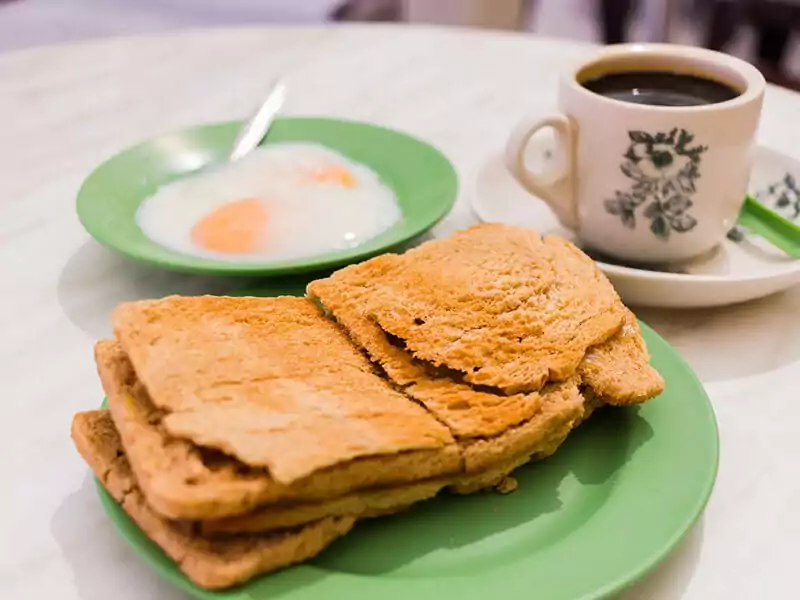 The most famous food combination for breakfast in Singapore includes a portion of Kaya Toast, poached eggs, and a cup of coffee. Kaya Toast is the authentic Singaporean dish that the Hainanese immigrants treated during the Straits Settlements.
At first, they mainly served it on the British ships docked at their ports. After a time, Kaya Toast spread nationally as a replacement for the western jams or jelly, from the Chinatown and Balestier Road to the other areas.
The treat is favored by all Singaporeans and the Singapore Tourism Board has paid an enormous effort to advertise Kaya Toast as their traditional delicacy. In 2021, the MAS or the Monetary Authority of Singapore established the coin that features this dish.
Then what is the secret behind this dish that makes it loved by many people? Isn't it only the rectangular white loaf, baked in the oven, spread with Kaya jam (from Malaysia) on two slices of bread? I am afraid you might have to visit Singapore and verify it yourself.
You might not want to miss this detailed introduction of Singaporean Kaya Toast.
31. Rojak (Salad)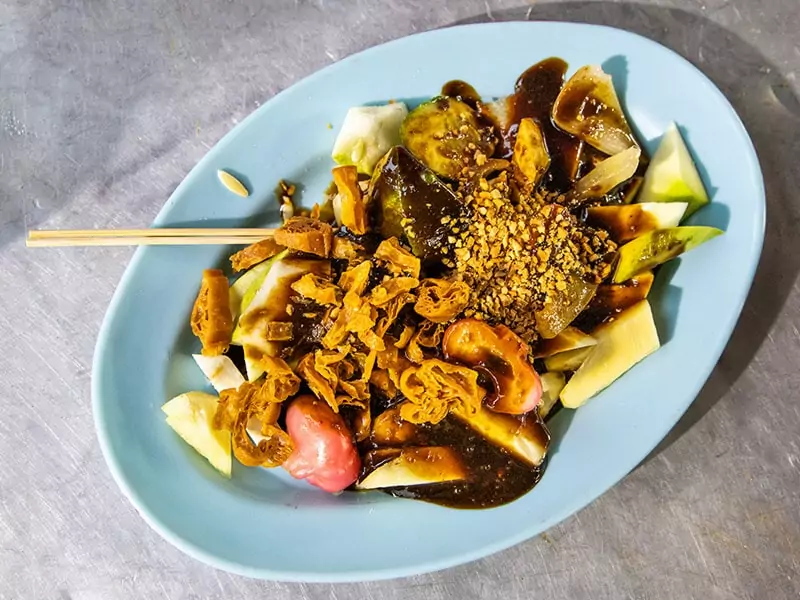 In Indonesian, the word " Rujak " means mixture, and this Indonesian-origin delicacy is also a mix of various ingredients. In Singapore, Rujak became Rojak and is the name of a loveable salad that you should try whenever you visit this country.
You can choose from these most famous Rojak's ingredients, Chinese Youtiao (Chinese-style fried dough stick), veggies (like morning glory, bean sprout, radish), and fruits (like guava, pineapple) or condiments (spicy sauce, peanut sweet).
Rojak is quite simple to accomplish and easy to consume; thanks to that, the dish is a staple food hawkers' dish that you can easily find in the night market.
32. Appam (Crispy Pancakes of Fermented Rice and Coconut Milk)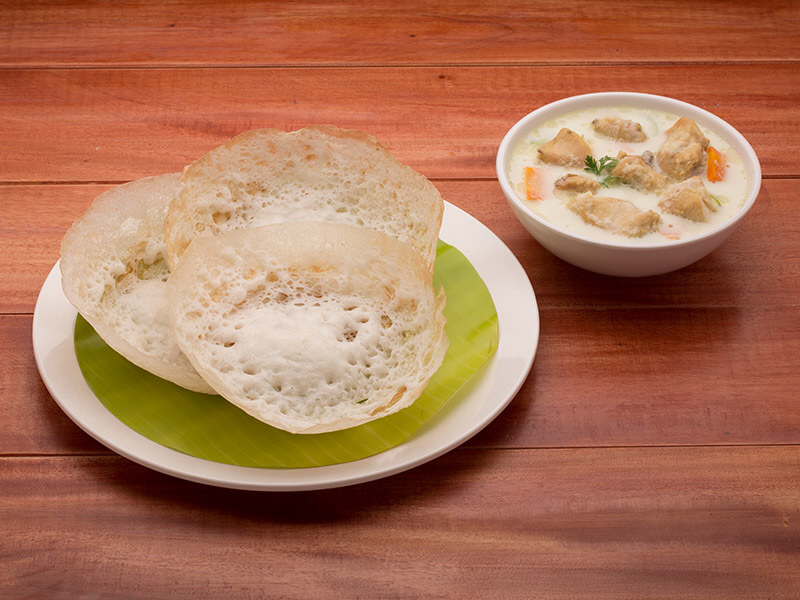 Appam or its variation, Hoppers is a treat that came from the Malabar Coast of southwest India and is a beloved dish in Sri Lanka. The Malabar Coast also offers you the most simple variety made of fermented rice mixed with rich coconut milk.
In Singapore, they will serve Appam beside some nutritious dishes to make it a palatable breakfast dish. Curry or sunny-side-up eggs are the most prevalent partners for a standard portion of Appam.
On the other hand, you can also eat it alone as a snack/dessert; the richness from the coconut milk and crunchy crust can still straightforwardly please your taste buds. Sometimes, they will also serve it with red sugar or grated coconut to make it sweeter.
And if you think it's strange to make foods from fermented rice, maybe you can take a look at the rich cuisine of Burma. In Burma, Htamin Jin is a dish that features fermented rice, mashed potatoes, and garlic. While the ingredient combination is simple, its flavors are mind-blowing.
Your mouth will water just by looking at how this Singaporean Appam is made!
33. Roti Prata (Stuffed Indian-Inspired Flatbread)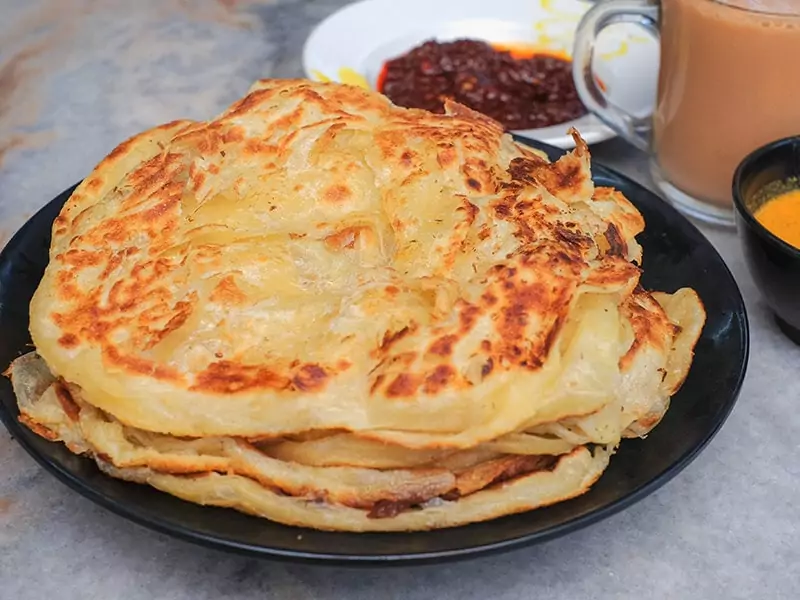 Roti Prata doesn't have a Singaporean origin, the food came from the exquisite cuisine of India but has become a Singaporeans' ideal breakfast for a long time.
The Roti is the scrumptious unleavened flatbread in India, which is renowned for its buttery, light taste, and chewy texture. Because the bread is made so thin and crispy, Singaporeans also call it "tissue" or "paper" Prata.
In Singapore, they don't eat this delicacy alone; they will put some fillings inside the wrap, such as butter, eggs, mushrooms, onions, and even chocolate. Since the flour is kneaded meticulously, the Rotis are quite soft, and folding their edges is easy.
After that, the seller will pan-fry the filled Rotis on a metal pan. Singaporeans like having Roti Prata served with fish or chicken curry sauce or only sugar when eating. My small tip for you here is to enjoy your treat with a Malay tea called "Teh Tarik".
34. Murtabak (Singaporean-Style Of Arabic Stuffed Pancakes)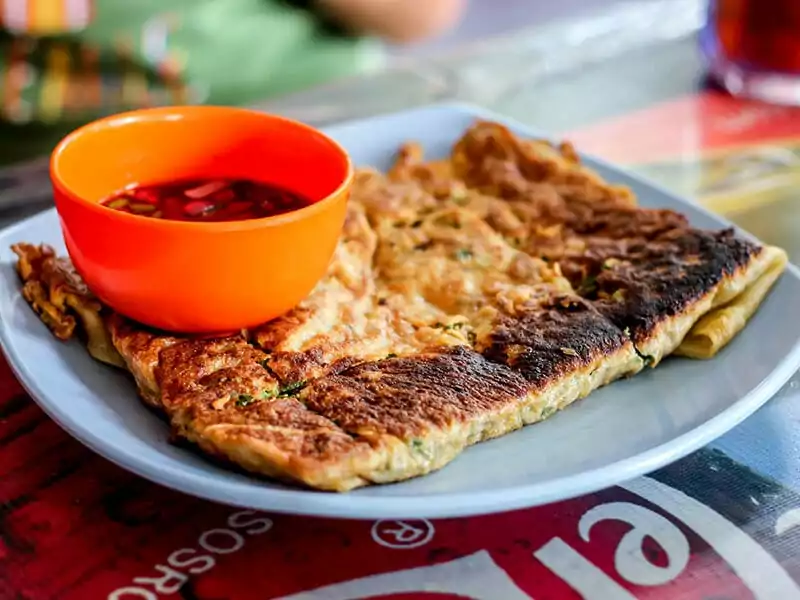 Murtabak was imported from Arab but was influenced by Indo-Singaporean cuisine when coming to this island nation. This cake is often sold at night markets or simply stalls on the sidewalks in Singapore.
Murtabak is usually fried until it has crispy sears on the edges like the carrot cake above. But instead of just fried dough with no filling, the cake contains mixtures of beef/chicken.
The meaty mixtures for Murtabak fillings are spiced with aromatic herbs typical of India and Arab. You can also sometimes find cheese-filled versions, which will be milkier. People often eat with spicy and aromatic Indian curry sauce to reduce the greasy feel when eating a lot.
This dish is perfect for busy people who don't have much time for a proper meal. Each portion of Murtabak will somehow be enough to fill in an empty stomach.
You won't regret spending 9 minutes learning more about Murtabak through this intro!
35. Popiah (Fresh Spring Rolls)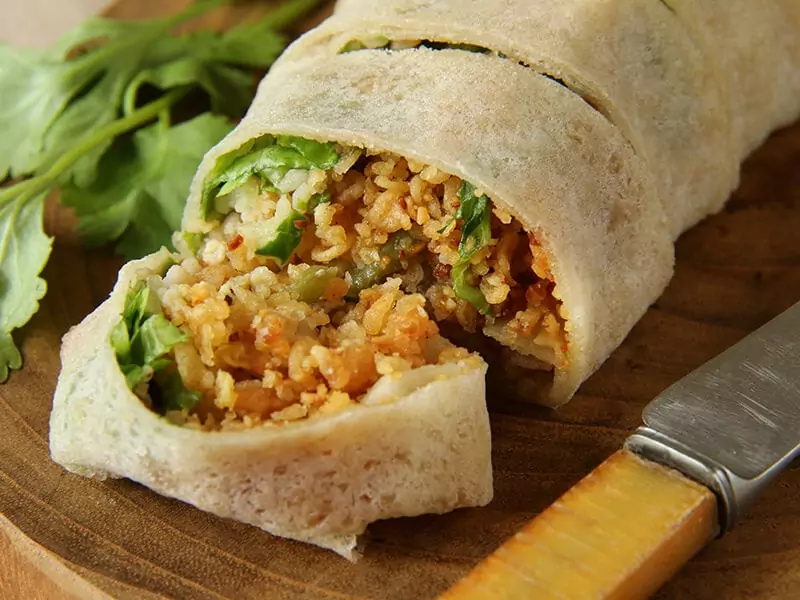 It might look like a sweet dish, but Popiah actually has the savory fillings behind the thin, paper-like crepe exterior. This Fresh Spring Roll is a specialty of Teochew/Hokkien cuisine and originated from Fujian Province (an area in Southeastern China).
Teochew and Hokkien people usually call it "Báo Bǐng", which means "thin wafer", and they will proudly introduce it anywhere they go. For that reason, Popiah has become a famous dish in various parts of Asia, including Singapore.
There are many variations of Popiah in Singapore and the differences between them usually lie in the fillings' ingredients. The most common fillings for Singaporean Popiah consist of cooked carrots, turnip strips, small prawns, lettuce, bean sprouts, and many other things.
All the goodness will be wrapped inside a thin layer of crepe. The flavors will rush into your tongue from the first bite when gnawing. Popiah is also great for people who are on a diet since each roll is low in calories.
36. Chai Tow Kway (Carrot Cake)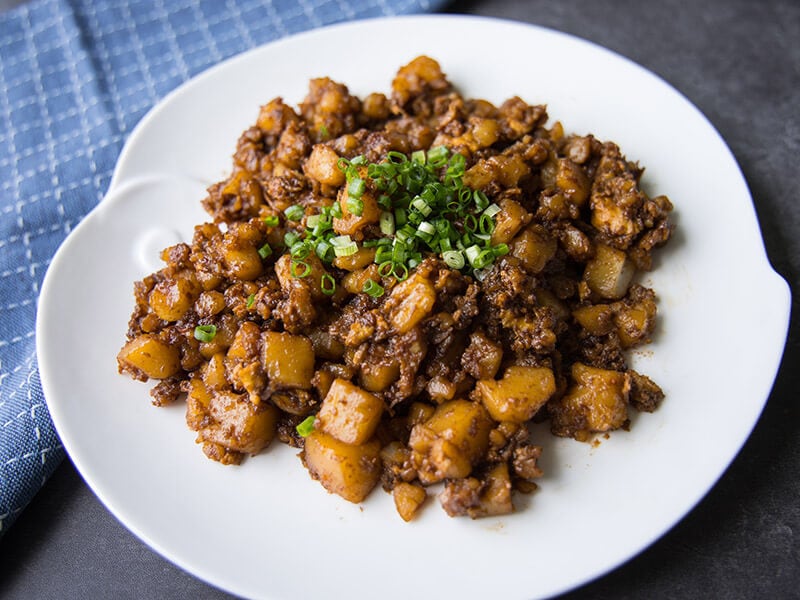 It might have the name Carrot Cake, but it is not a cake and doesn't call for carrot in the ingredient. So if you are thinking of a Western-style one with an orange carrot, you are wrong.
The origin of this Teochew-origin food's name is from the use of the daikon radish inside this treat. And in Chinese, daikon radishes or carrots have the same dialect, so many people might make a mistake there.
The radish part of this treat is mixed inside the rice flour batter before steaming and becoming a big loaf of rice-radish cake. The seller will chop the whole loaf into bite-sized cubes and pan-fry them until they have beautiful, crispy sears.
When served, they will drizzle a generous amount of thick, brown sauce onto the food, and Chai Tow Kway is ready. You can find this dish in almost every roadside hawker, and it's famous in many other countries, not only in Singapore.
37. Yong Tau Foo (Stuffed Bean Curd)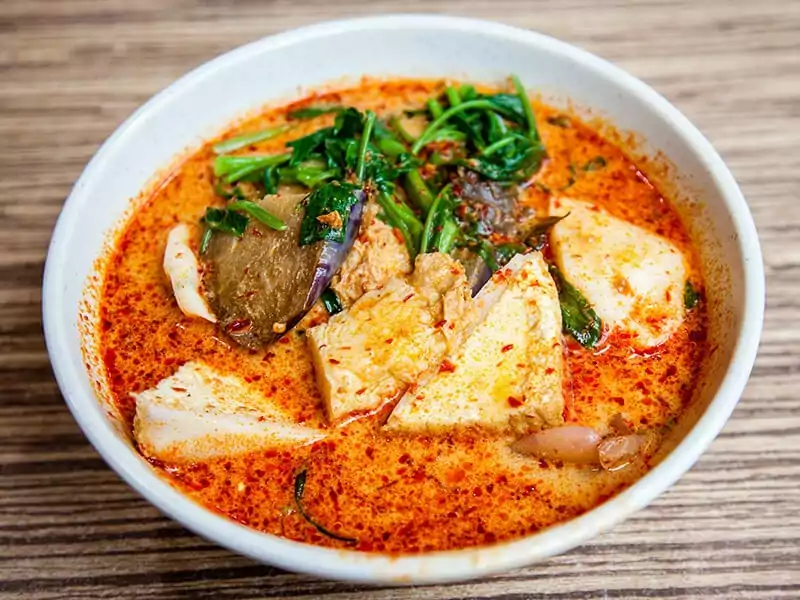 Yong Tau Foo or Stuffed Bean Curd is an authentic Chinese recipe prevalent in the Teochew, Hokkien, and Hakka communities in Singapore. It is not a snack, and people prefer eating it as a side dish besides noodles or rice.
When Yong Tau Foo came to Singapore, they have made some creative changes inside the filling components of this food. Instead of using the fish sauce-flavored minced meat, Singaporeans will stuff the tofu with bitter melon, okra, fish cake/ball, or cuttlefish.
There are two main ways to enjoy this dish in Singaporean ways: dry (without broth, served in a separate bowl) or soupy (with the tasty noodle broth, served beside rice vermicelli/noodles).
If you want rice, go for it since it can still match well and become a comfort dish.
---
I Hope You Have A Good Meal In Singapore!
Singaporean cuisine has such a diverse range of food that it's impossible to list everything in just one article. So, if you have some time, you should do a little more research about this culinary culture, and I promise you will be pleasantly delighted.
But first, please share this post with your family and friends if you enjoy my suggestions. Your shares and contributions will be a massive inspiration for me.