Malaysian street foods can be seen as one of the shortest ways to discover their diverse and wonderful culture and traditions. This is a multicultural and multiethnic country, which impacts a lot on their cuisine.
To me, the exotic Malaysian foods are a great topic to explore. Why? Because their dishes are the perfect combination of various significant cuisines, like Indian, Chinese, Indonesian, and Malaysian themselves.
Walking on the streets of Malaysia, you can see the diversity in people's lives, making you want to know more about this attractive country. Especially if you are a food lover, this post will open your mind to many tasty Malaysian dishes from various street vendors to small restaurants.
So let's follow me to expand your knowledge about the most iconic street foods in Malaysia. They will not fail you, I promise!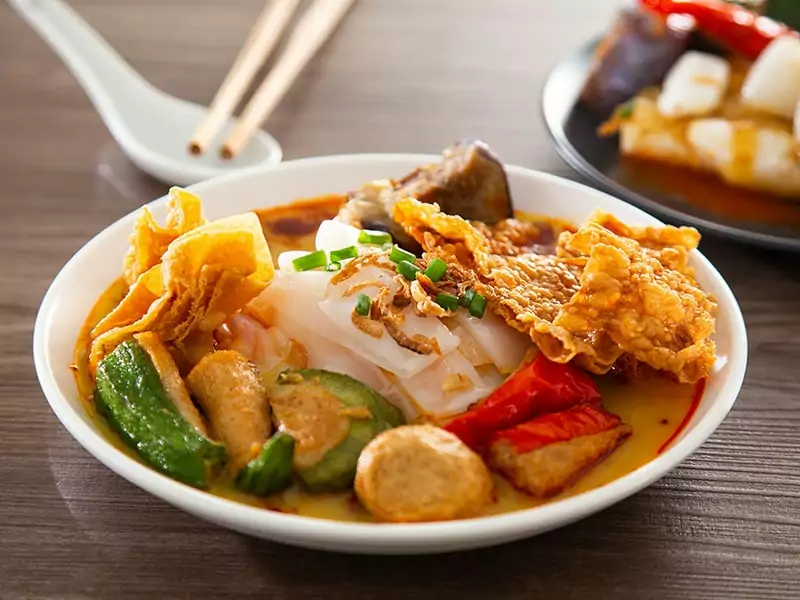 Rice Dishes
Rice seems to be an indispensable ingredient in Asian's lives. And here are the 5 greatest street foods with rice in Malaysia. One of them is even a national dish of Malaysia.
1. Nasi Lemak
(Coconut Milk Rice)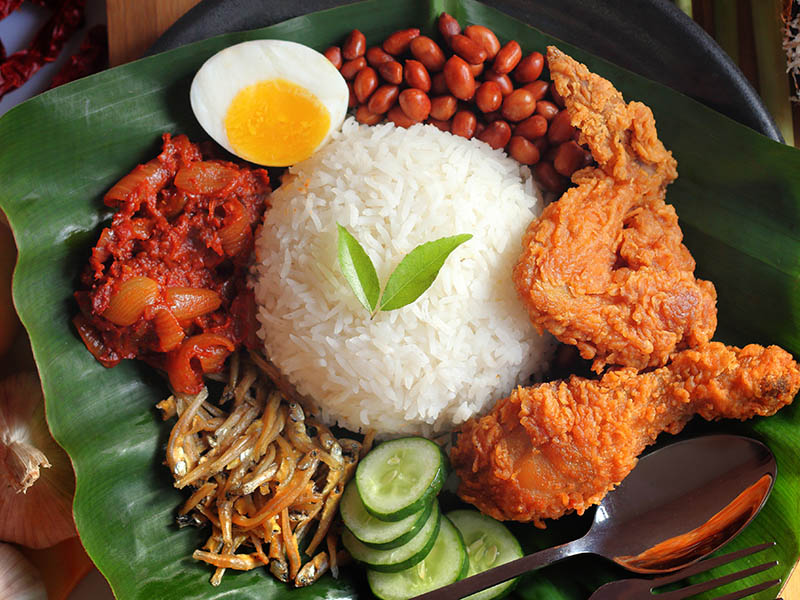 It is easy to understand why Nasi Lemak is the national dish of Malaysia because they capture all the best flavors of coconut and pandan leaf to ensure the rice is not only fragrant but also mesmerizing.
Besides, it also contains sambal (chili sauce made from chili peppers and shrimp paste), fried fish, cucumber, anchovies, or other side dishes in Malaysian style. Imagine, the creamy and grassy hints from pandan leaves and coconut milk in every dish bite are so amazing.
You can buy them anywhere in Malaysia, either on the street or in restaurants. This dish is a good choice for breakfast. And the popularity of Nasi Lemak is not only in Malaysia but also in its neighbors, such as Singapore, Southern Thailand, and Brunei.
Honestly, you can even feel how tasty a Nasi Lemak dish is through this review.
2. Nasi Kerabu
(Blue Rice Dish)

Nasi Kerabu is a rice dish with beautiful blue rice and other components like fried chicken (or dried fish), pickles, salads, and crackers. If you do not know what to eat for a Malaysian-style breakfast, Nasi Kerabu might be your best bet.
To prepare this dish, the natives have to cook the rice with the color of butterfly-pea flower to have this blue. But they also come with turmeric rice or just plain rice. And they are all tasty.
This rice dish is very famous on the east coast of Malaysia, like Terengganu and Kelantan, but you can still find them across the country with ease. Overall, with the contrast from different ingredients of Nasi Kerabu, this rice dish is so unforgettable.
3. Hainanese Chicken Rice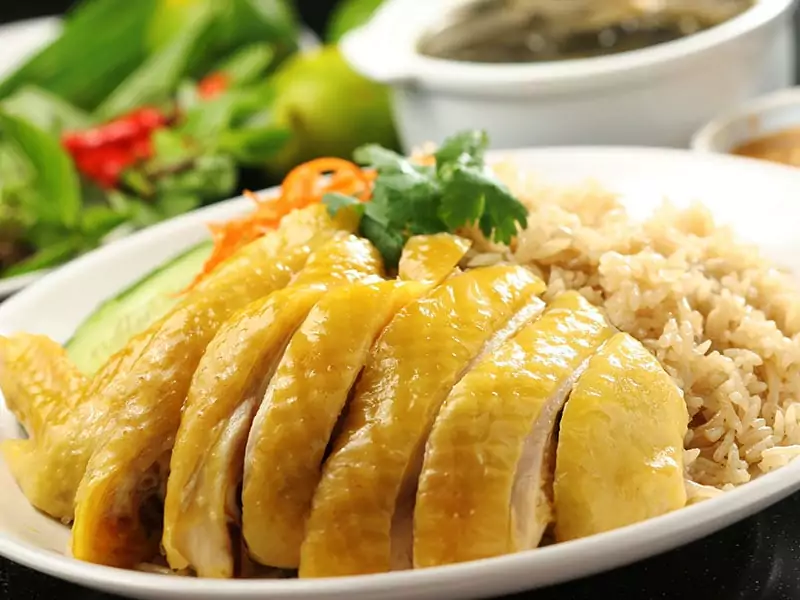 Obviously, this rice dish is not a Malaysia-originated meal but a tasty China-based food instead, particularly in Hainan. But as Malaysian cuisine is strongly affected by Chinese cuisine, Hainanese chicken rice is another street food that many Malaysians love.
In fact, this delicious dish is also well-known in other Southeast Asian countries, like Thailand, Singapore, Vietnam, and Indonesia. The big star of this dish is the poached chicken. However, rice also plays an important part in this dish.
They are not regular plain cooked rice. Instead, people will use chicken stock and chicken fat for cooking them. That's why you can see the rice has a very light yellow color. The dish always comes with chili sauce and a bit of cucumber to garnish to enhance the overall flavor.
When you travel to Malaysia, especially to Muar and Malacca, the rice usually comes in a ball-shaped form to make it more interesting to enjoy.
4. Claypot Chicken Rice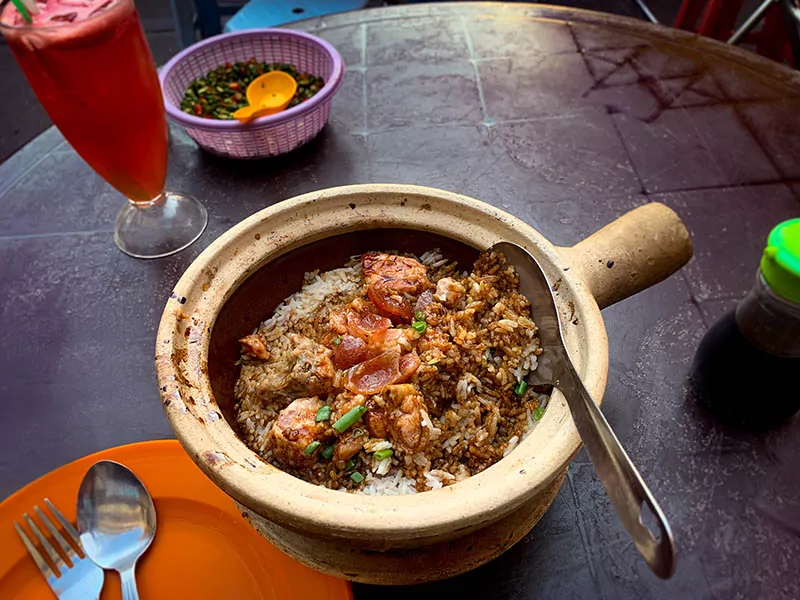 When you wander on Malaysian streets, especially on the foodie streets, you will notice some hawkers are cooking something in clay pots. It is clay pot chicken rice – another familiar street dish that you have to try while in this country.
Basically, they are chicken rice cooked in a clay pot and then served in this clay pot. This rice treat can be a fulfilling lunch or dinner, including chicken, rice, soy sauce, Chinese sausages, and veggies.
The locals will cook the rice first, then add other ingredients later. In short, I guarantee you will love the crusty layer of rice at the bottom and the juicy steamed chicken meat on the top.
5. Roast Chicken Rice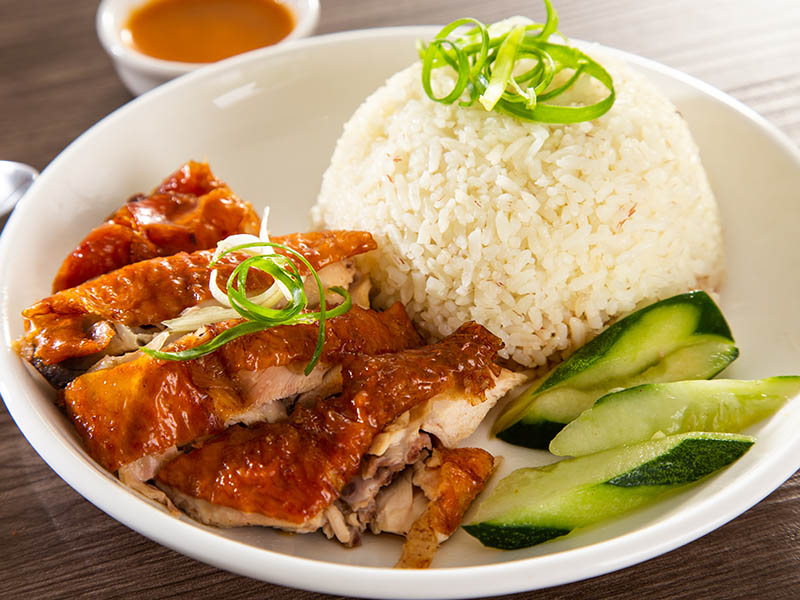 In Malaysia, the locals have various ways to cook chicken, and roasting is one of their favorites. Technically, this can be a simple homemade chicken rice dish, but if you enjoy them in the middle of a crowded street in Malaysia, I think you will love the dish more.
A plate of rice served along with some pieces of golden crispy chicken meat, then drizzled with soy sauce; how wonderful is it? Each chicken piece will give the best taste of both juiciness and crunchiness.
The rice is also soft and fluffy as they are cooked with oil, shallots, and ginger. Generally, it can be any main course in the day, from breakfast to dinner.
Noodles
Next to rice dishes are yummy foods that include noodles. They can be any type of noodle with different colors and shapes. Some of them are thin; some are thick. But regardless of their appearance, these following dishes will surely impress you with their deliciousness.
6. Assam Laksa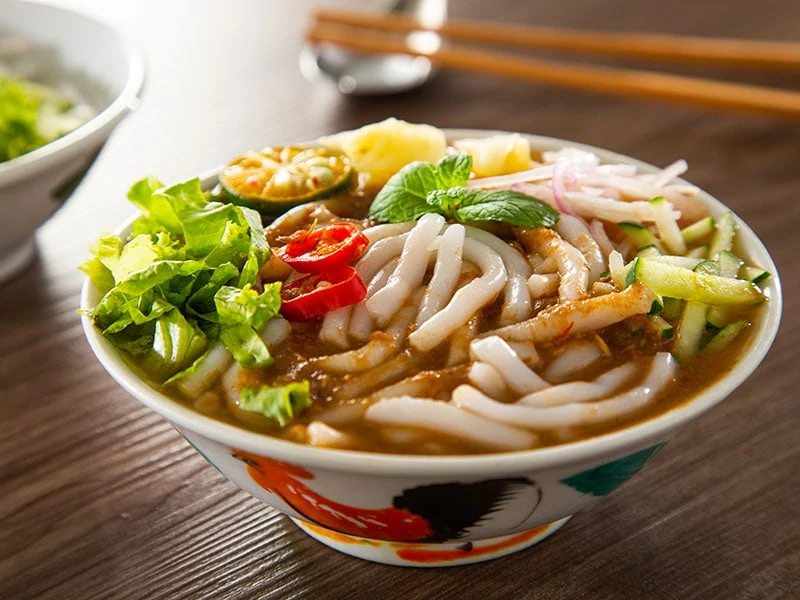 This special spicy noodle is the first dish to be discovered in this part. Laksa is native to Southeast Asia, and the most popular one in Malaysia is Assam Laksa, especially in Penang – a food capital in the country. In old Persian words, the word "laksa" is also believed as "noodles".
This is a perfect all-day dish that you can enjoy for breakfast, lunch, or dinner. Indeed, Assam Laksa's flavor is the ideal combo of spiciness, sweetness, and tartness made from fish broth, tamarind, spices, shrimp paste, and other ingredients.
Of course, it must include fresh round laksa noodles. The mixture of all ingredients will create a complex and colorful noodle dish to stimulate all of your senses.
Let's see how the locals prepare Assam Laksa in Penang.
7. Pan Mee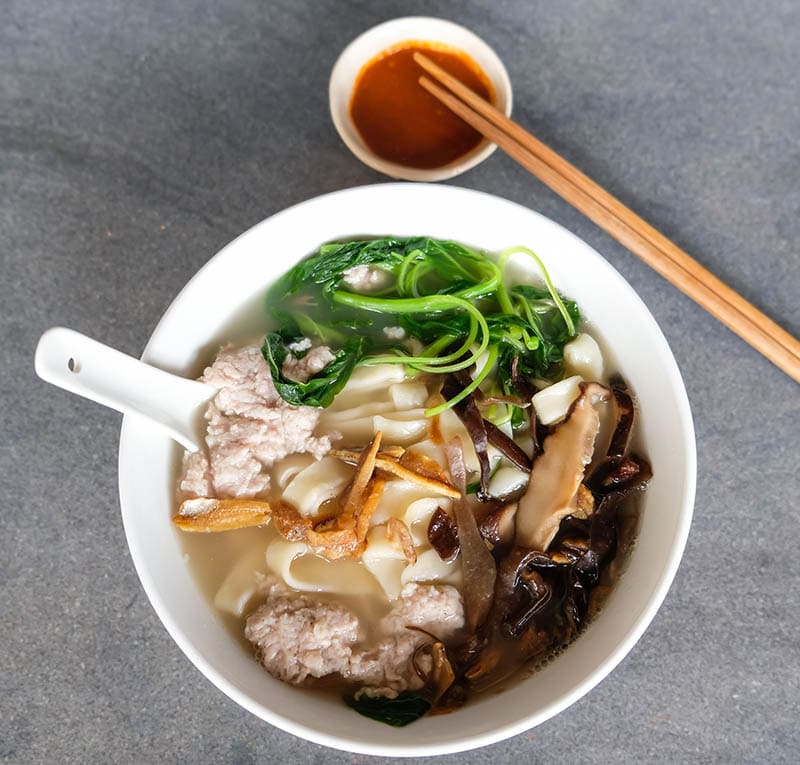 Pan Mee (aka Banmian) is another most-liked noodle served with ground pork, veggies, anchovies, and rich broth. The origin of this dish is also from China, but the locals in Taiwan, Malaysia, and Singapore would love to eat them on the roadside.
The easiest way to differentiate Pan Mee from other noodles is the noodle shape. They are flat and thinner in a rectangular shape. The broth base is fish stock, but the common option is anchovy stock, then seasoned with garlic, ginger, onions, and bean paste to enhance the flavor.
There are several Pan Mee varieties, but in Kuala Lumpur, dry chili Pan Mee is the choicest one. However, this variety is not a soup-based noodle, but the other ingredients are similar to other Pan Mee versions.
8. Chee Cheong Fun
(Steamed Rice Noodle Roll)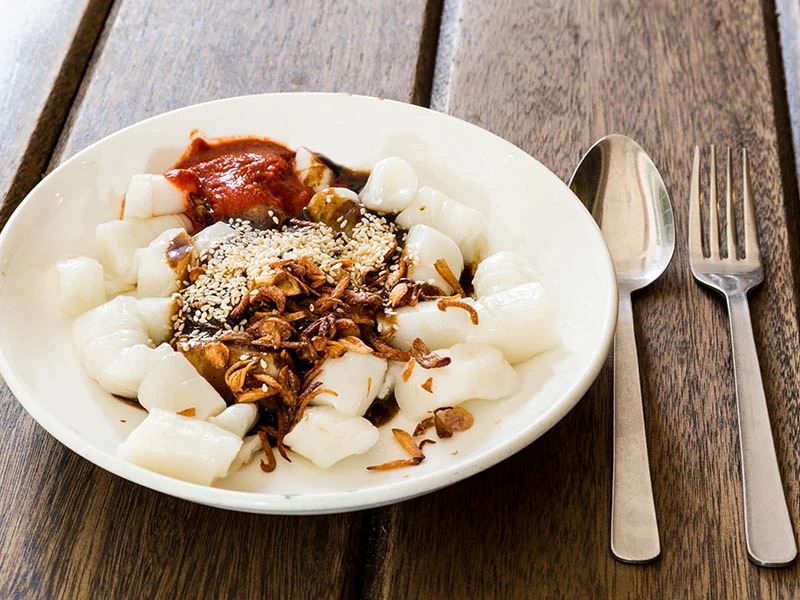 Chee Cheong Fun or Jyu Cheung Fan is a Cantonese specialty, which is from Guangdong province in China. In Cantonese, "chee" refers to pig, "cheong" means intestine, and "fun" is noddle, which implies the shape of this dish is similar to pig's intestine.
In China, they commonly eat Chee Cheong Fun as a small part in dim sum, or as a snack. But in Malaysia, this is a popular street food that you can buy in many moving vendors on food streets with various styles.
When you visit Penang, you will see different styles that come with shrimp paste, or with sweet bean paste and fish balls if you eat in Kuala Lumpur. The original version of Chee Cheong Fun is with soy sauce. But regardless of what sauce they use, these rice noodle rolls are a joy to eat.
It would be fantastic to start a day with a plate of Chee Cheong Fun.
9. Char Kway Teow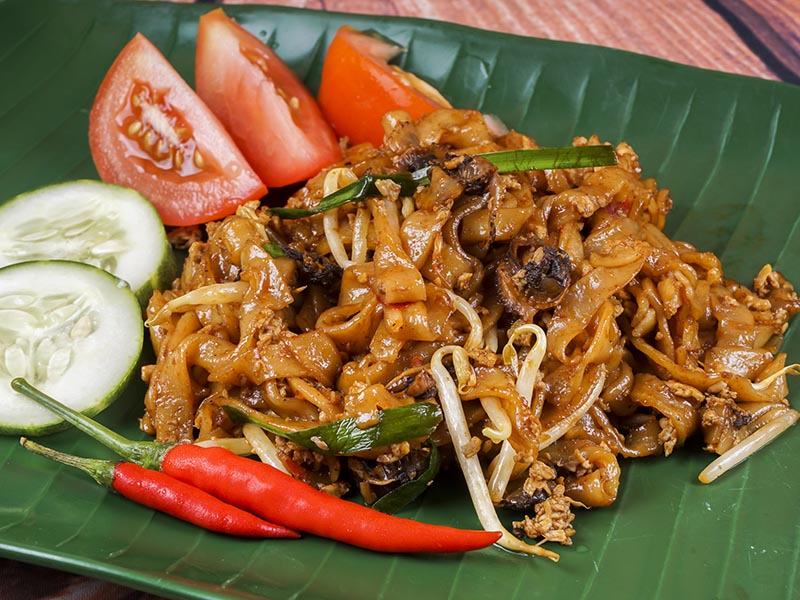 Char Kway Teow, where "char" is "stir-fried" and "kway teow" is "flat noodles" in Hokkien, is a surprisingly delicious dish in many Southeast Asian nations, especially China and Malaysia.
The ingredients to make a perfect Char Kway Teow includes 0.5 to 1-cm noddle width, soy sauce, garlic, prawns, deshelled blood cockles, chives, eggs, sausage, and bean sprouts. Some other common components are shrimp paste and fishcake, which are more popular in Malaysia.
One of the most important factors to decide the dish's deliciousness is the well-seasoned Chinese wok. When you walk on the street in this country, you will love to see how skillful the sellers are in preparing this dish with a big round wok over the high-heat fire.
The flavor of Char Key Teow is amazing as well. They are famous for charred, smoky, and lightly sweet flavors with many contrasting-textured ingredients that make them so unique. Though they are sold throughout Malaysia, the Penang variety might be the best. 
10. Fried Bee Hoon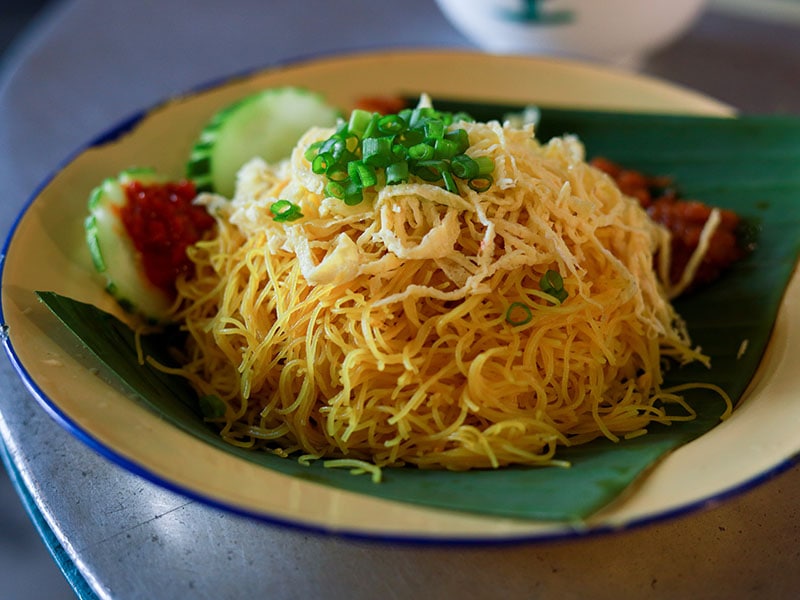 Bee Hoon is a staple noodle dish made with rice vermicelli, vegetables, meat (or shrimp), and some other ingredients, all together seasoned with soy sauce or curry powder. This is a one-plate fried dish that the locals can enjoy for breakfast, lunch, or dinner.
If you are not familiar with rice vermicelli, they are a group of thin noodles made from mung bean starch or rice starch. You can also find many thicker rice vermicelli versions, but in fried Bee Hoon, it must be a thin variety.
In Singapore and Malaysia, the natives also call them Mee Hoon. Actually, you can even try to make it at home because fried Bee Hoon is a simple dish. If this is the first time you practice your cooking skill with any Asian noodle dish, this one might be the safest bet for you.
11. Koay Teow Th'ng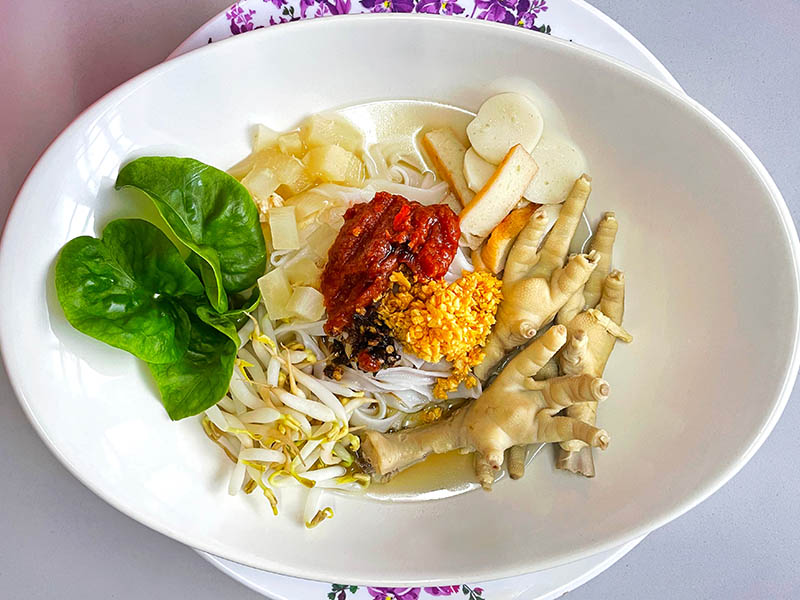 Penang island seems to be a true food paradise in Malaysia with numerous mouthwatering foods, especially from the street hawkers or outdoor food stalls. Including flat rice noodles and chicken (and/or pork) broth, Koay Teow Th'ng has a light savory flavor that all ages can enjoy.
The root of this noodle meal is from Chaozhou, China. However, it is also a significant dish in Malaysia and Singapore food menus, particularly in Penang. And most locals there really like to eat it in the morning, but you can find many places selling it throughout the day.
The other things to create this simple dish more delicious are fishballs, chicken or duck meat, and sliced pork. So with a hot bowl of Koay Teow Th'ng, now you have full energy to explore the wholesomeness of Penang or Malaysia in general.
12. Hokkien Mee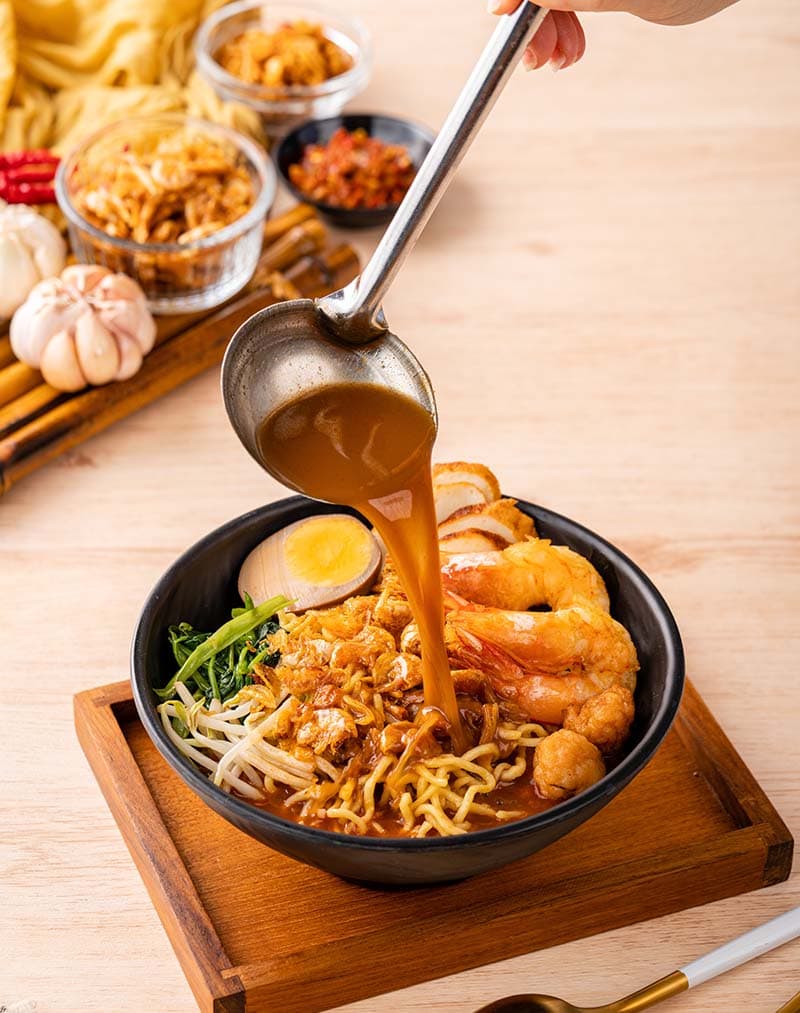 As the name suggests, Hokkien Mee is native to Hokkien province in China, but there are thousands of places in Malaysia selling this dish.
In fact, there are 3 different Hokkien Mee in the country, including Hokkien Char Mee (fried style with a darker color), Penangite Hae Mee (noodle soup style), and Singaporean Hae Mee (stir-fried style with lighter appearance).
The ingredients of each style are different too. With soup-based Penang Hae Mee, it contains rice noodles and egg noodles, prawn, sliced pork or chicken, and chili paste (sambal). The Singaporean version's components are slightly different as they do not use sambal paste.
On the other hand, the Hokkien Char Mee is more popular in Kuala Lumpur, consisting of yellow noodles, chicken (or pork) slices, squid, and veggies with a touch of dark soybean sauce, whereas the other 2 versions do not use this sauce.
13. Koay Chiap
(Duck and Noodle Soup)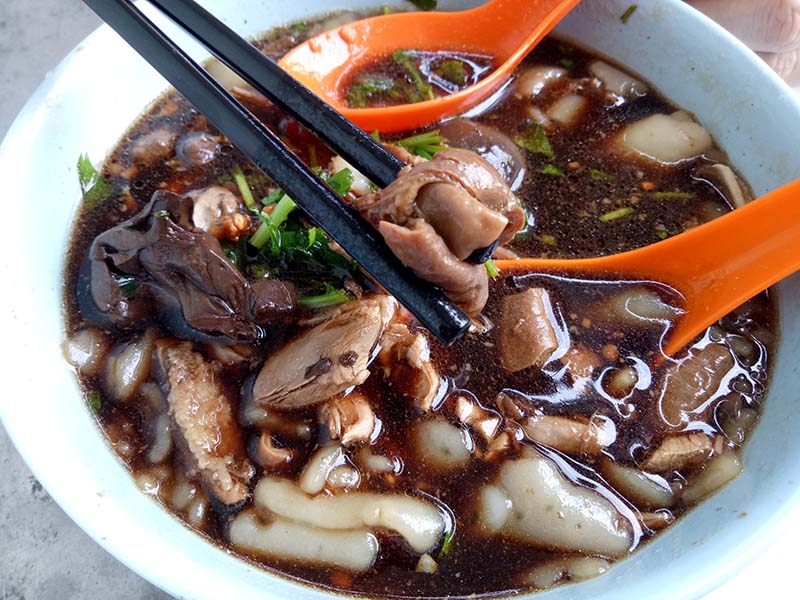 When I wandered on Penang's street, I came across many food halls, street vendors, and even restaurants that sold this dish. Do not mistake Koay Chaip with Koay Teow Th'ng, as you can easily tell the difference from the broth color.
They might look quite overwhelming at first because of the broad dimension of noodles, but the rich dark broth with the herbal taste served with it is amazing. On the other hand, Koay Teow Th'ng broth is much lighter.
Koay Chiap also includes other things like duck meat, pig's coagulated blood, intestines, tofu, and hard-boiled eggs. Overall, this is a rich and tasty dish that you should not miss if you visit Penang.
Savory Dishes
A list of the greatest dishes sold at various food stalls, hawkers, or small restaurants in this country is kept going with the following ideas. So make sure you will not miss anything to dig into while in Malaysia.
14. Bak Kwa Bun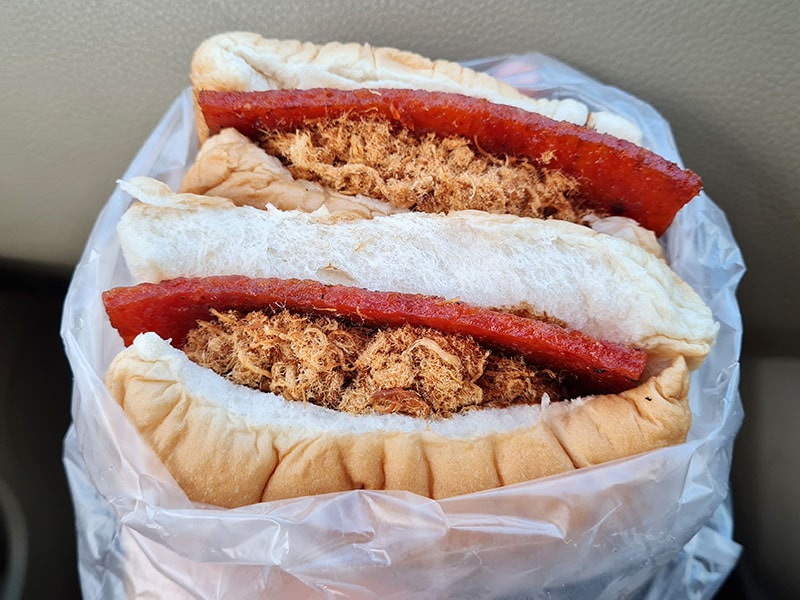 Bak Kwa (aka Rougan) is a dried-meat snack that you usually refer to as jerky. The meat that people use to make these treats can be pork, beef, or mutton. Plus, the preparation process to make Bak Kwa is native to China, and the meat will undergo preservation at 122 to 140 degrees F.
Before they are preserved, people season them with spices, soy sauce, sugar, and salt to produce sweet-and-savory pieces of dried meat.
So how about Bak Kwa bun? It is a simple snack including Bak Kwa, cucumber slices, pork (or chicken) floss, and squeezed ketchup or chili sauce on top. Some versions contain an omelette as well.
This is a favorite childhood dish of many locals. This street food is best served hot. Indeed, Bak Kwa bun offers the perfect combo of sweet, savory, and a bit smoky flavors into every bite of it, making them cannot help you from getting more.
15. Keropok Lekor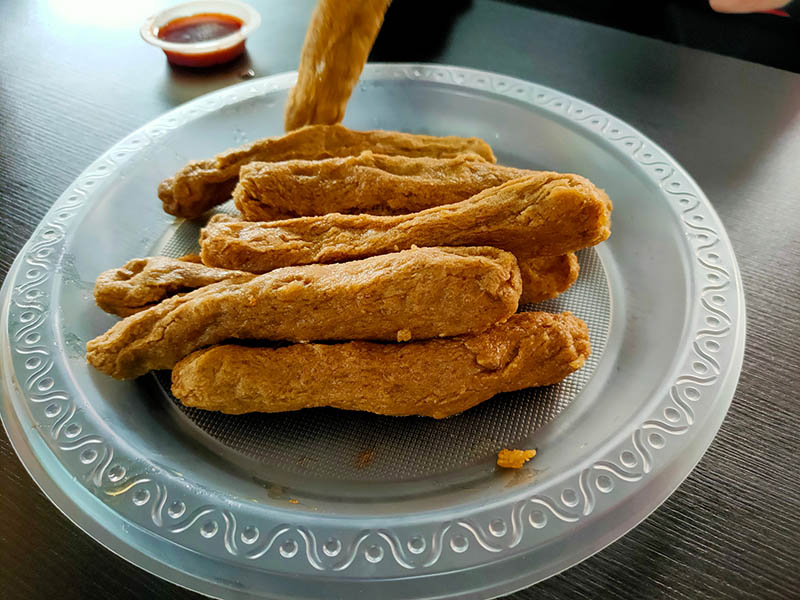 Keropok Lekor (or Lekor for short) is a specialty of Terengganu state, Malaysia. They are a deep-fried dish including fish, vegetables, sago flour, and seasonings.
However, the locals will grind the fish with veggies first to form them into a paste, then coat the mixture with flour to have a crispy texture after deep frying.
This snack is best to enjoy when it is still hot because after it cools down, the fishy flavor might be overwhelming to some of you.
Plus, there are 2 Keropok Lekor styles, including Keropok Lekor Keping, which comes in slices to have a crispier coat, and Keropok Lekor Goreng – a sausage-like shape with the chewier texture.
16. Lok Lok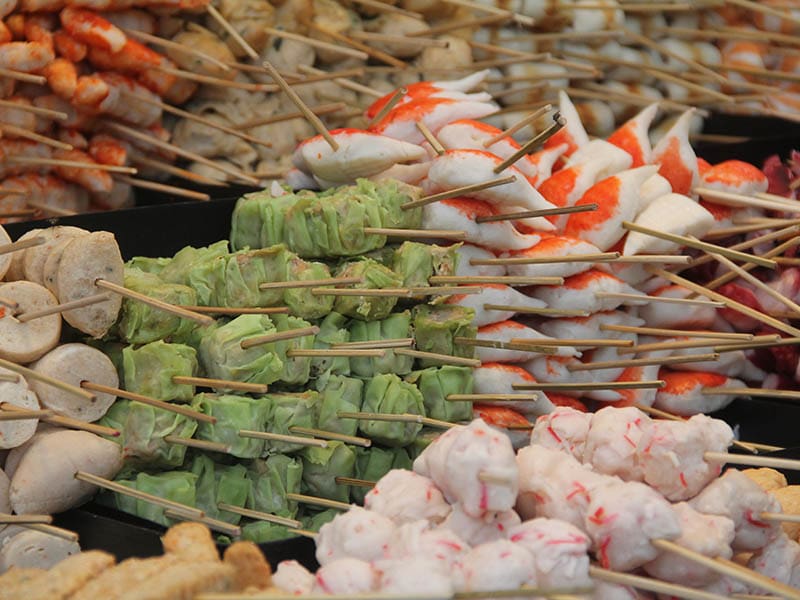 If you ever see any truck that displays many skewers on Malaysian streets, especially in Kuching or Penang, they must be Lok Lok.
These skewers are the food delights that you can easily access. And there are numerous options of Lok Lok for you, from meaty or seafood ones to veggie skewers. First, you have to choose your favorite types of Lok Lok, then dip them into a pot of boiling water to cook.
Of course, each type of Lok Lok will have varied price tags, but overall, these are quick and affordable treats that you should experience once in your life.
17. Satay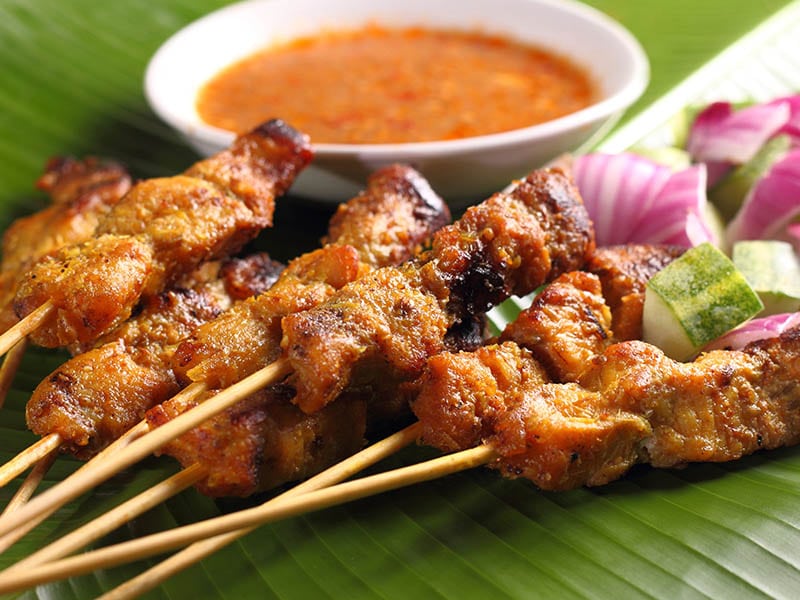 Grilled meat skewers (or Satay) are one of my favorite treats since I can eat more than 10 skewers at once. Don't judge me! Because after you try them in Malaysia, you can finally understand why.
Apparently, they are the well-seasoned meat skewers, then grilled and served with sauce. Satay might include diced or sliced pieces of various meat types, even tofu, which you can buy in any hawker, food court, or night market in Malaysia.
You might find Satay quite similar to Lok Lok. Actually, Lok Lok in Penang is one of various meat Satay varieties. However, the biggest distinction is the cooking process, as Lok Lok is cooked in stock or water instead of grilling.
18. Roti Canai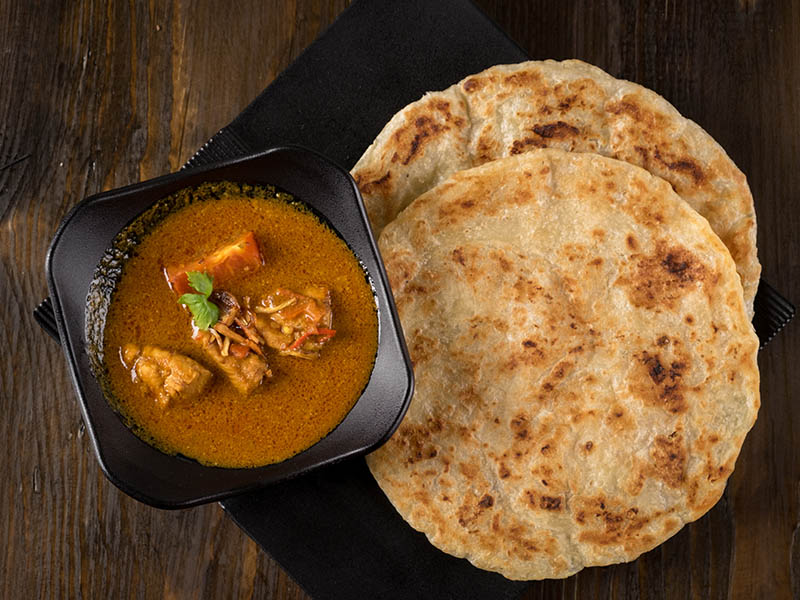 Flatbread is iconic Indian street food, but in Malaysia, it is not simply bread. In this country, it usually pairs with lentil curry to become a pleasant main course named Roti Canai that everyone would love.
From the 19th century, Roti Canai has been a special breakfast (or snack) in Southeast Asia, like Malaysia. In fact, you can find them anywhere in the country, from the rural areas to urban cities.
Besides, you will have a lot of curry options to enjoy with Roti Canai. The Roti Canai itself also has different versions, for example, Murtabak – a thick roti with egg, onions, meat, and spice filling.
19. Rojak
(Fruit and Vegetable Salad)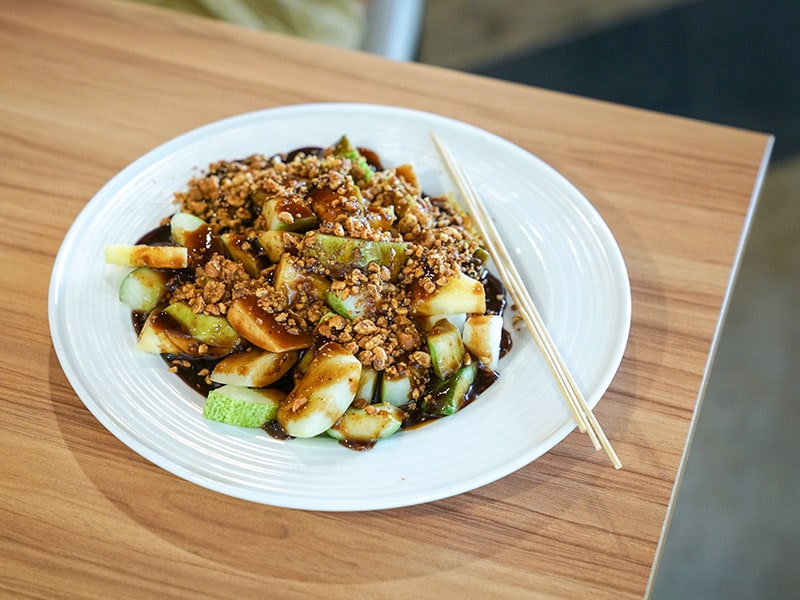 Rojak is Indonesia-inspired street food, but its appearance in Malaysia is also widespread. If you crave something fresh, here is the best answer because Rojak is a flavorful mixture of fruits, vegetables, and spicy dressing made of peanuts, chili, and palm sugar.
So mouthwatering, isn't it? There are plenty of Rajak versions with different components. In Malaysia, the natives also add meat or seafood ingredients or tofu to make this salad more enjoyable.
One of the most well-known versions might be Rojak Penang. This salad consists of guava, jambu (aka rose apple or water apple), squids, green mango, green apple, and honey, which are all coated by a thick dressing. 
20. Ramly Burger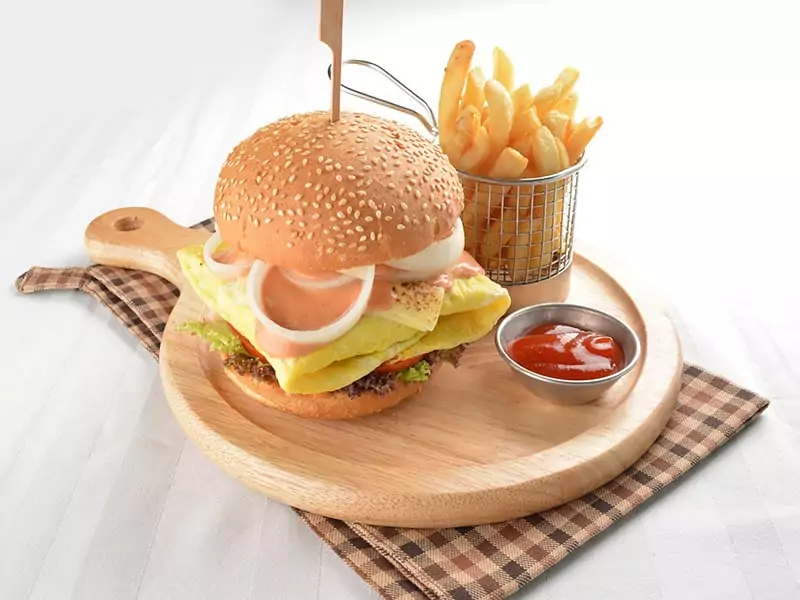 Speaking of Malaysian-style fast food, a Ramly burger is the best bet. It is also one of many street food symbols that you can easily come across in many places in the country. However, if you expect them to be like Western burgers, then don't. Ramly burgers are distinct in special ways.
First, let's talk about its history. Ramly burger is a product of Ramly Group company founded in 1984. The initial purpose of this company was to offer halal fast food in Western-style in the country. Until 1979, the founder – Ramly bin Mokni and his wife started to run their burger stalls.
And this is when the term Ramly burger gained the wide recognition of customers. So, how unique are they? They do not simply contain a grilled patty, veggies, sauces sandwiched between 2 pieces of hamburger buns. Instead, the patty is covered by an egg parcel.
This ingredient will make the burger juicier. On the other hand, the other components like cheese, lettuce, tomatoes, and sauces will give you an ingenious twist in the overall taste.
21. Otak Otak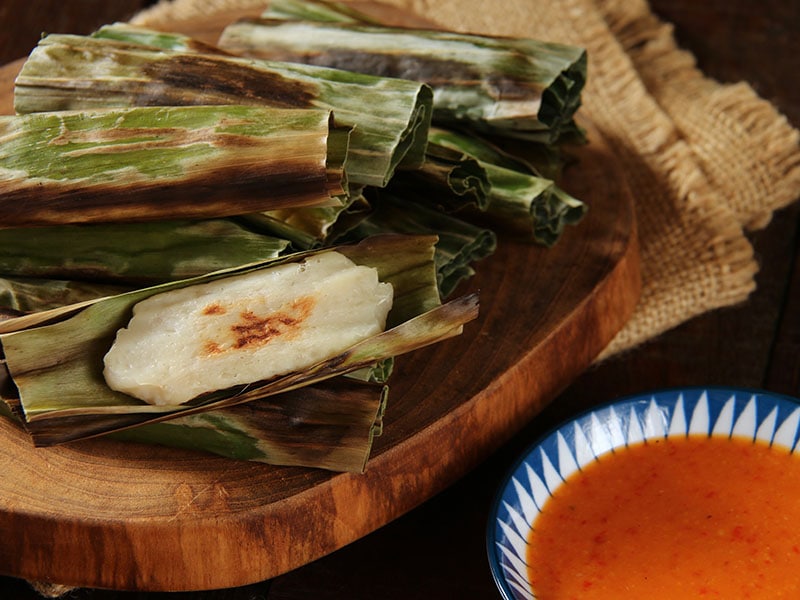 Otak Otak combines fish paste, coconut milk, garlic, turmeric, chili peppers, and other ingredients, wrapped in leaves, then grilled over the charcoal fire. It is a favorite snack in Malaysia and Indonesia that you can buy on the street from food stalls or hawkers.
The true root of this dish, in fact, is in the South Sumatra province in Indonesia. The most famous location to enjoy Otak Otak is Muar – a very nice tourist attraction in Malaysia.
People can use different types of leaves to wrap Otak Otak. They can be coconut, banana, or nipa leaves. Moreover, the varieties of this snack also varied, based on where they are made.
You will feel the unique smoky taste with the grilled versions. However, some places will steam them instead of grilling, like the Peranakan style in the North of Penang, Malaysia, which is also worth trying because they burst in flavor with aromatic herbs and spices.
22. Loh Bak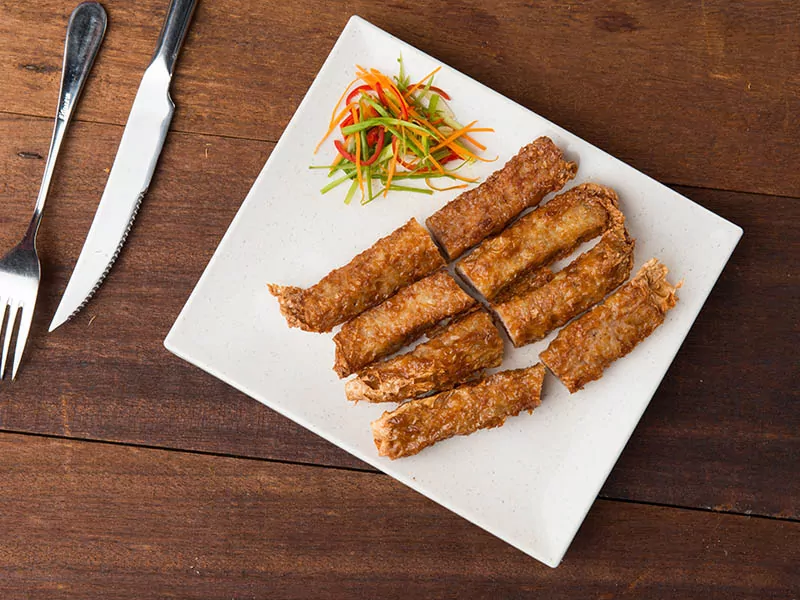 The origin of this dish, once again, is from China (Fujian province). Still, they are well-adapted in other countries' food lists in Thailand, Malaysia, Singapore, the Philippines, and Indonesia. The Chinese name of Loh Bak is Heh Gerng, or Ngo Hiang in the Philippines.
Loh Bak is a pork roll with various types of minced meat, veggies, seasoning, then rolled with beancurd skin. However, the highlight of these rolls is the spice, which is five-spice powder. Loh Bak is best to serve with chili sauce or sweet sauce.
These golden deep-fried treats are also an essential part of various festivals, especially Chinese New Year. There is also a vegetarian version, but either way, these rolls are so soft with the umami taste that I cannot ever forget.
Sweet Treats, Drinks and Fruits
Finally, let's take a quick look at these sweet treats, including desserts, snacks, drinks, and even fruit, to understand more about the diversity of Malaysian street foods.
23. Cendol
(Pandan Jelly Dessert)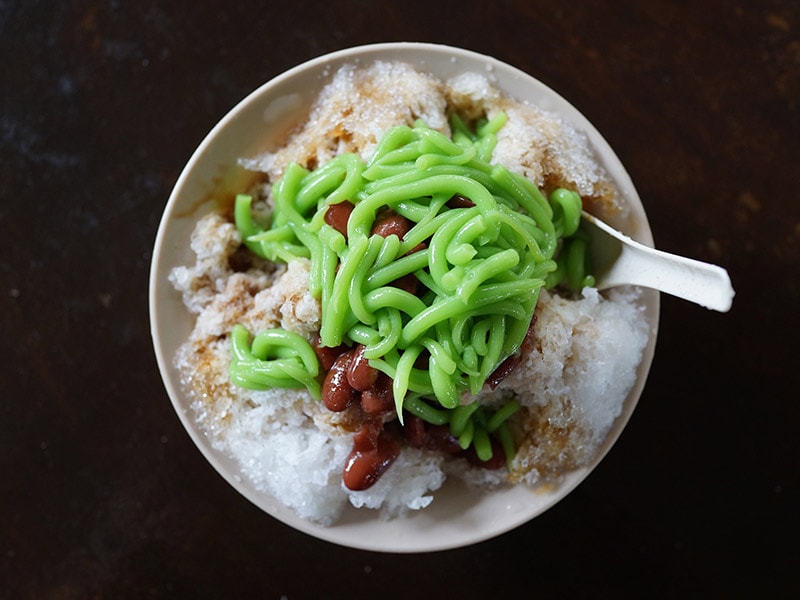 Southeast Asian summer is not ideal for many Western tourists because of the heat. But a cup of Cendol can be a lifesaver for everyone on any hot day. Why? Because this iced dessert is so refreshing.
It is not only the greatest Asian dessert Cendol was one of the 50 best desserts worldwide in 2019. Though the history of this sweet treat is unknown, its popularity in Southeast Asia is massive.
Also, each country has different names for Cendol, but they all include green worm-shaped jellies (made from pandan leaves juice and rice flour), palm sugar, coconut milk, and shaved ice.
Some varieties also come with jackfruits, red beans, or durian – a king of fruit, which I will discuss later. In Malaysia, you will usually find them at roadside vendors, food courts, or dessert stalls.
24. Apam Balik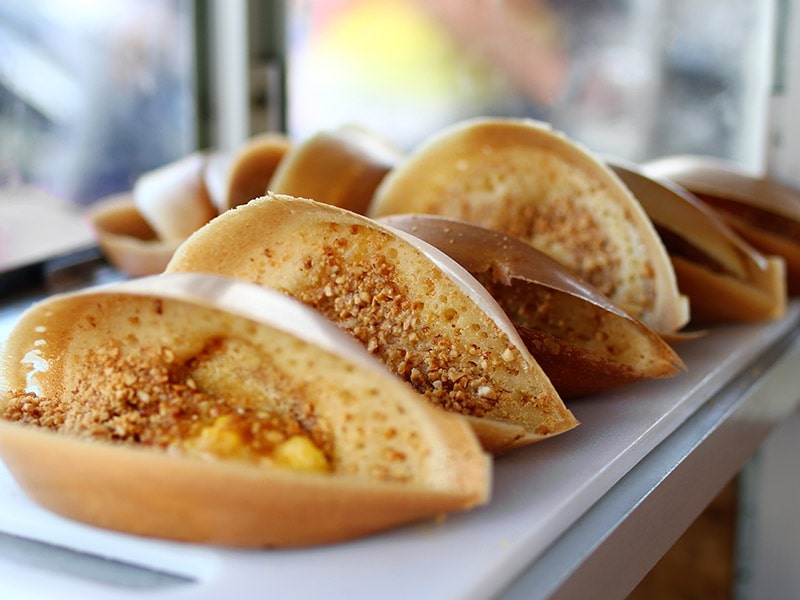 Apam Balik is a well-loved dessert in Malaysia, Indonesia, Singapore, Hongkong, Taiwan, and Brunei. However, people claim this is native to the Chinese, particularly from General Tso.
Back then, he wanted to change the regular food for his soldiers from flatbread to pancake with the filling of cane sugar and peanut, ensuring that these foods would not affect the local people's lives. And now, the popularity of Apam Balik has spread throughout Southeast Asia.
Technically, it is a pancake made from flour, baking soda, coconut milk, sugar, eggs, and water, then cooked by a big round frying pan with a lot of oil to avoid any sticking. The ingredients for the filling are varied, but the common ones are crushed peanuts, sweetcorn, or cheese.
After that, people will fold the pancake, and cut it into many smaller pieces for easier consumption. The thickness of Apam Balik is also different, based on where they are made. Some people prefer a thin version, so the shell is crispier and easier to break.
25. Ais Kacang
(Shaved Ice)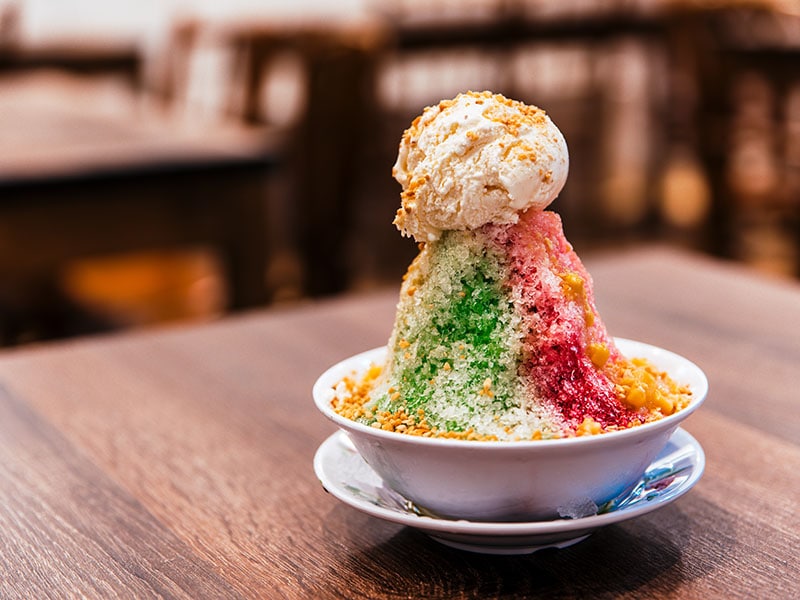 If you travel to this country in the summer, the heat cannot bother you if you grab a bowl of icy dessert named Ais Kacang.
Indeed, nothing can beat the shaved-ice dessert with red beans, sweet corn, palm nuts, grass jelly, ice cream, etc., in a bowl of Ais Kacang. And you can get it from various coffee shops, food courts, or stress vendors across Malaysia.
The first appearance of this dessert was in the 1900s in Singapore, when the ice cost was reduced. And the original version included shaved ice, soaked seeds, syrup, and jelly made from seaweed.
Currently, the component in 1 Ais Kacand is more diverse. They taste even better with the topping of condensed milk, syrup, or fruits, like durian, over a scoop of ice cream.
26. Kuih Muih
(Bite-Sized Dessert)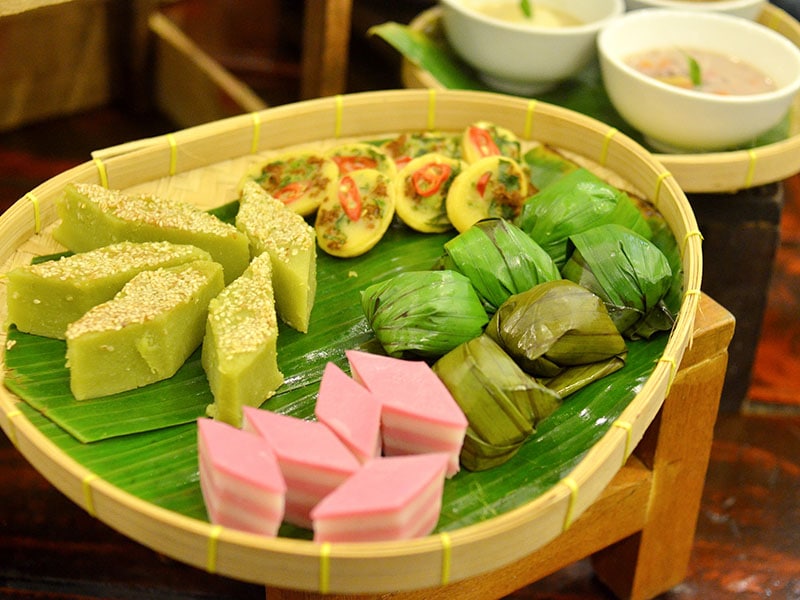 Kuih is the umbrella term to refer to various colorful small-sized snacks (or desserts) in many Asian nations. In Malaysia, they are a combination of coconut cream, grated coconut, and palm sugar, which create pudding-like and soft treats.
These small desserts are easy to buy in many places in the country, from street sellers to luxury pastry shops. Moreover, the root of this dessert can be traced back to the 15th century. And the term "kuih" derives from "kue" in Hokkien, which indicates rich flour or glutinous rice flour cakes.
You can also prepare them at home if possible. There are numerous Kuih Muih recipes on the internet that I am sure you can succeed from the first try.
27. Kuih Kosui
(Pandan Rice Cake)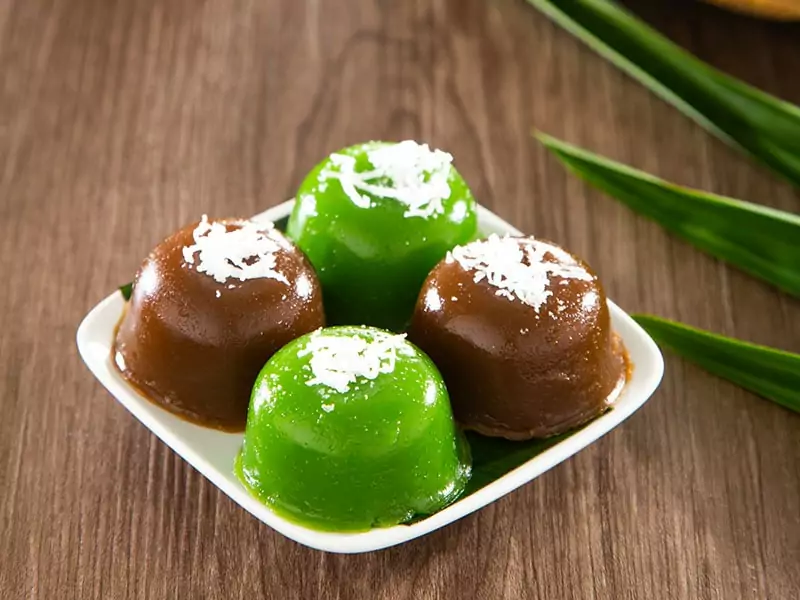 Like Kuih Muih, Kuih Kosui (or Kuih Lompang) is a steamed rice cake with a rich pandan aroma and soft texture. Their main ingredients are rice flour, palm sugar, tapioca flour, lime juice, and pandan, which all combine to create a bite-sized treat with a delightful sweetness.
Moreover, people usually serve it with freshly grated coconut on top for the most enjoyable Kuih Kosui. These small cakes also come at an affordable price that you can buy at various outdoor shops. Or you can even make them at home with ease.
And if you do not know how to tell apart between Kuih Kosui and Kuih Muih, just remember that Kuih Kosui has a nice dimple in the center of the cake.
28. Tong Sui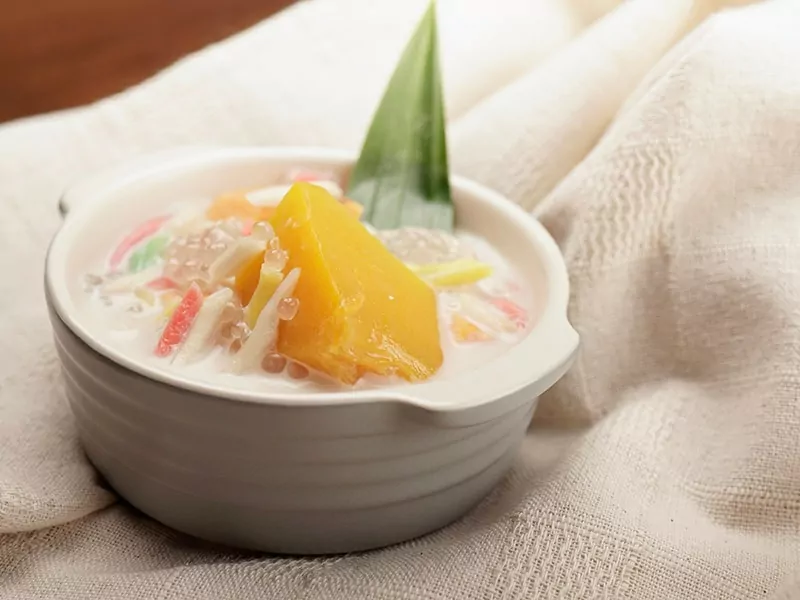 Tong Sui is a Chinese-based dessert, which literally means "sugar water". The basic Tong Sui is served warm, and it is an important dish to enjoy after any authentic Cantonese food. And trust me! Tong Sui is definitely worth a shot.
The history of this dessert was from the postwar era. Nowadays, they are a famous dessert in Hong Kong, Malaysia, and Macao.
Overall, they are a soupy dessert that traditionally consists of milk, beans, and fruits. Today's versions can come in more ingredients, such as egg Tong Sui, sweet potato soup, tofu skin egg Tong Sui, black sesame soup. Some of them either come with hot or cold options.
29. Teh Tarik (Milk Tea)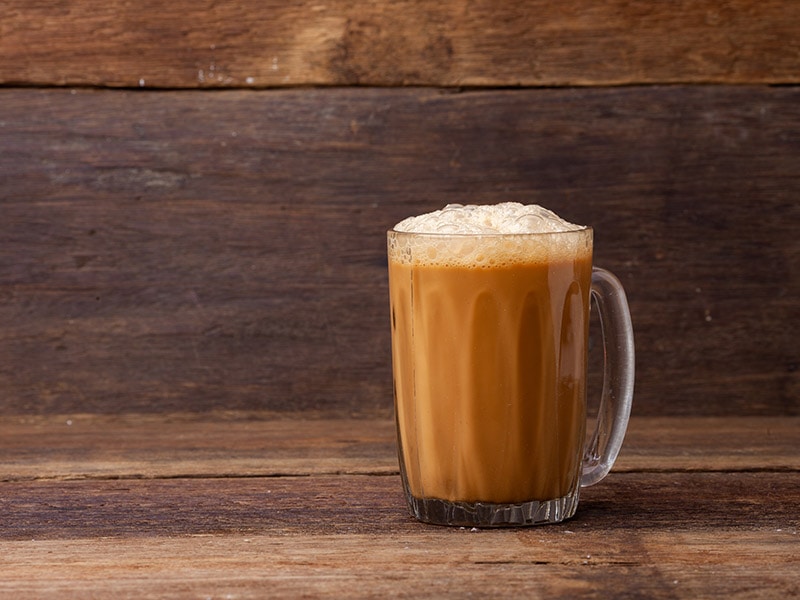 Milk tea is a popular drink worldwide, but in Malaysia, the locals have a very unique way to prepare it. And this is Teh Tarik.
You can buy them anywhere throughout the country, such as outdoor vendors, restaurants, local coffee shops, or food courts. But what will surprise you most is the way people make this drink.
In fact, the "teh" here is tea, and "tarik" is "pulled" in Malay, which refers to the making process of this drink. The seller will hold 2 vessels and keep pouring the tea from one vessel to another constantly until it reaches the desired frothy top.
There are several versions of this drink, for example, Teh-C (with unsweetened evaporated milk), Teh Halia (with ginger flavor), Teh Tarik Madu (with honey), etc.
30. Durian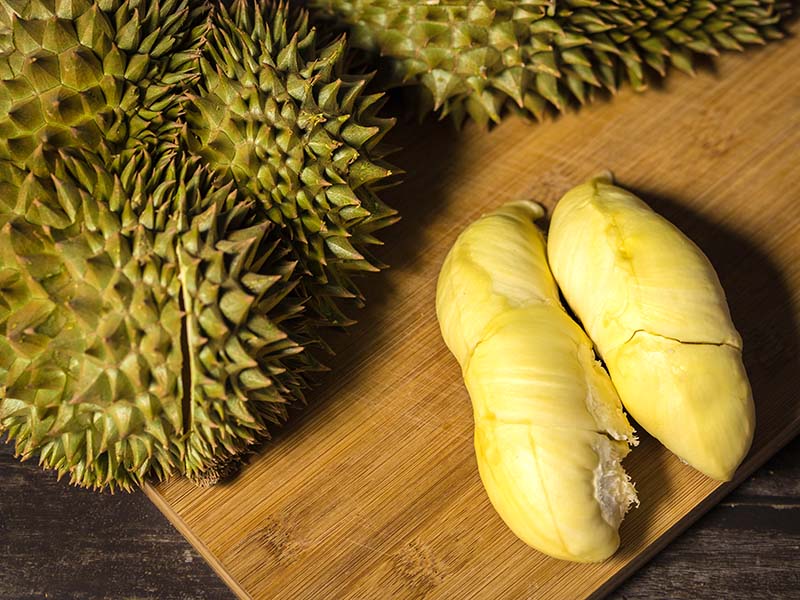 I know many of you will say no to it right from the first smell, but durian is actually a king of fruits in Malaysia. Durian is native to Asian countries, including Malaysia. And it will not cost anything to give it a try.
Many people do not like the overwhelming smell of durian. That's why this is banned on many nations' public transport. However, if you fall in love with durian, you will sense the pleasant sweetness.
There are more than 200 durian varieties in Malaysia, but the most special one is Musang King, a premium fruit that might cost you from 10 to 23USD per kilogram (from 42 RMT to 96 RMT).
Malaysian Street Foods Are A Paradise To Explore!
Do you find yourself searching for a plane ticket to Malaysia after reading this post? Even though I have been to this country a few times, I still want to go back as Malaysia is one of the best places for delicacies on the street.
So if you have not visited Malaysia, I hope these dishes can persuade you to go to this place and start your food journey. And I bet you will feel overwhelmed but in a good way.
Finally, if you love my post, please give me a thumbs-up and share it with your travel/foodie buddy. Thank you and enjoy!