If you're wondering how to clean bamboo cutting boards properly, this article is for you.
I prefer bamboo cutting boards over other wooden boards because they're naturally durable. They don't absorb liquids easily and can come in handy when you don't have a veggie chopper on hand.
They don't require much care. However, proper maintenance can extend the life of your bamboo cutting board. It's not a dishwasher-safe kitchen utensil. Therefore, you will need to clean it manually.
That being said, let's learn how to clean, condition, and store your cutting board properly.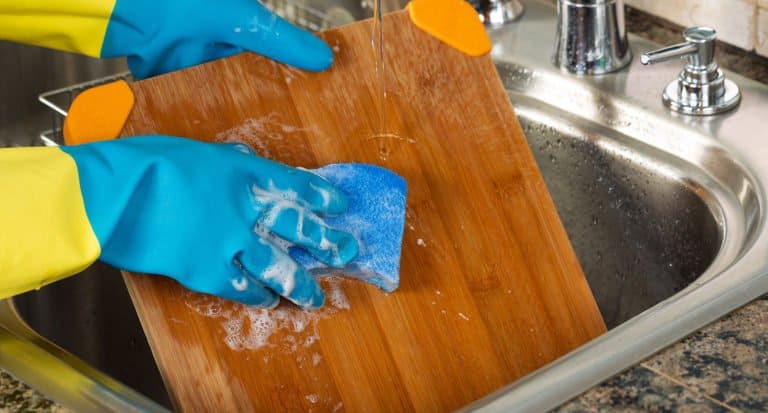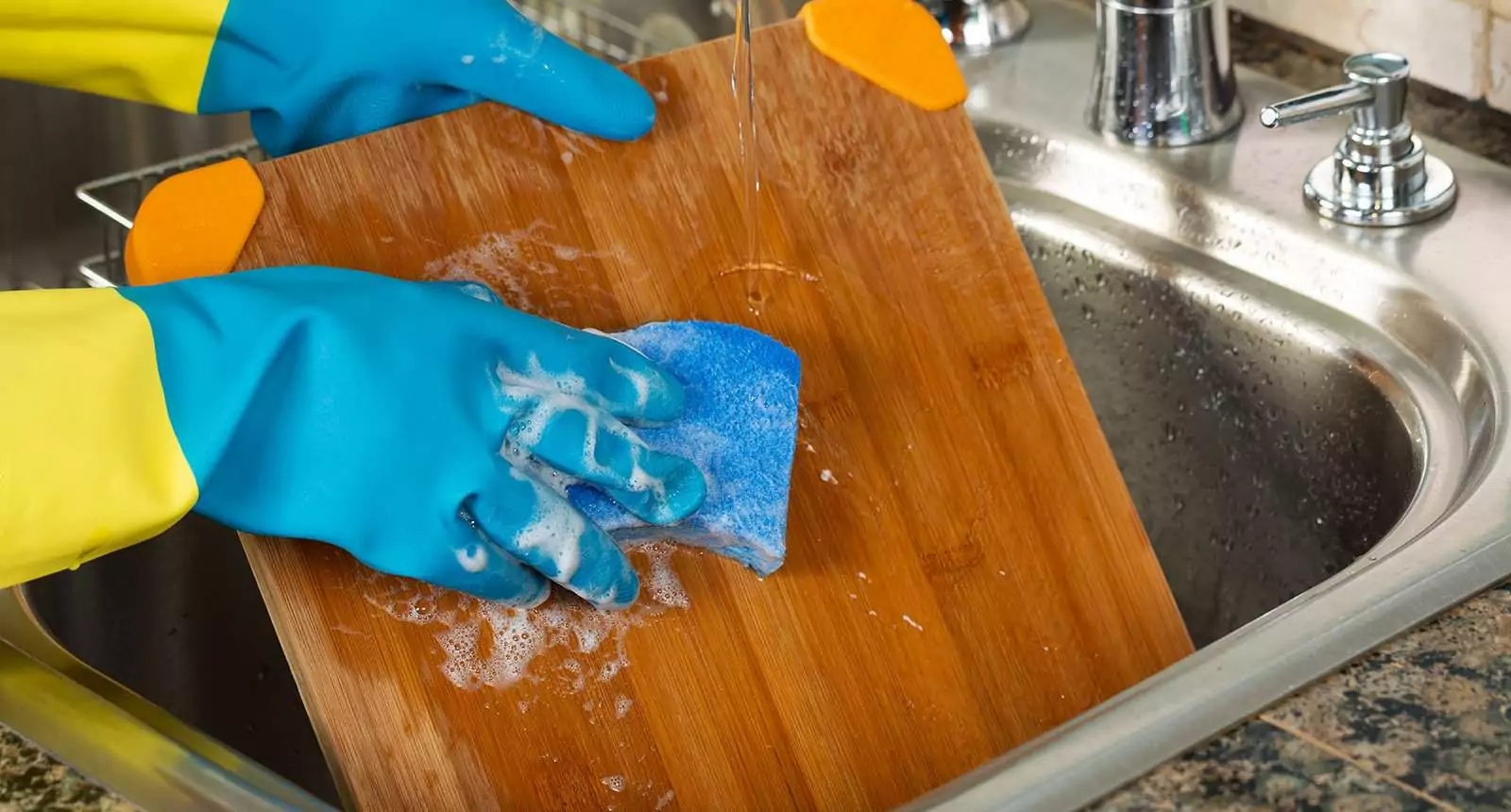 How To Clean A Bamboo Cutting Board?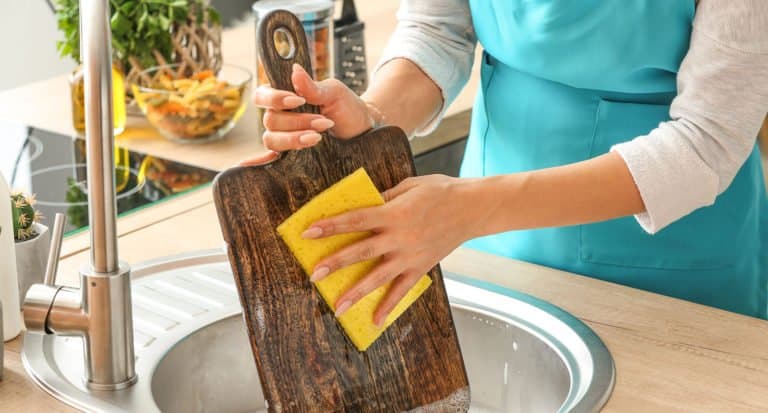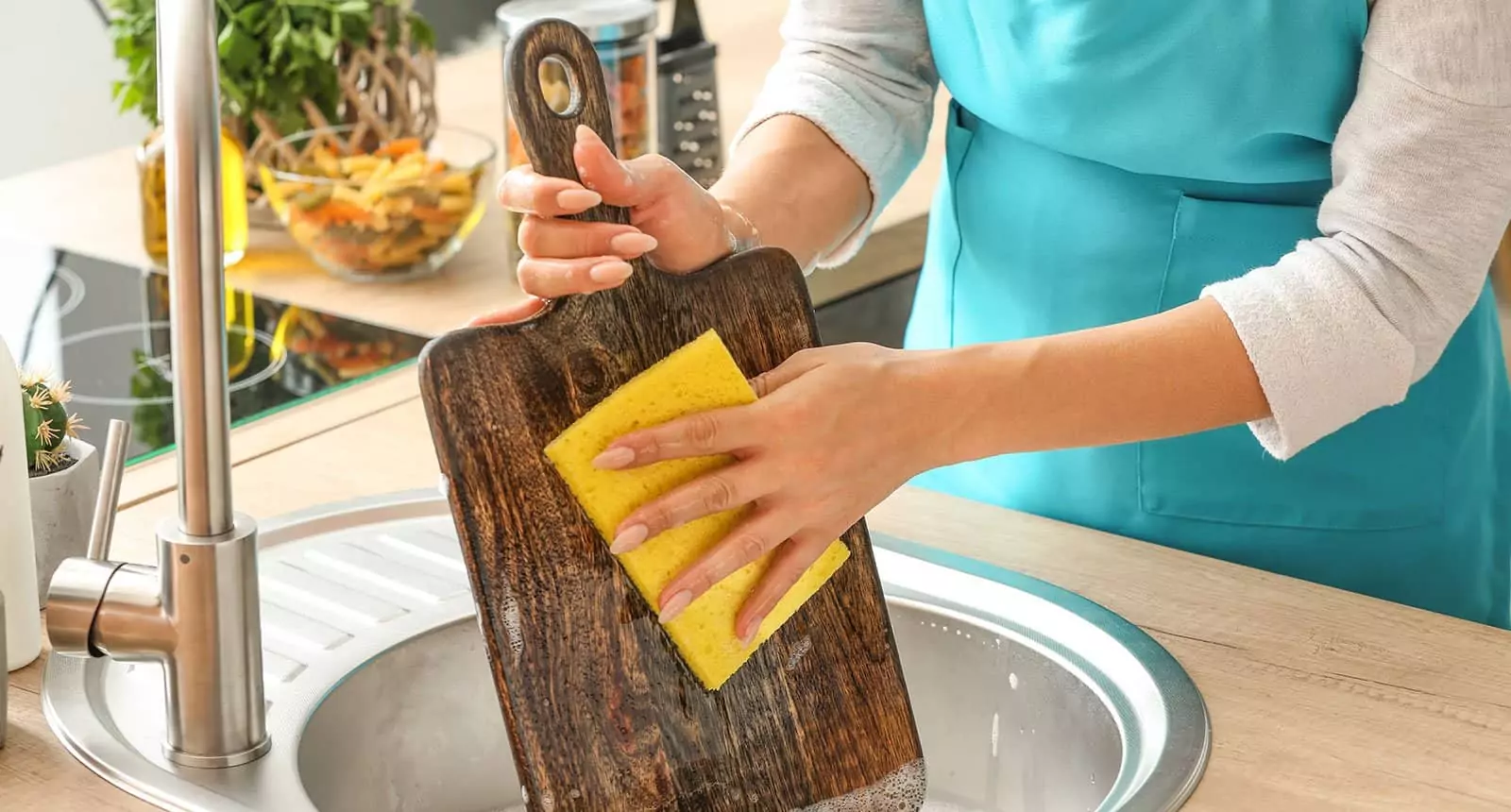 Since bamboo cutting boards aren't dishwasher-safe, you will need to clean them by hand. The heat will damage the protective layer of the board and cause warping.
Soaking bamboo cutting boards in water isn't a smart idea. They're more durable than other boards. But they will become more prone to deformation exposed to a lot of water.
And although they're low-maintenance chopping boards, they still need frequent care and maintenance. The following cleaning methods will extend the life of your board.
Method 1: Washing Bamboo Cutting Boards
Washing a bamboo cutting board is quite similar to that of wooden cutting boards and traditional pastry boards. Just follow the next steps and you will clean your cutting board in no time.
Give Your Cutting Board a Quick Wash
After use, wash your cutting board immediately. Don't wash it for more than a couple of minutes. Also, don't use hot water. Otherwise, you will damage it.
Avoid abrasive materials for scrubbing. Rub the cutting board with your hands or a cloth if you need to remove chunks of food, stubborn stains, or nasty odors.
Never Soak Or Submerge Your Bamboo Cutting Board In Water
Since bamboo is highly sensitive to moisture and heat, avoid submerging or soaking your bamboo board in water for too long. Also, don't place it in your dishwasher. Otherwise, it will develop cracks.
Rinse Your Cutting Board With Lukewarm Water Thoroughly
Hold the cutting board under running water. Make sure to get all of the food and soap residues off of it. And even though the water is lukewarm, don't expose your cutting board to water for too long. Rinse as quickly as you can and rinse thoroughly.
Dry It Off Immediately And Let It Air Dry
As soon as your bamboo cutting board is rinsed thoroughly, dry it off with a regular towel or paper towel immediately. Then, stand it up vertically and let it air dry for a few hours.
Method 2: Removing Different Stains And Smells
At times, any cutting board can become smelly and catch stains. When this happens, don't panic. Follow the next steps and clean/deodorize your bamboo cutting board.
Apply Sea Salt On The Top Of Your Cutting Board
You should do this right after you have cleaned and rinsed your bamboo cutting board, but before it has been dried. Just sprinkle some sea salt to any stained places.
You don't necessarily need to use a specialized grinder for salt to prepare the salt. Coarse salt is fine too in this case. However, salt with fine texture might have an easier time getting into the nooks and crannies of your cutting board to clean it.
The coarse sea salt will perform as a coarse material for scrubbing. It will also soak up any excess water. If you're dealing with stubborn stains, use baking soda instead.
Scrub Your Bamboo Cutting Board With A Halved Lemon
The lemon will destroy bacteria and deodorize your bamboo cutting board. Simply put the citrus side of the lemon against the board and press it into the salt. Move it back and forth in a scrubbing motion until the salt has vanished. And don't forget about the edges and corners.
Although it's true that there are many aspects that set lemons and limes apart, if you don't have a lemon, it's okay to use limes as a substitute in this case. You'll find that limes have somewhat similar cleaning effects as lemons, too.
Cover The Top Of Your Cutting Board With More Salt
Apply another layer of salt and spread it out evenly. However, don't scrub off the second coating of salt. Instead, leave it overnight. The cutting board should still be wet from the lemon when you add the salt. Don't dry the lemon off of your bamboo cutting board.
Leave The Salt On Your Cutting Board Overnight
If you can't leave the salt out overnight, you should let it sit on the cutting board for at least two hours. The lemon requires time to enter the wood and the salt will then soak up the excess juice.
Remove The Second Layer Of Salt From Your Board
Utilize the back of a spatula to remove the salt from the cutting board. Take a wet clean cloth and wipe off any excess salt. The best part? You can store and reuse the sale until it's no longer white.
Method 3: Performing Regular Maintenance
Proper and regular maintenance is the key to longevity in every kitchen utensil including cutting boards. Follow the next steps and store your bamboo cutting board properly.
Heat Mineral Oil Until It's Warm
Add some mineral oil into a pan and heat it on the stove until it's warm to the touch. Don't wait for it to be hot, just warm enough. That way, the warm oil can soak into the bamboo.
Spread The Mineral Oil Onto the Surface
Do one of the big flat sides at a time, so the oil will spread evenly. And don't forget about the edges and corners. The oil will make a protective blockage that keeps enough moisture in the cutting board to stop dryness and eventual cracking but keeps enough moisture out to stop warping.
Work In The Warm Oil Utilizing A Soft Cloth
Utilize a cloth to spread the oil around the cutting board and provide a more even coat. If the board has a uniform direction, rub with the grain. Otherwise, buff it in utilizing circular motions. Once it has soaked into one side, redo the process with the other side and edges.
Let Is Soak For At Least One Hour
If you can, you can let the mineral oil sit overnight. If not, let it soak for at least 1 hour. Put the bamboo cutting board upright on one of the corners while you allow the mineral oil to soak in.
Once you're done, remove the excess oil with a soft cloth. Also, make sure that you put the conditioned board on something (air-dry dish rack or a plate) that won't be damaged by oil stains.
Keep Your Cutting Board In A Dark And Cool Place
Extended exposure to moisture, heat and even direct sunlight can cause damage to your cutting board. So, try not to keep it with other objects that can scratch it like metal utensils and sharp knives.
Another thing to keep in mind is that you shouldn't oil your cutting board more than 1-2 times a month. Some people like to condition their cutting boards after every use. This doesn't provide extra protection for your bamboo cutting board but takes a lot of your precious time. Therefore, it's unnecessary.
Check out this video for more :
How To Disinfect Bamboo Cutting Board?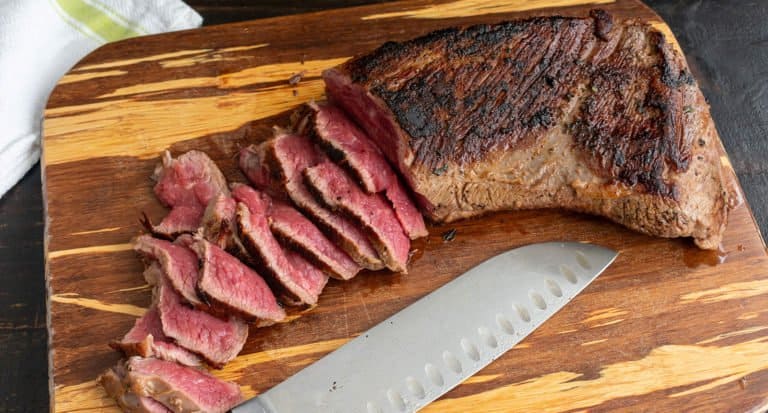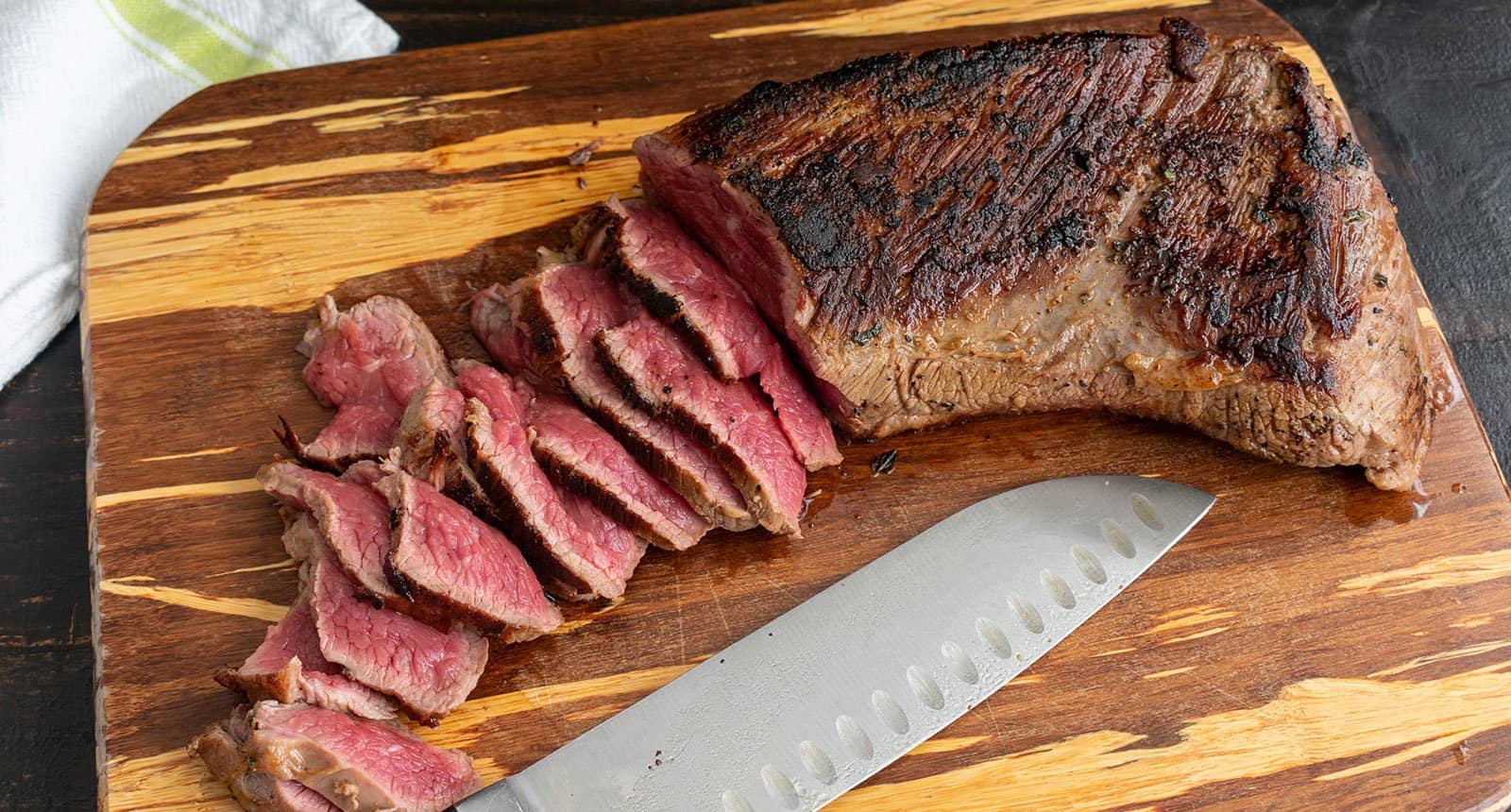 Learning how to disinfect your cutting board is also important for health reasons. The key advantage of utilizing a bamboo cutting board is that it contains natural antibacterial properties.
However, it still needs extra care. Meaning, you still need to disinfect your bamboo cutting board now and then. After every contact with raw food such as raw meat, your bamboo cutting board needs to be sanitized or disinfected the right way as part of decreasing the risk of food contamination.
Just mix equal amounts of white vinegar and water. Then, utilize a clean cloth soaked in the mix and rub it on the board. You can also use baking soda and scrub the surface of your board with a sponge.
After, let the solution sit for a few minutes. Finally, rinse with water and dry it with a clean towel. Avoid utilizing the microwave to disinfect your cutting board. Too much heat will cause damage.
How To Condition Bamboo Cutting Board?
After buying a bamboo cutting board, you need to seal or condition your new untreated kitchen utensil with mineral oil before utilizing it for the first time. Utilize a clean cloth to apply the oil and run it on the whole cutting board. Never dry it with a towel. Just place it upright and let it air dry for hours.
Check out this video for more :
What Is The Best Oil To Use On A Bamboo Cutting Board?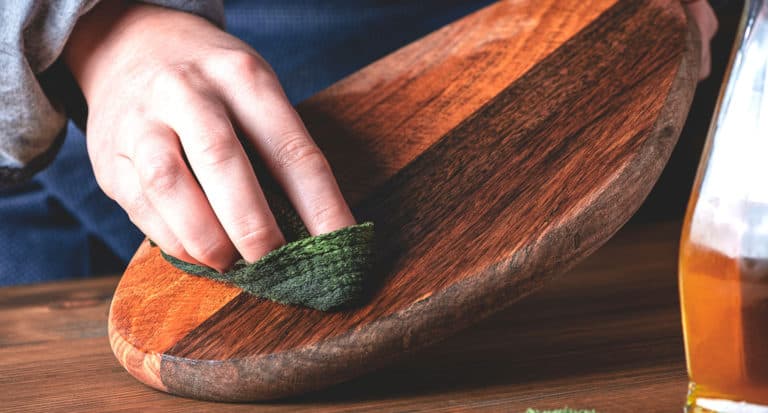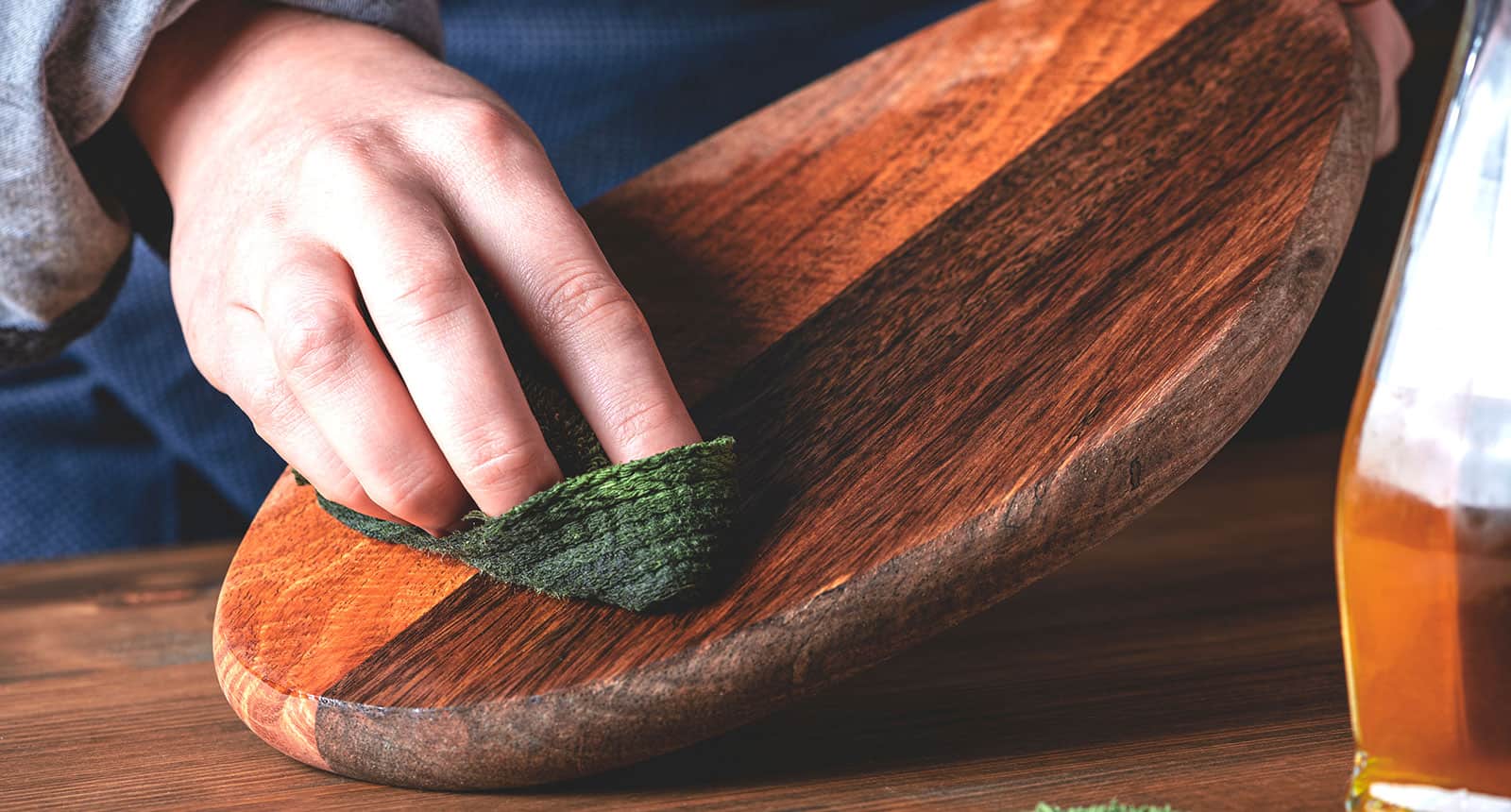 Conditioning your bamboo cutting board is very important, especially if it's a new and untreated cutting board. There are safe oils you can use and oils you need to avoid, so let's learn more about them.
Safe Oils
Although cutting boards don't appear like they need care and maintenance, they do. Wood is a porous, natural material that changes over time. So, let's learn how to condition cutting boards.
Also called liquid paraffin, mineral oil is a non-drying and non-toxic product. It's odorless, flavorless, and odorless. I like this oil because of the great properties. Mineral oil can stop water absorption.
Meaning, it's a perfect choice for oiling wooden kitchen tools such as butcher blocks, spoons, bowls, and But here's the kicker. You need to opt for a food-safe mineral oil because there's a wide array of mineral oils that aren't food-safe, so pick carefully. Always look for "white mineral oil" that's food-safe.
Beeswax is another popular option for bamboo cutting board conditioning. It's a natural wax designed in the beehives of honey bees and has different applications. Use beeswax to shine, waterproof, and shine a bamboo cutting board.
You can either use a store-bought conditioner or make your own. Melt 1 portion beeswax and mix with 4 portions of mineral oil in a pot.
Carnauba is also known as Brazil wax. It's derived from the leaves of a palm tree grown in Brazil. It's also called "the queen of waxes" because it's water-resistant and provides a beautiful finish.
This popular oil is also utilized in cosmetics, different polishes, automobile waxes, and even dental floss. Most cutting board oils and creams contain a mix of mineral oil, carnauba, and beeswax.
Coconut Oil (Fractionated)
Coconut oil is popular for different reasons, especially for beauty since it's rich in saturated fats. It's very good for hair and skin health but all fats go rancid when exposed to air including coconut oil.
However, a special selection of coconut oils is refined utilizing a fractionation process. The process helps eliminate LCT (long-chain triglycerides) and only the MCT (medium-chain triglycerides) remains.
The result is almost pure coconut oil that won't go rancid. Of course, the answer to the question "Can coconut oil get rancid?" is much more complicated than that, but you can rest assured that coconut oil usually poses no threat to your bamboo cutting board.
What's more, coconut oil isn't just good for conditioning bamboo cutting boards but also salad bowls, various kitchen utensils, countertops, and more. Don't you think it's time to stock up on some coconut oils in your pantry?
If your bamboo cutting board developed a bad odor, don't worry. You can easily neutralize it with lemon juice. Slice a lemon in half and rub it across the whole surface. It's a safe and easy way to deodorize your bamboo cutting board. The best part? The lemon oil also removes any soluble materials.
Use With Caution Oils
There's a group of dangerous oils that shouldn't be utilized for conditioning bamboo cutting boards. So, utilize the following oils with extreme caution.
This oil has pros and cons. Walnut oil comes from a nut. Thus, you should be cautious of allergic guests or family members. It's also pricy and will go rancid over time. However, it smells amazing.
Coconut Oil (Non-Processed, Virgin, or Refined)
As I have mentioned, coconut oil is commonly used to condition butcher blocks and cutting boards. It's slow to oxidize thanks to the high saturated fat content, so it's resistant to rancidification.
However, not every coconut oil is a good choice for oiling cutting boards. Avoid refined, virgin, and non-processed oil. Otherwise, your bamboo cutting board will develop a nasty smell over time.
Unsafe Oils
Avoid the following oils for oiling bamboo cutting boards. Different types of oils have different purposes. Therefore, you should learn about these oils and protect yourself from dangerous chemicals.
Vegetable oils, including most of the substitutes for vegetable oils like corn oil, olive oil, or sunflower oil, shouldn't be used to condition a butcher block or cutting boards.
You must be wondering why these oils aren't suitable for such a task. Well, it's because oils like these will go rancid. Therefore, it's dangerous, as it can produce a bad odor and a nasty taste. And since cutting boards touch foods, you should avoid substances that can go rancid.
Also known as lacquer or shellac, the varnish isn't a good choice for oiling a bamboo cutting board. It protects the wood and delivers a lovely finish. However, most varnishes are made of a solvent. Meaning, they retain the liquid in the container and evaporates as the finish completely dries.
This results in a resin or binder that keeps the wood's surface protected. But this resin will peel off when exposed to knives. Varnish can be toxic to people and can ruin the taste of your food.
Chop, Chop
Hopefully, this guide on how to clean bamboo cutting boards can help you extend the life of your cutting board. Practicing sanity measures will ensure the health of your family.
Also, your bamboo cutting board will last longer if taken care of. Avoid using your bamboo cutting board for chopping any acidic, tough, and abrasive foods. Only use it for specific purposes.
Use different cutting boards for raw meat and other foods. And since bamboo is durable but still porous, you might consider either only using it for raw meat or never cutting raw meat on it.
How do you clean your bamboo cutting board? Do you have any tips and tricks you would like to share? If so, drop a comment. Also, share this article with your social media friends.