If you are looking for Japanese crepe recipes, you have come to the right place.
If you crave for something to eat while walking on Tokyo streets, head right to Harajuku. You can see crepes being displayed behind glass windows which are super cute and come in various flavors.
The best thing about them is that it is not too hard to make them at home. With a best-grade pan for making crepes and ingredients, you can create a big batch of soft and delicious crepes to share with everyone.
Here, I will introduce you to 10 tasty Japanese crepe recipes you can make from today. Enjoy Japanese style crepe recipes right at your home!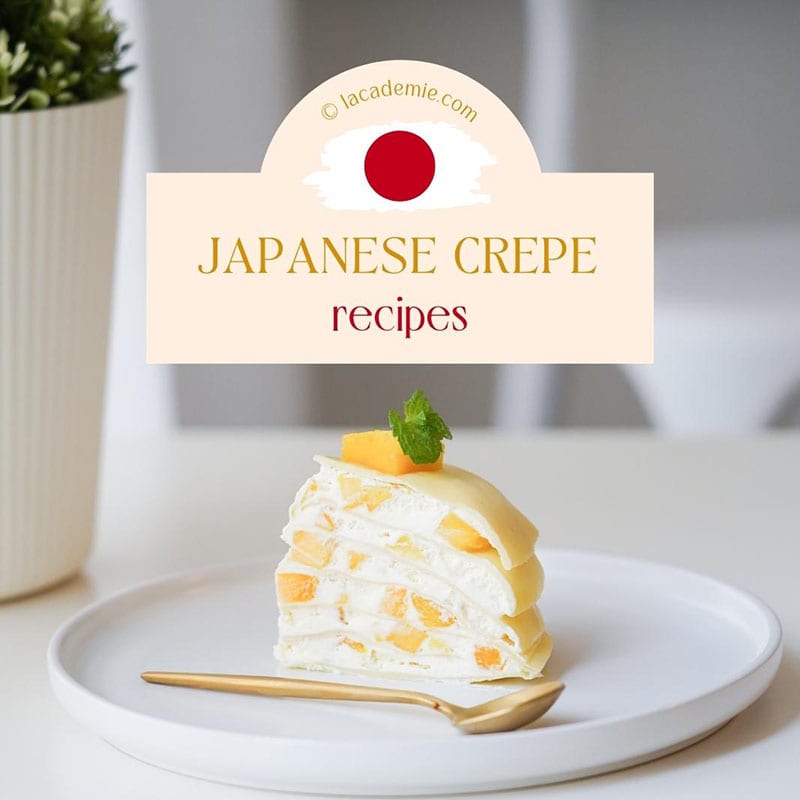 List Of 10 Interesting Japanese Crepe Recipes
Below is the list of crepes that are tasty and worth making at home.
Kawaii & Delicious Japanese-Style Crepe Recipes
1. Pancake Strawberry Crepe
2. Street Crepes (Fruits + Cream + Your Choice of Syrup)
3. Matcha Crepe
4. Banana Caramel Crepe
5. Green Tea Azuki Crepes with Whipped Cream and Pecans
6. Mochi Crepe
Unique Japanese Mille Crepe Cake Recipes
7. Fruit Mille Crepe Cake
8. Matcha Mille Crepe Cake
9. Matcha Chocolate Crepe Cake
10. Rainbow Mille Crepe Cake
Now let's learn more about each crepe's recipe in the section below!
Delicious Japanese-Style Crepe Recipes
Here I will introduce you to a variety of crepe recipes. You can enjoy them for your Japanese-theme breakfast. Crepes are, in general, very delicious, and by trying out different kinds of recipes, you will not get bored of them but even love them more!
Let's start looking at the recipes below!
Pancake mix is always the safer choice since you don't have to worry about the texture of the crepe going weird, as long as you follow its instructions. This crepe is similar to street crepes, but you don't have to make the crepe batter from scratch.
Strawberries are always a good combination with crepe, and you can also add kiwis, bananas, blueberries, raspberries to it. The mixture of whipped cream, fruits, and crepe go very well together.
Whatever fruits you choose, make sure that they're ripe. While there are tricks to speed up the ripening process of kiwis, bananas, and other climacteric fruits, non-climacteric fruits like strawberries or raspberries can only be picked (and bought) when they have properly ripened on the vines.
Street crepes are popular in Japan, especially in Harajuku street of Tokyo. You will see these crepes are made on quality and heavy-duty crepe makers that are mostly electric ones. But feel free to use your pan to make them at home.
You will start by making the crepe batter and heating them into thin crepe layers. Then you can add fillings of your choice of fruits, syrup, and whipped cream to the crepe.
As for fruits, the recommendations are the ones below, but you can also add other fruits if you think would be a good fit for the crepe itself;
Strawberries
Blueberries
Banana
Kiwis
For the syrups, these are the popular options, but you can also pick other fillings you like;
Whipped cream
Red Bean Paste
Custard cream
Ice cream of your choice
Maple syrup
Fruit sauce of your choice
Brownie squares
Street crepes are very versatile, so you can use your creativity and add the fillings you like and enjoy this dessert!
Matcha crepes are also a nice treat while walking on Japanese streets like the previous option. However, matcha powder is added to give them a taste of matcha in the crepes.
As for fillings, there are so many ways to enjoy these crepes. For example, you can top them with syrups like chocolate, Nutella, caramel, or maple syrup. If you like fruits, you can add fruits like strawberries, blueberries, bananas, kiwis, and more fruits with syrup and whipped cream. You can even add a scoop more of ice cream, too.
Since these are versatile crepes, you can add fillings of your choice that you think would make a good combination with each other!
With traditional Japanese green tea crepe layers and azuki red beans mixed with whipped cream and pecans, nothing can go wrong!
If you don't have pecans at home, you can use other nuts like almonds or walnuts, too. This is a simple yet flavorful crepe recipe in which you can enjoy the blending of Japanese and Western taste.
For street crepes, you can add sliced bananas and caramel syrup, and it's already amazing. However, if you have time and want to enhance the taste of the banana filling, you can try making these banana caramel crepes.
Crepes are heated into thin layers. Then, you can make the caramel syrup by adding water and sugar, then mix the bananas to it and coated the fruit with caramel. This will enhance the caramel taste with the banana. Besides this banana caramel filling, you can add toppings like whipped cream or ice cream to them, too!
This crepe is unique, as there is a mochi added to the crepe, which gives the crepe a chewy texture.
This is a true fusion crepe, as you can taste the milky taste of crepe with Japanese mochi, matcha, and azuki red bean paste. Since azuki red bean paste is already sweet, adding sour fruits like strawberries also enhances the taste of the crepe too!
Unique Japanese Mille Crepe Cake Recipes
Next, let's take a look at another special Japanese food for dessert – mille crepe cakes! Have you ever seen cakes that are built from layers of crepes, whipped cream, and other ingredients?
These cakes come in different flavors, and they are amazingly delicious, but what's best about them is that you can easily make them at home, too!
Below I will introduce you to popular and unique mille crepe cake recipes that you can make and enjoy!
This cake is built from layers of crepes and cut fruits mixed with whipped cream. Often you can make them into a round cake and cut it into slices just like a normal cake.
The mixture of fruits and whipped cream give the crepe cake a flavorful taste that you can never get bored of. It's not only good for those days that you crave sweet stuff, but you can turn it into a birthday cake or a party cake with extra decorations, too!
Wanna add some flavor twists to your creamy whipping cream dessert with crepe? If yes, don't miss this recipe.
This sweet treat is made from layers of matcha crepe, matcha powder, and of course, whipped cream. Nothing is better than a creamy matcha crepe cake with the matcha cream melting in your mouth!
Making this cake is relatively easy, too. The important part is to make smooth and perfect crepe layers so the cake will have a good texture. If you love crepe and matcha, this is the best cake for you!
This is a fancy and unique recipe from Tastemade that I find very delicious. It's similar to matcha mille crepe with an extra touch of chocolate coating on the outer layer, and gold leaves sprinkled on top.
This can be enjoyed on a normal day like for breakfast or dessert time, but since the finished product is pretty fancy, you can also serve it at parties too. A warm cup of coffee or tea would go really well with this matcha gold crepe cake.
This rainbow mille crepe is colorful and super cute! It is made from layers of colorful crepes and freshly whipped cream. Not only is this cake cute for the eyes, but it is also sweet, creamy, and very satisfying for the mouth and heart.
How about making this for your birthday or your friend's birthday? The rainbow mille crepe will surely make you feel positive!
So, Which Crepe Will You Make First?
Now that we have gone through the whole list, you must have seen that there are various ways to enjoy crepes. The amazing things about Japanese crepes are that it will not take a lot of your time to make them, yet they are very mouthwatering!
Have you made up your mind about which crepe recipe you will try first? What is your most favorite recipe? I would love to hear your thoughts and opinions in the comment section below!
Nutrition Facts
12 servings per container
---
Amount Per ServingCalories121
% Daily Value *
Total Fat 4.8g

7

%
Cholesterol 49mg

17

%
Sodium 130mg

6

%
Potassium 87mg

3

%
Total Carbohydrate 13.4g

5

%

Dietary Fiber 1.3g

4

%
Sugars 1.5g

Protein 4.2g

8

%
---
Vitamin C

1

%
Calcium

47

%
Vitamin D

17

%
* The % Daily Value tells you how much a nutrient in a serving of food contributes to a daily diet. 2,000 calories a day is used for general nutrition advice.