Ground beef vs. ground chuck, which is which? Back then, I was thrown into total confusion when my mom asked me to buy a pound of ground beef. As I stopped by the deli counter, I was so confused with the options available. They are all raw and red.
Therefore, it's okay. You're not the only one. Most types of ground meat look pretty much the same, but the dissimilarities are profound when you prepare and cook them. Want to know what the differences are? Scroll down and satisfy your curiosity right now!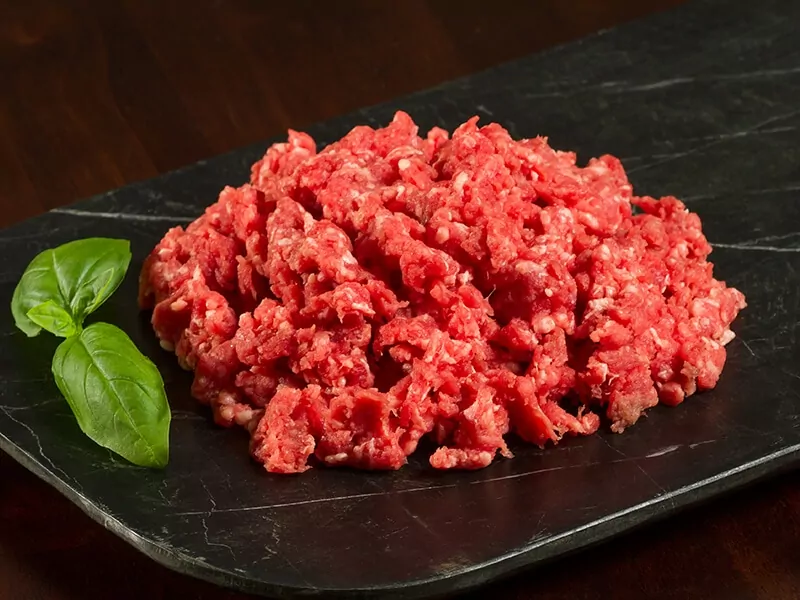 Ground Beef Vs Ground Chuck And Some Differences To Keep In Mind
When sold in the supermarket, it can be challenging for you which one's ground beef and which one's ground chuck. Nonetheless, they are very different in many aspects, which have been briefly rounded up in the list below:
Cuts of meat
Fat content
Taste and texture
Nutritional value
Price
Culinary uses
First, let's help you get to know a bit about these two types of ground meat.
A Brief Intro To Ground Beef And Ground Chuck
So far, there's one thing you can be sure as hell: they are both ground. But what were they before? Are they all beef cuts? This section will offer you some basic knowledge about ground beef and ground chuck.
Ground Beef
First, don't mistake this ground meat with minced meat since they have several differences. Ground beef is fairly cheap, up for grabs at any butcher, and you can cook it quickly. It is the key element in hamburgers, tacos, and steak tartare, a French raw dish.
If you are looking for meal prep recipes from ground beef, there are countless ideas. And the best thing about it is they can freeze well so you can store them in the freezer for longer uses.
Therefore, it's not a surprise to see almost half the amount of beef consumed is ground beef. It has a winding history, tracing back to the 1200s. Ground beef's history was involved mainly with hamburgers, and by 2007, it became a staple in many households.
The amount of fat can vary significantly depending on where you live and how you prefer it. For instance, the maximum fat content allowed in America is 30%. According to the rules, extenders and binders must not be added.
Ground meat is produced from trimmings of larger cuts. Typically, any cut can be used, but chuck and round steaks are two popular choices since they have a perfect meat-to-fat ratio. To grind the meat, your best bet is to use a meat grinder.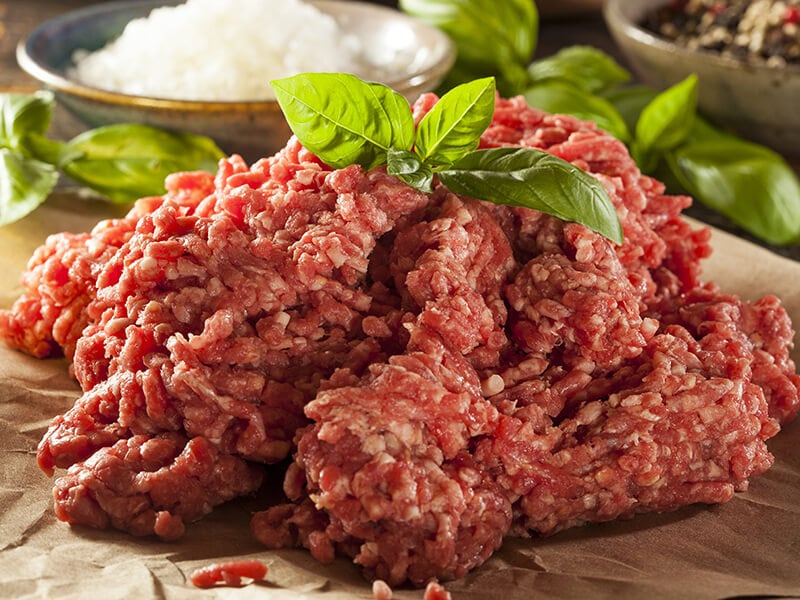 Ground Chuck
Briefly speaking, ground chuck is a type of ground beef, but that doesn't mean they are the same. Ground chuck contains more lean (80%) and is sourced from the chuck, one of the eight primal cuts of beef.
With a reasonably low-fat content, ground chuck makes some of the most delicious burger patties. It is also used for meatballs since the meat can retain its shape well during cooking. Since ground chuck has less fat than ground beef, it is sold at a lower price.
Among different types of ground beef, ground chuck is probably the most flavorful. You will sometimes see it labeled as lean ground beef, so ensure that you ask the butcher before putting it into your trolley.
At this point, you may still think the differences between ground beef and ground chuck are not too striking. The next section will change your mind; rest assured.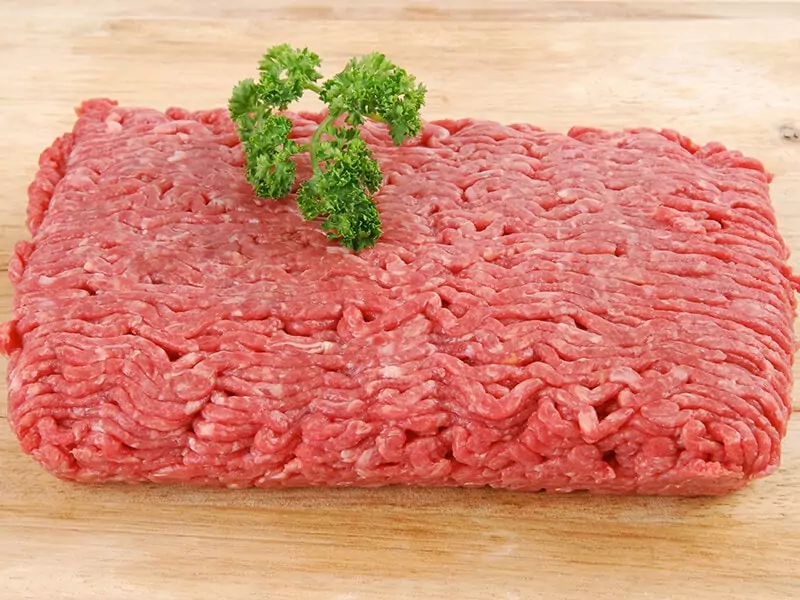 Ground Beef Vs Ground Chuck And What Sets Them Apart
In this section, you will look closer at the differences between the two types of ground meat. Skim through the table below to find out what qualities they differ from before moving on to an in-depth explanation.
| Differences | Ground Beef | Ground Chuck |
| --- | --- | --- |
| Cuts of meat | Excess trimmings of other cuts of beef, such as chuck and round steaks | Made from the part between the neck and shoulder of the animal |
| Fat content | Maximum 30% | 20% |
| Lean content | 70% | 80% |
| Texture (when cooked) | Range from tender to firm | Juicier and more tender than ground beef |
| Taste (when cooked) | Not as flavorful as ground chuck | More flavorful than ground beef |
| Nutritional value | More fat than ground chuck | Less fat than ground beef |
| Price | Slightly more expensive than ground chuck | Slightly cheaper than ground beef |
| Best for | Sloppy joes, meatloaf, steak tartare, etc. | Food made with shaped beef like patties or meatballs |
Cuts Of Meat
Ground beef is made from leftover pieces of other beef cuts, mostly chuck and round steaks. If they are not readily available, consider the following options:
Sirloin: very lean, flavorful
Brisket: lean, distinctive beefy flavor
Short Ribs: lean, rich flavor
Skirt Steak: lean, unique tangy flavor
Ground chuck, on the other hand, is made from only one part with the same name.
Before you grind the meat, here are some imperative rules you should not forget.
For easy grinding, cut the meat into bite-sized cubes (about 1 inch each) and flash-freeze for about 20-30 minutes. Remember to use an airtight freezer container to store.
Also, the cubes should become firm but not frozen. This also minimizes the risk of contamination when you work with raw meat.
A specialized tool for this job is a meat grinder. However, if you don't have one, you can opt for a food processor or chop the meat finely with a cleaver. Packaged ground beef is also available should you think you can handle raw meat properly.
The texture of cooked ground beef and chuck will vary depending on how many times you grind them. After the first grind, you will get a slightly coarser disk. After the second grind, the disk should become finer. In short, the more you grind, the denser they cook up.
Grind your meat at home is within the realms of possibility. Let's watch this video:
Fat And Lean Content
Ground beef takes pride in its fat content, which is considered the highest among all types of ground beef. In America, ground beef has about 25-30% of fat, but this amount is reduced to 15% in France and Germany.
Although the fat yields more flavors for your dishes, some people claim that ground beef is too mushy. However, this is only a matter of preferences, and today, you can find various types of ground beef with different fat contents to match your needs.
Although less fatty, ground chuck is still a popular choice for burgers since it delivers juicy flavors. To bind the meat, gently work with your fingers instead of your hands. Ensure that the meat stays cold before cooking.
With only 20% of fat, ground chuck is sometimes marketed as "extra lean ground beef." In general, ground beef and ground chuck are some of the leanest cuts of the cow, ideal for those hoping to boost their protein and omega-3 fatty acids intake. (1)
Cooked Texture
When appropriately cooked, ground beef should burn a bit in the middle. The texture is usually firm, somewhat flaky, but still goes tender on your tongue. Ground chuck gives you similar feels, but some say that the meat is even juicier and more tender than ground beef.
Finally, your beef patties should be juicy, not soaked up with water. If they are mushy, the chances are that the raw meat has been exposed for too long to room temperature, which smears the fat. Under high heat, the fat will transform to liquid, resulting in a yuck texture.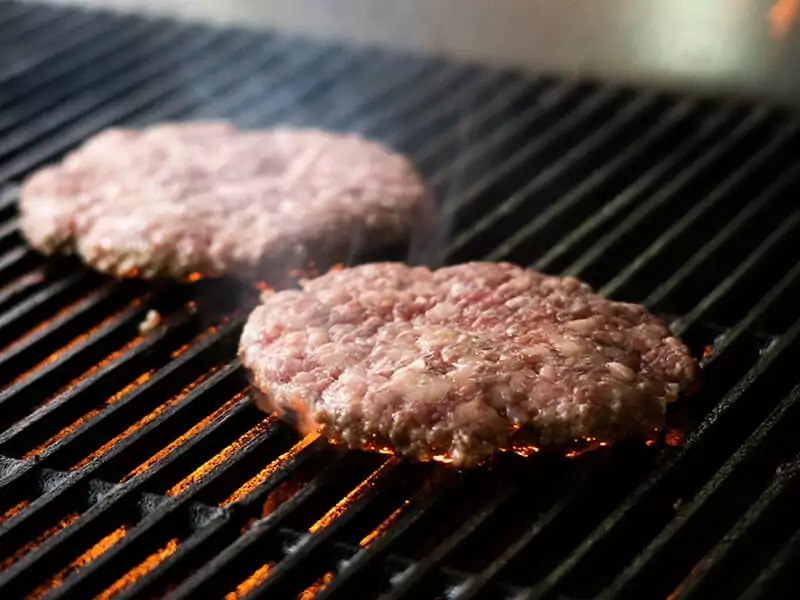 Taste
The smell of ground beef on griddles is delectable, but have you tried eating it raw? Tartare is a French delicacy made from raw ground beef served with onions, pepper, and egg yolk. The dish can be an acquired taste to some, but it is definitely worth a try.
If you don't have the guts for steak tartare, you can prepare ground beef and ground chuck in traditional methods, such as frying or grilling for burgers. If you plan to make baked ziti, casserole, or sloppy joes, browning over medium-high heat is a classic move.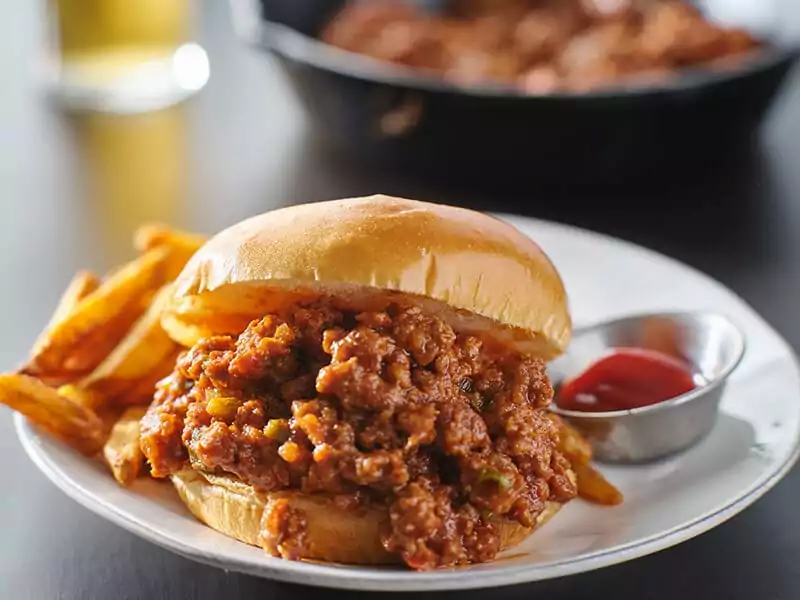 Sure enough, whatever methods you use for cooking ground beef and ground chuck, the result will not disappoint you. Thanks to the perfect fat-to-lean ratio, ground chuck tastes somewhat richer and more flavorful than ground beef.
Of course, no one likes boring ground beef and ground chuck. Spice them up with a dash of peppers, fresh herbs, or seasonings like chili powder and cumin. There are numerous ways you can amp up their flavors besides just breadcrumbs and cheese.
Nutritional Value
Evidently, ground beef contains more fat compared to ground chuck. Fat equals calories, so you can tell which one's more likely to make you gain some extra pounds. For one serving of three ounces, ground beef has 25 more calories than ground chuck.
Since ground beef and ground chuck are both beef products, they share a somewhat similar nutrient profile. They are valuable sources of lean protein, which bolsters your immune system and increases your life expectancy. (2)
Price
With less fat properties, ground chuck is a more budget-friendly alternative than ground beef. However, it does not mean you should pay through your nose for ground beef since they are made with the trimmings of other prized cuts.
That said, if your life motto is "a penny saved is a penny earned," you can grind your meat at home instead of going with commercial products. You will have to invest in a meat grinder, but it's worth it if burgers are a staple on your dinner table during summer.
Some economical options to make ground beef you can weigh up are sirloin, short ribs, and brisket. Make sure the cut you buy comes with a fat content that does not exceed 30%.
Best Dishes Using Ground Beef And Ground Chuck
What to do with some fresh ground beef and ground chuck? I love burgers as much as other people, but they don't offer much versatility and have been overdone. In reality, you can also, for instance. use ground meat for plenty of meatloaf ideas.
Overall, they have similar culinary applications and are used interchangeably in most recipes without any problem. However, since ground chuck holds its shape well, it is commonly used to make foods that require structure like patties, meatballs, etc.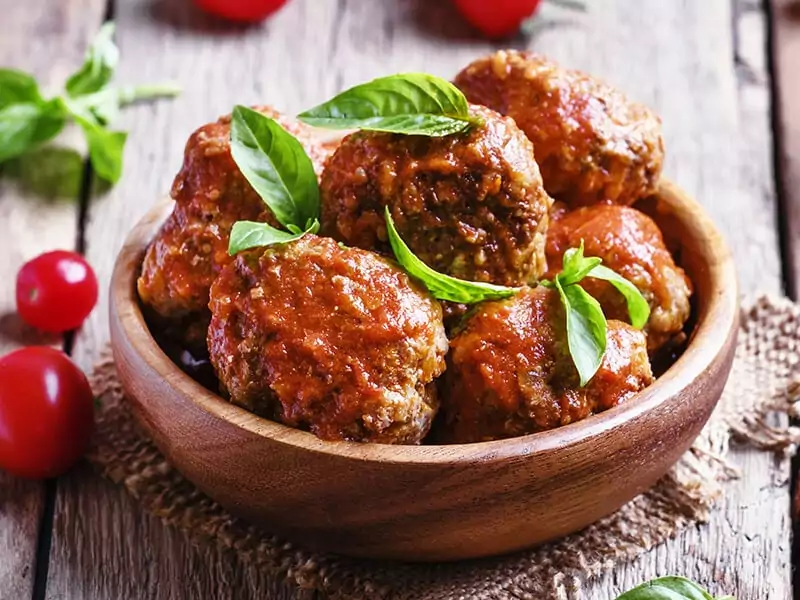 The best kitchen appliances to make these foods are a grill or an outdoor griddle, where you can easily drain the fat. They also retain heat well and make your food look extra delicious with gorgeous crosshatch grill marks.
Ground beef offers more adaptability in cooking. The meat does not bind well, which may not be ideal for cooking up the dishes mentioned earlier. You will often see it involve crispy tacos, baked dishes like casseroles or lasagnas, or the famous sloppy joes.
Let's Get Cooking With Ground Beef And Ground Chuck!
And now, here comes the part you have been waiting for: cooking ground beef and ground chuck. Even if you have been knocking them up for a while, I'm sure that you may not still know their full potential. Check out the recipes below!
Note: The recipes below are written for ground beef, but you can use ground chuck instead with no problems.
Your spaghetti cannot live without this hearty meat sauce – and you can't, too. You'll get it once you indulge in the rich flavors of tomatoes, fresh herbs, and ground beef. Rest easy that your midweek dinner will no longer be boring with this simple but delicious recipe.
What happens when your two favorite Mexican and Italian dishes collide? You have this crowd-friendly recipe that takes your backyard party to the next level. Don't forget to top some shredded lettuce and chopped tomatoes for extra brightness.
Meatballs hold a special place in my heart for how flexible they are. With this recipe inspired by IKEA, these ultra-luscious meatballs are made from a blend of ground beef and pork and spiced up with garlic and parsley. That creamy gravy is just to die for!
Rustle up some Swedish meatballs and watch your guests light up. Watch this video:
When winter is around the corner, beef chili becomes a mainstay in my family's dinner. Made with ground beef, canned kidney beans, and chili powder, this pot of chili is a yummy holiday project that won't cost you a fortune. The best part? They are done in only an hour.
Your childhood's favorite meatloaf is now back in action, but this time with a twist. This recipe enhances the flavor with a lip-smacking glaze made with ketchup, Worcestershire sauce, and brown sugar. You know the rules: meatloaf is perfect against some mashed potatoes.
And what's better? Prepare some treats to serve along with your meatloaf. They can be fruits or veggies, depending on your preference.
Keep your guests entertained this holiday season with this tasty meatloaf. Watch this video:
These ground beef potstickers will become a hit at your next potluck party. Although they are a labor of love, the results are always spectacular. Let your taste buds be mesmerized by the juiciness of ground beef, intertwined with an intricate use of soy sauce and other flavorings.
Tips On Cooking With Ground Beef And Ground Chuck
Some extra tips to make your finished products not only tasty but also safe to consume. Skip them, and you'll regret it for good!
Precautions for preparation: All the utensils that involve the preparation must be chilled, including the bowl you use to catch the meat. Sanitizing is a must to prevent cross-contamination.
Add binders if needed: Eggs and bacon grease are two common binders to prevent the patties from falling apart when flipped. They should be used only when the patties are made with ground beef and include bulky add-ins.
Note: Most patties made by McDonald's are just ground meat and spices since they are not allowed to use binders, extenders, or liquids in their cooking process.
Ground meats must be cooked to 160 degrees F. Raw or undercooked ground meat can harbor harmful bacteria like Salmonella. Thus, let the cooked products rest a bit before serving.
Degrees of doneness (for burgers): Refer to the table below.
| Doneness | Temperatures (F) | Total cooking time (minutes) |
| --- | --- | --- |
| Rare | 120-125 | 4 |
| Medium-rare | 130-135 | 5 |
| Medium | 150-155 | 6-7 |
| Well-done | 160-165 | 8-9 |
FAQs
Stop by the following section should you have more questions about the differences between ground beef and ground chuck or how to cook with them. You'll be sorry if you miss it.
Ground Meat Is The New (And Better) Steak
Are the differences between ground beef vs. ground chuck clear now? I hope so. If you have not eaten ground meat for a while, it's about time. It digests and absorbs faster than steak, increasing the protein circulating in the blood.
So, what's your plan for tonight's dinner? Will it be a quick pasta with meatballs or some juicy burgers and a serving of fries? Share your delectable results with other readers and me via the comment section. I'm looking forward to seeing them all.
References
D, L., S, S., ML, W., NJ, M. and AJ, S., 2021. Lean meat and heart health. [online] PubMed. Available at: <https://pubmed.ncbi.nlm.nih.gov/15927927/>.
The Center for Health and Wellbeing. 2021. The Top 10 Health Benefits of Lean Protein. [online] Available at: <https://chwbonline.com/top-10-health-benefits-lean-protein/>.