Looking for the best cheese slicer in the market currently? Search no more because these unbiased reviews will show what you need to know to shop for the greatest kitchenware and make your cheese dishes more perfect.
Indeed, cheese is everyone's favorite dairy food. But when it comes to slicing cheese, it might be challenging if you do not have a proper tool. So why don't you keep rolling down to find out which slicer is ideal for you?
I guarantee you are all set to buy one after reading this article. Let's start the exploration with me!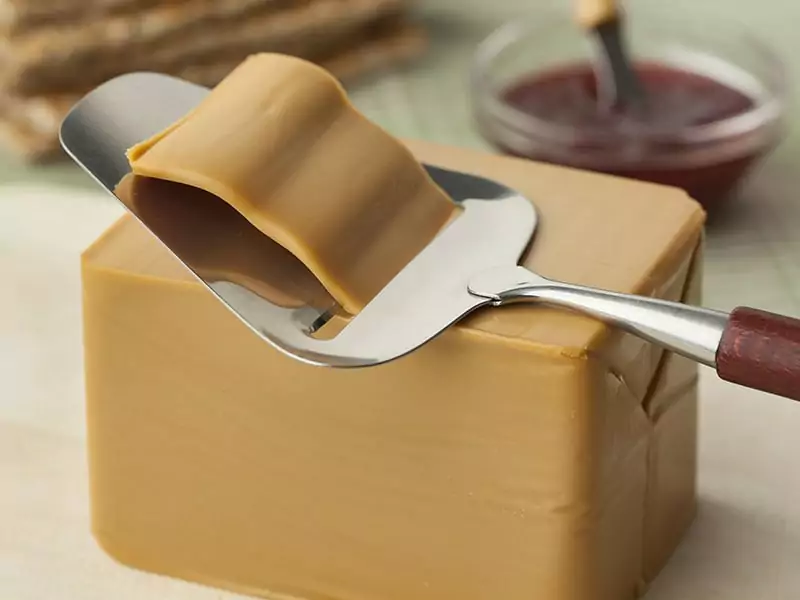 How A Cheese Slicer Works And Why Do You Need One?
A cheese slicer is made for cutting cheese that ensures the consistent thickness of slices. These tools are normally designed with cutting boards, handles, wire (or blade) to transform big cheese blocks into thinner and even cheese slices.
Different cheese slicers have other ways to use, but I will discuss them in more detail in the buying guide part. But first, let's take a look at the importance of a cheese slicer to prove why you should have one in your kitchen.
Ease Of Use: First, you might think you can slice your food with a knife. However, a knife might require special skills to use it safely. But with a cheese slicer, your job can be performed much easier and safer.
Create Even (Thick or Thin) Slices: More often than not, even something as alluring as the taste of Gouda cheese might be incomplete without the perfect preparation. And using this kitchenware ensures perfection in every piece of cheese regarding shape, size, and thickness.
Save Time: Of course, it will save a lot of your time when cutting cheese compared to the traditional way of using a knife. And why don't you use this time to make more side dishes to serve with grilled cheeses and surprise your friends with your cooking skill?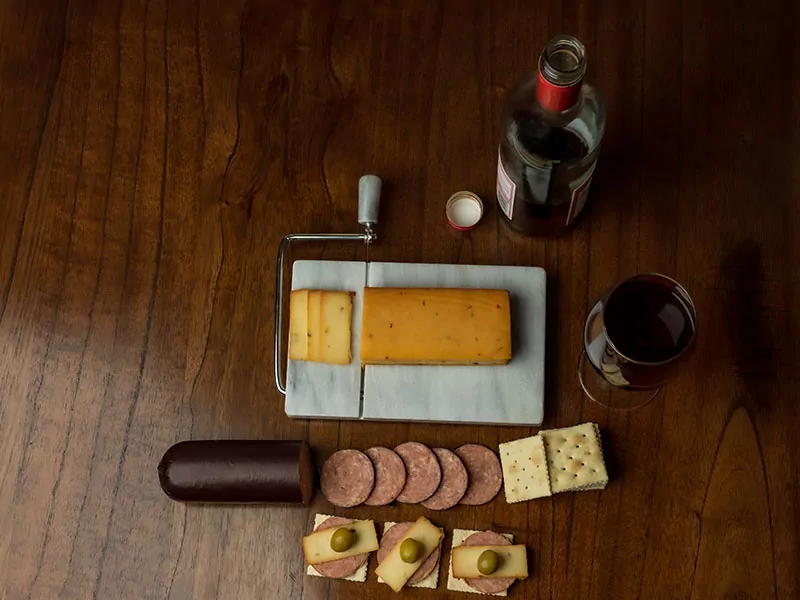 Big Brand Names Of Cheese Slicer Around The World
Alright! Let's find out which famous manufacturers are when it comes to producing cheese slicers. Here are the top 4 brand names that will keep you satisfied.
Westmark: This German brand is one of the best manufacturers with huge experience in providing high-quality and durable in-house tools and kitchen wares with the most competitive prices.
Bellemain: If you seek great design and superior-quality kitchen tools, do not miss this brand name – Bellemain. Founded in New York in 2007, Bellemain has gained popularity among customers through its wide range of product lines. And one of its high-rated products is cheese slicer.
Mueller Austria: This company is well-known for its innovative and high-quality home appliances/accessories that make your cooking more enjoyable. Plus, its products suit both left and right-handed people.
Prodyne: Prodyne started its business in 1971 with the Gourmet Cheese Slider. And today, it is a favorite brand name among American customers in cheese slicers, thanks to its modern designs, good quality, and affordable price.
Which Products Are The Best Slicers For Cheese?
Now! Let's take a quick view of the significant factors that make 10 products here become the best cheese slicers on the market.
From my perspective, the best one that I would like to introduce first is the Bellemain cheese slicer. It is easy to use and handy with replaceable wire and adjustable thickness.
If you need a multipurpose tool, the Mueller Austria Multi-Blade slicer is perfect for handling various types of food with many cut shapes.
The Comparison Chart Of 10 Best Cheese Slicers
With the following table, you can get some basic ideas about these best cheese slicers in terms of their dimension, weight, types, and compatibility in dishwasher or not
Detailed and Honest Reviews Of Top 10 Best Slicers For Cheeses
This section will give you the most comprehensive information about these best-chosen cheese slicers. With different types, features, materials, or other characteristics, they are all special and useful in different ways.
1. Bellemain Adjustable Thickness Cheese Slicer
(Best Overall)
With this Bellemain cheese slicer and its adjustable wire, you will have perfectly-cut cheese slices up to 1/4-inch thick. Made from zinc alloy and stainless steel blade, this slicer also has an elegant look that makes your kitchen look fancier overall.
You can even cut cheese blocks up to 3.5-inch wide by adjusting the slicer easily, regardless of thin or thick slices. This tool also includes a 1-year warranty to maximize your satisfaction when using it.
And in 1 purchase, you are backed up with 1 replacement stainless steel wire in case you need it. So why don't you buy one and make a big meal with many types of cheeses, for example, to explore how amazing Gruyere cheese tastes? You will wish you had bought this tool sooner.
Key Features:
Replaceable wire
Come in 1 unit that is easy to hold
1-year warranty
Can handle up to 3.5-inch cheese width
Can provide up to 1.4-inch slice's thickness
Include 1 replacement wire
Pros
Simple to use
Strong materials (zinc alloy body and stainless steel wire)
Can cut thick, thin, paper-thin slices with this tool
Elegant design
Easy to clean
Can adjust thickness effortlessly
Cons
Not suitable to clean in dishwasher (it might discolor the roller)
Tend-to-slip handle
Product Specifications:
| | |
| --- | --- |
| Brand | Bellemain |
| Type | Rolling slicer |
| Dimension | 8.2 x 5.94 x 0.75 in |
| Weight | 0.45 lbs. |
| Color | Silver |
| Body Material | Zinc |
| Wire/Blade Material | Stainless steel |
| Dishwasher Safe | No |
Do not know how to use a Bellemain cheese slicer correctly? This instruction will tell you.
2. BOSKA Copenhagen Stainless Cheese Slicer
(Best Budget)
The most economical yet powerful slicer that can handle hard cheeses at ease is here. It is a BOSKA Copenhagen slicer, which I am sure you will be wowed and 100% satisfied with while using it.
Durable, high-quality stainless steel body and blade offer sharp cuts and ensure the cheese slices look perfectly on your burgers or other grilled cheese dishes.
Designed with an ergonomic handle, this product also provides the most comfort for your hand. And do you know what is even better? After using it, all you have to do is throw it into a dishwasher, so you do not have to clean it by yourself.
Key Features:
Wire-free
Durable stainless steel body and blade
Able to work with semi-hard to hard cheese
Safe in dishwasher
Come with a 10-year guarantee
Pros
Sleek and luxury design
Super lightweight thanks to hallow design
Easy to operate
Blade still stays sharp after years
Comfortably use
Cons
Not suitable for thin slices
Might not cut pieces evenly
Product Specifications:
| | |
| --- | --- |
| Brand | BOSKA |
| Type | Cheese plane slicer |
| Dimension | 8.66 x 2.91 x 0.79 in |
| Weight | 0.75 lbs. |
| Color | Steel gray |
| Body Material | Stainless steel |
| Wire/Blade Material | Stainless steel |
| Dishwasher Safe | Yes |
3. Mueller Austria Multi-Blade Cheese Slicer
(Best For Multiple Uses)
If you are looking for a tool that can cut, shred, grate cheese and vegetables in 1 unit, look no further because this Mueller Austria Multi-Blade will make the food-prep process much easier.
What's better, they are also a brilliant tool to chop vegetables. In just 1 tool, you can slide your food beautifully with its ultra-sharp blades and slicer guard. It also comes with 5 different removable blades so you can slice, grate, julienne, peel, or chop your food in no time.
Overall, this tool offers unlimited choices when it comes to prepping foods. And as it is made from non-toxic ABS plastic material and stainless steel blade, this slicer ensures healthy food in your daily meal.
Key Features:
Include 5 sharp blades for different cutting jobs (grater, slicer blade, wavy blades, shredder, coarse shredder)
Made from non-toxic materials (ABS plastic and grade-420 hardened stainless steel)
Designed with slicing guard to increase the safety in use
Have thumb dial control to slice customized more conveniently
Offer full refund or replacement for dissatisfaction
Pros
Great design
Fasten preparing and cutting process to save your time
Suitable to use for many types of cheese (from soft to hard)
Can cut other food like vegetables
Simple using and cleaning with dishwasher
Can create slices from 0.04 to 0.35 inch
Cons
Might require more attention while cutting due to the risk of cutting fingers
Product Specifications:
| | |
| --- | --- |
| Brand | Mueller Austria |
| Type | Mandoline slicer |
| Dimension | 13.43 x 6.14 x 5.08 in |
| Weight | 2.2 lbs. |
| Color | White |
| Body Material | ABS plastic |
| Wire/Blade Material | Stainless steel |
| Dishwasher Safe | Yes |
Let's see how great the Mueller Austria Multi-Blade slicer is with this review.
4. Westmark Germany Heavy-Duty Cheese Slicer
(Best For Hard Cheese)
This Westmark cheese slicer is a superior tool from one of the best brands worldwide in the kitchenware industry. And I guarantee you will love it.
It is not only easy to use but also durable as it is made from high-quality stainless steel. Besides, this product brings the most comfortable feel during use with its thermoplastic elastomeric handle.
And no matter if it is soft (like the finest products of Mozzarella cheese) or hard cheeses, Westmark cheese slicers can handle them well.
Key Features:
Product of one of the best kitchenware brands worldwide
Come with a thermoplastic elastomeric soft-touch handle
Suitable in the dishwasher for cleaning
Equipped with the strong and sharp stainless steel blade
Can ask for a refund if you are not happy with the product
Pros
Can cut both soft and hard kinds of cheese but ideal for hard types
Offer the comfort in use
Provide sturdy feel in your hand
No wire to break
Can produce thin and thick slices perfectly
Cons
Might leave a little cheese nib underneath the blade, so you have to remove it before cutting new slices
Might not be easy to adjust the slice thickness by changing the holding angle
Product Specifications:
| | |
| --- | --- |
| Brand | Westmark |
| Type | Cheese plane slicer |
| Dimension | 0.87 x 11.5 x 3.94 in |
| Weight | 0.13 lbs. |
| Color | Red, black (also available in gray) |
| Body Material | Stainless steel, thermoplastic elastomeric |
| Wire/Blade Material | Stainless steel |
| Dishwasher Safe | Yes |
5. Prodyne 126-B Bamboo Cheese Slicer
(Best Wood Slicer)
In case you need a slicer that comes with a board, this Prodyne 126-B Bamboo slicer might be your new favorite kitchenware.
With a large board and non-slip rubber feet, this tool ensures the fixed condition when slicing and protects your tabletop as well.
It is also equipped with replaceable stainless steel wire to create perfect and even slices. So thick or thin slices, it is all up to you.
Key Features:
Large bamboo board
Replaceable stainless steel wire
Have a unique Prodyne design
Equipped with anti-slip rubber feet under the board to fix the board while cutting
Pros
Can be cleaned with a damp paper towel effortlessly
Able to prevent scratches on the tabletop
Wire is adjustable
You can use it to cut other things, like soap
Product Specifications:
| | |
| --- | --- |
| Brand | Prodyne |
| Type | Board slicer |
| Dimension | 13 x 8.25 x 2 in |
| Weight | 1.2 lbs. |
| Color | Wooden |
| Body Material | Bamboo |
| Wire/Blade Material | Stainless Steel |
| Dishwasher Safe | No |
6. Fox Run Marble Cheese Slicer
(Best Marble Slicer)
Are you a party thrower? Do not miss this amazing slicer. Indeed, it will make your cheeseburgers, sandwiches, appetizer, or other cheese-related dishes more special and beautiful.
First, the design of this tool is luxurious with a unique, long-lasting, and no-stick marble board. And with plastic feet underneath, your table is safe from scratches, and it also keeps the board fixed.
This cheese slicer comes with 2 replacement wires, so you can easily change them when needed. Overall, you can cut through any cheese width with this item efficiently and hassle-free.
Key Features:
Have a strong and non-stick marble board
Designed with rubber feet to prevent slipping and scratching
Come in a unique appearance with special marble patterns
Have 2 other wires for replacement
Pros
Can create beautifully even slices
Easy to clean without a dishwasher
High-quality blade for sturdy cuts
Will not warp when soaking in water
Simple to assemble
Able to work with soft to hard cheeses
Cons
Quite heavy
Wire might loosen after several uses
Cons:
Product Specifications:
| | |
| --- | --- |
| Brand | Fox Run |
| Type | Board slicer |
| Dimension | 5 x 8.25 x 1.25 in |
| Weight | 3 lbs. |
| Color | White marble |
| Body Material | Marble |
| Wire/Blade Material | Stainless Steel |
| Dishwasher Safe | Yes (but hand wash is highly recommended) |
Grab a cheese block, try it on this Fox Run Marble slicer, and see how it works.
7. Westmark Germany Multipurpose Cheese Slicer
(Best With Adjustable Scale)
Here is another great product from Westmark, but this one is designed with a cutting board and an adjustable thickness scale to optimize the slicing precision and efficiency.
Moreover, you can use it to cut cheeses, veggies, sausages, and more. The best thing about it is the scale that allows you to turn the dial and set the exact thickness for your food.
And with a convenient handle that is made from quality cast aluminum, every cut is effortless and quick. However, this is not a dishwasher-safe item, but do not worry as you can easily clean it with soap and water.
Key Features:
Qualified German kitchenware
Made from high-quality materials (ABS plastic, stainless steel, and polypropylene)
Have adjustable scale for the exact thickness as desired
Can cut various foods (e.g., cheeses, vegetables, meats, etc.)
Equipped with an ergonomic aluminum handle
Pros
Straightforward assembling
Ease of use
Have a solid structure
Can be cleaned with no effort
Very sharp blade to create clean and consistent slices
Cons
Have a quite expensive price tag
Product Specifications:
| | |
| --- | --- |
| Brand | Westmark |
| Type | Board slicer |
| Dimension | 9.25 x 9 x 2.13 in |
| Weight | 0.93 lbs. |
| Color | White |
| Body Material | Aluminum, stainless steel, polypropylene |
| Wire/Blade Material | Stainless steel |
| Dishwasher Safe | No |
Here is a quick guide to using the Westmark Multipurpose cheese slicer that you should not miss.
8. RSVP International Endurance Cheese Slicer
(Best With Stainless Steel Material)
Another revolutionary invention that makes your slicing cheese job is handier is this RSVP International Endurance slicer. With the whole body and blade made from solid stainless steel, this one offers sturdy and beautiful cuts.
Moreover, it comes with a blade that is measured at 4 inches. This slicer is also a slipping-free tool as it has non-skid grips under the base. So let's grab your favorite cheese and give this tool a shot to see what happens.
Key Features:
A whole unit is made from solid stainless steel
4-inch blade
Have non-skid grips for the stable condition while slicing
Able to cut cheese, meats, herbs, etc.
Pros
Have a modern-style look that can decorate your kitchen
Can be put together simply
Use with ease
Can use a dishwasher to clean it
Light and compact design
Cons
Might not be suitable for large cheese blocks
Product Specifications:
| | |
| --- | --- |
| Brand | RSVP International |
| Type | Board slicer |
| Package Dimension | 7.75 x 7.5 x 0.75 in |
| Weight | 1 lb. |
| Color | Steel gray |
| Body Material | Stainless steel |
| Wire/Blade Material | Stainless Steel |
| Dishwasher Safe | Yes |
9. OXO Good Grips Cheese Slicer
(Best For Daily Uses)
If you need a slicer that you can use every day at its finest, this product and its sturdy blade will be your new go-to kitchen toy. You can use it to cut from soft to hard cheeses (for example, delicious Swiss-type cheeses) with different thicknesses by adjusting the holding angle.
When you buy this item, the manufacturer also provides an additional stainless steel wire for you to replace it. And in case you want to tighten the wire when it starts to loosen, just simply roll the tensioning wheel.
Key Features:
Featured with tension wheel to tighten the wire when needed
Well built with a solid cast zinc body and stainless steel blade
Capable of dealing from soft to hard cheeses
Replaceable wire
Equipped with an anti-slip and soft handle to maximize comfort when using
Pros
Durable and sturdy
Can fit in every hand
Easy to clean with dishwasher
Come with an extra stainless steel wire
Have compact design and very lightweight
Cons
Adjust the thickness of slices manually by modifying your wrist angle
Product Specifications:
| | |
| --- | --- |
| Brand | OXO |
| Type | Rolling slicer |
| Dimension | 5.62 x 4.37 x 1 in |
| Weight | 0.15 lbs. |
| Color | Black |
| Body Material | Cast zinc |
| Wire/Blade Material | Stainless steel |
| Dishwasher Safe | Yes |
How good the OXO Good Grips slicer is? Let's find out.
10. Zulay Adjustable Thickness Cheese Slicer
(Best With Replaceable Wires)
Come in heavy-duty design with zinc-aluminum alloy body and stainless steel blade, slicing cheese cannot get any easier with this tool.
It is suitable to use for various kinds of cheese with different textures. Designed with a smooth roller and able to handle up to 3.5-inch cheese block width, you can slice your food quickly and easily.
Besides, this Zullay slicer is rust-resistant and BPA-free, which means it is better for your health. It also comes with 2 additional wires for you to replace after years of use.
Key Features:
Durable body that made from zinc alloy
304 stainless steel cutting wire
Adjustable slice width
Have a smooth roller for easier slicing
Have 2 replacement wires in 1 purchase
Easy-grip handle
Pros
Can create thick to thin slices, or even paper-thin with a 1/4-inch thickness
Able to work with 3.5-inch cheese block
Offer sturdy feels in hand
Suitable for many types of cheese
Cons
Require washes by hand
Handle length is relatively short
Product Specifications:
| | |
| --- | --- |
| Brand | Zulay |
| Type | Rolling slicer |
| Dimension | 5.12 x 5 x 0.63 in |
| Weight | 0.5 lbs. |
| Color | Copper |
| Body Material | Cast zinc |
| Wire/Blade Material | Stainless steel |
| Dishwasher Safe | No |
Informative Buying Guide For Selecting The Greatest Cheese Slicer
This article will be incomplete if there is no buying guide with various criteria to look at. So here are 9 factors that everyone needs to consider prior to choosing an appropriate cheese slicer.
1. Types Of Cheese Slicer
Following are 4 common slicer types that can create slightly and attractive cheese slices. Each of them has special and distinctive characteristics, so you need to rely on your requirements to find the suitable one for yourself.
Cheese Plane Slicer
This is the initial form of a modern cheese slicer. The cheese place slicer is designed with a small flat base with a hole in the middle to slice the cheese. It also has a long handle for easy holding.
Board Slicer With Wire
Another popular one is the cheese board slicer with a wire. The board's material is varied; for example, you can find bamboo, beechwood, marble board, or other materials. With a wire attached to a lever, you need to raise and lower it to slice your cheese.
Rolling Slicer With Wire
If you need another handheld cheese slicer, you can stick with a rolling type. This slicer sort includes a roller, a cutting wire, and a handle in 1 unit with a T-shape appearance which looks like a vegetable peeler. You can adjust the slice thickness by modifying the angle of your tool.
Mandoline Slicer
The mandoline slicer is a flat board that includes a slicing blade on the surface. You can slide your food along its surface to cut, grate, or slice. Overall, this type is perfect for busy people as it can slice your cheese very thinly and fast.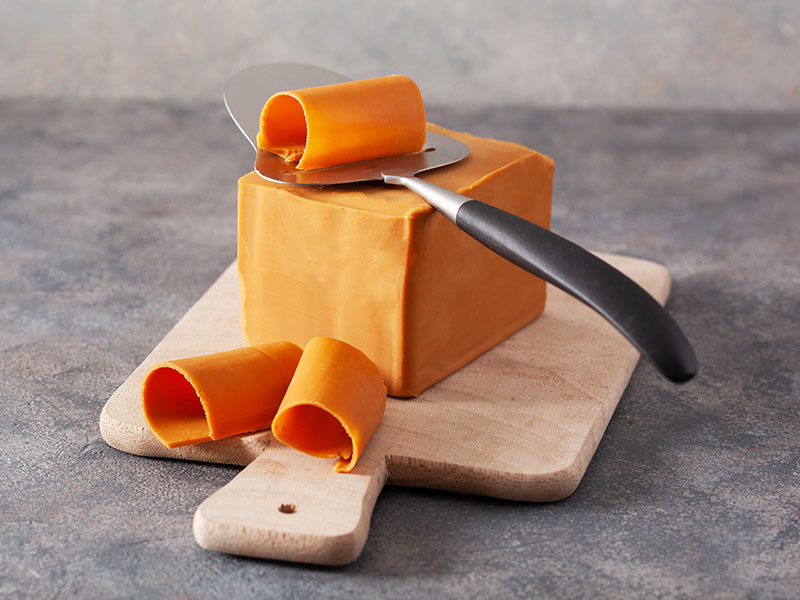 2. Size
The size of your tool is also needed to look at. If you need a convenient slicer to bring around, choose a handheld type like cheese plane or rolling slicer. They are very lightweight with a compact design.
But if you need to cut something bigger, you should opt for a board slicer sort. It might also take up some space in your kitchen.
3. Material
The ideal and durable material is stainless steel, especially for the blade or wire. It will not get rusty to ensure your foods are safe to eat. Regarding the slicer's handle, it can be made of other materials like zinc alloy or aluminum.
As mentioned above, board slicers have a base made from different materials like wooden, plastic, marble, or steel. If you need a lightweight board slicer, you should choose plastic ones because the other materials are heavier.
4. Comfort
Different types of slicers offer different degrees of comfort. For handheld forms, a sturdy handle with soft and anti-slip coverage would be much better for your hand. Or the ergonomic handle can reduce the strain on your grip and wrist.
With board types, it needs to have anti-slip rubber feet to fix the board on your table. And the wire or blade should be sharp enough to slice cheese perfectly regardless of what type.
5. Versatility
Another thing to consider is determining what type of cheese that you are using. For soft or semi-soft types (e.g., Brie, Jarlsberg, Fontina, or Mozzarella cheeses that you find in the supermarket), you can use the handheld tool that comes with a wire.
For semi-firm to firm cheeses like Cheddar, Gruyere, or Swiss cheeses, a board slicer or cheese plane might help you cut them into thin pieces. Some models can even cut meats, sausages, vegetables, or fruits, like the mandoline slicer.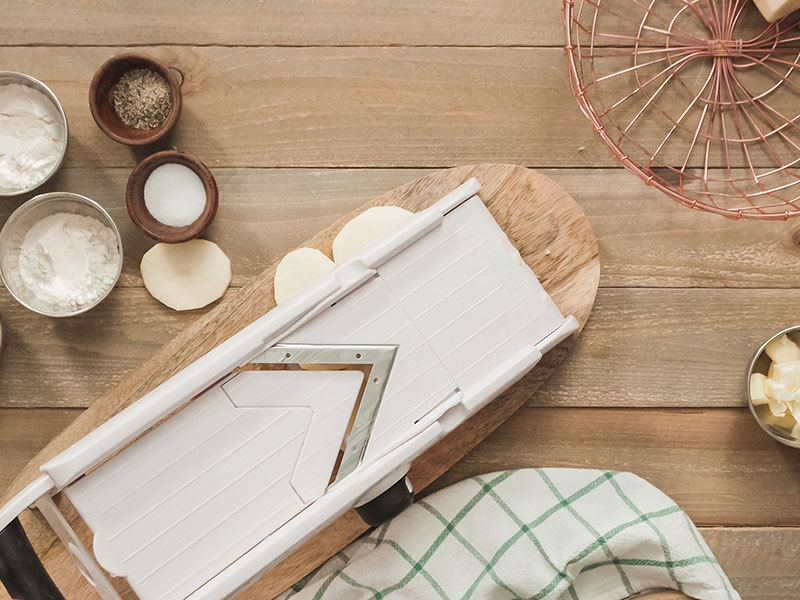 6. Adjustable Slice Thickness
It is also an essential aspect that you need to know. In this case, I think board slicers are better in thickness flexibility as you can move the cheese by your hand and cut it according to your desired thickness by a wire or blade.
The slice thickness can be adjusted with a knob, or you can change your holding angle with rolling slicers. But not everyone is familiar with adjusting the angle to create the expected thickness. It might result in inconsistent and uneven cheese pieces.
7. Safety
Generally, cheese slicers that have wires are safer than those with blades. So if you choose blade types, check for products that include blade guards.
In case your tool is a mandoline slicer, you should pay more attention because it might result in serious injury due to its sharp blade.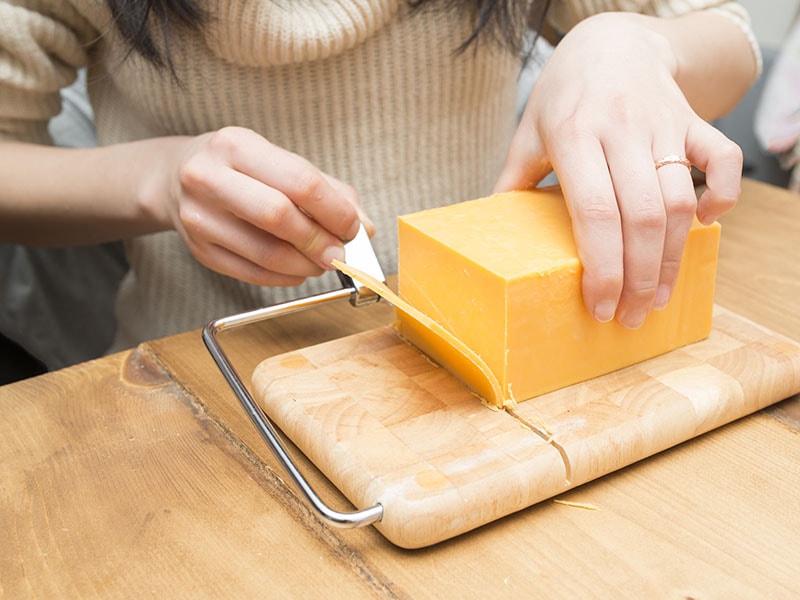 8. Ease Of Clean
If washing dishes is not your favorite job, you should choose a dishwasher-safe slicer; therefore, all you have to do is throw your tool into a machine and let it clean after each use.
Luckily, the majority of handheld cheese slicers are suitable for dishwashers. If they require hand-washing only, it is also simple to clean with soap and water or a wet paper towel.
9. Warranty or Guaranty
The last consideration is the warranty or guarantee conditions of this item. Some manufacturers offer a full refund guarantee if you do not like their products. Others also provide good-term warranties to increase customer satisfaction after purchase.
Tricks To Use Cheese Slicers Safely And Efficiently
If you want to cut your cheese block into perfectly-shaped slices, you need to know some tricks to ensure your job is done easier and smoother.
Tip 1: You do not have to bring out the cheese completely from its wrapper to prevent dust or other particles in the kitchen that can stick on it.
Tip 2: Your cold cheese should reach room temperature before cutting.
Tip 3: Check the cleanliness of the slicer. It must be thoroughly cleaned to ensure there is no stuck-on dirt, bacteria, or grease.
Tip 4: If the cheeses are hard varieties, you should slice them vertically.
Tip 5: Round cheeses should be cut into smaller sizes before slicing it with a cheese slicer for better results.
Tip 6: Good sharp wire or blade will cut your food effortlessly and smoothly. If it is not, you should replace it with a new one.
What should you do to replace a wire for a board slicer? Here is the answer.
Tip 7: Clean your equipment after each use.
FAQs
Are there any other concerns about cheese slicers that bug your mind? If yes, I hope these questions and answers are helpful to you.
My Top Pick
It is time to summarize the whole article. Overall, when buying a slicer for cheeses, I always go with a Bellemain Adjustable Thickness slicer as they are the perfect combination of affordable price and quality product that allows me to cut my food at ease.
But for a tighter budget, I do not think any tool can beat the BOSKA Copenhagen Stainless slicer. And guess what? Even though it has a super bargain price, this item has a 10-year guarantee. Such an impressive post-purchasing service, right?
Last but not least, if you have other questions or want to share your thoughts (or experience) about these slicers here, please leave the comments in the below part. Your likes and shares are also so meaningful to me. Thank you for your support.