Crab legs are your favorite seafood, and I am sure you will preserve a large amount of them in your fridge or freezer. Therefore, how to reheat crab legs is one of the most commonly asked questions to help you serve crab legs conveniently.
However, is it fine to freeze fresh crab meat? Yes, it is. And in this post, you will find the ultimate guide to reheating these legs in my post, and I will introduce to you how to reheat both refrigerated crab legs and frozen ones.
Please stay here and keep reading from beginning to finish to determine for you several suitable ways. So don't waste any of your valuable time wondering; let's scroll down to collect new knowledge for you.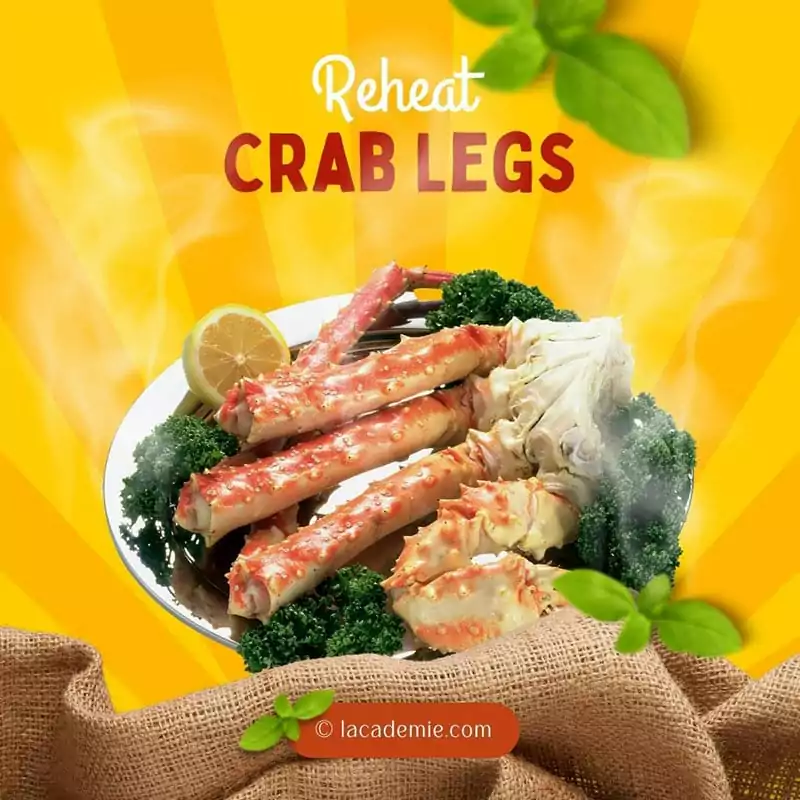 What Are Crab Legs?
You can eat the whole crab, but almost all people just want to eat meat from crab legs; thus, purchasing crab legs is a smart selection. The truth is that you cannot eat crab legs of all kinds of crabs since they don't have much meat when you separate them with carb bodies.
That's why it is a must to prepare other dishes to serve with crab legs. They will diversify your meal and make you feel fuller.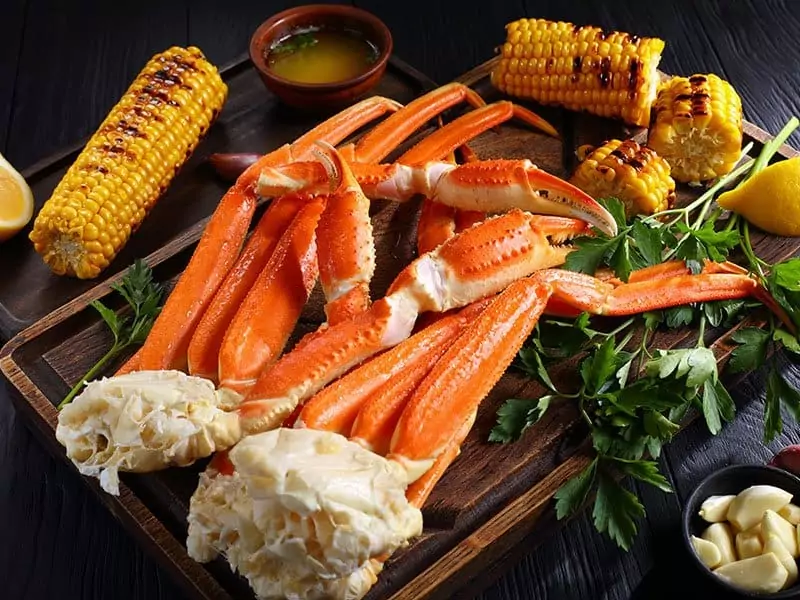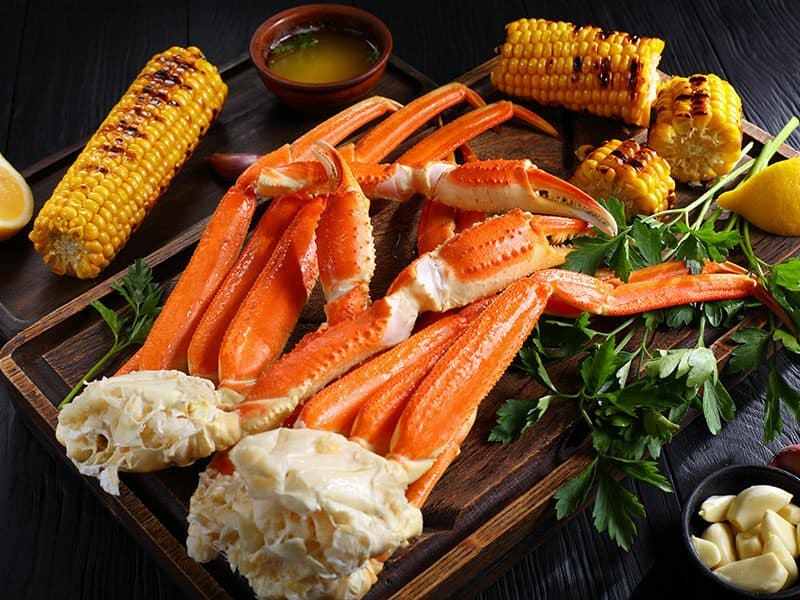 There are 2 kinds of crab legs that are eaten frequently: Snow crabs and king carbs. King crab legs are larger and longer than snow ones that the heaviest can reach up to 20 pounds with 5-foot in length, while these figures in snow crab legs are 2-4 pounds.
The shell of king crab legs is harder and thicker compared to snow crab legs. You should not expect to buy the biggest king crab legs since they are sold in supermarkets with an average weight is 6 pounds.
Both of them have much meat in their shell and special sea flavor that other crabs cannot have. Their flavor is sweet and has a delicately tender texture.
Although their price is quite high, I think it is worth trying. However, there is a solution for a tight budget, which is choicest canned crab meat that you can easily find in any supermarket. And some products are also made from crab leg meat.
An Overview of Benefits of Eating Carb Legs
Crab legs are nutritious for people of all ages and can cook with various ingredients to create flavorful dishes. Let's see more clearly what benefits you can get when consuming crab legs (1) .
They are rich in healthy protein that means no matter you are children or the elderly; this protein can be digestible when coming into your body.
Crab legs consist of long-chain omega-3 fatty acids, different minerals, and vitamins but low in fat. The long-chain omega-3 fatty acids don't require your bodies to convert them into other substances; therefore, you can get benefits immediately after intaking them.
Other shellfish cannot provide you the same selenium content as crab legs. This substance will improve your immune system and play a significant role in building an antioxidant defense.
Vitamin B12 in crab legs will support your body in producing red blood cells and steroids. It also helps you maintain your smooth skin and good vision. When you consume crab legs, the activities of antioxidants will be stimulated.
If you are playing sports, adding crab legs to the diet is really essential since vitamin B12 has a relationship with energy expenditure.
The copper and phosphorus in crab legs are higher than in salmon, cod, beef, and chicken. Copper is important to set up red blood cells and encourage your immune system, too.
Phosphorous plays a key role in maintaining healthy bones and teeth. Besides calcium, this substance attends to almost metabolic actions.
What Do You Need to Reheat Crab Legs?
You can reheat crab legs with 7 appliances in your kitchen. If you have all 7 equipment, you can freely pick one to implement your wish. However, if you just have several popular appliances, don't worry since I am sure you will find at least 1 thing for you.
Large Pots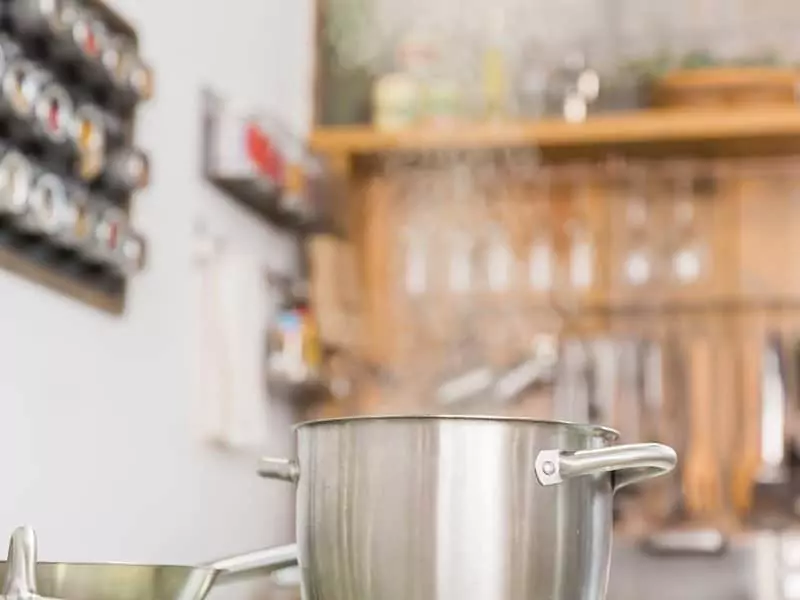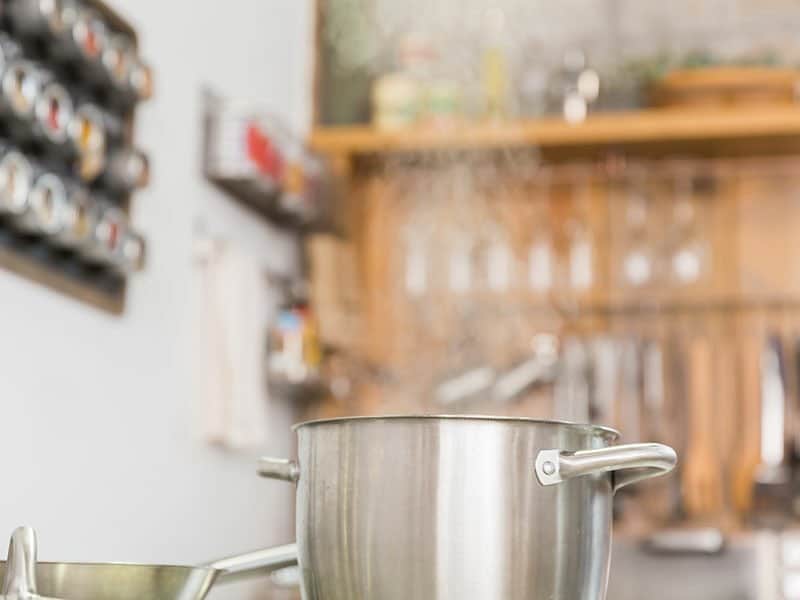 You surely have a few large pots in your kitchen, and they are also easy to buy. The size of these pots will vary in many sizes, such as 12 quarts, 15 quarts, and more. The pots can be compatible with various types of stoves such as induction, gas, and more.
The most common material to produce them is stainless steel, allowing you to use them for a long time. Although many manufacturers have produced pots with different such as glass, porcelain, and more, stainless steel is classic but gold.
You can maintain the heat longer compared to other materials, and their heat conduction is excellent. These pots the lids that are made of stainless steel or glass for quickly releasing stem, and you can simply check food status with top-tier lids.
The best way to clean the pots is to wash them by hand since they are bulky to clean in dishwashers. Some pots are safe to high-heat while some are not, don't forget to check manufacturers' instructions before using them.
Steamer Pots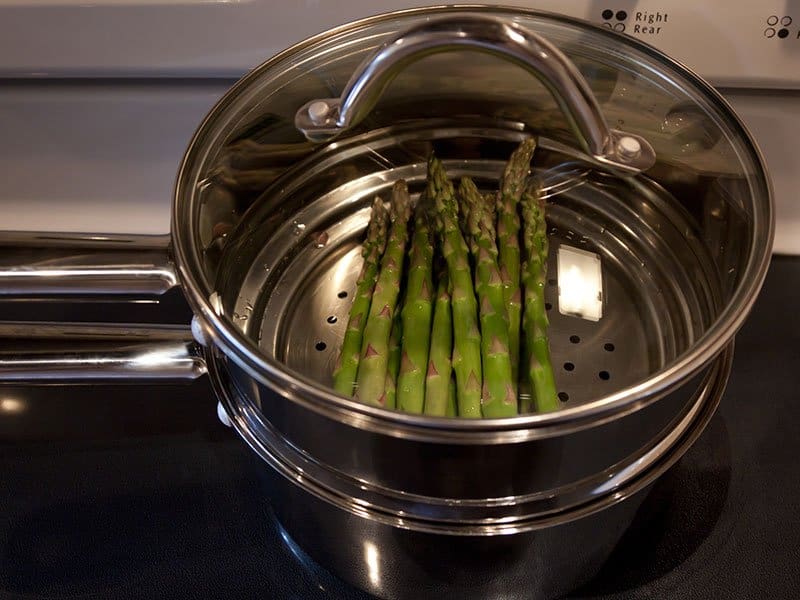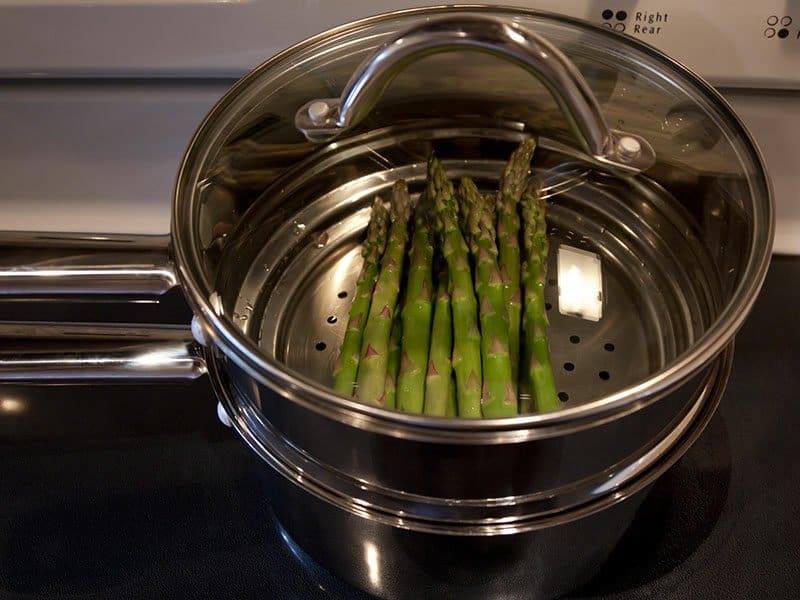 Steaming crab legs is the easiest way to cook them without losing many nutrients. The steamer pots come with a bottom pot to hold water and a top steamer basket to hold foods. The basket goes on the top of the pots, and they are connected pretty tightly to avoid releasing steam while cooking.
There are various kinds of steamer pots you can choose from, such as normal steamers, electric steams, and more. Like regular pots, these steamer pots are made popularly from stainless steel and sometimes encapsulated aluminum core to conduct heat quickly.
In addition, the excellent bamboo steamers are traditional steamers that will bring you rustic feelings when cooking. You can catch them in most Chinese and Japanese restaurants.
Almost all products are dishwasher-safe and variety volume. Besides, you can place them on different stoves or even put them into your ovens at a suitable temperature. The lids are indispensable when you purchase steamer pots since the steam needs to be prevented from spreading outside.
Ovens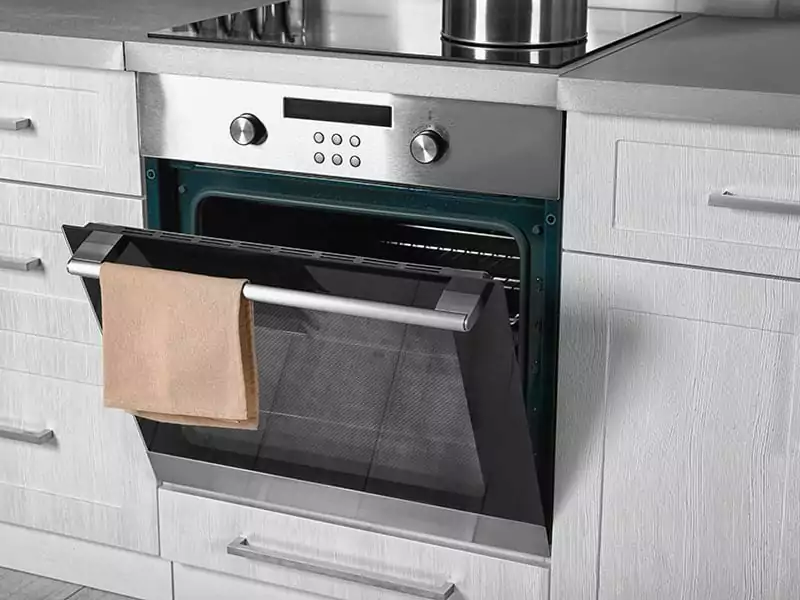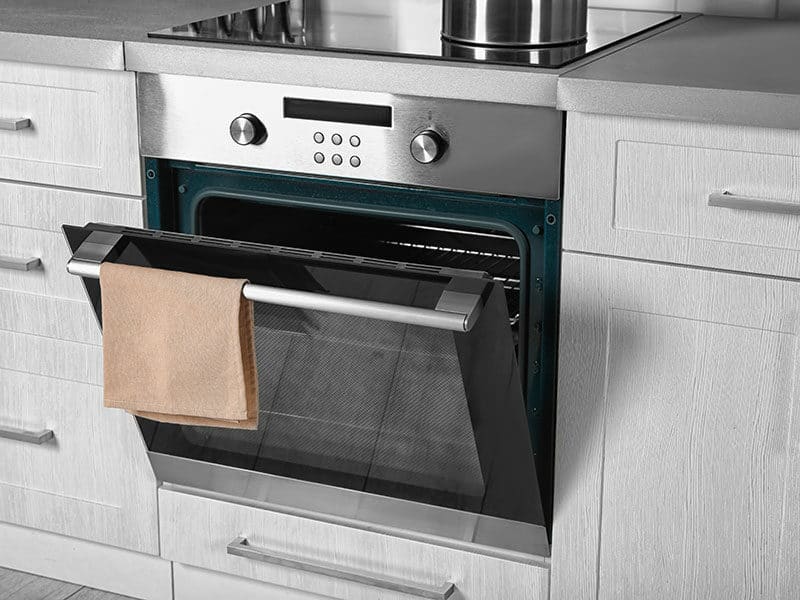 Ovens are multi-function kitchen appliances that you should have. They will help you save your precious time for processing numerous dishes. The ovens will be built in your wall and are not freestanding; thus, let's prepare a space for them.
You can select 3 types of ovens: single ovens, double ovens, and smart ovens. The price will increase gradually according to the order I mentioned. The single ovens are excellent for tight space and people with a limited budget.
These ovens just can operate 1 use at a time, which means you cannot cook and grill dishes simultaneously. The double ones are perfect for families and gatherings. They feature a roomy space to help you freely create new dishes.
Smart ovens can connect to Wi-Fi and be controlled through smartphones. You have to spend a lot of money to own them, but the experience these machines provide you is worth investing in. they also pre-set several cooking functions for various dishes, and you don't have to set them up by yourself.
Microwaves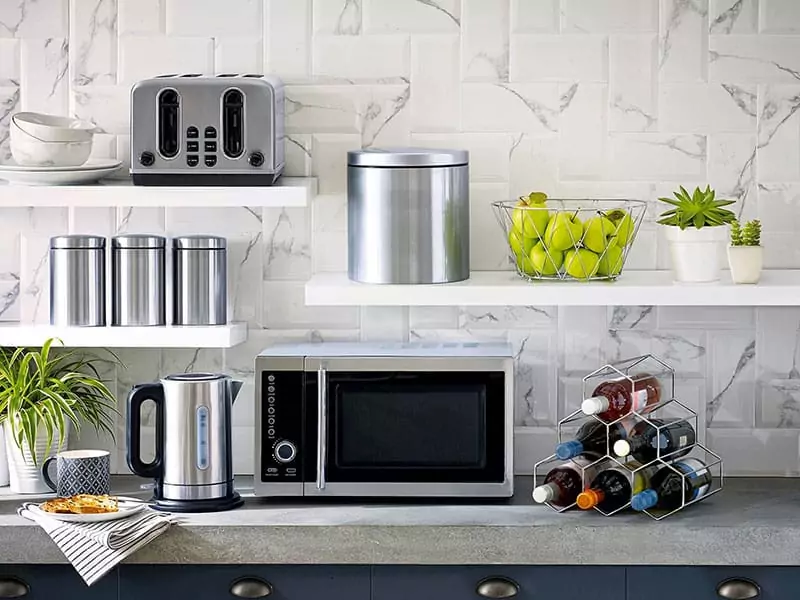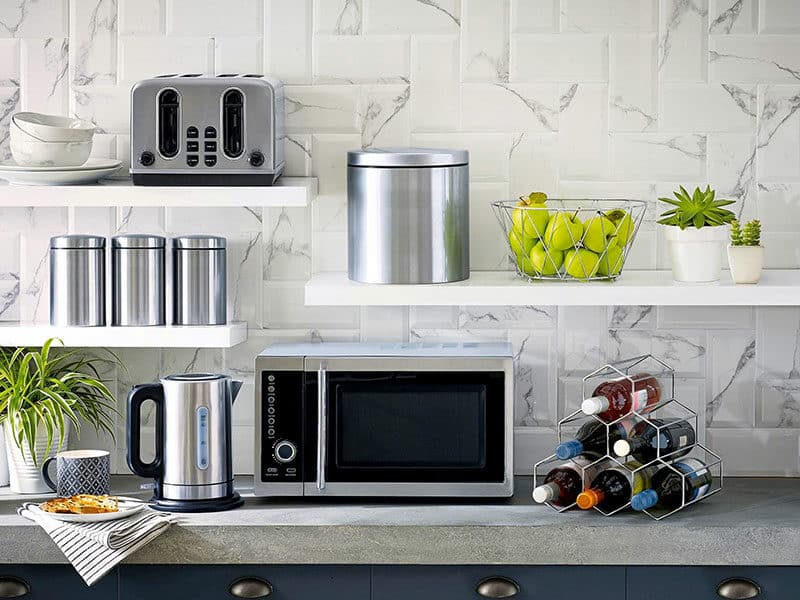 If you cannot afford an oven, choosing a microwave will be an excellent choice. These machines are versatile, convenient, and budget-friend. In addition, they will help you reheat food quickly compared to other introduced equipment.
You don't need to install it in the walls; everything you need to do is to go Cosco, pay for a microwave, bring it to your home, place it on the countertops and use it. You can easily transport it in case you need its space.
Single people or small families can select these microwaves to cook delicious meals in a wink. They are produced from stainless and coated glossy plastic. Microwaves offer you various types, such as countertop microwaves, over-the-range microwaves, built-in microwaves, and drawer microwaves.
Microwaves and toaster ovens are designed with compact construction. You can explore the differences between microwaves and toaster ovens to know why I recommend you choose microwaves for reheating crab legs.
Grills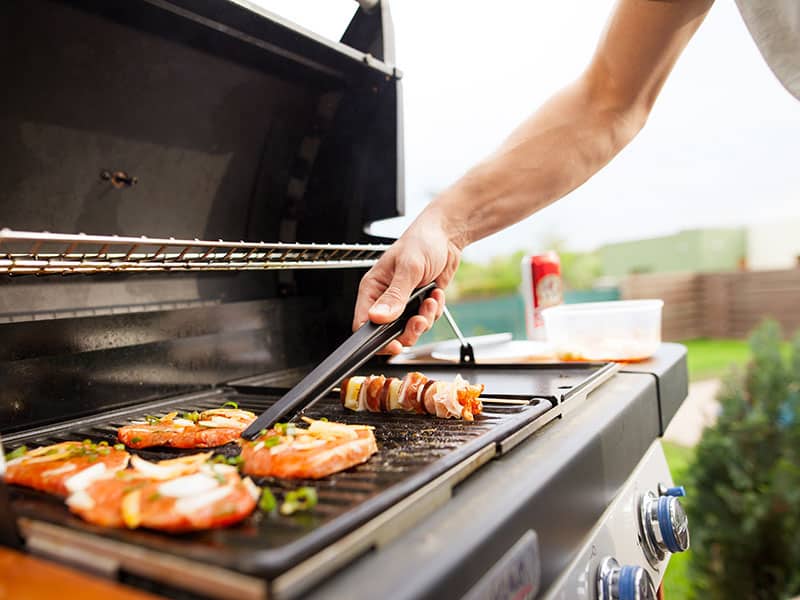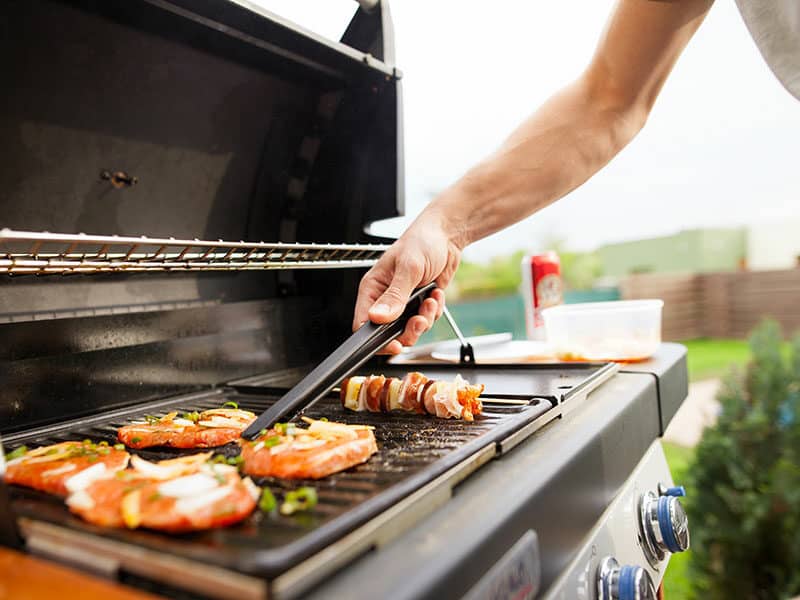 The grills have been manufactured with 5 kinds: gas grills, portable grills, pellet grills, charcoal grills, and kamado grills. Each type will have its advantages and disadvantages.
Gas grills feature both low and high temperatures; thus, they are convenient for you to use. Almost all of them are equipped with casters to help you quickly to transport, and I recommend you use them for big families.
Unlike gas grills, portable grills are perfect for camping and parties. You can use them for cooking on small decks or patios. Pellet grills allow you to cook foods with the flavor and aroma of wood pellets, and you don't need to use natural gas or electricity. It is not wrong if I say the excellent and flavorful wood pellets are the soul of foods that are cooked in these grills.
In case you want to roast foods in traditional ways, charcoal grills are a gift for you. These modern grills are constructed with safety features such as oversized handles and locking wheels, and you don't need to worry when you cook around kids.
You can use Kamado grills instead of charcoal grills. The Kamado ones can circulate and keep heat better than charcoal ones since they are made from ceramic. You can differentiate Kamado from other grills thanks to their oval shape.
Air Fryers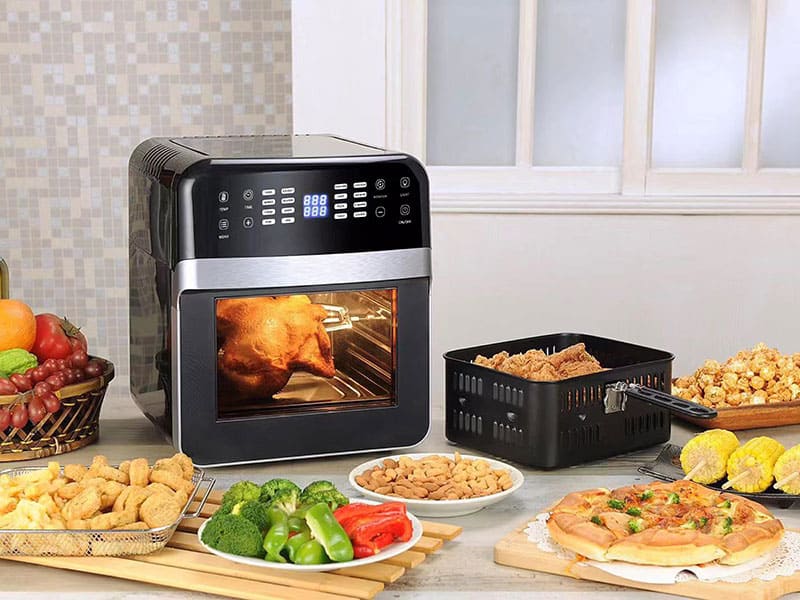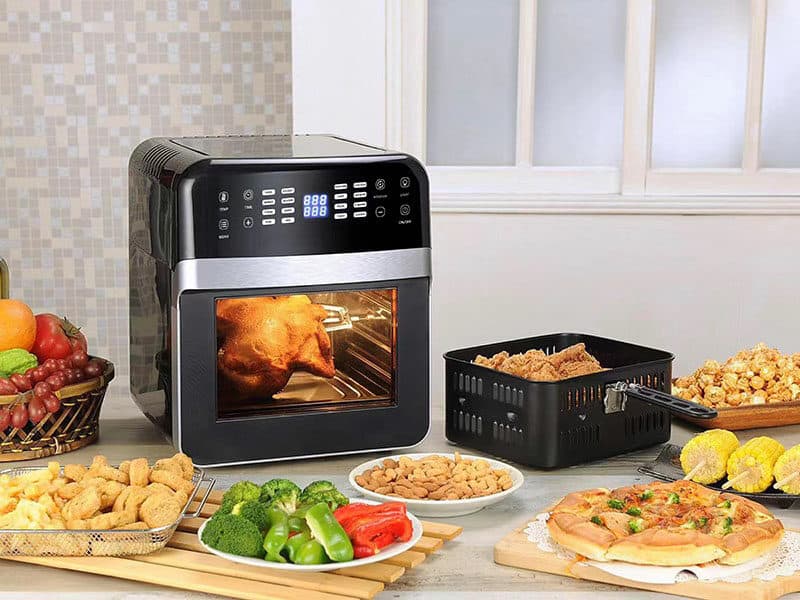 Another option for you to reheat crab legs is air fryers. Or you can also reheat your leftover pizza in air fryers. Therefore, no one can deny its usefulness in warming foods,
Their operating principles are to use a heat source and remarkable fan to circulate heat around foods like small convection ovens. Besides using them to reheat crab legs, you can use them for frying fries, chicken wings, and more without adding much oil.
Instant Pots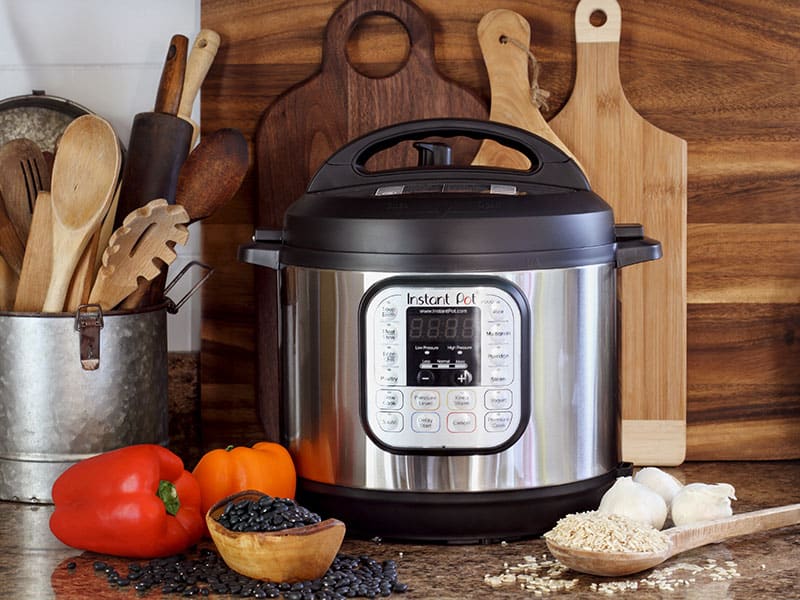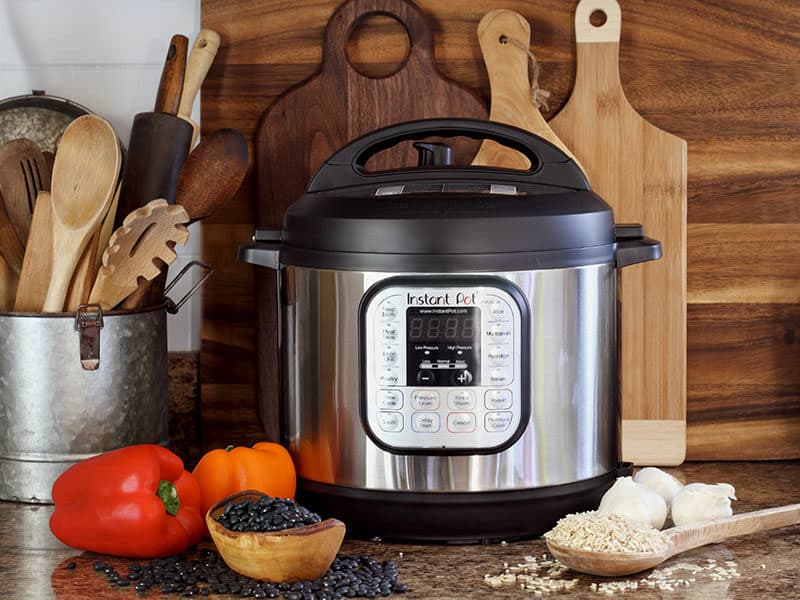 You can use instant pots to reheat your crab legs. These instant pots are multi-purpose devices. They are commonly made from premium-quality plastic and stainless steel to ensure safety while using. You just need to spend a little time to get delicious and flavorful dishes.
You can learn more about the comparison of air fryers and instant pots to determine which devices you should purchase for your family.
How To Reheat Crab Legs
I hope you have collected several valuable ideas from referencing kitchen appliances you can use to reheat crab legs. I will provide you step-by-step guides to reheat crab legs properly and still keep their flavor.
The recommended time for you in these methods is suitable for thawed crab legs. Don't worry since I will show them in these next sections if you have frozen crab legs.
Use A Large Pot
As I mentioned, using a large pot is the easiest way to reheat crab legs. This way also allows you to add flavor to crab legs.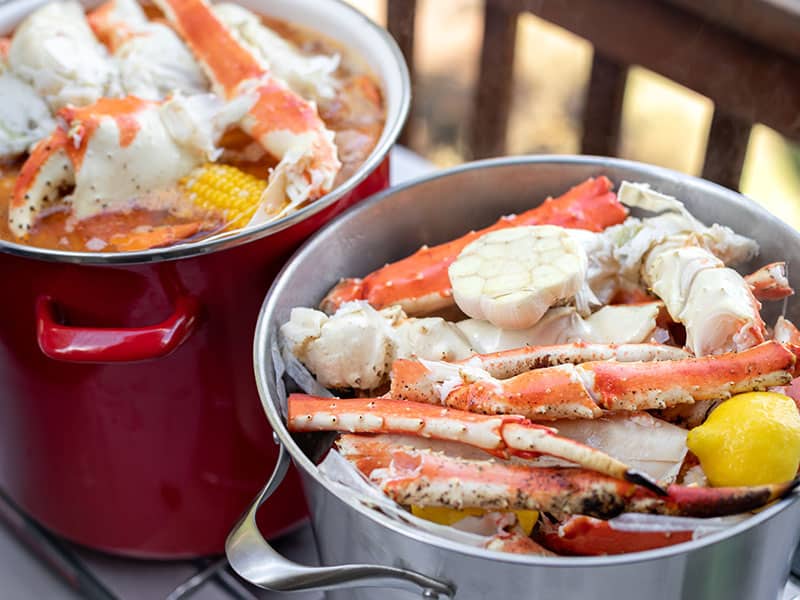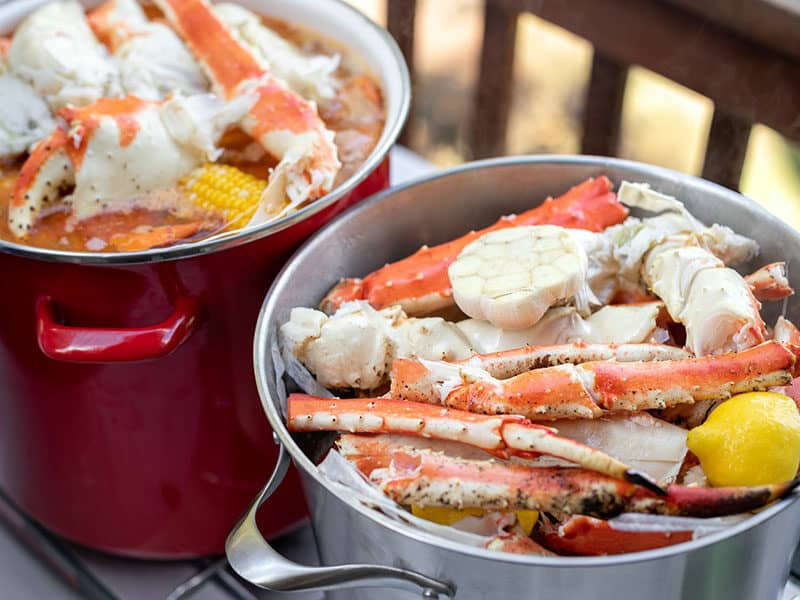 What You Need:
A large pot
Any stove you have, such as gas stoves, electric stoves, or induction.
Water
Beer
Lemon wedges or salt (optional)
Instructions:
Step 1: Pour water and beer into the pot at a 1:1 ratio, meaning that if you add 1 cup of water, you need to add 1 cup of beer. Afterward, turn on the stove at high heat to help the mixture boils quickly.
Step 2: When the beer mixture is boiled, reduce the heat to medium and put crab legs into the pot. You can sprinkle some pinches of salt or place lemon wedges into the pot to eliminate odors. You need to spend 5-7 minutes cooking them.
Step 3: Don't forget to take crab legs out and allow water to drain completely before you serve them.
Use a Steamer
If you don't want your crab legs to expose to liquid, you can use the useful steamer for reheating them. The steaming will warm them and keep their original flavor.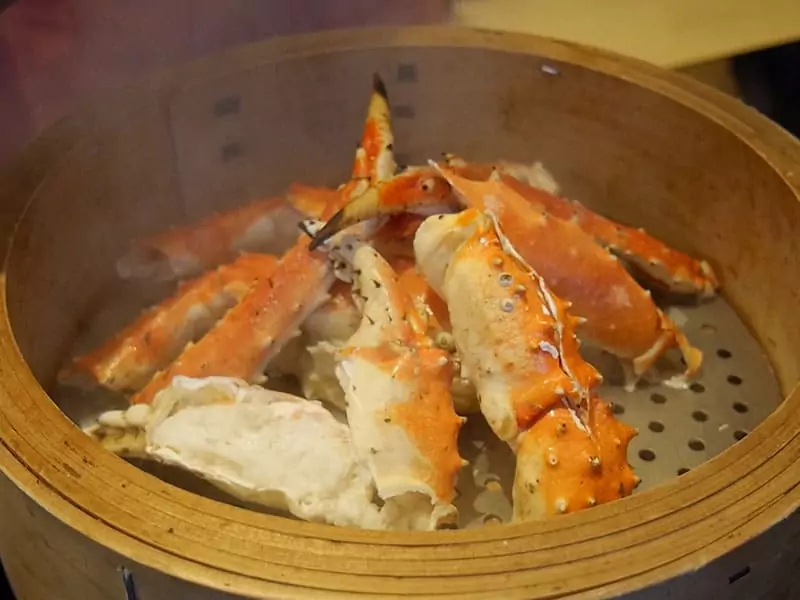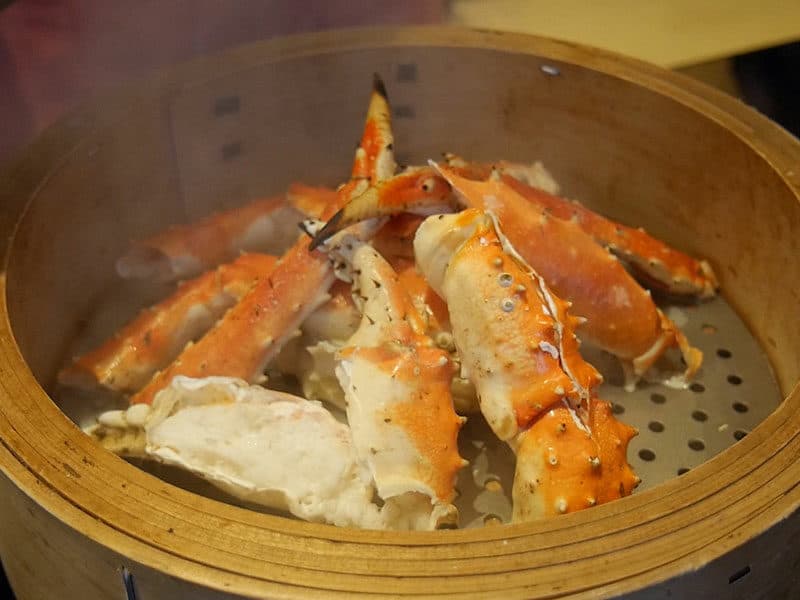 What You Need:
A steamer (if you don't have a steamer, you can use double boilers including a pot and a basket pot, then place the basket one on the pot)
Water and beer
Instruction:
Step 1: You need to fill water and beer up to 2/3 pot. Like the boiling method, the amount of water will equal beer.
Step 2: You should boil the liquid before placing crab legs into the basket pot to maintain their taste.
Step 3: When the mixture is boiling, you need to put crab legs into the top pot and reduce stoves to medium heat. The ideal time to warm up your crab legs is 6-8 minutes.
Step 4: Be careful to remove them from the steamer since the hot steam can make you burn.
Use Air Fryers
Have you ever thought air fryers can help you reheat crab legs? If you haven't, I will prove an air fryer can accomplish this mission greatly. Still hesitate to use aluminum foil in air fryers? please don't. This tool is very useful, and I will explain why in the following information.
What You Need:
An air fryer (the bigger it is, the more convenient you are)
Salt and pepper (Optional)
Aluminum foil
Instruction:
Step 1: Prepare for your crab legs that mean if the legs are bigger than the air fryer, you need to divide them into small parts for convenience.
Step 2: You can add some basic seasons to crab legs, such as salt and pepper, to upgrade crab legs' flavor.
Step 3: Don't forget to wrap these legs in aluminum foil tightly to avoid the heat that can burn the crab legs' shell.
Step 4: Place wrapped crab legs into the air fryer, set the temperature to 380 degrees F, and then air fry them for 3-5 minutes.
Step 5: Once the cooking process is done, take them out, unwrap the foil and serve when the crab legs are still hot.
Use An Oven
Reheating crab legs in ovens is the quickest and simplest way to warm up them. You don't need to worry about overcooking when using ovens as everything has been pre-set.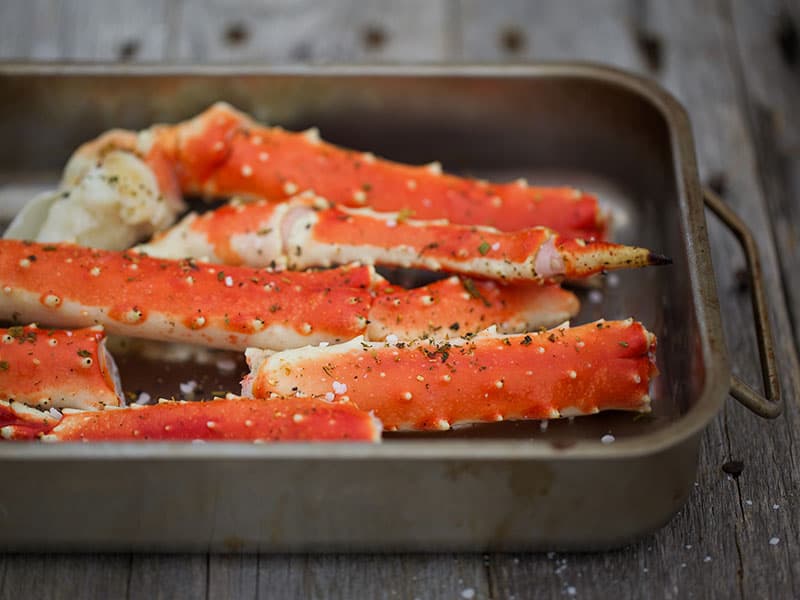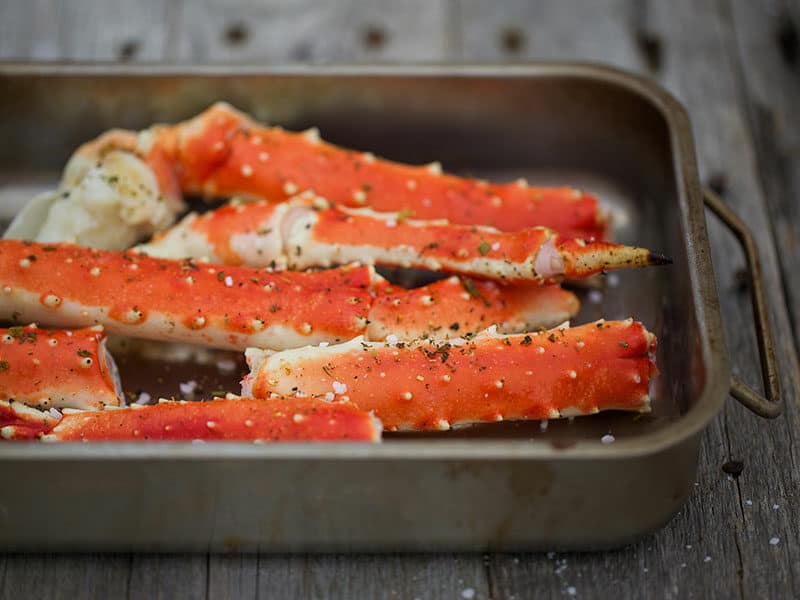 What You Need:
An oven
A glass baking dish
Foil paper
Instructions:
Step 1: The first step is always the most significant step since you need to preheat your oven to 350 degrees F.
Step 2: Place crab legs in a deep glass baking dish and pour some water into it. How much water you need to pour will depend on what is the height of the baking dish. The ideal water is ½ an inch of water or until your crab legs are partly submerged in water.
Step 3: Because the legs are in the water, you just need to warp the dish with foil paper without warping the legs. Don't forget to create some holes in the foil to release hot steam.
Step 4: Set up the time for about 15 minutes. After that time, you can take the legs out and sprinkle condiments if you want. Enjoy the dish immediately.
Use A Microwave
A microwave is also a great option instead of ovens. However, this method will take more time compared to ovens.
What You Need:
A microwave
Several dill sprigs
Damp paper towels
Cling film
Instruction:
Step 1: You should arrange 3-4 crab legs with several dill sprigs or tarragon. Don't forget to prepare some damp paper towels and use them to wrap the legs.
Step 2: Wrap these bundles with cling film to keep damp paper towels in place and ensure the towels cover the legs tightly.
Step 3: You should place a bundle by a bundle into the microwave to make sure the heat can circulate evenly. The perfect reheating time for each pack is 2 minutes on medium power. You don't need to be afraid that using a cling film will harm crab legs as it doesn't expose directly to legs.
Step 4: After removing the packs from the microwave, you need to unwrap a layer by a layer and taste them while they are hot.
Use A Grill
The grills will bring you a unique flavor since you can reheat crab legs on coal or wood pellets. Using grills to reheat them is a perfect way to enjoy legs, as you need to control heat and flip-up them on your own.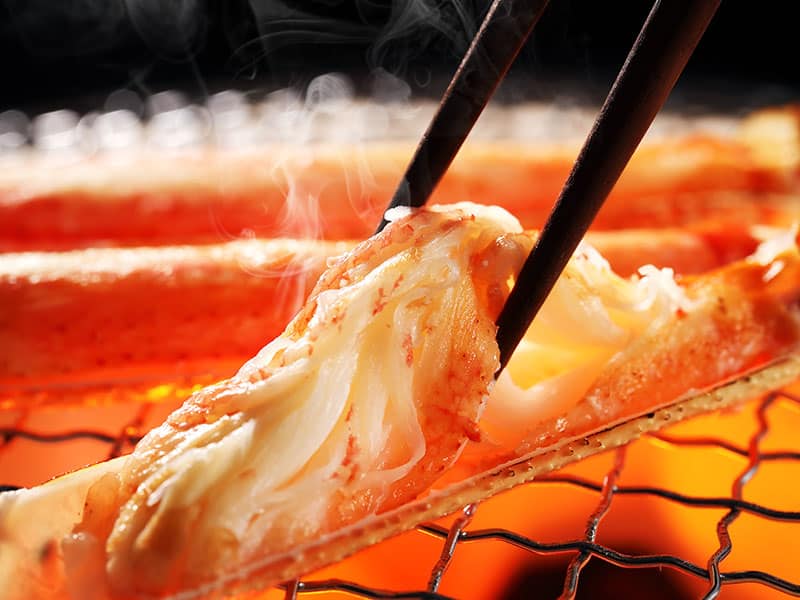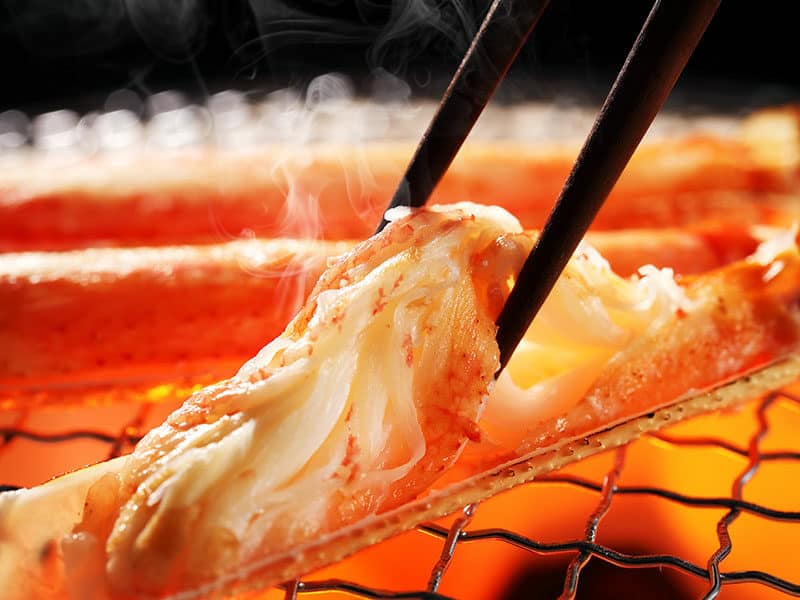 What You Need:
A grill
Aluminum foil
Coal or wood pellets (optional)
Instruction:
Step 1: You need to spread coal or wood pellets evenly on the grill to make sure that heat can penetrate every corner of the grill so the crab legs can be heated up properly.
Step 2: Use several aluminum foils and warp crab legs in them individually.
Step 3: Place on the grill for 10 minutes.
Step 4: After this time, take your legs off the grill and unwrap them.
Step 5: Place the unwarped crab legs back on the grill and continue cooking for 3-5 minutes.
Use an Instant Pot
Instant pots offer you a quick and simple approach for reheating crab legs. Let's see how you can use it to make your demands come true. Reheating is a side function of instant pots, and you can cook various dishes with a versatile machine.
What You Need:
An instant pot
1 cup of water
Instructions:
Step 1: Pour 1 cup of water into the pot and put the trivet in.
Step 2: Place the crab legs on the trivet.
Step 3: Cook the crab legs for 3 minutes on high pressure and end with a quick release.
Tips For Reheating Crab Legs
Here are several tips that I have collected for reheating crab legs. You may know or not know; however, you still should read them to get useful knowledge.
The time I mentioned is for defrosted crab legs, and if you use frozen crab legs in the oven, you need to spend at least 10 minutes to allow the ovens to thaw them.
Like frozen crab legs, you have to add more 10 minutes in 7 reheating methods when you use uncooked crab legs.
Normally, crab legs will be sold in frozen instead of alive crabs. Thus, you should purchase frozen ones to ensure their meats are high-quality.
You should pick thick crab legs since these legs have much meat and the meat is tender.
You can realize whether crab legs are stored for a long time or not by find ice crystals on these legs as they are proof of storing crab legs for a long time.
You should dip crab legs' meat into the sauce to upgrade their flavors. The excellent sauce for the legs is melted butter.
If you want to eliminate the unpleasant smell of crab legs and bring their flavor to a new level, don't forget to squeeze lemon or add some salt.
Always use a lid when boiling and steaming crab legs that allows your crab legs to be cooked more quickly and retain their flavor.
You should wear protective gloves when removing crab legs from kitchen appliances to protect your hands from being burned.
How To Cook Butter Sauce For Dipping?
Among various sauces for dipping crab legs, I choose butter sauce as the most delicious and convenient sauce since you can dip different foods into it.
What You Need:
A saucepan
Unsalted butter
Minced garlic
Salt
Dried dill weed
White pepper
A whisk
Instructions:
Step 1: You need to place the saucepan on low heat and add butter to it. You have to wait until the butter melts completely before turning off the stoves.
Step 2: After you take it out of the stove, you need to let it cool down, then add minced garlic, dried dill weed, white pepper, and salt to melted butter.
Step 3: Whisk the mixture well until salt is dissolved thoroughly. You can store excessive butter for up to 1 month if you store it in refrigerators.
Step 4: Remember to reheat sauce before you serve it with crab legs.
How To Store Leftover Crab Legs Properly?
Storing leftover crab legs is essential, and I will provide you several significant tips to maintain crab legs in good condition. The crab legs are store properly can keep their original flavor for 1-2 days.
You should not leave leftover crab legs outside for more than 2 hours. After this time, bacteria can appear in crab legs, their taste has changed, and it is useless when you store them. Remember to place them in the refrigerator right after you finish your meal.
You can keep cooked crab legs for later use by reheating them by 7 effective methods I introduced. You should place them on a dish and coat them with cling film loosely that allows the air can circulate around. The secret is to place some ice cubes on the cling film to maintain crab legs' freshness and flavor.
If you want to store crab legs for long-time use, freezing them is the optimal way. Pour crab legs into heavy-duty freeze bags or tight-lid containers and put them into the freezer. Your crab legs are still tasty when being reheating.
How To Thaw Frozen Crab Legs?
Defrosting crab legs is a compulsory step before you reheat them. Well-thawed crab legs will help you taste crab legs like just-cook ones.
The simplest way to defrost crab legs is to throw them into refrigerators for at least 6 hours or overnight to ensure no ice crystal is left.
The quicker method is to place them in a bowl of cool water. Your crab legs will thaw within 2 hours. Remember to put crab legs in a plastic bag before placing them in water since the bag will help you keep their nutrients.
Never defrost crab legs in hot water; hot water will shorten thawing time, but the crab meat will become medium-rare, and you can process any dish with this meat.
Thawed crab legs should not be freeze again; thus, you should keep the fridge and cook them within 2 days. It is golden time as the bacteria haven't grown yet, and meat quality is still ensured.
FAQs
I have brought you all the valuable information I know in the above sections. However, you probably have some wonders, I have chosen the frequently asked questions, and I hope yours will be here. Let's read them and accumulate many experiences for you.
Additional Tips
Your leftover crab legs can be reheated to enjoy without losing their flavor and nutrients if you reheat them properly. You should follow my instructions and cook them in recommended time to avoid crab meat become firm and not sweet.
Besides, adding beer when steaming or boiling crab legs will help you reduce the fishy smell and upgrade their flavor. I am sure you have learned how to reheat crab legs properly, and I am looking forward to reading your results in the comment box chat below. Therefore, don't hesitate to take photos and share them with me.
Nutrition Facts
1 servings per container
Serving Size1 leg (134g)
---
Amount Per ServingCalories130
% Daily Value *
Total Fat 2.1g

4

%
Cholesterol 71mg

24

%
Sodium 1436mg

60

%
Potassium 351mg

11

%
Protein 26g

52

%
---
Vitamin A

0.8

%
Vitamin C

17

%
Calcium

6.1

%
Iron

5.7

%
* The % Daily Value tells you how much a nutrient in a serving of food contributes to a daily diet. 2,000 calories a day is used for general nutrition advice.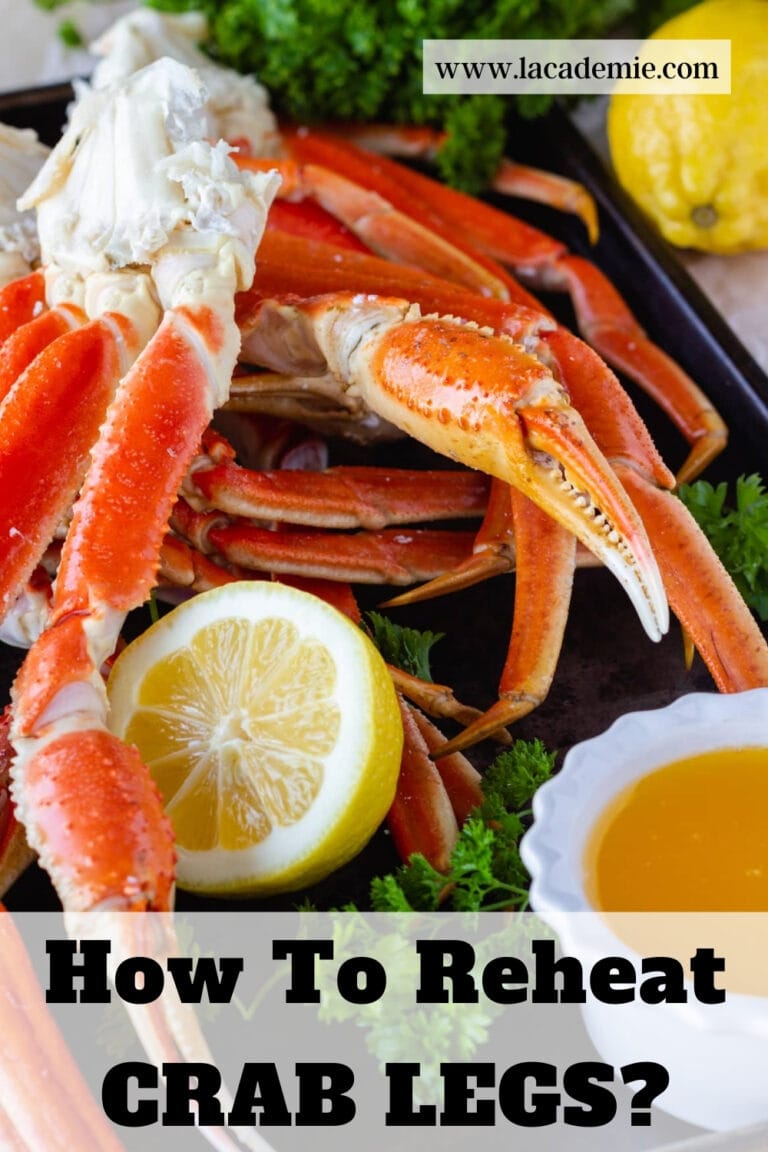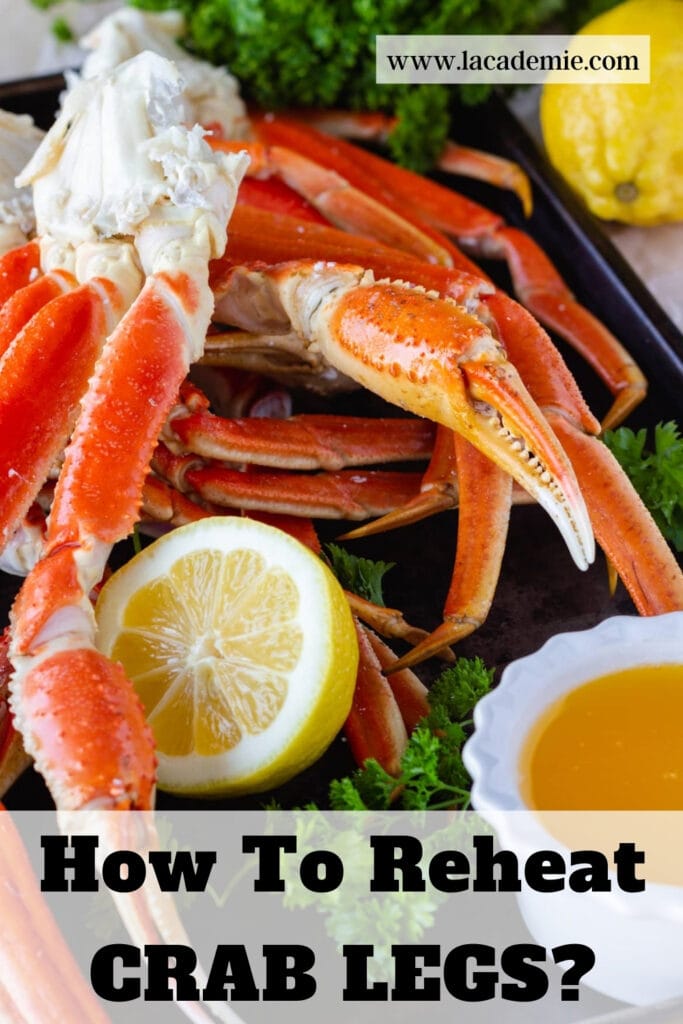 References:
Us, C. and Infographics, N., 2021. 6 Pros and Cons of Eating Crab Legs – HRF. [online] HRF. Available at: <https://healthresearchfunding.org/6-pros-and-cons-of-eating-crab-legs/>