If you are always crazy about what goes with kabobs, Side Dishes For Kabobs is your destination.
Kabobs have become popular in recent years. They appear to change eating habits, supply protein, vitamins and reduce calories. More importantly, they can warm your belly with hot and adorable cubes of meat.
In fact, kabobs might be more delicious if they have some stellar combinations which are included in this post.
Keep reading and discover what food can be used with kabobs.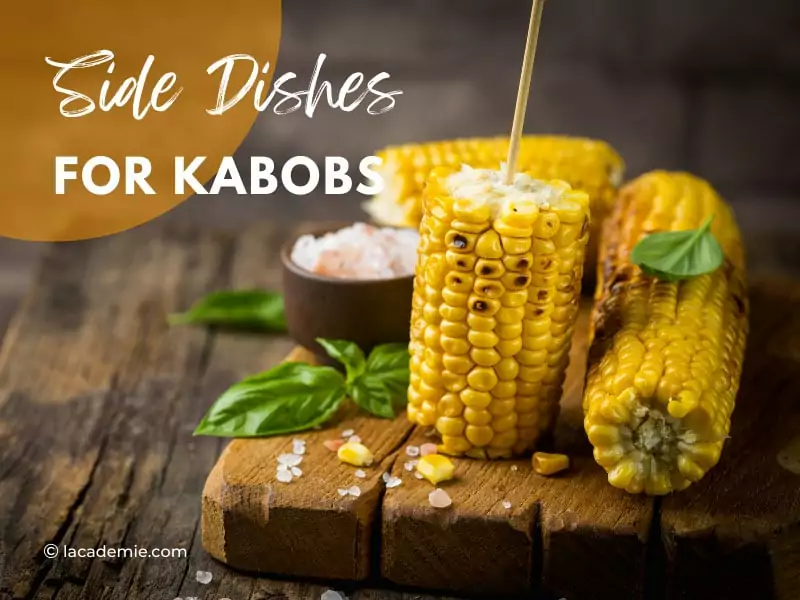 Top 30 Side Dishes For Kabobs You Cannot Look Away
Before going to the main part, why don't you take a glance at how many foods there are? The shortlist below will help you get the whole picture.
Special Rice Goes With Kabobs
Coconut Rice
Lemon Rice Pilaf
Stunning Corns For Kabobs
Grilled Corn on the Cob
Cheesy Creamed Corn
Mexican Street Corn
Corn Pudding
Fabulous Potatoes For Kabobs
Baked Sweet Potatoes
Salt and Vinegar Potatoes
Garlic Butter Hasselback Potatoes
Potato Chips
Veggies And Salads
Greek Salad
Green Salad
German Potato Salad
Potato Salad
Tomato, Corn, and Red Cabbage Salad
Bibb and Radish Salad with Buttermilk Dressing
Barley Salad with Herbs
Caesar Salad
Grilled Watermelon Salad
Snap Peas with Cucumber and Ginger
Maple Roasted Carrots
Tangy Red Cabbage Slaw
Couscous with Roasted Red Peppers and Feta
Other Side Dishes For Kabobs
Grilled Guacamole
Grilled Garlic Bread
Grilled Artichokes
Curried Tomatoes and Chickpeas
Tzatziki
Garlic Roasted Mushrooms
Parmesan Orzo
Best Gorgeous Side Dishes For Kabobs Should Not Be Missed
It's pretty easy to find perfect matches with kabobs. Beyond salads, I also add some awesome dishes that you can serve together. Now, let's get started.
Satisfy Your Hunger With 2 Unique Types Of Rice
Have you ever thought about mixing grilled meats with rice? It's super easy to have homemade rice and enjoy it with kabobs. Ready to relish new meals?
A typical side dish working well with kabobs is coconut rice. Delicious and easy to prepare, this authentic Hawaiin dish contains only three simple ingredients. You can use coconut milk instead of water to enhance the flavors.
Rice would be slightly sticky and more aromatic as well.
Add some sesame seeds on top to make this dish appealing, and enjoy it with your kabobs right now!
Lemon rice pilaf is also called Greek lemon rice. The special thing is a mixture of lemon juice, chicken broth, veggies, and some particular seasonings. This side dish is super simple and easy for your dinner time.
Best served hot, lemon rice pilaf is a perfect match for chilly days. This is why you'll often see this as a companion dish for many meals during the fall. And when it's paired with kabobs, you'll end up with a stunning meal that will render your family speechless with awe.
4 Delicious Genres Of Corn That Perfectly Pairs With Kabobs
Do you like corn? If yes, do not skip this section. Corns are so particular to mix and match with kabobs on the table. Try each recipe and make the right decision.
Another side dish you can eat with kabobs is grilled corn. It is a super easy ingredient to add to meat-related recipes. Corn cobs are grilled and mixed with lime and coriander. These buttery corns will go well with grilled meat, fish, or roasted veggies as well. Are you wondering about their tastes?
They have a golden color which looks so amazing. They also have tasty, aromatic flavors. However, they also need some seasonings to keep them salty, juicy, and spicy.
If you have a hectic weekend, try to use this time-saving side dish. Enjoy a cheesy, creamy, and tasty mixture in a couple of minutes and with very little effort. Try to warm your belly with this delicious side dish!
It's also a super appetizing accompaniment to place cheesy creamed corn next to kabobs. A great garnish that your guests will love.
This side dish will impress you with the luxurious light, the warmth of grilled corn, and its color. What makes this dish special is Mexican-style street corn: Smokey, creamy, buttery, and little sour flavors. A delicious sauce is necessary to make this dish distinctive.
You might not worry about how complicated it is with a super simple video below.
A side dish for kabobs belonging to pudding lovers is corn pudding. Creamy, smoothy, buttery, and custard-related ingredients. A perfect match to serve at a large table.
It also has an impressive aroma based on nutmeg and vanilla extraction. You kabobs will become a winner when mixing with corn pudding.
These Potatoes Side Dishes Make Your Kabobs Outstanding
What is worthy of using with kabobs tonight? Think about incredible chips of potatoes and let your imagination fly away with these sides.
You are supposed to eat baked sweet potatoes as a side dish. A perfect dish for these winter months.
The eye-catching and warm color, aromatic flavors, and smooth texture are some fancy things to melt your heart at first sight. These potatoes will outshine your dish, and your friends will love to mix them with grilled kabobs.
Do you want to taste them right now? Let's get started with the quickest recipe below.
These perfect salt and vinegar potatoes will make a ridiculous side dish for every occasion. Salty, savory, crispy, and a little sweet will satisfy your cravings in kabobs-related dishes.
Make sure your potatoes are golden on two sides and retain the sweetness inside the texture as well. Add some apple cider vinegar if you want to balance the flavors.
A wonderful match is waiting for you now!
A unique appearance you can find in side-dish recipes is garlic butter Hasselback potatoes. They are made from crispy potatoes with garlic and some common herbs such as parsley, thyme, and chopped rosemary.
The fresh herbs, well-melted butter, and high-quality potatoes are the most important ingredients to perfect this dish. Serve this alongside chicken kabobs, an authentic dish from Lebanese cuisine, and you'll have the perfect dinner for the whole family to dig in.
You will enjoy special Hasselback potatoes at home by following this video.
You are fond of homemade potato chips because store-bought ones are not good. You want to downsize the meals and serve them at the family table. This recipe is suitable for you.
Try to make some crispy pieces of potato and match them with hot kabobs. You will have a remarkable dish beside your family members.
Amazing Veggies And Salads For Kabobs
There is no surprise to see a lot of vegetables and salads in this part. They are easy and simple side dishes that you can add to your kabobs recipes.
Greek salad is probably what everyone will instantly think of at the mention of Greece and its cuisine. And the dish certainly lives up to its reputation, it's super easy to make, yet incredibly delicious. The concoction of various veggies will light up your palates with vibrant flavors.
Greek salad is also a healthy dish if you are into veggies and green products. What you need to do is to have great dressing and various ingredients such as cucumber, peppers, tomatoes, red onions, mint leaves, and more.
This Greek salad is a colorful decoration on some particular occasions or even casual meals at home.
Do not choose this recipe if you don't want to be addicted. Apples, cranberries, and pepitas are the main ingredients to make this dish perfect. This works well with apple cider vinaigrette as well. Salt, peppers, and other seasonings can be used for a tasty mixture.
Add some green to your meat-based dishes and enjoy flavors together.
At a glance, this recipe from German cuisine might look like another run-of-the-mill potato salad. However, this dish features a tangy note from vinegar and savory bacon flavors that will make it impossible to pass it up. Add some dijon mustard to it, and the sharp flavor will make it whole.
Just keep an eye on high-quality red or yellow potatoes- the main ingredient. They will melt your heart with bacon, parsley, red onions, and impressive dressing. Chicken broth can be used instead of water. I also recommend you add apple cider vinegar for health benefits.
For tastier flavors, mix this mixture with other ingredients you like. Let's try with your creation.
A new tasty dish for potato lovers. Creamy, zesty, aromatic, salty, and savory mixture. It's also my true love. Whenever I eat kabobs, potato salad is my first option. It gives me a deep impression of how delicious it is and how attractive the color is.
Do not miss it if you want to have an outstanding lunch with your friends!
An amazing mixture you can put on your table is the tomatoes, corns, and red cabbages combination. It is an easy recipe that you can make at home with available ingredients in your kitchen.
A good pair of kabobs that you are looking for. Try this salad with your dish, and you will not stop eating!
If you are thinking of other matches with kabobs, try this salad mixture. It's a great companion of buttermilk dressing and other green vegetables for flavor enhancement.
Some incredible pieces of grilled meat should be used together with a fresh and healthy salad.
Make your dishes and enjoy!
A wise choice for your kabobs is barley salad. Try to use any tender and green herbs on your hand in this recipe. Parley, cilantro, basil, or mint are some fascinating ingredients. Sometimes, add some veggies to balance the color and attract people's sight.
Add more spice until you get your desired tastes. A must-have dish you should place next to kabobs.
Take a quick look at how to make an easy barley salad at home. You can see this video to know more:
Caesar salad does not only go well with kabob; it is also an ideal side order of chili. Indeed, it will bring fresh, green, and nutritious substances to you within a bite. It is a mixture of crisp croutons, cheese, cloves, and amazing salad dressing.
I have never thought of mixing French Baguette with lemon juice, olive oil, and other spices. And this recipe gives me a new idea to combine with kabobs as well. Try this dish and say wow!
Add grilled watermelon salad to kabobs. It's such a crazy idea but true. This side dish can enhance your flavors and bring fresh, tasty, and aromatic to your meals.
What happens if you save this recipe and experience it next time? I swear your family will love them, and they will ask you to make this companion several times.
Having snap peas accompanied by cucumber, ginger, and kabobs is a creative thought. You will not believe that they are a perfect combination. Little peppery, crunchy cucumber, sweet sugar, fresh peas, and sour lemon juice will give you a new side dish on your kabobs menu.
Are you ready to start with this recipe?
You will cook this dish more easily with a step-by-step guideline below.
Do you prefer carrots? A fascinating dish you should not miss is maple-roasted carrots if you like crunchy, addictive, and tasty carrot slaw. It is an impressive pair with eye-catching color, unique flavors, and awesome aromas.
If you still do not know what to eat with kabobs, try this one.
You are always bored with normal tastes for grilled meats. You have tried several recipes, but the results are still not good. A new solution for kabobs is tangy red cabbage slaw.
Fresh, healthy shredded carrots, juicy fruits, brown sugar, flavorful dressing, and aromatic scents.
It's a brilliant choice for people who want to kill time as well. Try this one and serve it at your table. Perfect!
An excellent collection of kabobs side dishes should have couscous with roasted red peppers and feta. It's a staple and flavorful dish of Libya, Algeria, Morocco, and other North African countries.
The dish is so quick and easy to make that you should try it at once. Your friends might love them too.
Prepare some necessary materials and do this recipe right now. Keep great experience,a and you will receive great value.
Think outside the box and match kabobs with other succeeding side dishes. There are no worthy words to describe how delicious they are. Do and enjoy right now!
This dish is so easy to assemble and make at home. Spend a short time and enjoy it with kabobs. The mashed avocados mixed with fresh cilantro, red onions, and other seasonings will make you forget the real tastes.
You can add some new ingredients and toppings to create new flavors as well. Are you ready to serve it along with kabobs? Perfect!
A hectic schedule, insufficient time to cook at home, but want to have subtle and elegant meals with kabobs? Are these your problems? This type of bread-grilled garlic bread- is a great choice for you.
Simple and easy to make at home with basic materials. A light dish can be matched with super hot kabobs. What a flavorful side dish!
Do you want to make time-saving grilled garlic bread? Let's go now.
Do not keep this grilled artichoke on the paper. Practice and save it into your memory. A combination of fresh herbs and artichokes will astonish you.
A great decoration dish if you want to catch eaters' attention. Its strange appearance will help you to highlight your kabobs.
By the way, you will enjoy the best flavors when trying to steam artichokes first.
Why don't you reduce your stress with cooking time? A new suggestion for you is curried tomatoes and chickpeas. Add this mixture with kabobs and enjoy!
A nutritious and green curry for people who are into healthy lifestyles. It's also an excellent way to serve along with kabobs on your dinner table.
And do not worry about the cooking time. A perfect option for busy individuals as well.
I am addicted to veggie-related products. And it's so great to pair with outstanding kabobs. Another name you can find is a cucumber-yogurt dip. Grill your cubes of meat and dip them into this mixture. Wow! So fresh, tasty, and yummy.
A mixture can be made with simple ingredients such as cucumber, dill, garlic, and onion. Look around your kitchen and get started right now.
Mushrooms can be added to your kabobs recipes. Do you believe it? If you are still worrying about how perfect they are, try to have your garlic roasted mushrooms right now.
An incredible way to serve at the table, create a warm and cozy environment with family, or get your friends' attention.
This recipe calls for large and high-quality mushrooms. Try to have a golden outside and keep it juicy inside. And now, it's time to enjoy them together.
I love kabobs, and Parmesan orzo is my favorite side dish. It's creamy, cheesy, and has aromatic flavors. A perfection of parmesan and garlic, along with fresh veggies, will make your kabobs distinctive.
You would not be disappointed with a super-easy guideline on how to make parmesan orzo.
What Is The Best Couple Of Kabobs?
There are several side dishes listed in my recipes. They are precise, gorgeous, addictive, and nutritious. I hope they are beneficial to you.
I have tasted a lot of matches and sincerely, all of them are perfect. Whenever I put the aforementioned recipes next to kabobs, I always receive many winged comments and good feedback. Have you ever eaten them? What are your favorite side dishes for kabobs?
After all, what to serve with kabobs is not a big problem. Let's do experiments and keep them on your menu. If you have any new ideas, try to send me a message via comments. I'm always looking forward to hearing from you.
Do not forget to share this post and send your love to your friends.
Nutrition Facts
4 servings per container
---
Amount Per ServingCalories317
% Daily Value *
Total Fat 24.2g

37

%
Sodium 599mg

25

%
Potassium 269mg

8

%
Total Carbohydrate 24.6g

8

%

Dietary Fiber 2.2g

8

%
Sugars 4.4g

Protein 3.8g

6

%
---
* The % Daily Value tells you how much a nutrient in a serving of food contributes to a daily diet. 2,000 calories a day is used for general nutrition advice.