You might be wondering what to serve with chili stew to match its fierce spiciness. While this spicy stew indeed makes a tasty addition to any meal, some people might be put off by the intense flavor.
To solve this issue, you'll need some dishes (or drinks) that can balance out the heat, and this post is here to tell you exactly that. Keep reading for 20 great recipes to pair with your chili.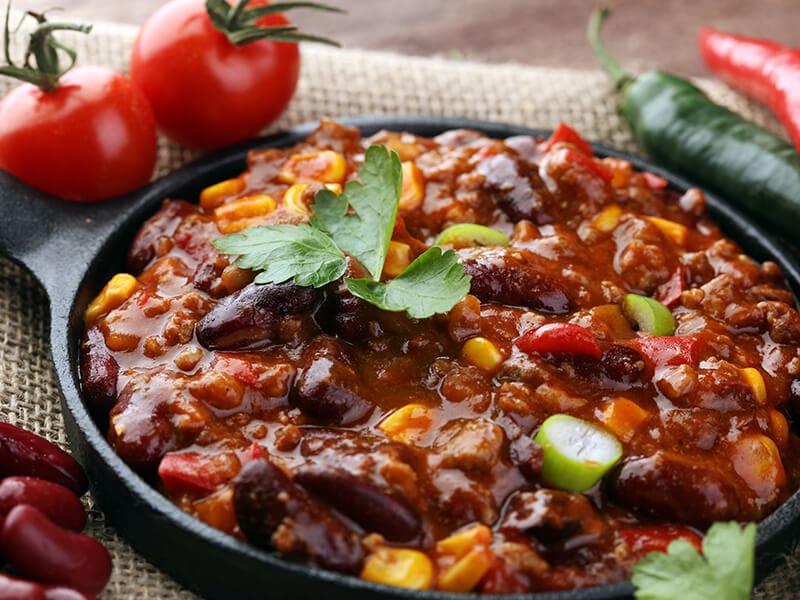 These 20 Recipes Will Make You Love Chili Even More
With the following 20 recipes, you'll find yourself falling even more deeply in love with spicy food. If you aren't already a fan of chili, get ready because that's about to change!
Onion rings are a crowd-favorite side dish that can be found in almost every fast food place. You can prepare this food to match with burgers, sandwiches, chicken wings, etc. The good news is, it's not necessary to buy onion rings elsewhere since you can easily make them at home.
These rings' mildly sweet taste and crispy texture work well with any condiment that you can possibly imagine and are absolutely perfect for pairing with chili.
Tired of traditional onion rings? Try making them in Tempura style! Watch this video below:
If you don't like the taste of onions but still want to add a little healthy flare to your fried food, then these zucchini fries are a perfect choice. What's more, you can also serve this food with pizza to make your meals more pleasant.
On its own, zucchini has a grassy, earthy, but rather a bland flavor. However, as soon as you hit these green fries with the powerful spiciness of chili, the only thing you'll care about is their incredible taste.
Breadsticks are a perfect side dish that will elevate anything lucky enough to be paired with them. All it takes is one bite of these soft, fluffy, and buttery golden sticks to make a fantastic dinner night. That said, who can resist eating more? I know I can't!
Nachos has long been the go-to Mexican dish for a lot of people, and I'm wholeheartedly on board. Why is nachos loved by so many? You might ask.
Well, the answer is simple. Creamy melted cheese on top of crispy tortilla chips, not to mention various spices to enhance the flavor; what can beat this divine combo?
The simplest way to describe a bowl of caesar salad would be colorful, extremely diverse in taste thanks to its magical dressing, and surprisingly fulfilling.
If you don't have the time for any baking or frying recipe, you can always turn to caesar salad for a healthy and yummy dish that goes well with pretty much everything.
Fluffy, flaky, and packed full of cheesy, buttery flavors, you won't be able to stop yourself from having another bite of these cheddar cheese bay biscuits! The best thing is, it'll only take you under 30 minutes to complete this addicting side dish.
Potatoes have to be one of the most versatile vegetables in cooking. Fancy something crispy? Slice and fry some for a dish of mouth-watering French fries. In need of a creamy treat that everyone can enjoy? Mashed potatoes will never let you down.
What if you want something in between? Well, in that case, baked potatoes are an excellent choice. Crispy on the outside yet tender inside, this is the go-to dish for any occasion.
Learn not only 1 but 4 ways to make delicious baked potatoes. Watch this video:
When in doubt, go back to the classic cornbread and chili combo.
Cornbread's sweet taste and fluffy texture is the perfect candidate to balance out the intense heat of chili. On the other hand, chili's spiciness helps add richness and depth to cornbread's somewhat simple flavor.
Cornbread can act as a perfect side food for your potato soup as well. So basically, cornbread is a very versatile dish, and it can light up other food excellently.
Not only are pretzels fun to look at, but they're also incredibly delicious. When making pretzels, you should always aim for a beautiful golden brown outer layer and a soft, chewy middle.
Oh, and they're not that hard to make, so don't be discouraged by their rather complex appearance.
Apart from nachos, tacos is another famous Mexican dish (and it's also a really tasty one!). Although there are many types of tacos, I've failed to find a taco that does not taste heavenly (especially the spicy type)!
Here is another proof of potatoes' extreme versatility: even the skin of this vegetable can be made into a delicious dish! If you adore the crispy skin from the baked potatoes recipe above, then this one is a must-try.
Add bacon, melted cheese, and your potato skin will easily become that one dish everyone can't stop talking about even after the meal.
Roasted root vegetables are a staple side dish for the Fall and Winter months. Simply imagining a dish of tender and sweet roasted vegetables with occasional kicks of chili's spiciness brings me joy.
The beautiful thing about this veggie treat is there's no set recipe for what root vegetables to use or not to use. So feel free to customize the dish to your liking!
Here's a good way to roast root vegetables that you shouldn't miss:
There's no such thing as a perfect meal without a delicious drink to accompany. For your chili night, I suggest giving the classic Mexican cocktail margarita a try. Or enjoying it as a sidekick for your taco night is also an ideal idea.
Margarita combines the bittersweet taste of lime juice and orange liqueur with the strong punch of tequila to create the ultimate crowd-pleasing beverage.
Impress your loved ones with these 2 ways to make margaritas. Watch this video to know:
Sweet potatoes are known to be a low calories source of carb. Now, what if you want to add a fun twist to this rather plain vegetable? Well, you can turn them into sweet potato fries!
The good news is, you won't even have to feel bad about eating these since they are cooked by baking rather than deep-frying. Crispy, sweet, and more importantly, still extremely healthy, there's literally nothing to complain about these fries.
A simple cheese-filled quesadilla is more than enough to brighten up a gloomy day. And when you add some perfectly seasoned chicken breast to the mix, it's a dream come true for every food lover.
Flavorful, creamy, satisfying in every bite is the very least I can talk about chicken quesadillas. Seriously, you have to try it yourself!
Pork carnitas is the ideal example of a cook once, store for a whole week kind of dish. With the help of a slow cooker, the pork will become tender enough to melt in your mouth while still retaining some of its crispy edges.
To store your pork carnitas, simply transfer them into an airtight container and place them in the fridge. The pork will be able to last for 4 days this way.
If you're a fan of cheese and root vegetables, then this is the one recipe that you must try. Not only will this dish impress your guest with its colorful appearance, but it's also a tasty dish with the flawless combination of many earthy, sweet-tasting veggies.
When paired with the intense and spicy chili stew, apple salad will create a pleasant contrast with its fruity, light, and refreshing flavor.
To take the dish to another level, you can throw some nuts like walnuts or cashews into the mix. This will help create a depth in flavor that fruit salads sometimes lack.
19. Beer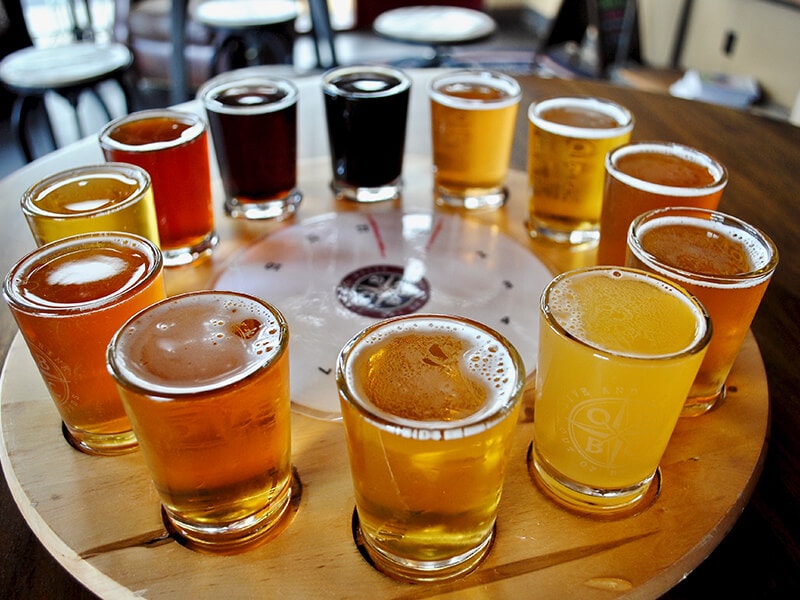 Some people enjoy their whiskey and tequila, while some think beer – the most famous kind of drink – is the ultimate alcoholic beverage. If you're in the latter group, you're in luck since beer is one of the best drinks to enjoy with spicy food.
There are plenty of excellent beer types on the market (not to mention countless brands). However, I recommend trying out American stout, pale ale, or IPA for starters.
All it takes is 5 minutes to learn every essential beer type! Watch this video:
Monkey bread is a fun and tasty appetizer that will disappear before you even realize it! While it's true that monkey bread can be sweet, I prefer the savory, cheesy version for an interesting twist.
With the help of cheese and herbs, the bread will be melty, gooey, and flavorful. Top it up with your personal choice of toppings, and you have a gorgeous-looking, mouth-watering companion for the chili.
Ready To Spice Up Your Dinner Yet?
With these 20 recipe recommendations, you won't have to shy away from enjoying chili anymore. Try and make some on the next spicy dinner night. I'm confident that your loved ones will be pleasantly surprised!
If you know any recipes that I might have missed, please let me know in the comment. After all, there are so many delicious dishes to serve with chili that it's impossible to list all of them at once.
Lastly, don't hesitate to like and share the post if you want more content like this!
Nutrition Facts
20 servings per container
---
Amount Per ServingCalories40
% Daily Value *
Total Fat 0.7g

0

%
Cholesterol 10mg

4

%
Sodium 97mg

5

%
Potassium 114mg

4

%
Total Carbohydrate 7g

3

%

Dietary Fiber 0.6g

0

%
Sugars 1g

Protein 1.6g

2

%
---
Calcium

55

%
Iron

1

%
Vitamin D

1

%
* The % Daily Value tells you how much a nutrient in a serving of food contributes to a daily diet. 2,000 calories a day is used for general nutrition advice.