The diversity of Chinese seafood dishes comes from many factors. One of the biggest reasons is China's vast coastline to the east, where the country borders the Pacific ocean. This is also where many exotic delicacies originate from.
The wealth of seafood doesn't end even if you move further inland. On the contrary, China's countless networks of rivers and lakes have their aquatic ecosystem. A lot of regional cultures take advantage of this to create their seafood specialties.
It's best to experience this side of the cuisine in China. However, not everyone can travel in their busy lives. That's why I have decided to compile a list of recipes from China for you. Now, you get to cook many seafood dishes without leaving the comfort of your home.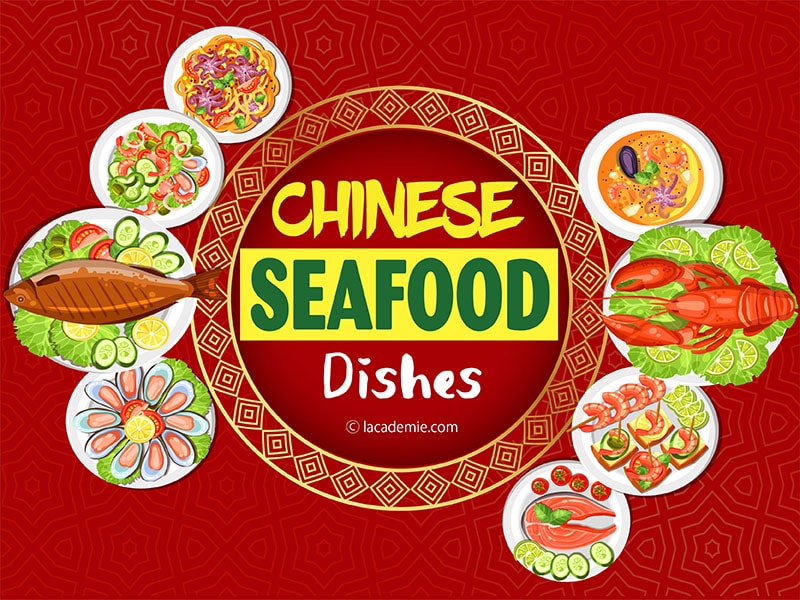 Tasting A Side Of Chinese Cuisine With Seafood Recipes
These Chinese delicacies come in many different varieties, including soups with an emphasis on the rich stock and stir-fried dishes that condense most of the flavors in a savory sauce. In the end, you will always have a perfect meal for everyone.
Total time: 40 minutes
Sometimes, you just want to spice up your life to make it less boring. In this case, a plate of Sichuan Boiled Fish can satisfy your need. However, the downside is that you might not taste anything else in a while due to the numbing sensation.
So how does this dish paralyze your taste buds? It's thanks to a special Chinese seasoning called Sichuan peppercorn. Its spiciness seeps into the fish, alongside others like Chinese cooking wine, cinnamon, and Doubanjiang (Chili bean paste).
The cooking wine gives the fish a very vinegary flavor. On the other hand, the cinnamon exudes a pleasant herbal aroma that enhances the delectability of the dish. Thankfully, you can experience all of that great sensations before the numbing begins.
This Sichuan Boiled Fish recipe will blow your tongue away, literally.
Total time: 30 minutes
If you want a quick Chinese-theme side dish for the main course, let this recipe be your solution. Chinese Fish Balls, or Yu Dan, are just fish meat that you shape into bite-sized balls. They are small, but what they pack inside will give you an aromatic bliss.
There are a few ways to recreate this type of street food from Hong Kong cuisine. You can either make the balls from scratch with minced fish meat, or if, like me, you don't have much free time, getting frozen balls is the best option.
Fish balls are very firm and kind of spongy. They are also absorbent, so most of the flavors stay inside the meat. In this recipe, you mix the fish balls with hoisin sauce, oyster sauce, and chili flakes. These condiments coat the outside of the balls with a glossy layer.
Total time: 13 minutes
Nothing feels better than having a plate of the Chinese Steamed Fish to share with your family. When you take a bite into the steaming white flesh, a sudden surge of warmth travels the entire length of your body, making everything feel better.
This feel-good ability is why the delicacy is always available during a Chinese celebration. The recipe doesn't specify a certain fish type, but I highly suggest carb, grouper, or catfish since their meat is compatible with the sauce that accompanies this dish.
To make the sauce, you combine soy sauce, Shaoxing wine (Chinese cooking wine), and sugar in a heated pan. This process can extract the most flavors out of the condiments. The fish can taste the best with some sweetness and umami from the sauce mixture.
Total time: 40 minutes
This next specialty is part of the larger Guangdong cuisine called Hong Shao Yu, or Chinese Braised Fish. With the inclusion of flavorful seasonings and the right ingredients, the result can be very wonderful.
In most cases, the recipe requires you to get red tilapia as it is available in so many Guangdong-theme seafood dishes. The meat always stays very flakey and moist, a wonderful sensation that you can feel at the tip of your tongue.
Another important part is the sauce. It keeps the fish flavorful and removes any unsavory smell from the meat. The mixture includes soy sauce, Chinese cooking wine, and ginger. The soy sauce brings a clear umami taste while the wine and ginger clean off any fishiness.
Total time: 1 hour 40 minutes (Including 1 hour of soaking time)
Whenever you feel under the weather and don't know what to cook, this is probably the best recipe. Congee is a rice-based delicacy from China that many people love to have when they don't feel well. With the addition of fish, it's even better.
If you want to follow the recipe closely, you can try to find the ling fish. However, you can choose other types of white fish as alternatives. As long as the meat is tender, fresh, and savory, then there will be no problem.
As for the other, white rice is the best to get the congee to thicken up to the preferred consistency. The base of the congee comes from water, chicken powder, and fish sauce. These ingredients add a lot of richness to the dish.
The best side dish to go alongside congee is Youtiao, which is the Chinese version of fried dough. It will soak up the liquid to make the dough more delectable.
This recipe for Fish Congee is a great way to help you feel better.
Total time: 20 minutes
This particular Chinese shrimp dish is inspired a lot by the Sichuan cuisine, with a unique sauce that will make your mouth water in no time. The combination of shrimp and vegetables is also perfect if you want to have a healthy meal.
Let's talk about the main attraction first, which is the Sichuan sauce. It consists of many different seasonings, but the most obvious to your taste buds are chili flakes, rice vinegar, and maple syrup. These three components make a nice blend of spiciness, tanginess, and sweetness.
When you stir-fry the shrimp with the mix of condiments, the flavors spread evenly amongst the meat. That's how you enhance the savoriness of shrimp. The vegetables, including snap peas, green onions, and bell peppers, provide the freshness to keep everything balanced.
Total time: 30 minutes
The sweet and sour technique is a popular cooking style that originates during the Tang Dynasty of China (7th – 10th century A.D). One of the best things about this particular cooking style is how you can pair it with different ingredients, including pork, beef, and of course, shrimp.
As the name suggests, the flavors that you can experience in this delicacy are sweetness and sourness. The former is created from the brown sugar while the sour mixture consists of vinegar, pineapple juice, and ketchup.
This amazing method of using opposite sides of the taste spectrum (in this case, sweet and sour) will be able to enhance the overall essence of the dish.
Thanks to the sauce, you can feel the savoriness of the shrimp at the tip of your tongue. Bell peppers, garlic, and onions cap everything off with an irresistible aroma.
Total time: 15 minutes
As a staple of Cantonese cuisine, you can expect the Salt And Pepper Shrimp, or Jiao Yan Xia, to be super flavorful. Due to how easy it is to recreate this delicacy, you will get to have this dish anytime you want without having to set foot in a Chinese restaurant.
For the preparation, there are a few ingredients that you must get, like shrimp, garlic, and ginger. Both garlic and ginger are popular aromatics that can give any dish an appetizing aroma. There is also a combination of seasonings called Jiao Yan (or Salt and Pepper in English).
The mixture is what gives this delicacy its signature savoriness, as well as the kick from the Sichuan pepper. When you stir-fry the shrimp with the seasonings, they form a layer around the meat to improve the overall texture.
Total time: 30 minutes
When it comes to beloved Dim Sum or Guangdong-style brunch, a lot of people would recognize Shu Mai(Har Gow dumplings). But not many would know about the Chinese-style snack called Shrimp Toast (Xia Duo Shi). It's something that you can't miss out on.
The first you will notice about Xia Duo Shi is the delectable texture surrounding the bread. It's golden brown and crunchy to the touch. The use of bread crumbs just enhances the crispiness that makes you salivate upon the first look.
Other than the exterior, the shrimp stuffing inside the toast is also fantastic. The minced shrimp has a savory undertone alongside the sweetness of the meat. The eggs and salt that you combine with the shrimp provide extra saltiness and creaminess.
Do you want a quick snack? Then just make this version of Shrimp Toast.
Total time: 5 hours 50 minutes (Including 5 hours 10 minutes of cooking time)
Getting a taste of this next entry will truly make you feel like a royal since it's especially available during important Chinese celebrations. Braised Abalone or Hong Shao Bao Gu is just incredible with its unique texture and underlying flavors.
Raw abalone meat is very tough; that's why the cooking process is very important to break down the meat tissues. Braising is possibly the best way to do it. The meat can tenderize itself in the braising liquid, which includes Chinese cooking wine, oyster sauce, and water.
Not only helps the meat soften up, but the liquid can also seep into the abalone to make it more flavorful. The oyster sauce and wine provide a side of savoriness to improve the taste.
The recipe also requires mushrooms to give a touch of umami. I strongly recommend getting Shiitake mushrooms, which are a type of edible mushrooms in China and other East Asian countries. Just stew them with the abalone until they become tender.
Total time: 15 minutes
While Kung Pao Chicken is one of the most popular Asian delicacies in North America, there is another variation that has gained much attention lately. Let me introduce you to Kung Pao Shrimp, a different take on the classic Chinese dish.
Inspired by Sichuan cuisine, Kung Pao Shrimp is going to be quite spicy, but that only lasts for a short time, creating an appetite-increasing effect. However, it is the spiciness that will trigger your appetite and improve the delectability of this dish.
Aside from its signature flavor, there are other components that make Kung Pao Shrimp irresistible, including the use of fresh vegetables like bell peppers, onions, and peanuts. The addition of maple syrup increases the sweetness to balance out the spice.
Total time: 45 minutes
Life can be a bit busy sometimes, and you want to make something real quick with enough nutrients to last the entire day. Introducing the Shrimp Chow Mein, it's a symbol of Guangdong's cooking style. This delicacy is quick and satisfying for you to try.
There's just something comforting about having stir-fried noodles. With Shrimp Chow Mein, you get the creaminess from the Mein ("noodles" in Chinese), the savoriness of the shrimp, and the fantastic combination of Chinese-style sauce.
This certain sauce consists of dark soy sauce, oyster sauce, and Chinese cooking wine. This mixture creates a glossy brown layer that you notice in many Chow Mein dishes. The bean sprouts and scallions add a side of fiber to the complexity of Shrimp Chow Mein.
Total time: 1 hour 20 minutes
There are many ways you can relax at home, from reading to exercising and playing video games. But for me, I love to cook myself a bowl of Chinese Fish Soup or Yu Tou Lu. This little pick-me-up is great in the summer and a life-saver in the winter.
What makes this simple-to-make seafood dish so great is how you prepare the fish (I recommend bass grouper, but you can choose other white fish). Instead of throwing it into a boiling pot, you deep-fry the meat first. This will increase the flakiness and enhance the texture.
It would not be a proper Chinese Fish Soup without the appearance of vegetables, like taro root and pickled mustard greens. They provide a side of freshness to offset the fish broth. The pickled mustard greens offer some sourness to make this dish unique.
After the frying step is finished, take the fish out before adding it back to the soup alongside the vegetables and water. In order to improve the richness of the broth, you can toss in salt, pepper, and chicken powder.
Total time: 30 minutes
Oyster Omelet, or E Zi Jian, is a dish originating from two minority groups within China called Teochew and Hokkien. Due to mass immigration, this dish is available in many overseas Chinese communities nowadays.
This simple Asian-style side dish only uses two main ingredients, which are eggs and oysters. However, it is still flavorful due to the use of multiple seasonings like fish sauce, pepper, and chili paste.
Unlike the traditional omelet, E Zi Jian uses both eggs and a type of flour batter (rice flour, salt, and water). This might make a lot of purists angry, but I can assure you that the texture will be exquisite. The sponginess combines well with the creaminess of the eggs.
The oyster provides a slight bit of saltiness, as well as that familiar taste of the sea. It's not quite fishy but very strong.
Oyster Omelet is a quick and easy Chinese recipe that you can cook.
Total time: 23 minutes
If you're ever looking for a way to change up the usual lobster recipe, why don't you try the Cantonese-Style Lobster instead? This one delicacy brings a unique blend of so many interesting flavors that can positively overwhelm your taste buds.
To get the lobster to the right texture, you must deep-fry the meat first until the outside forms a crusty yellow layer. This is what traps in the moisture so when you take a bite of it, the essence of the lobster will ooze out at the tip of your tongue.
On the other hand, you can prepare a sauce mixture to improve the taste and quality of the dish. This sauce consists of minced meat, fermented black beans, and chicken stock. They provide the lobster with so much richness with a slight saltiness.
Total time: 25 minutes
A true Chinese-themed seafood feast is not complete without a plate of clams. In this case, Stir-Fried Clams In Black Bean Sauce offers a distinct way to cook clams with the help of savory black bean sauce.
First of all, clams are notorious for being quite gritty so you must have to clean them out thoroughly. When you're done, you can move on to the steaming process with a black bean sauce mixture. It includes fermented black beans, Chinese cooking wine, and sugar.
The sauce gives off a mild saltiness mingled with some sweetness. There is also a vinegary aroma from the wine. When combined, these flavors act as a great balance to the clam juice. If you want a bit of spiciness to the dish, just sprinkle in chopped chili peppers.
Total time: 30 minutes
Yee Mee is also called Claypot Seafood Noodles. This noodle-based dish from China is what most people consider comfort food since it is very nourishing, delicious, and heart-warming. And it's even better if you have Yee Mee with your whole family.
The most noticeable aspect of Yee Mee is the clay pot. However, it's fine if you use a normal metal pot instead. The main sources of protein are prawns and chicken meat. The main focus of Yee Mee is being balanced so there is bok choy (Chinese cabbage) to provide fiber.
Apart from the three above, there is a flavorful broth that goes into the dish, including chicken stock, soy sauce, and sugar. The combination of chicken stock and soy sauce creates a very savory richness that you need sugar to even out.
Total time: 60 minutes
Hai Xian Qiao Chao, or Seafood Bird's Nest, is not an ordinary delicacy that you will see on the dinner table every day. Rather, it's a popular New Year recipe in China, as well as on other special occasions. So why exactly is Hai Xian Qiao Chao so special?
The first reason is the presentation. From the name, you probably guess that this specialty resembles a nest. But what you don't know is that the ingredients are all of high quality, including the taro that makes up the base.
As for the seafood, you get a combination of shrimp, scallops, and squid. They contain a lot of flavors from the sea, including umami-packed sweetness and saltiness. Season the seafood with chicken stock and Chinese cooking wine. The cornstarch further concentrates the sauce.
This tutorial of Seafood Bird's Nest is perfect for your next Chinese-them party.
Cooking Seafood With A Chinese Flair
With the help of the Chinese-style recipes above, I hope you will be able to create many irresistible and scrumptious seafood dishes for your family and especially yourself. After all, staying at home doesn't mean depriving yourself of interesting international cuisines.
And this is where I'm ending today's journey. If you like what you just read, please don't hesitate to give this a thumbs-up and share this article on your social media. Leave a comment below if you have a new recipe idea to share. Until next time, enjoy your meals!
Nutrition Facts
3 servings per container
---
Amount Per ServingCalories514
% Daily Value *
Total Fat 31g

48

%
Sodium 52mg

3

%
Potassium 295mg

9

%
Total Carbohydrate 22.1g

8

%

Dietary Fiber 4.7g

16

%
Sugars 4.9g

Protein 44g

88

%
---
* The % Daily Value tells you how much a nutrient in a serving of food contributes to a daily diet. 2,000 calories a day is used for general nutrition advice.