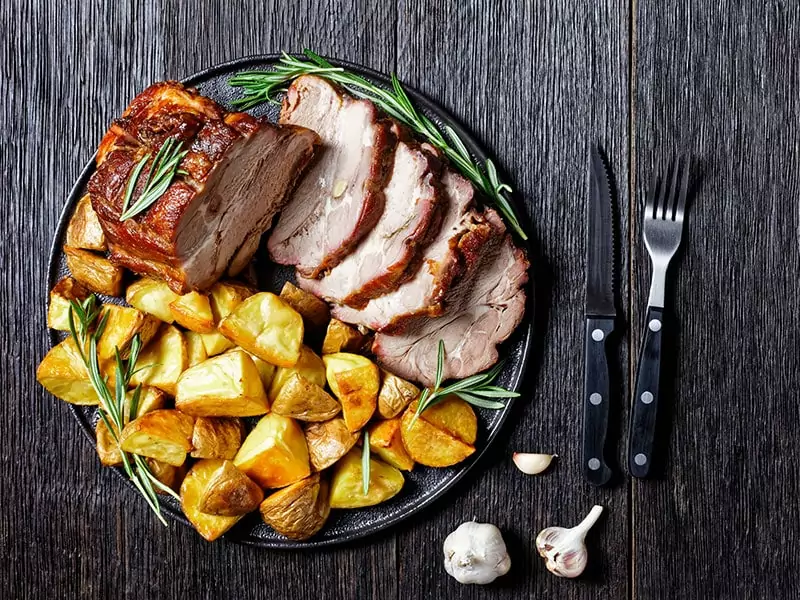 The appropriate pork tenderloin side dishes matter as they can define whether your meals are fabulous or not. You've got the amazing main savories with pork tenderloin but paired them with unsuitable dishes, making your meal not appealing and delicious anymore.
Besides, when it comes to side dishes, you have been presented with thousands of side dishes, ranging from veggies, salads, and casseroles, or some stuff like that. The post here will let you know some stunning recipes that can go well with pork tenderloin.
From these below-recommended side dishes, you can mix and match them with the main ones to get an irresistible meal combination.
Which Side Dishes Go Well With Pork Tenderloin?
The list below will give you general ideas about the most suitable side dishes for pork tenderloin. Let's go through and find out what is your favorite one before scrolling down for more detailed information.
Vegetable- And Fruit- Based Dishes Side With Pork Tenderloin
Roasted Cabbage Steaks
Roasted Cauliflower
Whipped Sweet Potatoes
Roasted Green Beans
Roasted Carrots With Oranges
Garlic Mushrooms
Honey Butter Smashed Potatoes
Oven Roasted Plums
Fried Apple And Onions
Parmesan Baked Asparagus
Creamed Corn
Garlic Sauteed Broccoli
Applesauce
Outstanding Salad And Hearty Starches
Brussels Sprout Salad
Couscous Salad
Fig And Arugula Salad
Farro With Carrots And Chickpeas
Creamy Spinach Parmesan Orzo
Broccoli Salad
Apple-Bacon Slaw
Cilantro Lime Rice
Other Good Companions With Pork Tenderloin
Polenta
Mac And Cheese Casserole
Jiffy Corn Casserole
24 Familiar But Insane Side Dish Ideas For Pork Tenderloin
Keep reading to get the specific information of these 24 ideas for side dishes pairing well with pork tenderloin. The information will help you decide which one is suitable to go with a well-cooked pork tenderloin.
Vegetable- And Fruit- Based Side Dishes To Serve With Pork Tenderloin
With pork, fish, or chicken, side dishes are common from veggies; however, cooking them in many different ways makes these dishes more appealing and delightful than you think. I will reveal what they are and how they work with pork tenderloin recipes.
Honey roasted cabbage steaks are the number one choice you should try to pair with pork tenderloin because the crunchiness of the roasted cabbage combined with the tenderness and sweetness of grilled pork tenderloin slices is nothing except perfection.
This side dish is extremely easy and quick, so you can consider cooking this when you get busy.
Just dressing them with some balsamic and honey, you can raise the flavor of this recipe and whole meals.
Crispy and delicious roasted cabbage steaks are in your hands! You can see this video to know:
Roasted cauliflower is a time-saving side dish. With its alluring flavor, roasted cauliflower is among popular companion dishes for main courses during autumn. The smoky undertones, combined with the sweet and nutty flavors, will be more than enough to win everyone over.
Just marinate the cauliflower with essential seasoning and roast the mixture for about 25 minutes to get it cooked.
Roasted cauliflower is naturally sweet, tender, tangy, and good to go with cooked pork tenderloin as companions.
Sweet potatoes can be cooked in many styles, giving you a wide range of fantastic sweet potatoes- made side dishes. And whipped sweet potatoes with butter and cream is one of them.
The hot whipped sweet potatoes together with cooked pork tenderloin will form an excellent meal in which you can get enough nutrients from protein, pro-vitamin A, vitamin C, and iron.
Roasting green beans as a side of meat dishes is not strange anymore. The side dish is common because it's heavenly, juicy, well-flavored, and especially easy to make.
Baking marinated green beans in your oven in 15 minutes and then sprinkling them with grated cheese is what you need to get a better taste.
This combination of carrots and orange will give you a versatile dish to side with pork tenderloin. Adding some orange slices will help the whole baby carrots tender and easily get full-seasoned.
To finish off the meal on a high note, you should go for desserts made with oranges as well. These will leave lingering fruity notes on your palates that blend well with the orange-roasted carrots and pork tenderloin. Try this out and let me know how it goes!
Naturally sweet and crunchy carrots are tossed with a spicy, tangy, salty, and pungent dressing to make an irresistible side dish.
It's hard to explain, but I'm a fan of mushrooms, and finding new and tremendously flavored mushroom recipes makes me happy. One of them is garlic mushrooms that are so good to accompany recipes made with pork tenderloin.
Garlic mushrooms add to your main side dishes the sweetness, tenderness, and comforting taste. Besides, butter sauce plays an indispensable part in garlic mushrooms.
Let's garlic mushrooms make your day! You can see this video to know:
7. Honey Butter Smashed Potatoes
Smashed potatoes simmered in honey and butter sauce are also comforting, delightful, and suitable for going with pork tenderloin dishes.
The side dish has a well-seasoned flavor and soft texture, making it an excellent companion. Putting some honey butter mashed potatoes by the side of grilled pork chops to serve as a fantastic dinner meal.
Plums roasted with the seasoning of honey, cinnamon, and ancho powder are an excellent idea as a pork tenderloin side dish because they are juicy, hearty, and well-marinated.
You will be addicted to this side dish when it's combined with a grilled pork tenderloin recipe and form a taste of perfection.
Let's try making and enjoying it if you have never known about it before!
Get the delightful recipe with oven-roasted plums! Check out this video:
If you ever fried apples to eat? If not, I think you should take this chance to make it and try. The sweetness and slight sourness of fried apples will surprise you when they are blended with the flavor of onions, making the side dish unique.
Simmer sliced apples with fried onions after marinating the mixture with brown sugar, butter, and other spices to get a yummy side dish.
Trying to find something to pair with pork tenderloin when you're short on time? When you're out of ideas for dinner on a busy Monday night, you can think of Parmesan baked asparagus. With a few basic ingredients and only 15 minutes, you'll be able to get this side dish perfectly done.
The crunchiness and sweetness from fresh asparagus never let you down and can even raise the deliciousness of pork tenderloin recipes.
Parmesan cheese-baked asparagus is on the top of the most common side dishes for just about any cooked meat, fish, and chicken.
Are you into corn like me? The creamed corn is an exciting side dish idea for grilled pork tenderloin as they are full of juicy, sweet, and creamy, making it a joyful, comforting, and delicious side.
The perfect combo of creamed corn, pork chops, and some salads. Your fantastic creamed corn by the side of pork tenderloin will create an appealing meal in the winter.
Even better, you can save time by starting out with canned corn. The dish prepared with canned corn will taste just as amazing as one that features fresh corn. No one will be able to tell the differences, especially when they're so busy getting another helping.
Broccoli is undoubtedly good for your health and diet. Garlic sauteed broccoli is full-flavored, heavenly, and delicious to eat. You can consider making it to side with your pork dishes and feel the perfection.
The crunchiness of sauteed broccoli matches well with the tenderness and juiciness of well-cooked pork tenderloin and creates a magic combination.
One more way to use up your apple to create a side dish for pork tenderloin dishes is to make chunky and smooth applesauce.
Combine the apple chunks with syrup and cinnamon; simmer the mixture until it's tender; put the blend in the food processor, and then cook the texture with vinegar; you can get the applesauce finished.
Follow the guidelines to make the best applesauce at your home!
Outstanding Salad And Hearty Starches To Pair With Delicious Pork Tenderloin
Besides using veggies totally to make pork tenderloin side dishes, you can combine and use up vegetables to make wonderful salads or starches that can pair well with cooked pork tenderloin slices.
If you are bored with roast, bake, or steam brussels sprouts to serve as a side dish, you can use them to make a salad, and I think it's much better!
Incorporating shaved brussels sprouts with many other fresh veggies and an excellent dressing of maple syrup and mustard creates the special and irresistible version of the salad.
With cooked pork tenderloin, the addition of the salad also plays an important role in lighting the meals up.
You call them salads, but they turn out to be totally different in appearance and flavor with the different components and dressing.
With the colorful and delightful couscous salad, what you need to get the salad done is to pour an incredible dressing of lemon juice and some other essential spices over the blend of cooked couscous, many fresh and crunchy vegetables, and grated cheese.
If you are hungry, combining the salad with cooked pork tenderloin slices is nothing better.
Another type of salad comes from figs, arugula, and seasonings are also popular to serve with pork tenderloin recipes as it has a complimentary flavor and juicy textures.
Before enjoying the salad, let it chill in the fridge and pour the dressing right before serving it to guarantee the taste perfection of the salad.
The salad of chickpeas and other crunchy vegetables also forms a delightful salad accompanying recipes made with pork tenderloin as the main ingredient.
Chickpeas are good for your digestion, bone, and mental health, making the salad a common ingredient in almost all salads.
Siding the salad with some grilled meat slices is a decent option to make your meal more impressive.
Another way to create a side dish full of starch to feed your stomach is creamy spinach parmesan orzo. It is a good side dish for almost all main savories, and pork tenderloin too.
Some lemon juice and cracked black pepper are good for increasing the deliciousness level and working as garnishes for the salad.
Turn your simple recipes into an insane salad! Check out this video:
One more way you can make with your available broccoli is making a salad with them. This will require that you know the correct method to store broccoli so that it'll stay in its top condition. This is very important, as the broccoli's freshness can either make or break the dish.
Being a good source of protein, fiber, and vitamins, broccoli salad is good in taste to serve alongside pork tenderloin.
Adding or leaving out something you don't like and replacing it with favorite ones sometimes doesn't matter too much to the full flavor, but you can get the best version for your family.
Nothing is better than combining what you love with healthy ingredients to make a comforting salad. Juicy sliced and crunchy apples will add delight to bacon slaw. Apple is helpful to reduce high cholesterol, facilitate a healthy immune system and digestion.
The apple bacon slaw also adds a light color and makes your meal more appealing to eat.
One more idea for a pork tenderloin side dish as a source of starch is cilantro lime rice. Cook the white rice after tossing it with cilantro, lime juice, and other spices, you'll get a simple but incredible side dish for pork tenderloin.
This dish is also a great way to use up your unfinished rice. At its core, cilantro lime rice is quite simple, so there's no harm in preparing the dish with leftover rice. What you'll get in the end is a side dish so vibrant with flavors that you'll probably forget that this dish is made with leftovers.
The tangy, flavorful, and comforting lime rice can be served alongside grilled meat to make the meat more delightful.
Other Good Companions With Pork Tenderloin
Besides vegetables, salad, or starches, you can use many other recipes to accompany pork tenderloin. Continue reading to figure out what they can be and what to make up for them.
Like mashed potato, the perfect polenta has a fluffy, buttery, creamy, and light texture with the flavor of milk, cheese, and cornmeal.
You can cook this polenta for around an hour, so if you want to serve the dish with your main dishes, prepare its ingredients and cook the dish in advance.
A short and clear guide to make soft and tasty polenta:
Mac and cheese are on the list of the most common side dishes for almost all main savories, from grilled meat, chicken, or fish.
The side dish is popular because it has a cheesy and creamy texture topped with crunchy parmesan. Besides, the light yellow color will add positive energy and delight to your meal to make it an irresistible meal.
Another side dish to pair well with your pork tenderloin is jiffy corn casserole that is versatile to place by the side of grilled pork slices to add appeal and tastiness.
Like other casseroles, Jiffy corn casserole also has a creamy, buttery, and aromatic texture formed from cream corn, butter, and some other ingredients.
Can You Pair Other Side Dishes With Pork Tenderloin?
I've given you the list of the 24 most insane but easiest recipes to go with pork tenderloin dishes and join in raising the deliciousness level of the whole meal. 24 dishes coming from 3 main categories are distinctive and delightful, so you can change the side dishes.
The recipes suggest the number of spices to taste in your dishes; however, it depends on how many ingredients you use; you can change the amount to get the better taste as you want.
Moreover, if you figure out something new to do alongside pork tenderloin, don't hesitate to share it with me in the comment section below, and I'll add it to the list as soon as possible. And if you find the post useful, just help me to spread it out!
Nutrition Facts
8 servings per container
---
Amount Per ServingCalories38
% Daily Value *
Total Fat 3.6g

5

%
Sodium 4mg

1

%
Potassium 13mg

1

%
Total Carbohydrate 1.6g

1

%

Dietary Fiber 0.6g

0

%
Sugars 0.6g

Protein 0.3g

0

%
---
* The % Daily Value tells you how much a nutrient in a serving of food contributes to a daily diet. 2,000 calories a day is used for general nutrition advice.