What are the best side dishes for pork chops, you ask? Some will say it's broccoli, some will say that it's mac and cheese, but I highly doubt if they can name more than ten dishes.
With pork chops, there are endless combinations you can come up with. When you know the right timespan for baking pork chops at 350, the meat is succulent and tender with a mouth-watering savory relish. It's a brilliant idea to have it with something light, sweet, and refreshing.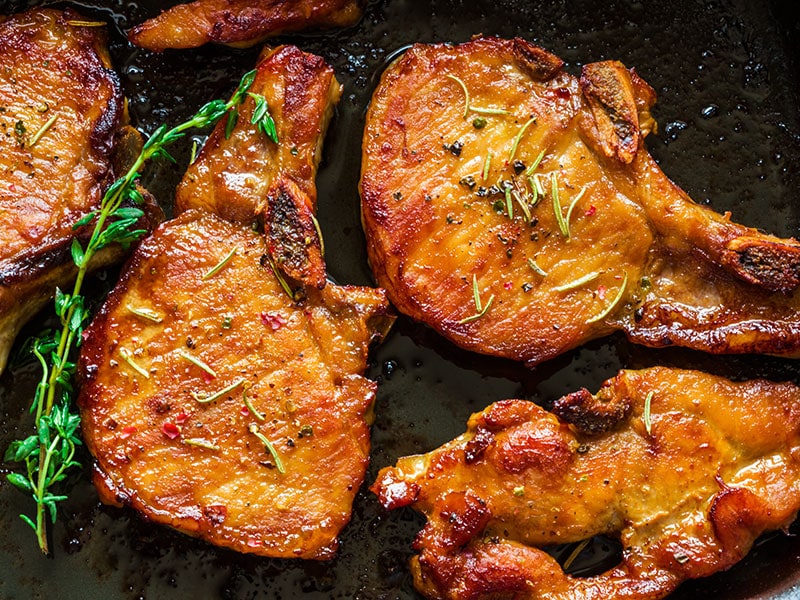 Delicious Pork Chop Side Dishes That Fit For "Kings"
From healthy greens sides to filling pasta dishes, the recipes listed below are inseparable from pork chops. Keep scrolling to find out what they are and how to make them!
Healthy Side Greens For Pork Chops
Green Goddess Lettuce Wraps
Creamed Spinach
Green Beans Almondine
Easy Skillet Kale with Lemon and Garlic
Sesame Garlic Roasted Asparagus
Spicy Broccoli Sauté
Arugula Salad
Tangy Cucumber Salad
Potato Side Dishes For Pork Chops
Scalloped Potatoes
Sweet Potato Fries
Potatoes Au Gratin
Oven-roasted Beets and Potatoes
Mashed Potatoes
Baked Potatoes
Roasted Parmesan Pesto Potatoes
Sour Cream Balsamic Sweet Potatoes
Brussels Sprouts Side Dishes For Pork Chops
Cacio e Pepe Brussel Sprouts
Brussels Sprouts Skillet with Pancetta-garlic Bread Crumbs
Brussels Sprouts Latkes
Crispy Brussels Sprouts with Balsamic and Honey
Lemony shredded brussels sprouts
Pasta And Rice Side Dishes For Pork Chops
Vegetable Fried Rice
Portuguese-style Mint Rice
Buttery Garlic Lemon Rice
Mushroom Rice Pilaf
Creamy Spinach Parmesan orzo
Side Dishes With Fruit For Pork Chops
Apple Cranberry Pecan Salad
Homemade Applesauce
Fried Apples
Baked Avocados with Fresh Salsa
Apple-cranberry Coleslaw
Other Side Dishes For Pork Chops
Dinner Rolls
Cornbread
Deviled Eggs
Mac and Cheese
Melted Onion
Portobello Mushrooms Stuffed with Barley Risotto
Caesar Salad
Classic Blue Cheese Wedge Salad
Butternut Squash Soup
Are you and your pork steaks ready? Let's go!
Healthy Side Greens For Pork Chops
I'll start the list with nutrient-dense sides made with fresh greens and herbs. Not only do their flavors markedly contrast when served next to pork chops, but they also display an irresistible curb appeal that makes everyone go hog wild.
Heaven is just a few steps away while you are enjoying these green goddess lettuce wraps. For the filling, play with your creativity: you can go all-green-everything with avocado, cucumber, or green pepper, or some protein such as chicken or beef.
Spinach makes an excellent side dish, but it's time to take it to another notch. Here's the big reveal: cream cheese is what you need to make spinach even more palatable. Season with nutmeg, salt, and pepper to taste and enjoy.
Elevate your spinach with cream cheese – less than 10 minutes! Let's see this video:
Not many people are fans of green beans. However, this side dish from France proves that things can always work the other way round. Shallots are sauteed to enhance the flavor of green beans, and almonds are toasted in butter to bring out their signature toasty aroma.
A skillet for a side dish? When it comes to crunchy, succulent kale, there's no such thing as enough. Garlic is sauteed until fragrant, yielding an inviting smell to attract your attention, then comes the lemon juice and a pinch of red pepper flakes for a well-rounded flavor.
You can't lodge a complaint when you have some roasted asparagus with your pork chops. These crunchy green sticks are roasted to perfection in the oven, with garlic coming in to play up the taste and finished with toasted sesame seeds for a nuttier flavor.
These broccolis are here to trigger your taste buds, and there's no use giving in to temptation. I mean, is it possible to say no to the intoxicating kick from the chili-garlic sauce, ponzu sauce, and Marzetti Asian sesame salad accents? I don't take no for an answer.
Even novice chefs can make this one! Arugula has flavorful peppery nuances, which are perfect against the lemon balsamic dressing. Throw in any other veggies and parmesan to make yourself a wholesome side dish for pork chops.
You only need 2 minutes to make this arugula salad! Check out this video:
Savory pork chops pair well with something light and refreshing, like cucumber, for example. You don't need to go the extra mile for the dressing: just whisk together mustard, vinegar, olive oil, and a pinch of salt and pepper.
Potatoes Side Dishes And Pork Chops Are Inseparable
Vegan-friendly and gluten-free, potatoes are the premium choice to serve next to a huge plate of pork chops. You can bake them, roast them, or turn them into finger-licking good fries.
Scalloped potatoes are a timeless classic on every dinner table. Potatoes are thinly sliced to soak up the flavors, then layered in the casserole dish along with onions and homemade sauce. The dish is baked until the surface turns golden and bubbly.
Another way you can whip up scalloped potatoes is with an electric skillet. You only need a few tweaks here and there to turn these into a dish you can prepare with electric skillets. This cooking method is not only delicious, but it can also cut down the waiting time by a lot.
These scalloped potatoes will change your entire life! Check out this video:
These sweet potato fries do double duty, bringing a wonderful crunch that you crave relentlessly. They are a healthy substitution to greasy French fries, and the taste is just as yummy as their antecedent: mild, starchy, with an unforgettable underlying sweetness.
Originating from France, au gratin is an easy and adaptable family-style recipe present on a global scale. The dish is usually mistaken for scalloped potatoes, but au gratin is topped with breadcrumbs and cheese instead of fresh herbs.
You can see this video to know:
I was amazed to learn that beet and potato can go in tune despite their differences. This odd combination turns out to be one of the best delicacies I have ever made; the sweetness of potato blends harmoniously with beet's distinctive earthiness.
Mashed potatoes are a versatile side dish. It requires barely any prep time, but the final product is always mesmerizing with that silky and fluffy texture. It's an approved taste, and your pork chops will think the same!
As easy as making mashed potatoes is, sometimes, you'll find that the dish can be a bit watery. And let's be honest, no one likes watery mashed potatoes. My top trick to make mashed potatoes thicker is adding more potatoes, but there are also many other methods you can try.
Make the best mashed potatoes on Earth with this recipe. Check out this video:
Catch a sniff and guess what this one is. That's right, it's freshly baked potatoes, straight out of the oven with the fluffiness of your dream. Bacon, cheese, and fresh herbs are optional fillings but highly recommended.
Parmesan, pesto, and potatoes are the only three Ps that matter from now on. The two former ingredients are no strangers, but pesto is that newbie with limitless potential. The sauce is rich and garlicky, imparting lovely herbaceous notes that arouse your appetite.
Your pork chops need a friend, and I have found a perfect one for them. Surprisingly, sweet potatoes are not overshadowed by balsamic vinegar in this recipe, and I find the two ingredients a good match. You can swap sour cream with creme fraiche to tone down a bit.
Luscious Brussels Sprouts Side Dishes For Pork Chops
You've figured out the best ways to store Brussels sprouts in freezers for long-term storage, and now you want some recipes to utilize these green veggies? Check out these delicious dishes that feature Brussels sprouts as the main ingredients.
What on Earth is cacio e pepe? It's a dish made with "cheese and pepper," but this rendition swaps pasta with an extra crunch of brussel sprouts to create the feel of a gourmet. The only regret you have is not knowing about this lip-smacking combination sooner!
For a creamier and more luscious bite, you can add more Mozzarella cheese into this amazing side dish from Italy. It'll become a heavenly treat that no one can resist. Serve this with pork chop, and dinner will be finished within a blink of an eye.
This skillet looks like a lot of hard work, but it requires minimal effort to produce a maximum effect. Vivid brussels sprouts are sauteed to preferred tenderness and topped off with porky pancetta and panko bread crumbs. Are you hungry yet?
Is it a side dish? Is it a healthy snack? I'll let you be the judge. Whatever it is, I can confirm one thing: these latkes are scrumptious, and you cannot live without them. Shred the brussels sprouts and stir in oats, spices, and eggs to make the batter and bake until crisp.
Warning – these brussel sprouts latkes are addictive! Watch this video below:
Can you make the magic happen with only three ingredients? Absolutely! Brussel sprouts are roasted until slightly burned on the edges. For the final touch, drizzle balsamic vinaigrette and sweet honey over these balls and relish the taste.
Brussels sprouts receive a life-changing makeover in this quick and easy side dish recipe. The green balls are trimmed and shredded, seasoned with salt and pepper, then cooked until crisp-tender. Add a squeeze of lemon or paprika to ignite this crowd-pleaser.
Hearty Pasta And Rice Dishes To Serve With Pork Chops
Heavy eaters, stop right here. The following rice and pasta dishes are made for your ever-growing hunger pangs – you will be satisfied!
Rule of thumb: fried rice is only good when served with pork chops, and vice versa. Another rule of thumb: there's no limit on how many types of veggies you can use! Bring in the carrot, frozen peas, mushrooms, and whatever you have in the fridge to the hot pan!
Rustle up this easy Chinese-style veggie fried rice now! Let's see this video:
Portuguese-Style Mint Rice
Mint, or hortelã in Portugal, is a powerhouse ingredient with extensive applications in cooking, not just cocktails and mojitos. It brings a refreshing coolness to the rice in this recipe, and the chicken broth adds a great depth of flavor to the final result.
I swear the truth, this rice side dish will be gone in a heartbeat! The rice is simmered in rich chicken broth to bring out the flavors, while butter and garlic add to the tasting quality with their tempting aroma, and lemon juice ties everything together with bright, citrusy notes.
Pilaf has a long history that dates back to million years ago. The plate looks appetizing with that beautiful concoction of wild rice, celery, red onion, parsley, garlic, and of course, a handful of mushrooms. Teriyaki sauce rounds the flavor with its signature umami flavor.
Add this mushroom rice pilaf to your daily rotation right now! Let's see this video:
Creamy spinach and orzo sound like a dream come true. When cooked, orzo releases its starch that helps thicken the gravy, resulting in a lovely ultra-creamy texture that makes me drool every time. Toss in the spinach leaves and indulge!
Easy Fruity Side Dishes To Savor With Pork Chops
Fruit with pork chops, what can go wrong? The combination turns out to be the best thing that has ever happened in your life, rest assured.
Elevate your salad game with this refreshing concoction featuring dried cranberries, gala apples, and crunchy pecans. What's more? There are pomegranate arils for a hint of tartness, along with goat cheese crumbs. Dress with lemon vinaigrette and scarf down!
Say goodbye to store-bought applesauce because this homemade recipe is a trillion times better! The chunky condiment brings a wholesome fruit flavor to many dishes, and you will love to slather it on your tender pork chops.
This homemade applesauce is the best of its kind! You can see this video:
What happens when you fry apples? As your teeth go through the tender flesh, the sweet and savory taste explodes in your mouth, and you can even hear your taste buds thanking you. Indeed, fried apples can be enjoyed for dessert as well.
Sorry pork chops, this side dish is about to steal your spotlight. I love the mellow, nutty taste of avocados when they hit their peak, but that obsession grows even stronger when they are baked to perfection. Serve with fire-roasted garlic salsa if you want an extra kick.
This coleslaw is about to dethrone your favorite salad with its extraordinary flavors. Dried cranberries and gala apples bring a fruity twist to the crunchy bed of cabbage, and the combination is finished with a lovely yogurt-based dressing that leaves a lingering mouthfeel.
A Few More Delectable Side Dishes For Pork Chops
The search for pork chops' best accompaniments goes on. What candidates will make it on the shortlist?
Dinner's ready, and so are these dinner rolls. The perfection lies in their incredible puffiness, and they look gorgeous with that shiny finish. For an extra flavor, brush these rolls with honey or melted butter.
These glossy dinner rolls will make your mouth water! You can see this video:
Of course, you cannot miss cornbread on this list! It lightens up your meal with the soft center and crumbly texture, and the mild sweetness of cornbread provides a striking contrast to the savory pork chops.
Cornbread is also a versatile ingredient you can add to many other recipes. For instance, you can use up your unfinished cornbread by whipping up some delectable dishes with leftover cornbread. From savory main dishes to sweet desserts, there are so many things you can make.
These deviled eggs are divine, and they are an excellent addition to your pork chops. For an improved taste, add an extra pinch of paprika or enjoy with a sweet pickle relish. You will go ooh and aah!
You Don't Want To Miss Out On Deviled Eggs (Paleo And Keto!). Let's see this video:
Mac and cheese goes with almost anything, and yes, including pork chops. Here's a great tip to enhance the creaminess: mix different types of cheese and add a dash of cream. The result will be more than splendid!
Melted onion sounds like the wildest idea you have ever heard of. With just four ingredients, the result does not fail to amaze you: onions are impeccably caramelized with a lovely crisp, and they will immediately melt in your tongue as you take a bite.
With such complex ingredients involved, it's unbelievable that these stuffed mushrooms are a side dish. Gigantic portobello mushrooms are filled with chewy and nutty barley risotto, then topped off with spinach and two types of cheese for a delicate richness.
Caesar salad and juicy pork chops are a match made in heaven. There are countless variations of caesar salad nowadays, but crispy croutons, parmesan cheese, and a bed of romaine lettuces are indispensable, along with the unique dressing made with raw eggs.
The greatest salad of all time – try this Caesar salad! Check out this video:
I used to hold my nose whenever I cook with blue cheese, but I'm glad I have gotten used to it now. Despite the stinky smell, blue cheese brings a dynamic pop of flavor to this classic steakhouse wedge salad featuring crispy bacon, iceberg lettuce, and tomatoes.
There's no going back once you have tucked into this creamy crockpot butternut squash soup. This winter squash flaunts its sweet and nutty undertones when cooked, which is perfect next to a heaping serving of pork chops.
Pork Chops Have Never Been This Good!
I'm sure that the list of best side dishes for pork chops has gone above and beyond your expectations. The next time you are making pork chops, keep your guests entertained with an array of side dishes, and I can guarantee that it's the best meal of their lives!
That was such a wild ride, and I hope you had fun learning about these recipes. If you have any new ideas to serve with pork chops, please let me know by commenting below. It's my pleasure.
Nutrition Facts
4 servings per container
---
Amount Per ServingCalories368
% Daily Value *
Total Fat 20.9g

31

%
Cholesterol 48mg

16

%
Sodium 759mg

32

%
Potassium 594mg

17

%
Total Carbohydrate 20.2g

7

%

Dietary Fiber 7.8g

29

%
Sugars 6g

Protein 19.7g

38

%
---
Calcium

660

%
Iron

5

%
Vitamin D

4

%
* The % Daily Value tells you how much a nutrient in a serving of food contributes to a daily diet. 2,000 calories a day is used for general nutrition advice.