Delicious Thanksgiving crock pot recipes are exactly what you need for a layback holiday with ready-to-go meals at night. There are many options to pick from for a hand-free cooking experience with little preparation.
Thanks to these convenient recipes using a crock pot, all you have to do is combine the ingredients and set your timer. Although you may think crock pot cooking doesn't provide a flavorful meal, allow me to prove the opposite with some of the best recipes for a slow cooker.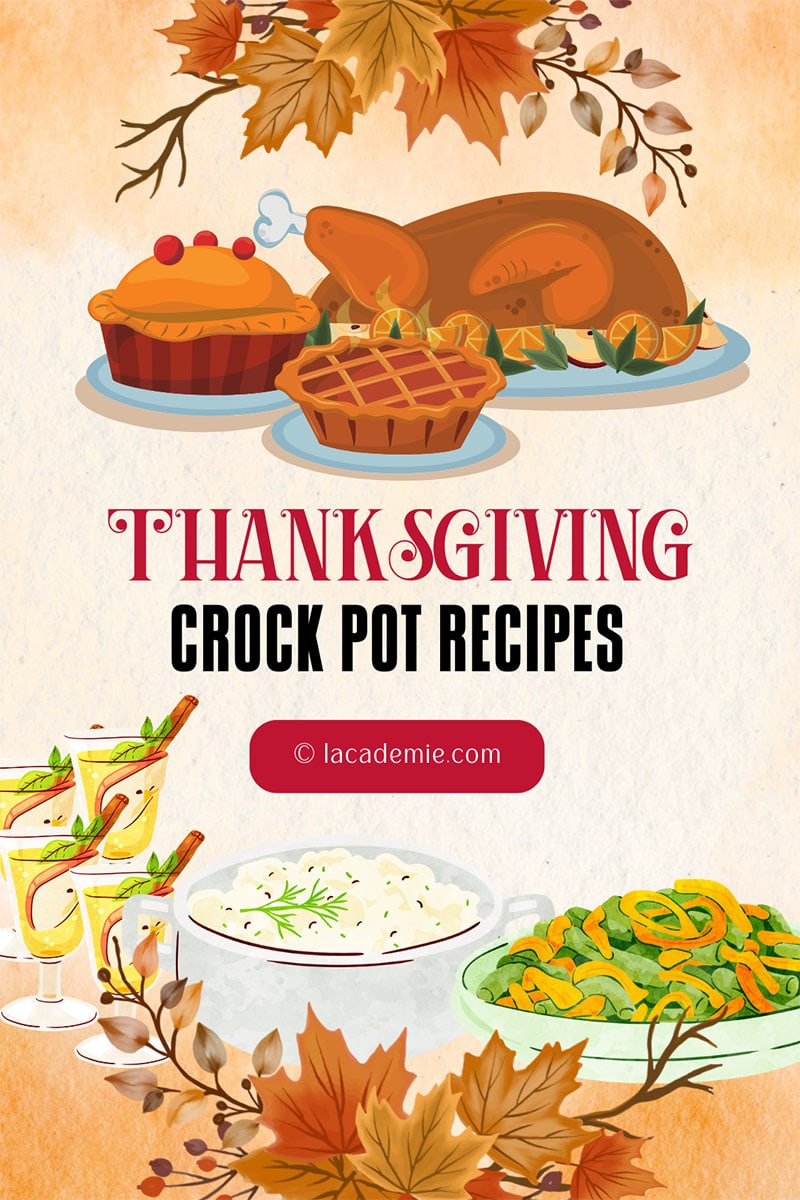 Interesting Dishes To Try Making With Your Crock Pot
I'm sure that everyone wants to spend as little time in the kitchen as possible during the holiday season. Thanks to the wide range of a crock pot's temperature and its pre-set mode, cooking with a slow cooker can't get easier.
Total time: 5 hours 10 minutes.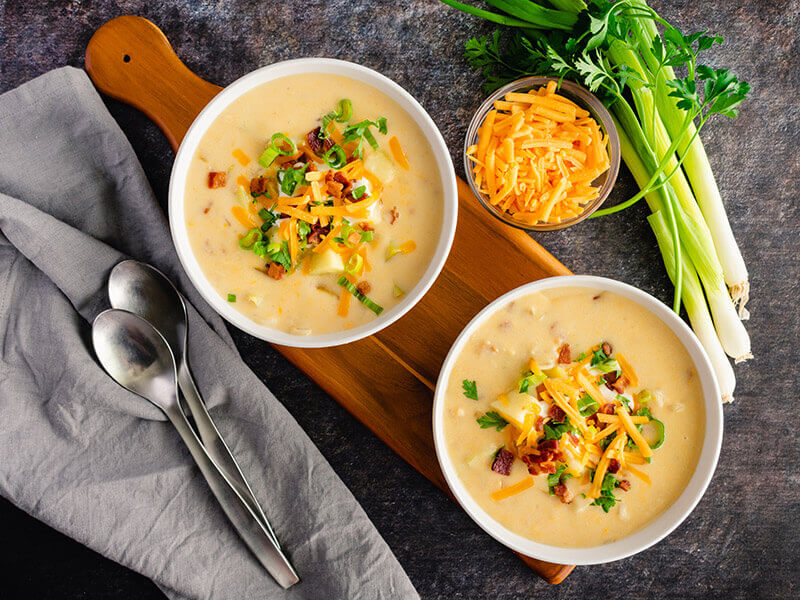 Potato soup is an unskippable dish for a wholesome Thanksgiving dinner with friends and family. The cream cheese and potato combination makes for a delectable crockpot soup recipe on cold nights.
Add the diced potatoes with chicken stock and some simple seasonings to your crockpot. I often like adding cream of chicken soup to help the potato soup thicken up. To create a creamy flavor, whisk cream cheese with the soup mixture.
When the crock pot finishes cooking, add other garnishings for more flavors and textures. My favorites are chopped onions, bacon, or sour cream.
Total time: 2 hours 53 minutes.
A classic stuffing is a must-have dish on Thanksgiving occasions. Normally, you will see the stuffing appear inside a turkey, but I think it's entirely possible to serve the recipe as a standalone dish.
Since the stuffing mainly consists of vegetable ingredients like mushroom, onion, and celery, it's more appropriate to use vegetable broth to cook in a crock pot. The vegetables alone taste bland, so you need to season them with allspice, nutmeg, and herb seasoning.
Lightly beat an egg to pour over the dry veggie surface of your stuffing. Depending on your liking, you should taste-test the veggie texture to see if you need additional cooking time. Then, adjust the slow cooker to a low setting to cook for around 2.5 – 3 hours.
To get a soft texture on your stuffing, feel free to pour in extra butter or gravy of your choice.
It's not Thanksgiving without a simple stuffing dish on your table.
Total time: 4 hours 10 minutes (depending on your cooking setting)
Mashed potatoes for Thanksgiving? Sign me up because it's the perfect slow cooker side order next to other flavorful main dishes. Better yet, you only need to prep your ingredients into reasonable size before letting the slow cooker take care of the rest.
I know holidays make some of us lazy, but at least peel your potatoes, so your side dish can have a beautiful white color. Then, dice the potatoes into uniform chunks and toss them into the slow cooker.
Commonly, people use chicken stock to cook potatoes and some seasonings like garlic and onion powder. On average, the crock pot takes around 3 – 4 hours of cooking on a high setting or 6 – 7 hours on a low setting. Don't forget to stir the mixture evenly every hour.
At this stage, you want to add butter, sour cream, and cream cheese (or milk) to your mashed potatoes. Mix the concoction around until you get the desired consistency. The result is a creamy mashed potato dish to serve your family.
Total time: 8 hours 20 minutes.
Although Thanksgiving seems like a perfect time to let loose on your diet, that doesn't mean you can't enjoy a completely vegetarian-friendly slow cooker recipe. The best thing is that you don't have to mess around too much in the kitchen to materialize the dish.
Thanks to the sweet potatoes, your dish gets a sweet flavor with a creamy texture. The lentils also provide an earthy flavor to the recipe. To bring more texture to your dish, you may want corn, peppers (both red and green), and crushed tomatoes in the crock pot.
People often prefer cooking the ingredients with vegetable stock to complement the veggie taste. However, the main focus flavor of the recipe is a spicy combination of paprika powder, chili powder, and cumin.
I suggest cooking all the ingredients and seasoning at the same time. For the cooking time, adjust to a low setting and leave it for around 8 hours. Ideally, the lentils and sweet potatoes have to be super tender before you can stir in the spinach for serving.
Total time: 4 hours 10 minutes.
Applesauce is an amazing dipping sauce recipe using a slow cooker for many main dishes or even a flavor enhancer for your homemade Sangria. The list of ingredients only requires 4 factors to create a sweet and tart apple sauce.
To prepare the ingredients, throw sliced apples into the slow cooker with brown sugar, lemon juice, and cinnamon. Pour in some water and lightly stir the pot. Simmer your pot until the apple is completely tenderized.
Depending on your liking of a chunky or smooth texture, you should consider stirring the sauce afterward. A gentle stir will produce a chunky result, while a vigorous mix will generate a smooth consistency.
Total time: 4 hours 20 minutes.
It's always nice to cook up a dish without much preparation and serve it in one pot. This slow cooker recipe is perfect for serving your favorite Brussel sprouts with balsamic vinegar's rich and complex sweetness.
Let's start by making the dressing for the Brussel sprouts. Commonly, people mix brown sugar with balsamic vinegar over medium heat until the liquid content reduces by half. Then, rest your concoction for a few minutes.
For the Brussel sprouts, make sure you clean them and slice them in half before putting them in the crock pot. In addition, you want to season the Brussel sprouts with salt, pepper, and olive oil to prevent any loss of moisture. When served, the balsamic sauce will be drizzled over the Brussel.
Brussel sprout is a healthy option to make with a crock pot.
Total time: 6 hours 10 minutes.
Green beans alone may be tough to swallow for some people. But I promise once you turn it into a crock pot recipe, the green bean tastes amazing with bacon bits to complement the flavor. Don't worry about the dish's complexity since you only need 3 – 4 ingredients to work with.
To put it short, all you have to do is to put the ingredients in a crock pot and let it handle the rest of the process. Aside from the green beans and bacon, you also want to use chicken stock for cooking the ingredients.
Season the mixture with simple salt and pepper according to your taste, and you're good to fire up the slow cooker. Note that it takes quite a long time to complete the cooking procedure, so it's better to plan this recipe ahead of your meal.
Total time: 6 hours 20 minutes.
If you accidentally overstock carrots and don't know what to do with them, I have the ideal recipe for your problem. The glazed carrot is highly recommended for Thanksgiving or Christmas occasions.
Did you know this side dish is also a healthy vegan slow cooker recipe? You only need to use vegan butter to replace the conventional variety in the recipe.
But if you don't care about staying on the vegan path, simply use whatever butter you have. To infuse the carrots with wonderful flavors, you need to marinate them with cinnamon, sugar, and maple syrup. Combine everything in the crock pot and mix thoroughly.
Depending on your time, you may adjust the cooking setting to low (6 hours) or high (3 hours). The result is a shiny layer of glaze over the carrot while the texture is soft.
Total time: 6 hours 45 minutes.
Pumpkin soup may not sound like the first choice on the menu for the holiday season, but I can promise you that it packs more flavors than just a simple creamy taste. Give the soup a try because the smooth yellow color appeals to anyone at the dinner table.
To accompany the pumpkin in creating the base flavor, I recommend using chicken stock with cumin seasoning for a nutty factor. In addition, the carrot is a fine addition to complement the sweet and earthy flavor of the pumpkin.
Just the pumpkin alone is not enough to create the signature creaminess of the soup. Therefore, people often resolve to cream for the best result. For a kick of heat, I like to sprinkle in a pinch of paprika. Preferably, the vegetable should be tender after you're done cooking.
Total time: 2 hours 5 minutes.
Thanksgiving is the perfect time to let loose one of the most iconic side dishes, and this delectable creamed corn is a must-try on your slow cooker. Once you give it a go on the creamed corn, your family members are going to keep asking for more.
You don't have to worry about prepping ingredients anymore since the only step you have to take is combining them in your crock pot. To coat the corn kernels in a creamy mix, you need to stir milk, honey, and cream cheese.
Before firing up your crock pot, add a few butter slices. Set the cooking option to low and let it sit for around 2 – 3 hours. A helpful piece of advice for you: stir the cream mixture once every 30 – 45 minutes to avoid burning the concoction by accident.
It's tempting to serve creamed corn as a side dish alongside many savory recipes.
Total time: 1 hour 42 minutes.
As Thanksgiving begins to roll in, it's time for you to welcome the holiday with amazing homemade dinner rolls to treat your family. These treats are light on flavor but possess a distinct buttery taste.
Maybe it sounds strange to make bread using a crock pot, but it's entirely possible. To create the bread's dough, you need to combine yeast and milk. Remember, the milk has to be a little bit warm to activate the yeast.
The moment the milk begins to bubble, you want to add all-purpose flour, honey, and sugar as sweeteners for the bread. Ideally, the dough should have an elastic and soft consistency before dividing it into smaller balls.
To cook the dinner roll, you have to set your crock pot to high and cook for around 90 minutes. Your dinner rolls should have a beautiful golden brown color with a light brush of butter over the surface. Sprinkle a pinch of salt over the dinner rolls for a final touch.
Total time: 1 hour 15 minutes (on high setting) or 3 hours 15 minutes (on low setting).
I know you're about to say that Mac and cheese is a conventional dish that can be consumed at any given time. But imagine you make the dish ahead to provide everyone at the dinner table with an extra cheesy side dish option.
Grab your pasta and put it in the slow cooker. Then, season it with onion powder. To get a mesmerizing cheesy taste, you want to combine several dairy products like milk, cream, and grated cheese. Don't forget to stir the mixture to ensure the pasta is evenly submerged.
Before serving the Mac and cheese, make sure you stir everything thoroughly, so the top pasta can absorb the cheese concoction.
Total time: 4 hours 5 minutes.
Not only can you make apple cider on holiday, but it's also an ideal crock pot recipe for autumn. There's nothing better than whipping up alcohol and getting slightly tipsy right in the comfort of your home.
You don't have to worry about the alcohol content of the cider because the beverage only contains around 12% alcohol. Commonly, you need to cook the apple in a water mixture consisting of seasonings like allspice, cinnamon sticks, and brown sugar.
After the crock pot finishes cooking, I want you to use an immersion blender to blend all the apple pieces. Then, cook for another 1 – 3 hours. Before your apple cider is ready for serving, be sure to strain the liquid from the sediments.
Your homemade apple cider is nothing short of a store-bought one with the signature tart and sweet flavor.
Total time: 2 hours 45 minutes.
Here comes another idea to help your kids eat some green beans during the holiday season by making a casserole out of the vegetable. I promise the only problem is your kids asking for more after you make this recipe for them.
In a slow cooker, I like whipping up a mixture of cream of mushroom soup, milk, and cream cheese. While you're free, grab a can of french fried onion and begin to work it with the green bean and a variety of cheese. It takes around 2 hours to fully cook the casserole.
For serving, sprinkle the leftover french fried onion over the casserole, and your delicious green bean is ready for the dining table. Instead of having a crunchy texture, the green bean in the casserole has a certain softness with a creamy flavor.
Discover the simple method to make a casserole green bean in one slow cooker.
Total time: 6 hours 45 minutes.
The slow-cooked red cabbage and apples will throw you for a spin with a soft texture instead of crunchy. If you happen to have pears in your kitchen, then they are a perfect substitution for the apples.
For this recipe, it's best to shred the cabbage leaves finely because leaving them whole will result in a soggy dish instead of getting soft cabbage. As for the apples or pears, you don't need to peel them but do remember to dice them finely.
To make it more flavorful, I love using a combination of ground cloves, nutmeg, and cinnamon for seasoning the veggie. Before turning on your crock pot, make sure you layer the ingredients to ensure the best result.
Total time: 4 hours 10 minutes (on high setting) or 8 hours 10 minutes (on low setting).
It's almost a custom for broccoli casserole to appear during the Thanksgiving holiday. That's why I want to stir up a new way of making broccoli casseroles using a slow cooker. It allows you to free up more time to spend around your family.
The recipe works well with either fresh broccoli or frozen variety, so it depends on your situation to pick the right ingredient. While you leave the broccoli cooking, start crushing the cheese cracker into small bits to serve as topping for the casserole.
The next step is to combine the cooked broccoli with shredded cheddar, mayonnaise, and cream of mushroom soup. The whole mixture takes around 4 hours to cook with the high setting. In the final 30 minutes, I recommend removing the lid for a crispy cracker topping.
Total time: 5 hours 40 minutes.
Since potato is a year-round ingredient, you should make full use of the vegetable to make delicious slow-cooked scalloped potatoes. It's easy to make and has a decent creamy taste from the copious amount of shredded cheese.
To make the cream sauce, you need to whisk heavy cream into a saucepan with thyme, nutmeg, and garlic. As for the potatoes, I suggest slicing them into thin pieces and placing them at the bottom of the crock pot. Then follow it up with the cream sauce and cheese.
Repeat the process until you run out of ingredients. For the final topping, I like to finish it off with a sprinkle of parmesan cheese. Remember, the scalloped potatoes need some time to rest (at least 15 minutes) for the sauce to become thickened.
Total time: Around 7 hours and 5 minutes.
Apple pie is a classic dessert to have for Thanksgiving nights. When serving, people usually add a splash of milk with some drizzle of caramel for a soft and sweet treat. Better yet, you can complement the apple pie flavor by adding oatmeal to the recipe.
Let's make the pie filling first, people usually peel the apples and cut them into chunks to cook with cinnamon. It takes around 3 – 5 minutes for the apple to achieve a soft texture. Once you get the apples cooked, transfer the mixture to your slow cooker to combine with the oatmeal.
Remember, oatmeal tends to have a bland flavor and a soft texture. That's why you may need to add brown sugar to adjust the sweetness. During the cooking process, the oatmeal will gain its flavor by absorbing the essence from the milk and filling concoction.
Finally, prepare milk or caramel to serve with the apple pie. Any leftover pie can be stored in your refrigerator for around 4 – 6 days in an airtight container.
Total time: 3 hours 5 minutes.
Pecan is a versatile seed that possesses a buttery and nutty flavor. Thanks to the crunchy and crispy texture, pecan is a solid choice to incorporate into a pie recipe. In some cases, you can even make pecan pie as a crock pot recipe to celebrate Christmas right at home.
To prevent a mess in your crock pot, I suggest layering the bottom with tin foil. As for the ingredients, I'll cut you some slacks by using a store-bought pie crust, so you don't have to make the dough from scratch.
Aside from the pecan seeds, I recommend adding eggs, maple syrup, and butter over the pie crust. If you happen to buy regular pecan seeds, consider toasting them to get the signature crispy texture. Your pecan pie will have a golden-brown crust with a fragrant pecan aroma.
Uncover the simplest method to create a crock pot pecan pie right at home.
Total time: 3 hours 25 minutes.
Pumpkin pie is a native dessert of North America packed with everything you love about pumpkin flavor and spices. The pie is also a great autumn recipe using a slow cooker for a hand-free cooking experience.
The pumpkin pie filling consists of pumpkin, egg, and half-and-half with some simple seasonings. As for the pie crust, it's fine to use the store-bought variety to save you from kneading the dough. Don't forget you still have to flatten the dough.
Ideally, you need to place the parchment paper at the bottom of the dough to prevent it from sticking to the crock pot. Next, pour your pumpkin mixture over the dough, and you're good to start cooking.
The pumpkin pie has a beautiful orange color with a soft texture. To serve the dessert, you can place a dollop of whipped over the pie.
Total time: 4 hours 15 minutes.
Poached pear is a French dessert that has existed since the 19th century. Traditionally, the recipe requires poaching whole pears in red wine, sugar, and spices. However, you can also use white wine to poach the pear.
Typically, the poached pear has a soft texture with an intense sweetness. Before you throw your whole pear into a slow cooker, make sure to stir up a mixture of white wine, cinnamon, and cardamom pods for an added herbal taste.
If you want to achieve a thick sauce, I suggest adding cornstarch. It won't take long for the blend to thicken up and coat the pears. As a helpful cooking tip: Cutting the pear in half helps reduce your cooking time by a lot.
Total time: 7 hours 10 minutes.
It's not Thanksgiving without having turkey for your dinner. I know cooking an entire chicken may seem daunting because there are so many steps. Therefore, I'm offering you a hand-free cooking experience using a crock pot.
The key point is picking the right turkey that fits your slow cooker. Commonly, people tend to rub the turkey with various herbs, butter, and sea salts. As for the stuffing, I prefer adding extra herbs, celery, and carrots to the inside of the turkey.
Finally, set your crock pot on a high setting and let it cook for around 6 – 7 hours. To make the turkey more appealing, place it in the oven for a couple of minutes to broil until the skin gets a nice golden brown color.
Let the slow cooker handle the tough cooking process of the turkey while you enjoy an excellent time with your friends.
Total time: 2 hours 10 minutes.
Warm-up your Thanksgiving nights with a glass of homemade Sangria. The refreshment retains its natural fruity flavor with a hint of brandy taste. The Sangria promises to make your gatherings more amazing than ever. Plus, the drink will easily impress anyone with its vivid red color.
Because it's an alcoholic beverage, I need to remind you to be extra careful when children are around. Your Sangria concoction consists of red wine and pomegranate juice with a dash of Brandy. For sweeteners, many resolve to triple sec (orange liqueur) for a fruity taste.
To infuse the Sangria with more fruit flavors, my best suggestion is to cut up apple and pear to add to the mixture. The orange slices should only come in when you serve the drink. Set your crock pot to low to start cooking your Sangria.
Total time: 5 hours 5 minutes.
Make your holiday dinner a blast by fixing a delicious glazed ham to treat everyone. Instead of spending hours in the kitchen, it's time to pull out your slow cooker to make the best savory glazed ham.
Don't worry about not having enough ingredients because this recipe works with only the cut ham and some basic seasonings. The glaze sauce is a blend of honey, cloves, and mustard, cooked in a saucepan for a couple of minutes.
While your glaze is simmering, cut your ham into slices and place them in the slow cooker. Pour the sauce over the ham and cook for 4 – 5 hours. Serve the ham slices along with extra glaze sauce for an irresistible main dish.
Total time: 3 hours 10 minutes.
Crunchy and sweet candied pecan is a treat I always want to bring to the table on a special occasion like Thanksgiving. But many people don't know that you can easily recreate this recipe at home in a single pot.
Simply whisk a combination of sugar, cinnamon, and cloves to coat the pecan seed later. In addition, people use egg whites to help the pecan seeds coat the sugar mixture better. During the cooking process, you may have to add a little bit of water to dissolve the sugar.
Make sure you give the nuts some time to rest before serving them to everybody.
Pecan candy is an impeccable gift for your loved ones.
Total time: 6 hours 10 minutes – 8 hours 10 minutes.
Beef brisket is one of the classic delicacies with savory gravy and tender beef that even picky eaters will have to change their minds after having a bite. The smell of an appetizing crock pot recipe using beef helps bring everybody together for a cozy night at the dinner table.
To provide more information about the brisket, it is essentially the cut of meat coming from the animal's underside. Commonly, a cooked brisket has a tender and juicy texture with a hint of smokiness.
While you let the slow cooker handle the beef brisket, sautee your onion and garlic on a pan with various spices like smoked paprika, thyme, and oregano. Next, transfer your spice mix to the beef brisket.
In the same pan, you want to utilize beef broth to make the gravy. Simmer the liquid with the addition of tomato paste, brown sugar, and ketchup until it becomes thick. On average, the brisket takes around 6 – 8 hours to fully cook on a low setting.
Total time: 2 hours 5 minutes.
The holiday season is not just the perfect occasion to make savory dishes, but it's also time to test out an amazing cranberry sauce recipe. The sweet and thick sauce is a solid choice to spread over your bread or serve as a heartwarming gift for your friends.
The ingredients are super simple, with only 3 elements required to pull off. First, you will need cranberries to combine with a generous amount of sugar. For the liquid, I prefer to feature orange juice to dissolve the sugar and complement the tart cranberry flavor.
Normally, the mixture becomes viscous after some time of cooking in the crock pot. As a reminder: You need to stir the sauce concoction occasionally to avoid burning the sugar.
Enjoy A Happy Thanksgiving By Making A Crock Pot Recipe
With an almost endless choice of ingredients to make with a crock pot, you're certainly going to bed with a full stomach this holiday season. Better yet, you can easily reheat the leftovers if you have any space left in your belly.
Do you know anyone in need of such amazing slow cooker recipes? Share this post to them to spark new ideas for their next meal. I would love to hear more suggestions from you guys in the comment section. Thank you for spending your time!
Nutrition Facts
8 servings per container
---
Amount Per ServingCalories216
% Daily Value *
Total Fat 12.2g

19

%
Cholesterol 34mg

12

%
Sodium 495mg

21

%
Potassium 543mg

16

%
Total Carbohydrate 23g

8

%

Dietary Fiber 3.3g

12

%
Sugars 2.5g

Protein 4.9g

8

%
---
* The % Daily Value tells you how much a nutrient in a serving of food contributes to a daily diet. 2,000 calories a day is used for general nutrition advice.