If you don't know how to tell if a cranberry juice bottle goes bad, don't worry, I will let you know some common visible and invisible signals of a bad cranberry bottle.
Besides, the reading also gives you some useful information on how long cranberry juice lasts and how to store it safely and effectively.
Now, scroll down and discover your unknown things about bad cranberry juice with me!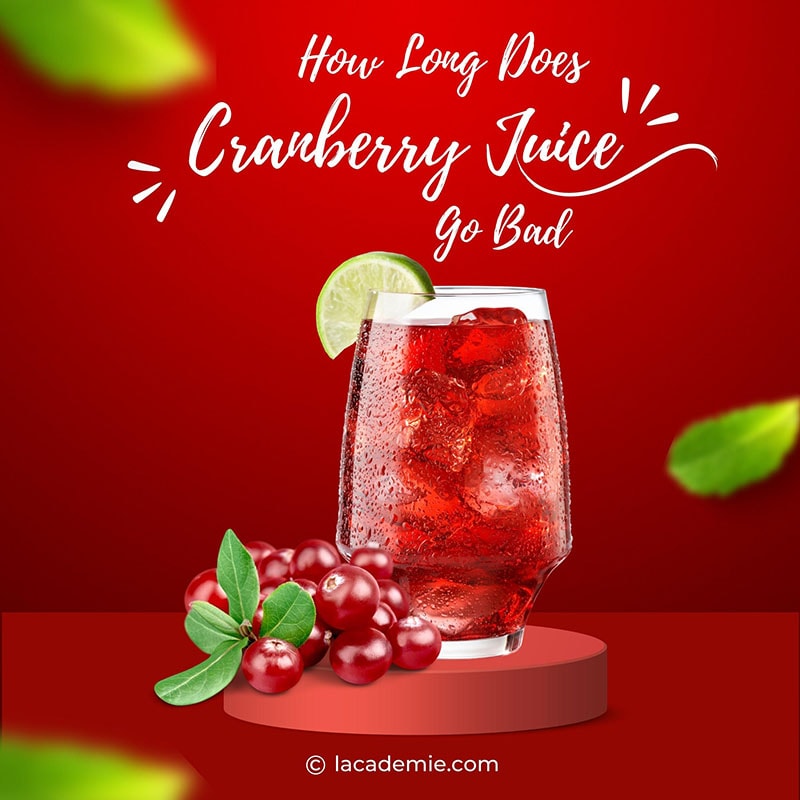 Does Cranberry Juice Go Bad?
Of course, yes, like other foods or drinks, cranberry juice will go bad for some subjective and objective reasons in relation to the storage environment and bacteria growth.
Thus, how long cranberry juice can last depends on where it is stored, whether it is opened or not, or if there is some bacteria invasion.
How Long Does Cranberry Juice Go Bad?
The precise answer depends to a large extent on storage conditions and whether the cans are opened or not. However, if you store them properly in a freezer, the cranberry juice can stay safe longer.
What Can You Do With Cranberry Juice?
Cranberry juice has many benefits to your daily life, and I will whip up several of these great uses for you!
You can create various healthy drinks from cranberry juice, such as cranberry smoothie, iced cranberry green tea, cranberry lime slushy, cranberry mint spritz, and so on.
Together with other ingredients, making stunning recipes. You can use cranberry juice to make cranberry vinaigrette, cranberry pork chop marinade, cranberry sherbet, or cranberry punch.
Anyone who is trying to go on a diet will certainly appreciate having cranberry juice. And once they're equipped with comprehensive juicing books or tutorials, preparing a healthy and refreshing drink will be a breeze. How amazing does that sound?
Making homemade cranberry juice is also not a bad idea, especially if there's a surplus of these berries at your home. But can you put cranberries in the freezer like you can with the juice? Well, if you're not sure about this, you can juice the cranberries and freeze the juice instead. Simple!
The video will show you how to make some wonderful dishes with your available cranberry juice:
Cranberry Juice's Stunning Health Benefits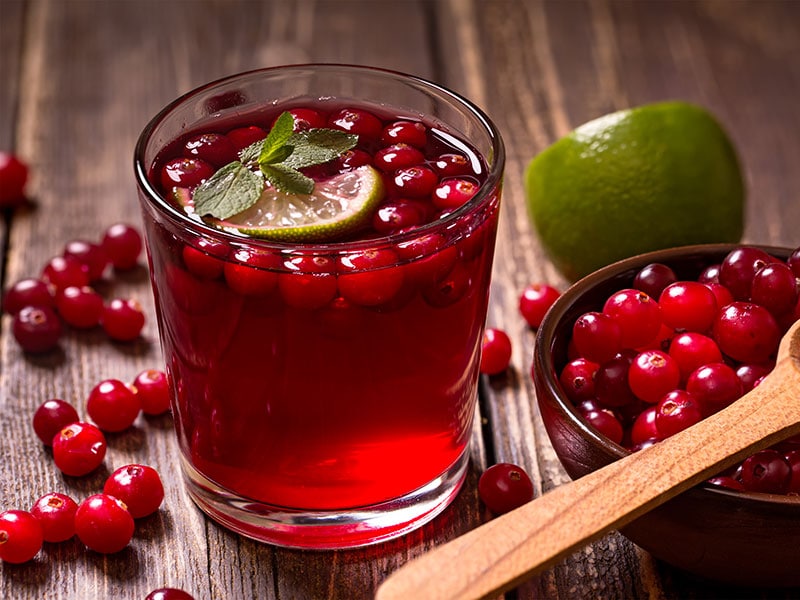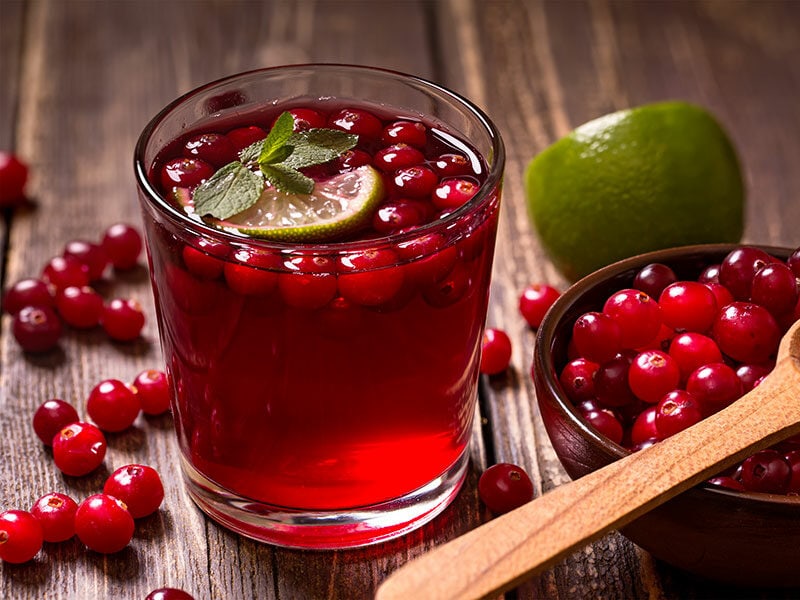 Cranberry juice is a tasty, but bit bitter beverage. Surprisingly, the juice can boost your health in various ways.
Enhance your immune system. As a rich source of vitamins (C, E, B6), cranberry juice can promote good health. Especially during the covid-19 pandemic, you are advised to drink a lot of fruit juice; cranberry juice is no exception.
Prevent aging and cardiovascular diseases. Containing flavonoids as antioxidants, cranberries can help you to reduce the risk of heart attack, obesity, or high blood pressure.
Reduce the risk of urinary tract infections (UTIs). Drinking cranberry juice will help lower the risk of kidney stone forming. (1)
This video will let you know how amazing cranberry juice is!
How Do You Know Cranberry Juice Is Bad?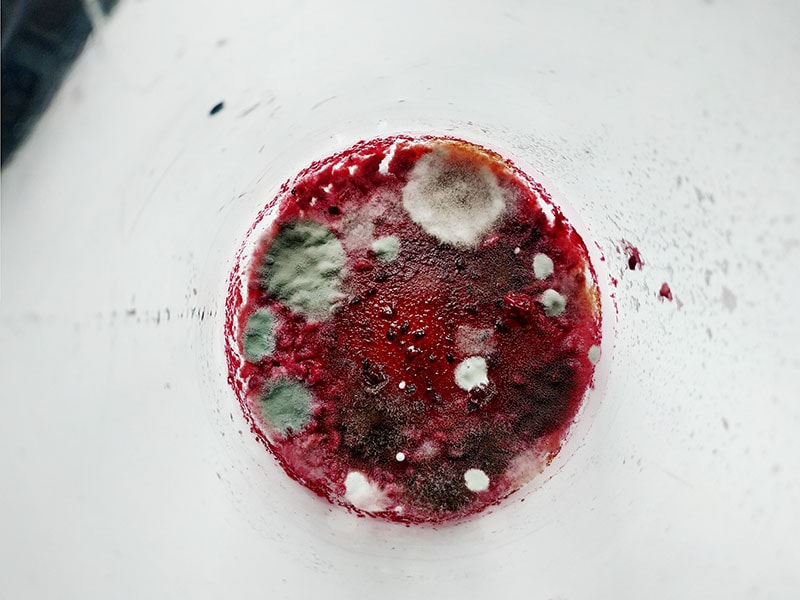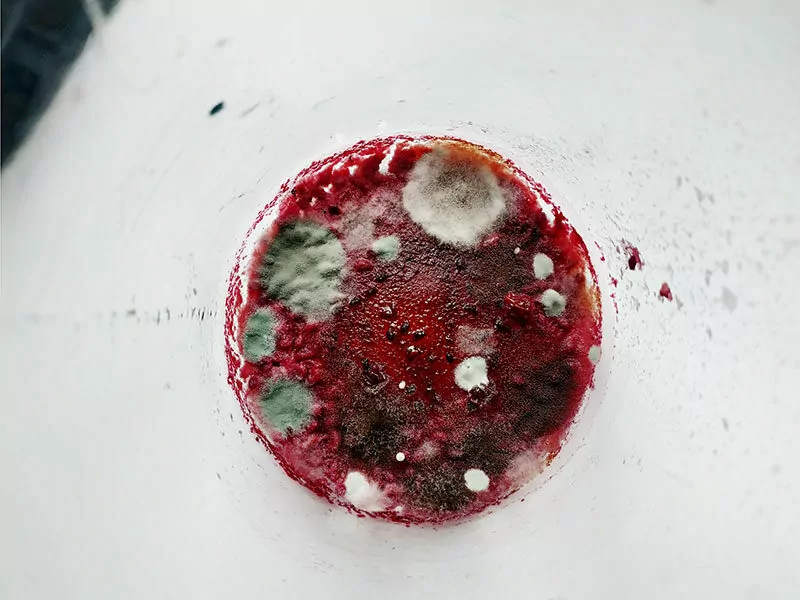 Like other juices, some visible signs and typical tastes tell you that your cranberry juice has gone wrong. Let's see how they can help you recognize the lousy cranberry juice.
Color alteration: The easiest thing you can notice to find out if your cranberry juice is sour is texture color. If you realize your cranberry juice's color gets wrong. Please take it away.
A sour smell: If you suspect fermentation occurring, smell the juice. If you smell something off, sour, or like vinegar or wine, don't drink it anymore.
Air bubbles formation: Many bubbles from the surface can indicate that the juice begins to ferment.
A bulging bottle: When a bottle is bulging or seems to have puffed, the juice inside should be discarded as it is in a fermentation process.
Sediment: It is not harmful to some cranberry juice brands, but check it out before consuming it because most sediment will cause severe health problems afterward.
Mold: The appearance of mold can be a distinctive signal indicating that your cranberry is not suitable to consume anymore.
How Long Does Cranberry Juice Last?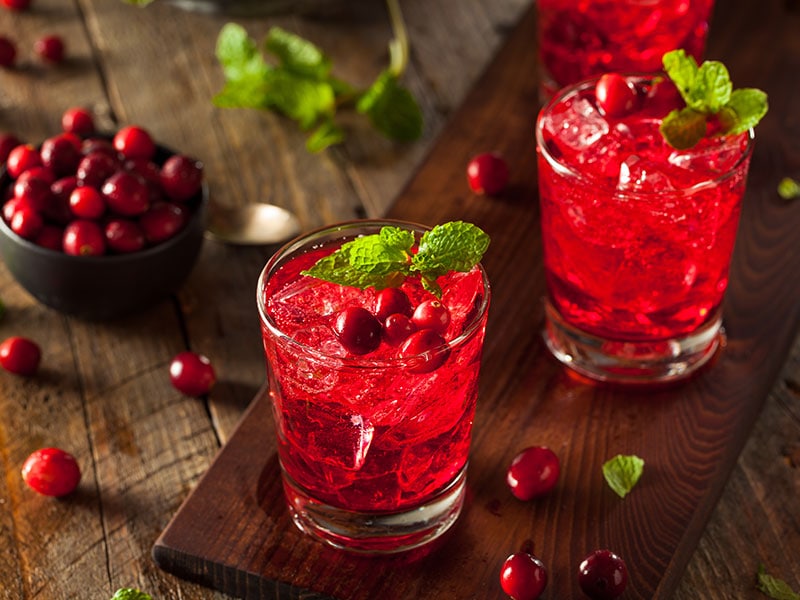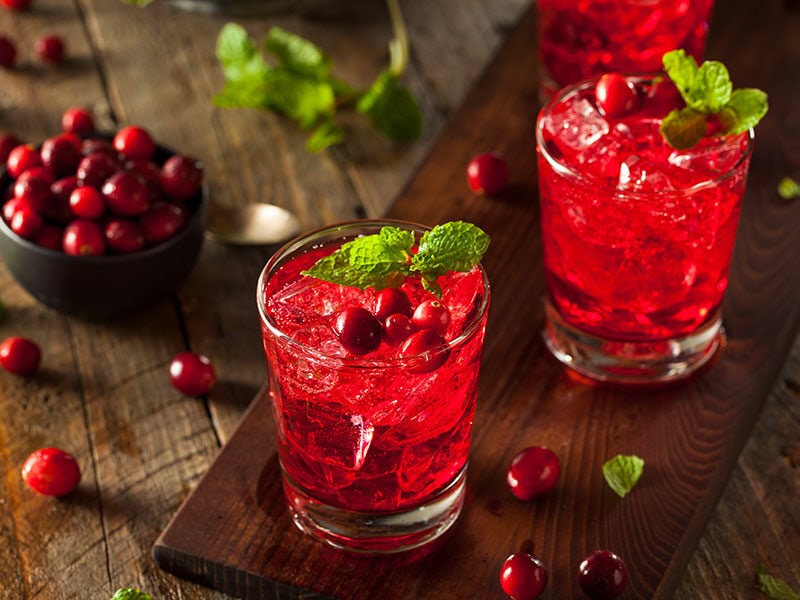 How long cranberry juice lasts or stays healthy depends on many criteria related to environment storage and its current status.
Cranberry juice can be sold refrigerated and unrefrigerated in plastic or glass bottles or carton packaging.
Unopened cranberry juice bottles sold unrefrigerated and refrigerated will stay fresh and safe in different periods of time. And that time is not similar to the opened bottles in different storage conditions.
| States | At Room Temperature | In The Refrigerator | In The Freezer |
| --- | --- | --- | --- |
| Cranberry juice bottles sold unrefrigerated (Unopened) | 18-24 months from packaging day | | 8-12 months |
| Cranberry juice bottles sold unrefrigerated (Opened) | Few hours | 2-3 weeks | 8-12 months |
| Cranberry juice bottles sold refrigerated (Unopened) | | One week after the date on the package | 8-12 months (best quality) |
| Cranberry juice bottles sold refrigerated (Opened) | Few hours | 7-10 days | 8-12 months (best quality) |
You can see that the best way to store your cranberry juice is in the freezer because it can remain the best quality from 8-12 months regardless of opened or unopened status.
More importantly, after 8-12 months, if it is continuously stored in the freezer, it will still be safe for consumption.
Cranberry juice bottles that have been continuously refrigerated will stay safe after 7-10 days after being opened. Whereas, if they are not in the refrigeration when you buy them, you can store them in your fridge from 2 to 3 weeks after opening them. (2)
The most surprising fact is that unopened cranberry juice bottles can be stored for up to 2 years after the date on the package without refrigeration.
However, you can not drink opened cranberry juice cans if they are at room temperature for a few hours because, at room temperature, bacteria grow incredibly fast, making the juice bad.
Thus, refrigeration is a vital factor in cranberry juice preservation as the set temperature of the refrigerator is below 40 degrees F while common bacteria only grow fast at zones from 40 to 140 degrees F.
What about freshly squeezed cranberry juice made at home with your trusted compact juicer? What is the expected shelf-life of fresh juice then? While there are many factors that might affect it, generally speaking, homemade cranberry juice might last from 3-5 days.
Tips To Store Cranberry Juice
You can apply some highly recommended tips for prolonging the shelf life of cranberry juice in unopened or opened status.
Dos:
Extending the shelf life of unopened or opened cranberry juice bottles keeps them away from direct sources of heat or light because direct sunlight can degrade the juice over time.
Freeze unopened cranberry juice bottles for long-time preservation. Storing them in airtight containers and leaving them a space for expansion during the freezing process.
For unopened bottles sold refrigerated, keep them refrigerated at all times.
After using the cranberry juice cans, remember to close the lid tightly before putting it back in the refrigerator.
Keep your refrigerator clean. One significant factor in keeping your cranberry juice fresh and safe is making your refrigerator clean so that you can prevent bacteria invasion.
When freezing cranberry juice, please put it in the coldest part of the freezer because the quicker it is frozen, the less watery it will be when defrosted.
Don'ts:
Don't drink straight from the bottle. Drinking straight from a bottle will transfer bacteria from your mouth to the juice, stimulating the spoiling process.
Don't freeze an unopened bottle or carton of cranberry juice.
Some Highly Prestigious Cranberry Juice Brands
Now, it's time for you to select some top cranberry juices from prestigious brands for yourself after knowing how to store them appropriately.There are various cranberry juice brands you can opt for particular purposes.
The best cranberry juice you should try once is Ocean Spray Unsweetened Cranberry Juice because the juice contains natural ingredients, so good for your health.
If you want something suitable for your budget, you can consider cranberry juice from Tropicana.
In case you find cranberry juice to support your treatment of UTIs, using Country Spoon Concentrate may be the optimal choice for you.
How To Freeze And Deforest Cranberry Juice In The Right Way?
Sometimes freezing cranberry juice annoys you because it will expand during the freezing time. Don't worry; I will guide you.
Freeze Cranberry Juice
Freezing the whole bottle or carton of cranberry juice is not a good idea because the expanding liquid will damage the container and make your freezer dirty. There are two common ways you can freeze your cranberry juice.
First, pour the juice into an airtight container and freeze it.
Second, freeze the juice in an ice cube tray for hours and store them in an airtight container or bag.
Defrost The Cranberry Juice
If you want to use it immediately, thaw it using a cold-water bath, a microwave, or by putting it under running water. However, by defrosting it in the fridge, you can store it for the next 3 to 5 days.
Is Cranberry Juice Totally Healthy?
The answer is no, everything has its own two sides, and cranberry juice too. It can be safe for most people and has some potential health problems when consuming it too much.
First, drinking too much cranberry juice may cause some side effects, ranging from stomach upset or diarrhea in some people.
The juice is also not suitable for those who are allergic to aspirin because the juice has high salicylic acid which is similar to aspirin.
Be careful to combine cranberry juice with warfarin.
FAQs
Now, it's time for you to know more about your cranberry juice by reading these frequently asked questions.
Additional Advice
I have just shared some must-known information about cranberry juice and some advice on storing and using it properly. Below are some more typical advice for you about consuming and preserving cranberry juice.
Cranberry juice is good for your health, but it also has some harmful sides, so be careful to consume it too much.
Besides, cranberry juice preservation should be conducted so that you can use it for a longer time.
It is really necessary to cover the lid tightly after every time you use the juice.
Check the expiration day regularly if you buy it, or save the day you have made the juice if you make it by yourself.
If you find this reading useful, feel free to share it with your relatives as they might have the same problems and questions as you.
Leave your comment in the comment section below to share with me some of your experiences with cranberry juice.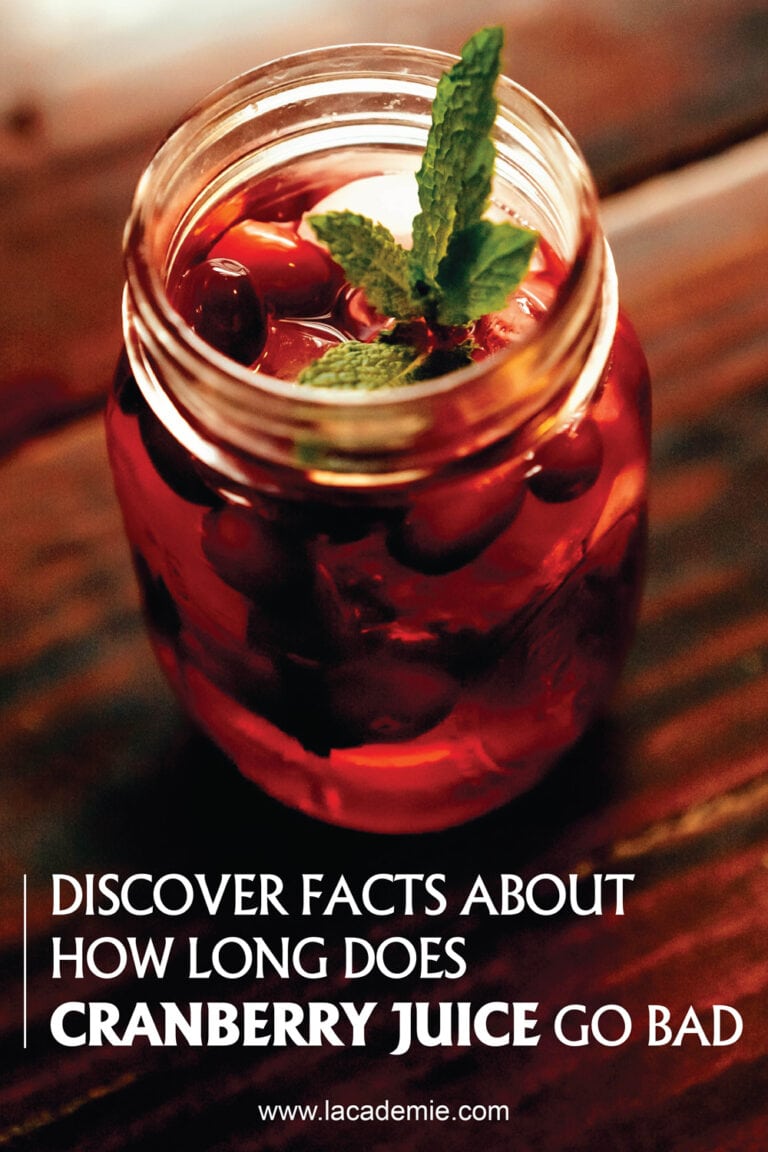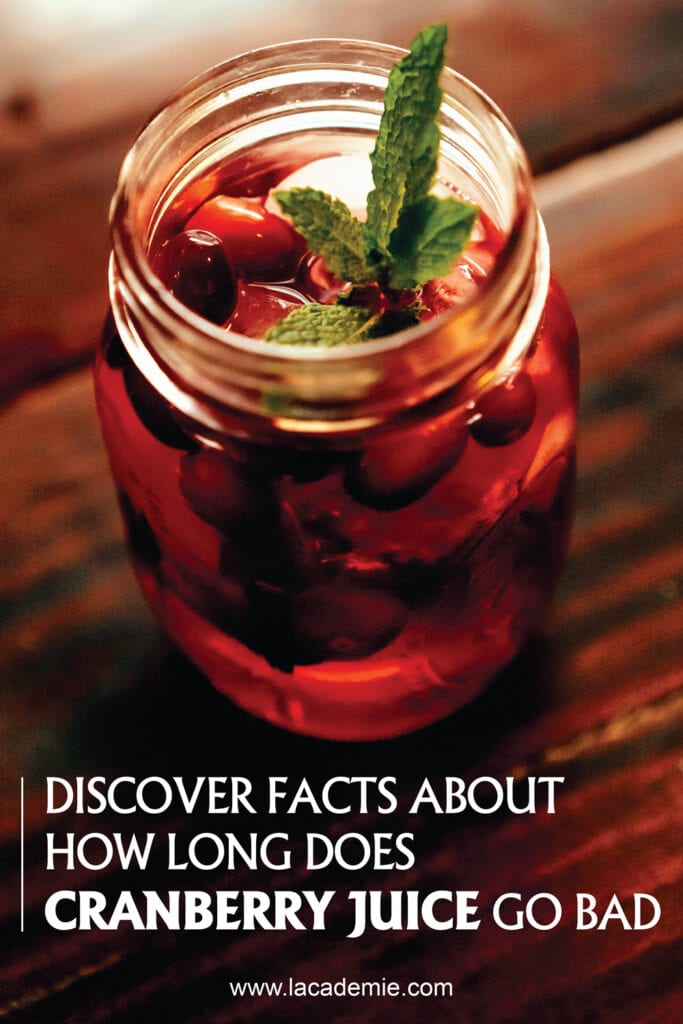 References
1. com. 2021. CRANBERRY: Overview, Uses, Side Effects, Precautions, Interactions, Dosing and Reviews.
2. com. 2021. How Long Does Cranberry Juice Last Once Opened?.
3. Skrzypiec, M., 2021. Food Date Terms and Their Meaning. [online] Does It Go Bad?.