It is easy to make the best Grand Marnier cocktail recipes in this article. They are ideal additions for your parties or vacations to provide some great moments with your family and friends.
After reading this article, you will become a professional bartender with detailed instructions from each recipe. You just need to follow these tutorials to get the outstanding cocktails to treat your loved ones.
Explore All Things About Grand Marnier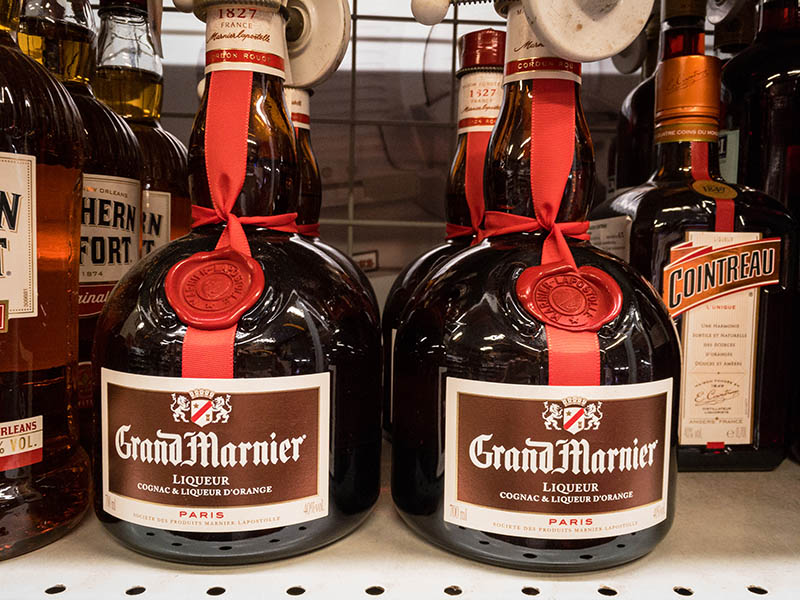 Grand Marnier is a well-known liqueur in France. Grand Marnier Cordon Rouge is a famous French brand. Alexandre Marnier Lapostolle invented this liqueur in 1880 when he mixed Cognac brandy with sugar and distilled bitter orange.
Initially, people have called it Cordon Rouge for a long time. Also, a bottle of Grand Marnier was for richers, and people used to serve it on the Titanic. Grand Marnier is an intense product because its alcohol content is about 40 percent.
Besides Cordon Rouge, you can find other varieties of this liqueur, such as Cordon Jaune, Cuvee du Centenaire, or Cuvee Speciale Cent Cinquantenaire. Moreover, you can use Cointreau or Triple Sec to replace Grand Marnier in many recipes.
Commonly, it is used in making cocktails and drinks. In terms of cuisine, it is a versatile product because you can mix it in many pastries and desserts. Furthermore, it is a common ingredient in sauces and savory dishes.
Check Out The Real Taste Of Grand Marnier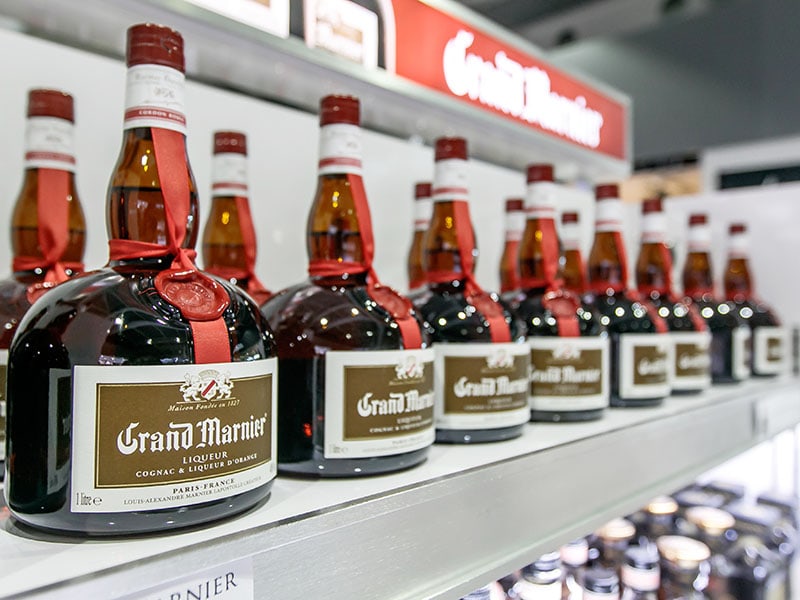 Do you know the authentic flavor of Grand Marnier? Typically, it tends to be warmer than other options because it is a strong liqueur. You can think of the flavor of brandy when tasting Grand Marnier because of the orange taste.
Moreover, you can feel a hint of oak and vanilla in the flavor of this fantastic product. Compared to Triple Sec and Cointreau, its taste is more intense and complex. But, you can use equal parts to substitute this liqueur for other orange liqueur and vice versa.
Grand Marnier is a luxurious choice because it is expensive. If you want to purchase a 375 ml bottle, you need to pay about 15 to 20 dollars. Moreover, it costs from 30 to 45 dollars to enjoy a 750 ml bottle.
Let's check the authentic taste of 5 different types of Grand Marnier.
It is time to give your diners many excellent options at the party with these incredible Grand Marnier cocktails. I hope you can get the perfect results when making them.
Total time: About 5 minutes
If I mention unique Grand Marnier cocktails, Cadillac Margarita is a simple and wonderful recipe that you should try. Its eye-catching colors will be suitable for the fantastic atmosphere of the parties.
Margarita is a mixture of lime juice, Triple Sec, and tequila. If you want to create the Cadillac Margarita version, you need Grand Marnier. Let's try making this cocktail on February 22nd to celebrate the National Margarita Day and you will fall in love with the flavor of it.
In addition, the sweetness of the simple syrup will balance the typical tart flavor of lime juice. In particular, a little Grand Marnier added will explode the taste of the cocktail.
Let's follow these directions to make a Cadillac Margarita with Grand Marnier.
Total time: Around 5 minutes
Have you prepared a drink menu for this weekend's party? Why don't you add Grand Marnier Mimosas to this list? This excellent recipe is developed from the classic Mimosas version with orange juice and champagne.
Instead of luxury champagne, it is possible to use sparkling wine, such as Prosecco and Cava in this recipe. This cocktail is ideal for brunch but feel free to serve it on weddings and other special occasions.
The appearance of a shot of Grand Marnier will create a new breeze for this classic recipe. The characteristic taste of orange juice blends with a touch of Grand Marnier that will knock you out on the first try.
Total time: About 5 minutes
If you are a fan of Cuban cuisine, you will probably know about the El Presidente cocktail. There are many hypotheses about the origin of this classic cocktail. Many people said Eddie Woelke invented it in 1910.
And its name originated from President Gerardo Machado. Meanwhile, another point of view said it was named after President Mario Garcia Menocal. You can use Grand Marnier or Triple Sec to add sweet taste and citrus aroma to this recipe.
Besides, the typical oaky and light floral flavor of golden rum and Blanc Vermouth will make this treat to be suitable to accompany savory dishes. It only costs 5 minutes to prepare and process this fantastic drink with simple operations.
Total time: 20 minutes
If you are responsible for preparing drinks for the BBQ party tonight, you should not ignore the Strawberry Lemonade with Grand Marnier. It is an excellent gift for those who love fresh strawberries' sour and sweet taste.
You only need a few minutes and a blender to have a smooth strawberry puree. Lemon, sugar, and salt will bring sour, sweet, and salty flavors to this cocktail.
Everything will be ready when you add the club soda. However, a teaspoon of Grand Marnier will spike your cocktail.
Total time: 5 minutes
Do you love Cosmopolitan? I have been a fan of it for a long time. Cosmopolitan is also known as Cosmo. It is a cocktail made from vodka, Triple Sec, lime juice, and other ingredients. However, you can add Grand Marnier to enhance its flavor.
You will be addicted to the incredible taste of this cocktail. Grand Marnier will raise the value of the drink. Especially if you are searching for fruit flavors, cranberry juice will bring it to you. It is time to go to the kitchen to process this drink.
Please try making Grand Cosmopolitan with Grand Marnier through these directions.
Total time: About 5 minutes
Honey is a common component in many cocktail recipes. Honey Lemon and Grand Marnier Margarita is an ideal recipe for your winter party. This recipe comprises Grand Marnier, Anejo Tequila, and many other ingredients.
I use Anejo tequila because it has an intense and rich flavor with cinnamon and vanilla notes, this cocktail will be warmer than Blanco tequila. This potent taste will blend harmoniously with the sweetness of honey.
Of course, lemon juice and Grand Marnier are essential factors of this cocktail. If you want to make it more wonderful, you should decorate the cocktail with a lemon wheel. It is fantastic to sip a warm and passionate cocktail with your loved ones.
Total time: About 5 minutes
Mai Tai is a potent cocktail recipe with the typical flavor of Rum and citrus. Mai Tai is an invention of Victor J. Bergeron in 1944 in California. It will be a perfect companion on your vacation.
When enjoying this cocktail and relaxing on a lounge chair, you can feel the breeze of the sea with the sounds of waves. It will take you into a fresh and pleasant space when drinking this excellent cocktail.
Its strong flavor is made from Rum. Occasionally, this recipe becomes more luxurious with Grand Marnier. Lemon and orange juice will bring a citrus note to this delicious recipe. Moreover, it will be sweeter with pineapple juice.
Total time: 1 hour 15 minutes
Sangria is a long-standing cocktail that originates in Spain and Portugal. Traditionally, this famous cocktail is a mixture of red wine and the favorite fresh tropical fruits like apples, oranges, mangos, and peaches.
However, you can create a big hit by using Grand Marnier in this recipe. After soaking the fruits in the Grand Marnier, you will place the mixture into the refrigerator for about 1 hour.
When the party starts and everything is ready, you only need to pour white wine into the mix and stir to blend all ingredients. It is simple to have a fantastic summer cocktail, right?
Total time: Around 5 minutes
Have you ever tried to combine champagne with Grand Marnier? If not, you should do it now. Champagne and Grand Marnier cocktail or Grand 75 is a simple and delicious recipe. Please save its name on your menu now.
Lallier champagne is the option I recommend using in this drink. The crisp acidity of this champagne will perfectly combine with the warmth of Grand Marnier and the typical tart of lime juice. It is a superb choice for special occasions.
Total time: About 5 minutes
If you forget to prepare drinks for the party, let Champagne Cosmo help you. This recipe is pretty convenient and straightforward, so you only need about 5 minutes to fill the drink menu. It is suitable for Christmas and many actual events.
To make this recipe, it is simple to use Grand Marnier or other orange liqueurs like Triple Sec, cognac champagne, egg white, and lemon juice that might be already available in your kitchen. Then all you have to do is mix and shake them with ice in a cocktail shaker.
The appearance of Grand Marnier and lemon juice will create a balance in sweetness and tartness for this recipe. In addition, cranberry juice can act as the sweetener in this cocktail.
Total time: About 25 minutes
Peach Sangria with White Wine is an excellent choice for your friends' meeting. Anyway, the fusion of Grand Marnier, dry white wine, and peach nectar will blow your mind. Regarding white wine, Sauvignon Blanc is an excellent option for this recipe.
You can serve this drink in an authentic style if you like this recipe's delicious and robust flavor. Meanwhile, adding a little sparkling water will make the taste lighter. From my point of view, I love both.
Total time: Around 5 minutes
I guarantee you will love to enjoy the delectable taste of Cranberry Orange Prosecco Cocktail with Rosemary made from the orange liqueur and fresh orange juice. It is perfect entertainment on holidays.
Prosecco is a high-quality option for this recipe. I recommend using orange and cranberry juice to have a gentle sour taste. Orange liqueur is an indispensable part, and it is good to use Grand Marnier or Cointreau.
This fantastic drink becomes more complete with the appearance of rosemary sprigs and fresh frozen cranberries. Furthermore, you should adorn the cocktail with a few orange slices.
Total time: Around 3 minutes
La Vie En Rouge cocktail is a widespread recipe at many parties. Its name means "life in red" in French. It comes from the eye-catching red shade of this cocktail. This drink will make your Christmas more memorable.
This refreshing recipe is a simple but effective combination of Grand Marnier and cranberry. In addition, rosemary will bring astringent, peppery, and woodsy notes to this treat. All ingredients will blend and create a tasty and fruity cocktail.
Check out the proper ways to create excellent La Vie En Rouge now.
Total time: About 10 minutes
A glass of Strawberry Mint Margarita will help you forget the swelter of summer. The characteristic flavor of pureed strawberry juice and the fresh taste of mint will relieve all stresses. It is a typical Grand Marnier cocktail recipe you must give a shot.
In particular, your soul will be pleased with the refreshing and exceptional taste. If you are looking for the sour touch of the cocktail, the appearance of lime juice will satisfy your desire. Let's use a lime wedge to moisten the edge of the glass and coat the rim with salt.
Total time: Around 5 minutes
Between The Sheets is a fun cocktail that you can easily prepare at home or see at the bar staples. It will meet all owner requests at a dinner party because of its rapidness, convenience, and deliciousness.
It is a beautiful suggestion for fans of Grand Marnier cocktails. You only need 5 minutes to get a perfect drink. Spiced Rum and lemon juice will perfectly accompany brandy. They will add sweet, cinnamon, fruity, and slightly sour taste to this incredible drink.
A little warmth and citrus taste from Grand Marnier or Triple Sec creates an outstanding overall. Furthermore, this ingredient can make the taste more complicated.
Total time: About 5 minutes
You should not miss the Burnt Fuselage if you have Grand Marnier and Cognac in the house. This fantastic recipe was recorded for the first time in the "Cocktails Around Town" section in the Barflies and Cocktails book of Harry McElhone.
Besides the warm taste of Grand Marnier and Cognac, the appearance of dry vermouth will make everything explode. Also, Grand Marnier adds sweetness and intense fruity notes to this drink. Your body will relax completely when sipping a glass of the Burnt Fuselage.
Total time: About 5 minutes
Have you ever tried drinks containing Kahlua? It is a famous coffee liqueur. The B-52 cocktail is a fantastic drink with a unique appearance. You will come across many layers created by many ingredients with different colors.
In terms of origin, Peter Fich invented it in 1977 at a hotel in Canada. Its name is taken from the name of the band, the B-52s. Coffee liqueur, Irish cream, and orange liqueur (Grand Marnier or Triple Sec) are the main elements of this drink.
To create these fantastic layers, you will pour coffee liqueur (Kahlua) first, Irish cream, and finally Grand Marnier. Before enjoying this cocktail, you need to stir to blend the ingredients.
Go to the bar counter to make a delicious B-52 Shot to treat your loved ones.
Total time: Around 5 minutes
It will be a mistake if you ignore Palo Negro in this list. The harmony in the combination of Grand Marnier, reposado tequila, and blackstrap rum will conquer you. It is a standard recipe on the menu of bars or restaurants.
Ivy Mix is the inventor of this amazing cocktail and it was made for the first time in Brooklyn. This cocktail tastes sweet and earthy, thanks to tequila. In addition, the tangy and nutty taste of sherry dry and the citrus touch of orange liqueur will make you love this drink.
You can add demerara syrup if you love the more potent sweet cocktail. In particular, the characteristic red color will impress you at first sight. It is a great experience to sip it with a few delicious snacks.
Total time: About 5 minutes
Larchmont is a famous cocktail recipe invented by David A. Embury. Besides Grand Marnier, you will find the distinctive earthy and smoky taste of light rum in this fascinating cocktail. A bit of sugar syrup will add sweetness to the cocktail.
To balance the sweet taste of sugar syrup, fresh lime juice is a great suggestion you can consult. In this drink, it is possible to use other cognac orange liqueur to substitute Grand Marnier if you do not have this ingredient.
Total time: About 10 minutes
This cocktail is an option you cannot refuse at tonight's party. It is hard to imagine the combination of strawberries and jalapeno chiles, but they bring a perfect balance with sweet and spicy flavor.
You cannot resist the outstanding flavor of lime when sipping this drink. In terms of liqueur, besides Grand Marnier, you will need the presence of vodka, tequila, or gin. Agave nectar or simple syrup will ensure sweetness for the drink.
Let's start mashing lime, jalapeno, and strawberries until they release the juice. And, shake this mixture with Grand Marnier, vodka, and agave to blend them. To serve it, you need to pour the cocktail into the glass and decorate with strawberry and a jalapeno slice.
Do you have any problems when making these cocktails in this post? If yes, do not forget to write your issues in the comment section, and I will try my best to respond as soon as possible.
The cocktails made with Grand Marnier always leave a profound impression on your diners' mind. They play as the dominant highlights at your party. Therefore, please spend a little time to bring many exciting experiences for your loved ones. Thank you!