If you are responsible for finding Christmas casserole recipes for your family gathering, this article is your savior. It is a rich source of the incredible recipes you can make by yourself to treat your loved ones on this holiday.
Besides the specific instructions to make these dishes, this post gives you the other variations of each recipe, the ways to serve, or storage methods. Therefore, you should save this post now to gain all the valuable information.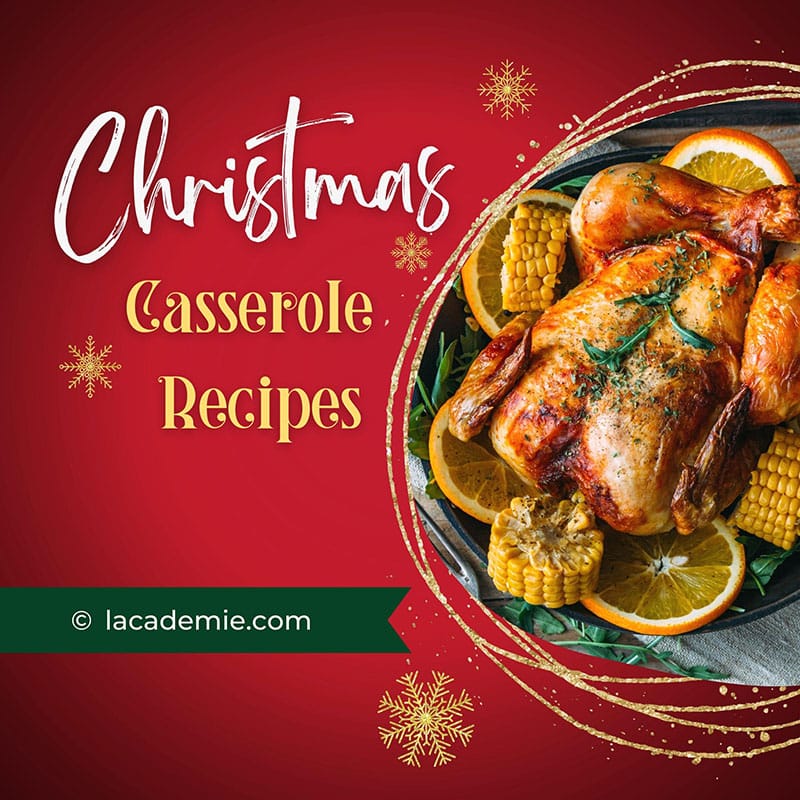 Explore Some Essential Knowledge About Casserole
Casseroles are large and deep pans. They are the common tool used to prepare dishes in the oven. Also, the name refers to a collection of foods cooked in the vessel. You can distinguish the two uses based on their calling.
People often refer to the pan as the "casserole dish" or "casserole pan". Meanwhile, "a casserole" is a famous and simple name for the food. Nevertheless, people also often use a casserole pan for cooking other foods.
Initially, people made this food with rice and other ingredients like chicken or sweetbread. In the US, baked dishes were common in the 20th century.
This dish usually contains 3 main components, including veggies, protein components (meat or fish), and starch elements (pasta or flour). In addition, crunchy and cheesy toppings commonly appear.
List Of Delectable Casserole Recipes For Christmas Gatherings
If you are looking for casserole recipes to serve at Christmas parties, this section will be valuable to you with the list of incredible and easy dishes you can try right now.
Total time: Around 1 hour 25 minutes
When it comes to scrumptious casserole recipes for Christmas, Blueberry French Toast is always my favorite. Incredibly, it is also the best-loved summer casserole for many people. The well-combined blueberry sauce and French toast blend will create an excellent dish.
Usually, I make it in advance and store it in the fridge overnight before serving. For making it, challah bread, blueberries, and mascarpone cheese are the key ingredients I have to prepare. French bread is a backup option when I run out of challah bread.
After filling the greased baking dish with cubed bread, a layer of cream cheese chunks, blueberries, and egg and milk mixture will be topped. After 8 hours of leaving it in the fridge, you can bake and enjoy it, but it is better to wait about 30 minutes before baking.
If you want to use frozen blueberries, it is best to avoid those covered with lots of ice crystals. This recipe's rich, fruity flavor and soft, spongy texture will leave you hooked.
Follow these instructions to get a delicious Blueberry French Toast casserole.
Total time: About 50 minutes
Let's start your December 24 breakfast with a delicious Amish Breakfast Casserole. This delectable recipe is pretty straightforward, with easy-to-find ingredients and a convenient process.
When tasting it, you'll feel the intense and earthy flavor of cheddar cheese, a salty hint from cottage cheese, and the nutty, sweet touch of Swiss cheese. All blend perfectly with bacon, potatoes, eggs, and veggies to bring an incredible treat.
Right at first glance, you will cook onions and bacon until the bacon becomes crispy. After mingling the bacon mix with other components, you will put the mixture on a greased baking dish and bake for about 35 to 40 minutes.
Total time: About 1 hour 15 minutes
It is hard to resist the allure of this excellent breakfast casserole dish. Its eye-catching yellow color and creamy texture will grab your attention instantly. The comforting taste of eggs, cheese, and heavy cream leaves an indelible impression on your mind.
When choosing cheese, you should opt for low-moisture varieties to give this delectable sausage casserole the perfect texture. Besides, cooked yellow onion is my favorite vegetable choice when making the dish.
Up to 2 days is the time you can store the casserole in the fridge before baking in case you want to prepare it in advance. Nonetheless, place it outside for about 30 minutes to reduce the cold before baking it in the oven.
I often add yogurt, fruit slices, pastries, and granola to diversify the flavor when serving it. Coffee is an indispensable accompanying drink. If you poke a toothpick in the middle of the casserole and it comes out dry, the dish is done.
Total time: About 1 hour 5 minute
When referring to the fantastic Thanksgiving-themed casserole recipes, Corn Casserole is always my top choice. And of course, it is also an essential part of the Christmas party for my family.
Until now, I still remember the tender consistency, gentle corn flavor, and alluring aroma of this food from my first bite. In particular, it looks prominent with the brilliant yellow shade.
It is easy to make as you just mix sweet corn cream, melted butter, sour cream, corn muffin mix, and sweet corn kernel and bake the blend for about 1 hour at 350 degrees F. If you want to reduce the baking time, you can use a metal pan or glass dish.
To save time when making it at crowded parties, you should prepare the mixture of ingredients in advance, keep it in the fridge, and bake when the party starts.
Let's go to the kitchen to make a tasty Corn casserole for your Christmas parties.
Total time: About 45 minutes
John Wayne casserole comprises many layers with different ingredients, including biscuit, ground beef, creamy sauce, and gooey cheese. If you prefer the gluten-free version, let's replace the biscuit with soft shredded potatoes or tater tots.
Interestingly, the name is derived from that of a legendary American actor. When you take a bite of the casserole, the rich flavor of seasoned ground beef will blend with the typical fatty taste of the creamy sauce and gooey cheese. All of them melt gradually in your mouth.
It comes in many different variations with a few fundamental component changes. You can enjoy the version with Jack cheese instead of cheddar cheese. Also, please try adding jalapeno pepper for a spicier version.
If sour cream is not available, do not forget to replace it with cream cheese. To make baking more accessible, you should cover the baking dish with non-stick spray. In addition, it is better if you prepare the ground beef layer in a slow cooker.
Total time: About 1 hour 25 minutes
Have you heard of Funeral Potatoes? It is essentially a cheesy potato casserole. Its name is derived from the fact that it is often served at funeral service luncheons. Moreover, it also appears in many other crucial gatherings like Easter and Christmas.
It has a creamy and soft texture of cheddar cheese, butter, and sour cream. Furthermore, you find chicken taste in the chicken soup when giving it a shot. A layer of yellow corn flake on top will enhance the dish's flavor.
It is possible to freeze this recipe to keep this treat for more than 1 month. However, the dish should not contain corn flakes to achieve that duration.
When you want to use this casserole, you have to defrost it in the fridge for about 1 day before baking. 3 to 4 days is the amount of time the dish can last in the fridge.
Let's check out the ways to prepare Funeral Potatoes properly.
Total time: About 33 minutes
This flavorful recipe is one of my favorite potato-based cooking techniques. You will fall in love with its savory, mildly sweet, and rich flavors. When enjoying it, you think of the taste of excellent Mexican Christmas dishes because of the addition of the tortilla.
Sweet potatoes, shredded cheese, and chunky salsa are common ingredients in this recipe. Furthermore, black beans are a fantastic addition to this culinary masterpiece. Exceptionally, it is a reasonable casserole for your vegetarian meal.
Since you must roll tortillas when making this dish, I prefer flour tortillas over corn ones. Even better, if you are a fan of delicious ground beef casserole dishes, you can add meat to the recipe. But, it needs to be cooked in advance.
Total time: Around 1 hour 10 minutes
If you have leftover turkey on hand, why don't you try making Cheesy Turkey Casserole to serve family and friends at Christmas? Ingredient-wise, it contains egg noodles, vegetables, sour cream, and cheddar cheese.
It is a combination of many different spices, but my favorite is the spicy taste of cayenne pepper. This element serves as a distinctive highlight in the flavor of the recipe.
Depending on how spicy you want, you can adjust the content. But you should start with ¼ teaspoon and increase from there.
It looks like a landscape painting with a golden-brown background covered with lots of colorful shades from various veggies. If you do not eat all of this treat, you can store leftovers in the fridge for more than 4 days.
Total time: About 40 minutes
It is excellent to enjoy the chill of Christmas with Baked Ziti along with loved ones. The perfect combination of ricotta, meat sauce, and other ingredients creates an immortal dish. This hearty and cheesy dish will make your mouth water in no time.
This tremendous Italian casserole includes a variety of cheese, such as mozzarella, parmesan, and ricotta. Especially if you can bring about a new sensation, it is acceptable to use penne pasta instead of Ziti.
This recipe's rich and delectable flavor also comes from ground beef or Italian sausage. To prevent the casserole sticking during baking, you have to drizzle olive oil over the pasta or Ziti.
Total time: About 1 hour
This delicious potato-based casserole specialty is suitable for special occasions like Christmas, Easter, Thanksgiving, and daily meals because of its convenience. You can serve Scalloped Potatoes as a side dish or main dish at parties.
As the cheese melts, it will make the potatoes softer. The quality and palatability of the dish are further enhanced when you add creamy milk sauce, which is flavored with garlic and fresh thyme.
Among the many varieties of potatoes, I recommend the Yukon Gold potatoes for the best texture because they will not become slimy and mushy when combined with the sauce. Another tip is to soak the potatoes in cold water before slicing them with a mandoline.
You should increase the thickness of the cornstarch sauce to ensure the perfect texture for the dish. This recipe will go well with dishes like Maple Glazed Ham, Wrapped Asparagus, and Meat Kabobs.
Total time: About 40 minutes
If you seek a casserole idea for your Keto diet, the low-carb Chicken Spinach And Artichoke casserole is an intelligent choice. It will add a large amount of protein to your body. I usually consume it with celery sticks, cucumber, and red bell pepper scoops.
After filling the baking dish with the rotisserie chicken, you should top it with cheese, cream, and other ingredients before baking the dish until the surface appears light brown.
If you have diabetes or other health troubles, you should listen to the doctor's advice to adjust the ingredients appropriately by reducing the amount of cheese or cream.
It is simple to make a tasty Chicken Spinach And Artichoke casserole.
Total time: About 50 minutes
Perhaps the famous Mac And Cheese recipe is too familiar to many people, so I will introduce a variation with the addition of cremini and porcini mushrooms. It also contains cheddar and fontina cheeses.
I often rehydrate dried mushrooms with hot water before adding to this recipe. The next step is to cook mushrooms with spices and mix the blend with vinegar and porcini mushrooms. After making cheese sauce, I assemble all ingredients in a baking dish and put them in the oven.
This dish has a cheesy and tender texture. Moreover, you can find a bit of crunch with the appearance of crusts on top. It is simple to become enamored of the rich, meaty, and earthy taste of mushrooms. Also, it tastes mildly spicy with the addition of red pepper.
Total time: Around 1 hour
It is time to taste the ocean breeze with a casserole recipe containing shrimp and crab. Apart from these 2 main ingredients, cheddar cheese, mushrooms, cream, and seasonings are other essential ingredients.
The first step to getting a delicious casserole is to cook salt, vegetable oil, and macaroni in boiling water. After 10 minutes, you mix the blend with the butter. Cooking mushrooms with butter is the next stage.
Next, you need to combine the mushroom soup, cheddar cheese, and cream with the macaroni. Let's pour the mix into the casserole after putting the shrimp, crab, and mushrooms. Cover the casserole with bread crumbs and melted butter before baking it.
Total time: About 1 hour 10 minutes
Warm Maple Winter Squash casserole is especially suitable for winter holidays like Christmas. It is a harmonious combination of squash, pecans, and maple syrup. Also, it looks attractive with brown sugar on top.
You will be captivated by the tender texture of this dish. The ingredients seem to dance, blend, and melt in your mouth when enjoying it. This casserole has a distinctive and eye-catching yellow shade. It gets a mildly sweet, warm, and nutty taste from nutmeg.
Total time: About 45 minutes
If you want to enjoy the taste of chicken and pasta in the same recipe, the Warm Chicken Tortellini Au Gratin will help you. This healthy and delicious casserole recipe will work well with toasty bread and green salad.
Its appeal lies in how tender and rich pieces of chicken are nestled between long and chewy pasta. In addition, you will quickly dive into the nutty and creamy flavor of Asiago cheese. Especially the green and fresh basil leaves will be the perfect finishing touches for this recipe.
Total time: About 1 hour 30 minutes
Creamy Vegetable Lasagna is an indispensable name in my mouth-watering vegetable casserole recipes. This excellent recipe is full of various vegetables, tasty cream sauce, and 3 different types of cheese. And your Christmas will be cozy with this recipe.
And these components make up 3 separate layers for this delectable casserole. To get a complete version, you need to prepare each layer and combine them. First, you must cook the butter, flour, Parmesan cheese, and milk until the blend is smooth to make the sauce layer.
The next stage is to combine ricotta, mozzarella cheese, oregano, and salt. Once that's done, create a vegetable mix with broccoli, carrots, zucchini, and other veggies
Once everything is ready, you will cover the bottom of the casserole with a thin layer of sauce. Noodles, veggies, cheese, and dressing will be on top.
After adding a second layer of sauce, it is time to cover it with veggies and shredded cheese. To bake it effectively, do not forget to wrap a layer of foil.
Check out the tutorial to prepare an incredible Creamy Vegetable Lasagna.
Total time: About 35 minutes
It is one of the famous chicken-based casserole recipes you should not neglect. Its rich flavor and crunchy texture will astonish you from the first bite. In addition, it is a productive way to use up leftover chicken from previous parties of your family.
Its creamy and silky consistency comprises sour cream, cottage cheese, cream cheese, and cream of chicken soup. Besides the softness and slight chewiness of chicken, a few crackers on top will make the food taste like a million dollars.
You can keep the dish in the fridge for about 3 days to preserve it. If you want to freeze the leftovers, it is best not to put crumbs on top. Using rotisserie chicken will help reduce the cooking time. In case you want to change the taste, you can use cream of mushroom soup.
It is possible to create a healthier version with gluten-free soup, crackers, or pork rind. To make cleaning the baking dish easier, you should apply a layer of cooking spray on the surface of the casserole dish before cooking.
Total time: About 45 minutes
It will be a mistake to omit the bubbly and golden cauliflower casserole from the menu of the upcoming Christmas party. Also, it tastes more appealing with parmesan sauce. I like the topping since it gives perfect crispness while trying this casserole.
A little butter is needed to add aroma and flavor to the recipe. Not only that, you should put paprika to create a unique pinkish red color for the dish. With cheese sauce, cheddar or gruyere are perfect alternatives to parmesan.
One trick to make the cauliflower taste better is to blanch it with simmering saltwater. It is better to use pre-package florets and prepare parmesan sauce beforehand to save time when serving.
Make the healthy Cauliflower casserole with these simple instructions.
Total time: Around 40 minutes
You'll have the perfect Christmas treat with this casserole. It is concocted by combining cream of chicken soup, milk, seasoned shredded chicken, and stuffing together on a baking dish. It only takes about 30 minutes to bake.
This culinary delight is a collection of many different ingredients, so its taste is pretty diverse. Plus, herb seasoning and onion add extra flavor to this recipe. The spicy pepper will tickle your taste buds instantly.
You should keep the following things in mind to get the perfect result. It is better if you prepare stuffing beforehand to ensure moisture for it. Moreover, you can use canned chicken, chopped rotisserie chicken, or turkey for this recipe.
In addition, to add flavor and nutrition to the dish, veggies are reasonable choices. The best way to enjoy Chicken And Stuffing casserole is to store it in the fridge with a layer of foil wrap. And, it can last about 3 to 4 days.
Total time: About 20 minutes
Chicken White And Wild Rice casserole are ideal for busy people because they only need to spend about 20 minutes making this creamy and tasty dish with some simple steps. Furthermore, it boasts a conspicuous appearance with numerous colors.
Soft and supple rice grains will fill your hungry stomach quickly on cold winter days, especially at Christmas. Alternatively, the appealing aroma of butter, garlic, onions, and spices will wake you up.
It tastes bland without seasoning, so it needs sauces, salt, and pepper to achieve a tasty flavor. I recommend using rotisserie chicken to make the dish more flavorful. Even better, there is no problem with freezing it for later use.
Explore the proper ways to prepare delicious Chicken White And Wild Rice casserole.
Total time: About 40 minutes
It is a favorite Spanish recipe for Christmas. Especially, people love to enjoy the rich taste and soft texture of this delicacy at brunch parties. Normally, I will prepare the casserole beforehand and bake it when I want to serve.
The arrival of smoked paprika will warm you up on this cold winter day. Not only that, this element makes the dish more attractive with its distinctive and prominent red color. Alternatively, the dish is a great gift for those who love white bread.
Total time: Around 45 minutes
What will you do with a creamy and cheesy Old-Fashion Cabbage casserole in front of you? For me, it made my mouth water, and I pounced on it right away. Moreover, a little crunch and a buttery hint of cracker crumbs make me crazy about it.
One thing I like about this dish is the use of cabbage because it is pretty cheap and available all year round. Of course, its beautiful colors will not let you down. Especially, the charming aroma of butter and cheese will wake you up in no time.
Usually, people would like to enjoy it as a side dish at parties or holidays. Nutritionally, it is a source of calories with about 355 kcal for a regular casserole.
Total time: About 45 minutes
I am firmly impressed with the golden and bubbly Chili Cornbread casserole. Thes creamy and silky texture of this exotic choice for Christmas comes from the canned cream-style and cheddar cheese.
Chili is a fantastic addition to this recipe since it enriches the dish with its signature hot and spicy touch. For serving, its incredible accompaniments are salsa and sour cream. In addition, you can divide the casserole into many small parts and bake them individually.
Let's refer to the varying ways of cooking the dish. If you do not want to use ground beef, ground turkey or chicken are ideal alternatives. Using taco seasoning instead of chili powder and cumin will also bring new experiences.
Learn how to make a fabulous Chili Cornbread casserole immediately.
Total time: Around 55 minutes
If you are on a weight loss regimen, especially against the background of lavish Christmast feasts, consider this low-carb recipe. It contains about 3.4 grams of net carbs and 25.5 grams of fats. Especially, its flavor will surprise you in no time.
The mild flavor of vegetables like zucchini and cauliflower will blend well with the herb sauce's creaminess and complex taste. Plus, the meaty yet delicate touch of the tuna will pair well with the cheese layer.
Apart from tuna, shrimp, salmon, crab, and scallops are other seafood that you can substitute for tuna. Of course, both canned and fresh versions give good results.
Nevertheless, you should be careful with fresh seafood as it can release a lot of liquid that breaks the texture of this dish.
Total time: About 50 minutes
Its appearance is a colorful painting with various hues from the ingredients, such as yellow, white, and green. In case you don't know, the dish is a great way to utilize leftover ham in making the casserole.
In terms of flavor, it has a complex taste derived from various ingredients. Nevertheless, creamy and cheesy touches are its highlights. Not only that, this amazing ham-based casserole has the crispness and buttery flavor of crack crumb topping.
Furthermore, the tender egg noodles will give a good mouthfeel. The addition of sour cream, milk, and condensed chicken soup will enhance the creaminess of this savory dish. And, of course, fresh and subtle-tasting broccoli neutralizes all to create a perfect whole.
Plus, let's try a few tips when making it! Peas work just as well as broccoli, so you can use them as an alternative. It is also safe to prepare this casserole ahead of time, keep it in the fridge, and bake it when you want a hearty meal.
Total time: About 40 minutes
The sweet-sour taste of pineapples will stimulate your taste buds. In addition, you will be mesmerized by this dish's bright and eye-catching yellow color. Not only that, its simplicity is amazingly suitable for family gatherings at Christmas.
Cheddar cheese is my go-to for giving this dish an earthy flavor. If you love the crunching sound of crunchy foods, you can layer crackers on top of the casserole. Furthermore, a bit of savory taste from salt will make it balanced in taste.
To prevent the casserole from going watery, you need to drain the pineapple carefully with a sieve. At parties, it can serve as a dessert or side dish. In my view, I love to consume it as an excellent side dish.
For extra flavor, a little cinnamon or ground nutmeg are suitable additions. You can increase the dish's savoriness by adding bacon or chopped ham to it. In contrast, maraschino cherries will enhance the sweetness.
Total time: Around 40 minutes
There will not be much time to cook at a crowded Christmas party, so a simple brunch casserole recipe can make your morning perfect and convenient. It is difficult to resist the appeal of eggs, bread, cheese, and sausage in this recipe.
You will be full of energy with the calories in bread. Also, do not worry about protein deficiency; the addition of sausage gets that covered. The passionate and characteristic flavor of dry mustard in this recipe will make Christmas warmer.
Have You Ever Tried Making These Christmas Casserole Recipes?
Are you satisfied with these tasty and convenient recipes I have provided in this article? Do not miss the chance to try making them to bring beautiful experiences to your family gatherings during the annual Christmas holiday.
There are many other excellent casserole recipes, so please share the recipes you know in the comment section. Also, I hope to receive your contributions after reading this article to improve the following posts. Thank you for your time and share this post, please!
Nutrition Facts
6 servings per container
---
Amount Per ServingCalories585
% Daily Value *
Total Fat 40.6g

63

%
Cholesterol 143mg

48

%
Sodium 211mg

9

%
Potassium 662mg

19

%
Total Carbohydrate 54.7g

19

%

Dietary Fiber 8.7g

35

%
Sugars 35.7g

Protein 8.1g

17

%
---
Calcium

119

%
Iron

5

%
Vitamin D

24

%
* The % Daily Value tells you how much a nutrient in a serving of food contributes to a daily diet. 2,000 calories a day is used for general nutrition advice.