Skip wondering what the best vegan casserole recipes to prepare for your next meal are; my article today can surely help you with that. If you have a misconception about vegan foods that they might be a bit bland and tasteless, your thinking will change completely here.
Unlike those vegetarian-friendly casseroles, the things that can go into these vegan treats are stricter. Everything should be plant-based, and even dairy products are not accepted.
However, don't be too pressured about that. You can still create something delectable from the most simple things. Enjoy!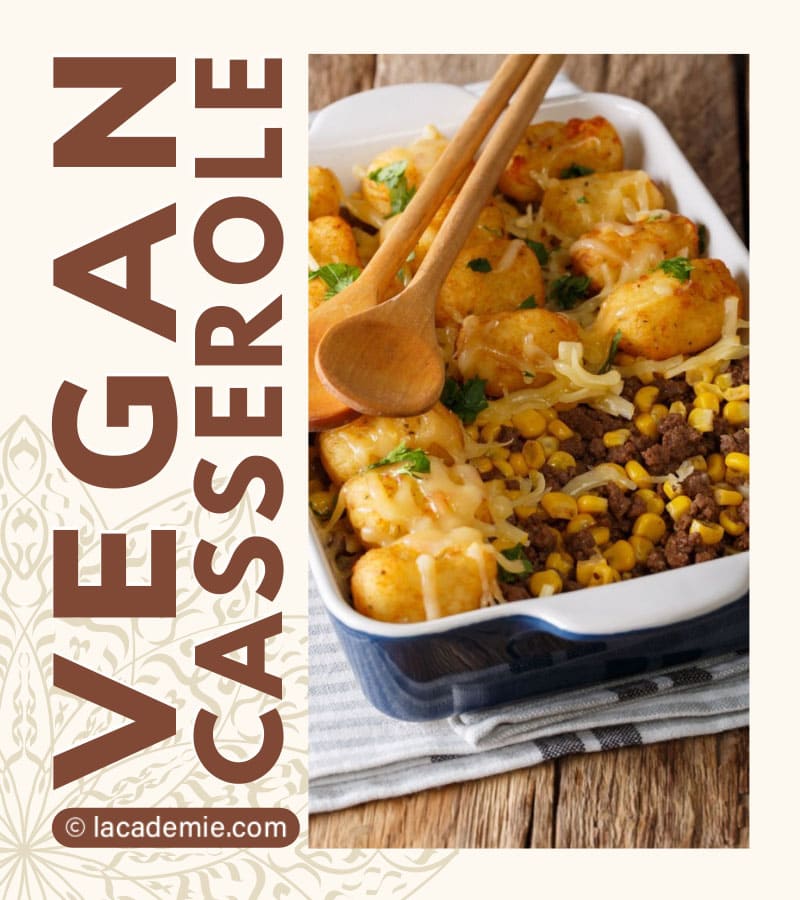 27 Suggested Vegan Casserole Delights For An Apprentice Cook
Casseroles and the way to make them (which is simply dumb-and-bake) will never fail you with their deliciousness and convenience. Based on that, it's time to know more toothsome casserole delicacies to prepare for your vegan meal. Scroll down now!
Total time: Approximately 50 minutes.
If you have no idea what tater tots are, they are simply the small cylinders of grated potatoes (typically deep-fried before sealing and selling). Because of that, you can see this tater tots dish as a yummy potato-based casserole for dinners or lunches.
When cooking, it would be much better when you pair the tots with other ingredients like corn, tempeh (fermented soybeans), black beans, and vegan shredded cheese.
Switch to sweet potato tots if you wish, and store the leftovers in the fridge for 5 days after. You can hardly notice that it has spent a few days inside the refrigerator after reheating.
Serve your casserole with vegan guacamole (an avocado-based dip), black olives, green/red onions, or some dairy-free/vegan sour cream. These toppings add a refreshing note to the overall of your delicacy.
This detailed guidance for vegan tater tot casserole can answer all of your questions.
Total time: Approximately 1 hour 25 minutes.
Lasagna is a famous Italian casserole that can never disappoint you from the first try. Instead of making it with beef-based bolognese sauce, you can make it vegan with this simple veggies-loaded recipe and prepare some jarred marinara and cashew ricotta.
Fresh vegetables like spinach or mixed variants are preferable here, and you should ensure that everything is chopped up finely. For the sauce, put as much as you wish for a better depth in flavors.
Besides the foil covering on top of your casserole before baking, don't forget to layer some vegan parmesan cheese and sauce. This can help your food have a beautiful seared top. Just remember to let the whole thing rest and settle for a while before starting to devour.
Total time: About 35 minutes.
Traditionally, eggplant parmesan potato casserole incorporates a variety of dairy products in the sauce and toppings, but this vegan version is healthier because it is free of gluten and meat.
A temperature of 425 degrees F or 218 degrees C is ideal for browning the top of your dish. The light smoky taste from the sear lends a highlight to the base of earthiness from eggplant and richness from vegan cheese or white sauce.
Preparing the eggplants is important as the veggies might exude much water into the casserole. Because of that, you can consider using store-bought, pre-cooked products or gently frying the fresh eggplants before assembling your food.
Total time: Around 50 minutes.
Ziti noodles or hollow, tube-shaped pasta that looks like a short straw, are commonly used in various baked casserole dishes. Never overcook the pasta when preparing and make it al-dente only as you have to bake it for a little more later.
Aside from the noodles, the other components of marinara sauce, lentils, and cashew cream topping are also vital. Lacking one of these, you will fail to make a perfect vegan delicacy.
This tasty pasta casserole recipe is enjoyable for even the pickiest eater, so don't hesitate to try serving some in your family dinners. No one can escape this lovely harmony of creaminess and tanginess. Absolutely attractive!
With this guide, let's learn how to make vegan baked Ziti today!
Total time: Approximately 44 minutes.
Tired of cleaning various things after cooking a big meal? Then you should refer to the one-pot delights, just like this vegan "meatball" pasta bake. For the pasta, you won't have to limit your choice with Ziti like the previous recipe, but you can use anything.
On the other hand, the meatball here should be vegan, and you can get this product at any supermarket or create some at home (with beans, flour, and spices, for example).
Your first bite into this recipe will be aromatic because the baked dish calls for various spices/herbs like marjoram, smoked paprika, and thyme.
As the whole thing is pretty hearty and somehow quick to assemble, it can totally become your next idea for dinners or lunch. The leftovers taste great as well, so don't forget to store them for next-day use.
Total time: About 1 hour 15 minutes.
Strata is a comfort American recipe, and this casserole features bread, cheese, and eggs. However, cheeses and eggs are not compatible with a vegan meal, so there is a slight twist in the ingredients of this no-fail breakfast casserole.
Sourdough bread, vegan cheese, and silken tofu are the substitute for the original components of your dish. Additionally, adding other veggies like mushrooms or kale provides better protein content for the whole dish and makes it more balanced in nutrients.
My favorite step for this vegan Strata is to blend the soft tofu with milk, pepper, and flour until it offers a silky consistency. This part acts well as a binding "substance" and you might think it tastes even better than regular eggs.
Total time: About 45 minutes.
The beauty of a simple vegan cauliflower casserole is the food's creamy texture as soon as you shove the first spoon into the dish. The cheesy/stringy vegan cheese combined perfectly with the cashews and soymilk is the true hero of this delight.
More importantly, you should partly steam the cauliflower before tossing it into the casserole and drizzling the creamy sauce onto it. I'm sure you won't want the central part of your food to be uncooked later.
Are you wondering what the browned crust topping of your American dish includes? The answer is simple, breadcrumbs, garlic, melted butter, and that's it!
In case you want some additional highlights here, crushed red pepper flakes and freshly-cut parsley are my recommendations.
Don't hesitate and make some cauliflower casserole following this instruction right away!
Total time: Around 20 minutes.
Not an American or Italian recipe anymore, this exquisite Mexican casserole is another way to make your main meal of the day more flavorsome. With only 7 simple ingredients, your dish can beautifully deliver a palatable taste experience already.
Grilled corn cobs, pre-cooked potatoes, bell peppers, and simple cheese sauce are the soul of the casserole and as you can see, there is nothing fussy about them.
All you need to do here is mix everything up, spice them well with salt or pepper and serve them for lunch or dinner. Easy peasy!
Total time: About 1 hour.
Even if you have never tried these favorable baked vegetables before, you might have already seen them somewhere (because of their undeniable popularity). Although it might be different from the image you have in mind; it offers nothing less than perfect.
This rustically delicious delight has natural sweetness from bell pepper, eggplant, summer squash, and onions and tones of powerful aroma from herbs (such as thyme or basil). You don't need to try much to make it vegan.
On the side of this vegetable-loaded casserole, I highly recommend Polenta (or corn porridge, an Italian delight. This starch base is typically creamy with various dairy products added, but you can still opt for vegan butter in this case.
Total time: About 1 hour.
You'll be captivated by the flavors in this black bean quinoa dish from the first mouthful. Specifically, expect subtle creaminess from the black beans, nuttiness from the quinoa, sourness from the tomatoes, and the subtle spiciness from the garlic/chili.
One cup of quinoa might grow triple after cooking, so ensure to use the adequate amount (following the instructions). Never forget to drain the cooked quinoa, or your Mexican-originated recipe can become soggy later.
Your vegan black bean quinoa casserole can last for 3 days in the fridge, so feel free to make it as a meal prep for a workday's lunch.
Total time: Around 1 hour 5 minutes.
For comfort food at its best, try this delectable chili cornbread casserole right away. It's a great way to have everything included inside one simple recipe, from the starch (cheddar cornbread crust) to the yummy Chili casserole base (with lentils, spices, and peppers).
Originally, cornbread and chili were two different dishes, but you can now match them into one skillet and shorten the cooking time. To me, this idea is genius since the mildly sweet cornbread balances well with the heat from the stew beneath. How can you not love it?
Why not give this vegan chili cornbread casserole a chance to go on your dinner table now?
Total time: Around 1 hour 30 minutes.
Indian delicacies are renowned for the wide use of spices and intense condiments, making many people feel a bit hesitant. However, this Indian-spiced cauliflower-potato casserole is not that hot, and you are free to adjust the cayenne to milden the overall taste.
Besides potatoes and cauliflower, chickpeas, carrots, or peas can also participate in this casserole. They can effectively make your dish heartier and contain more flavors from various veggies.
In addition, the signature Indian spices, such as cinnamon, cumin, and turmeric, can accentuate the Asian notes in this particular casserole. When eating, it's also best to serve it on a bed of brown rice (or white rice, if you like).
Total time: About 50 minutes.
Your next veg-based Sunday meal should be this vegan Enchilada casserole of mixed veggies (such as bell peppers, corn, or refried beans). Especially, matching it with some spicy, jalapeno-based cream sauce is an excellent way to delight your taste buds.
One thing you should notice here is to distinguish between the corn and the flour tortilla. Corn tortillas generally note a smoky corn taste and a crunchier texture while flour tortillas are milder and softer.
Once assembling them into this stew, don't try overlapping them, or each bite will be a bit thicker than expected. In case you want to pre-make the casserole for the next meal, just layer the uncooked ingredients and freeze them all as a whole until cooking.
Roll up your sleeves and cook some vegan enchilada casserole now!
Total time: About 1 hour 15 minutes.
When I mention this Samosa, a famous Indian street delight, as a casserole, it might be weird to you. This unique take on Samosa can change your traditional way of enjoying this favorable delight, and you should never miss out on it.
From the first sight, the dish reminds me of a pie with a browned crust topped and thick, dense filling encased. Once having the first mouthful, the starchy potatoes paired with lightning veggies and spices (ginger, cumin, pepper) rush immediately into my taste buds.
What about the treat's companions? Nothing beats yummy Indian salads such as cucumber or tofu Raita (Indian yogurt-based condiments). Believe me; their refreshing notes will remove whatever greasy feeling you may have.
Total time: About 1 hour 10 minutes.
Here you go, a vegan sweet potato casserole for any veggie fan. The dessert recipe is an ideal delicacy to serve for special occasions or holidays. You can make it an easy-to-eat Thanksgiving casserole recipe to treat everyone on the table.
The mild sweetness and starchiness from sweet potatoes and coconut-y flavor are the second most prominent scent you can notice in this vegan delight. Canned coconut milk, sugar, or oil, these things play their role perfectly.
Pecans also go well as a component of this baked good, which gives the topping more crunchiness. Gluten-free, dairy-free, and meat-free, what can be better than this in a healthy, plant-based casserole?
Total time: About 1 hour.
If you are on the hunt for the best Asian-inspired vegan dish, you should add this teriyaki tofu rice casserole to your must-try list. Teriyaki sauce consists of only soy sauce (or tamari, Japanese fermented soybeans sauce), brown sugar, and mirin yet, that's enough for a good base.
The critical point to make this food attractive and more nutritious is to use the super firm or extra firm tofu for the main protein. While the super firm variant can hold its form well, the extra firm one is easier to crumble during baking, so you should pay attention here.
Your veggies' freshness also contributes to the deliciousness of this Japanese-inspired casserole. As the food goes with rice, you can have a super filling dish in one skillet!
Total time: Approximately 1 hour 45 minutes.
Not a regular veg-based Shepherd's pie but a lentil-utilized one. Regularly, this delicacy includes beef (or ground beef), tomato paste, and Worcestershire sauce; yet, my suggestion today has lentils acting as its primary protein. These legumes can perfectly replace beef.
Aside from the customary usage of tomato paste, the key components are tamari (or soy sauce) and vinegar. Next, add tahini (sesame seed paste) to the pot to bring all of the flavor layers together so its creaminess and richness can effectively improve the balance of your dish.
Making your delectable Shepherd's Pie vegan is not that difficult!
Total time: Around 1 hour 10 minutes.
Unlike the previous lasagna recipe with leafy vegetables, this one requires you to go for pumpkins (or the Hokkaido pumpkin variant, in particular) as the main part. Once using this special pumpkin, you can experience a more pronounced nuttiness with a firmer/fleshier texture.
For the sauces, you have to prepare the two most commonly used ones, Bechamel and tomato sauce. Combining these two sauces in a lasagna casserole allows you to enjoy the mostly-original flavors without breaking the diet. Remember, wait a bit before serving!
Total time: Around 1 hour.
I have introduced to you Indian and Japanese before and now, let's turn to a palatable Thai food cooked in a casserole way. This Thai red curry actually often goes with meat (like chicken), but making it with some chickpeas doesn't make your food less tasty.
Add extra veggies like bell pepper, broccoli florets, and carrots to make your dish more colorful, with hues ranging from green to red and orange. Long grain rice, which you can change into quinoa, also serves as the dish's backbone. Brown rice is just not as good here.
Since Thai specialties sometimes taste just as hot as the Indian delights, you can adjust the amount of the red curry sauce (more or less) to reduce or boost the heat.
Both refrigerating (for 4 days) and freezing (for 3 months) are great ways to store this dish; consider one based on your preferences.
Total time: About 1 hour 25 minutes.
Lentils should always exist in your pantry once you decide to follow the vegan diet, as they are an excellent source of various healthy proteins and nutrients. That is also why Indian people, renowned for their veg-based cuisine, employ lentils a lot in their daily foods.
Garam Masala (Indian mixed spices), turmeric, ground coriander, etc., are all the frequently used spices in any Indian curry dish, and now you can see them here.
Those spices are pretty hot for beginners, but everything is much more pleasing with coconut milk contained. The full-fat coconut milk is always my priority for the creamy base of Daal, and you should consider that as well.
When paired with the classic white rice, Naan or Pita (Indian flatbread), your dish has the perfect balance with some chopped fresh herbs topping. If you are on a stricter religious diet that forbids garlic and onion, go for fenugreek seed powder instead.
Total time: Around 30 minutes.
Raise your hand if you love Mac N' Cheese and have found another like-minded person here. I can eat the classic variation of this dish every day since it has lots of creamy/milky flavor with an irresistibly soft texture, and I assure you this vegan recipe is just as impressive.
Besides the fact that butternut squash makes your Mac N' Cheese a bit creamier, it also offers you various health benefits, such as anti-inflammation. Cooking the butternut squash with other ingredients and make it into sauce with a blender is a must.
At this point, never ignore the spices (like onions, peppers) and vegan milk, or you will fail to accomplish this simple recipe.
This generic butter squash Mac N' Cheese can effortlessly beat any drive-through!
Total time: About 40 minutes.
The pronounced mushroom fragrance and rejuvenating taste of green beans are the first two words that pop up in my mind whenever it comes to this recipe. Because the base of your food is creamy already, pepper and salt help to accentuate everything pretty well.
Opt for the store-bought cream of mushroom soup to shorten the cooking, and strictly following the guide is the key to having your first-ever green bean casserole a success. More importantly, discard the Parmesan cheese or change it into a vegan variant for a vegan casserole.
With the presence of cream of mushroom soup and some fried onions topped, this delight quickly fills up the air with an appealing aroma right from the time you take it out of the oven.
Green bean casserole has various ways to make, and this is another guide for you.
Total time: About 1 hour 20 minutes.
After going through various dump-and-bake recipes, it's time to try something fussier on this list! Think of a roasted vegetable delicacy or big salad portion packed with various flavors. Don't you wish to try this tomato/spinach-stuffed pasta shell dish right away?
For the fillings of the pasta, vegan tofu ricotta, vegan cauliflower sauce, and cajun seasoning are vital. Creamy, smoky, peppery, and tangy, this flavor combination can never go wrong, and I can guarantee you that. Curious yet, cook some of them up now!
Total time: Around 1 hour 10 minutes.
Even the zucchini haters will love this delight as its signature tastes blend well with the other ingredients and form better overall goodness. The common go-to ingredients of vegan zucchini potato casserole are russet potatoes, diced peppers, spices, and breadcrumbs.
Your dish won't be as good without a pinch of pepper flakes/paprika sprinkled on top, but you may skip them if you don't like spicy foods. On the other hand, there is no limit to what you can pair with this exquisite zucchini potato casserole, so you may enjoy it with whatever you like.
Total time: Around 1 hour.
Amp up your boring breakfast with another potato casserole, and it's the turn of hash brown. Instead of forming grated potatoes into the tater tots, you now utilize the roughly grated ones. Fresh or frozen variants both work here, then just use anything you have on hand.
Furthermore, since it works well with various other foods, don't pass up the chance to create the "faux cheese" sauce recipe (with cashews, carrots, potatoes, and onions). Finally, the casserole tastes best when it's still warm, so eat it as soon as it comes out of the oven.
Have a couple of minutes to spare now? Time to experience some good food!
Total time: Around 1 hour.
A simple, sweet, and tasty French toast casserole that can make everyone drool is here. The memory of its warmth, earthy notes of cinnamon, and mellowy tastes gently spread throughout my throat makes me wish for another portion now.
Substituting the original take of bread-soaked cow milk, you should now refer to the twist in using coconut and silken tofu. Cut your one-day-old baguette, and soak it entirely inside the blended mixture mentioned before leaving the whole thing to cool overnight.
Above all, the most beloved allurement here lies in the crunchy texture of pecans and the sweet-tartness of apples. Drizzle some maple syrup onto your food and enjoy!
French toast bake is affordable and easy to prepare. Let's get cooking!
Total time: About 1 hour 40 minutes (more or less).
Feed the crowd with this lentil moussaka (a Mediterranean recipe), and your loved ones will definitely appreciate your effort later. You might think of the previous cornbread chili, but the top of this moussaka is from mashed Yukon gold potatoes.
It's a breeze to whip up from scratch, so you can always go for it whenever you are out of food recommendations for any mealtime of the day. To serve, just spoon the food from top to bottom and place a full piece of topped mashed potatoes and spiced lentils mixed veggies.
Now, Go Vegan Happily With My Recommended Casseroles!
If you are finding a reason to start a vegan diet, my plant-based casserole recommendations today are definitely for you! They are not only filling (without leaving you a greasy feeling) and tasty, but these good treats can also offer you enough nutrients needed for a day.
I know everyone has their own right to choose what they want to devour and following the vegan diet is individual liberty. Yet, preparing these veg casseroles or other vegan delicacies is also a way to refresh your appetite and save the earth.
Please share my humble article with your friends or loved ones if you think it can also benefit them. I'm sure they will thank you later for that.