It's always amazing to have easy summer casserole recipes at your disposal to utilize the abundance of seasonal vegetables. I hope this post can spark amazing ideas for casserole recipes to make your dinner much more flavorful.
Many summer ingredients to make casseroles are easy to find. So sit back and keep on reading to discover your favorite casserole. I promise these dishes are amazing at taking the flavor of individual ingredients to a whole new level.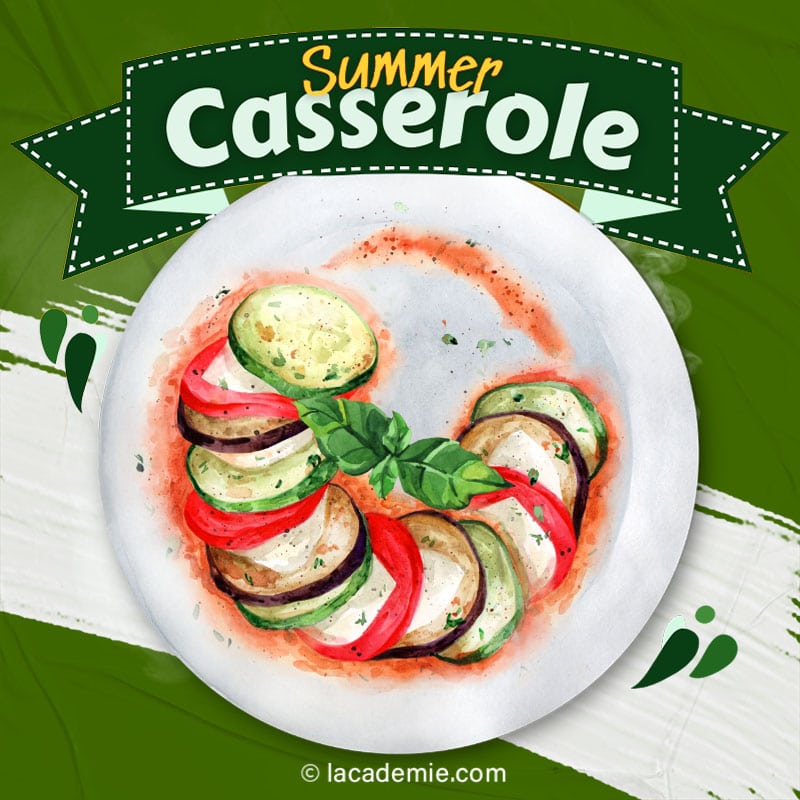 Try Out These Summer Casseroles Right At Home
Although summer may hit you with intense heat, there's no reason for you not to have a yummy meal. That's why making a casserole is one quick and surefire way to enjoy a hearty dish. Without further ado, let's jump into making casseroles for your summer.
Total time: 50 minutes.
Summer is an ideal time for a variety of squash to grow. Therefore, it's best to make full use of the seasonal squash by turning it into a casserole. If you're still wondering about the nutrient value, squash provides an array of healthy compounds for your body.
Let's start with picking the right squash. My choice is a combination of zucchini and yellow squash. Thinly slice the two ingredients and overlap them over each other in your baking tray. Furthermore, you can remove excess moisture from the squash by dabbing it with paper towels.
Sprinkle a generous amount of cheese with seasoning and breadcrumb over the squash slices before covering your baking tray with aluminum foil. In addition, I like to enjoy the casserole with a dash of olive oil.
Once the breadcrumb starts to turn a golden brown color, then your casserole is ready to serve. Thanks to the zucchini, the dish has an earthy and slightly grassy flavor, perfect for summer-themed delicacy.
Total time: 55 minutes.
The blueberry season runs for a long time, from April to September in North America, so you should try making a sweet casserole with blueberry as the main ingredient. It's a dish based on a popular French toast dessert served with a sweetener of your choice.
At the base of your casserole tray, start filling it with bread bits followed by blueberry. Repeat the step until you run out of ingredients or space in the baking tray. To avoid the French toast from sticking to the tray after baking, you want to lightly spread the butter over the tray's surface.
In addition, people also whisk up a mixture of eggs with cream, milk, and sugar. Remember to gently stir the concoction in your baking tray so you don't burst the blueberry by accident. Ideally, I like soaking the casserole in the milk mixture for around 30 minutes or overnight.
Before transferring your baking tray into the oven, sprinkle your remaining sugar over the surface to get a nice layer of caramel afterward. If you don't have access to blueberry, this recipe will also work with other varieties of berries.
It's super easy to make a blueberry French toast as a casserole.
Total time: 50 minutes.
It's easy to mistake corn as a year-round ingredient, but corn mainly appears from May to September. To bring out the best flavor from seasonal corn, I suggest trying this sweet and savory Jiffy corn casserole.
The Jiffy corn is a perfect side dish to accompany whatever meal you have in store for the night. Since corn is the main focus, the casserole will burst with sweetness and display a beautiful golden brown color.
To materialize the dish, you need to combine dry Jiffy Corn Muffin mix with corn kernels, creamed corn, and sour cream. The best option to bond the ingredients together is to crack a couple of eggs into the mixture.
Next, you want to spread the corn concoction evenly on a baking tray and pop it into the oven. The corn mix dictates the flavor of your casserole. Each corn kernel is a nice explosion of sweet and buttery taste.
Total time: 45 minutes.
I'll admit, sometimes, it's tempting to crank up the heat on dinner with a few peppers. However, there's an even better way to enjoy the ingredient by turning it into a casserole. Don't worry about the intense heat because the cheesy topping will help balance out the flavor.
To make the filling for the casserole, people usually cook ground beef first to remove any excess fat from the equation. Then, you want to stir fry bell peppers until they get a tenderized texture. Be careful of the heat since it's easy to burn or overcook the bell pepper.
I also prefer putting a variety of ingredients like rice, tomatoes, and green chilies into the mix. Plus, people even introduce beef broth to the casserole to keep the whole dish moist and flavorful. Of course, the final topping is a copious amount of cheese.
Total time: 45 minutes.
Here's another option to fully utilize your zucchini to the best of its potential. Instead of combining various ingredients, you only need cherry tomatoes to enjoy the natural zucchini flavor. Better yet, the cheesy topping is never a disappointment to have in any meal.
It is a nice vegetarian casserole idea. Additionally, a simple mix of salt and black pepper is enough, but I like adding Italian seasoning to get an earthy flavor and a subtle sweetness.
Top all the ingredients with a decent amount of shredded cheese. The baking process helps your zucchini to have a nice tender texture.
Total time: Around 1 hour.
Prepare to meet your new favorite keto-friendly casserole to have during the summer. The dish takes yellow squash as the main focus. In terms of flavor, yellow squash or summer squash has the same flavor as zucchini with the only difference being the color.
To process the yellow squash, cut it into thin slices to saute with the onion until you get a soft texture. I always like an extra creamy taste, and that's why you have to include whipped cream. Furthermore, you can sprinkle some cayenne powder for an extra kick of heat.
The final step is to smother all the ingredients with grated cheese. Ideally, you want to bake until the cheese becomes slightly brown. The cooking time can vary depending on your oven temperature. Remember to rest your creation for some time before serving.
Yellow squash provides an intriguing option to make cheesy Southern squash casserole during summer.
Total time: 5 hours 38 minutes.
Although it's common to see macaroni accompanied by a cheesy sauce, I have a better way to elevate the dish by featuring corn in the mix. The recipe is easy to make whenever you want but I feel like the introduction of corn brings a new summer breeze to the casserole.
To simplify your cooking experience, I highly recommend making an easy slow cooker casserole recipe. For the ingredients, people tend to resolve to a blend of corn kernels, creamed corn, and macaroni. Set your slow cooker to a high setting and leave it there for some hours.
The variety of cheese only comes in before serving your casserole. The remaining heat is more than enough to melt cheese, providing that you fold the concoction well.
Total time: 1 hour 10 minutes.
Okra is a versatile vegetable to feature in any dish; therefore, it makes for a fantastic ingredient to pair with rice in a casserole. Even when you're new to okra, I'm sure you will soon get used to the flavor.
Commonly, okra has a certain sliminess no matter how much you cook it. In a saucepan, you need to whisk in flour and oil. The concoction is mainly used for cooking the vegetable to a soft texture. Then, stir your vegetable broth with okra and tomatoes until it becomes thickened.
To make it more flavorful, I love popping some garlic butter over a few bread slices in the oven. Then, ground everything in a blender or food processor to create your homemade breadcrumbs. Ideally, you want to sprinkle breadcrumbs over the surface.
Your okra and rice casserole usually have a crumbly golden brown surface after 25 – 30 minutes inside the oven. After you're done baking, let the casserole rest for around 10 minutes to stabilize the structure.
Total time: 50 minutes.
Spaghetti is classic comfort food with numerous methods of adapting. That's why I don't see any reason not to include spaghetti in a casserole. However, I like to bring a Greek twist to the dish by incorporating spinach into the recipe.
In a saucepan, besides the spaghetti, I would like to add chicken, spinach, and seasoning. To help build a creamy base flavor, I love whipping up a blend of mayonnaise, cream cheese, and various seasonings.
Next, bring out your baking tray to hold all the creamy contents. Top off the casserole with breadcrumbs, cheddar, and Monterey Jack. The result you get is a casserole that reminds you of having a delicious plate of spaghetti.
Total time: 45 minutes.
I know broccoli alone is tough to swallow sometimes, which is why I'm suggesting you incorporate it with chicken in the same baking dish. If that's not enough to convince you, maybe the creamy and cheesy flavor of the casserole will do the job for me.
Aside from chicken and broccoli, people tend to add cooked pasta to accompany all the flavorful seasoning and cheese. To infuse the broccoli with flavor from an early stage, I recommend boiling it along with the pasta 1-minute before the pasta is cooked.
As for the sauce mixture, people saute onion, mushroom, and garlic with butter. Make sure you stir the concoction constantly. Then, you need to pour in milk and mustard to combine with the sauteed mixture and add cheese.
In a baking tray, assemble all your ingredients with the sauce. After 15 minutes of baking, don't forget to put extra shredded cheese over the surface. Garnish your meal with some fresh herbs and your meal's good to serve it.
Broccoli and chicken make for a delicious combo to recreate at home.
Total time: 1 hour 5 minutes.
Chicken makes for a solid choice to feature in any casserole dish. But I want to create an exotic meal by accompanying a tasty chicken casserole recipe with wild rice. Even the pickiest eaters will have to fall for the creamy and cheesy flavor of the casserole.
Different from conventional rice, wild rice retains the black outer shells which give it a chewy texture. In terms of flavor, wild rice has a smokiness flavor with a hint of grassy taste. The Great Lake of North America provides the most abundant source of wild rice.
Back to the preparation steps, all you have to do is follow the package instructions to cook the rice. As for the base flavor, people usually cook celery and garlic with butter. To help the rice and chicken become more flavorful, I suggest mixing sour cream with wine, basil, and soup.
When the ingredients are all mixed well, sprinkle in the cheese before baking it in the oven. On average, the oven takes around 35 minutes to cook through the ingredients. However, the process may take longer depending on your oven's output temperature.
Total time: 40 minutes.
While your kid is spending their time at home during summer, you may want to include spinach to make a healthy option for your meal. Lucky for you, I have just the right recipe to help your child eat more spinach without a single complaint.
Incorporating soft spinach with cheese creates a perfect creamy combination. Let's start with the base flavor. I always prioritize stirring onion and garlic with butter for an irresistible fragrance. Follow that up with heavy cream and an array of seasonings to deepen the taste.
When the mixture is slightly thickened, throw in your spinach along with parmesan cheese. You need to work the cheese around until it melts completely before seasoning it to your taste.
Bake the casserole until the cheese and breadcrumb topping are golden brown. The cheese should be bubbling when you take the baking tray out of the oven.
Total time: 55 minutes.
If you're looking to whip out a meatless casserole to treat your family, then Tater tot is the choice to go for. Although the dish utilizes regular cheddar cheese, you can easily make a veggie-based casserole recipe by using plant-based cheese.
The tater tots are grated potatoes, formed into a cylindrical shape for deep-frying. As for the peppers, people tend to roast them to remove the skin and infuse a smokiness flavor. Commonly, I like chopping up the roasted pepper to combine with the cooked spinach.
To help the mixing process, my recommendation is to crack in a few eggs so it's easier to bond the cheese with the veggie mixture. Finally, pour your blend over the tater tot and bake in the oven until the egg is firm.
Total time: 50 minutes.
John Wayne casserole is a classic specialty of Southwestern families for a cozy meal at the dinner table. Each layer is filled with harmonious savory and cheesy flavor. The name John Wayne came from the recipe's inventor when he featured it in a 1979 cookbook.
In terms of ingredients, it is essentially a delectable ground beef casserole recipe. To bring a little Mexican twist, people stir fry the ground beef on a skillet with some Taco seasoning. As for the sauce, a simple combination of sour cream, cheese, and mayonnaise should work wonders.
Perhaps, the thing that makes John Wayne's casserole unique lies in the appearance of small dough balls. It's a blend of biscuit dough and water, which people stick to the side of the baking tray.
Ideally, you want to place the bottom surface with browned ground beef, and follow that up with a layer of tomato slices. Continue to spread the chilies over the layer and top it off with your cheesy mix.
Let the oven do the job for around 30 minutes and it's time to enjoy the John Wayne casserole. The high amount of protein in the ground beef and cheese will sure keep you full through the night.
Discover the simplest steps for a tasty John Wayne casserole in your kitchen.
Total time: 1 hour 10 minutes.
Eggplant is another representative of summer vegetables. There are many species of edible eggplant, but the most popular one has to be the purple variety. In the cuisine, people often eat eggplant as a low-carb option for their meals.
To turn eggplants into a delicious choice on your menu, I want you to cut them thinly to make numerous rolls from the slices. I always imagine them as little rolls of bacon with a mild taste and vegetable bitterness.
While you're baking the eggplant rolls, save your time by busting a cheesy mix consisting of ricotta cheese, basil, and simple seasonings. Then make sure you follow the specific layering pattern from the recipe to achieve the best result.
Total time: 40 minutes.
Lasagna is a traditional Italian meal that consists of various layers of meat, noodle, and cheese. Thanks to this nature, it's easy to adapt lasagna into a casserole dish. Plus, the ingredients are easy to find in all stores to save you some time cooking.
For a beautiful Italian-style casserole, my advice is to use a twisty-shaped pasta. Most often, the meat layer is made with ground beef, pepper flakes, and onion. To assemble lasagna, you need to stir both the pasta and meat with crushed tomatoes for a savory combination.
Sprinkle a variety of cheese like Mozzarella and Cheddar for a final touch of topping. Another option of seasoning for you is to utilize Italian seasoning for an authentic lasagna taste. The cheese topping should have a nice golden brown layer after baking in the oven.
Total time: 1 hour.
Although shrimp is widely available throughout the year, summer is the perfect time to treat your friends to a tasty shrimp casserole recipe. The meal is a crowd's favorite, thanks to the fresh shrimp flavor with a smokiness from Andouille sausage.
Commonly, Andouille sausage produces the best flavor when people heat it in a skillet with butter, onion, and bell pepper. Don't forget the addition of Jalapeno to get an extra kick of spiciness to your casserole.
As for the shrimp, I can't look over Cajun seasoning since it provides a spicy flavor to the shrimp. Furthermore, you can use crushed tomatoes to complement the heat from the Cajun spices. Remember, you only need to partially cook the shrimp for this step.
The final time in the oven will help you fully cook the shrimp. If you accidentally overcook shrimp, the meat texture can become loose and turn to a white or gray color. Normally, you want to stir the grits into boiled chicken stock with an extra egg mixture.
Since grit is relatively uncommon to many people, please remember: grit is simply a cornmeal porridge that often appears as a breakfast option.
Total time: 1 hour 30 minutes.
At first glance, this beautiful vegan casserole may look like a delicious tray of ratatouille (French stewed vegetable). However, people tend to roast the vegetables instead of stewing them. The dish is a nice plant-based casserole recipe to recreate right at home.
For the vegetable choices, my favorite has to be zucchini, yellow squash, and tomatoes. Most often, people usually layer each slice of vegetable over another until you fill the entire baking tray. Make sure you pack the veggie tightly because they will shrink during the baking process.
Before sending your Tian to the oven, you should drizzle it with some oil to keep the vegetable moist. Once the vegetable begins to turn brown and tender, you should remove the Tian from the oven. Let it rest for around 10 minutes before serving your healthy Tian.
Enjoy the full burst of flavorful summer vegetables by making a Tian casserole.
Total time: 1 hour.
A taco casserole is a tasty combination of summer zucchini and savory taco meat. It's a nice way to satisfy your craving for some Mexican-themed casserole recipes while staying healthy at the same time. Better yet, you can even whip up this recipe a couple of days ahead.
Despite having the word taco in the name, the dish doesn't call for corn tortillas. Instead, you only have to make the filling, consisting of ground beef and taco seasoning. For a more flavorful filling, I suggest adding sour cream and salsa (Mexican tomato sauce) to the ground beef.
As for the zucchini, cut the vegetable into thin strips and let them sit in some salt for around 10 – 15 minutes. This step helps you extract moisture from the zucchini to prepare it for baking. Then, assemble your taco casserole with meat filling at the bottom and zucchini on top.
Toss cheese over the zucchini, and you're ready to bake the entire mixture. Normally, the cheese needs to be bubbling in the oven before you cease the cooking process.
Total time: 50 minutes.
Don't worry if you're unfamiliar with hash brown because I'll explain it to you. In simple words, hash browns are thin strips of potatoes that have been deep fried. By cracking in some eggs, you get a mouthwatering casserole with potatoes with starchy hash browns as the main focus.
Only the hash brown is not enough to provide you with the necessary protein. Therefore, I suggest throwing sausage into the mix to turn this dish into an exquisite sausage casserole. In a baking tray, combine the sausage with hash brown, eggs, and bell pepper. Of course, you need to cover it all up with cheddar cheese.
Cook the casserole until the egg is no longer liquid. The combination of potato and egg provides an excellent yellow color once the casserole is cooked.
Total time: 25 minutes.
Nacho is a popular specialty of Mexican cuisine that requires melted cheese to pair with crunchy fried corn tortilla chips. Thanks to how convenient it is to assemble the ingredients, turning nacho into a casserole is a hearty way to serve your family a quick meal.
Similar to how you make a taco casserole, you only need to work with the taco filling. As for the meat, I love using chicken breast with Taco seasoning, cheese, and salsa. In addition, you may want to throw in some corn kernels and beans while assembling the casserole.
It takes around 20 minutes so the cheese can completely melt. For serving, my suggestion is sour cream to complement the savory flavor. The nacho casserole brings a nice Mexican twist to your dinner table.
Total time: 1 hour.
To wrap up an amazing summer casserole compilation, allow me to bring you one final amazing pizza casserole recipe. I like to maintain the summer theme to end by featuring zucchini as the base of the pizza.
Aside from the zucchini, you also need eggs and a variety of cheese to keep the pizza base stable. Make sure you press the base hard to get a nice soft pizza crust at the end. At this stage, it's important to bake the zucchini crust alone for around 20 minutes to get a stabilized structure.
Lastly, you want to spread the tomato sauce over the zucchini before following it up with ground beef and onion. Top off the surface with cheddar cheese and pepper for a beautiful decoration. Bake the casserole again to melt all the cheese and serve your pizza.
I hope you're happy with all the various types of casseroles to bust out during summer. Some recipes are so good that you can have them whenever you want. Thanks to a huge amount of summer ingredients, it allows you to pick whatever dish fits your taste bud.
If you know any more summer casserole dishes, be my guest and let everyone know about them in the comment section. Furthermore, please share the post with people who need a new seasonal casserole idea to make for their dinner. Thank you!
Nutrition Facts
6 servings per container
---
Amount Per ServingCalories113
% Daily Value *
Total Fat 7.5g

12

%
Cholesterol 3mg

1

%
Sodium 559mg

24

%
Potassium 402mg

12

%
Total Carbohydrate 9.3g

4

%

Dietary Fiber 2.2g

9

%
Sugars 2.6g

Protein 4.3g

9

%
---
* The % Daily Value tells you how much a nutrient in a serving of food contributes to a daily diet. 2,000 calories a day is used for general nutrition advice.