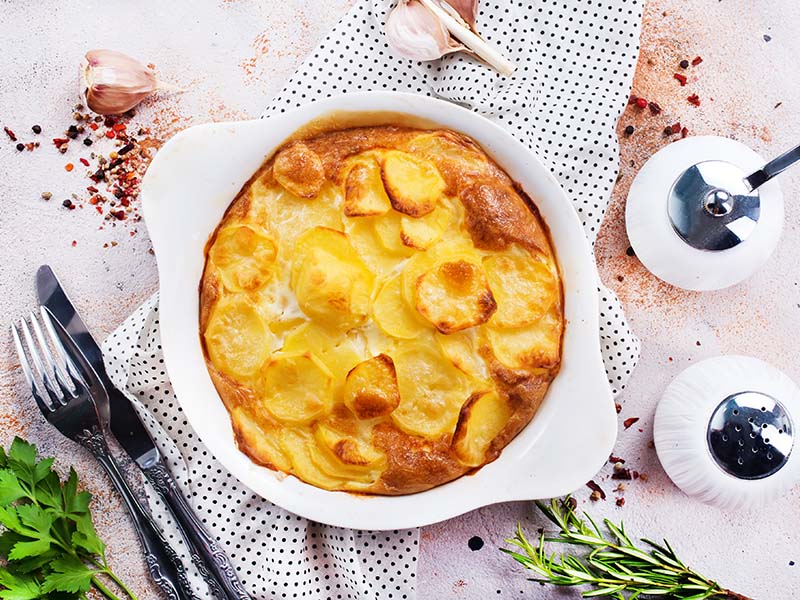 Try one of the best potato casserole recipes here if you are on the hunt for deliciously savory meals. They are not only easy to prepare but also only take you a short time to make. However, their taste will delight you magnificently.
Even if you are looking for an ideal breakfast, lunch, or dinner option, the choices below will satisfy you unexpectedly. This post will tell you everything you need to know about these delicacies. And now, keep following to collect this useful knowledge.
You shouldn't ignore these potato casseroles if you want to feed a crowd on a special occasion or even at a normal family get-together. Healthy, delicious, and filling, these ideas will amaze you unexpectedly.
Total time: 1 hour 5 minutes.
What needs to be in the perfect side dish? Healthy, delicious, or simple? Cheesy Scalloped Potatoes are what you are looking for. This is a nice combination of potatoes, healthy milk, creamy butter, and some other herbs.
This recipe uses arrowroot to make the cheese sauce thicker, suitable for combining with potatoes and creating a smooth casserole. Tasty cheddar cheese also adds a sharp and intense taste to your dish.
After baking your casserole to a crispy-topped perfection, garnish with some aromatic herbs such as parsley, thyme, and scallions. The delight now is ready to complement grilled ham, broiled lobster, and roast chicken.
This Cheesy Scalloped Potatoes recipe should be included in your menu.
Total time: 30 minutes.
Bacon Cheddar Loaded Mashed Potato Casserole is comforting, creamy, and buttery. This is a popular casserole for Christmas. Moreover, you can also apply this delight in your dinner to treat your family.
There are various options of potatoes you can use in this recipe. They can be russet potatoes or Yukon Gold potatoes, but this recipe will use red potatoes.
Choosing the types of potato depends on your needs and preference but remember to peel the potatoes first if their skins are too tough. Moreover, this dish can't be perfect without bacon, cheddar cheese, sour cream, and heavy cream.
With a smooth and creamy texture, this mashed potato casserole is good for about 1 week in the fridge and up to 4 months if you store it in the freezer. Just add a splash of milk before reheating, it is always ready to serve.
Total time: 1 hour 15 minutes.
Garlic Parmesan Mashed Potato Casserole is one of the loved casseroles served on Thanksgiving Day. You don't have any reason to refuse to make this yummy and versatile delicacy.
Bring this creamy casserole to your meals with just a few simple steps. First, you should mix your cooked potatoes, milk, and butter with parmesan cheese until you get a smooth texture.
The final step you need to complete is to bake the mix. Make sure you set the right time to bake these potatoes at 350°F. Don't forget to top them with a little parmesan cheese before baking to create a crispy surface. Believe me; the result will satisfy your taste buds.
Total time: 45 minutes.
This Cheesy Ham And Potato Bacon Casserole recipe is an easy and delicious casserole made of ham, red potatoes, bacon, and other components.
This delicacy begins with boiling the potatoes. You have to make sure that your potatoes are completely cooked before combining them with other ingredients. Otherwise, your baked goods will be less enjoyable.
After creating a smooth mixture, you can bake it for half an hour. Tasty, creamy, and aromatic, this delight will be ideal than ever. Cheddar cheese also adds a pungent and earthy note to the treat.
Moreover, you can also add some refreshing veggies to make a new twist to your casserole. Making them ahead of time is also acceptable, and this time can extend to 1 day. You just need to bake it for a few minutes before serving.
Total time: From 1 hour 45 minutes to 2 hours 15 minutes.
If you are planning for a picnic or any get-together, don't ignore this wonderful casserole dish. It's filling, comforting, and incredibly creamy.
This delight comprises sour cream, bacon, cream cheese, and russet potatoes. Besides, you can utilize Yukon Gold potatoes for replacing russet ones. This doesn't negatively affect the quality of your dish.
The greasy different types of cheese blend perfectly with crispy bacon, resulting in a batch of delicious potato casserole. A touch of fresh chives also adds an oniony taste to your treat, making it more aromatic.
Discover how to make Twice-Baked Potato Casserole through this instruction.
Total time: 30 minutes.
Decedent, easy to make, and melt-in-your-mouth, are some words you can talk about when mentioning this beauty, Bacon Gruyere Mashed Potato Casserole. This delight uses gruyere, a hard type of cheese originating from Switzerland.
This cheese is an important flavor booster, giving your dish a rich, nutty, and salty taste. To prepare this treat, you need to boil the potatoes in the chicken stock for about 15 minutes to boost the flavor of your casserole.
However, remember to heat the stock and potatoes at the same time. This will keep your tubers from becoming sticky. The next step is to mash the mixture of potatoes with cream and mustard. Don't forget to add bacon and peppery scallions to suit your appetite better.
Total time: 50 minutes.
This is another variation of mashed potatoes with a new trick of smoked Gouda. Known for the world-famous Dutch Gouda cheese with a smooth and creamy texture, smoked Gouda gives this casserole sweet and salty notes.
Besides smoked Gouda, this casserole can't get the best taste without a little sweet butter, sour cream, and russet potatoes as the main ingredient of this recipe. Green onions also help to boost the overall taste of this delicacy.
Total time: 1 hour 20 minutes.
Cheesy Beef Potato Casserole is a filling casserole made with ground beef, Worcestershire sauce, Italian seasoning, and baby potatoes. It is a perfect choice for your family dinners.
This delight is delicious with a soft layer of potatoes on the bottom and the crispiness of bacon on the surface. You can serve it with biscuits, salad, and various nutritious veggies like green beans or peas.
Like other bacon-containing dishes, you have to cook this ingredient first. Then, use bacon grease to stir-fry ground beef with Worcestershire sauce and other condiments. Finally, assemble all the prepared components in the baking dish and bake it.
Want to know how to make Cheesy Beef Potato Casserole? Check here for the answer.
Total time: From 1 hour 25 minutes to 1 hour 35 minutes.
A specialty from Savoy in the French Alp, Tartiflette, also called Cheesy French Potato Casserole, is a perfectly crunchy and creamy winter comfort food.
Coming with a gorgeously golden appearance, this delight is a nice blend of Yukon Gold potatoes, gruyere cheese, onions, and Reblochon cheese.
Reblochon cheese is a semi-soft cheese with a mild fruity taste. It is traditionally used in making Tartiflette, but you can use other semi-soft cheeses like Brie or Camembert as a substitute. This doesn't negatively affect the overall taste of your casserole.
With a crispy crust and a beautifully melty top thanks to Reblochon cheese, Tartiflette is a perfect choice to replace your boring side dishes and main courses.
Total time: 1 hour 10 minutes.
If you are a fan of chicken, don't skip this delightful chicken-containing casserole. It's tender, healthy, and flavored with some aromatic herbs.
Unlike other potato casseroles, you don't need to cook the potatoes first. Just create a mixture of chicken, potatoes, mayonnaise, and paprika. The next step is to bake the combination in a greased pan.
All that remains is to add bacon, creamy cheese, and oniony scallions to your dish. You can pair your flavorful delight with a salad or your favorite veggies to satisfy your experience.
Total time: 58 minutes.
Who can say "no" to a potato dish that doesn't require much time but is very cheesy and luscious, right? The wonderful delight I'm mentioning is exactly Cheesy Mashed Potato Casserole.
An interesting fact about this recipe is that it is a perfect blend of the three different sorts of cheeses. Monterey Jack cheese gives the treat a mild and buttery flavor. Cheddar cheese is a great melter providing your dish with a pungent taste.
The last one is cream cheese, which plays an important role in helping your casserole have an amazingly creamy texture. Moreover, instead of regular milk, you will use evaporated milk (unsweetened condensed milk) in this delicacy. Thanks to this ingredient, your casserole will be creamier.
Total time: 1 hour 25 minutes.
From its name, you can guess that broccoli is the major ingredient in this recipe. Broccoli is very rich in nutrients, helping you lower cancer risks and boost the immune system. If you have broccoli in the fridge, take it out to try this delicacy right away!
However, your dish can't be delicious and addictive with only broccoli. Bacon, potatoes, cheddar cheese, and butter are indispensable components in this delicacy.
Taking the slightly sweet and slightly bitter flavor from broccoli, your casserole is also more hearty and filling, thanks to bacon and potatoes. Creamy and flavorful, this dish is a perfect application to serve for entertaining.
Follow this guide, and you will have a hearty and filling Broccoli Cheddar Potato Casserole.
Total time: 1 hour 45 minutes.
What can be a more delectable side dish than Cheesy Garlic Scalloped Potato Casserole? It is a perfect match with turkey, lamb, meat, or even ham and will bring more fascination to your meals.
You should mix flour, butter, and chicken broth to make the cheese sauce for this treat. Remember to add your cheese to the mix after turning off the heat. This helps create a creamy and velvety texture for your sauce.
After this, arrange potatoes and the sauce in turn until you get three layers of potatoes and cheese sauce, and then bake it. Slicing potatoes thin and smothering them with cheese sauce before baking will help them cook faster.
Total time: 1 hour 45 minutes.
Are you looking for an ideal casserole for a vegetarian diet? If "yes", you have come to the right place because this Creamy And Cheesy Au Gratin Potatoes recipe is made for you.
Coming with a nice golden brown appearance, this dish is a perfect mixture of three cheese sorts (cheddar cheese, parmesan cheese, and gruyere cheese), Yukon Gold potatoes, and onions. A touch of parsley as a garnish also adds a hint of peppery taste to your dish.
Instead of using cream sauce like scalloped potatoes, you will utilize a cheese sauce in this recipe. If you want to enjoy a more savory version, you can add bacon or ham.
A few breadcrumbs on top also help your dish have a more crunchy topping. You can serve this delight with roasted chicken or maple glazed salmon.
Total time: 16 minutes.
With just 16 minutes, you will have a delicious idea for a hearty lunch or even a dinner. Yes, the wonderful dish I'm talking about is a Dominican dish named Pastelón de Papa, also called Potato And Beef Casserole.
First, you should make the minced beef filling with minced beef, tomato sauce, cilantro, and other herbs. After that, create a mixture of mashed potatoes with rich butter and garlic powder.
When everything is ready, you can assemble all your prepared ingredients in the greased pan and bake the casserole. Your golden result is neither too dry nor too moist; it would be best served with a green salad.
Total time: 45 minutes.
This Country Meat And Mashed Potato Casserole recipe uses super simple ingredients, such as ground beef, corn, sweet and tangy ketchup, and a very important component, creamy and addictive Country Mashed Potatoes.
This luscious main course home begins with preparing the beef mixture. After this step, you can make the bottom of your casserole with that mixture.
The final step is to spread your potatoes over the beef and place your dish in the baking pan for about 30 minutes. Juicy, tangy, and creamy, this treat goes perfectly with sour cream or ketchup. Don't miss this wonderful combination.
Total time: 55 minutes.
I would like to share the next idea with you: Cheesy Bacon Ranch Potatoes, a family-favorite side dish. To make this comfort delight, you need to prepare russet potatoes, mayonnaise, bacon, and Ranch seasoning mix.
Ranch seasoning makes your delicacy creamier, sweeter, and tangier. If you want some spiciness, you can add jalapeno pepper or cayenne pepper to suit your appetite better.
Remember to simmer your prepared potatoes in salted water first. This will help your tubers be softer, making them easier to cook in the oven later.
If you want to enjoy this delicious Cheesy Bacon Ranch Potatoes, follow this instruction.
Total time: 30 minutes.
If you are looking for a potato casserole made in the instant pot, you have to give this delicacy a try because it won't disappoint your expectations.
Moreover, in this recipe, you can control your dish's texture to make it more suitable for your taste. If you love a creamy and smooth casserole, keep mashing potatoes to the desired consistency.
A touch of garlic also gives your dish the perfect amount of bitter and a pungent smell. Never forget to garnish some chives or green onions to make the treat more aromatic and attractive. I hope you will be satisfied with this experience.
Total time: 30 minutes.
Who can resist a mouthwatering vegetable casserole? It's not only beautiful but also unbelievably tasty and satisfying.
To have a perfect Vegan Potato Casserole, you should carefully prepare the sauce and the Macadamia topping. For the sauce itself, combine rich and creamy coconut milk with nutty tahini and vegetable broth until you get a thick texture.
Compared to the above step, making Macadamia topping is just a child's play. By blending breadcrumbs and Macadamia, you will have a perfectly crunchy topping.
The final step is to assemble your casserole and bake it for about 20 minutes. This is also a good casserole for a vegan diet. What are you waiting for without trying this delectable delight?
Total time: 1 hour 25 minutes.
Are you curious about the name of this potato casserole? Let me tell you a secret behind it. Simply put, because it consists of just "farm" ingredients, people named it "Farmer's Casserole".
This delicacy begins with mixing hash brown potatoes, Canadian bacon, cheese, and other condiments. After that, add eggs and evaporated milk to the mix. This type of milk gives a slightly sweet taste to your dish.
Finally, baking your dish and garnishing it with chopped green onions to complement sour cream will be a favorite dish for your family get-togethers.
Moreover, I suggest you add your favorite veggies, such as spinach, tomatoes, or bell peppers, to enhance the flavor of your casserole. You can also make a new version of your dish by changing the cheese. Give it a try to refresh your taste!
Check this guide to make homemade Farmer's Casserole right now.
Total time: 5 hours 50 minutes.
Want to enjoy a hearty and filling casserole cooked in the slow cooker? Although this method will take you longer, the result will deserve your time and effort.
First, you should cook the potatoes and chicken bullion cubes in the slow cooker for 5 hours. When your potatoes are completely soft, mash potatoes with some seasonings such as butter, onion powder, and pepper to boost the flavor of this dish.
The final step is to add the other ingredients and bake your casserole. This delicacy is best served with prime rib, meatloaf, or even root beer chicken. You wouldn't miss this great match as an avid foodie, right?
Total time: 24 minutes.
From its name, you can guess that this Instant Pot Funeral Potatoes recipe is a popular dish served at the funeral. However, you can utilize this delicacy for any special occasion or family meal.
The harmonious combination between the sweetness of the cornflake and the salty filling creates the perfect dish.
This delicacy will utilize russet potatoes instead of hash brown potatoes like other Funeral Potatoes. Don't worry because this won't affect the dish's taste much.
This delight is incredibly cheesy and buttery. Moreover, the crunchiness of the cornflake topping also makes this treat more irresistible. This is a perfect option to serve with ham or turkey. This combo won't disappoint your taste.
No More Reason To Wait! Try These Potato Casseroles Now!
Forget about the boring potato casseroles you often make for your family, especially on special occasions. These ideal casseroles will elevate your family meals to the next level. What are you waiting for without trying these amazing delights?
If you have any good ideas for pairing with these casseroles or improving their taste, I would love to read them in the comments. Finally, please share this post if you love these recipes, and thank you for your contribution. Goodbye!
Nutrition Facts
8 servings per container
---
Amount Per ServingCalories291
% Daily Value *
Total Fat 23.1g

36

%
Cholesterol 37mg

13

%
Sodium 325mg

14

%
Potassium 353mg

11

%
Total Carbohydrate 14g

5

%

Dietary Fiber 2g

8

%
Sugars 2.4g

Protein 9.5g

19

%
---
Calcium

223

%
Iron

2

%
Vitamin D

5

%
* The % Daily Value tells you how much a nutrient in a serving of food contributes to a daily diet. 2,000 calories a day is used for general nutrition advice.