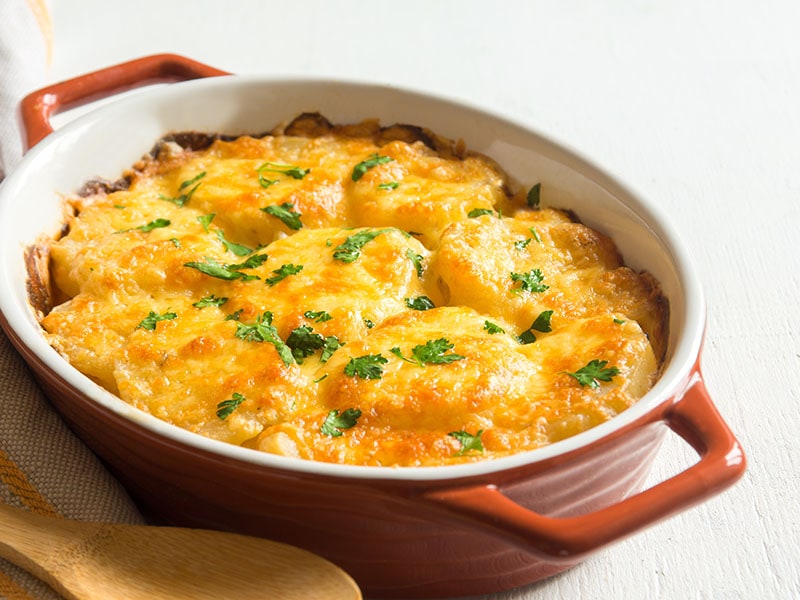 What are the best casserole recipes to prepare in a snap? Search no more because these 55 brilliant cooking ideas here are perfect for any level of home cooking. All you need to prepare are a large pan, an oven, a stovetop, and ingredients.
So basically, in the USA, the casserole is normally a baked good including meat (or other protein sources like tofu, beans, etc.), cut vegetables, and starchy ingredients (e.g., pasta, potatoes, etc.). They are quite versatile as you can enjoy them as main or side dishes.
Alright! It is time to grab your tools and treat yourself (and your family) to a comforting meal that you might wish you had known sooner.
Total time: Around 40 minutes.
Taco is a favorite Mexican dish among many diners, but what does its casserole version taste like? Actually, it tastes as good as the original style, but its versatility is amazing. You can also enjoy this treat as a salad topping or with tortilla chips.
Including several ingredients carrying the quintessential characteristics of Mexican cuisine, this casserole idea made with ground beef features a complex yet delicious and attractive hue. It makes your kitchen smell like heaven when you pull the pan out of the oven.
However, you should cook the meat and other ingredients in a skillet with a bit of oil before layering them on a casserole pan. To perk up the flavors, chopped tomatoes, lettuce, and Greek yogurt (or sour cream) are ideal toppings.
Want to know how to upgrade a regular beef taco into something beyond delicious? Check here for the answer.
Total time: 1 hour 30 minutes.
Hash browns (or hashed brown) is an iconic breakfast dish in the USA and Britain, mainly consisting of chopped potatoes. Therefore, the main starchy ingredient here is potatoes (I choose the russet variety since it is large, white, and soft, ideal for baked goods).
And in this Cracker Barrel hash brown, your taste bud will be satisfied with other flavored twists like bacon, cheese, sour cream, and seasonings to ensure you have an amazing weekend breakfast (or dinner, it is up to you).
This recipe served up to 8 people, making it an ideal dish for potlucks as well. And if you have any leftovers, just simply store your meal in an airtight food container and freeze it. Once you want to enjoy it again, thaw the casserole and get rid of excess moisture to avoid a soggy treat.
Total time: 1 hour 25 minutes.
Casserole recipes for Thanksgiving are diverse. But when it comes to the side dish to serve along with the main course, some of you might struggle to find a suitable one. So check this recipe if you have the same concern.
Butternut squash's best season is from fall to winter; therefore, using it for making casseroles is a classic idea. Thanks to the addition of apples and pecans, now you have a dish full of contrasting textures. Soft, crunchy, and tasty, your holiday will be unforgettable.
This dish is a brilliant balance of sweet and savory flavor with buttery hints. Please do not add corn flakes if you make it ahead because your food will be soggy. Plus, pay more attention to the topping when baking as the pecan can get burned easily.
Total time: Around 40 minutes.
Cowboy casserole is a west-style specialty with no-fuss preparation. It is an ideal weeknight dinner made with lean ground beef (or turkey), cream of mushroom, cheese, etc., to create an irresistibly creamy dish.
In addition, baked tater tots (made from grated potatoes) with cheese on top offer a crispy and golden-yellow appearance that makes you want to dig in immediately.
Making this recipe requires no effort as well. Start with cooking beef and other ingredients (except tater tots) on a skillet, then transfer them into a baking pan and bake at 375 F degrees for around 30 minutes.
Total time: 25 minutes.
In less than 30 minutes, this Mexican-themed casserole treat is a perfect addition to any meal. What's better, you can use any leftovers to prepare this chicken-based dish.
In general, enchilada is loaded with various components like meat, veggies, beans, etc., and is normally rolled in maize tortillas. But in this casserole form, you can save more time in preparation and cooking, making it ideal for busy days.
Another thing to make you fall in love with it is you can assemble this meal 12-hour ahead and keep it in the fridge before baking. Let your creativity fly with customized ingredients based on your liking. And feel free to double it if you have a big crowd to feed!
Total time: 1 hour 10 minutes.
Are you throwing a party or potluck this weekend? I have an amazing side dish idea to serve up to 12 servings here. In fact, with the addition of ground beef, you can enjoy Trisha Yearwood's baked bean casserole as a simple meal any time of the day.
Tangy, sweet, and slightly smoky, get yourself a 9×13-inch baking dish so it can hold a big batch of this goodness. And do not skip coating a light non-stick cooking spray on the pan before placing ingredients inside.
Moreover, use aluminum foil to cover the dish when baking. Then, remove the foil and bake for another 10 minutes, so your baked bean has a golden-brown finishing.
Total time: Approximately 1 hour 15 minutes (excluding prep time of meatball if you make it from scratch).
Spoiler alert: this baked ziti will amaze you, especially if you make meatballs yourself. Baked ziti is a classy baked dish where cheese, pasta, and tomato sauce are the key stars. But I want to add a little twist to this basic idea with some cutie meatballs.
There are 2 ways to make the best-baked ziti casserole, including easy and intermediate versions. Actually, the intermediate style is not too challenging. It only asks for more steps to ensure your meal is more satisfactory.
When it comes to choosing cheese, you should use the freshest and top-rating ricotta cheese since it decides the goodness and creaminess of your meal.
Total time: 40 minutes (excluding the first baking time of fresh potatoes).
Speaking of these baked goods, casserole including potatoes seems to be the basic idea for making a warm and comforting casserole. So, there you are, a simple but extraordinary recipe with ultra-deliciousness.
As the name suggests, it asks for 2 baking steps. First, you need to bake potatoes alone and then cut them into chunks if you start from scratch. After that, combine it with milk, sour cream, and melted butter with cheese on the top before placing them in the oven.
In around 30 minutes, a big batch of tender and creamy casserole is ready to enjoy. Remember to sprinkle some crumbled bacon on top. That's it! Very easy for a delicate side dish, especially on Easter.
Here is a risk-free dish with potatoes that you will be 100% satisfied with.
Total time: 40 minutes.
Chicken pot pie is a well-loved American family treat since it is simple to make. What's more, its casserole-style might be even easier.
With a total of 40 minutes, you will have an ultra-creamy and comforting meal, including cooked chicken, biscuits, cream, and frozen veggies as the main ingredients. You can also use canned vegetables, but remember to drain them well to prevent a soggy casserole.
Regarding the biscuit, you can use crescent dough or Pillsbury biscuit dough to make this component yourself. Obviously, the homemade ones are always better than the store-bought.
Total time: 45 minutes.
Pierogi is a significant food in European cuisine, and it is believed to have Chinese origin. In the original form, it is a filled dumpling with a sweet or savory filling. But in this recipe, I will add a little twist to turn it into a delicious casserole with a few components.
I can tell how cheesy it is right from the name, thanks to the shredded cheddar and mozzarella cheese. Additionally, cheddar pierogies are indispensable, but you do not have to make them yourself. Use frozen store-bought ones since you can easily buy them in any supermarket.
Plus, this ingredient does not require a pre-boil step. So whenever you are ready to make this gooey dish, throw everything together and bake at 375 F degrees for 30 minutes. Easy peasy!
Total time: 45 minutes.
What's not to love about this classic ham casserole dish, right? With a few inexpensive components and drool-proof instructions, your gooey and cheesy meal is ready in less than 1 hour.
If you have leftover hams, this idea is also perfect to use them up. First, you need to cook your pasta in a couple of minutes (based on the packing information). Then toss everything (including drained pasta) in a big bowl so they can blend together before transferring them to your baking pan.
Ham and cheese casserole can freeze well; hence you can prepare it in advance and store your food in the freezer (up to 3 months). Keep in mind to thaw it in the fridge before baking.
Total time: 55 minutes.
If you are not into chicken enchilada casserole, how about enchilada with beef? In this recipe, you might feel a bit overwhelmed with the ingredient list; but trust me, they are all together to create a sophisticated meal.
Plus, it is not too hard to make since you primarily layer the ingredients on the baking pan. The main star here in deciding the overall flavor is the homemade enchilada sauce, but making it is also effortless.
Regarding the ground beef, I highly recommend you to go with a higher-fat type so your enchilada is more flavorful. And do not forget to brown it before mixing it with other items.
Total time: 55 minutes.
The original Shepherd's pie (or cottage pie) comprises mashed potato and minced meat. But let me introduce this vegetarian-style casserole idea for a healthful diet.
Instead of getting proteins from meat, potatoes, mushroom, peas, and other components are ideal for promoting a healthier meal yet do not compromise the tastiness of this signature food originating from England.
To add a tangy and creamy touch, Greek yogurt is also a great choice to add a tangy and creamy touch. But if you want to make your Shepherd's Pie completely vegan, you can skip this ingredient and use non-dairy milk as a substitution.
Total time: 1 hour 10 minutes.
Green beans are rich in fiber, protein, and other nutrients thereby, adding them to your meal is healthy eating. And if you are a green bean lover already, do not miss out on this recipe.
Crispy and golden fried shallots on top create perfect coordination with the creamy and cheesy base made from various components. So even if your kids do not like green beans, they might fall in love with this cooking idea.
A quick tip to ensure your fried shallots come out beautifully is to cook them over medium heat for a few minutes and stir them constantly until they have a nice golden brown color. Then use a paper towel-lined plate to suck up the excess oil.
Total time: 1 hour.
Pizza in the form of a casserole, is it possible? This recipe is another thing to prove the "nothing is impossible" statement. And it transforms a popular food to a whole new level.
As it includes a layer of cheesy dough, this recipe requires a higher temperature than other recipes, which is 400 F degrees (and remember to preheat it before baking). Plus, to increase the tastiness, I choose to make it from scratch in the easiest way.
I combine flour, milk, eggs, and butter, beat it to combine and create a dough layer. Use it as a top with a bed of other items like ground beef, veggies, sauce, and more. After approximately 30-minute baking, you should let it sit out for 10 minutes before serving.
Total time: 55 minutes.
Tex-Mex cuisine is a perfect blend of Texan and Mexican cooking cultures, and this chicken tortilla casserole is one of the greatest proof. Loaded with plenty of flavors from cooked chicken, cheese, herbs, and more., it is surely a hit with both adults and kids.
Similar to the above cooking idea, quick sauteing of onion, seasoning, and broth is essential. Then the rest of it is just layering ingredients on the baking pan, starting from the bottom with tortillas, sauce, chicken, and cheese, and repeating the same orders a few more times.
Baking them uncovered for around 45 minutes until all layers are cooked thoroughly and the sauce looks bubbly. In case you want to make this treat lighter, opt for fat-free cheese and soup, or you can reduce the amount of cheese without compromising the gooeyness of this meal.
Let this chicken enchilada casserole shine on your dining table with this instruction!
Total time: 7 hours 15 minutes.
Among various casseroles cooked in a slow cooker, one of my favorites is this recipe with sausage. Overall, this crockpot idea carries hints of Southern France cuisine to warm you up on chilly days.
Combining various components with high levels of nutrients, especially paprika and tomato puree, this meal owns an attractive orange-reddish color. Moreover, the addition of several types of herb delivers a nice herby touch on every bite.
Do not skip the browning part for sausages since it can harden the sausage skin, reducing the chance of the sausages falling apart during slow cooking. This step also makes them look tastier with caramelized color.
Total time: 1 hour 40 minutes.
In culinary terms, au gratin indicates baked goods covered with cheese and breadcrumbs. However, there is no breadcrumb on top in this potato au gratin.
It is simply the combination of thinly-sliced potatoes, cornstarch, milk, cheese, etc., to get a smooth and bold-flavor side dish. For the best result, use Yukon gold potatoes with smooth, thin skin so you might skip the peeling step.
You can assemble this treat the night before, leaving you no worry anymore. Just bake them before serving for a warm and rich treat.
Total time: 50 minutes.
John Wayne casserole appeared in a cooking book named "Cooking with Love from Cara and Her Friend" by Cara Connery in 1979 by the contribution of John Wayne – an American actor, hence the name.
Until now, it has been my family's (and maybe yours) favorite meal loaded with tons of surprises in every bite. This is a layered baked good made with ground beef, biscuit mix, diced vegetables, and other amazing things.
And like other layered casseroles, it is extra-easy to prepare within 20 minutes, and your oven will take care of the rest. After about 30-minute baking until the edge turns brown, you will have a tender, gooey, and a bit spicy dish to make your weeknight more pleasant.
Total time: 50 minutes.
Another suitable-for-beginner treat to impress your friends at a potluck or any party is this casserole made with sausage. It guarantees a good-tasting and pleasant treat.
At first sight, this treat will enchant you with its stunning melted cheese top. Underneath are the combination of many elements, but Italian sausage is the most shining one. Remember to cook the sausage first and break them into crumbles.
On the other hand, the addition of mushrooms and zucchini offers different contrasting textures to your meal, making it more satisfying. Let's prepare them in your next part, and I am pretty sure your guest would ask you for a recipe.
Total time: 30 minutes.
Teriyaki sauce has a uniquely sweet taste that many recipes call for, especially cooking ideas with chicken. So if you love an Asian-inspired delicacy, this one might be your new go-to recipe.
The original Japanese teriyaki sauce includes 4 main ingredients: sake, soy sauce, sugar, and mirin (rice wine line sake). But this recipe comprises various components like soy sauce, flavorings, ginger, and others, creating a Western teriyaki.
Regardless of what style, using it to prepare teriyaki chicken casserole for a family-friendly dinner is a drool-worthy option. Besides, rice, baby carrots, and broccoli will compliment the chicken and sauce, creating multiple layers of taste and texture.
Total time: Around 30 minutes.
Unlike other recipes that need an oven to bake, this one allows you to take your high-quality instant pot out of the cabinet and create a cheesy chicken-based dish called Fiesta chicken casserole.
Therefore, this delicacy can be done in a snap. Made up of rotini pasta, chicken breast, beans, and more, your Fiesta chicken treat cannot get easier because all you have to do is add components to the cookware and let it do the job.
You can use fresh or frozen chicken; it turns out soft and juicy either way. Nevertheless, pay more attention to the cooking time, especially the pasta, because no one wants an overcooked and mushy pasta.
Total time: Around 40 minutes.
Another winner for a busy weeknight is this Doritos chicken casserole. It is an uncomplicated dish including layers of crushed chips and a mixture of chicken, beans, cheese, and others that everyone can make.
Indeed, this chicken-based casserole dish is ideal for your family (or when having your friends over) in chilly weather. And this recipe has everything you need for a flavorful and healthy meal. Packed with various Mexican vibes, it is also a brilliant option for a Mexican-theme party.
If you have too much leftover rotisserie chicken, you should save this recipe since it is a wonderful way to use these leftovers up. Overall, insanely delicious and easy to pull off, your dinner will be a big hit for sure.
Total time: 45 minutes.
Get ready to receive a lot of compliments from your friends after they try this mighty nacho recipe. First, it is not a regular nacho with crunchy fried tortilla and melted cheese on top; this is a casserole made from similar ingredients but in other forms.
Instead of using small pieces of tortilla chips, you will need a blender to blend them into fine crumbs in this recipe. To make them taste better, mix these crumbs with melted butter and bake for 10 minutes until golden to create a buttery and crunchy base.
And the rest of this casserole is just tossing other components like peppers, ground beef, salsa, etc., together on a baking pan. Finally, a bit of cheese on the top is a must.
Total time: 30 minutes.
The mixture of ground beef and rotini pasta, once again, shines in this cheeseburger casserole. What's even better, this cheesy meal can go straight from the stovetop to your dining table. So if you dislike the cleaning part afterward, go for this one-pot idea.
With extremely straightforward instructions and non-fancy ingredients, you can pull it off in 1 skillet for around 30 minutes. You can cook the pasta right in your pot as well.
Soft pasta, melted cheese, fresh veggies, and bold-in-flavor ground beef, everything blend excellently for a quick dinner.
If you need a keto version of cheeseburger casserole, this detailed demonstration will teach you how to make it.
Total time: 55 minutes.
Looking for a casserole recipe with pasta? This meatball-based treat will show you how to have a tasty meal at your fingertips.
As its name suggests, the recipe allows you to "dump and bake" with only 5 ingredients such as rotini pasta, marinara sauce, meatballs, and mozzarella. You can add herbs to garnish if desired.
If you use frozen meatballs, you should thaw them beforehand. And check the timing carefully since the overbaked dish might be mushy, reducing its appetizing look. Actually, the baking time varies because it is also based on your oven and baking dish.
With a glass or ceramic baking pan, you might need a longer cooking time than metal pans. In this case, you should check the texture of your pasta. If it is soft enough and there is not much liquid left inside the pan, your casserole is ready to go.
Total time: Around 50 minutes.
Normally, King Ranch casserole uses chicken as the main protein, but pulled pork can be a great substitution thanks to its tender texture.
Making a casserole with pulled pork is also a good tip for using leftover meat. Moreover, this idea features a mild heat and smoky flavor from ancho chili powder, creating a crowd-pleasing meal to serve up to 8 people.
Generally, this Tex-Mex dish is not a fancy one but the convenience of making it is a huge bonus. You can make it ahead of time and store it in the fridge (or freezer). But the cooking time of this cold casserole might be longer than usual.
Total time: 35 minutes.
Let's add a little bit of Cajun flavor to this shrimp-based casserole cooking idea. Firm and opaque pink shrimps paired with fluffy soft rice deliver a full-protein dish with tons of delights.
Please note that cooked shrimp is a big no-no in this case because it will be tougher after baking with other ingredients. Besides, mushroom soup and cheese soup plays a certain role in making your dinner richer and creamier. You can also add more vegetables to the casserole if desired.
It is best served hot. But let them sit out for a few minutes so everything inside can thicken up before serving.
Total time: 35 minutes.
Philly cheesesteak is a well-known sandwich in Philadelphia consisting of cheese and beefsteak as the main components. And this casserole recipe is inspired by the original one so it still owns a delicious taste with a super cheesy texture.
Unlike the classic Philly cheesesteak, I use ground beef here. And it would be better to use 80 to 90% lean meat. Plus, the appearance of cream cheese seems to be a hit to make this dish more outstanding.
And if you love to see the melted cheese bubbling in the oven, do not forget to add provolone cheese on the top. Or, if it is not as cheesy as you expect, you can insert an extra layer of provolone cheese in the center.
Total time: 1 hour 40 minutes.
French onion soup is a must-have dish on your table when the weather temperature drops down, so how about its casserole-style? The good news, it is still a cozy treat to enjoy with your favorite people.
This cooking idea is also a perfect cross of soup and casserole. It amplifies the sweetness of onions and the richness of cheeses. And thanks to crunchy slices of bread, they make the casserole full of textures.
Though it might take a long time to bake, you only spend 10 minutes preparing it. Overall, it is an easy vegetarian dish that you can enjoy as a side, but please feel free to add beef, chicken, or sausage to make a fulfilling meal.
Taste like soup yet in the casserole form; this treat totally deserves a shot.
Total time: 50 minutes.
What is your favorite keto-style casserole? If you have not found any recipe yet, try this keto chili dog in the form of a casserole. And guess what, it is a trouble-free dish with only 5-minute preparation.
A hot dog and chili combo is a lovely treat that your kids will hardly say no to. Thanks to the low-carb characteristic, this casserole can also be a good idea for your ketogenic diet with only 9-gram carbohydrates.
And this keto specialty is incomplete if it lacks full-fat sour cream, avocado, and shredded cheese. They work perfectly as a flavorful topping with extra texture.
Total time: 50 minutes.
Million Dollar Spaghetti contains layers of spaghetti, cheese, and sauce, but this casserole is simpler to make. You do not need to layer these ingredients, just toss them together and spread the mixture evenly on the baking dish.
It does not compromise the creaminess or deliciousness of this cooking recipe. And it is also a brilliant way to use leftover spaghetti. If you start from scratch, make sure the boiled noodles are drained well.
In addition, you can store the leftover casserole in an airtight container for up to 3 days in the refrigerator or 3 months in the freezer.
Total time: 40 minutes.
Tetrazzini typically contains poultry (or seafood), starchy foods (e.g., spaghetti, noodles, pasta, etc.), and mushrooms. So if you like turkey meat, give this turkey tetrazzini a shot.
I know there is always leftover turkey after Thanksgiving, and this recipe is a savior to transform your food to a whole new level. Like most recipes here, you will start with cooking other elements on the stovetop, then pour the mixture onto the baking pan.
The best thing about this hearty meal is you do not have to wait for it to set after removing the pan from the oven, particularly if you love a creamier dish. But if you want a thickening one, let it sit around 15 minutes before serving.
Total time: 1 hour 15 minutes (excluding refrigeration time).
Nothing is better than a comforting casserole for a Christmas like this Christmas Morning Wife Saver breakfast. Just prepare everything the night before and bake it in the oven the next morning. In addition, you can enjoy it as brunch too!
Apparently, every bite of it tastes like Christmas with white bread, cheddar cheese, eggs, sliced ham, and other ingredients. And thanks to its fuss-free preparation, you can whip it up in only 15 minutes by layering the components.
A quick trick to make it tastier is you should not bake this dish right away. Let them rest for at least 1 hour so the bread can soak up the flavors of other ingredients. That's why I prefer to prepare it in advance.
Is there any better than waking up with a heavenly-good smell from Christmas Morning casserole? I highly doubt it!
Total time: 1 hour.
Speaking of low-carb ingredients, cauliflower is one of my top choices. Therefore, this loaded cauliflower casserole has always been my go-to recipe for my keto diet plan.
This cooking idea is a drool-proof one as well because there is nothing much to prepare – just some simple cooking steps like frying bacon and steaming cauliflower before baking them with other elements.
You will need to cover your baking pan with a foil, then remove it and bake again for 5 to 10 minutes so the cheese can turn brown. In short, every bite of this treat features soft cauliflowers and crunchy bacon, making it more delightful.
Total time: 1 hour 30 minutes.
Stuffed pepper casserole is another all-in-one dish where you can find a good source of proteins from meat, grain, and veggies. It is a one-pot dish as well to minimize the clean-up after dinner. Sounds amazing, right?
Despite the name "stuffed pepper", you do not have to stuff anything in your peppers. It simply contains chopped veggies mixed with browned ground beef, sauces, rice, etc. You can bake them in an oven for around 75 minutes.
Feel free to replace cauliflower rice with regular rice for a low-carb version. Or use any type of meat you like (e.g., chicken or turkey if you are not a fan of red meat). Basically, it allows you to customize the ingredient depending on your preference.
Total time: 1 hour.
There are several casserole recipes in vegan style, but they might be hard to surpass this combination of tofu, rice, and teriyaki sauce. So if you need a hassle-free and healthy treat, save this recipe now!
First, firm tofu has always been a good source of protein and other essential nutrients to nourish your body when you go vegan. By adding rice and sauce, all components in this casserole become a flavor-packed treat.
Plus, you can create a big batch of teriyaki sauce and store it well for later uses. If it is not easy to find mirin in some local stores, you can switch it to rice vinegar or dry white wine and add an extra sweetener to balance the sourness of these ingredients.
Total time: 40 minutes.
Olive and tomato are indispensable items on the local dining tables when it comes to Mediterranean cuisine. So if you have a huge crush on these two, you will love this idea for sure. What's better, you can use your leftover turkey to prepare this meal.
Rich and nutty taste for olive, fresh flavor from tomato can blend perfectly with pasta and turkey. Plus, chopped parsley and basil can perk up the flavor of your meal so it can disappear in a hurry.
However, this recipe requires cooked pasta, so you should cook it before combining it with other food so the casserole can be finished at the same time.
Total time: 55 minutes.
With only 10 minutes to prepare, Bisquick breakfast casserole is one of the best solutions for busy people who do not have too much time for cooking. And it would become a new savory breakfast for your family too!
Browning the meat with vegetables is always the first step, but who does not know how to do it, right? Do not forget to drain the excess grease (if any). Then mix it with sausage, cheese, and potatoes, and give them a good stir before topping them with a mixture of Bisquick, egg, and milk.
After around 45 minutes, you can check the doneness of your meal with a knife. Insert it into the center and take it out to see whether the knife is clean. If yes, your food is done.
Total time: 50 minutes.
Ravioli is a pasta with filling that comes in several shapes like a square (mostly), semi-circular and circular. And here is a casserole treat in Italian style with this pasta.
It is surprisingly simple, from the ingredient list to the making process. Who can imagine an ultra-cheesy dish like this casserole only asks for 4 ingredients and 5 minutes to prep, right?
In case you want to make a dinner for 2, you can cut down the number of ingredients in half and use a smaller baking dish (like an 8-inch square pan). Lastly, pairing it with garlic breadstick (or normal bread) or salad is preferable.
Total time: 45 minutes.
Here is another breakfast (or brunch) to start a lazy morning on the weekend. French toast is a popular and classic dish for breakfast. But to make it more remarkable, combining it with various components to make a casserole is a great idea.
A little trick to ensure your dish comes out flavorful is letting the mixture of ingredients sit in the fridge and blending their flavor for at least 2 hours. Also, the more they sit out, the softer and more "custard-like" in the center part).
So preparing it a night before is the best choice. Lastly, top it with blueberries, maple syrup, or powdered sugar. If you do not like sourdough bread, you can use any type of bread based on your preference. I bet they all turn out tastily.
Total time: 45 minutes.
In French, cordon bleu means "blue ribbon", and it has been used to describe a dish with professional and high-standard preparation. So the classic chicken cordon bleu is a complex dish.
For easier, I would like to introduce this shortcut casserole that you can make at home. The main stars in this recipe are ham, Swiss cheese, chicken, and creamy sauce. You can replace Swiss cheese with Havarti cheese with a milder flavor.
I also use rice to add the carby texture. If you do not have it on hand, pasta, noodle, or quinoa is also an ideal substitution. To check the doneness of your casserole, especially in the center, you can use a fork and insert it into your food. If the center is hot, your food is cooked thoroughly.
There is no difficulty in preparing the chicken cordon bleu casserole at home.
Total time: 40 minutes.
This casserole packed with vegetables is a healthy meal that even the pickiest ones (like your children) might want to nibble on all day. And it is also a wonderful treat to use up any vegetables you have in the fridge.
Indeed, you can mix any kind as you want. In this recipe, I go with spinach, cauliflower, carrots, and zucchini with corn and green peas to maximize fiber and nutrient levels. I also choose organic types for a healthier diet.
After a few minutes of preparing the veggies, it is time to throw them in the oven and bake for around 20 minutes until tender. Serve it as a side dish or a family meal. For more kid-friendly, chop the veggies into smaller pieces.
Total time: 1 hour.
What to serve with the main course on Thanksgiving, you wonder? Let me introduce this cornbread recipe with the Southern theme. Made with corn, sour cream, cheese, and more, the cornbread casserole is one of the greatest side dishes for any meaty treat.
Creamy and rich interior with crunchy crust is so contrasting yet so good to complement each other. This savory dish also features a vibrant yellow color that might catch your fancy right from the first look.
You can make it ahead and store it in the fridge easily, no matter if it is baked or unbaked. Freezing your cornbread casserole is also acceptable, but please remember to thaw it in the refrigerator overnight before baking.
Total time: 30 minutes.
You might find a thousand versions of beef stroganoff on the internet, but beef stroganoff casserole cannot get easier with only a few minutes of prep. Dating back to the mid-19th century, it has been a staple meal in Russia with huge popularity worldwide.
Like the authentic recipe, this one is a beef-based treat with other components like noodles, mushrooms, cream cheese, etc., to make up a luscious meal for your family, regardless of weekdays or weekends.
Besides, you might skip the boiling noodles step. Remember to submerge the noodles in a mushroom sauce completely and bake for around 30 minutes. They will come out exactly the same as the boiled noodle version.
Total time: 55 minutes.
The Southern-style of squash casserole normally goes with yellow squash, creamy base, crumbly topping, and cheese. You can use zucchini in place of yellow squash as well. Though they are pretty similar, please note that these 2 veggies are different varieties.
Preparing squash is important because you have to cut them into even slices for equal cooking time, so opt for a handheld mandoline slicer to ensure it. Moreover, you should choose smaller squashes for a softer texture with more flavors.
If cheddar cheese is not your favorite, swap it for any kind of cheese you love, as long as it melts well. You can replace Ritz crackers (like in this recipe) with other seasoned toppings. In short, this recipe is customizable.
Do not miss this brief instruction on making Southern squash casserole, or you might regret it later.
Total time: 1 hour 15 minutes.
Breakfast with the casserole is not a new concept among many households, particularly in my family. Indeed, I can hardly forget being woken up by the heavenly-good smell when my mother baked her favorite – apple fritter casserole.
Soft interior yet slightly crunchy on the top with a little warmth from ground cinnamon, this is truly a most-desired breakfast for a mind-free weekend.
To make this recipe, I use Granny Smith apples due to their crisp texture and can hold up high, making them an ideal variety for baking. Drizzle the mixture of milk and powdered sugar on the top before enjoying the best result.
Total time: Around 30 minutes.
Quick and easy, here is another great casserole cooked in an instant pot that you can try. It is also a budget-friendly recipe since you can use canned tuna. Make sure that you drain it well before placing it in your cookware.
When preparing other ingredients like veggies, mushrooms, and seasonings, you should set your instant pot in the "saute" setting. When cooking, switch to the "manual" setting on high pressure.
Do not add cheese in the first place. Slowly add it to your pot after finishing cooking so the casserole can thicken. If you expect a crunchy top, you can transfer your food to a baking pan, add the mixture of butter, cheese, and panko, and broil for a couple of minutes until golden.
Total time: 1 hour.
It is never enough for a delicious chicken casserole idea, isn't it? Easy to throw together and can fit with any requirement, even the pickiest person, this Southwest chicken casserole will show you how to impress others.
The best part about it is you can prepare it with just one baking pan. It also contains a high level of protein from various healthy foods like beans, white rice, and chicken. But please note that you cannot switch white rice for other varieties due to different types that ask for different cookings.
For the most fulfilling meal, serving it with tortilla chips or a glass of mojito is much better.
Total time: Around 1 hour 5 minutes (excluding refrigerating time).
Enjoying a casserole dish in the fall is never an outdated choice. So let this pumpkin French toast casserole start your new day with full energy and pleasants. In fact, it could be an excellent brunch too!
Pumpkin puree and pumpkin pie spice are the main stars here to enhance the sweet flavor with aromatic scents in the meal. Regarding the bread, the best option is day-old ones. And challah, brioche, or French bread are ideal types.
Top it with sweet pecan streusel so the casserole comes out crisp and soft. Let it sit out for a few minutes before consuming. If desired, you can enjoy it with a bit of powdered sugar, maple syrup, or butter.
Total time: 1 hour 30 minutes.
If you love the light sweetness of sweet potatoes, I have another treat that can be your new favorite side dish for Christmas or Thanksgiving parties here! Furthermore, this delicacy is sweet enough so you can enjoy it as a dessert as well.
Nothing is hard to pull off as you only need to spend 10 minutes doing some prep stuff with sweet potatoes and streusel. You can also make it ahead and chill in the fridge. Do not forget to keep it at room temperature for around 30 minutes before baking your food in the oven.
As it is a perfect side dish, you can pair this casserole with turkey, beef roast, or any heavy main course.
Total time: 8 hours 15 minutes.
Since it is a slow-cooking method, all you need is time. But once your chicken and rice meal comes out from the crockpot, it is totally worth your 8-hour. Spoiler alert: this one will satisfy your taste bud if you love mild-spicy food.
Indeed, I use green poblano pepper to add a little heat to the dish, making it not only gooey but also flavorsome. I also add a bit of green enchilada sauce to increase the freshness of every bite.
When combining them with sour cream and white rice, you will have an excellent balance in flavor. In short, if you seek a cozy dish for a cold winter night, this will be a hit on your table for sure!
Total time: 30 minutes.
Inspired by the Reuben sandwich, here is a keto version in casserole form that everyone would love. Similar to the original version, the main things in this recipe are corned beef, Swiss cheese, and sauerkraut.
You can use canned or deli-style corned beef. Or if you still have some leftover brisket, just go for it. A friendly reminder to prevent a watery and less appetizing casserole is do not skip draining sauerkraut.
On the other hand, the dressing sauce is also crucial for making this dish mouthwatering. You will need a blender to puree the dressing ingredients until smooth. Then the rest of the prep is just layering it with the main components.
If you do not care about the carbohydrate level in your Reuben casserole, you can follow this guide.
Total time: 45 minutes.
Mexican street corn is an easy dish featuring bold flavors from many spices and sauces. In this casserole-style, the appearance of cheese and mayonnaise boosts the creaminess to balance the spicy taste of the hot sauce and ground chipotle pepper.
You can use either frozen or fresh corn. In case you use the fresh one, grilled corn is preferable. However, the frozen style is more convenient and does not compromise the overall quality of your meal.
Generally, it makes a wonderful side dish to enjoy with any grilled meat, tacos, Carne Picada, and more.
Total time: 1 hour.
Interestingly, though tamale itself is a famous dish in Mexico, tamale pie's origin is from the USA, especially in the Southwestern areas. If you need a pie and a casserole dish in the same pot, here is the ultimate answer.
This specialty is undoubtedly a flavorful dish made from ground beef, spices, vegetables, cornmeal, etc. Beef is the typical meat in this recipe, but you can use other meats like ground turkey or shredded chicken.
Overall, this treat somewhat resembles the taste of tamales. However, it is more comforting to have an excellent dinner when the weather gets cooler. If desired, top your food with a scoop of sour cream before serving. Or enjoy it along with a salad including potato and green bean.
Let's Stun Others With These Greatest Casseroles!
If you are in the mood for something comforting for a lazy day, you can always go with these casserole ideas. When I make these treats, my kitchen smells so good and my family always asks for more.
So have you tried any recipe in this post? If yes, how was your experience? I bet it was amazing because 55 recipes here are not only easy to whip up but also delicious.
Lastly, I hope you have a good time with your family or friends with these delectable dishes. And if you love this article, please click like or share with others. Thank you for your support!
Nutrition Facts
6 servings per container
---
Amount Per ServingCalories817
% Daily Value *
Total Fat 31.1g

48

%
Cholesterol 129mg

43

%
Sodium 906mg

38

%
Potassium 1779mg

51

%
Total Carbohydrate 79.1g

27

%

Dietary Fiber 16.3g

66

%
Sugars 6.6g

Protein 57.6g

116

%
---
Calcium

574

%
Iron

19

%
Vitamin D

5

%
* The % Daily Value tells you how much a nutrient in a serving of food contributes to a daily diet. 2,000 calories a day is used for general nutrition advice.