Argentine foods are a must-have if you are a fan of Latin American cuisine. Similar to other countries in this region, Argentine cuisine has a rich flavor full of pungent spices. Every food in Argentina will treat your mouth with a delicate flavor. Yum!
Argentine cuisine is a mixture of Mediterranean and Latin American foods. Spain, Italy, and Mexico influence the culinary culture of Argentina. So, what are you waiting for? It's time for some irresistible Argentine specialties.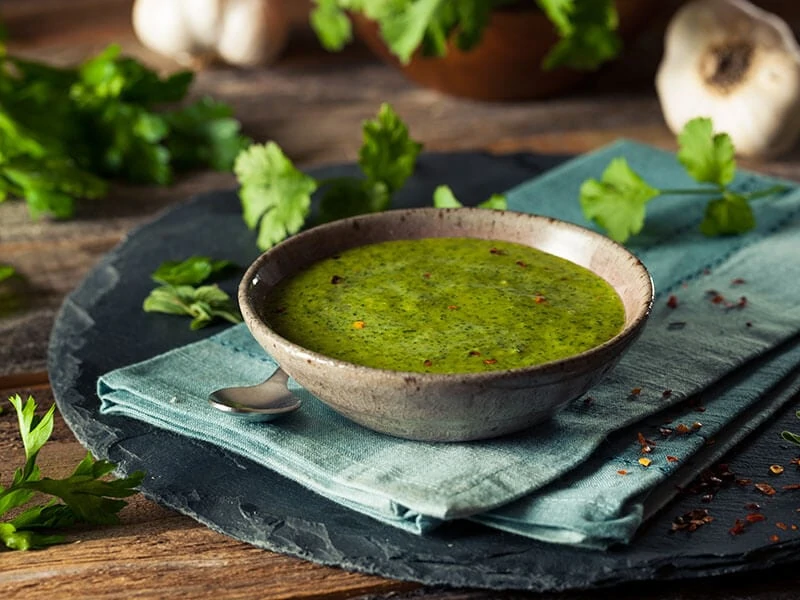 Main Dish From Argentina
If you want some delectable Argentina's specialty, the following main courses will treat you with the tastiest flavor you have ever tried. Stay tuned!
1. Carbonada Criolla (Argentine Beef Stew)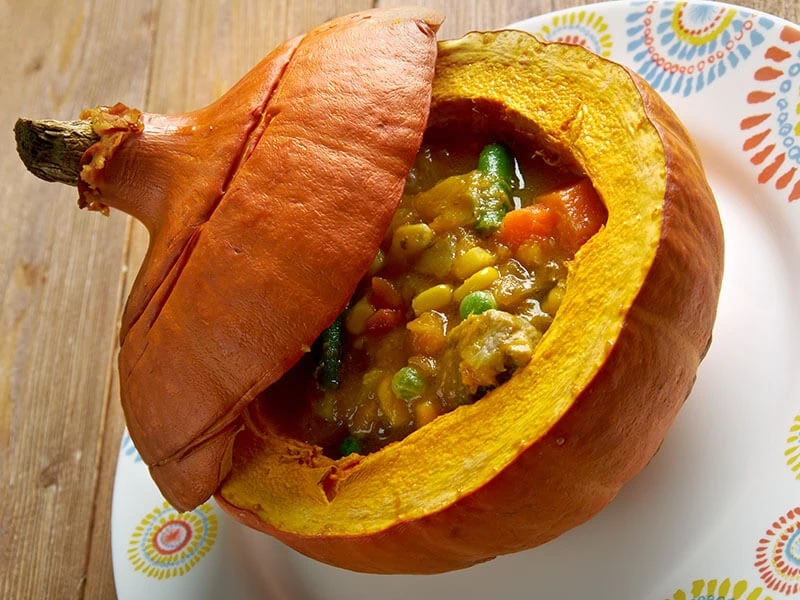 I would like to introduce you to a perfect beef stew recipe. Carbonada is very popular in Patagonia (Argentina) and Uruguayan cuisine. You can quickly tell the food's unique feature is the beef stew cooked inside a pumpkin.
Some versions have the presence of apricots or raisins to create extra sweetness. A hearty Carbonada Criolla will warm you up when the weather starts getting cold.
Traditionally, the whole dish is buried in coal to cook all the ingredients perfectly. This unique cooking method originates in a coal mine in Chile.
A fantastic aroma will be exposed to gently invite you to dinner when you get the dish served. It tastes so creamy and luscious with tender beef and delightful veggies.
2. Milanesa (Fried Breaded Beef)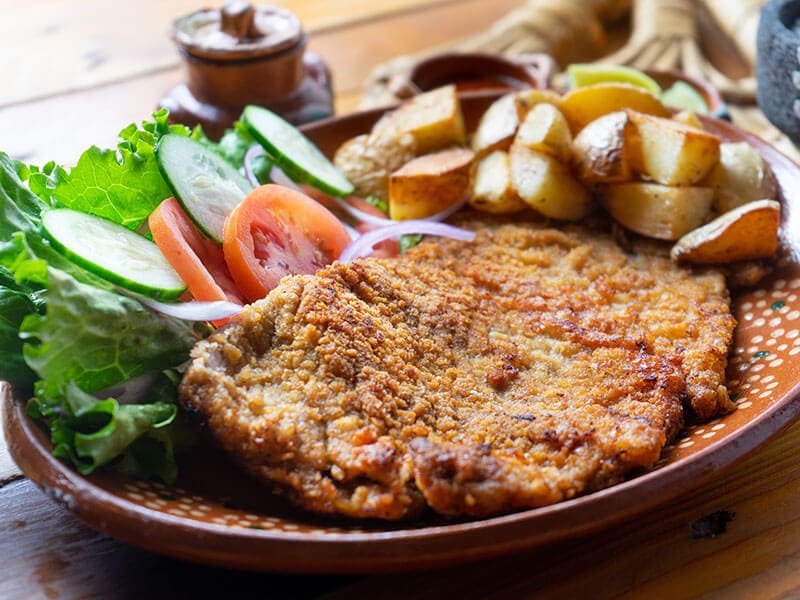 Milanesa is a delicious dish invented in Italy (the city of Milan) in the late 20th century. It is a combination of pan-fried cutlet, fried potatoes, and some vegetables. You can cook the dish with any type of meat, from pork, beef, or chicken.
These meat slices usually have sinew and less fat than other meat choices. Milanesa are usually seasoned plainly with salt, parsley, and garlic so that their taste is very savory. You may like it with some sweet and sour salad on the side to balance the overall flavor.
A squeeze of lemon juice will boost the flavor of Milanesa. Pairing it with french fries or mashed potatoes is an excellent idea. Caballo is a prominent variety with a fried egg on top of the meat.
You will find other dishes resembling Milanesa worldwide, like chicken fried steak (in America) or Wiener schnitzel (in Austrian).
3. Puchero (Meat and Vegetable Stew Or Soup)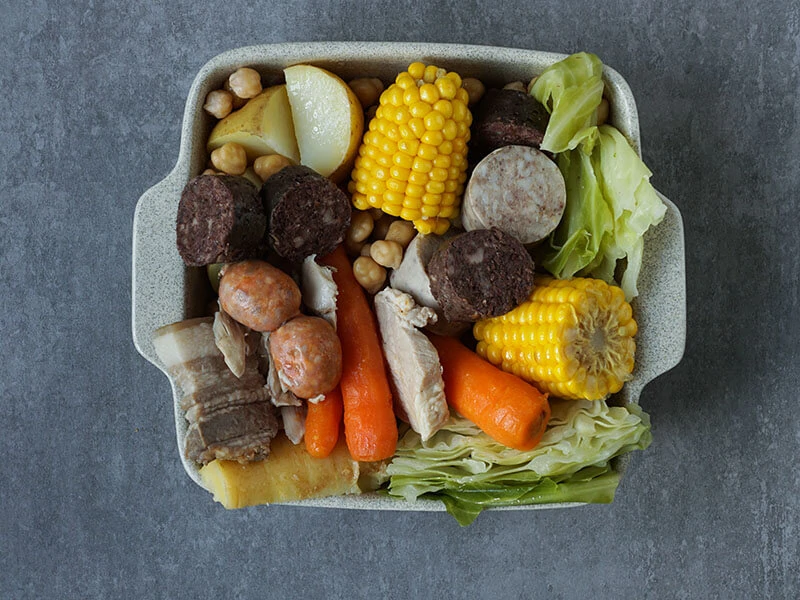 A bowl of Puchero on a rainy day will gently comfort your heart. Puchero is a type of beef stew with vegetables simmered on the stove. You can tell how tender the ingredients are from the very first bite.
Moreover, I believe that the natural sweet taste from the soup is its highlight feature; they all come from the vegetables and the beef. In addition, you can find that this food has a good deal of carbs and proteins so that you can enjoy it perfectly.
Puchero is a delectable dish in Spain, Argentina, Uruguay, and other Latin American countries, especially on winter days. The dish is the national stew in Argentina that most local citizens adore.
4. Matambre Arrollado (Rolled Stuffed Rose Meat)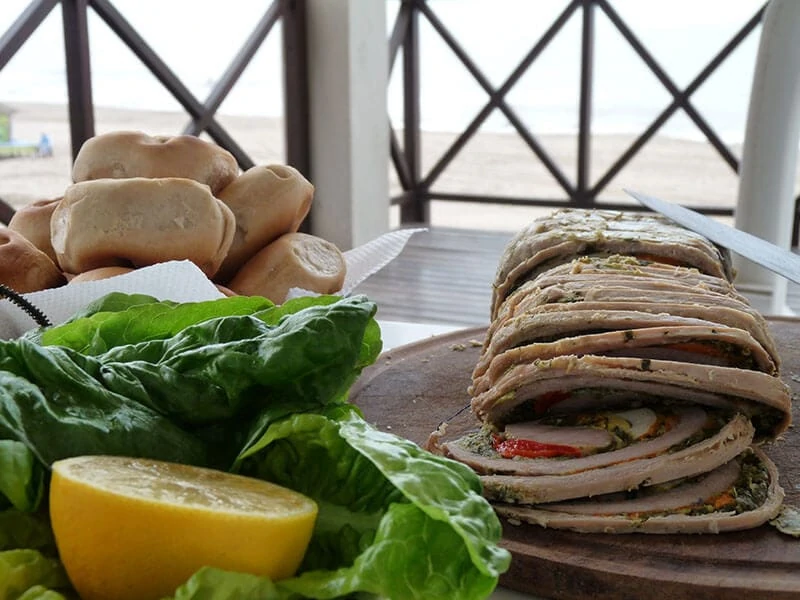 In Argentina, Matambre means 'hunger killer', which describes the irresistible flavor of the dish. The dish has a thick filling that is rolled or stuffed inside the beef. Therefore every single piece can fill up your craving stomach.
Vegetables and hard-boiled eggs are the traditional stuffing ingredients of Matambre Arrollado. Argentine gauchos and cattle ranchers often have this dish, forming a unique cuisine feature in Argentina.
Furthermore, the dish is delicious itself when you enjoy it standalone, or you can use some extra herbs to raise the taste and fragrance. Depending on your choice, you can have this dish cold or hot and serve it as a tasty main dish or an appetizer.
You can pair Matambre Arrollado and Chimichurri for an outstanding flavor. Matambre pizza is a famous variety served with creamy mozzarella cheese and tomato sauce. It is usually to see a slice of Matambre Arrollado displayed in a bun for a soft texture.
5. Locro (Squash Stew)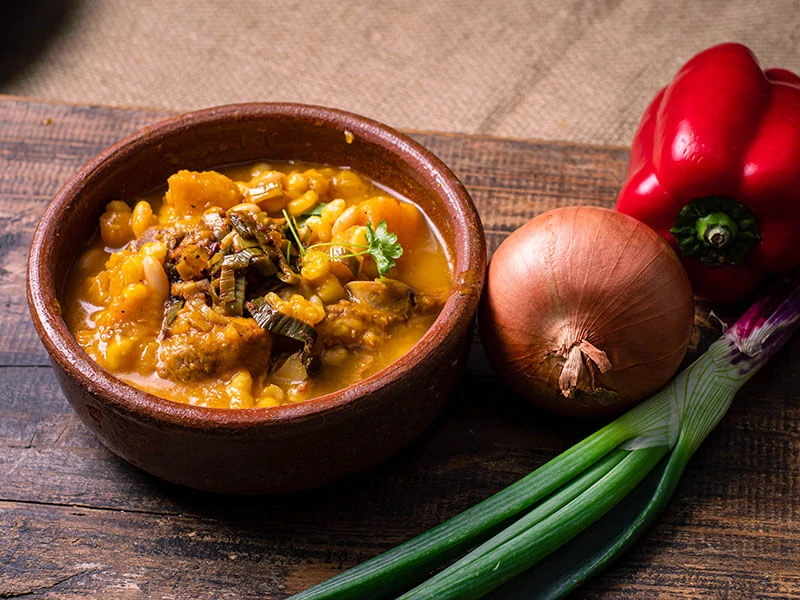 The name Lorco has traveled around the Andean civilization and so has Argentina. Lorco is made by stewing squash, corn, ground meat, and some additional vegetables to increase the dish's texture and taste.
In Argentina, the native families usually make the dish for the holiday season, especially in winter. Besides, the national dish is also very popular in May when the locals call it May Revolution week.
Locro has a pretty hot and spicy flavor combined with a creamy taste so that a fresh-from-the-oven bread will be a good company for this food.
6. Asado (Grilled Meat)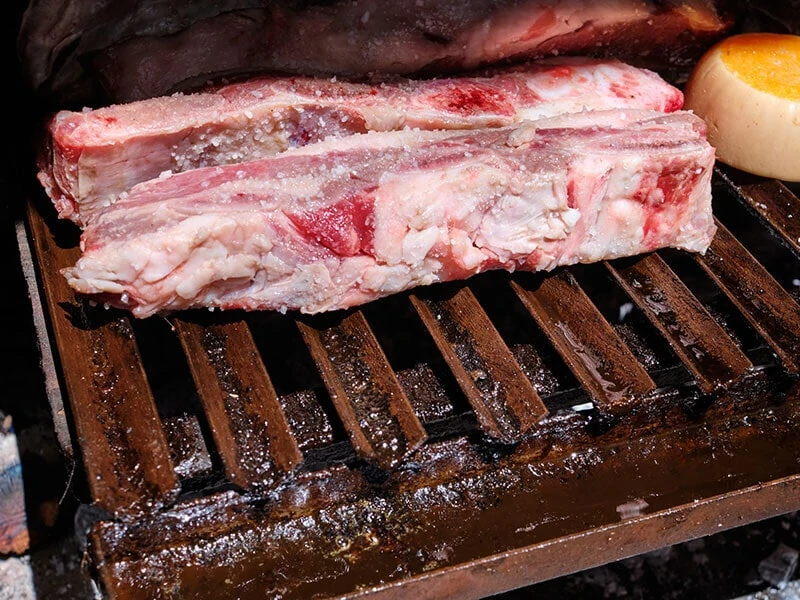 Asado is, in fact, an Argentina special way to make grilled dishes. The cooking preparation is effortless; you just need a big fire with a grill and meat. Don't confuse it with a barbecue meal.
Argentine people don't usually season their meat; the best flavor of the dish is based on the meat quality and the way the chef sets the fire. They typically grill the meat for quite a long time because the local citizens love their meat to be medium or well-done.
After the fire is relented, you can now grill your meat. The meat choice for an Asado dish is quite diverse. It could be chorizo, meat short ribs, Chunchullo, or all of them on the grill for a fantastic party.
Street Foods in Argentina
Street food plays an important role in creating a rich cuisine in this country. So, you have to taste them when visiting the country. Let's dig in!
7. Choripán (Argentine Sandwich)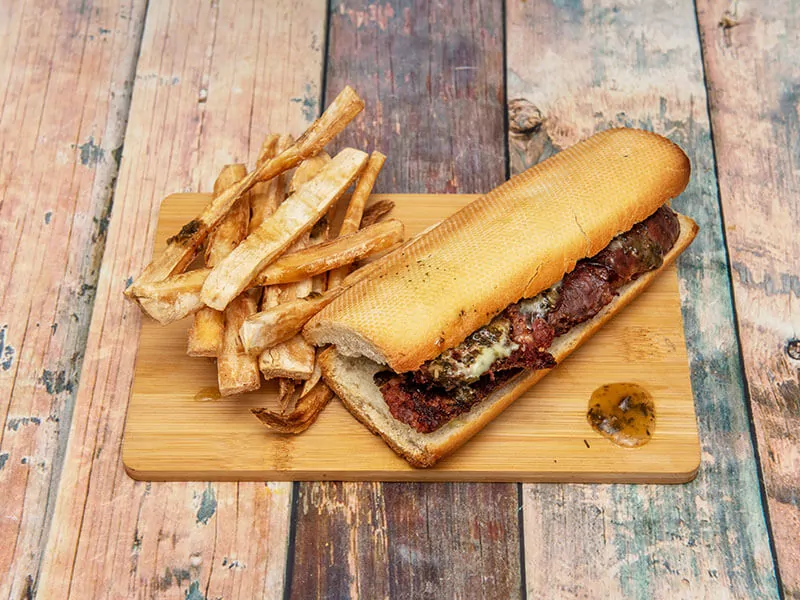 The top of this section is Choripán, an Argentine sandwich with chorizo sausage for a savory filling. As the main ingredients are chorizo and crusty bread (also known as 'pan' in Spanish), the name 'Choripán' is a wordplay between these ingredients.
Choripán has many variants around the world. The food culture of Brazil, Chile, and even the U.S has a special version of this tasty sandwich. The chorizo is made out of beef and pork with a juicy and savory flavor.
You can find this street food everywhere in Argentina, from a street food vendor or even fancy restaurants. In restaurants, it is usually served as an appetizer for a fine meal.
Traditionally, the dish is a favorite on-the-go dish for a busy working day. You will also find Choripán in street festivals and some Argentina sports events.
8. Lomito (Steak Sandwich)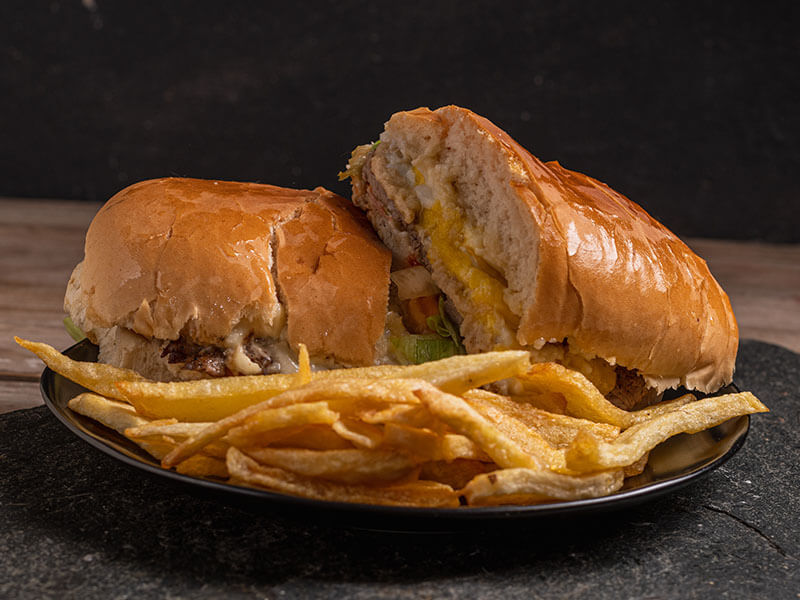 Lomito is an authentic Argentine sandwich with tasty slices of Lomo steak. The sandwich is considered a national treasure for the country's cuisine. Argentinian people often have it as a snack during the day.
This is a perfect Argentine midday dish that will recharge your energy with an unforgettable flavor. Lomito only takes a short amount of time to prepare, so you don't have to spend much time on it.
There are many ways to play with the flavor of this dish. Some people even use pork or aubergine instead of steak as the main ingredient. The dish is prominent in Argentina and Uruguay, especially in urban areas of the country.
9. Chipá (Cheese Bread Balls)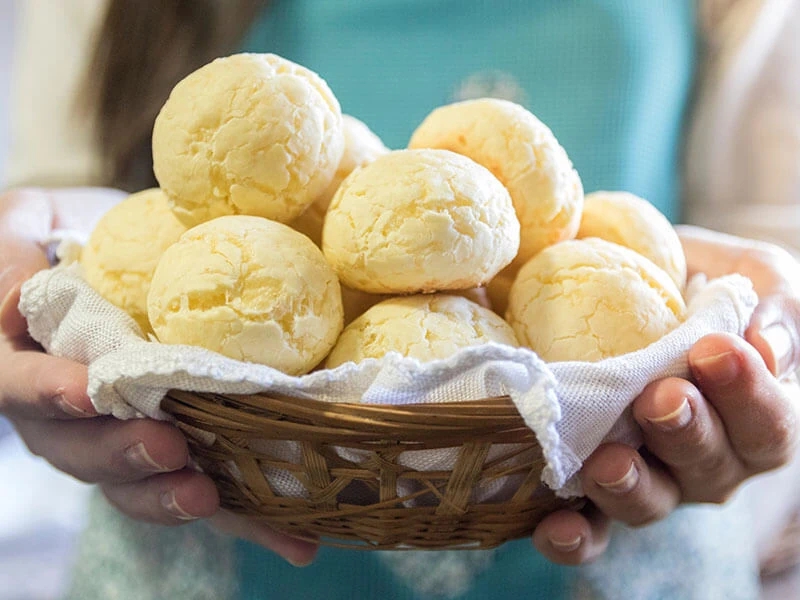 In case you want a quick Argentine morning dish, Chipá is a fantastic option for you. These creamy balls were first invented around the 18th century by the local Guaraní people. Chipá is an affordable street food that you can not say no to.
A small Chipá is called 'Chipita' in Guarani or 'Chipacito' in Argentina, sometimes 'cuñapé' is also used to call this dish. You will likely run into a street food cart selling this creamy dough in a small plastic bag almost everywhere in Argentina.
Chipá is a popular snack in northern Argentina and Paraguay. These bite-sized treats are properly the best Argentine specialties you have ever tried.
How can you resist the beautiful appearance of this Chipa recipe?
10. Tortillas Santiagueña (Flatbread)
Tortilla or Spanish omelet is a typical dish served across Latin American nations like Spain, Colombia, or Mexico.
However, the dish I want to mention here is Tortillas Santiagueña, a special Argentine flatbread, usually made from wheat flour, coarse salt, and melted cow fat. Its dough is often baked on a metal grill called 'parrilla' to form a burned brown edge of the dish.
This dish originates in the northern part of Argentina, but Tortillas only became a huge hit when it arrived in Santiago del Estero.
11. Fugazza (Argentine-Style Pizza)
Hey! Want to try a special pizza variant from Argentina? This wonderful Argentine-Style dish is flawless for dinner. The dish, of course, is influenced by the famous Italian pizza.
Fugazza has a thicker crust than traditional pizza with a breathtaking gooey texture in the center. Fragrant fillings like oregano and sautéed caramelized onions are the favorite choice in Argentina.
Fugazzeta is a common version with mozzarella cheese sandwiched in two layers of dough. A pizza maker named 'Juan Banchero' is believed to be the father who created the Fugazzeta recipe between 1893 and 1932.
12. Empanadas (Baked or Fried Filled Pastry)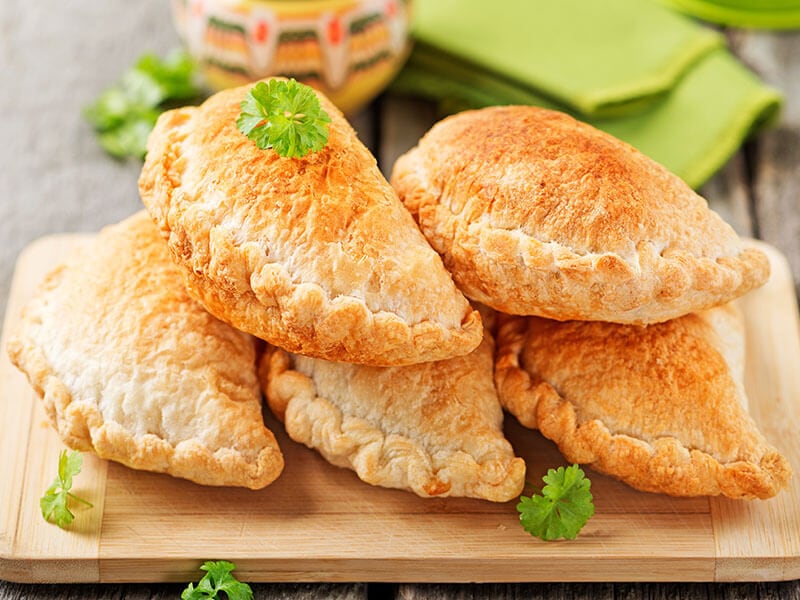 It would be a mistake not to mention Empanadas on this list. This is one of the most typical Latin American dishes well-known worldwide. The name of this dish comes from a Spanish word called 'Empanar', which means 'covered in bread'.
Northern Spain immigrants have brought this spectacular dish to Argentina with a larger size and two layers of crust pie served in slices.
There are hundreds of variants of Empanadas worldwide, and each region has its own way to spice its Empanadas. They have a pillowy and soft cover waiting to melt in your mouth.
Empanadas also have tons of options for the filling, but beef seems to be the most common one. Ham and cheese, eggs and bacon, or potatoes are other tasty options that you should try. If you can't finish the whole batch, feel free to freeze them.
13. Tamales (Steamed Fresh Corn Husks)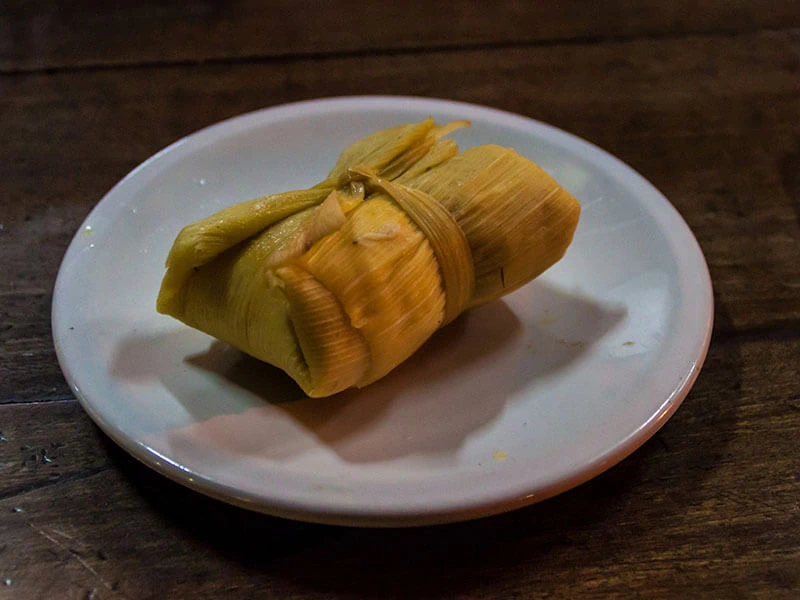 Tamales are a special dish consumed aggressively in Argentina and some neighboring countries. The dish consists of steamed corn dough wrapped in corn husks or banana leaves. After enjoying the dish, you can discard the wrapping.
This Argentine specialty has plenty of filling choices; from meats, cheeses or vegetables, and herbs, all of these fillings will suit your taste with its magnificent flavor. You can season both the filling and the cooking liquid.
Tamales Salteños is a famous variant in the town of Salta (Argentina). In this version, you can pair the cornflour with shredded lamb or pork. Some aromatic spices like peppers and ají can be used to perfume the dish.
14. Garrapiñadas (Caramelized Nuts)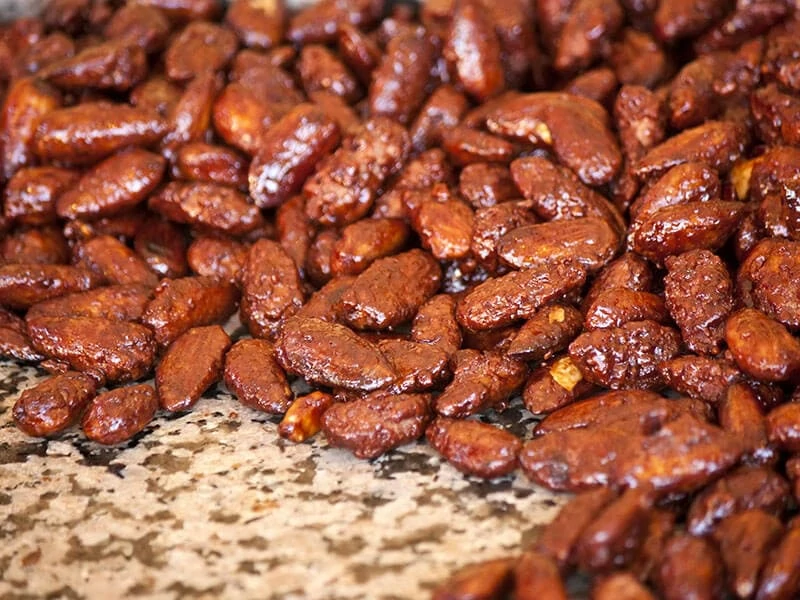 Garrapiñadas is famous street food in Uruguay adored by Argentine citizens. Street food vendors in Uruguay called 'garrapiñeros' sell these lovely treats on almost every road in the country. They put these tasty nuts in a small bag so you can enjoy them on the go.
Peanuts are often the main ingredient of this dish, but almonds and walnuts are other great alternatives to make Garrapiñadas. These caramelized nuts are crunchy with a sweet and bold flavor of the caramel cover.
Argentine Desserts and Drinks
Sweet courses in Argentina are an excellent option to finish your dinner table. The following treats will release your stress after a hard-working day.
15. Dulce De Leche (Caramelized Milk or Milk Jam)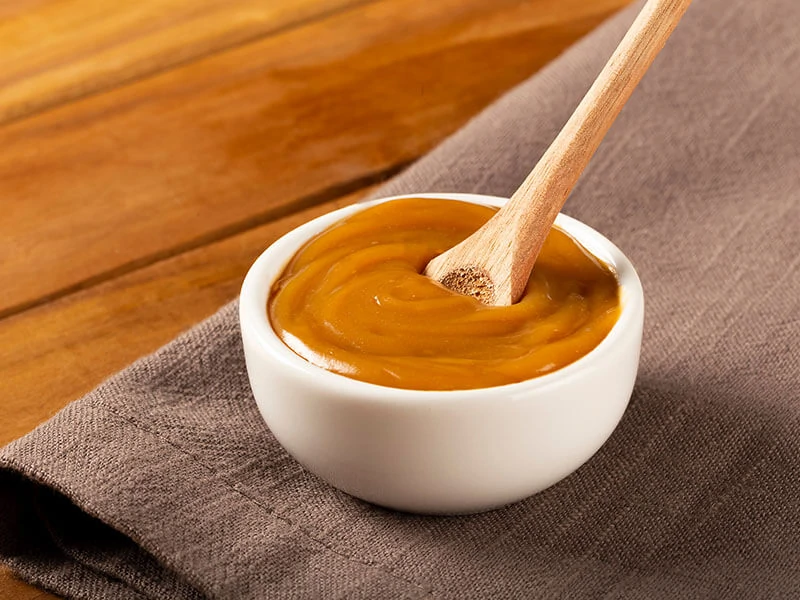 Let's kick off this sweet section with the famous Dulce De Leche. This thick and smooth paste originates in Argentina by a maid of General Manuel de Rosas. This maid accidentally overcooked her milk and sugar mixture; then, we had a tasty dessert with brown color.
Dulce De Leche will enrich almost every recipe you can think of. From ice creams, pastries, cookies, or even cheesecake, this buttery past will unexpectedly complement your dish. You can even have it directly on a spoon for a creamy flavor.
You only need around 35 minutes to make Dulce De Leche, but the dish can be stored in the refrigerator for up to three months. So, you can make it ahead and use it when needed, so great, right?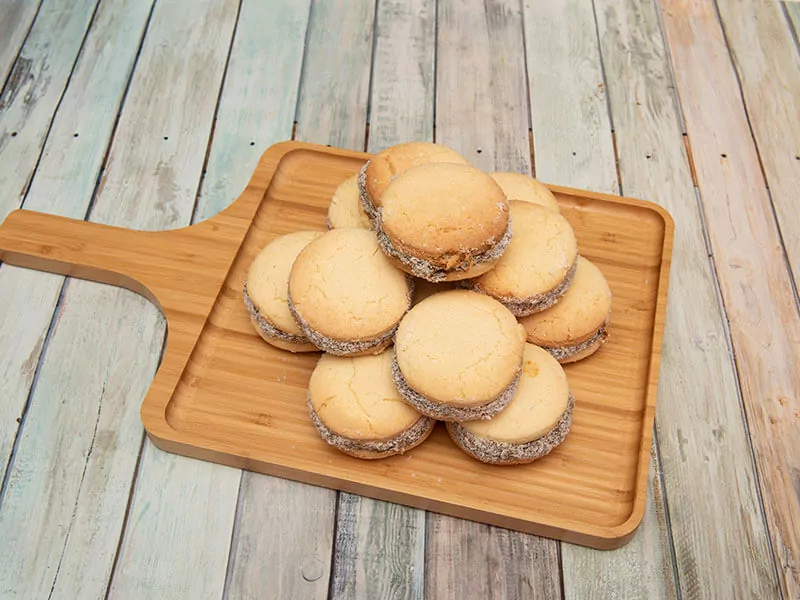 Alfajores is a delicious Argentine sweet course, adding a charming touch to your family table. The touch of Dulce De Leche in the middle of these beautiful sweet treats enriches their flavor.
The name 'Alfajor' actually comes from the word 'al-hasú' in Arab, which describes these cookies' stuffed or filled feature. Alfajores's hometown is Andalusia (Spain), and this treat was invented during the Moor occupation.
Besides Dulce De Leche, there are some tasty fillings that you could try with this cookie recipe, such as fruit and cream or chocolate mousse. These Alfajores are usually made during holidays or tea time for your family.
These scrumptious Alfajores are a lovely dessert for a wonderful party.
17. Mate (Traditional Argentina Tea)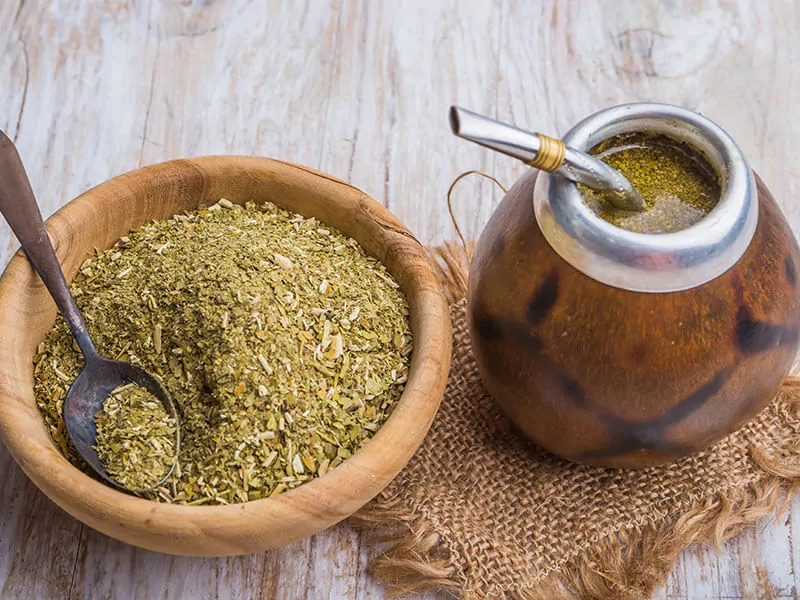 Mate (or Maté in France) is a traditional Argentina caffeine-rich drink that is prominent across the South American region and some countries in the Middle East. The drink can appear everywhere in Argentina's daily life.
Native Guarani people are believed to be pioneers in harvesting and creating this special drink.
Yerba Mate is a famous Argentine drink made out of dried Yerba mate leaves with an earthy and intense flavor. The ingredients are simple: water and mate leaves. But the way Argentine citizens enjoy it is just fantastic.
The drink is held in a special container made from gourds, and these fruits come in different shapes, exciting, right? The straw of this drink (called Bombilla or bomba ) is unique too; it is made from metal. Bombilla plays the role of a filter that keeps out the tea leaves.
18. Rogel (Traditional Argentine Cake with Meringue)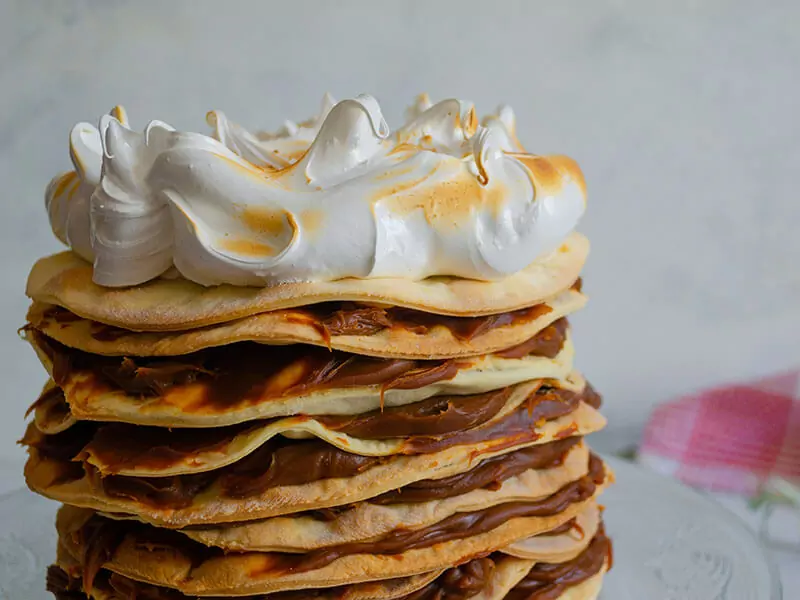 Rogel will knock you out with its mesmerizing layered appearance and sophisticated flavor. Customarily, the cake has around eight layers with Italian meringue on top. However, feel free to add more layers to suit your desire.
In 1964, Charo Balbiani invented this Rogel recipe based on Dutch cuisine. In the same year, Rogelia created the same recipe and called it 'Rogel'. When she died, Balbiani purchased the recipe's name.
In Argentina, you can call this dessert 'Alfajor Rogel' because it resembles the Alfajor cookies. 'Torta Rogel' is another common name for this sweet treat. Dulce De Leche in every layer brings a lovely appearance and a creamy sweet taste.
19. Flan Mixto (Flan with Dulce De Leche)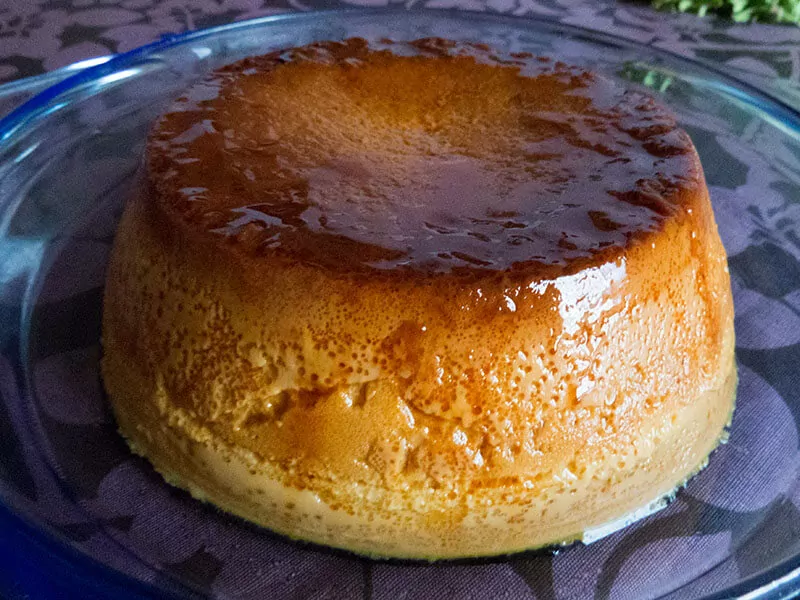 Well, you can call this dish Flan Casero Mixto or flan Mixto interchangeably. This is an Argentine-style custard flan paired with Dulce De Leche and whipped cream. Flan Mixto has a similar appearance to the famous crème caramel.
Actually, Flan Mixto is a variant of flan (a classic dessert from France). But when it arrived in Argentina, people enriched the dish by adding Dulce De Leche.
The word 'Casero' means 'homemade' in English, explaining why Argentinians often make this dessert at their home. The dish is so prominent that it even has a route named after it, 'La Ruta Del Flan Mixto'. This route is where you can find the best Flan Mixto in this country.
20. Medialuna (Croissant-Style Pastries)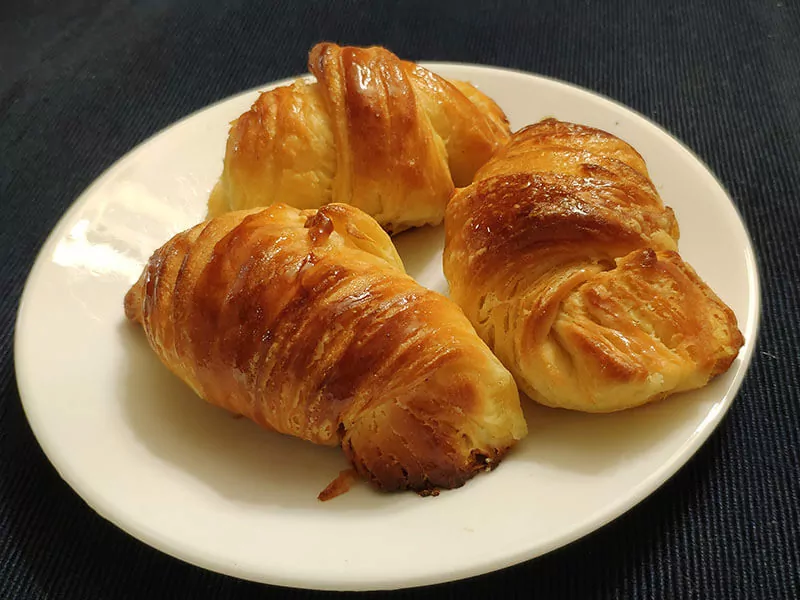 Medialuna is a croissant-like pastry from Argentina with a flawless flaky texture. This treat is a part of a large pastry family called 'Facturas'. Medialuna means 'crescents' in English, describing the half-moon shape of this treat.
Tasty fillings like Dulce De Leche or pastry cream are some options to boost the treat flavor. The zesty taste of lemon added to the dough makes this dessert different from other croissant-like pastries.
You will find these treats almost in any coffee shop or bakery in Argentina at a reasonable price.
21. Pionono (Roll Cake)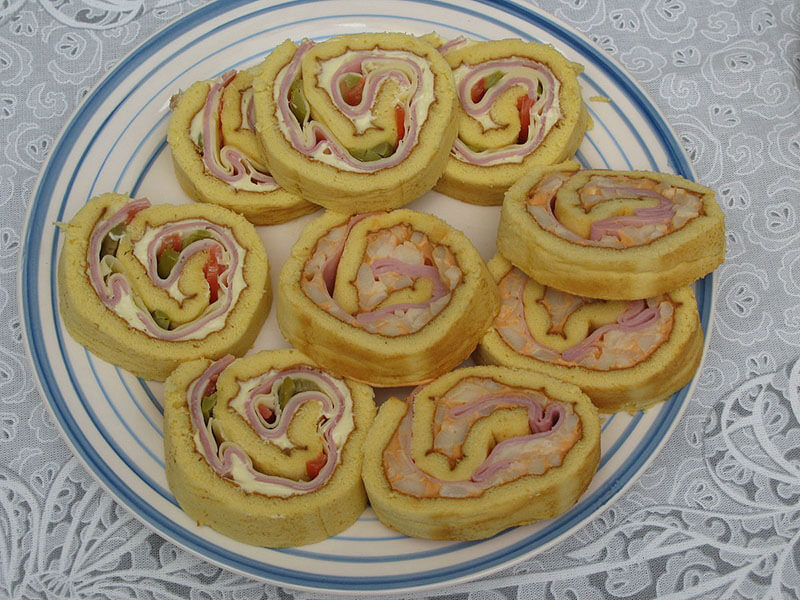 Actually, Pionono is a versatile dish as the filling can be either sweet or savory. The cake's ingredients are quite simple; however, rolling it without ruining the cake structure is a challenging step. Only a skillful baker will make this cake flawlessly.
This spongy treat can be paired with many filling choices like Dulce De Leche or whipped cream. Some savory fillings like salmon, boiled egg, or sliced green olives will give you a brand new experience while tasting the treat.
In some Latin American countries, 'Brazo De Reina' is another name that you can use to order this treat.
22. Chocotorta (Layered Chocolate Cake)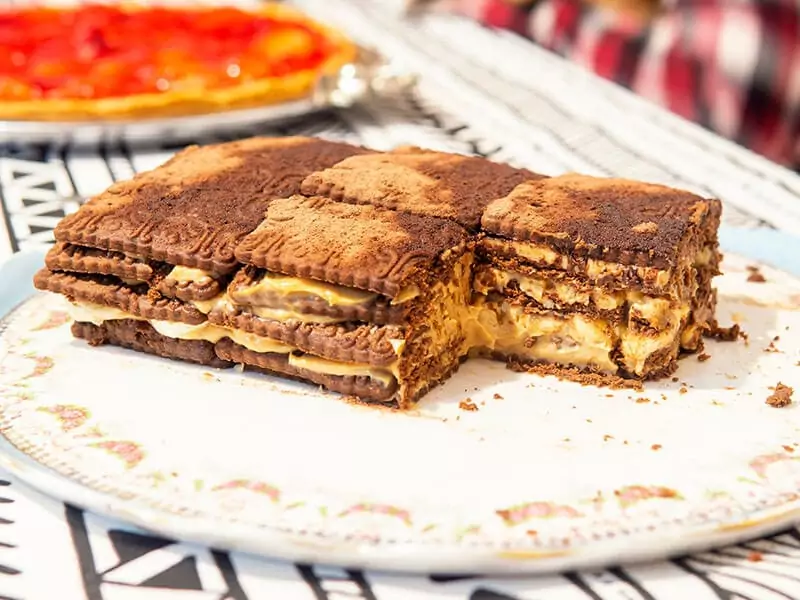 Chocotorta is a layered dessert that will give you a slightly different experience through every bite. The cake will be an exploding hit at any birthday party with a bold and delicate sweet flavor.
In a marketing campaign of Chocolinas chocolate cookie, the recipe of Chocotorta was printed in the package of these treats.
Traditionally, this treat has Chocolinas chocolate cookie layers soaked in strong and robust port wine. The modern version is usually dipped in coffee for a more friendly, bold taste.
If you love a creamy taste, cream cheese and Dulce De Leche mixture is an excellent layer to pair with the cookie layers. You can make the dish into any shape you like, but the rectangle shape is the most common choice.
23. Pastelitos Criollos (Crispy Star-Shaped Pastry)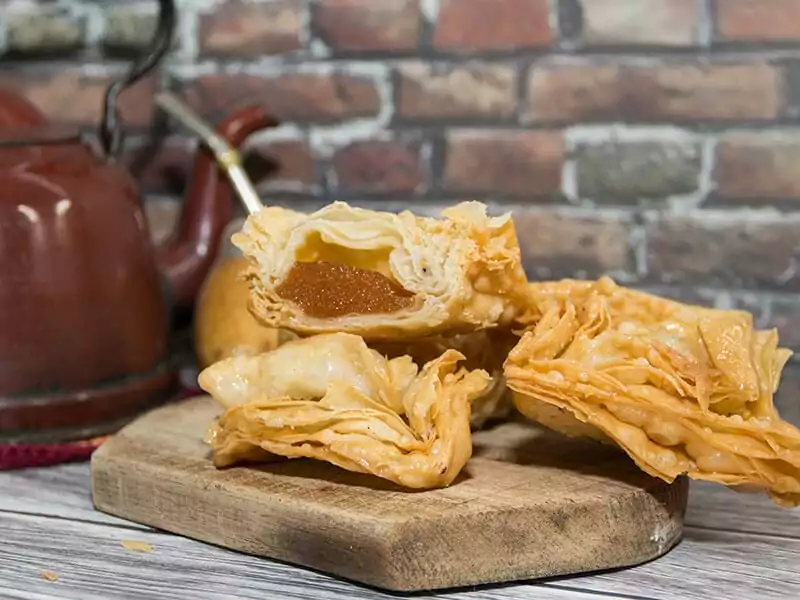 Hey crispiness lovers, you will be amazed by the magnificent texture of these Pastelitos Criollos. The treat is an authentic Argentine dessert filled with fruit filling (quince) or sweet potato jam.
The traditional star-like shape of this dessert is quite difficult to make. You need to use two thin pastry doughs to cover the filling and form its unique shape.
Great news for Dulce De Leche lovers, you can use this rich paste as a filling and dust some colorful sprinkles to finish the dessert.
Pastelitos is usually served on May 25 to celebrate the May Revolution and the formation of the Argentinian independent government.
24. Postre Vigilante (Cheese Dessert)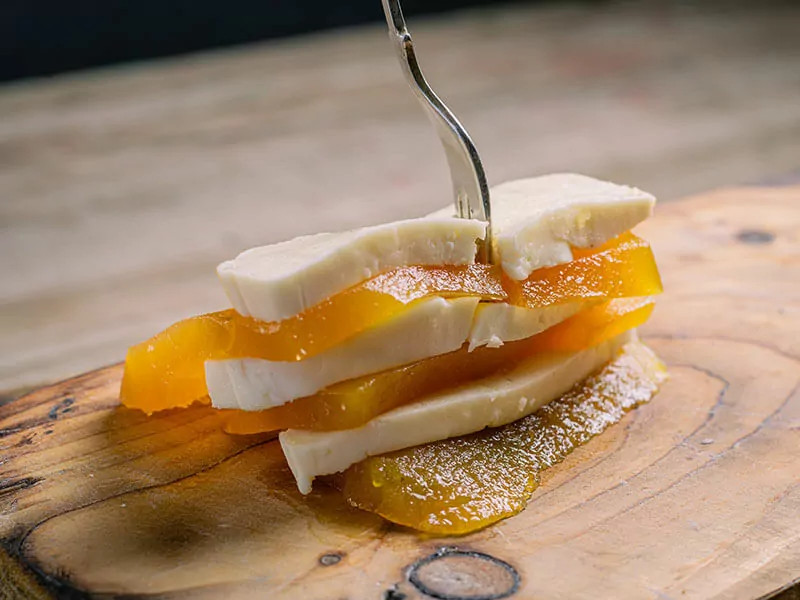 Yum! Postre Vigilante is an ideal treat for cheese lovers. This dessert is famous in Argentina and Uruguay for its sweet and buttery flavor. You can make this treat in just a few seconds with the ready-to-serve ingredient.
The dish was invented in 1920 at a cafeteria that was frequently visited by the police. That is why this cheesy treat has its name 'vigilante'.
Pair a slice of cheese with either Batata De Molde (Sweet potato and squash slice) or Dulce De Membrillo (Sweet Quince Paste). You now have a breathtaking dessert with enchanting flavor.
You can find the pairing ingredients for this cheese at the fiambrería in the local supermarket. Many Postre Vigilante variants use different types of cheese and dulce. These variants' names are 'queso y dulce'.
Other Argentine Dishes
Argentina has more recipes with wonderful flavors waiting for you to unfold their taste. So, don't let them down; dive in and enjoy these wonderful specialties.
25. Chimichurri (Uncooked Sauce)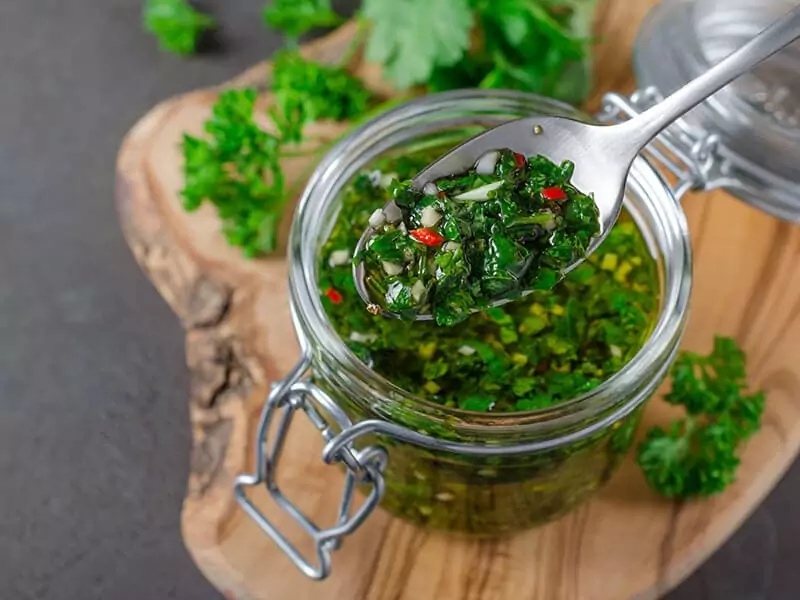 Chimichurri is a special sauce in Argentina that can have a red or green color. The green variant is called 'Chimichurri Verde' while the red one is 'Chimichurri Rojo'. This dish is also a part of Uruguayan cuisines with an aromatic scent from different herbs and spices.
The origin of Chimichurri is still a myth. Some say that it comes from a meat dealer from Britain called Jimmy Curry. Others say that it originates from the phrase 'che mi curry' of soldiers from England during the Spanish colonial time in Argentina.
A grilled dish in Argentina will not be completed without the presence of this special sauce. Parrillada, Parrilla, and Asado need this sauce to boost the flavor of their grilled meat. Chicken and fish are some other tasty choices to match with Chimichurri flavor.
Strong spices and herbs like oregano, parsley, garlic, and chili are the main ingredients forming the signature taste of Chimichurri. However, you can find some recipes with an adjustment of ingredients to suit your taste.
26. Ravioles (Stuffed Pasta)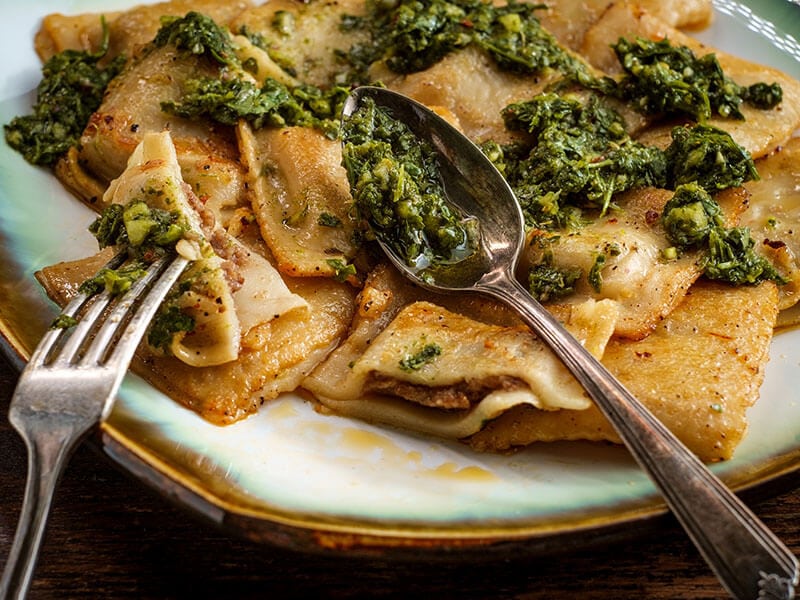 As a fan of pasta or any Italian food, you can not deny how tempting the food is by just smelling it. Ravioles (or Sorrentinos) are not just popular in Italy; it is one of Argentina's favorite foods.
In the mid-19th century, Argentina witnessed a huge wave of European immigrants. And Ravioli from Italy has arrived in this beautiful country. The dish is a traditional lunch dish on Sunday for any Argentinian family.
Making these Ravioles is straightforward; you just need to stuff the filling inside thin pasta dough, including meat, ricotta cheese, and veggies. Then you cook them in broth, tomato sauce, or creamy sauce to create a delightful dish for you and your family.
27. Provoleta (Grilled Provolone Cheese)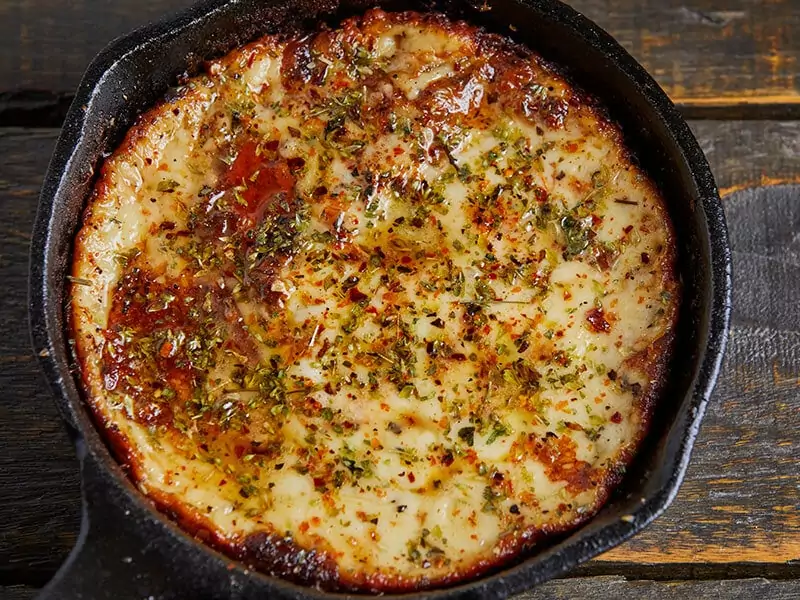 Check out this Provoleta! I promise the dish's taste is a big surprise for you! Provoleta seems to be one of Argentine's most-liked appetizers. Honestly, you can run into this Provoleta in many local restaurants or homes and ask them for some.
Provoleta is a popular side dish in Asado for a creamy flavor. The fact is that this cheese is a variant of Italian provolone cheese. When served as an appetizer, it will enrich whatever dish follows after. A hint of Chimichurri will evoke the entire dish's authentic flavor.
You can make the dish easily right at your place. All you have to do is grill provolone cheese and mix it with your favorite toppings. You can use this grilled cheese for breakfast with some sliced baguettes and a cup of coffee to start a motivating day.
---
Enjoy The Spectacular Latin American Cuisine!
Wow! What a splendid journey through one of the best cuisines in the world! Argentina is a glamorous country well-known for its beauty and, of course, its spectacular foods. Roll up your sleeves and make some dishes for your friends.
And don't forget to subscribe to our site for more interesting facts about food around the globe. I hope you have a great day, see you next time!