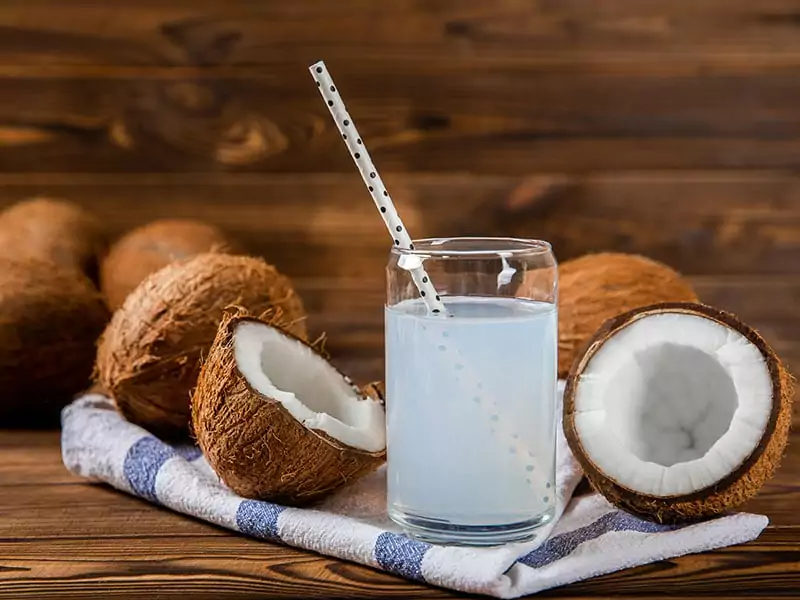 You may wonder what is pressed coconut water, and is it the same as natural coconut juice? This coconut product is increasingly popular with consumers in general, including famous stars and athletes.
After centuries, coconut water in general and this nutritious drink have become a hot product, thanks to aggressive marketing campaigns to replace carbonated beverages, which have gradually lost their appeal.
To learn precisely the characteristics of pressed coconut water and its differences or superiority to regular coconut water and coconut milk, let's jump into this exciting article!
Definition Of Pressed Coconut Water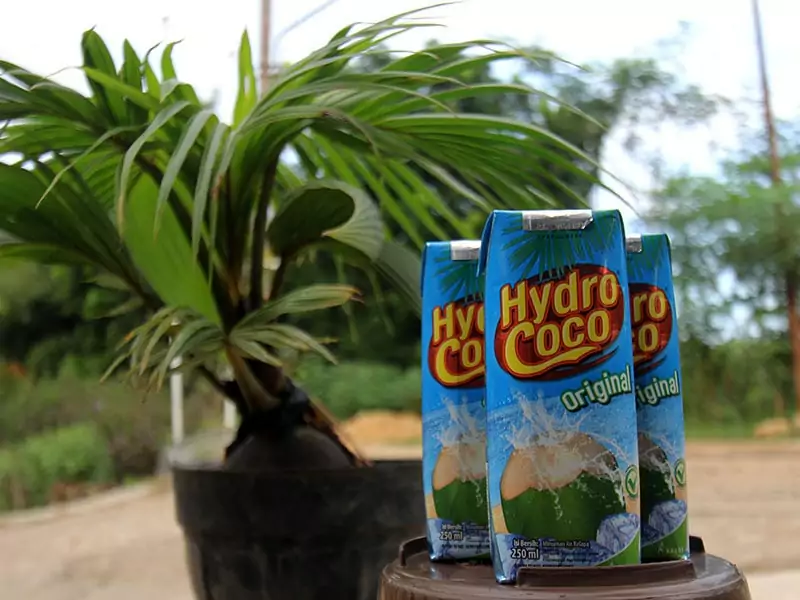 To get to know what pressed coconut water is, you must be aware of the definition of regular coconut water. Coconut water is the liquid endosperms typically occurring inside the coconut fruits (1) . It carries many good nutrients and minerals to rehydrate your body.
So what is the difference about pressed coconut water? Not only the liquid in the coconut fruit, but pressed coconut water is also made from the pressing of all the parts of the coconut fruits.
Like regular coconut water, pressed coconut water is both nutritious and refreshing. It even inherits the flavor of other parts like coconut flesh and coconut oil. Therefore, this natural beverage is loved by many people paying more attention to their health.
How is coconut water made? Discover now!
What Does Pressed Coconut Water Look Like?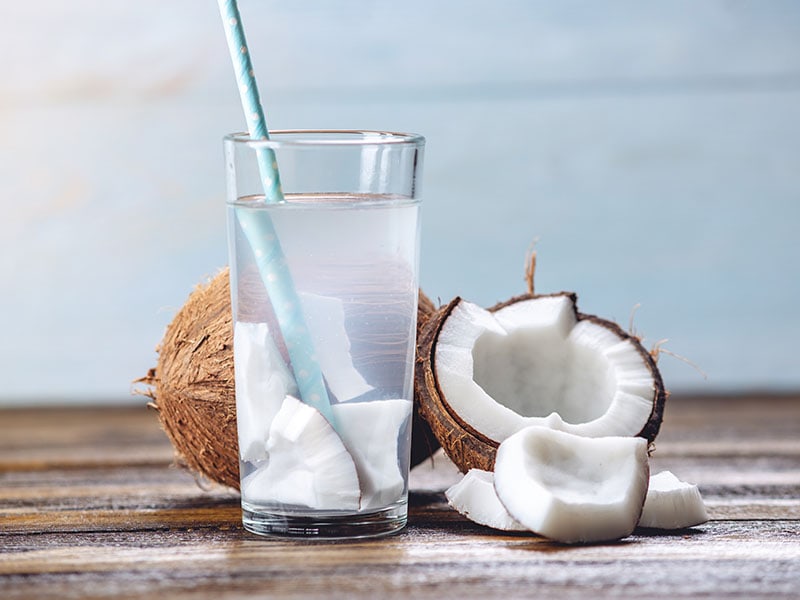 Contrary to what you might think, pressed coconut water looks completely different from regular. While the normal coconut water you know has a clear, plain watercolor, the pressed type is characterized by a distinct white color with a slightly transparent level like rice water.
Note that you might sometimes see coconut water in a pinkish shade. There are many explanations for pink coconut water, but most people agree that the drink will taste a bit sweeter when it turns pink.
You might already know that coconut milk is not the same as coconut water, but how about the pressed version? Although both products contain coconut flesh, they aren't similar.
It can be said that the pressed kind's color is darker than regular coconut water due to the fat content from coconut flesh; but lighter than coconut milk, so do not confuse them.
This kind of coconut water also contains bits of coconut flesh pressed with the liquid, making it look grainy and cloudy.
This look and color are so distinctly different that you won't tell that pressed coconut water is a coconut product if you just look at it!
The Taste of Pressed Coconut Water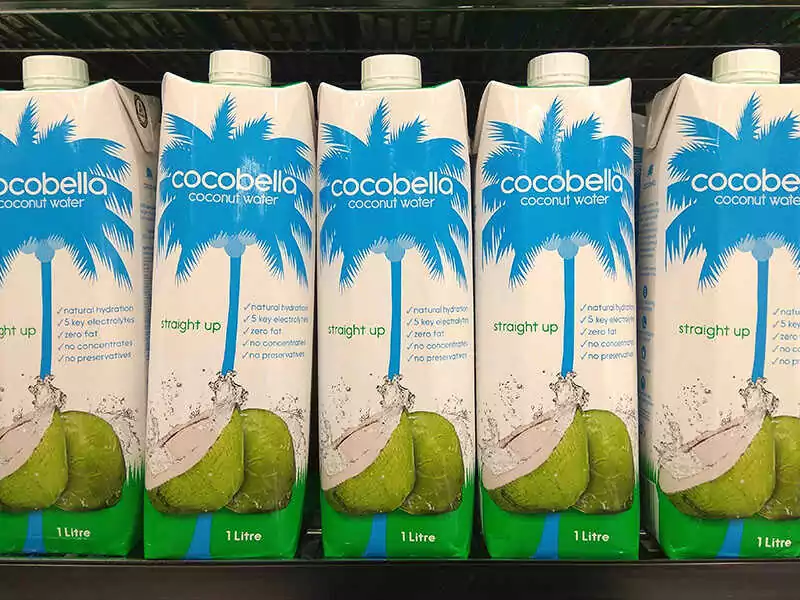 The taste is also a point that makes pressed coconut water different from its brother, coconut water. While the taste of the original coconut water might not remind you of coconut meat right away, the pressed one has the coconut flavor itself precisely.
It blends the signature coconut taste with fattiness, sweetness, and some floral hints. Therefore, it can be said that this type of coconut water is more attractive and full of tropical flavor.
To imagine the taste of pressed coconut water, you can refer to coconut oil. The flavor of these two coconut products is not much different. Therefore, if you find that regular coconut water is too bland, pressed coconut water will be a better choice for you.
The Texture Of Pressed Coconut Water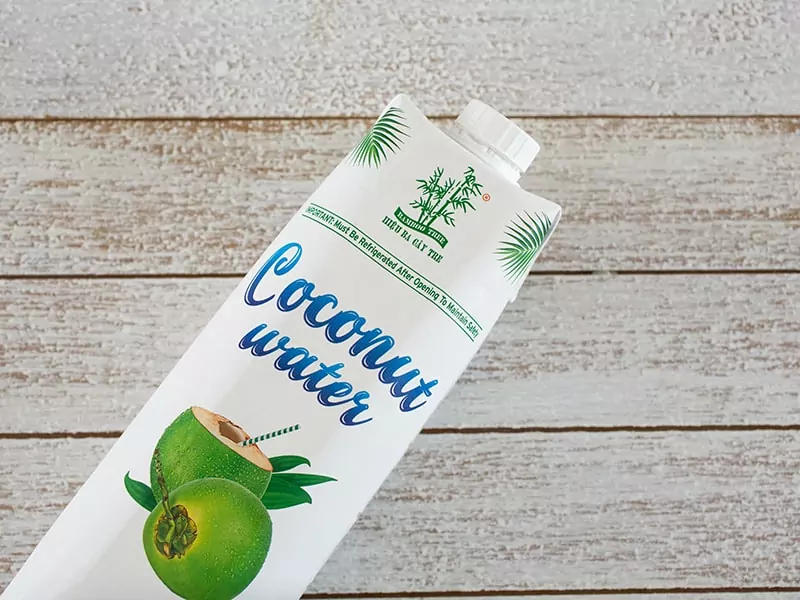 Because it is called water, the pressed type also has a liquid texture like coconut water. However, the consistency still differs due to ingredients and processing.
While you may find that regular coconut water is like plain water with an absolutely smooth texture that can go down your throat without leaving a mark, pressed coconut water is not.
Since pressed coconut water contains shredded coconut meat, it has a grainy and slightly chunky feel when you drink it. You will also feel that this liquid has a certain consistency compared to coconut water.
Ways To Use Pressed Coconut Water
Pressed coconut water is designed to be drunk as a beverage or a rehydrating drink. If you need hydration after a period of illness or intense exercise and are dehydrated, a bottle of pressed coconut water would be a great choice.
Like coconut water, pressed coconut water is also great for adding to smoothies, cocktails, mocktails, and other juices. The tropical feel is immediately provided to your recipes.
How To Make Pressed Coconut Water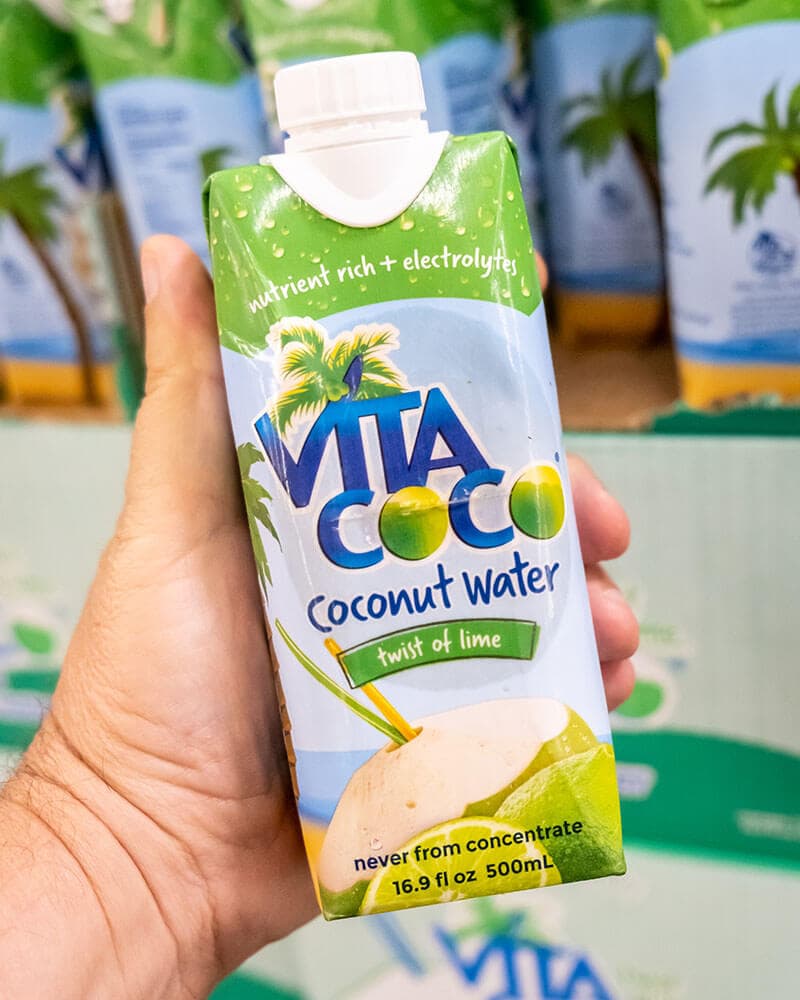 People have to process the coconut through many stages to produce pressed coconut water, not just extract the juice from the coconut. Some of the basic steps could be:
Step 1: Collect coconuts that have reached the age to collect water on the tree
Step 2: Remove all the liquid from the coconut
Step 3: Remove the coconut and remove all the coconut flesh
Step 4: Let the freshly taken meat go through many stages of filtering, processing, and pressing into crumbs
Step 5: Mix coconut water and coconut flesh according to the right recipe
Step 6: Add some flavors, preservatives, and stabilizers
Nutrition Facts of Pressed Coconut Water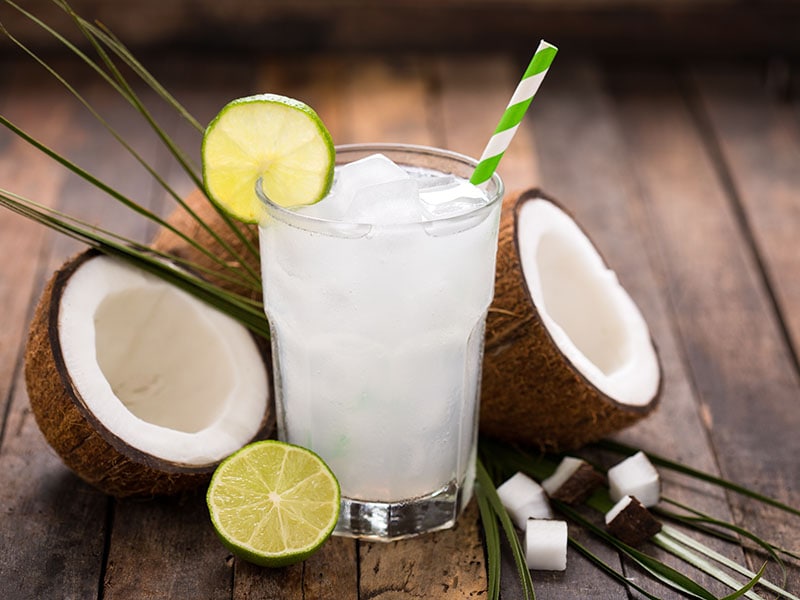 Pressed coconut water contains many nutrients and minerals that are good for your health. To get the most out of this nutritional value, let's make a little comparison of regular vs. pressed coconut water per 8 oz/serving:
| Nutritional Fact | Pressed Coconut Water | Regular Coconut Water |
| --- | --- | --- |
| Calories | 60 | 43 |
| Fat | 1.5g | 0.45g |
| Carbohydrate | 12g | 8.41g |
| Protein | 0g | 1.63g |
| Sodium | 15mg | 238mg |
| Sugars | 12g | 5.92g |
| Calcium | 0g | 54mg |
| Potassium | 460mg (2) | 567 mg (3) |
The table above shows that pressed coconut water contains relatively higher calories, sodium, and fat content than regular coconut water, especially sodium.
This may make you reconsider your pressed coconut water consumption, depending on your goals. The reason for this difference is that the composition changes.
One more worth-notice thing is that the pressed type of coconut water has 15 times the potassium content of sports drinks and 2 times the potassium amount of bananas.
Some nutritional factors will increase since pressed coconut water contains the whole coconut, including coconut flesh. All other nutrition elements are relatively similar to normal coconut water.
Pressed vs. Regular Coconut Water: Which is Better?
Through the nutrition facts section, you can somewhat guess what is better. However, depending on your purpose, what is better will also change. Check out some comparisons of pressed coconut water vs. regular coconut water below:
| Comparison Factors | Pressed Coconut Water | Coconut Water |
| --- | --- | --- |
| Definition | The pressing of all the parts of the coconut fruits | The liquid endosperms typically occurring inside the coconut fruits |
| Appearance | Distinct white color, grainy and cloudy | Transparent as plain water |
| Taste | Has the coconut flavor itself precisely, more flavor and sweeter | Bland and mild without the signature coconut flavor |
| Texture | Grainy and slightly chunky with a certain consistency level | Liquid, absolutely smooth like plain water |
| Usage | A beverage or a rehydrating drink, adding to smoothies, cocktails, mocktails, and other juices | A natural rehydrating beverage, add to other drinks or cooking recipes |
| Making Method | Press and process the whole coconut, including flesh, oil, water, etc. | Produced naturally inside the coconut fruits |
| Nutrition Facts | Higher calories, sodium, and fat content, less sugar | Lower calories and fat, more sugar |
Through the above comparisons, you can see that pressed coconut water is a better choice if you need a richer taste. On the contrary, it will not be as good for your weight loss as regular coconut water.
Both contain vitamins and minerals suitable for rehydrating and replenishing nutrients for the body. You should also remember that the high potassium content (especially in pressed coconut water) is generally not ideal for patients with chronic kidney disease (9) .
Pressed Coconut Water Vs. Coconut Milk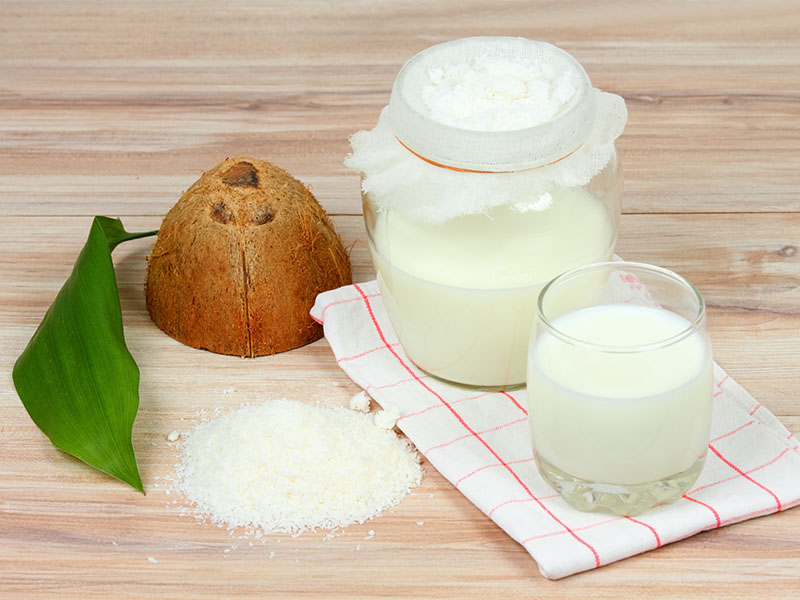 You can easily confuse coconut water with coconut milk because of its similar opaque white color. However, the truth is that they are entirely different, from ingredients to processing, even though both are processed coconut products.
Coconut milk is made from dry coconut flesh mixed with a specific ratio of water and sugar, going through a complex multi-step processing process. Coconut milk can have a thicker or thinner texture depending on the intended use.
Compared to pressed coconut water, coconut milk contains more calories, sugar, and fat. It also has a more substantial sweet, nutty, and rich floral flavor. Instead of being used as a simple drink like pressed coconut water, coconut milk is often used to add fatty flavors to dishes.
Which Is The Best Brand of Pressed Coconut Water?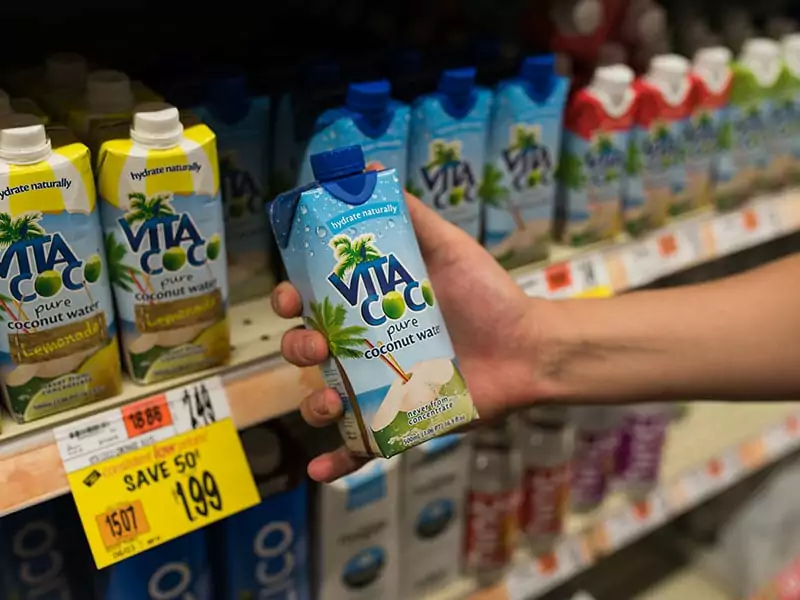 Vita Coco is the most popular pressed coconut water brand today. Vita Coco pressed coconut water is commonly used as a sports drink and is preferred over other electrolyte-rich beverages.
The pressed coconut water of this brand is produced from fresh coconut materials about seven months old grown in the Northern provinces of Brazil. By sterilization, without using preservatives, the shelf life of coconut water is about 12 months.
To diversify products and meet consumer demand, Vita Coco has added fruit flavors to coconut water such as Pressed Coconut Pineapple, Pressed Coconut Strawberry Banana, Pressed Coconut Mango, etc. You can buy Vita Coco in stores or online.
Find out what Vita Coco Pressed Coconut tastes like right now!
Health Benefits of Pressed Coconut Water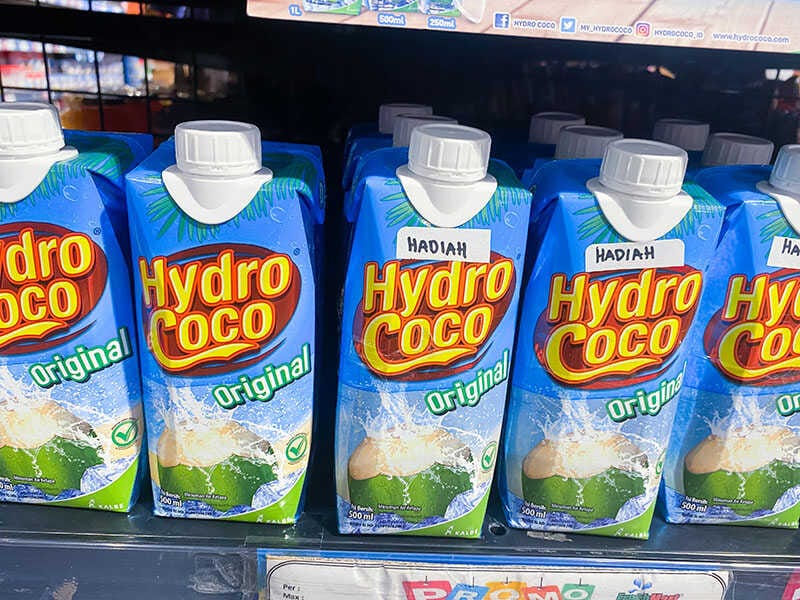 Pressed coconut water is an excellent beverage with natural healing and health-promoting properties. Over the centuries, the effects of coconut water have been recorded as follows:
Rehydrate
Similar to the regular version, pressed coconut water contains essential electrolytes that can maintain hydration. Coconut replaces lost electrolytes, provides hydration, and boosts the body's immune response (4) .
Due to these benefits, coconut water is often compared to Pedialyte, a lab-made electrolyte drink. While pure coconut water is already quite different from Pedialyte, the gap is even bigger for the pressed variant since it has a chunky consistency.
People who are often active or work hard can add coconut water to their daily diet. This drink is a nutritious, tastier, and better-tolerated alternative to other soft drinks.
Increase Energy
Pressed coconut water can increase the energy in the body by burning fat. The triglycerides in coconut can increase power by 5% and curb hunger.
People who regularly drink coconut water or use coconut products can walk for hours without hypoglycemia. In addition, coconut also promotes thyroid activity and helps relieve symptoms of chronic fatigue.
Against Oxidation
Pressed coconut water contains Kinetin, Cytokinin, and Trans – Zeatin which have anti-thrombotic, anti-cancer, and anti-aging effects on the body (5) .
Strengthen the Immune System
Coconut water contains excellent nutrients for the immune system, antiviral, antifungal, antibacterial, and anti-parasitic.
The intake of pressed coconut water can help the body treat several infections such as sore throat, bronchitis, urinary tract infections, and other bacterial infections.
Control Diabetes
Coconut water improves insulin production and blood sugar in the body. Coconut water controls diabetes by positively influencing the hormones to control blood sugar. This slows the rise in sugar levels and helps reduce sugar cravings (6) .
In addition, coconut is also beneficial for the digestive system, helping to improve digestive and intestinal disorders. This makes it easier to absorb nutrients and minerals. This reduces nausea and vomiting.
Prevention Of Cancer
The nutrients present in coconut have anti-cancer properties, especially colon and breast cancer. Coconut water provides moisture and high lipid content, which prevents skin cancer.
In addition, using coconut helps to moisturize the skin from the inside, making the skin smooth and bright.
Prevent Urinary Tract Infections
Coconut water has natural diuretic properties. Therefore, using coconut water can aid in purifying the urinary tract, reducing the risk of infection. In addition, bacteria in the urinary tract can follow the urine flow to leave the body naturally without causing any symptoms.
Improve Overall Health
Many studies prove that regular use of coconut water will help the body be healthier. Coconut water is also considered more nutritious and beneficial for humans than animal milk.
This drink contains a lot of lauric acid equivalent to breast milk and is naturally sterile as it passes through the filter housing. Drinking coconut water is also said to help you avoid hangovers and reduce stress.
Reduce Cholesterol Levels In The Blood
The saturated fats in coconut can increase good cholesterol, control bad cholesterol activity in the body, and reduce the risk of forming and developing heart diseases (7) .
In addition, coconut water can reduce the amount of acid flowing to the heart and reduce heat.
Keep Bones Healthy
Regular use of coconut can support the development of bones and teeth. Coconut water improves the body's ability to absorb calcium and manganese, which helps support and develop bone function.
In addition, this drink also prevents osteoporosis, avoiding thin, fragile bones and loss of bone density. Therefore, coconut water can be a healthy alternative for people with lactose intolerance.
Prevent Kidney Stones
Drinking enough water is extremely important to prevent kidney stones. However, water is a popular choice when thirsty. However, many studies show that drinking coconut can bring better results.
In some studies, coconut water prevented crystals from sticking to the kidneys and other parts of the urinary tract. This reduces the risk of kidney or urinary tract stones (8) .
How Much Pressed Coconut Water Should You Drink Per Day?
The daily dose of coconut water depends on the user's purpose and condition. You can drink coconut every day to prevent many diseases.
To avoid potassium toxicity, the recommended dose of coconut water per day is about 0.3 – 0.5 liters.
If you are pregnant, or low blood pressure, or have any medical condition related to the kidneys, a lower dose of coconut should be used. Also, talk to your doctor for specific instructions on safe dosing.
Coconut water is a nutritious and healthy drink. However, use coconut in the proper dosage to avoid unwanted risks. Talk to your doctor if you have any unwanted effects when using coconut.
Some Negative Effects Of Over-Consuming Pressed Coconut Water
Although coconut is said to be a healthy natural drink. However, when drinking coconut water, it is necessary to pay attention to the dosage to avoid unwanted side effects and risks.
In fact, excessive coconut consumption can lead to several adverse effects such as:
Digestive System Upset
Sometimes using too much coconut water can cause bloating and discomfort in some subjects. Coconut water can increase heart rate and cause low blood pressure if taken continuously in large amounts. Other symptoms of poisoning often include disorientation, dizziness, and body heat.
Increases Blood Sugar
Coconut water is a naturally sweet, sugar-free beverage. However, it still contains carbohydrates and calories that can increase blood sugar, especially in people with diabetes.
Lowers Blood Pressure
In some cases, when you take medicine for high blood pressure, coconut can cause blood pressure to drop too low, causing fainting.
May Cause Allergies
Similar to other foods, coconut water can cause allergies. Therefore, if you have allergies, consider using coconut water.
Diuretic Problem
The property of coconut water is diuretic. This can make you urinate too many times a day, affecting activities and rest.
May Cause Electrolyte Imbalance
High potassium levels can cause hyperkalemia, leading to dizziness, loss of consciousness, and death if consumed in excess.
FAQs
Let's discover some facts about pressed coconut water through these Q&A below, and you will find this beverage much more interesting:
Have A Sip Of Pressed Coconut Water!
Through this article, I believe you understand pressed coconut water and how it is different from regular coconut water. They are both coconut products but not the same.
The most obvious difference is that the color and flavor of coconut are more pronounced in pressed coconut water. In terms of nutritional composition, they are relatively similar.
You will be able to make the right decision as to which type to choose according to your intended use and taste. Don't forget to leave below a comment, like, and share this post, so more people know about pressed coconut water.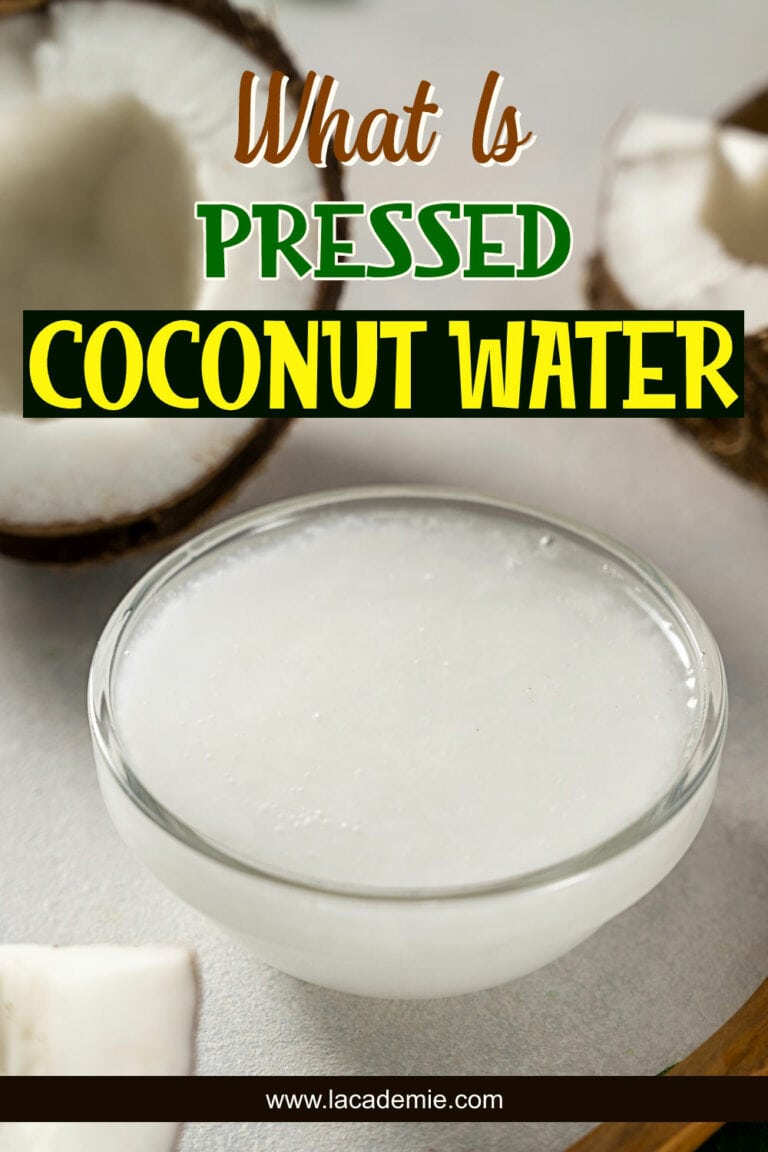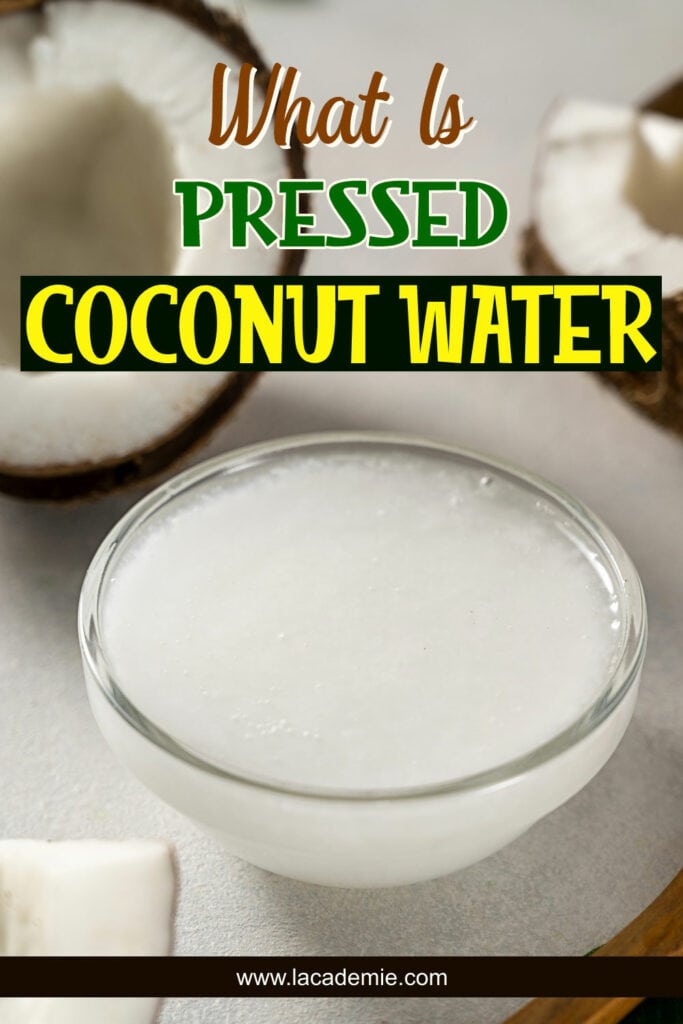 References
Anon, 2021. Coconut water. Wikipedia.
Fatsecret.com. 2022. Calories in Vita Coco Coconut Water Pressed Coconut and Nutrition Facts.
Fatsecret.com. 2022. Calories in 8 oz of Coconut Water and Nutrition Facts.
Shrimanker, I. and Bhattarai, S., 2022. Electrolytes.
T;, B. D. P. L. R. (n.d.). Therapeutic effects of tender coconut water on oxidative stress in fructose fed insulin resistant hypertensive rats. Asian Pacific journal of tropical medicine.
T;, P. P. P. D. V. G. R. (n.d.). Mature coconut water exhibits antidiabetic and antithrombotic potential via L-arginine-nitric oxide pathway in alloxan induced diabetic rats. Journal of basic and clinical physiology and pharmacology.
T;, S. V. G. R. (n.d.). Comparative evaluation of the hypolipidemic effects of coconut water and lovastatin in rats fed a fat-cholesterol enriched diet. Food and chemical toxicology : an international journal published for the British Industrial Biological Research Association.
SK;, G. M. A. M. P. S. S. (n.d.). Prophylactic effect of coconut water (Cocos nucifera L.) on ethylene glycol induced nephrocalcinosis in male wistar rat. International braz j urol : official journal of the Brazilian Society of Urology.
Clegg, D.J., Headley, S.A. & Germain, M.J., 2020. Impact of dietary potassium restrictions in CKD on clinical outcomes: Benefits of a plant-based diet. Kidney medicine.