Looking at my recommendations of Lao street foods, you will immediately be amazed by how versatile and delicious these delicacies are. Lao has lush vegetation resulting from the humid tropical climate, so the foods in this beautiful country are always made from fresh and diverse ingredients.
Another good thing about Laotian cuisine is that local residents always prepare their food with simple methods, bringing out the natural flavor of the ingredients. If you get the opportunity to visit this beautiful country of mountains, don't miss out on its exotic street cuisine.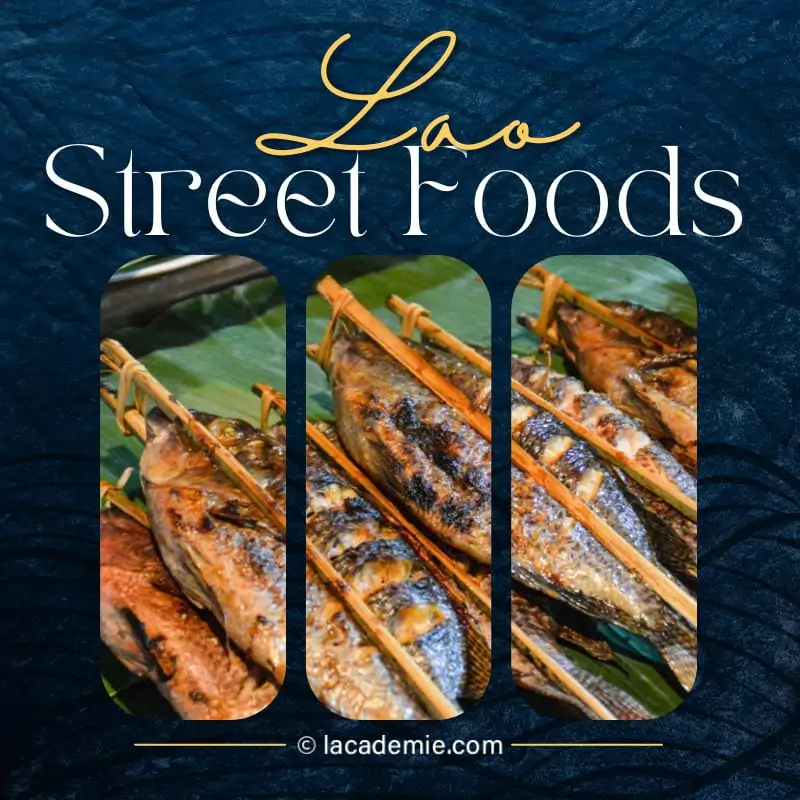 Start today's article with some delectable savory snacks or treats that you should try on Laotian streets. From fish to meats, you will find various savory options right below.
1. Ping Gai
(Grilled Chicken)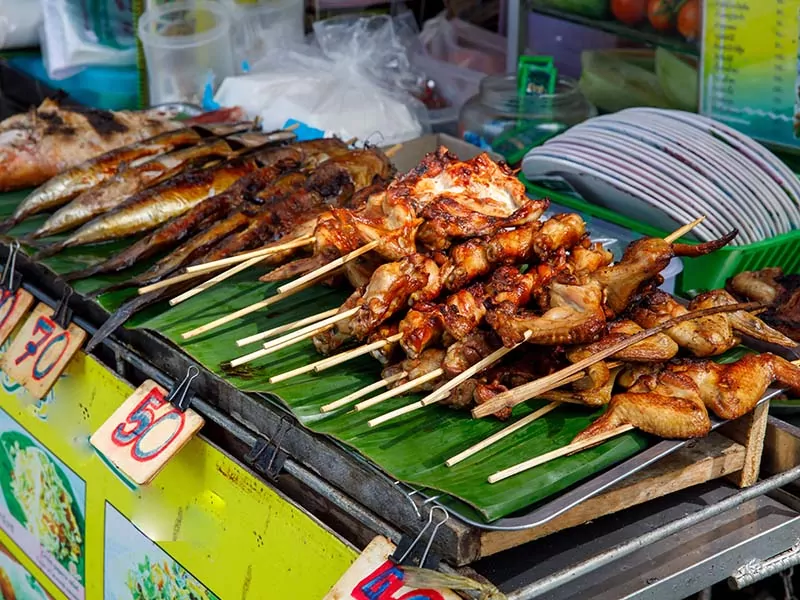 Wandering around the streets of Laos, you can quickly catch sight of sidewalk stalls with a huge traditional grilling stove that sells grilled chicken (or Ping Gai). Golden brown chicken grilled to perfection with a stimulating smell will steal your heart from first sight.
The chefs in Lao will make this dish from a whole chicken (intestines included) which they grill directly on the stove after marinating thoroughly with lime, oyster sauce, and fish sauce. Therefore, every bite of your Ping Gai will always be full of flavors.
Ping Gai can exist in any hearty Laotian meal. You can have it as a favorable treat for dinner or a meaty option for lunch. Laotians don't usually have Ping Gai alone; they match it with Khao Niao (sticky rice) or Tam Mak Hoong (papaya salad) with side dishes.
2. Sin or Sien Savanh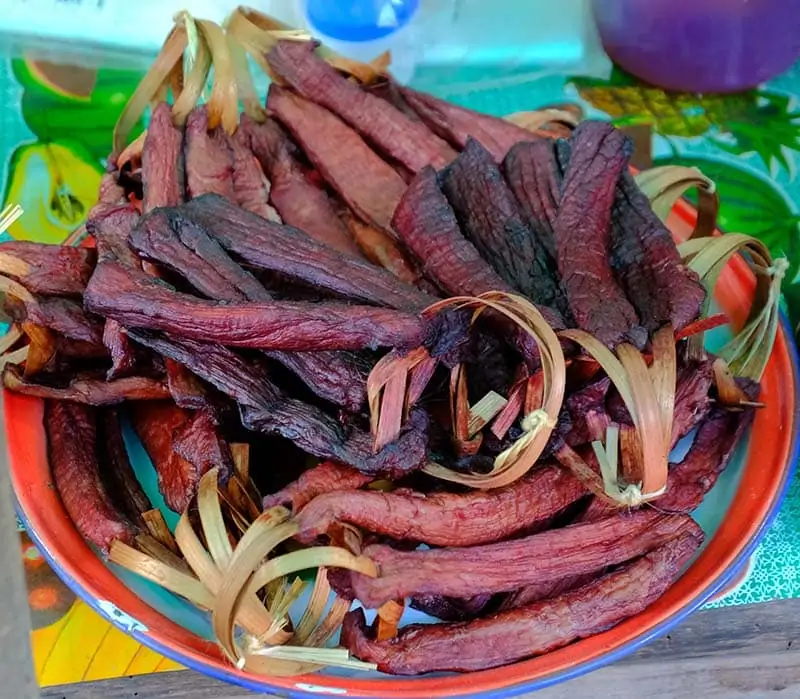 Lao Beef Jerky, Sien Savanh is one of the most popular snacks in Laos. The skilled chef will thinly slice the beef and marinate it with jaggery, garlic, oyster sauce, or soy sauce.
Then people will dry the spiced beef pieces directly under the blazing sun of Laos; perhaps that is also the key to the difference in the flavor and texture of this dish. Before serving, the sellers will deep fry Sien Savanh strips until they have a crispy exterior.
Sticky rice and a special tomato sauce (Jaeow Maak Len) are the most compatible sides and garnishes to go with this delicacy. You should definitely try tasting them together.
This is how Laotian people prepare their authentic Sien Savanh.
3. Lao Insects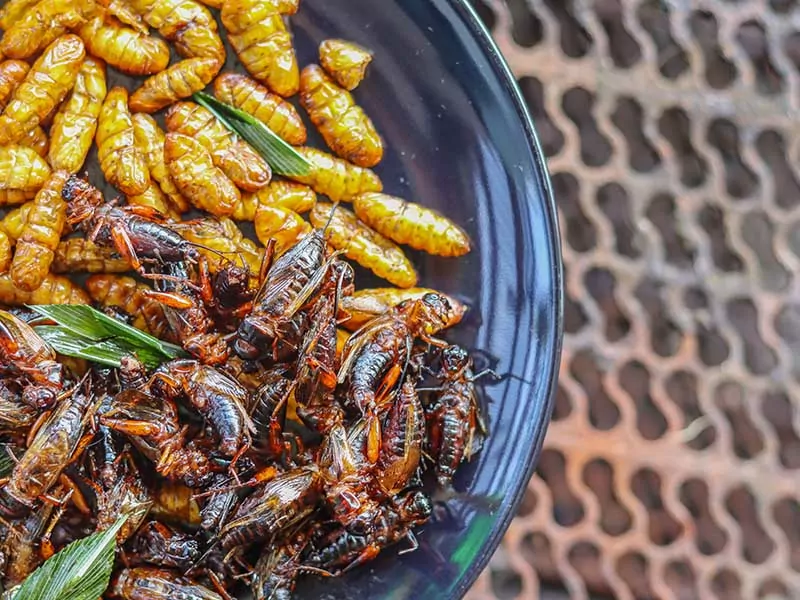 If you are interested in the most exotic aspect of Southeast Asian cuisine, insects are a good place to start. Although these ingredients are pretty unfamiliar to various people, insects are an undeniable great source of proteins, minerals, vitamins, and other nutrients.
Some most favored insects used are crispy grasshoppers, crickets, or bamboo caterpillars. These edible insects are absolutely incredible when paired with a cup of refreshing beer. Are you brave enough to find out what this delicacy tastes like?
4. Ping Pa (Lao Grilled Fish)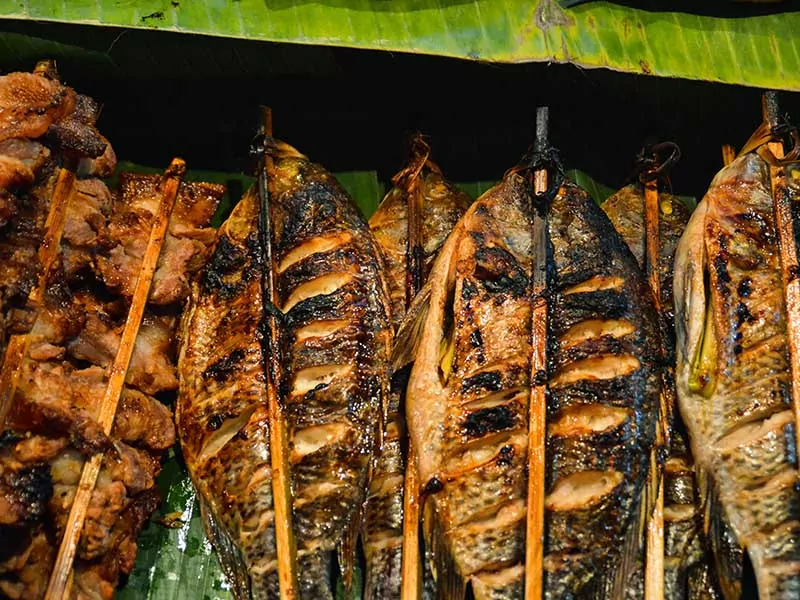 This landlocked country has plenty of streams and rivers, so freshwater fish dishes are a major part of the local diet. One of the most popular ones is grilled fish (Ping Pa), a trendy dish in Luang Prabang.
Lao people will not limit the type of fish used for Ping Pa, so there will be many types of fish of different sizes for diners to choose from. Before grilling fish on a charcoal stove, the chef will marinate them thoroughly with salt, lemongrass, and kaffir lime leaves.
The best way to eat this dish is to eat it when the seller has just removed your portion of Ping Pa from the stove. To enjoy the succulent flesh of the fish, you have to peel off the salty fish skin and drizzle some drops of lemon juice onto it.
Never forget to have your portion of Ping Pa with pickled mustard greens (Som Phak Kard) and sticky rice for a delightful and interesting meal.
Let's experience Laotian lovely Ping Pa through this review!
5. Mok Pa
(Steamed Fish In Banana Leaves)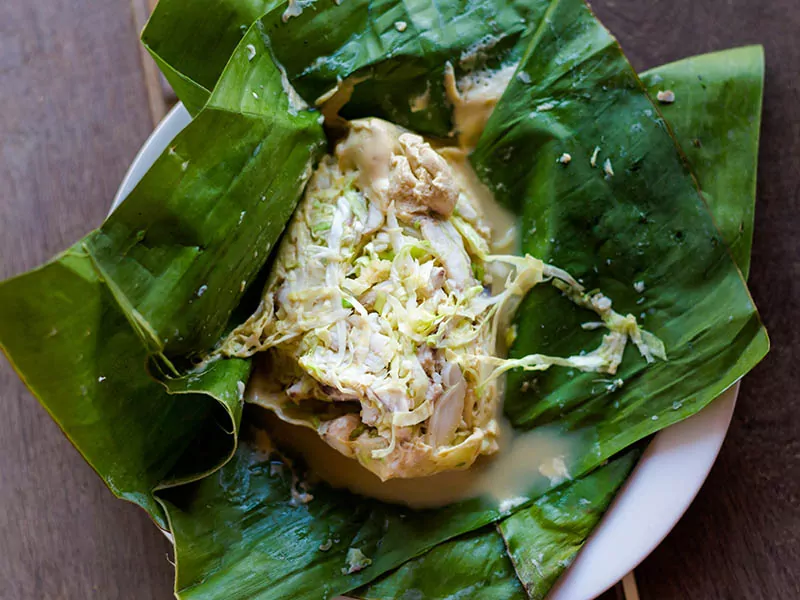 The next recommended fish dish on this list is Mok Pa (steamed fish in banana leaves). Locals prepare it by cooking fresh freshwater fish in banana leaves with sticky rice powder and spices like kaffir lime leaves, lemongrass, or chili peppers to eliminate the fishy smell.
The banana leaf part acts as a protection to help retain all the sweetest flavors of the fish, creating a different mouth feel from other steamed fish dishes that you have tried.
Furthermore, from the preparation to the serving stage, sellers always use very eco-friendly materials, which will impress you if you care about the environment.
6. Sai Oua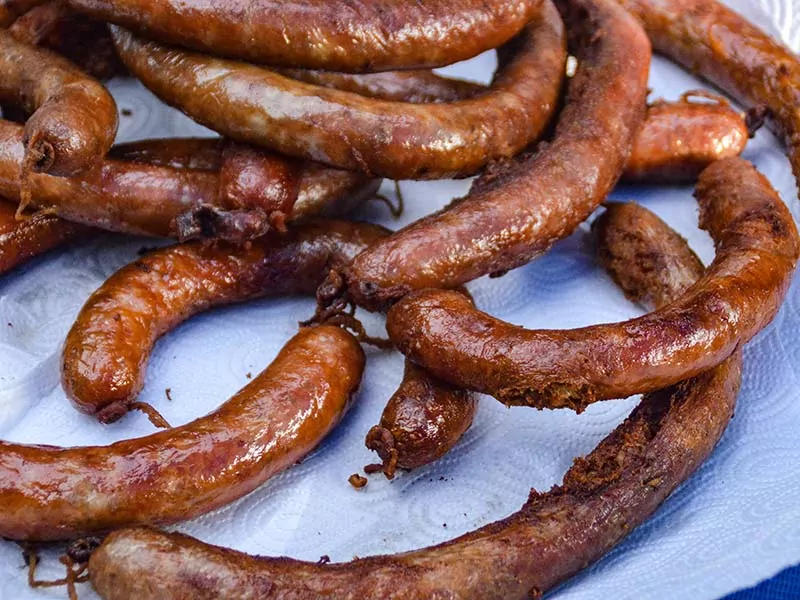 Any cuisine has its own sausages, and Laotian people also do. But their version is highly different in terms of ingredients and seasoning in use.
The main ingredients of Sai Oua are pork, lemongrass, lime leaves, local spices, and fish sauce. After preparing the sausage mixture, the cooks need to leave Sai Oa for a few days until the meat is fermented and turns pleasantly sour.
It is the right time to cook Sai Oua. To enjoy the standard portion of an authentic Lao sausage, you need to dip it with a typical Lao dipping sauce made from fish and sticky rice.
You can also have Khao Niaw on the side when eating this delicacy. Once having a mouthful of Sai Oua, you can feel a significant herbaceous taste with a flavorful combination of aromatic spices besides the taste of pork. How palatable!
Lao Sausages, and what you can expect from it is shown here!
7. Larb
(Minced Meat Salad)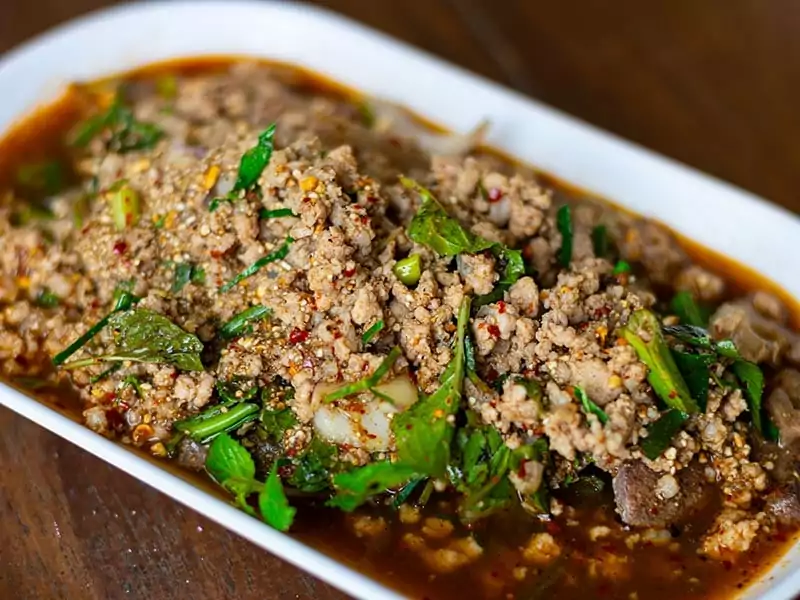 The next meat-filled dish on this list is this Larb/Laap. This is an extremely savory delicacy that you will be very sorry to miss. Don't misunderstand this dish as a recipe from Thailand; Laap is one of the national dishes of Laos.
Laap means luck in Lao, representing the Laotians' wishes for peace. If you don't mind eating raw meat, try the original Lao version. Otherwise, tell the chef to cook the meat for you.
Beef, pork, poultry, and offal, especially chopped heart and liver, are the most popular ingredients in Laap. The Larb Moo dish may come with shredded pigskin. Before serving, the chef will combine all ingredients with lemon juice, lemongrass, and a few Lao spices.
Greet this Lao Larb by following this review here!
8. Sai Kok or Sai Gork
(Sour Pork Sausages)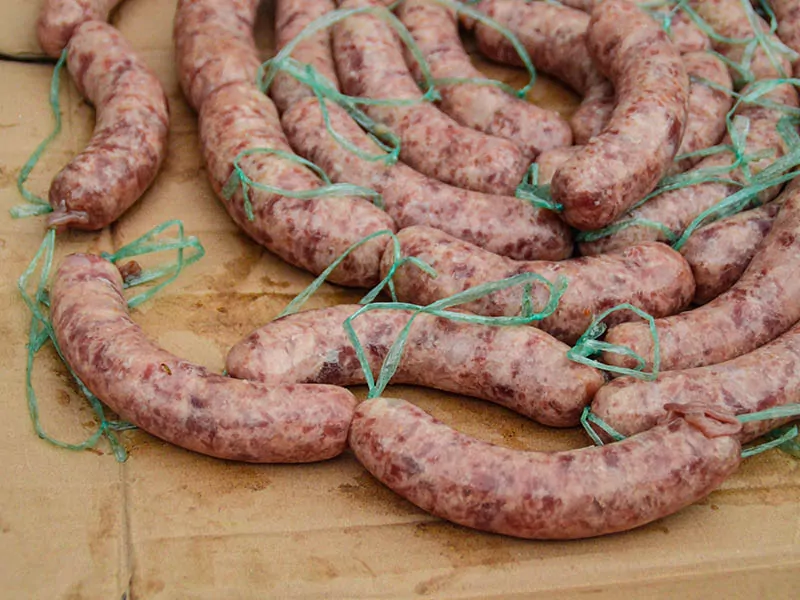 Besides Sai Oua, Sai Kok is another gem of Lao delicacies. Although both kinds of Lao sausages have pork as the main ingredient, Sai Kok includes fermented sticky rice (which makes the food have a pleasing sour taste).
Lemongrass, kaffir lime leaves, and fish sauce are also irreplaceable components inside a portion of Sai Kok. Therefore, this dish is flavorful and appealing.
You can also find its variations in the Northern region of Thailand as the Lao gastronomy dominantly influences the culinary cuisine there. To best enjoy Sai Kok in Lao, you should have it with chili paste, Khao Niaw, and raw cabbages (for additional freshness).
9. Khai Ping
(Lao Grilled Eggs)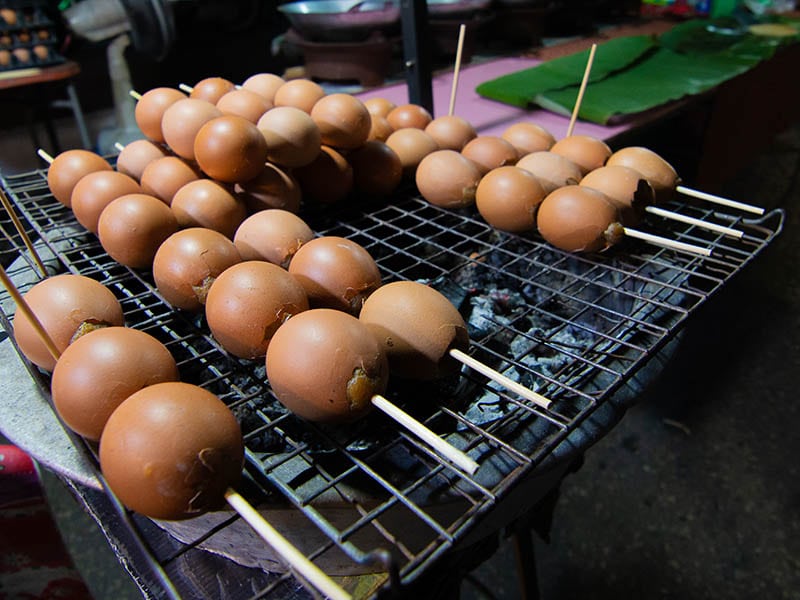 A grilled food popular with Lao people and tourists is Khai Ping (seasoned eggs that are grilled on skewers or baked). While baked eggs are also a popular snack in Vietnam and other Asian countries, the Lao version will give you a new experience.
In Laos, the seller must wash the eggs thoroughly and make a tiny hole in the top to remove the whites and yolks inside. Then, they mix these parts with spices such as black pepper and Padaek (Lao fish sauce) before pumping the mixture into each eggshell.
Finally, the seller will bake the watered eggs directly on the stove until the inside is fully cooked. When eating, you just need to peel the shells to enjoy the delicious interiors of the eggs.
---
Have you ever imagined having these wonderful main dishes on the streets instead of in a fancy restaurant? Trust me: Lao street vendors know that they are selling to you!
10. Lard Na or Lad Na
(Lao Stir-Fried Noodles With Gravy)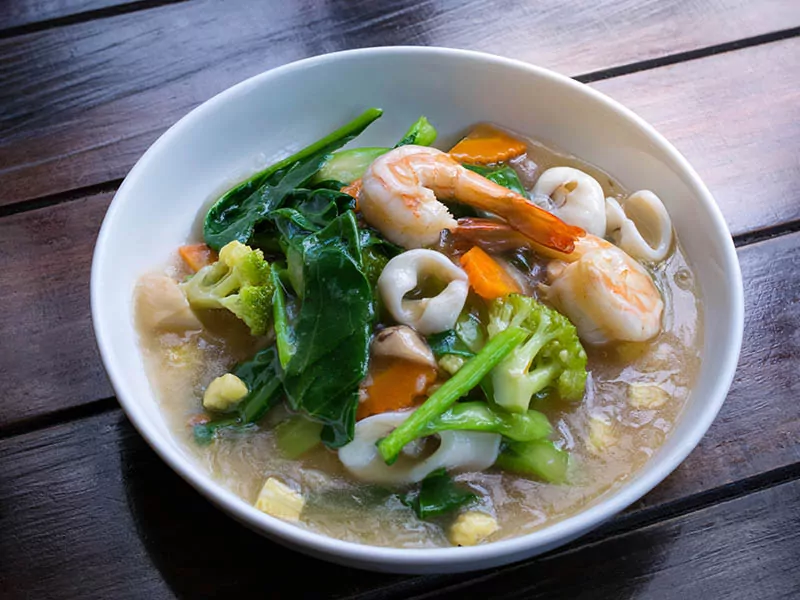 Lard Na or Laad Na is a famous stir-fried noodle served with thick gravy in Laotian gastronomy that local people typically eat for lunchtime at the street stalls.
The Chinese immigrants from Guangdong province brought the noodle recipes to Southeast Asia, which inspired Lao Lard Na. As time passed, the original recipe branched off into may different variations.
Still, a typical serving of this dish usually includes meat (occasionally tofu), veggies cooked in chicken stock, and a thick gravy.
You can use as much or as little fish and soy sauce as you like because sellers regularly don't season your food too much. Lard Na can surely be a satisfying and nutritious meal for the day.
11. Khao Niew or Khao Niao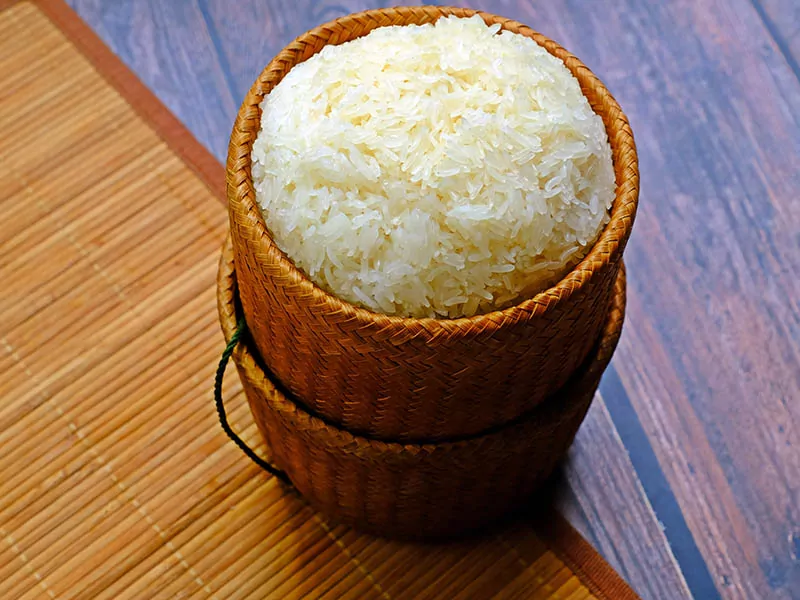 Instead of eating regular rice like some of their neighbors, Laotian people prefer including Khao Niaw (sticky rice) in their daily diets. Traditionally, people in Lao serve Khao Niaw in a cone-shaped bamboo basket called "Thip Khao" that helps keep the rice warm longer.
My tip to eat Khao Niao for you is to form a small rice ball with your hand and make a narrow hole on its surface. After that, use your rice ball as a spoon and "stuff" the food onto it so that you can have the whole thing in one bite.
Khao Niaw can be an excellent pair for any Laos dishes, so feel free to call for it whenever you have a meal in Lao if you want some.
12. Khao Jee
(Grilled Sticky Rice On A Stick)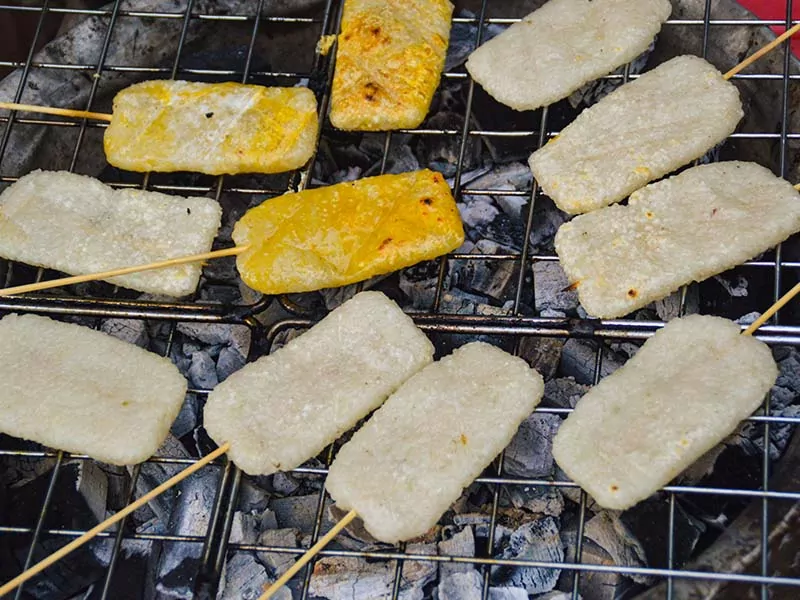 The next rice dish in this category is Khao Jee. Since glutinous rice has been the main starch dish in the Lao diet for centuries, they have developed several ways to make their signature dish more interesting, such as grilling.
To make a portion of Khao Jee, they dip a glutinous rice patty into a beaten egg mixture, skew it into a bamboo stick, and grill on a direct coal fire. After a few minutes, skewers of sticky rice with an appealing golden shade are ready to serve.
Since glutinous rice is relatively more filling than regular rice, people in Lao usually have Khao Jee for breakfast or a quick snack to fill up their stomach quickly after a long night.
13. Khao Soi
(Lao Tomato Meat Sauce Noodle Soup)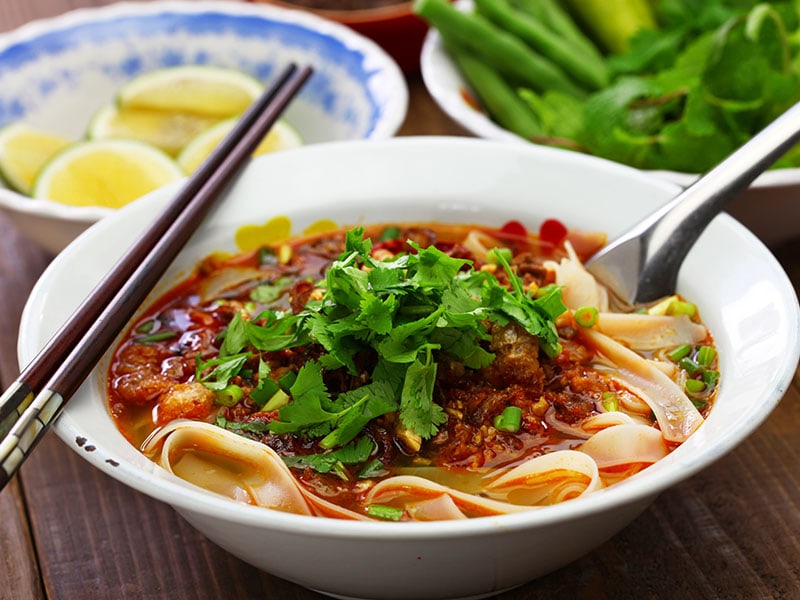 Khao Soi is a well-known dish in the ancient streets of Luang Prabang. You can find similar noodle delicacies in neighboring countries, like Tom Ka Gai from Thailand or Pho from Vietnam. But Khao Soi is truly a league of its own.
With the name "Khao Soi," which also means "sliced rice" in the Lao language, you can somewhat guess the main ingredient of this dish. The noodles used for Khao Soi Lao will be steamed and thinly sliced before serving with clear bone broth (instead of coconut curry).
The seasoning of Khao Soi is similar to previous Lao dishes; you can add chili or other spices to taste more. Don't forget to serve this dish with green vegetables for more nutrients.
14. Khao Piak Sen
(Lao Rice Noodle Soup)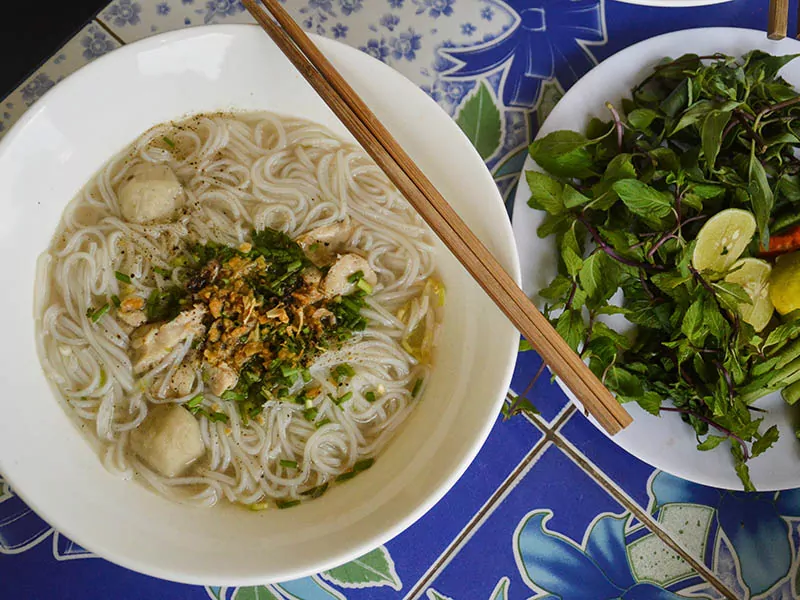 Just about the look, you might think this dish is quite similar to Pho, a famous dish of Vietnamese cuisine. However, the traditional Lao Pak Sen dish is actually completely separate.
Khao Piak Sen's name means "wet rice" in the Lao language, and its Udon-like noodles consist of rice and tapioca. The flavorful broth of this dish (made from chicken, beef, or pork bones) is another attraction that charms many eaters.
If you want it to be sour, you can squeeze more lemon or add a little spice; you can also use chili. Besides, salads, bean sprouts, and fresh herbs are always ready on the table, so you can put some into your bowl if you wish.
15. Khao Jee Pate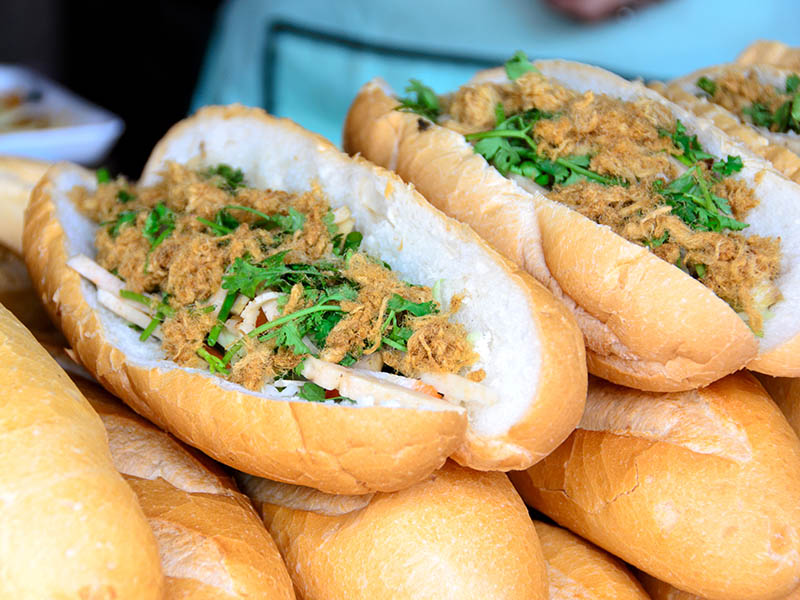 Khao Jee Pâté is a famous sandwich in Laos which might recall Vietnamese Banh Mi. However, the stuffing and seasoning choices make Lao Sandwich stand out. Khao Jee Pate was created during the French colonial era in Laos. Nowadays, it is a staple breakfast for Lao people.
A serving of Khao Jee Pâté often includes crispy French bread on the exterior and the interior with carrots, sour pork meat, fresh herbs, and pate. One particular condiment, Lao Jaew Bong, is a must-have component, helping the food offer an in-depth Laotian feature.
How about looking at how local people make their Khao Jee Pate?
16. Nam Khao or Naem Khao
(Laos Crispy Rice Salad)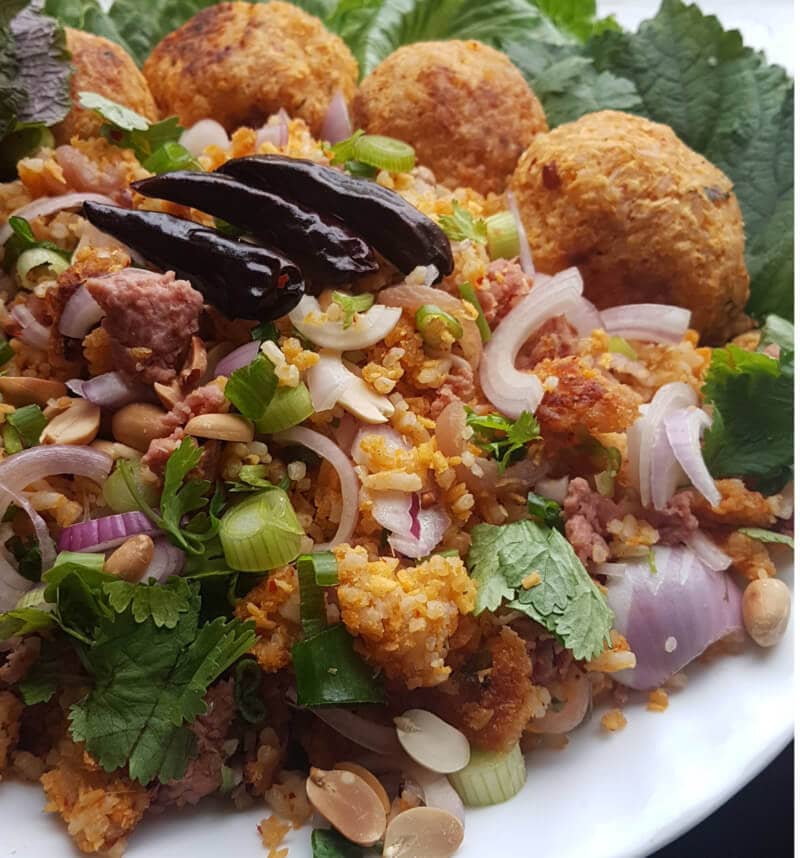 As I have mentioned, glutinous rice is always the main component in a Laotian meal. When they have leftover rice, local people usually turn it into a delicious dish called Nam Khao or Nam Khao. Its birthplace was in Vientiane, but you will have no difficulties buying it in other parts of the country.
Regularly, in a portion of Nam Khao, the chefs serve you a deep-fried rice ball, some Sai Kok, chopped nuts, and various other vegetables/herbs (mint, cilantro, shallot). Lime juice, fish sauce, and chilies also appear as the dressing for this favorable salad.
The right way to enjoy Nam Khao is to break the crispy rice ball right before eating so that the lovely crunchiness of this delicacy is well-preserved. In case you want to have a heartier salad plate, you can ask the chefs for additional eggs.
This Nam Khao-making video will show you some facts about this street food.
---
It is essential to add some healthy fiber to your diet, so you should sometimes refer to my below recommendations if you are in the mood for something healthier.
17. Tam Mak Hoong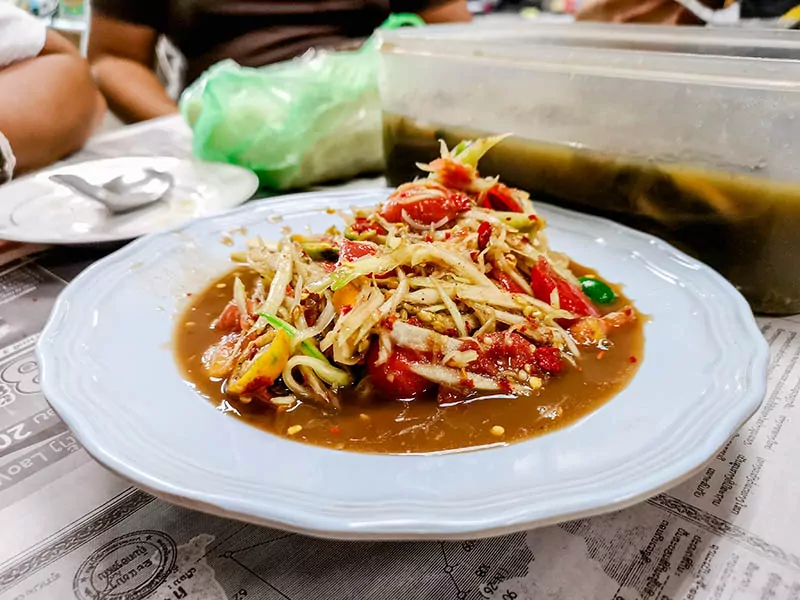 Although this dish looks like a yummy Thai dish called Som Tam, it is an authentic Lao recipe. To make a tasty and spicy papaya salad, street vendors pound long thin slices of green papaya, lemon, chili, and spices in a mortar.
If you don't want your Tam Mak Hoong to be spicy, you can ask the vendors/sellers to prepare the "bor phet" (non-spicy) variation. The skill of mixing salad also requires a lot of attention and skill so that the papaya is both mixed well and not too soft.
Tam Mak Houng also includes peeled shrimp to make the dish more eye-catching and attractive. Local people love having the treat with sticky rice since the chewy starch base can neutralize the salty taste and strong smell from the salad.
Here is the secret behind the delectableness of Tam Mak Hoong.
18. Khaiphaen or Khaipen
(Fried River Weed)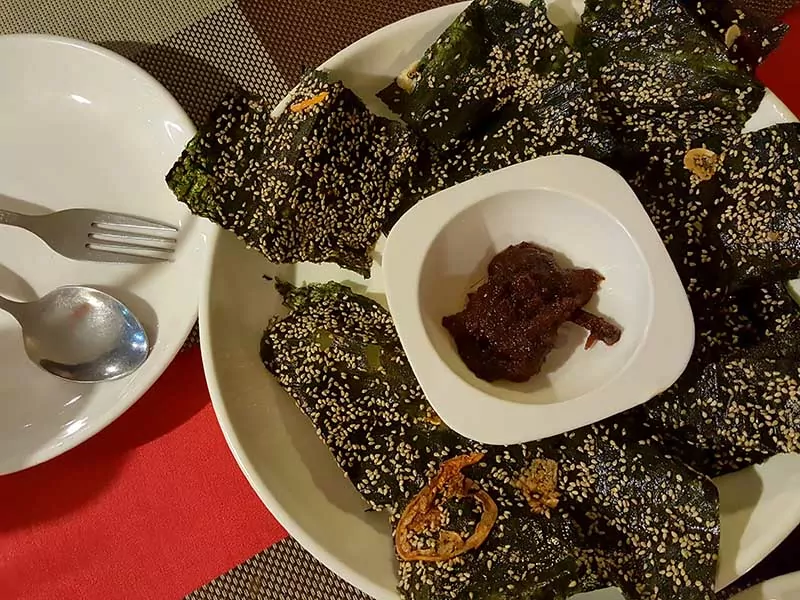 Khaiphaen (or Khaipen) is a Lao vegan-friendly snack made from freshwater green algae harvested from the Mekong River in northern Laos. You don't need to worry about the quality of the algae used; local people need to follow some rules to harvest the freshest ingredient.
It might remind you of a familiar Japanese side dish, Nori, and this relation is reasonable. You can also eat Khaiphaen as a snack instead of a side dish as usual.
After harvesting the algae by hand and washing it carefully, the chef presses the algae into thin pieces and marinates them with garlic and sesame seeds before drying the seasoned algae pieces in direct sunlight.
To eat Khaiphaen, Lao people will fry these pieces of algae quickly and serve them with Jaew Bong chili sauce typical of this country. The processed Khaiphaen are put in plastic bags to use later or for sale so that you can buy them as a souvenir after your trip.
19. Lao Yum
(Salad With Egg Dressing)
When you grow bored of ordinary salad, let's turn to Lao Yum, a delicious watercress-based salad from Lao, for a new experience. It is widely available in many Lao street food stalls. Besides watercress, other ingredients include iceberg lettuce, sliced tomatoes, boiled eggs, and herbs.
This Yum Salad might be the healthiest option for you on this list, and you can also ask for a vegan-friendly portion by omitting eggs. Therefore, if you are getting bored with oily or savory delicacies, this watercress-based salad can become your savior.
20. Salisud Cob Dai
(Steamed Corn On The Cob)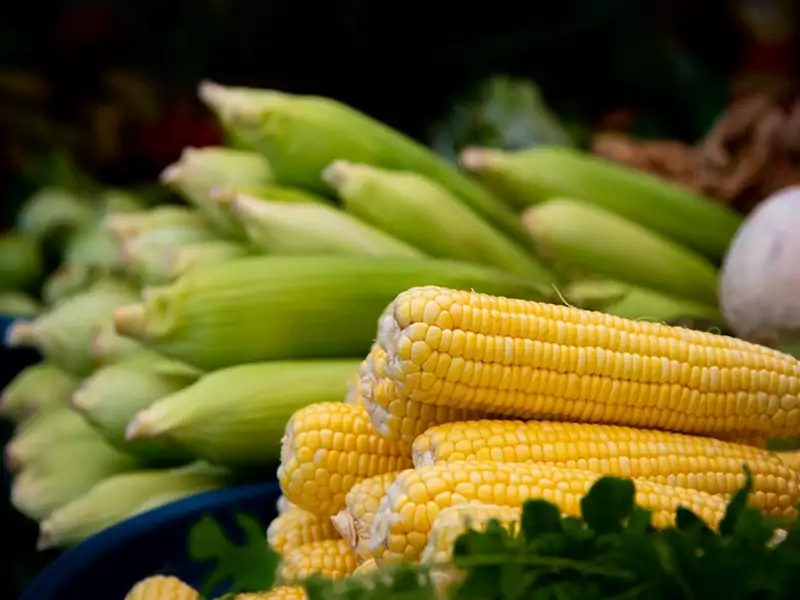 I highly recommend this Salisud Cob Dai (steamed corn on the cob) to eat as a light meal to calm your hungry stomach. Don't worry about the quality of the corn: they are the local products and will indeed offer you the most rustic sweetness you have ever imagined.
You just need to detect the vendors with huge cooking pots in the front; they probably sell something steaming hot that you are expecting. Remember to buy more than one because you will want one more later.
---
Last but not least, I would like to introduce you to some of the most famous desserts to find in Lao. They are all light and favorable, so you should give them all a try after experiencing the previous heartier delicacies. Check them out now!
21. Khao Tom
(Steamed Sticky Rice Parcels)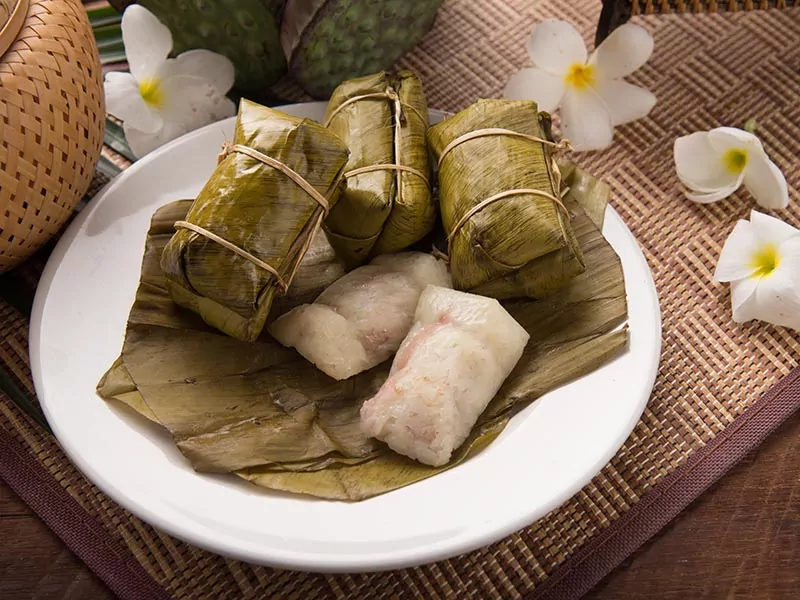 How about having all sweet and starchy ingredients in only one piece of food? If you love the idea, I suggest Khao Tom. It is a finger-licking combination of sticky rice, coconut cream, and some other components wrapped carefully under layers of banana leaves.
Not only a yummy dessert in Lao, but Khao Tom is also loved as a Thai, Vietnamese, or an exquisite Filipino dessert. The main fillings for Khao Tom in Lao can be as simple as black beans, taro or bananas, or some other heartier components like meats.
The way to have it is also simple; you just need to unwrap the covering banana leaves and eat it as is. The flavor of Khao Tom mainly comes from the fillings, so you should ask the sellers and choose your favorite one when buying.
22. Ka Nom Krok
(Lao Coconut Pancake)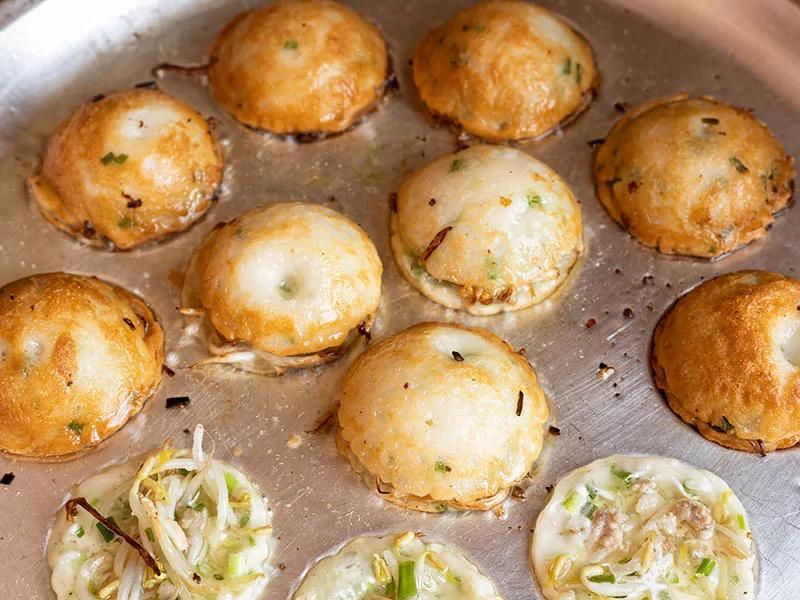 Ka Nom Krok is a sweet dish sold on the streets of Luang Prabang, originating from Thailand during the Ayutthaya period. This sweet pancake, which is made from coconut milk, sugar, rice flour and cooked on a hot stove, has a small round shape.
The chefs have to cook two pancake halves separately and turn them upside down like a sandwich. After that, they will wrap them in banana leaves/small bags for customers to hold and enjoy when the food is still hot.
To make the pancakes more savory, you can ask for a little finely chopped spring onions as a topping. This combination of coconut's milky taste and the strong smell from onions will enhance the overall experience with Ka Nom Krok.
23. Hang Peung
(Grilled Honeycomb With Bee Larvae)
Are you ready for more insects? Besides being a savory snack, this grilled honeycomb with bee larvae snack is an excellent option for a quick protein boost. The larvae inside the honeycomb can offer an additional rich taste that you cannot find in some other desserts.
To enjoy the gooey and juicy honey, you need to peel off the banana leaves wrapped outside the food. The burnt flavor of the leaves will add a gorgeous smoky scent to the whole Hang Peung portion.
Don't hesitate to buy this dish when you have a chance; its mild nutty taste and natural sweetness will allure you quickly.
24. Khanom Khuu or Patongo
(Lao Donut)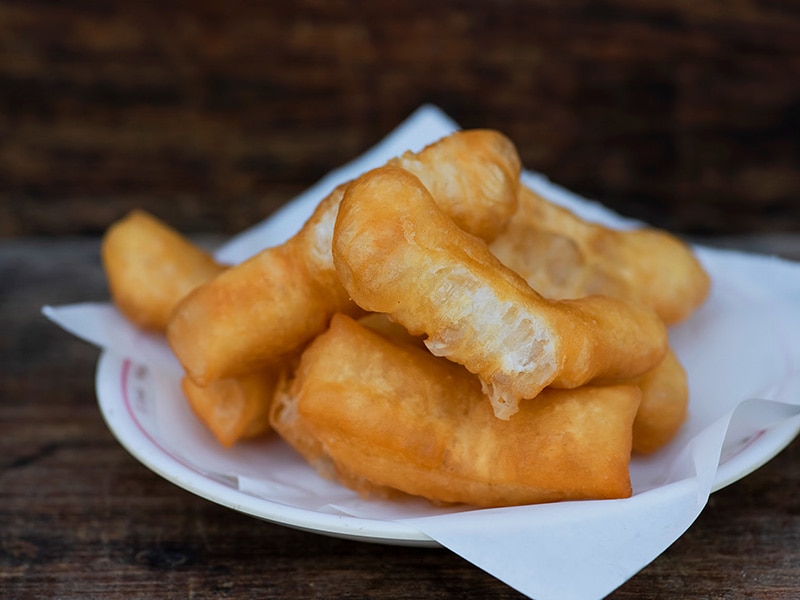 In Laos, Khanom Khuu/Patongo or Laotian doughnuts are popular breakfast items. Youtiao, a popular Chinese delicacy brought to Lao by Chinese immigrants, inspires this dish. Laotians now enjoy it with warm soymilk and other delicious morning delights.
To create a puff and light texture, as you can see in a regular piece of Khanom Khuu, the chefs need to knead the dough meticulously and leave it to rest overnight. After that, they will re-shape the dough into elongated pieces in the early morning and deep-fry them all.
The Khanom Khuu won't be too bland or gooey since the chefs have already flavored the dough with basic condiments before processing. All in all, Khanom Khuu is incredibly affordable; Laotian people usually buy it in a huge pack and use them later.
This introduction about Khanom Khuu is the most detailed one you might ask for.
25. Jeun Kuay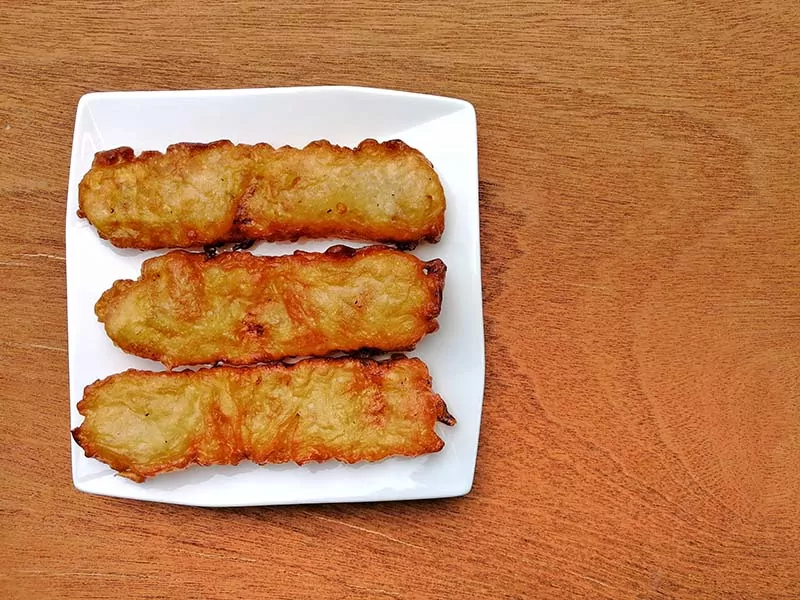 Sweet Jeun Kuay commonly acts as a snack throughout Lao rather than a side dish for a meal. Cooks prepare it by dipping the flattened banana chunks in batter and deep-frying in hot oil.
Once you start nibbling, you'll notice a tinge of crispiness on the exterior of this food before the mellow interior rushes out. It is easy to find vendors selling this Jeun Kuay on the streets of Laos; find and buy these fried bananas at your leisure.
If you don't like bananas, you can discover other versions using alternative types of vegetables, such as fried taro (Jeun Man Pueak) or fried sweet potato (Jeun Man Dang). These two are starchier and also delectable.
26. Ping Kuay
(Lao Grilled Bananas)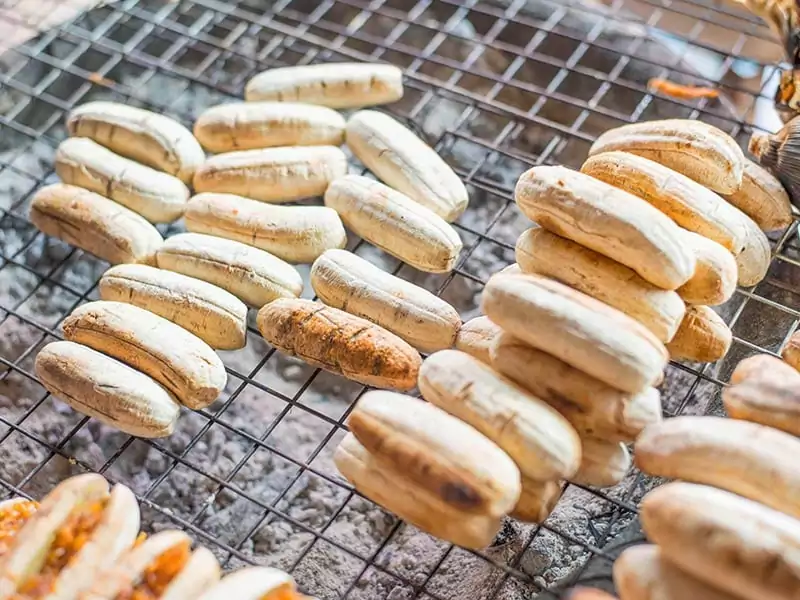 What is the point of eating Grilled Bananas instead of enjoying fresh ones? Discover the secret behind this by giving yourself a serving of Ping Kuay. This Lao treat offers a distinctively sweet taste with a note of smoke (thanks to the bananas being grilled on hot coals).
It is not hard to find a street Ping Kuay vendor in Laos because grilled bananas are a cheap dessert that many people in this land adore. Once ordering Ping Kuay at the stalls, you can ask the vendors to coat your bananas with some palm sugar syrup to enjoy a sweeter bite.
27. Lao Coffee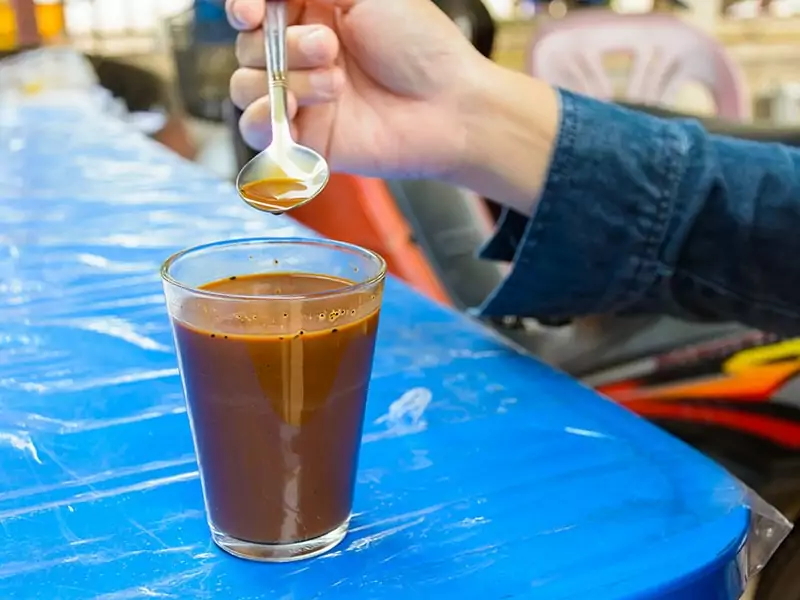 Coffee is available in many countries around the world. Among countless brands out there, I suggest you have a taste of full-flavored Lao coffee.
The country's history with the drink dates back to when French colonists brought the first coffee beans to this country in the early 20th century. From that time, local people have developed their own ways to process this favorable ingredient and make it a staple drink for their breakfast.
One thing you should notice when having Lao Coffee is it will generally be high in caffeine and bold in flavor. So, if you are a fan of strong coffee, you should definitely try this!
28. Nam Oi (Sugar Cane Juice)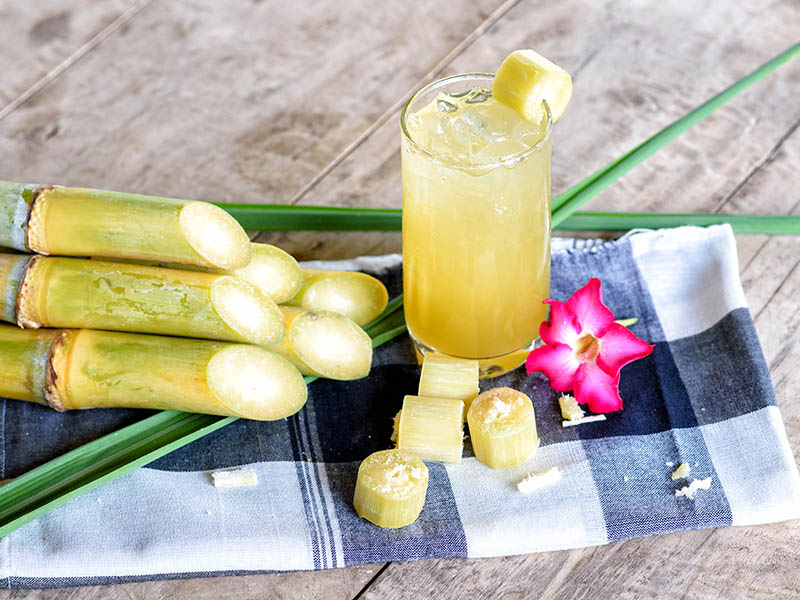 Normal sugarcane juice is already delicious, but the Lao version of it is even more so. After crushing the freshest of sugarcanes into a sweet juice, Laotians love adding more sugar syrup and sometimes a splash of lemon juice to balance and diversify the taste.
To make the treat more refreshing, they will serve Nam Oi in a plastic bag or a cup of ice cubes. Trust me; nothing can be better than a sip of cold Nam Oi under the hot weather.
Suggested places to have this delicacy: roadside beverage vendors.
29. Khao Niew Mak Muang
(Mango Sticky Rice)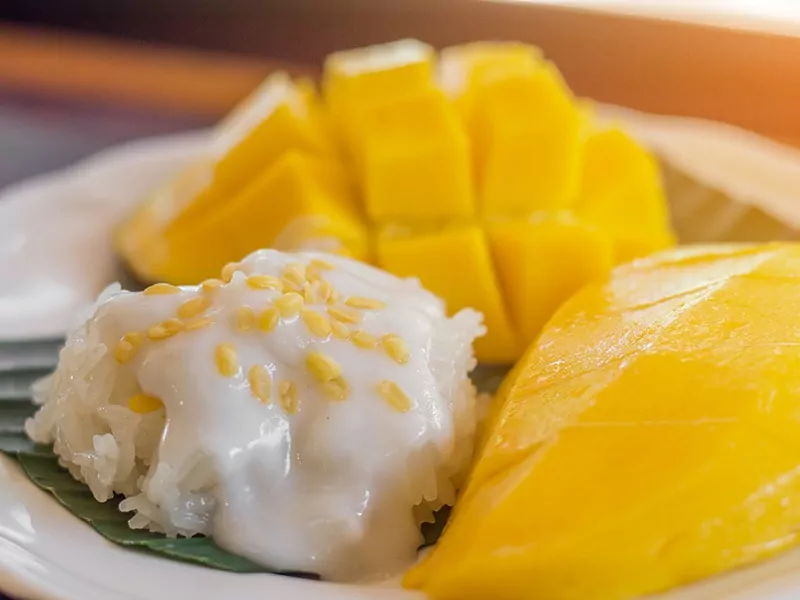 This is a popular Lao dish of Thai origin. Unlike similar foods in Thailand, it can go with a portion of white mixed black sticky rice and sprinkled sesame seeds. The mango needs to be fully ripe so that every piece of this fresh fruit can quickly melt in your mouth.
You can also find various other versions of this mango sticky rice in Lao cuisine. Some most popular ones are Khao Niew Mak Muang Sii Faa (blue sticky rice), Khao Niew Mak Gawk (plum sticky rice), and Khao Niew Thu Lian (durian sticky rice).
Let's Grab Your Luggage And Come To Lao!
If you have ever roamed the busy streets of Laos, you will undoubtedly fall in love with the street cuisine that I have introduced to you. The exciting and exotic flavors of Lao food will stay for a long time on the tip of the tongue, reminding you of the culinary goodness that this beautiful country possesses.
After tasting all the food above, please leave me a comment to know what you think about them. In case you have another recommendation to share with me, feel free to suggest it! I also have one more favor to ask: please share this post with your friends! Many thanks!