Korean barbecue recipes are all about bringing the balance and contrast between flavor and texture. These delicate Korean dishes are highly customizable to fit your taste. So that's why you should save this post for the next time you want some Asian flavor grill right at home.
In Korea, people tend to have a barbecue on special occasions with numerous pieces of Korean cooking silverware to serve different stages of the dish. However, this post will simplify all the cooking processes to help your experience in the kitchen be as relaxing as possible.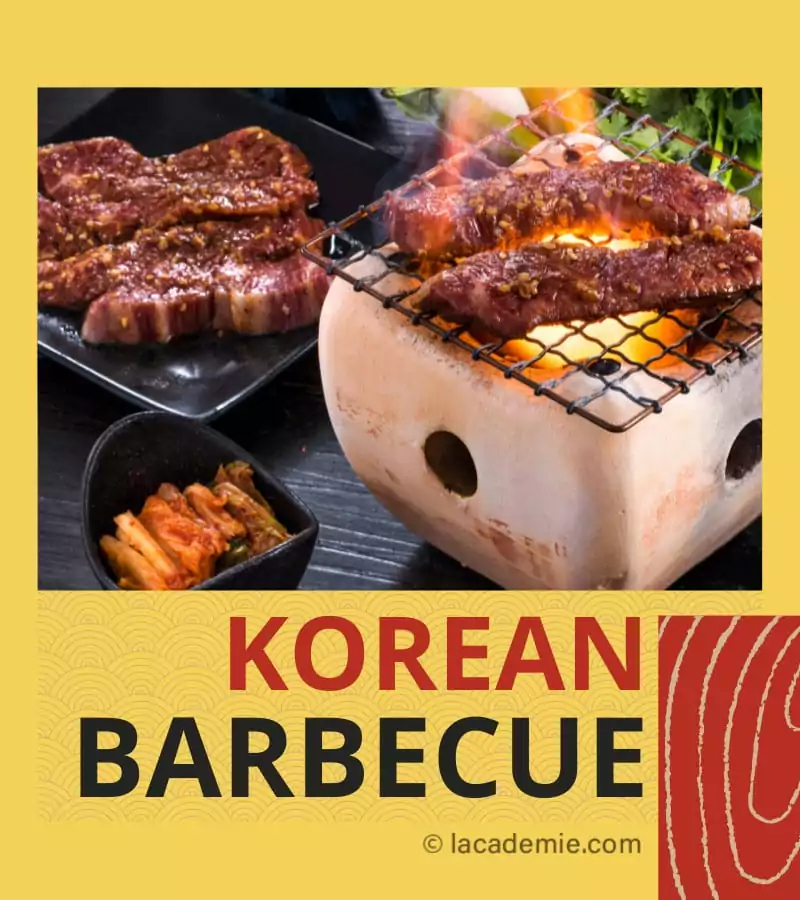 Heavenly Korean Barbecue Dishes Just For Your Kitchen
Korean barbecue is not just a simple dish, but the culture behind it is fascinating as well. Most often, Koreans serve the raw ingredients right at the table, so you should expect your meal to be full of interactive activities.
You will need to grill the meat while also having wonderful conversations with family members. In some cases, you can have Soju as an iconic Korean beverage to go with the grilled meat. To put it shortly, barbecue is a perfect dish to establish connections with people around you.
But that's enough about Korean etiquette while having a barbecue. Let's dive straight into the dishes that you should be making.
Total time: 8 hours 35 minutes (with 8 hours of marinating the meat).
LA Galbi is a popular Korean grilling recipe in Korean cuisine. It was Korean immigrants in Los Angeles who first developed the recipe, hence LA in the name. The dish comes together quickly, making it a solid choice for a home-based BBQ recipe.
The best cut of meat to use is the flanken ribs which have a certain tenderness thanks to the fat marbling and connective tissues. Most often, the beef comes in thin slices, thus quickening your grilling process.
The marinating mixture should compose of soy sauce with honey, rice wine vinegar, and pineapple juice. Because of the acidity from the pineapple juice, the beef becomes much more tenderized when grilled. It's best to leave the ribs in the marinating mixture for around 8 hours.
When it comes to grilling LA Galbi, you should do it over a grill with an open fire to get that smokey and caramelized flavor on the meat. If you don't feel like working with fire, then the oven is a perfect alternative method to cook the meat.
Total time: 3 hours (including 2 hours of marinating).
Bulgogi is hands down one of the iconic dishes when it comes to Korean BBQ. The word Bulgogi is directly translated to "fire meat". Many people believe the first Bulgogi appeared in the Goguryeo era between 36 BCE and 668 CE.
Although there's no limit to the type of meat to use for Bulgogi, I prefer using beef. Because of the tenderness and succulent nature of beef, you can quickly whip up a nice plate of Beef Bulgogi. I suggest using ribeyes steak as the cut has a perfect balance of fat and meat.
Instead of using pineapple to soften the beef, you can use Asian pear for a more traditional approach to the recipe. Then, I suggest adding Gochujang (Korean red pepper paste) with brown sugar, sesame oil, and soy sauce for the marinating concoction.
Ideally, you want to flip the beef slices after 2 – 3 minutes to get some beautiful charred marks on both sides of the beef. Your beef Bulgogi should finish cooking with a tempting aroma of various condiments and a nice dark brown color.
Discover how you can make Beef Bulgogi right at home.
Total time: Around 45 minutes (including 30 minutes of marinating).
Despite having a different name, Jeyuk Bokkeum is another variation of Bulgogi. However, you can tweak the recipe by alternating some condiments to create a very unique grilled pork dish. It's a simple dish that you should pull off right at home.
Commonly, locals like using Maesilaek (Korean plum extract) to combine with soy sauce, Gochugaru (Korean pepper flakes), and Mirin (Japanese rice wine) for the steeping concoction. Remember, your sauce needs to have a paste-like consistency to qualify.
For serving, Jeyuk Bokkeum is best served with traditional Korean side dishes like Kimchi or rice. If you can't handle all the tough grilling, I recommend cooking the meat on a big skillet to get the effect. Jeyuk Bokkeum will have a nice bright orange color thanks to the sauce.
Total time: At most 40 minutes (with 15 minutes of resting).
Here's another Bulgogi variation that you can take to experiment with different ingredients. Dak Bulgogi, or BBQ chicken, is a simple recipe that utilizes Gochujang to season the meat. Alternatively, you can grill, pan-fry, or broil the chicken in the oven.
For the best cut of chicken, I suggest using the thighs with the bones to keep the meat moist and flavorful. Aside from using Korean chili paste, you will need to add soy sauce, brown sugar, and Mulyeot (Korean corn syrup) to coat the chicken thighs.
While grilling the chicken will take around 3 – 4 minutes for each side, you need to remember to flip only once to avoid losing a lot of the seasonings. For broiling, it will cost you 4 – 5 minutes, but you need to pay attention not to overcook the chicken.
In my opinion, pan-frying gives you much more control over the outcome of your Dak Bulgogi. The result you get is a tenderized Dak Bulgogi with bright orange color from the sauce.
Total time: 2 hours 10 minutes (with 2 hours of marinating the meat).
In Korean, people tend to refer to Samgyeopsal Gui as a grilled pork belly dish. Traditionally, Korean locals will grill the pork belly over an open fire or a special pan to draw as much fat from the meat as possible.
Polar opposite to other grilling recipes, Samgyeopsal Gui requires little seasonings to work with. Commonly, people often use wine with peppercorn and simple herbs like rosemary to cure the pork meat.
If you use red wine for the marinating concoction, make sure you don't steep the meat for more than 24 hours. Ideally, the pork belly should be ready after 2 – 3 hours of marinating. Don't forget to cut the pork belly into smaller pieces before grilling.
People often serve Samgyeopsal Gui with a variety of Korean vegetables. You can put a bay leaf in the center and roll up the vegetables with the pork belly slices for a more intense taste.
Samgyeopsal Gui is the ultimate recipe to enjoy pork belly.
Total time: 53 minutes (with 30 minutes of marinating the meat).
Before chili pepper made its way into Korean cuisine, people seasoned meat with Doejang, a soybean paste condiment. Interestingly, it is the main ingredient for Maekjeok, a pork dish that is the precursor to today's Bulgogi.
The modern Doenjang often comes in powder form and needs to be mixed well with other flavorful Korean seasonings before being used. Interestingly, people create this soybean paste as a by-product of the soy sauce-making process.
To get the pork well coated, I recommend cutting the meat into thin slices. The addition of honey will soften the pork for the grilling process. As for the meat itself, either pork shoulder or pork neck will provide a perfect firm meat texture to the dish.
The Doenjang sauce will provide a sharp and umami flavor to your pork. Your Maekjeok will usually have a light golden color when you're finished with the grilling.
Total time: 27 minutes (not including 1 hour of marinating).
Salmon is high in protein and contains many valuable antioxidant substances that your body needs. So let's spice up your standard salmon recipes with a Korean bulgogi twist to the dish. Once you have a taste of this dish, it will be hard to go back to any regular salmon dishes.
For the salmon, the filets will provide you with the most meat. Although adding toasted sesame seed is not customary, it helps enhance the richness of your dish. Normally, you can have salmon Bulgogi with Kimchi for a traditional experience of Korean cuisine.
The salmon filets will need around an hour to soak up all the herbal goodness from various Korean seasonings. Typically, the sauce concoction has a soy sauce base with lemon juice, Mirin, and honey. Your Bulgogi salmon should have a flaky texture with sweet and moist meat.
Total time: Around 15 minutes.
If you're already fed up with cattle meat, how about trying out a grilled shrimp recipe instead? Gochujang Saewu Gui provides you with juicy and succulent shrimps that possess a spicy glaze of sauce.
The shrimps are the main stars of this dish. Therefore I want you to pick decent-sized shrimps for this recipe. A nice blend of lemonade juice accompanied by Gochujang, garlic, and oil should keep your prawns moisturized during the cooking process.
In addition, locals prefer skewering peeled prawns with some wooden sticks before grilling. Remember, you have to pay close attention to your prawns as they are prone to overcooking. Ideally, you want the prawns to have a bit of bouncy texture to the meat.
Gochujang Saewu Gui is a sure-fire way to spice up your grilled shrimp recipe.
Total time: 1 hour 10 minutes (not including 2 – 4 hours of marinating).
Chicken wings are often the second most favorite cut of meat right after the thigh. The wings possess a perfect ratio of meat and skin. You only need a bit of flavorful Korean seasonings to turn these wings into a delicious BBQ for your game nights.
Most often, this BBQ chicken wing is a great Korean starter before any main dish comes into play. The wings are coated with savory, sweet, and spicy Gochujang, which also gives the dish a mesmerizing color for presentation.
To best prepare the chicken, I recommend soaking the chicken wings in the sauce mixture of soy sauce, rice wine, and Gochujang for at least 2 – 4 hours. Better yet, you should leave it steeping overnight in the refrigerator.
As a side note: Using the oven will help you cut down on many preparation steps. Plus, you have more time for doing other tasks.
Total time: 3 hours 10 minutes (with 2 hours of marinating the meat).
In Korean cuisine, Kalbi or Galbi is how locals refer to grilled dishes. People usually feature pork ribs as the main ingredient of Dwaeji Galbi. The dish is commonly characterized by a bright color with sticky and sweet sauce coating the ribs.
Korean locals usually mix Mirin with rice vinegar and ginger to remove any unwanted porky smell from the ribs. To turn the heat up a notch, this Kalbi recipe employs Gochujang and honey for a semi-spicy and sweet coating around the ribs.
Depending on the thickness of the ribs, you may need to grill your Dwaeji Galbi a bit longer if it's a thick cut. However, the result should be tenderized pork ribs that you can easily rip through with your teeth. Dwaeji Galbi is a dish worth getting your hand dirty.
Total time: 48 minutes (including 30 minutes of marinating the meat).
These little skewers of BBQ beef are easy to come by as a popular Korean street food delicacy. Don't let the small size of those skewers fool you as they are little flavor bombs packed with umami and sweet taste.
Typically, these beef skewers are best cooked on a grill so the smoky flavor can infuse into every strain of meat. A standard marinating mixture for the beef consists of soy sauce, red wine, and Gochujang.
Since people tend to cut the beef relatively thin, you should only grill it for around 3 minutes to avoid drying out the meat. For serving, I advise you guys to sprinkle some sesame seeds over the beef skewers for an extra hint of nuttiness.
These little BBQ beef skewers are easy to pair with any homemade meal of yours.
Total time: 45 minutes.
When it comes to grilling recipes, you will be surprised by the variety of Asian dishes that are suitable for the BBQ category. Tofu is probably the least expected ingredient for grilling. Then, you should try to pull off this amazing Korean BBQ tofu to impress everyone at the dinner table.
Instead of grilling the tofu, I suggest coating the small blocks of tofu with BBQ sauce to give it a smoky and umami flavor. People don't usually grill tofu because the high heat can drain the tofu from its moisture, making the tofu block unappetizing.
However, I suggest coating a light layer of powder and flash-frying the tofu to give it a crunchy texture. Korean BBQ tofu tastes best when paired with a steaming hot bowl of rice.
Total time: 45 minutes.
If you're craving that umami flavor of grilled food but still have to maintain your vegetarian diet, then I recommend giving this vegan BBQ bowl from Korea a try. The dish is based on the iconic Korean Bibimbap recipe that has various ingredients mixed in one big bowl of rice.
For this healthy vegetarian recipe from Korea, you will need a variety of vegetables like mushrooms, peppers, and lettuce. Interestingly, you can grill the mushroom to mimic the meat texture. People also add sesame oil to the vegetables for an extra earthy and nutty flavor.
However, you must have liquid smoke for this recipe to work. If you're new to this condiment, it's essentially a liquid infused with the smokiness of different types of woods. Liquid smoke helps your grilled mushroom achieve a whole new level of flavor.
Total time: 30 minutes.
Tteokgalbi is a traditional dish often reserved for special holiday occasions in Korea. Locals usually brush a layer of honey and soy sauce glaze over these little beef balls before serving. The dish is an excellent choice to make for that special someone of yours.
Typically, Korean people celebrate the New Year by featuring Tteokgalbi on their menu. Commonly, locals either use beef ribs or sirloin to make these delicious meatballs. The best way to get your minced beef is to use a food processor.
To accompany the minced meat, my advice is a blend of spices like Chapssalgaru (sweet rice flour), Mirin, and soy sauce. However, I always prefer adding crushed nuts to the patty mixture for a bit of tangy flavor.
Finally, the glaze mixture should be a simple combination of honey, soy sauce, and sesame oil. The patty should only take around 4 – 5 minutes to fully cook, but you should be on the lookout for any sign of burnt meat during the grilling process.
If you're tired of regular meatballs, try whipping up this tasty recipe of Tteokgalbi right in your kitchen.
Total time: 19 minutes.
Tteokbokki, commonly known as Korean rice cake, first made its appearance in a 19th-century cookbook of Korean cuisine. The rice cakes usually have a long cylindrical shape that people use as a side dish in many hot pot recipes.
Little did I know that Korean locals even grill these delicate rice cakes as well. People will mix Gochujang with Gochugaru (Korean chili flakes), vinegar, and soy sauce for the sauce blend. People will boil the rice cakes first before drowning them in a thick sauce mixture.
In addition, Koreans will skewer around 3 or 4 rice cakes together so it's easier to work with. Grilled Tteokbokki has interesting textures with a crunchy outside, while the interior is soft and oozy. Most often, Tteokokki gets the beautiful red color from its special sauce blend.
Total time: 1 hour.
An in genious Korean cooking technique with tofu and two amazing slices of burger bread is what I'm ready to sign up for. This Korean barbecue tofu burger is addictive thanks to the savory-sweet flavor that envelops the tofu block well.
For this recipe to work, you need to coat the tofu block with the sauce first before baking it in an oven. The sauce consists of soy sauce with rice vinegar, sesame oil, and brown sugar. Normally, it won't take more than 10 minutes to wrap up baking the tofu.
However, your burger will never taste wonderful enough without having some slaw to accompany it. I prefer using the Kimchi slaw made from Napa cabbage with extra carrots and green onions.
Finally, you can start assembling your burger and sprinkle some sesame seeds on top as decoration.
Total time: 1 hour.
Mackerel has a flavor reminiscent of the ocean, making it a solid choice for a Korean-style grill recipe. Frequently, locals will pair the bold flavor of Mackerel with spicy and rich Gochujang paste. These two ingredients make for a killer combination as the main dish.
Grilled Mackerel is one of the Korean seafood specialties that you need to try at least once in your lifetime. Better yet, the ingredients are always available throughout the year so you can always give this recipe a try at any time.
Typically, people dilute the Gochujang by using a mixture of vinegar, soy sauce, and ginger. The sauce will need to have a smooth consistency before being rubbed onto the Mackerel. Instead of keeping the fish whole, locals will split the fish in half to make it easier to work with.
You should marinate the fish for around 30 minutes to an hour. The Mackerel will need roughly 7 minutes in the oven with the flesh-side down to fully cook.
Elevate your Mackerel flavor with this Korean twist to the dish.
Total time: 40 minutes.
You're missing out on a lot of Korean experiences if you've never tried grilled squid for your meal. The dish is a popular Korean street food delicacy that often appears on every corner of the country.
Grilled squid is super easy to create right at home with very basic ingredients. Aside from the obvious need for squid, you want to have Mirin to get rid of any undesired fishy scent. In addition, you should have Gochujang ready with sesame oil and soy sauce to marinate the squid.
Your grilling time will mainly be dictated by the size of the squid. On average, you will need 3 to 10 minutes. Remember, you will need to brush excess sauce over the squid while grilling it. Grilled squid has a firm and elastic texture, perfect for serving with rice.
As a helpful tip, I recommend grilling the squid whole to retain the flavor. You should only cut the squid into bite-sized rings when serving it.
Total time: 35 minutes.
If you run out of ideas on what to do with eggplant, I've got just the dish you need. In Korea, people will grill eggplant over an open stove with some Doenjang seasonings to serve as a side dish. The grilled eggplant adds a smoky flavor to your regular vegetable diet.
For this recipe, locals will pair tasty eggplant with Doenjang sauce mixture for a light caramelized and umami flavor. Normally, you want to cut the eggplant in half diagonally so the Doenjang sauce can go over the eggplant meat.
Aside from the Doenjang, your glaze mixture should consist of honey, soy sauce, and sesame oil for a little bit of a nutty flavor. Your eggplant should have a nice char on the surface after being grilled in the oven.
As a helpful tip: I suggest cutting some criss-cross over the eggplant meat so the Doenjang sauce can penetrate deep into the vegetable. For serving, you can have Doenjang glazed eggplant as either a side dish or a main dish with rice
Total time: 30 minutes.
I know Bulgogi is already a banger of a dish when made with beef, but have you ever tasted the fully vegan version of Bulgogi? Surprisingly, it's possible to turn any ingredients into a Bulgogi-style dish as long as you have the correct condiments for seasoning.
Let's dig into the seasonings. You will need rice vinegar and soy sauce as your base. The rest of the ingredients are a blend of pepper flakes, coconut sugar, and ginger to deepen the flavor.
The main stars of this vegan Bulgogi are soybean curls and Shiitake mushrooms. Locals stir fry the ingredients with sauteéd onion before pouring the sauce blend. Your vegan Bulgogi should have a nice umami flavor and brown color that tastes amazing with a rice bowl.
The vegan Bulgogi recipe is here to satisfy your craving and keep you in shape at the same time.
Total time: 25 minutes.
Finally on the list is an alternative way to enjoy the Korean flavors of grilled shrimp right in the comfort of your home. These shrimps are succulent and coated with a savory sauce that will mesmerize anyone on their first bite.
Typically, you want to peel the shells of the shrimp because they tend to become dry and hard after grilling. To get the best flavor for the shrimp, my suggestion is a blend of lime juice, soy sauce, and Gochujang to marinate the shrimp.
In addition, I highly advise you guys to make the citrus butter sauce to accompany the shrimps. It's super easy to make by combining a generous amount of melted butter with orange juice, lemon juice, and cilantro. The sauce will elevate your grilled shrimp to a whole new level.
As a side note: The citrus butter sauce should only go on the shrimp after you're finished with the grilling process. Otherwise, the citrus from the lemon and orange could become bitter if exposed to high heat.
Korean Barbecue Should Be Your Next Pick To Throw A Party
Depending on the number of people, you should make reasonable adjustments to fit your intentions. However, I always want to prepare more ingredients to cook more foods than my original plan for people who still crave that distinct Korean barbecue flavor.
I hope I have sparked some ideas for your next barbecue plan. Whatever is your pick, I'm sure that the recipe will impress you with its flavor and texture. Let me know what you guys think in the comment. Share this post with your relatives so they know what to expect for the next meal.
Nutrition Facts
6 servings per container
---
Amount Per ServingCalories324
% Daily Value *
Total Fat 19.6g

30

%
Sodium 689mg

29

%
Potassium 68mg

2

%
Total Carbohydrate 9.8g

3

%

Dietary Fiber 1.3g

4

%
Sugars 6.7g

Protein 26.1g

52

%
---
* The % Daily Value tells you how much a nutrient in a serving of food contributes to a daily diet. 2,000 calories a day is used for general nutrition advice.