Understanding Ecuadorian foods may cause you to reconsider your own culinary preferences.
Although being strikingly contemporary in certain areas, Ecuador has deep links to its ancient customs. In most cities, you'll find Italian, Lebanese, Chinese, and other ethnic restaurants, many of which are run by immigrants from those countries.
On the other hand, fusion cuisine is relatively uncommon, as is any significant deviation from the well-known and well-loved traditional Ecuadorian recipes.
Overall, Ecuador's cuisine is diverse and admirable. Acknowledging all the classic foods in this nation is nearly impossible, even for the locals. But don't worry, with this article, you will be able to know all the most popular dishes to try out when you visit this beautiful country.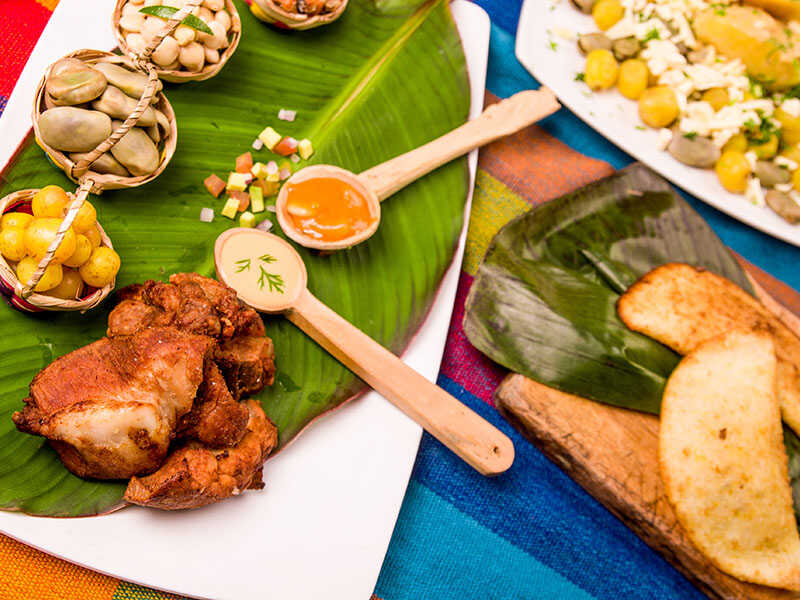 Savory Dishes In Ecuador That You Must Try Once
Let's start this article strong by tackling the irresistible savory dishes in Ecuador! As I mentioned earlier, Ecuadorian culture and cuisine are very diverse, which leads to a wide variety of traditional recipes. So if you want to know what they are, give this section a look!
Flavorful Restaurant-Style Ecuadorian Savory Dishes
Although international cooking styles have made significant advances in Ecuador, most Ecuadorians still have a special place in their heart for old-fashioned favorites.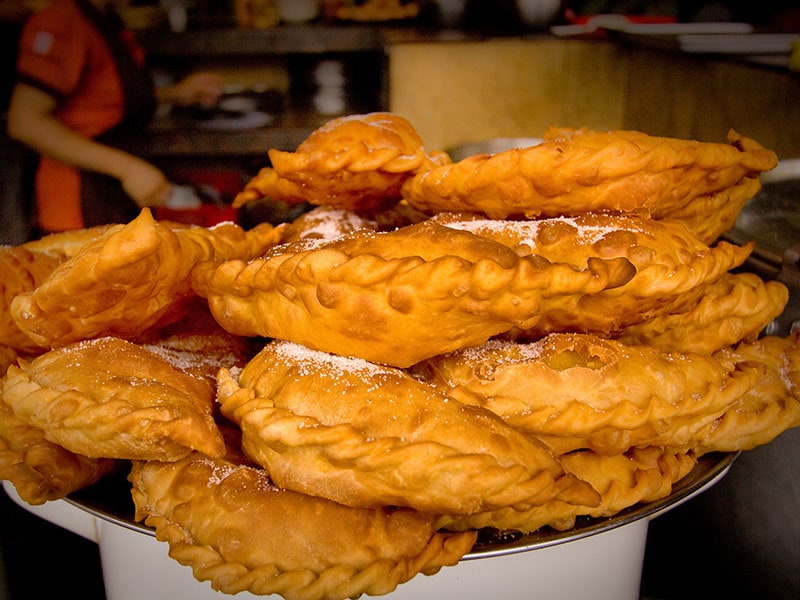 Empanada is a Spanish baked or fried turnover made out of dough and filling. This dish got its name from the Galician verb empanar, which means "enbreaded," as in "wrapped" or "coated" in bread.
In Ecuador, the popular one is Empanada de Viento. which is fried cheese empanadas covered by crispy empanadas. This can be a delicious Ecuadorian breakfast recipe, or you can treat them as an appetizer in any party.
For the best Empanada de Viento, you should sprinkle your food with sugar and serve them warm. If you travel to this country, you can easily spot these golden treats on the street.
2. Ceviche – Seafood Salad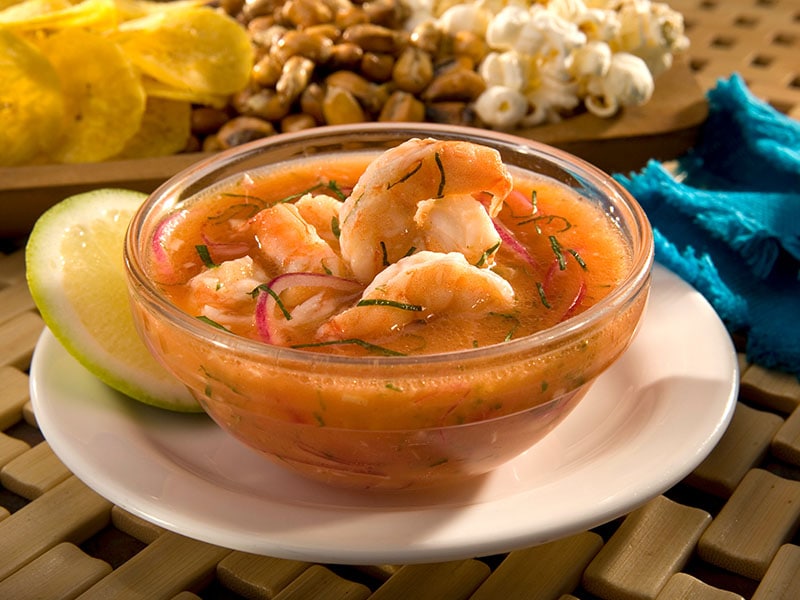 While most historians believe that this food originated from Peru rather than Ecuador, Ceviche's true origin is still unknown.
However, the way people prepare seafood in Ecuador is quite different from in Peru. The Peruvians like their seafood raw, while the Ecuadorians prefer it poached. So this is good news for those who can't eat sushi or raw fish.
Ceviche is traditionally marinated in lime juice to boost the natural taste of the seafood. Wet-style ceviches are a popular breakfast option in Ecuador, particularly around the coast. And the most popular seafood here is shrimp.
3. Llapingacho – Fried Potato Pancakes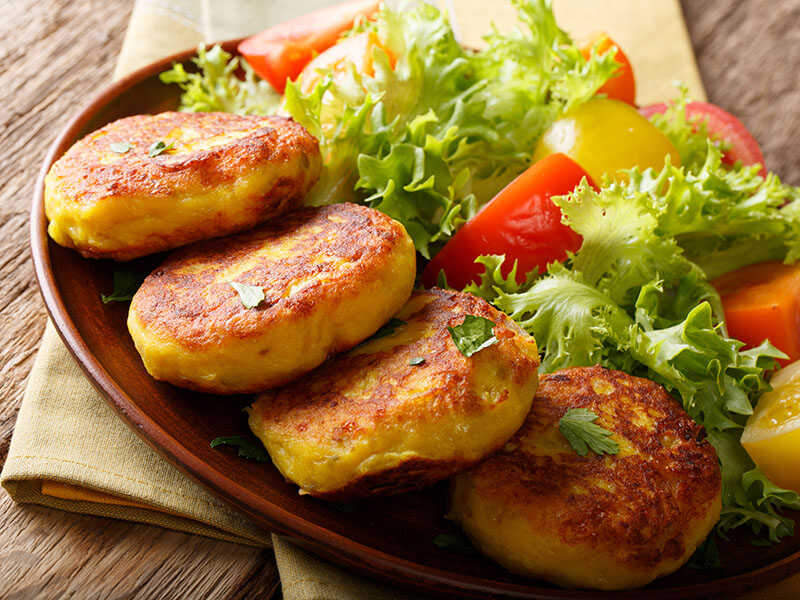 Llapingacho is definitely one of the country's most well-loved meals in Ecuador. It contains potato patties or thick potato pancakes packed with cheese and fried till crispy.
This filling dish is a typical side dish, but it can be a complete meal with fried egg, sausages, fried egg, avocado slices, aji hot sauce, and a side of salad.
The origin of this tasty potato dish traces back to pre-hispanic times. Its name comes from the Creole language, with "llapina" meaning "To crush something into a mushy consistency".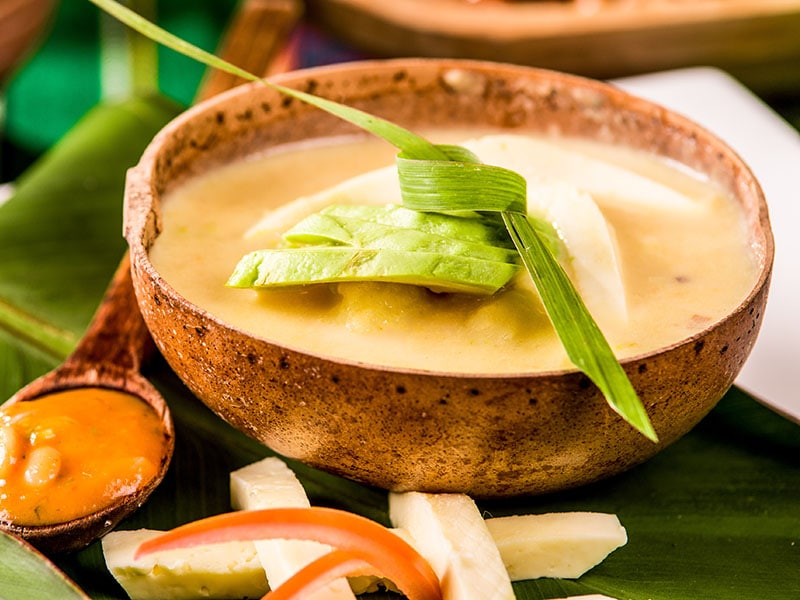 Locro de papa is an extremely hearty soup that hails from the Ecuadorian highlands in the Andes mountains. When you serve this potato soup with compatible side dishes, the flavor combination will become a force to be reckoned with – it's totally mind-blowing.
This traditional Ecuadorian soup includes vital ingredients such as potatoes, queso fresco (unaged cheese), onions, garlic, cumin, and annatto. Locro de papa tastes best when it's hot and topped with sliced avocado, chopped cilantro, and aji sauce.
Despite its pre-hispanic origin, it is still one of today's cheapest and most delicious foods. So be sure to grab a bowl the next time you visit Ecuador.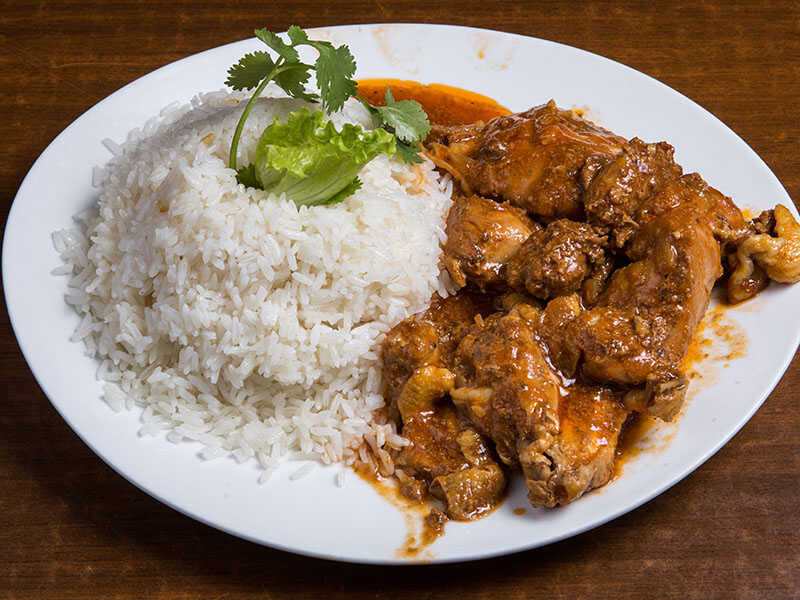 Seco de Chivo is another hearty must-have of Ecuadorian cuisine. The secret ingredient of this dish is either chicha or fruit juice. The flavor of the goat stew will vary depending on whatever drink you put in. You can also add both to enhance the flavor of the dish.
Chicha, an Andean fermented maize drink, is a more popular choice since it is more accessible. You can also replace this fermented beverage with regular beer.
Fruit juice, notably Naranjilla (also a favored beverage in Colombia known as "Lulo"), is another alternative. Naranjilla is a highly sour fruit found mainly in Ecuador and Colombia. Its sour taste is perfect for this meaty traditional stew.
6. Fanesca – Easter Soup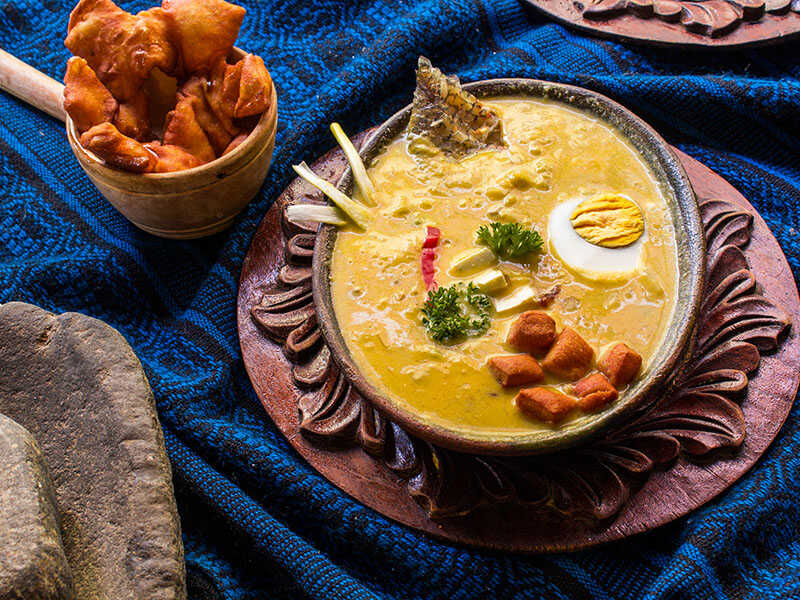 In Ecuador, which is primarily Catholic, Easter is one of the most important festivals. It's also the only time when fanesca is available. This traditional soup takes a long time to make and is meant to be shared with loved ones during Holy Week.
The list of ingredients in a proper fanesca is quite daunting, but luckily, the recipe isn't complicated to follow. The primary source of protein in Fanesca is bacalao (salt cod). This is because, during Holy Week, Catholics are prohibited from eating red meat.
The bacalao in Fanesca actually represents Jesus. The recipe for this dish also calls for 12 beans, which are used to symbolize Jesus' 12 apostles. The Ecuadorians usually eat Fanesca at midday, the main meal in Ecuadorian culture.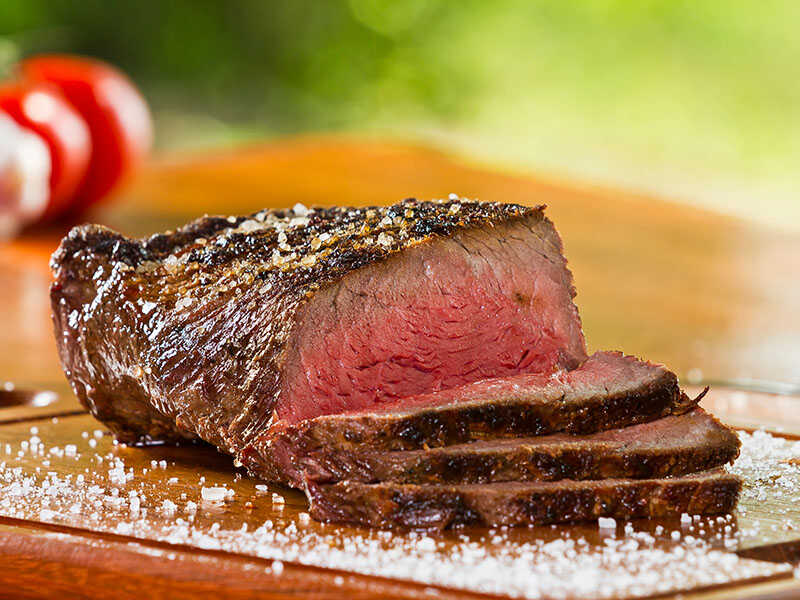 Churrasco is a Spanish term for grilled meat or steak. Additionally, the word churrascaria is commonly used to refer to a steakhouse.
Free-range cattle are more common in Ecuador than hormonally fattened and antibiotic-saturated cattle. This results in healthier, more flavorful, but slightly chewy steak.
Ecuadorian Churrasco tastes best when grilled with a basting sauce on a charcoal grill or flat top. And if you accompany it with a side of French fries, salad, or bean dish, you will have yourself a perfectly hearty meal for lunch.
Instead of debating whether you should freeze steak for extended storage, Ecuadorian steak is delicious enough that you can utilize the leftover steak to make new dishes. Anyone who has tried out Churrasco will agree that this is a dish you need to try at least once in your lifetime.
8. Hornado – Roasted Pork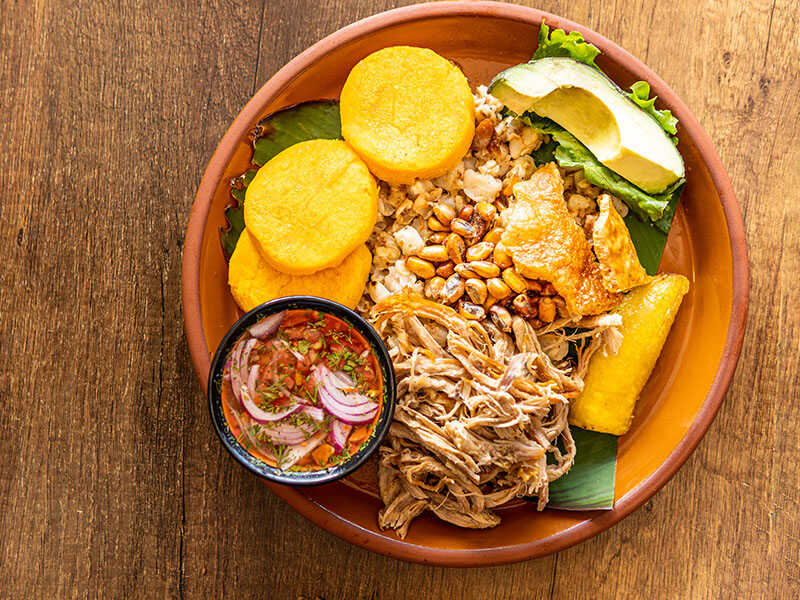 This pork-based meal is top-rated in the Andes and can easily be found in highland marketplace and festivals. If you're a true fan of roasted pork, it's worth traveling from north to south to sample the many variants.
The word hornado comes from the Spanish word horno, which means oven or kiln. Hornado is made by roasting a whole pig in a wood-burning oven until the meat becomes tender and the skin becomes crispy.
People usually baste or inject the meat with chicha de jora or beer, but some replace it with fruit juice. Seasoning varies in different households, but salt is a constant.
An authentic Andean hornado dish goes with llapingacho, mote (corn kernels), fried sweet plantain, salad, and again, aji hot sauce.
Want to give Hornado a try? Here's a detailed tutorial for you!
9. Caldo de Gallina Criolla – Creole Chicken Soup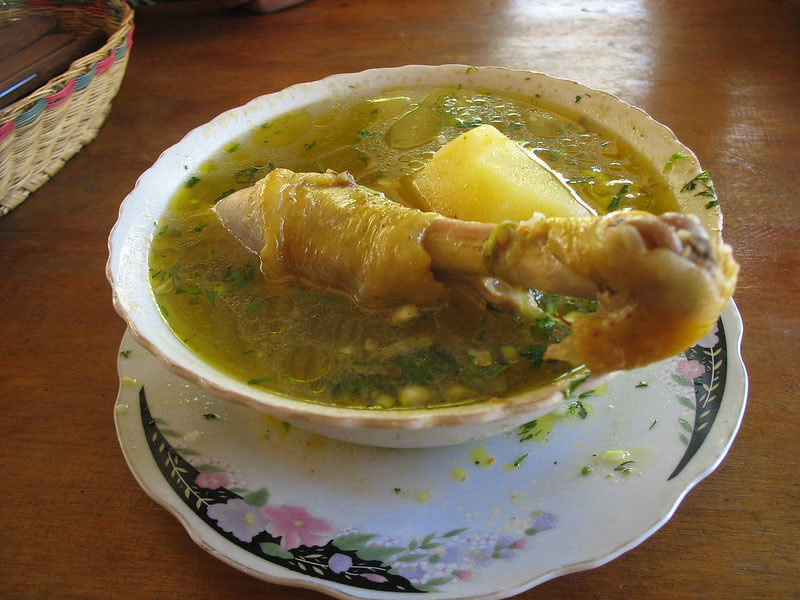 Caldo de Gallina Criolla is not just a meal; it's an iconic Ecuadorian dinner recipe entrenched in this country's most cherished traditions and beliefs.
Ecuador has a large number of chicken-keeping families. Like the cattle used for Churrasco, the chickens are free-range and accustomed to foraging for much of their nourishment. This leads to chickens with firmer, more quality meat.
Even though this meal is quite basic, it has a wonderfully rich flavor. The locals usually serve the chicken whole (bones included) in a bowl of vegetable broth to add flavor to the soup.
10. Chicharrón de Pescado – Deep Fried Fish Pieces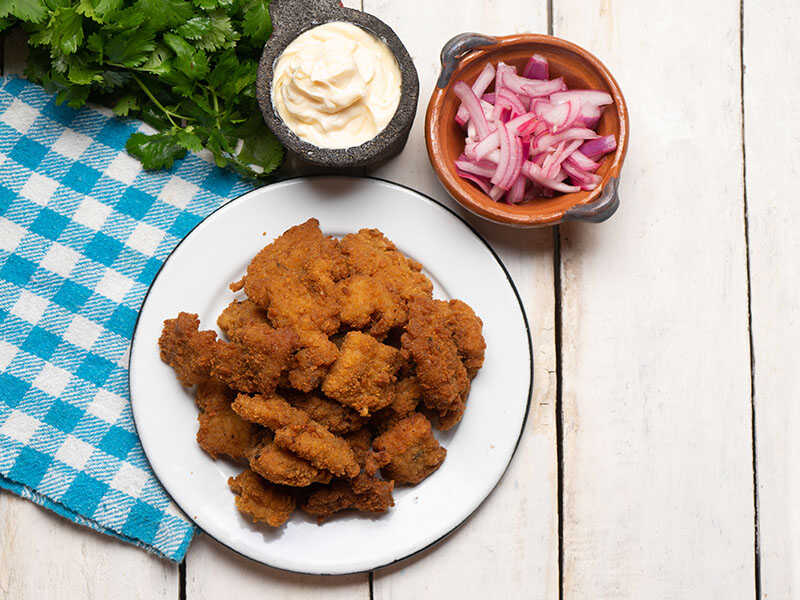 Like any other deep-fried dish, this pre-hispanic meal is one of the most famous Ecuadorian lunch recipes among picky kids.
This dish got the name Chicharrón, meaning "curly", from the shape of the fish pieces after frying. Coincidentally, in among the many famous Venezuelan dishes, there's also a dish called Chicharrón. However, instead of fish, Chicharrón is made with pork.
Chicharrón de Pescado is super easy to prepare as long as you don't care about the calories. These mouth-watering fried fish pieces usually go with lime wedges, fried plantain, and salad.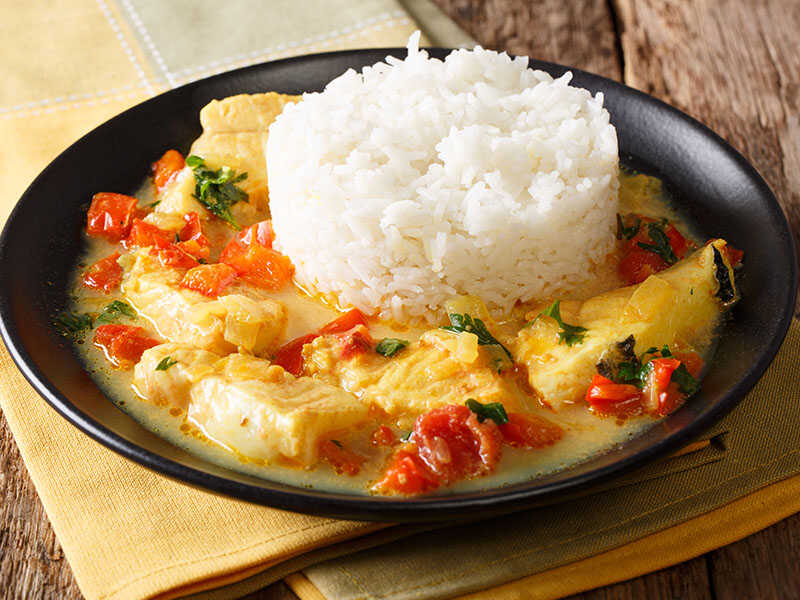 The complex taste of Pescado Encocado's coconut sauce will surely blow you away! And when this creamy sauce pairs with tender chunks of fish, you will understand why this dish is so well-loved across the country.
This flavorful dish was developed in Ecuador's and Colombia's Pacific coasts, where coconuts and fresh fish abound. The enormous population of African slaves who were transported to work on plantations in the tropical lowlands influenced the culture of this region.
The Pacific coast cuisine, which frequently includes coconut, has a devoted following in Ecuador and Colombia.
If you love the taste of coconut and fish, you must give this recipe a try!
12. Fritada – Braised Pork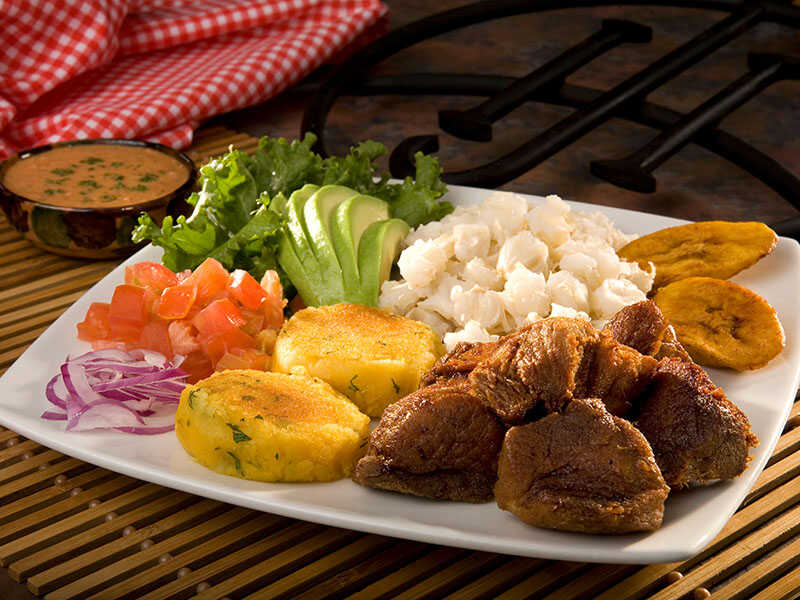 Fritada is a traditional Ecuadorian meal with roots dating back to the colonial era in the 19th century. People prepare this braised pork dish with different spices in boiling water before frying it in hog fat in a brass pan over flames.
Llapingacho, yuca, corn kernels, fried ripe plantains, tomato, and pickled onions are typical accompaniments. This dish will go perfectly with mellocos or fava beans.
Since its inception, this cuisine has been a staple of Ecuadorian parties, festivals, events, and family gatherings. Tasty and succulent, Ecuadorian braised pork is a recipe you can prepare in Dutch ovens, allowing the meat to simmer until it becomes unbelievably tender.
13. Bolón de Verde – Green Plantain Fritters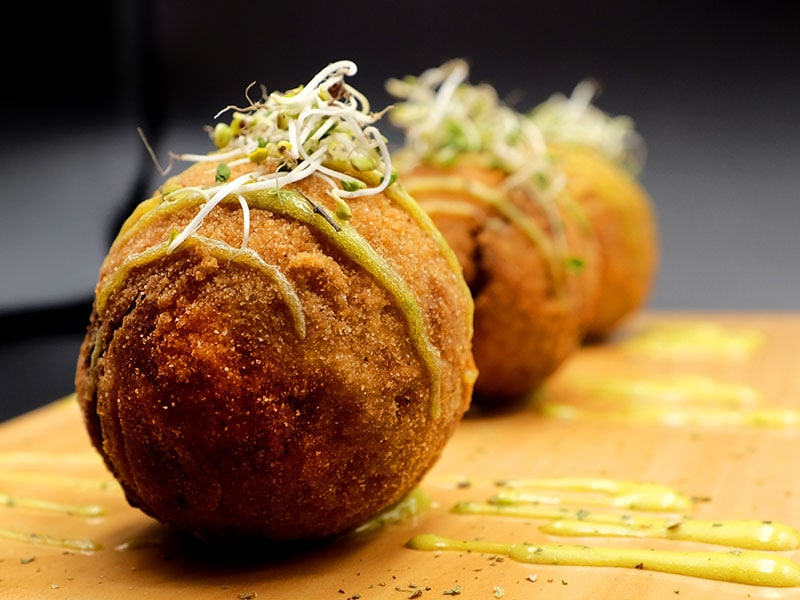 According to some historians, the bolón de verde originated in Cuba. This was the cuisine that the English invaders made for the African slaves.
Green plantains, of which Ecuador is one of the world's top growers, are the critical component in bolón de verde.
The plantains are cooked in boiling water (or fried in oil) and then mashed using a mill and pestle while hot to make these fritters. Chicharrón (pork cracklings), cheese, or crushed peanuts are then added to this dough and combined to create a ball.
The size of these fritters is usually slightly bigger than a tennis ball, which is much larger than the ordinary meatballs. This explains why this dish is named "Bolón", meaning "big balls" in Ecuadorian.
Tasty Savory Dishes You Can Find On Ecuador Streets
Craving something tasty while strolling on the streets of Ecuador? Don't worry, there are so many sidewalk vendors and casual restaurants that provide a variety of delicious and healthy meals.
14. Corviche – Deep Fried Fish and Green Plantain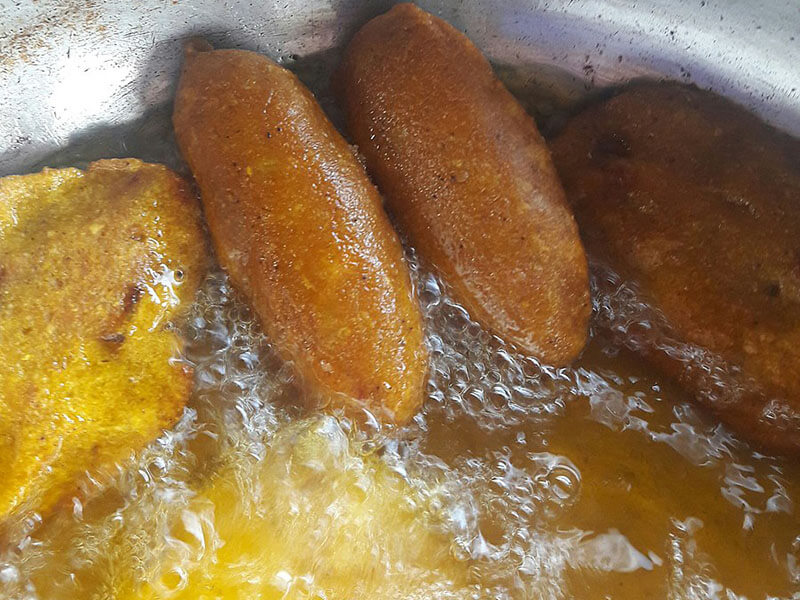 If you enjoy fish and chips from the UK, you will love Corviche. Although the locals don't really have Corviche with fries, this is the closest thing to battered fish that you can find in Ecuador.
To make Corviche, you will need some sea bass, also known as Corvina, in Ecuador. Although this might not be the tastiest type of fish, it will pair amazingly well with mashed green plantain. You can also replace it with fresh tuna, but it won't taste nearly as good.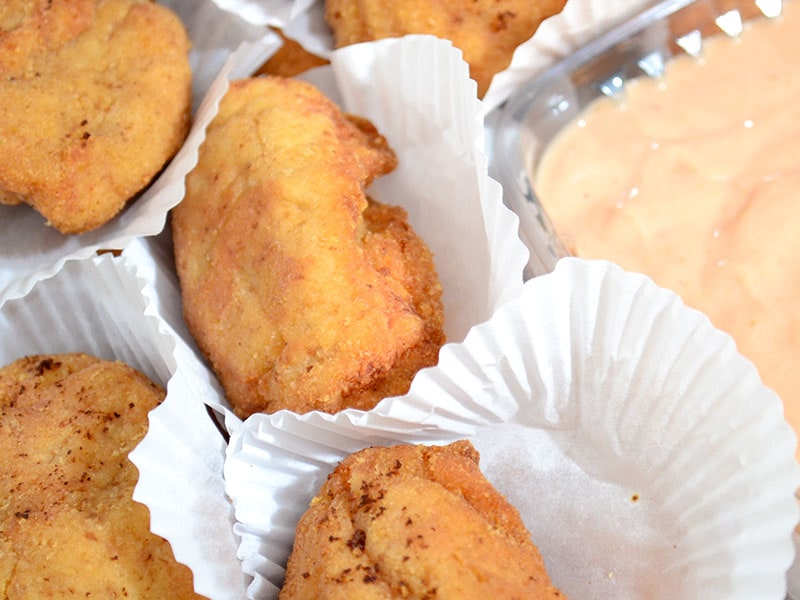 Cassava root is particularly popular in Ecuador due to its low price and versatility. People use it in soups, make tortillas out of it, fry it like French fries, or bake it like bread.
One of the best ways to prepare Cassava root is making Muchines de Yuca, Ecuadorian stuffed and fried cassava balls. This dish comes from the country's coastal regions, where yuca is extensively produced.
With a crunchy coating and savory filling, these fried balls make an excellent snack, side dish, or appetizer, especially when topped with aji sauce.
Let's learn more about Ecuadorian Muchines de Yuca!
16. Humitas – Steamed Corn Cake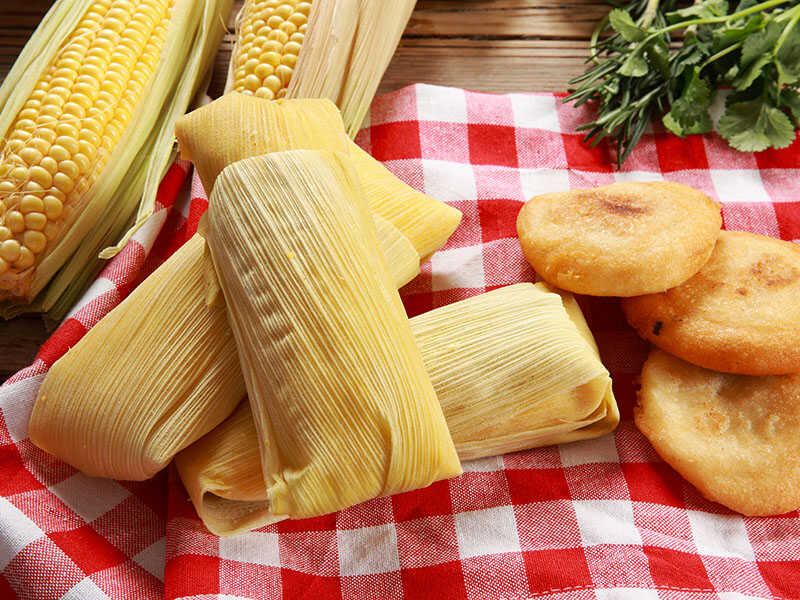 Humita is a prehispanic Native South American dish that originated in the Andes and is now widespread in Ecuador, Peru, Chile, Bolivia, and Northwest Argentina. If you're a fan of sweet treats from Peru, maybe you'll love this corn cake as well.
Ecuadorian humitas recipe calls for ground maize, eggs, onions, and various spices. The dough is wrapped in the leaves of their cobs and steamed well. This meal is so popular in Ecuador that they've created special pots exclusively for making humitas.
When the locals hear Carne en Palito, meaning "meat on a stick", they usually think of the feria, a fair that takes place every September in Loja, a city of Ecuador. At this annual fair, there are plenty of snack carts that sell these flavorful thin beef skewers along with other snacks.
These delicious skewers are typically seasoned with achiote, garlic, cumin, and orange juice. Some even said Carne en Palito tastes better at the feria than at regular restaurants. So be sure to visit this wonderland of street food if you're free in September!
Delicious Ecuadorian Desserts To Satisfy Your Sweet Tooth
If you're anything like me, eating dessert is one of your favorite activities when traveling to a different country. Although Ecuador is not worldwide famous for its desserts, the sweet treats in this country are undeniably exceptional and tasty.
Enjoy These Yummy Desserts At Ecuadorian Restaurants
Besides the savory dishes, Ecuador also offers lots of sweet treats in bakeries and restaurants. Read on and find out the most iconic desserts in this lovely country!
18. Dulce de Higo – Fig Preserves In Syrup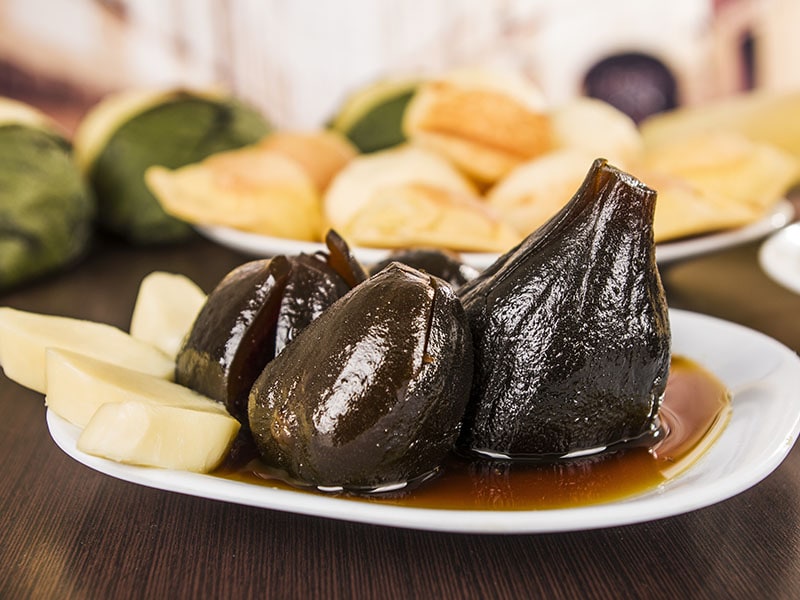 Despite the enormous variety of sweet fruits in the Andes, figs are still one of the top-tier fruits in this area.
This is a classic Ecuadorian dessert made with preserved figs and a brown spiced cane sugar sauce. The term "dulce de higos" refers to the sweetness of this exotic fruit.
The caramelized figs and sauce are pretty sweet, so people usually eat them with a slice of unsalted cheese to balance the flavor out.
You can easily find this dessert on the menus of many eateries around the country. So if you like figs, don't pass up this opportunity to taste it with other Ecuadorian delicacies.
Dulce de Higo is not the only fig-based dessert in Ecuador; figs also taste great in cakes! Torta de Higo makes use of the natural sweetness of fully ripe figs to flavor the cake, creating a sweet, jammy, and utterly delicious dessert.
You can make this dish as basic or as intricate as you like. Adding orange marmalade, nuts, and spices will give you a much more flavorful cake; however, the more complicated the ingredients are, the more time-consuming the baking process will be.
Another typical dessert made from figs is Tarta de higos, meaning "fig tart". Its flavor is quite similar to fig cake, so you should give both of them a try if you're a fan of figs.
20. Suspiros – Meringues Cookies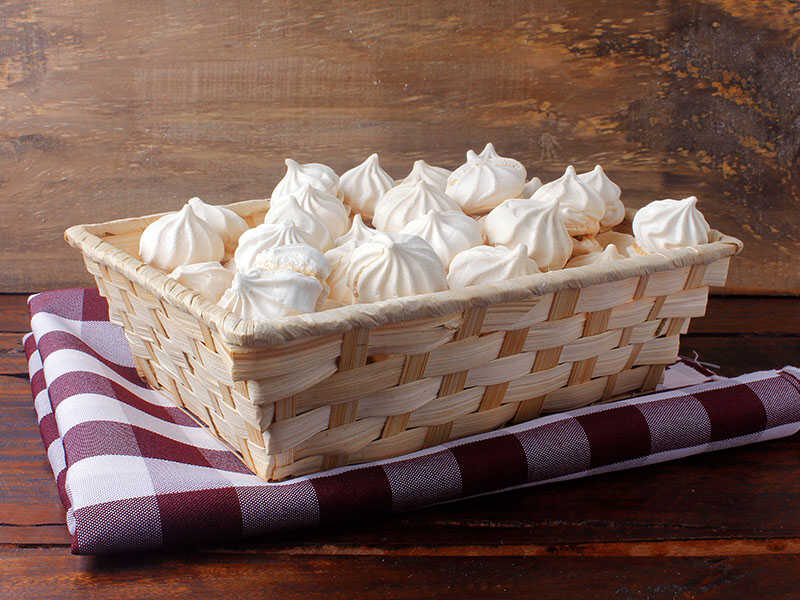 Suspiros is the Ecuadorian name for baked meringues, a popular dessert that originated in Meiringen and was perfected by an Italian chef called Gasparini between the 17th and the 18th century.
The name of this dish, Suspiros, actually means "to sigh", which makes sense since people often sigh when these cookies melt in their mouth.
Bakers usually apply food coloring like light pink, yellow to make them seem more appealing, even though they are typically white or beige. They're a popular item in Ecuadorian bakeries since they're so yummy but not too heavy on the stomach.
Meringues cookies are easier to make than you think!
21. Orejas – Puff Pastry Cookie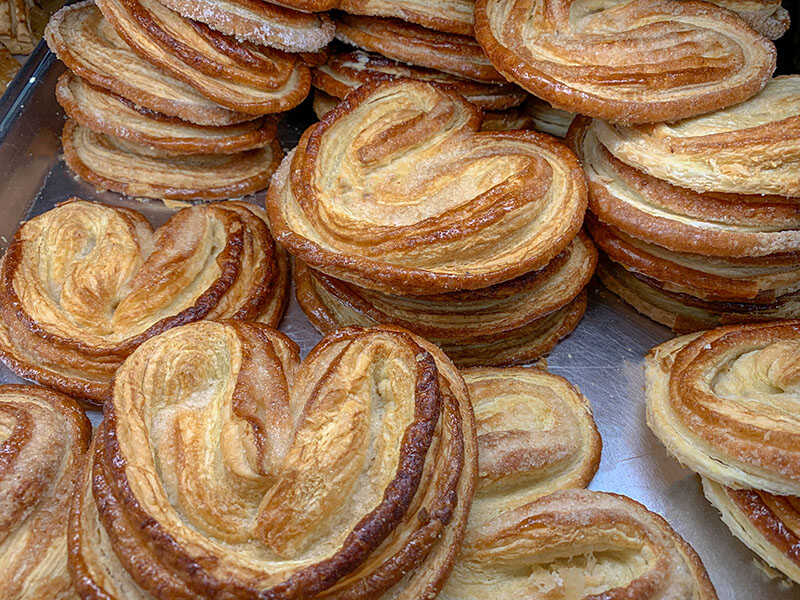 These mildly sweet cookies got the name "orejas" since they resemble a human ear; however, most people say they look more like a heart. Orejas is an everyday treat in Mexico, and its popularity has spread to Ecuador.
You can find these heart-shaped or ear-shaped pastries in bakeries all over the country. They are delicious on their own, but they will taste even better with a cup of coffee or hot chocolate.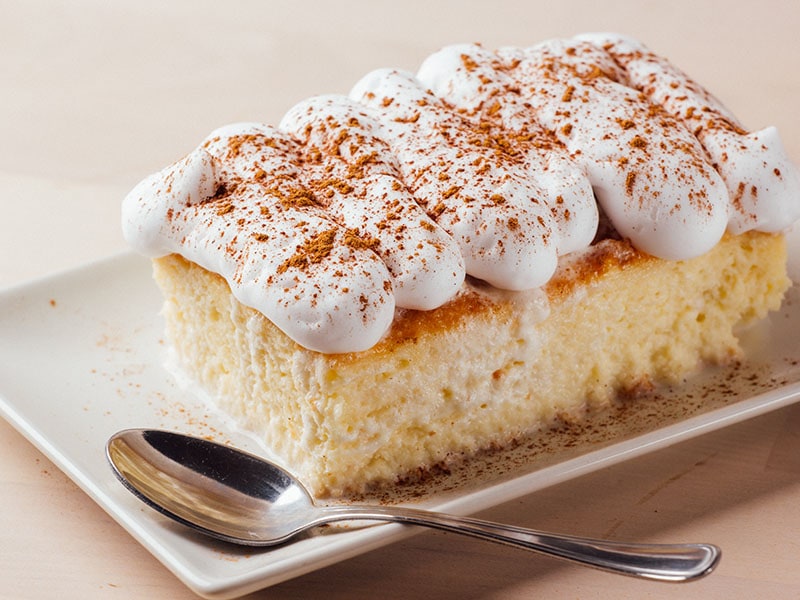 Torta de Tres Leches is a trending cake found in restaurants and supermarkets throughout the country.
The term "tres leches" refers to the three different types of milk: heavy cream, sweetened condensed milk, and evaporated milk. This milk sauce is poured over the cake once baked, making the cake incredibly moist and flavorful but not soggy.
People classify Tres leches as a trifle cake because of its shape, dating back to England's Middle Ages.
If you're ready to make Tres Leches cake from scratch, this is the tutorial for you!
Ecuadorian Street Food Desserts That Will Blow Your Mind
Ecuadorian restaurant-style desserts are amazing, but street food desserts deserve some recognition too. So take a look at the foods below and don't miss any of them!
23. Espumilla – Meringue Cream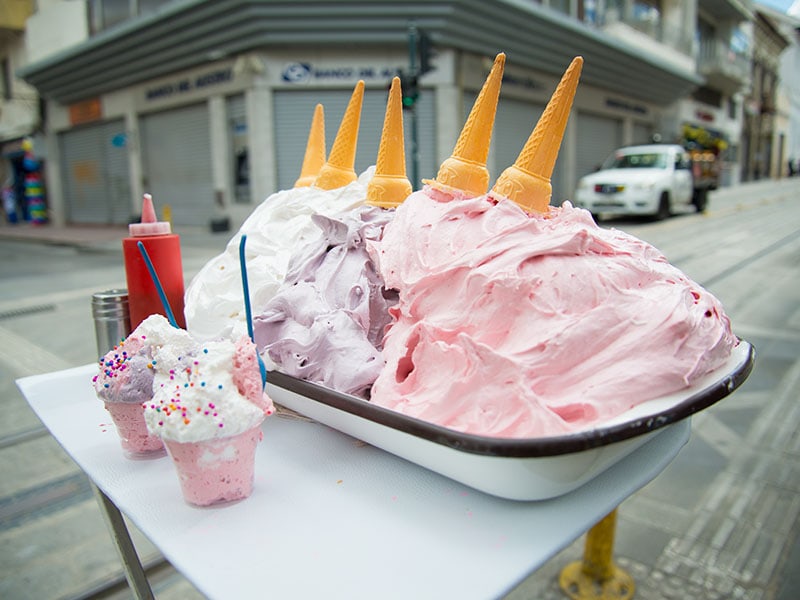 You might mistake Espumilla with ice cream the first time you see it on the street since it's colorful and comes in ice cream cones. However, this is actually a fluffy and creamy meringue dessert, which explains why it doesn't melt like ice cream.
The name of this delicacy translates to "foam", which is an apt description given how light and fluffy it is. The kids love it because it comes in bright colors and has sprinkles on top.
Espumilla was introduced to Ecuador by convents, and its combination with native fruits like guava has made it a part of the country's gourmet traditions. There is no definite date for when this dish first appeared. However, most people believe it was before 1907.
24. Morocho – Milky Corn Pudding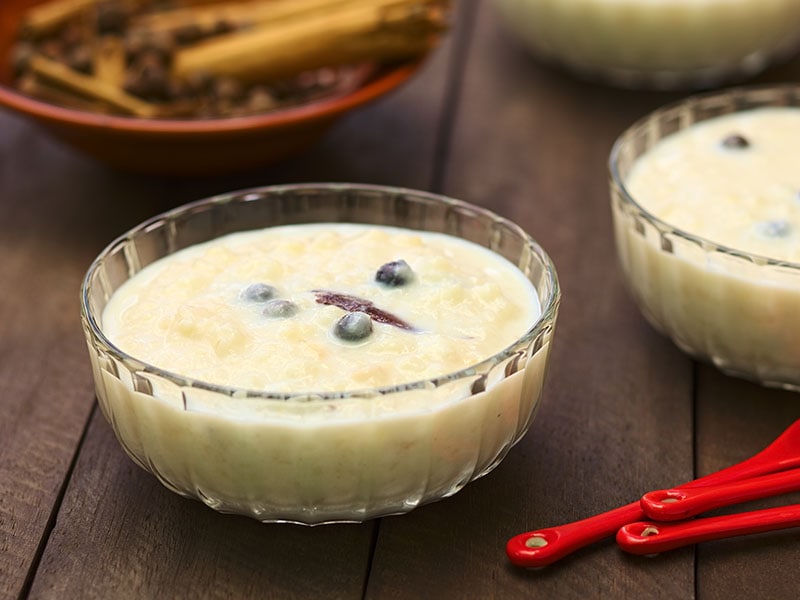 Look no further if you're in the mood for some warm, sweet comfort food. Morocho is a warm, sweet, milky corn pudding. It is typically served in a drinking glass but can only be eaten with a spoon due to its thick nature.
This aromatic pudding is one of Ecuador's most famous street foods; its main ingredients are milk, morocho (dried, cracked corn), sugar, and cinnamon. This would be a wonderful treat on a cold morning or evening in the Andes.
Fun fact: Morocho is actually the most common surname in Ecuador! But that is not the reason behind the name of this food.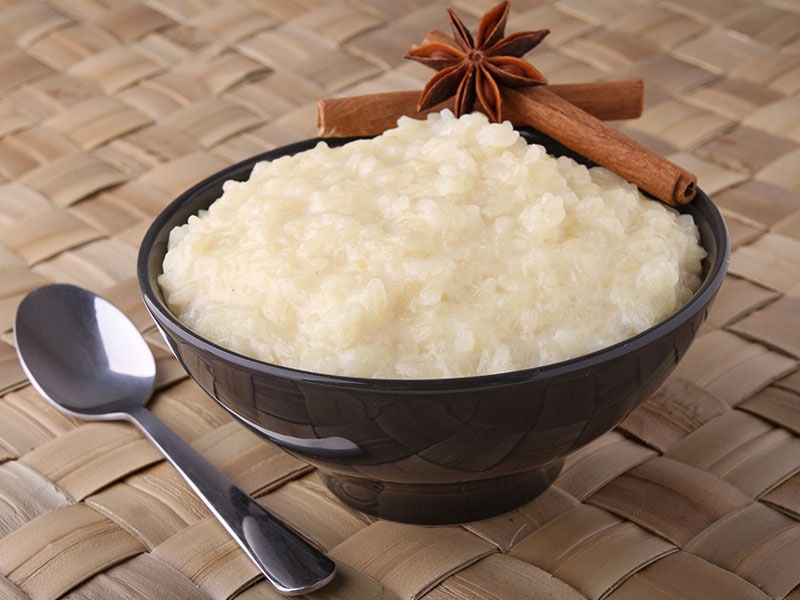 Arroz Con Leche is like the Spanish version of rice pudding. However, the origin of this dish traces back to the Muslim world, and it made its way to Spain when the Muslims invaded the Iberian Peninsula's south.
The taste and texture of Arroz Con Leche are surprisingly similar to Morocho. And it is also a well-loved comfort food that can be found on the menu at almost every Ecuadorian street vendor or restaurant.
If you can't find Arroz Con Leche at street vendors, here's how you can make it at home!
Treat Yourself With These Ecuadorian Delights!
In terms of size, Ecuador is a tiny country. Despite that, this nation has a wide range of gastronomic offerings when it comes to cuisine.
Have you decided which Ecuadorian dish you want to try first? Let me know in the comment section!
And if you find the information I mentioned above valuable, please show your support by leaving a like and sharing it. Thank you so much for your attention, and take care!