Are you looking for Uruguayan foods to fulfill your upcoming journey? Uruguayan gastronomy is an interesting combination of famous European cuisines, such as France, Germany, Italy, and Spain.
It also shares multiple foods with the neighboring countries in the Latin American region. Still, there are many iconic Uruguayan dishes that you might not know about. Read this in-depth post for a better understanding of this wonderful cuisine.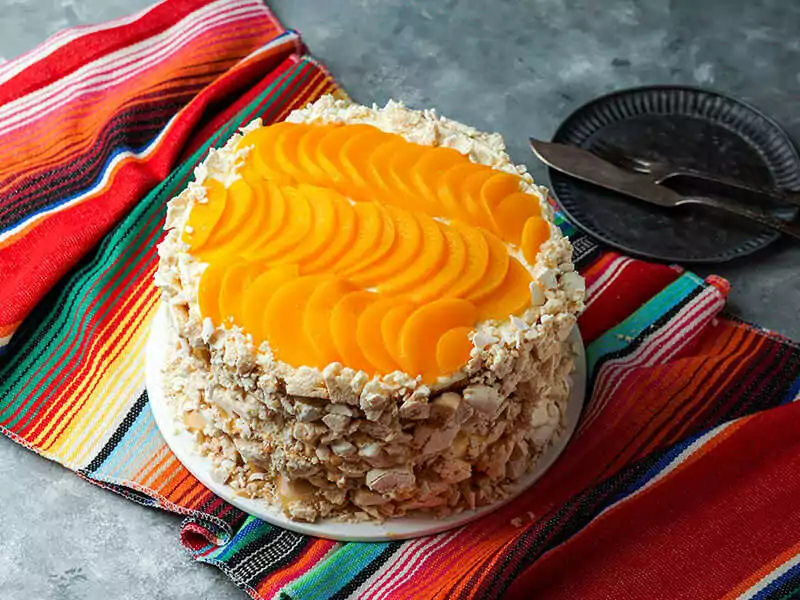 Uruguayan Street Foods
Most Latin American regions are famous for street food, and Uruguay is not an exception! You'll find super attractive food stalls across the country which offer highly affordable and tasty foods. Don't just walk away; give them a try!
1. Chivito – Steak and Egg Sandwich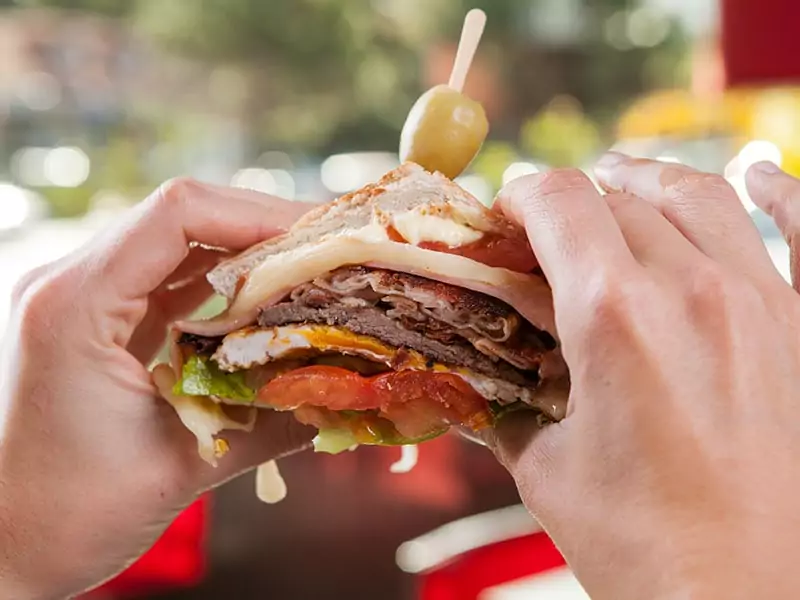 Chivito is the national dish of Uruguay and is among the things that make the locals proud of being Uruguayan. Its origin is traceable to 1946 when an Argentinian woman ordered a young goat's meat sandwich in an Uruguayan restaurant.
The restaurant doesn't have that kind of meat, so they use beef steak instead and end up with a satisfactory result. Traditionally, Chivito contains anything you can expect from a sandwich: grilled beef, tomatoes, ham, cheese, fried egg, lettuce, and tomatoes.
French fries and Russian salad are usually prepared alongside Chivito while serving. The eateries offer a wide variety of sauces for this dish these days, but you might want to stick to the traditional Chimichurri sauce to enjoy it properly.
2. Empanadas Criollas – Creole Meat Pie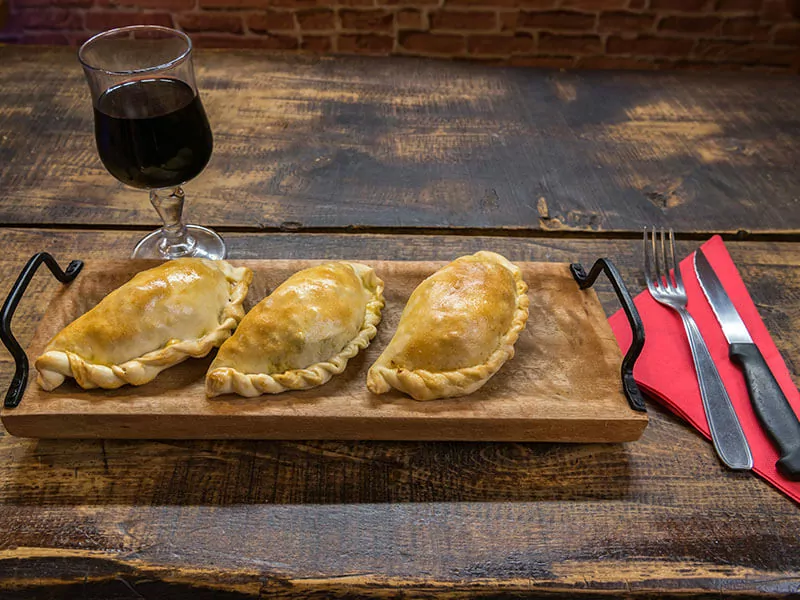 Influenced by the Spanish and the Portugalian, Empanadas are fried or baked pies in a crescent shape, stuffed with minced meat, onions, hard-boiled egg, and optional spices that vary from each region.
Indeed Empanadas is a typical food among Latin American regions. However, each nation has its own way of making a fantastic meat pie.
Empanadas Criollas is now the most famous version of this meat pie in both Uruguay and Argentina. Most of the Empanadas you get here will be stuffed with beef. However, you can also find the vegetarian version with little effort.
3. Choripán – Chorizo Hotdog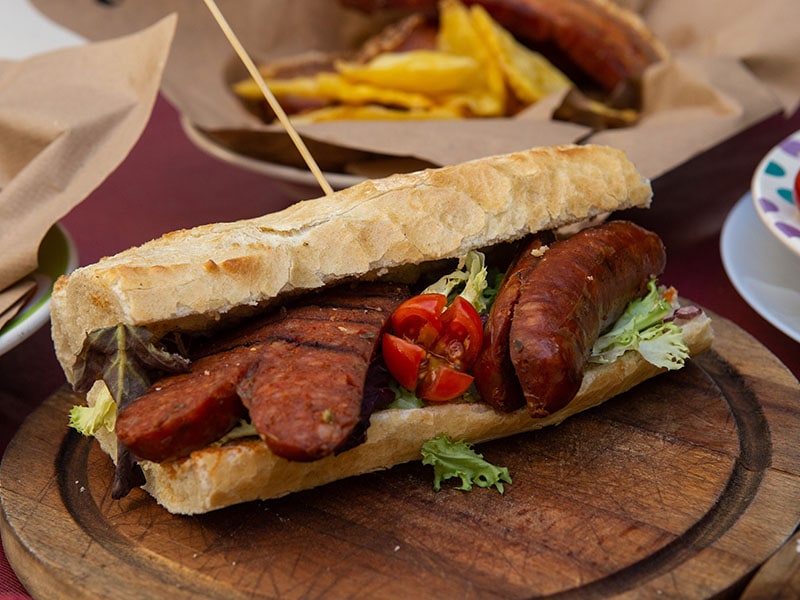 The name Choripan refers to Chorizo – a cultural semi-cured sausage of the Latin American regions – and Pan, which means bread in general. Though Chorizo was present in Latin America long ago, it has only come to hotdogs since the Spanish conquerors arrived.
What makes Uruguayan Choripan famous is their Chorizo, which comprises two-thirds beef and one-thirds pork. It's also slow-cooked on fire embers rather than dried or smoked like its counterparts. As a result, Uruguayan Chorizo is more tender and juicier.
Furthermore, the cultural Chimichurri sauce also made the fame of this Choripan. I'll cover more on this sauce further down.
4. Pancho Con Papas – Hotdog with Fries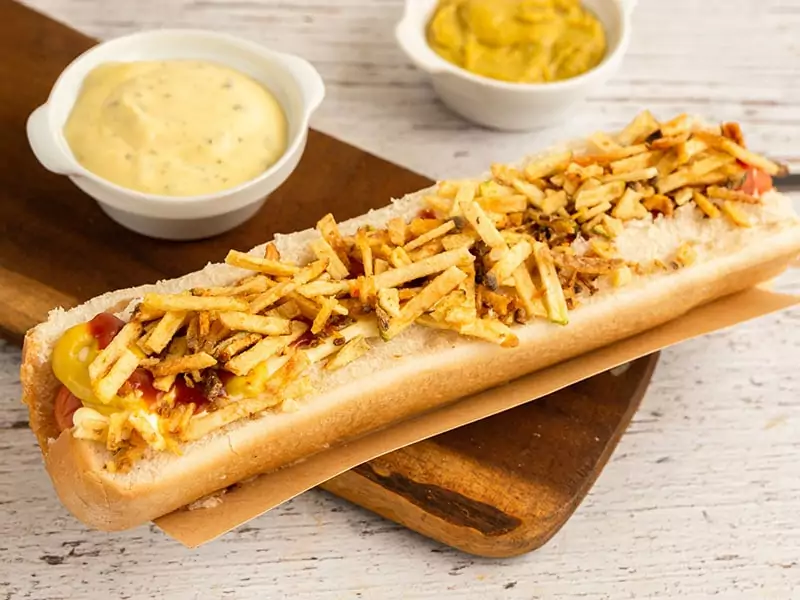 Pancho is another hotdog that was influenced by European gastronomy, and it's widely used in Argentina and Uruguay. However, the sausage in Pancho is frankfurter – a typical sausage mainly made of beef.
The frankfurter is then placed on a lengthwise hotdog bun, along with pickled vegetables such as carrot, onion, red chili pepper, or mushroom. Several sauces are then added to form a perfect Uruguayan recipe for Pancho.
In addition, think of Pancho Con Papas as a premium version of Pancho, which is topped with fried julienne potatoes. It's highly recommended by the locals and can easily be found along the streets.
Uruguayan Main Dishes
As mentioned above, Uruguayan gastronomy is the intersection of many cuisines across the globe. However, with different cooking methods or just a few traditional spices, the Uruguayans have created their own deliciousness.
5. Pizza A Caballo – Horseback Pizza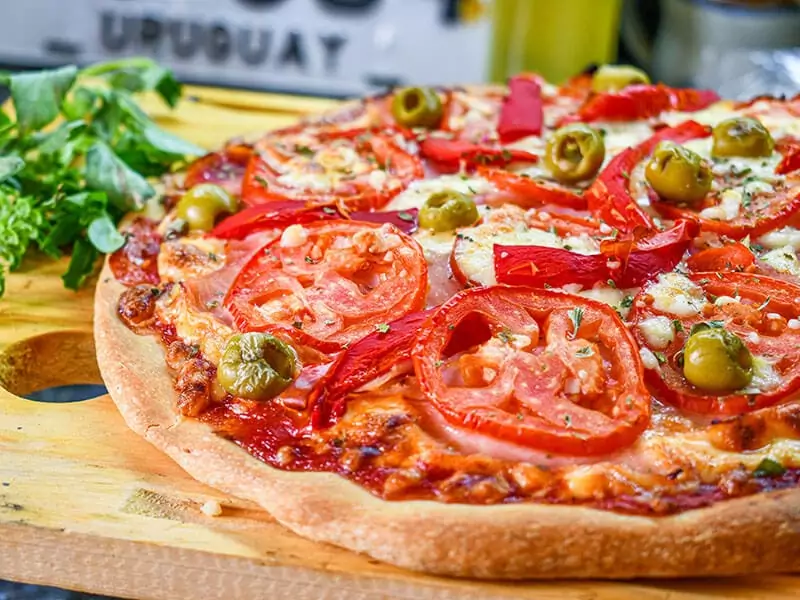 It's evident that nowadays, you can find pizza in almost any corner across the world. However, the dish has signed its name onto the Uruguayan heart sincerely.
One of the most recommended pizzas by the locals is Pizza a Caballo, but don't be confused by its name. This pizza contains no horse meat in any aspect. What topped on it are cheese, tomato, black pepper, and Faina – a cultural flatbread that I'll cover later.
Interestingly, order a "pizza" in Uruguay, and what comes to the table might be just the pizza crust and tomato sauce, no cheese included. Instead, the pizza topped with cheese is called "muzzarella" in general here, as it indicates the name of the cheese itself.
6. Ñoquis de Papa – Potato Gnocchi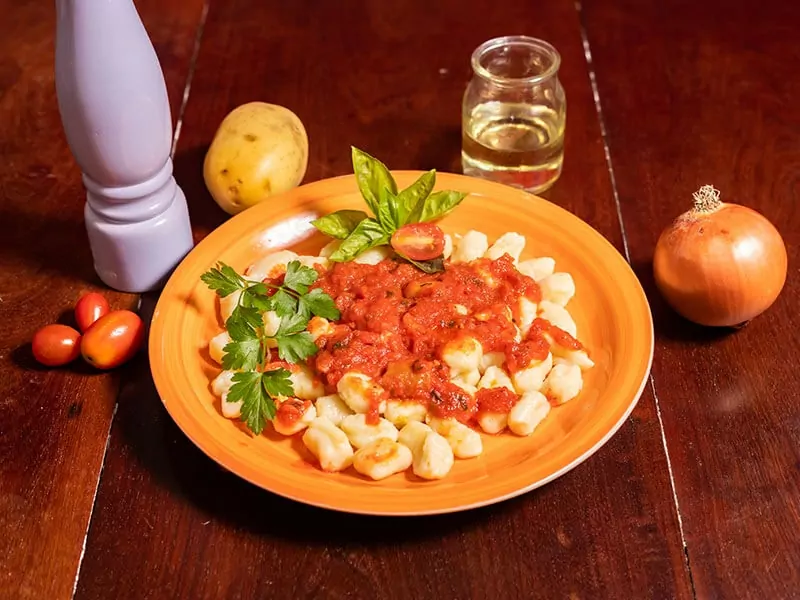 Gnocchi is a famous type of dumpling that originated in Northern Italy. Potato gnocchi is a typical dish in Uruguay, and it's served chiefly with Salsa Tuco – you can think of this sauce as the Latin American tomato sauce, which includes garlic, green peppers, carrots, and beef.
Eating Noquis de Papa on the 29th day of each month is a tradition in Uruguay. People assumed that eating potato gnocchi on this day and leaving the restaurant with a coin underneath your plate would bring you financial luckiness for the next month.
Noquis is not famous in Italy and Uruguay alone. Although Noquis is technically not a traditional dish from Paraguayan cuisine, it can be seen pretty much everywhere here. In Paraguay, it's also common to eat this scrumptious dish on the 29th day of each month.
7. Milanesa A La Napolitana – Meat Breaded Cutlets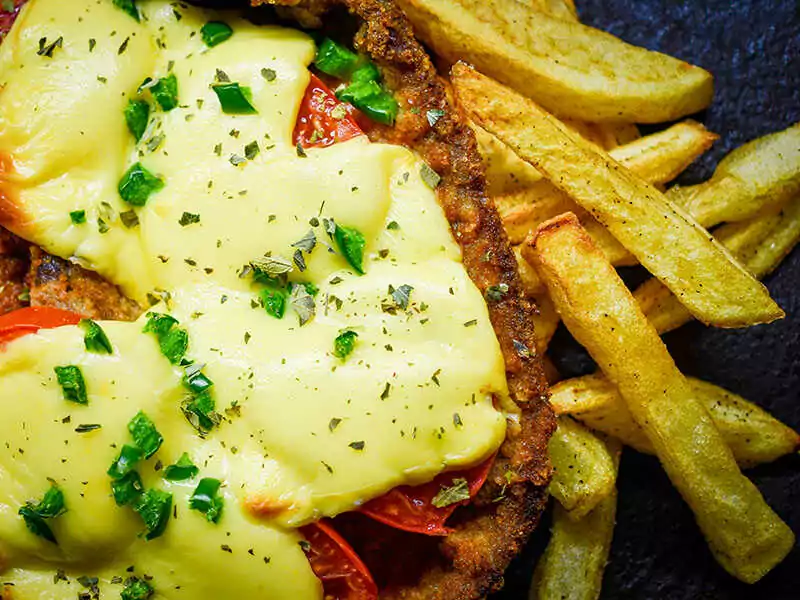 Milanesa is an ideal option for an Uruguayan dinner recipe, a type of flat breaded meat. It can either be fried or baked. This dish was invented during the immigration of Italians – who brought it to South America and made its reputation afterward.
In Uruguay, Milanesa is mainly made of chicken or beef, and the most favorite version is Milanesa Milanesa A La Napolitana which is topped with oregano, tomato, ham, and cheese. This dish will be baked in the oven until the cheese is melted before serving.
8. Medialunas – Croissant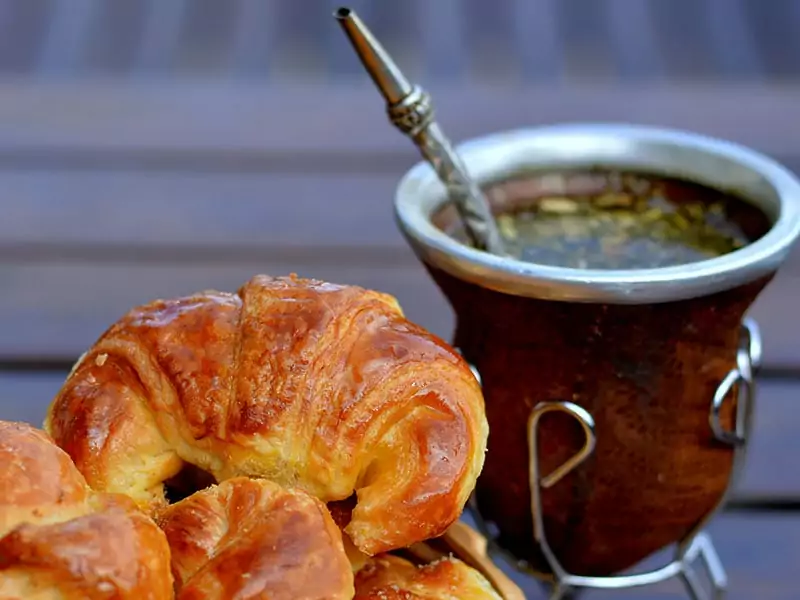 The word Medialunas can be translated as "half a moon", indicating its shape. Though it's more popular as a traditional treat in Argentina, it's a wonderful Uruguay breakfast recipe when combined with a cup of coffee or Mate, a traditional drink that I'll cover further down.
Visually, you can think of Medialunas as a counterpart of the world-famous croissant, but smaller. Moreover, Uruguayan Medialunas are usually glazed with saccharine syrup, so it's sweeter than the regular croissant.
9. Asado – Grilled Dish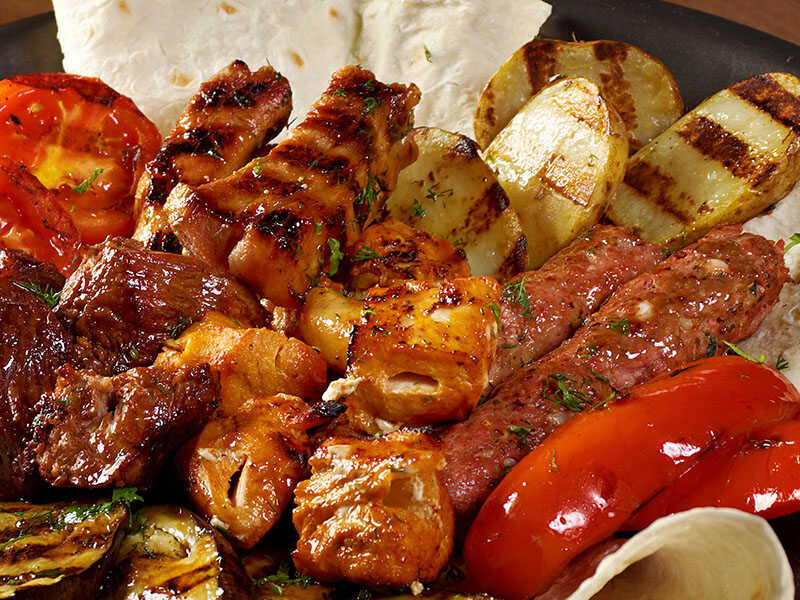 The name Asado was inspired by the word "asar" in Spanish, which means "to grill".This dish was invented in Argentina during the overpopulation of cattle in the 17th century.
In Uruguay and Argentina, Asado is the traditional dish, or perhaps feast since it's more relatable to a BBQ party than just a meal. The Asado here is usually meant for families and friends to enjoy together.
Therefore, it offers a wide variety of foods on the griller, from cattle to poultry and vegetables. The most crucial element of Uruguay Asado is beef, and some regions even use cow's intestines and gizzards for their Asado.
10. Chivito Al Plato – Chivito On A Plate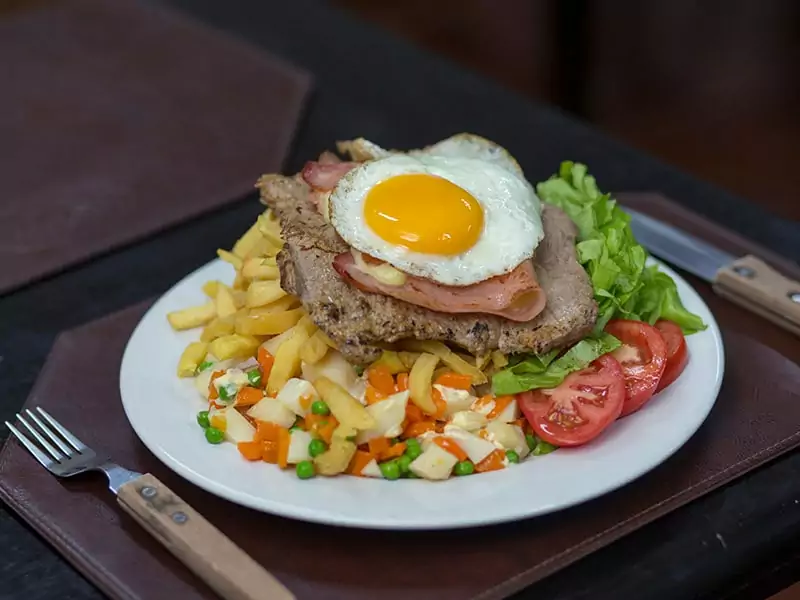 As you may guess from the name, Chivito al Plato is Chivito that is served on a plate. Since the traditional Chivito has a lot of elements in a sandwich that you may struggle to enjoy, you can order this dish instead and eat it with a fork and knife.
This dish will exclude the buns; however, it's usually prepared on a large-sized plate that is meant to serve more than one person. So be aware of this and better not to waste food.
In addition, you can order a Canadian Chivito, which has olives, red peppers, onions, and bacon as accompaniments. Almost all Chivito restaurants do offer this premium option on their menu.
Delicious Chivito in 2 versions serving at an Uruguayan restaurant.
11. Revuelto Gramajo – Scrambled Fries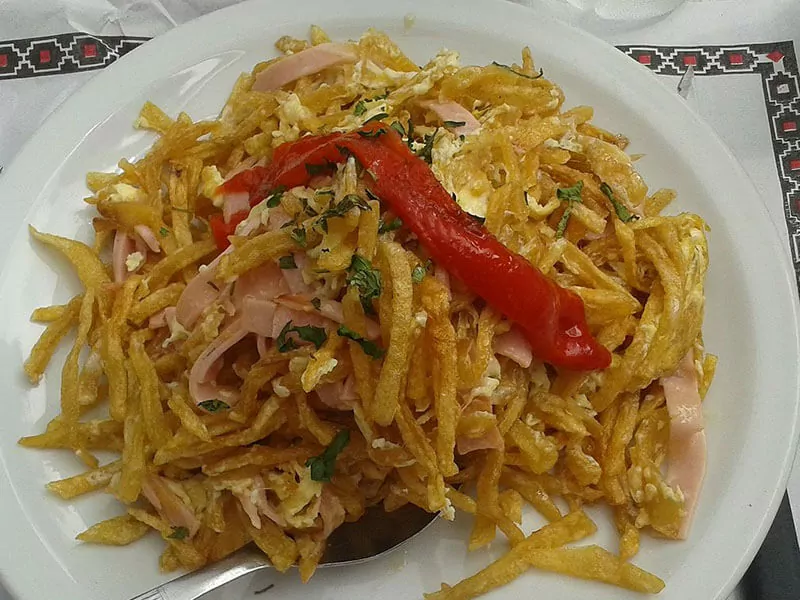 The name of this dish came after a former government administrator of Buenos Aires in Uruguay in the 19th and the early 20th century – Colonel Artemio Gramajo. However, the first dish was served in 1960, at the Bar Luzon restaurant.
Gramajo is a combination of onions, peas, diced ham, and fried julienne potatoes, all scrambled along with egg on a pan.
Legend has it that an Argentinian man came to the kitchen of a hotel in Paris where he was staying. But the kitchen was closed, so he decided to break in and make himself a dish from the leftovers.
12. Torta Pascualina – Spinach Ricotta Pie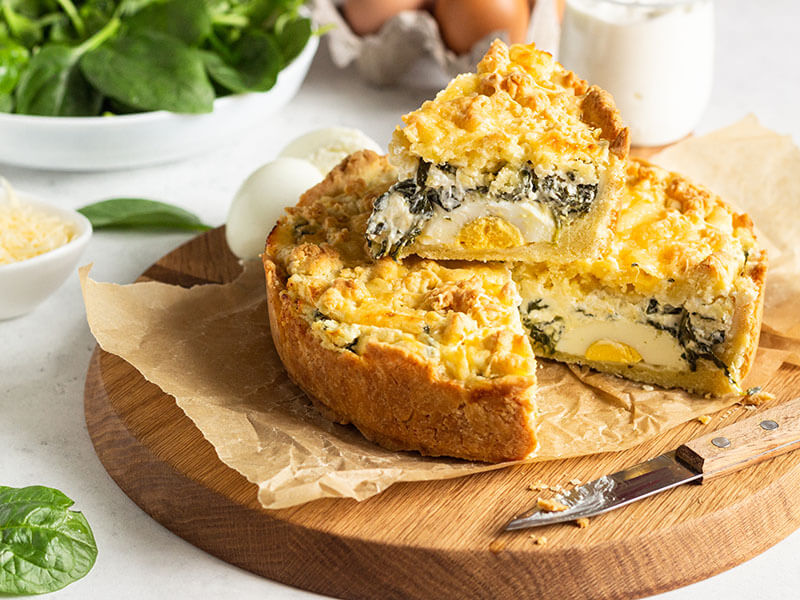 This is a vegetarian pie sprouted from Liguria, a North Italy region, in the 15th century. Traditionally, Torta Pascualina has spinach, ricotta cheese, and hard-boiled eggs, all combined in a thin dough that is relative to Empanada dough.
Swiss chard often takes part in the filling or even replaces spinach. Nowadays, you can find a wide variety of this pie with different stuffings, cheese, and sizes.
Torta Pascualina is a cultural Uruguayan lunch dish, and it's especially consumed during Lent – a 40-day celebration when Catholics aren't supposed to eat meat. Still, you can find it in Uruguay all year round.
13. Pamplona De Cerdo – Grilled Stuffed-Meat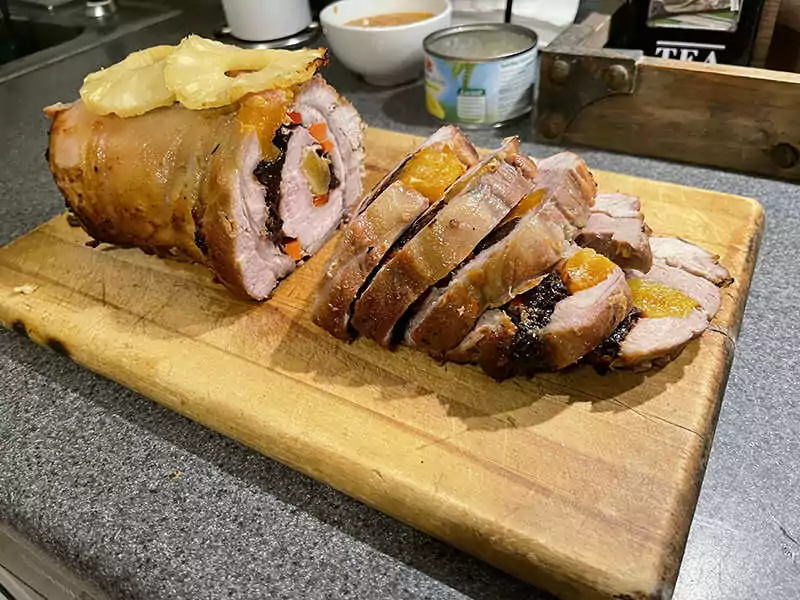 Though this dish is named after a city in Spain, it's indeed an invention of Uruguayans back in the 1960s. Typically, it's made by cutlets of pork, chicken, or beef and stuffed with multiple elements such as ham, onion, red pepper, olive, cheese, and sometimes egg.
The cutlets will then shape into a large-sized sausage and grilled, mostly used in the Asado. Some restaurant does include Pamplona De Cerdo on their menu, served along with salad or pasta. You can also find it as street food, accompanied with buns like sandwiches.
Uruguayan Side Dishes
It's challenging to talk about Uruguayan cuisine without mentioning its snacks and side dishes. These foods aren't just eye-catching, but the taste of them will also stay in your mind for a lifetime.
14. Fainá – Chickpea Flour Flatbread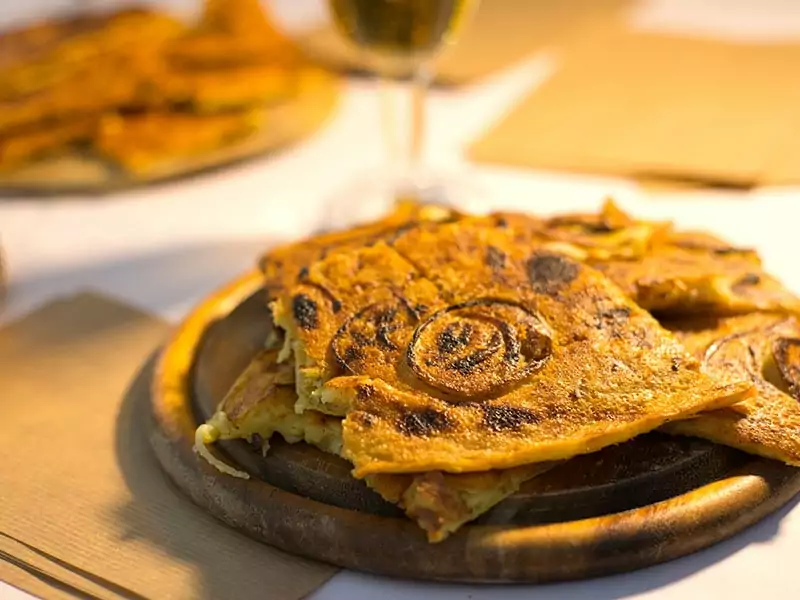 Legend has it that the Genovese immigrants brought Faina to Buenos Aires, Argentina, during the 20th century, and its reputation has gone far beyond the border of this country afterward.
Faina, also known as Farinata or Socca, is a baked flatbread made of chickpea flour, pepper, salt, water, and olive oil. Nowadays, it's a side dish that you can find in any Uruguayan restaurant menu.
However, you can also use it as a snack or an appetizer by spreading some sauces or combining it with cheese slices.
15. Tortas Fritas – Fried Pies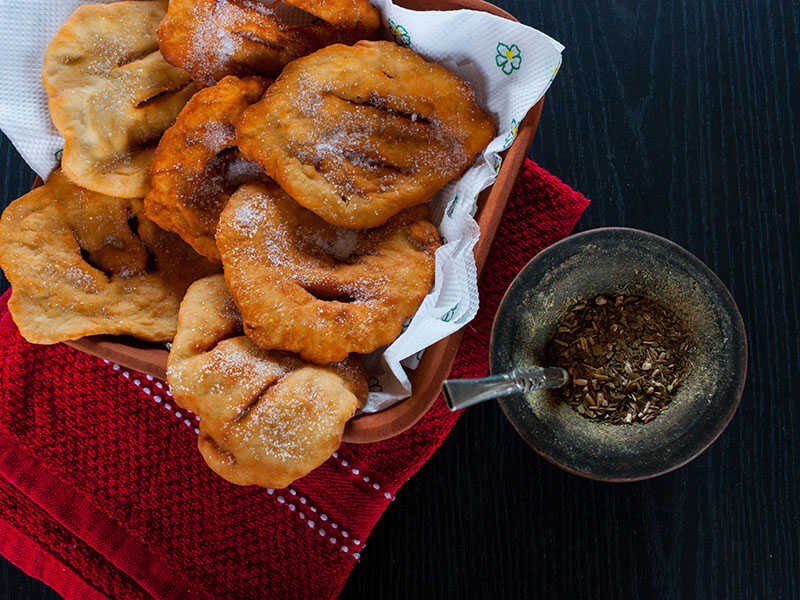 Tortas Fritas is a descendant of Kreppel, a type of German doughnut that was brought to South America during immigration periods. Today, it's a popular snack in Uruguay, which is available all year round.
However, the locals prefer to use it with hot Mate during the cold months. The dough of these fried pies consists of regular ingredients such as wheat flour, salt, milk, and cow fat. Before frying, the dough usually formed with one hole in the center of its round shape.
16. Sándwiches De Miga – Multi-Layer Sandwich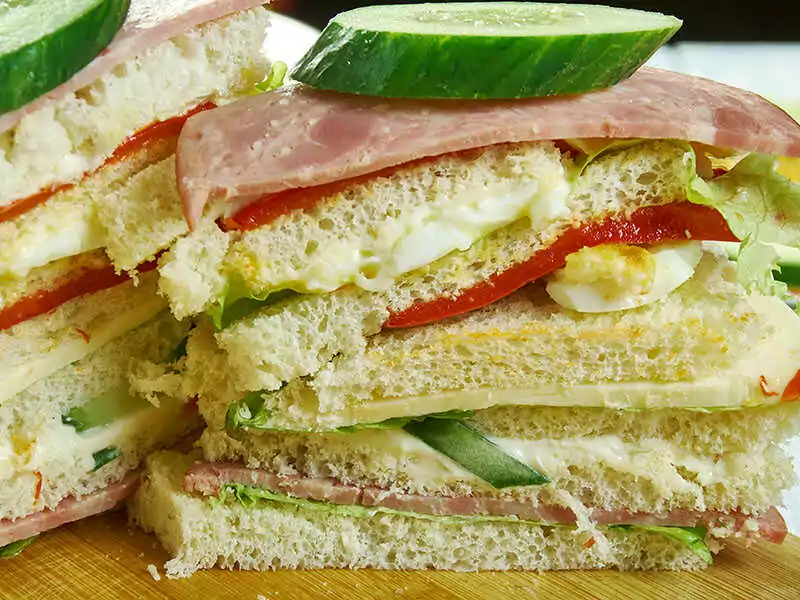 Sandwiches de Miga, also known as Sándwhich Olímpico or Rafaelitos, is a typical dish of Argentina and Uruguay. For preparation, the sandwiches' brown skin must be removed first, as the name "Miga" indicates "crumbs" or the inner part of the bread.
Then, in the middle of two sandwich slices are red chili pepper, mayonnaise, cheese, ham, boiled egg, tomato, and lettuce. It can be used as a quick lunch or breakfast meal.
However, some Uruguayan restaurants also serve the cut-up version, in the size of finger food to be used as appetizers.
17. Ensalada Rusa – Salad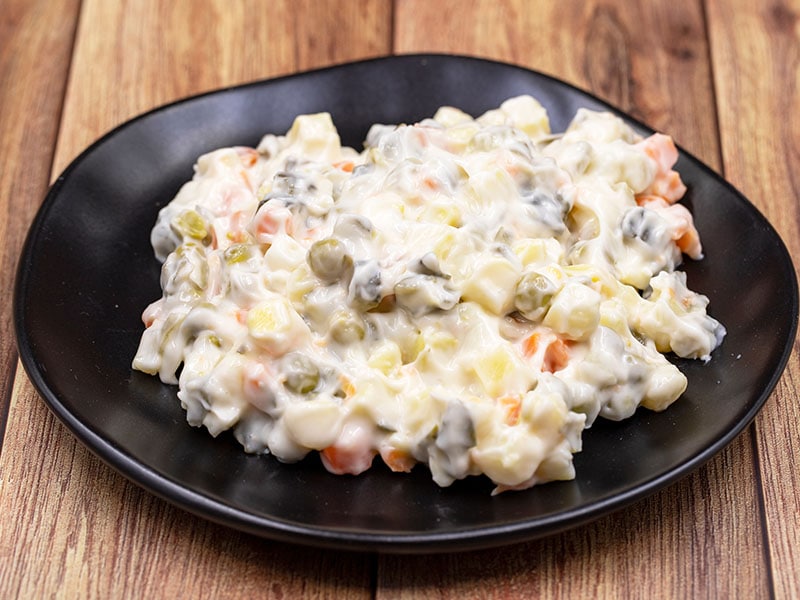 This is a salad often served as a side dish for Chivito, which has also been brought to Uruguay during the immigrations.
Interestingly, while "Ensalada Rusa" is translated as Russian salad, it can also be understood as the Uruguayan-styled salad, but the Russian salad doesn't work the other way around.
The "authentic" Russian salad or Oliver salad is made from high-end ingredients, like partridge or caviar, while the Uruguayan traditional Ensalada Rusa only calls for potatoes, carrots, and peas. Hard-boiled eggs and olive are also added occasionally.
Uruguayan Desserts
Perhaps sweetness is among the most brought things by the immigrants to Uruguay. You can enjoy countless confectioneries and pastries in this country. Here are some of the tastiest ones.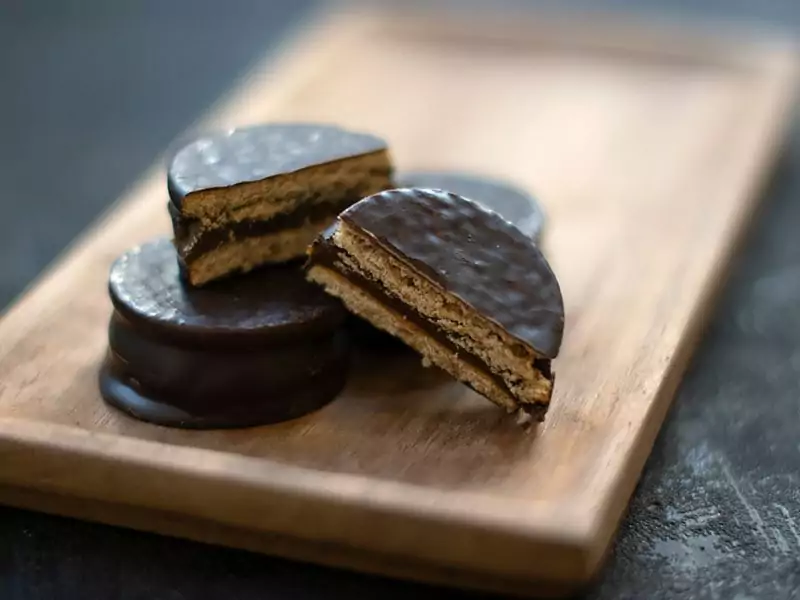 Alfajores is simply made of two pieces of soft biscuits filled with dulce de leche – I'll cover on this particular caramel-like sauce later down. Many Uruguayans describe that these cookies seem to melt in their mouth with marvelous sweetnesses.
You can have Alfajores as either dessert or snack, and these cookies are also popular in other Latin American nations, especially Argentina. However, the Uruguayans prefer to coat their Alfajores with milk chocolate for extra deliciousness.
Check out the historical truths about alfajores, and how it was made.
19. Torta Chajá – Peach Meringue Sponge Cake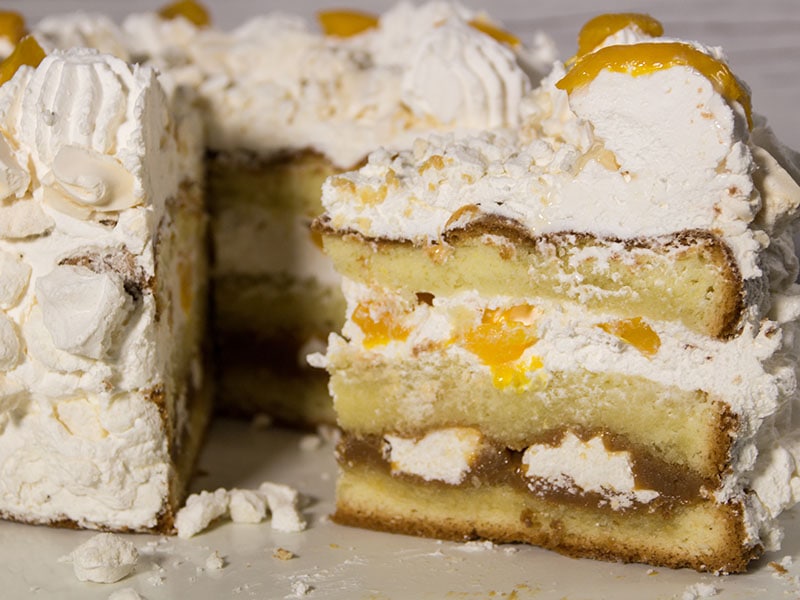 Torta Chaja is among the foods that were actually invented by the Uruguayans. It was first made in 1927 in Paysandu and was named after a bird, which is also known as the "Southern screamer". The idea comes from the lightness of this bird's plumage.
Traditionally, Torta Chajá is made of three key ingredients: sponge cake, meringue, and peaches. Nowadays, whipped cream is usually added to enhance the richness, and you can also find many substitutes for the peaches, such as strawberries or dulce de leche.
20. Garrapiñada – Candied Peanuts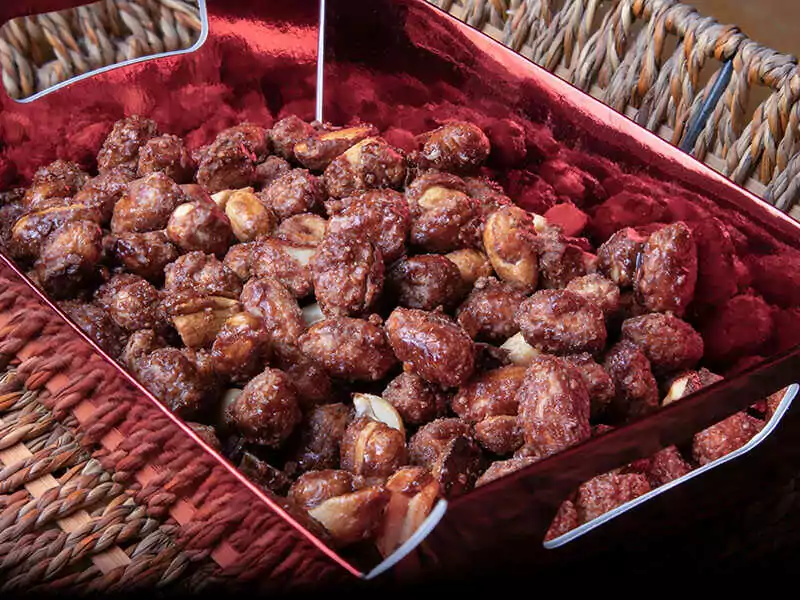 Garrapinada is a sweet snack that you'll surely see across the streets in Uruguay. The method of making this treat is quite simple; peanuts are pan-roasted in a mixture of water, vanilla, and sugar until caramelized.
You can also find Uruguayans making candied walnuts or almonds using the same method, and these are still called Garrapinada. The origin of this rustic treat is quite fuzzy, but its reputation has even reached Argentina and beyond.
21. Martín Fierro – Quince Paste and Cheese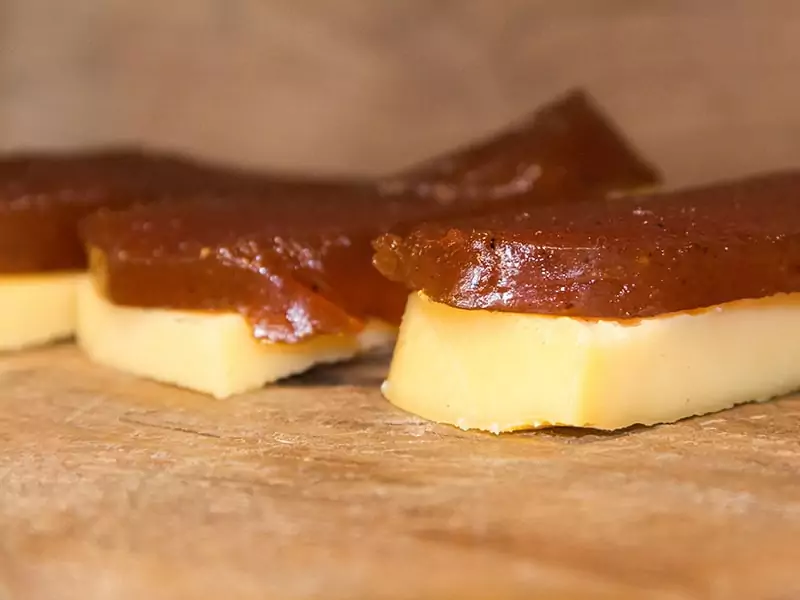 Martin Fierro is a cultural choice for Uruguayan dessert. It was named after a poem's protagonist, which José Hernández wrote in 1872. And this was believed to be the poet's favorite dessert.
Martin Fierro was inspired by the Vigilante – a popular dessert in Argentina that comprises sweet potato paste and cheese in equal slices. The Uruguay version substitutes sweet potato paste with quince paste, and the most used cheese is Manchego.
22. Churros – Fried Dough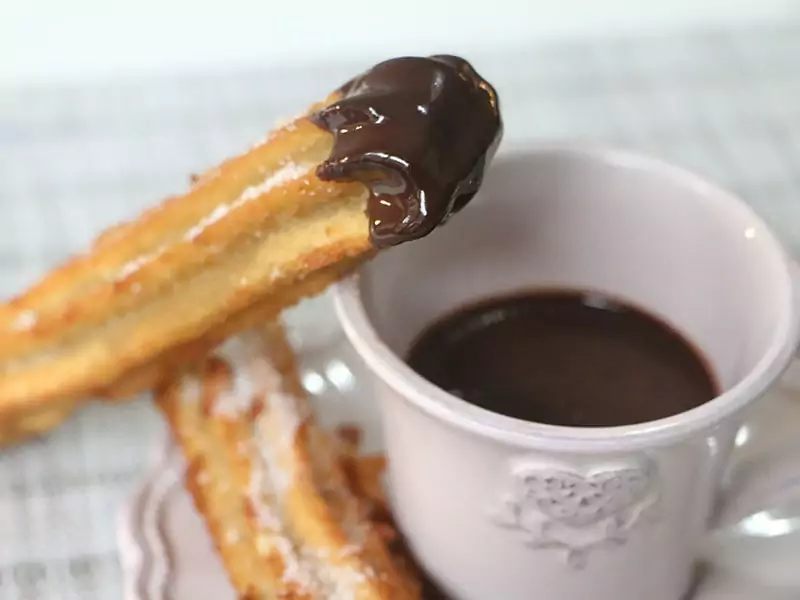 You may have heard about this Spanish-origin fried dough, and Churros is also a staple dessert in Uruguayan gastronomy. It is made by frying long sticks of soft dough and is usually sprinkled with some granulated sugar and cinnamon when serving.
You can find a wide range variety of this sweet treat in Uruguay; chocolate and dulce de leche fillings are the most popular ones. The Uruguayans even invented multiple savory versions of this culinary delicacy.
23. Pastafrola – Quince Tart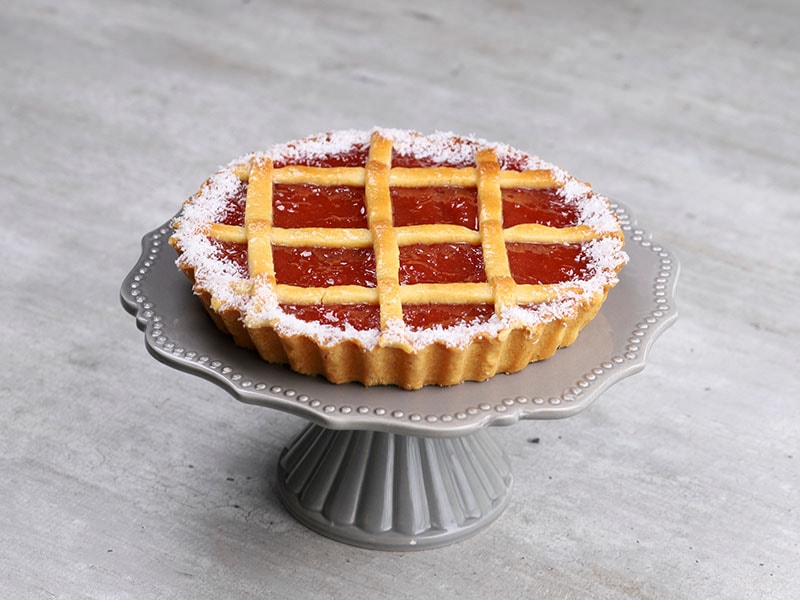 Pastafrola is a typical sweet-tart that originated in Italy and has found its beloved place in Uruguayan gastronomy nowadays. Traditionally, it's made of a pie crust filled with quince paste and topped with thin-striped lattices.
In Uruguay, you can find several versions of the filling for Pastafrola, such as chocolate, strawberry paste, or the cultural dulce de leche. However, the oldest and perhaps best recipe uses dulce de membrillo – a native paste from quince fruit.
24. Arroz Con Leche – Rice Pudding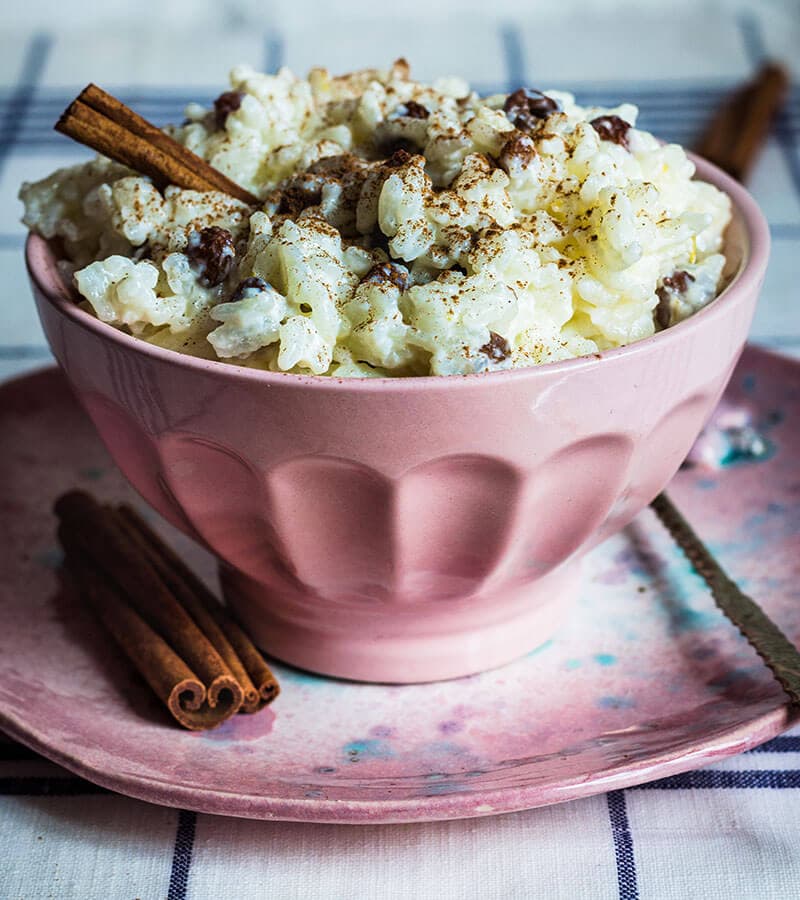 Perhaps this is a familiar dish to many regions across the globe. Uruguayans Arroz con Leche also use the same ingredients as other Latin American nations for this dessert, which comprises rice, milk, sugar, and topped with cinnamon when done cooking.
However, Uruguayans usually add egg yolk to their pudding, and it becomes creamier as a result. A small amount of Dulce de Leche is sometimes added to this dish to elevate the flavor.
25. Flan with Dulce De Leche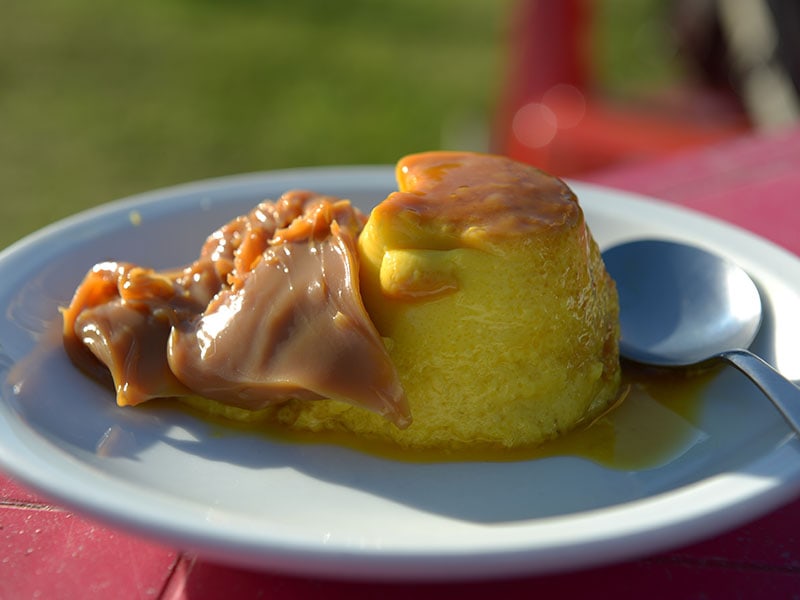 Originating from the Romania period, flan has gained its fame over the world, as well as being a dessert staple in Uruguay. You may already know that Flan has numerous names such as caramel pudding, creme caramel, caramel custard, etc.
These names actually sprouted from different regions with specific recipes, and Uruguay does have its cultural version of this marvelous dessert, which is Dulce de Leche addition when serving.
26. Dulce de Leche – Caramelized Milk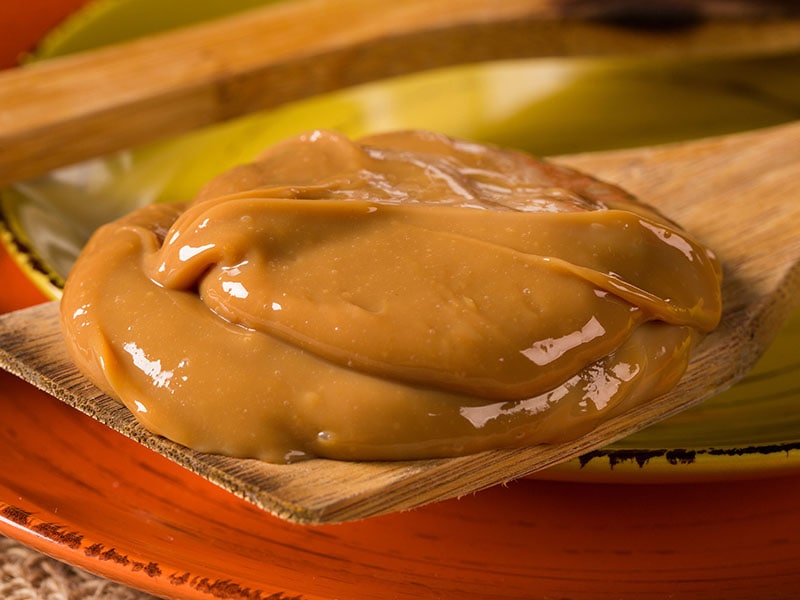 Apparently, Uruguayans love Dulce de Leche. Traditionally, this confectionery is a combination of cow's milk and sugar, which will be brought to a simmer until reaching a spreadable consistency. Vanilla is very often added to enhance the aroma.
You can think of Dulce de Leche as caramel, but in a creamy form. Legend has it that Dulce de Leche was first made accidentally by a woman in Buenos Aires, who attempted to prepare "la lechada" but carelessly overcooked the milk and sugar mixture.
A quick check out on Dulce de Leche history and a simple recipe to make!
Traditional Uruguayan Sauces
I have mentioned the traditional sauces of Uruguay multiple times throughout this article. Indeed, some dishes are just an evil counterpart of the world-famous versions without these sauces. Let's take a deep look at those culinary delights!
27. Salsa Caruso – Traditional Pasta Sauce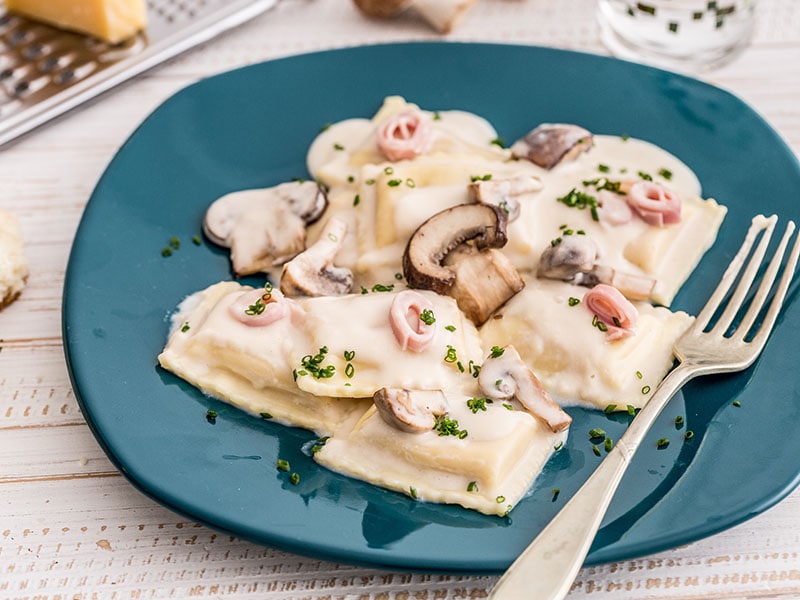 Salsa Caruso was first made in Montevideo – the Capital of Uruguay – in the 1950s, and it was named after a famous opera singer, Enrico Caruso. It's the most used sauce for pasta dishes in Uruguay nowadays.
The reputation of this sauce has gone popular in Argentina and Brazil and even reached Western Europe in recent decades. Initially, this sauce comprises beef exact, ham, cheese, cream, and mushroom. Nuts and onions are optional additions.
28. Chimichurri – Meat Sauce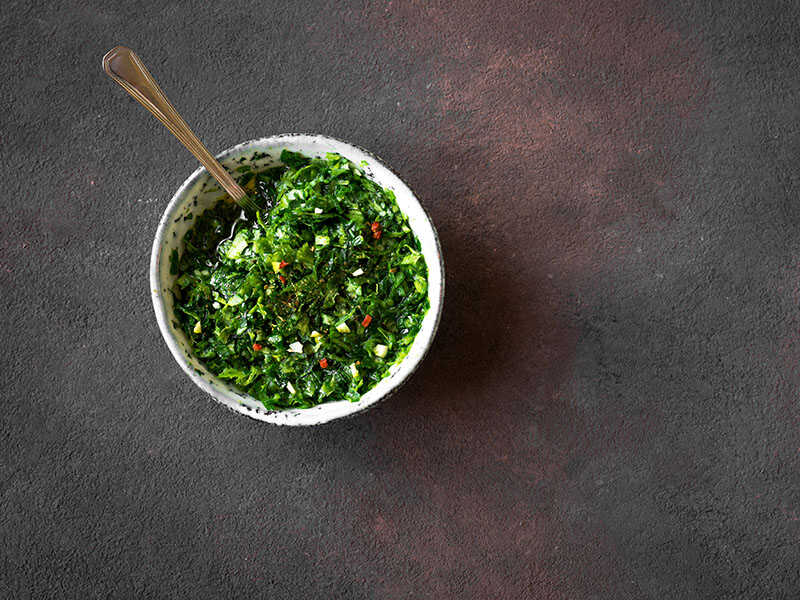 Chimichurri is a cultural sauce in Uruguay and Argentina. The origin of its name is still controversial today; however, the most reliable theory says it was named after an English meat dealer who invented this sauce – Jimmy Curry.
Regardless of the origin, this is a herb-based sauce of red pepper flakes, oregano, parsley, garlic, olive oil, and vinegar. The Uruguayans consider Chimichurri the best sauce for their traditional meat dishes, such as Asado.
29. Salsa Criolla – Onion-Based Sauce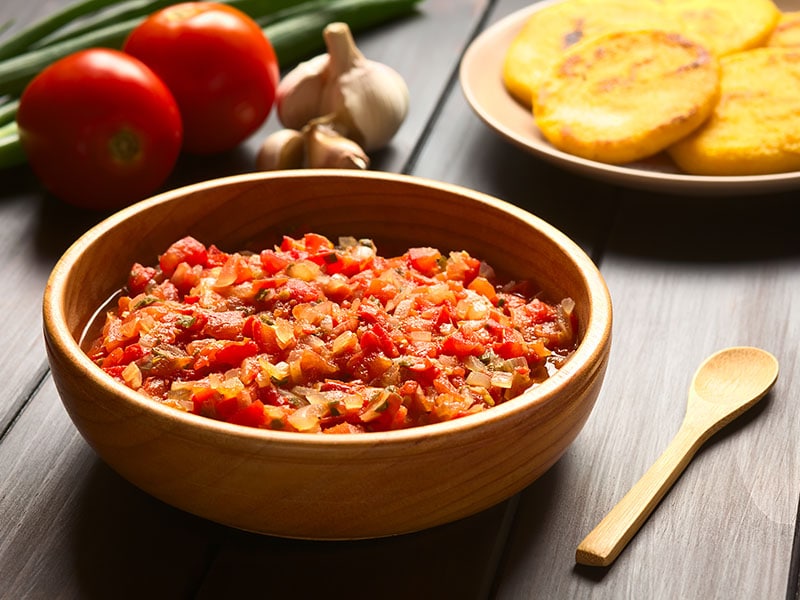 Salsa Criolla is another option for the meat dishes, and though you can find it widely in Argentina, Puerto Rico, and Peru, it's also famous in Uruguay with multiple recipes.
Salsa Criolla even contains more types of ingredients than Chimichurri does, including parsley, cilantro, tomato, salt, lime juice, vinegar, and most importantly, onion.
Although it can be used as a marinade sauce in Peruvian cuisine, it's mostly used as an accompaniment for grilled dishes in Uruguay and Argentina.
Uruguayan Beverages
Lastly, your journey to Uruguay will never be completed without these beverages. Luckily, they're not that hard to find, so better not skip them!
30. Mate – National Tea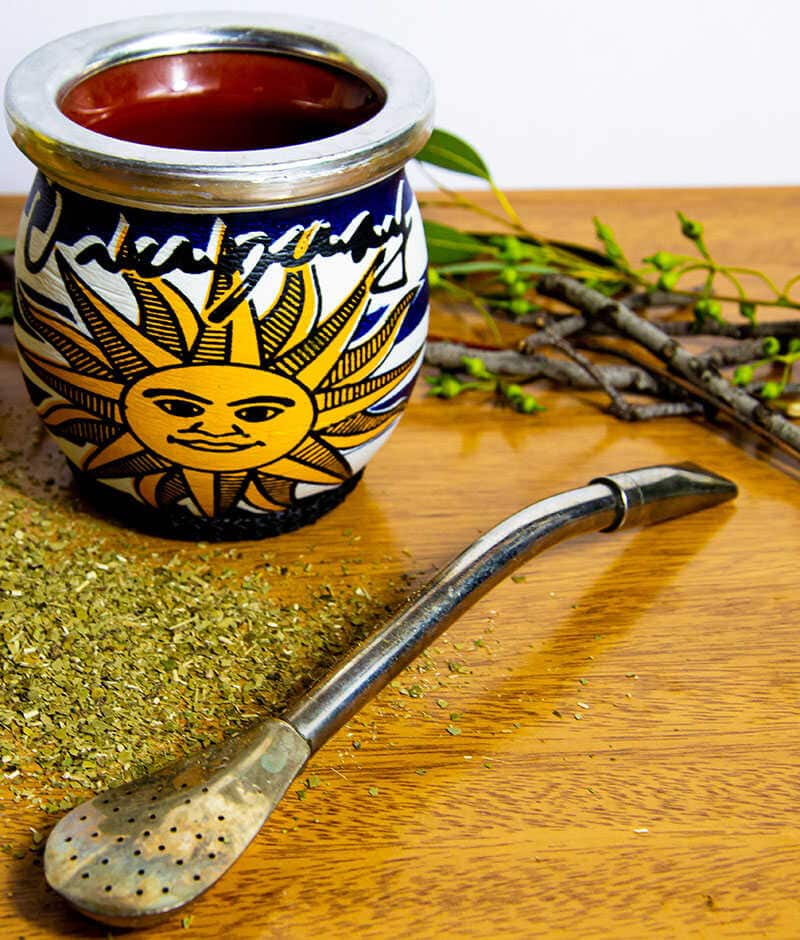 Coming to Uruguay, you can easily see people are drinking somewhat liquid from a metal gourd-like cup, using an iron straw. What they're drinking is Mate, an unofficial national beverage of Uruguay.
This tea is made of dried leaves of Yerba Mate – a native plant of Latin America, and Mate is so famous that the iron straw called "bombilla" is specially invented for drinking it.
The origin of Mate is traceable back to the 16th century when the Spanish conqueror arrived. You can also find this tea as an iconic dish in Paraguay and Argentina, but Uruguay claims the largest consumer per capita.
31. Tannat Wine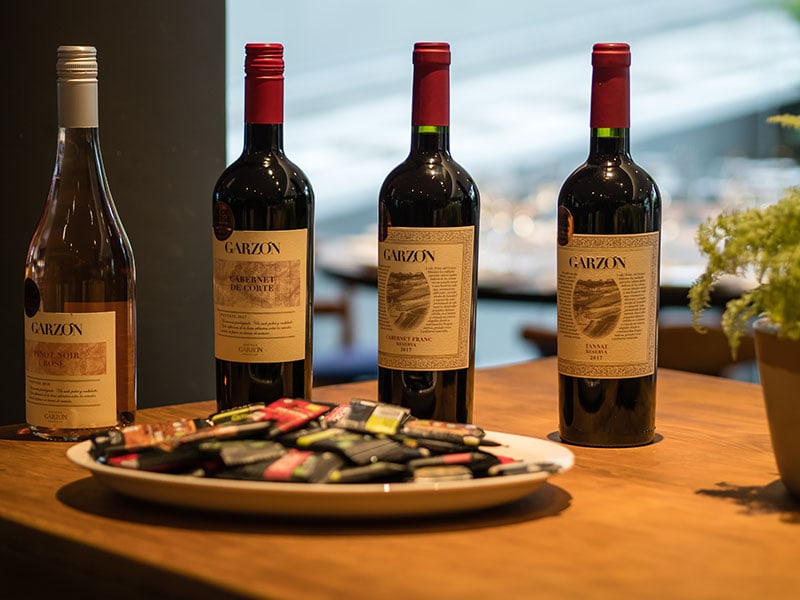 Often considered as a country that loves meat, Uruguay must have its own drink that makes the perfect accompaniment for meat dishes, and Tannat wine is just the thing.
Tannat is the name of a grape cultivar, which was brought to Uruguay during the 19th century by European immigrants. It was first planted in Salto and began to gain its reputation as a national heritage afterward.
Nowadays, tannat wine is very easy-to-find in Uruguay. Still, due to its natural astringency, this wine is usually blended with other softer ones, such as Fer, Merlot, Cabernet Sauvignon, and Cabernet Franc.
---
You Can Enjoy The International Gastronomy In Uruguay!
There's no exaggeration to say that you can explore countless famous cuisines of the world just by coming to Uruguay. Though the Uruguayans have adopted those recipes from other countries, be aware that their additional touch may blow your mind.
Did you see your country's dishes on this list? Have you picked up any treasure throughout this article? I'd love to read about those thoughts in the comment section!
Also, don't forget to share this article with your beloved ones. I'm positive that they'll find it helpful just as you do.