There will be times when you probably think: "Can you freeze cottage cheese?", as dairy products are usually cheaper if you buy them in large quantities. You may come across a very special discount and end up buying too much cottage cheese.
Or some times in the future, you run out of both cottage cheese and other ingredients able to replace cottage cheese. At those times, you may wish you had known how to freeze this cheese properly beforehand.
This is not an easy question to answer, I bet. Fortunately, this post is right here for you. From now on, after reading my post, you can know really well whether you should freeze cottage cheese or not and begin to use it more effectively.
Just read until the end so that you can gain as much information as possible, will you?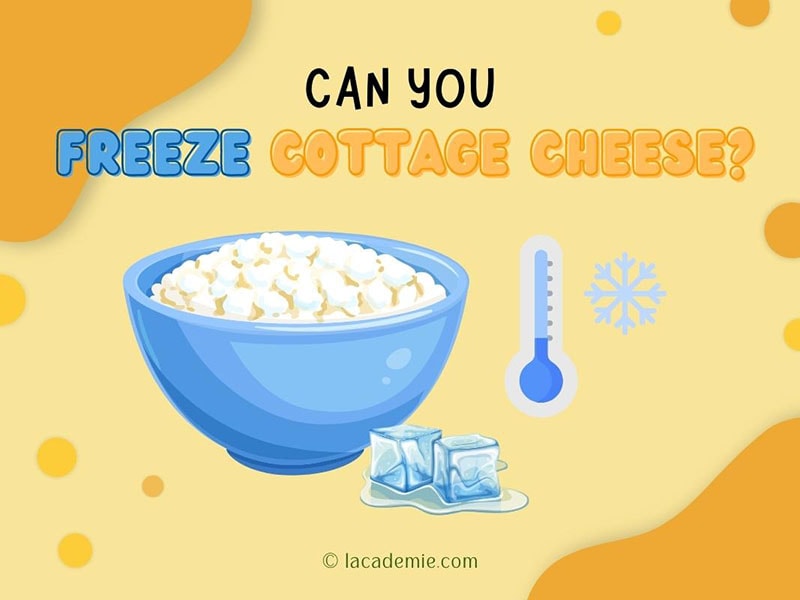 Can You Freeze Cottage Cheese?
Before digging into every detail, I would like to answer this question first.
The answer is both yes and no. It depends on your purpose of using the cheese later, the quality you demand your cottage cheese to be, and the amount of time you want to freeze it.
You can freeze cottage cheese to extend its shelf-life much longer, but there are some points you should consider before freezing:
1. Once frozen, you can no longer consume your cottage cheese in its original form. You have to include it in cooking recipes, such as lasagna, soups, and sauces. Several cakes that require an oven also work with thawed cottage cheese.
2. The temperature in the freezer alters the texture and flavor of cottage cheese remarkably. If you plan to dip your fruits in a bowl of beautiful, smooth, and creamy cottage cheese, freezing is not an ideal choice.
What To Remember Before Freezing Cottage Cheese?
Cottage cheese belongs to the soft cheese group. Soft cheese means that this cheese feels creamier and softer than some other cheeses (gouda, colby, cheddar…), and it is high in moisture content.
The Significantly Changed Texture Of Frozen Cottage Cheese
Due to its soft texture, manufacturers often recommend not to freeze this specific type of cheese. Once freezing, the flavor and appearance will be affected considerably, though the cheese still retains most of its nutrients.
When in the freezer, cottage cheese will separate its milk fat from other ingredients. The changes in its consistency are significant after thawing: it becomes much lumpier, rougher and there is liquid released from milk curds.
Some people consider this watery, defrosted cheese as a mushy mess. However, this "mess" is still edible in certain cases. We will find out about that later!
The Important Alteration In Flavor Of Frozen Cottage Cheese
One sad news: lots of cottage cheese's tastiness will go away after thawing. Therefore, it is not a good idea to eat cottage cheese raw after you take it out from the freezer. Thawed cottage cheese works best when used in recipes that require cooking.
How To Select The Best Type Of Cottage Cheese To Freeze?
The higher percentage of fat your cottage cheese is, the better it will turn out after freezing. This is because higher fat means less liquid is contained in the cheese. Therefore, there won't be as much liquid drained out from the cheese after thawing as the low-fat variety.
Opt for the large curd cheese also. If you plan to stock up on cottage cheese and use it for quite a while, stay away from fat-free products as well as small curd cottage cheese.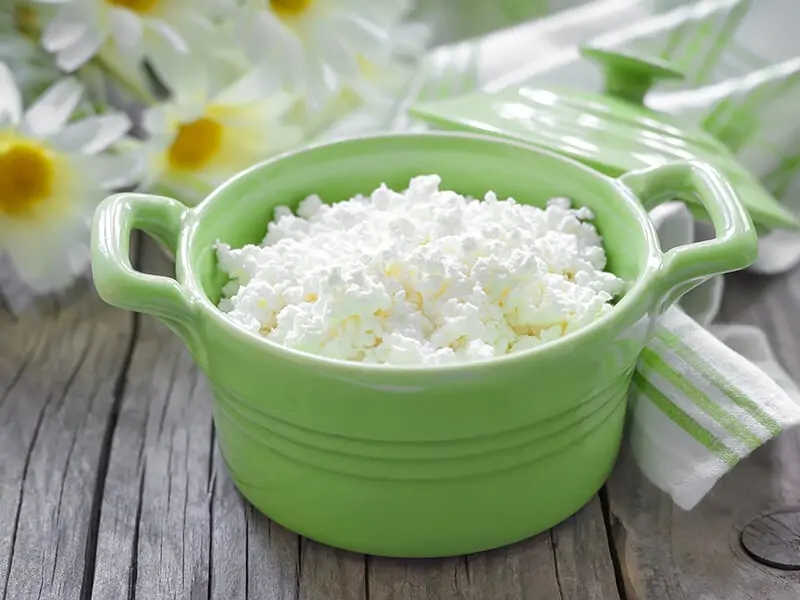 The Best Instructions To Freeze And Thaw Your Cottage Cheese
So now are the ultimate instructions for keeping your cheese in the freezer and thawing it properly after that.
The Optimal Guide To Freeze Your Cottage Cheese
When it comes to freezing cottage cheese, things are pretty straightforward and fast. Read the following instructions carefully to obtain the best result!
What you will need:
A pen
Airtight containers/ freezer bags
What you are going to do:
Step 1: Decide what recipes you're gonna make after freezing your cottage cheese. You can check out many amazing recipes later in this post for reference.
Step 2: Divide your cottage cheese into portions according to those recipes. Don't freeze it in super big portions because once frozen, it can't be undone! If your cottage cheese is unopened, store the whole package instead.
Step 3: Pour the cheese into freezer bags or airtight containers. If you're using bags, remember to squeeze out as much excess air as possible. If you're using containers, make sure that they are sealed carefully.
Step 4: Find a pen and write the date you begin to freeze the cheese. Then put them all in your freezer.
That's all it takes to freeze your cottage cheese.
How To Thaw Your Cottage Cheese Properly?
The thawing part is not any less quick and easy. There are two main methods to defrost cottage cheese: in the fridge and on the counter. Let's get to them right away.
In The Fridge
If you have plenty of time ahead of preparing your cottage cheese dishes, this is the ultimate way to thaw the cheese. All you have to do are:
Put the frozen cheese in the refrigerator at least 18 hours before using it. The larger the portions are, the longer you need to thaw them (up to 2 days).
Once the cottage cheese is totally thawed, drain out the excess liquid.
If it turns out too dry, you can add a little sour cream and blend them together.
On The Counter
If you are in a rush, let's say 1-4 hours before making your dishes, this method can save you a lot of time. However, after defrosting like this, your cheese should be used for cooking or baking recipes only.
Put the freezer bags/containers in the water. Your water can either be lukewarm or cold. If you need it to defrost faster, opt for the lukewarm.
Change the water every 30 minutes to speed up the thawing process.
Once thawed, you will also need to drain the liquid as well as add more sour cream if necessary.
The Flexible Shelf Life Of Cottage Cheese
Cottage cheese is such an unstable food at room temperature. It can spoil pretty quickly if kept improperly. However, if you don't plan to use your cheese in a long time, or if you prefer the low-fat/fat-free versions, I suggest that you consider other options before freezing it first.
Below is the summary table of cottage cheese's lifespan.
Storage Method
Last For
At room temperature
Opened /Unopened cottage cheese: 2 hours
In the fridge
Opened cottage cheese: 5-7 days

Unopened cottage cheese: Date + 2 months

In the freezer
Opened /Unopened cottage cheese: 3 months
After defrosting
Thawed in the fridge: 3-4 days

Soaked in water: 1 day
At Room Temperature
Whether your cottage cheese is opened or unopened, please throw it away after 2 hours of being left at room temperature. Room temperature is the ideal environment for bacteria to develop on dairy products. (1)
In The Fridge
By storing cottage cheese in the fridge, you can extend its shelf life to a quite impressive length of time. That time varies depending on your chosen brands and the storage conditions.
Unopened Cottage Cheese: All cottage cheese packages have expiration date labels, and the time is relatively short. If constantly refrigerated, your cottage cheese can last up to 2 more weeks past that date printed on the label.
Opened Cottage Cheese: Your cheese will last 5-7 days after being opened. If you cover it tightly, set the right temperature in the fridge (below 40oF), and only use clean utensils to handle it, your cheese is still edible for up to 10 days.
I recommend that you store your cottage cheese in the refrigerator immediately after purchasing. By preserving it this way, you are free to go with other recipes that require fresh, creamy cottage cheese.
In The Freezer
The best time to consume cottage cheese after freezing is within 3 months for either opened or unopened packages. However, if you follow my instructions, your cheese can last up to 6 months.
The longer you leave your cottage cheese in the freezer, the more it will degrade.
After Defrosting
Have you ever wondered how long cottage cheese can last once defrosted? The answer is: it depends on the method that you use to thaw it.
If you let cottage cheese thaw in the fridge naturally, according to my instructions, it can last for 3-4 days after thawing.
If you soak it in water, whether warm or cold, you'd better use it all within that day. It's best to consume it right away after that.
Learn how to maximize the lifetime of cottage cheese with this incredible instruction. Watch this video:
How To Tell If Cottage Cheese Has Gone Bad?
If your cottage cheese has one of the below symptoms, you should consider throwing it away for your own safety:
Discoloration: This is the most common sign of bad cottage cheese. You will notice that the cheese has turned slightly yellow.
Dryness: If your cheese turns out really dry and solid, it's time for you to discard it.
Smell/ Taste: Spoiled cottage cheese will have an awful smell and unpleasant taste. If it smells damp or tastes sour, the cheese is very likely to have gone bad.
Molds: If any mold develops on your cottage cheese, please get rid of it right away. Eating moldy products can lead to serious illnesses.
Pockets of Water: These pockets are the result of separation. They will alter the texture of your cheese and worsen its quality. Therefore, it's better to toss cottage cheese in the trash bin if it has this symptom.
Incredibly Yummy Food To Serve With Cottage Cheese After Freezing
Before getting into the whole storing process, you should know which food is appropriate to throw your frozen cottage cheese in, right? Read this first, so you may have an idea in your head about what to do after defrosting your cottage cheese.
Awesome Frozen Cottage Cheese Smoothies
What's great about frozen cottage cheese is that you don't have to spend any time waiting for your cheese to thaw, but just go ahead and toss it into the recipes.
If you have a blender that is strong enough to handle ices, it's perfect to combine frozen cottage cheese with fruits to create many delicious smoothies. From the original recipes, reduce the amount of ice and replace them with your frozen cheese.
You can use frozen cottage cheese in place of fresh one and create a heavenly taste strawberry smoothie with this astounding recipe!
Amazing Dishes To Throw Your Thawed Cottage Cheese In
It's important to notice that if you thaw frozen cottage cheese and think that it will work just fine as a fresh one, things may not go the way you want!
Avoid using thawed cottage cheese in recipes that call for creamy and smooth raw cheese. Instead, incorporating it into cooked or baked cuisines will lead to a much more satisfying result.
Let's see what those magnificent dishes are!
Stunning Cooked Food With Cottage Cheese
The changes in the texture of cottage cheese after freezing is not much noticeable if you include it in the cooking process. High heat tends to dissolve the lumps and blend everything really well together.
Therefore, if you're gonna freeze cottage cheese, you definitely gotta try these tasty treats later!
Soups: Thawed cottage cheese will work beautifully once incorporated into boiling soups. It will add extra fat and creaminess to your favorite soups.
Creamy Sauces: It's an excellent choice to add cottage cheese to creamy sauces because it will make these sauces even richer and creamier.
Casseroles: Cottage cheese and casseroles are a divine combo! What's more amazing than thick, fat casseroles that bring extreme richness to your mouth?
Pasta (Manicotti and Lasagna): Who wouldn't love pasta, right? Adding thawed cottage cheese to the pasta will bring the best out of these Italian dishes. And not just Italy, even in various Hungarian recipe lists, you can find this pasta with cottage cheese included.
Mac and Cheese: Because the name of this dish is "mac and cheese", no doubt that cottage cheese will pair perfectly with it. Try replacing the traditional cheddar cheese with this high-protein cheese. Can you imagine the incredible taste?
Learn how to make the wonderful Alfredo pasta with this instruction within 15 minutes! Watch this video:
Delightful Baked Desserts To Incorporate Cottage Cheese In
This is a perfect way to make use of the leftover cottage cheese in your freezer. As with cooked recipes, no one will ever notice the difference between cakes with fresh cottage cheese and thawed ones!
Muffins: Muffins are usually very dry if you overbake them. Including cottage cheese in the recipe will prevent this from happening because it will make your muffins smoother with extra moisture.
Baked Cheesecakes: Thawed cottage cheese is only suitable for baked cheesecakes, not for no baked ones! Instead of the regular cream cheese, try using cottage cheese in the recipes. You will marvel at how they turn out!
Pancakes: Bring your pancakes to the next level by incorporating thawed cottage cheese into the pancake mixture! Nothing easier to transform your cakes from a normal flavor to an extremely mouthwatering taste by this trick.
Pies/Tarts: Many recipes for pies and tarts call for cottage cheese, even the picky British people have made some desserts with it as well. Just go ahead and combine thawed cheese with other ingredients. The separated texture won't affect your final result!
Learn how to make the extremely light, creamy, and fluffy cottage cheese pancakes with this recipe! Watch this video:
FAQs
Here are the commonly asked questions about freezing cottage cheese. Please take your time to read my answers, as they might be useful to you later on.
What Are You Planning To Do With Cottage Cheese?
So that is basically everything you need to know in order to answer the question "Can you freeze cottage cheese?". I hope you find my post helpful and informative.
After reading my post, what are you going to do with cottage cheese? Freeze it, refrigerate it, or include the cheese in several delicious treats? Please comment below because I really want to know. And I will be grateful if you share my post with your friends and family.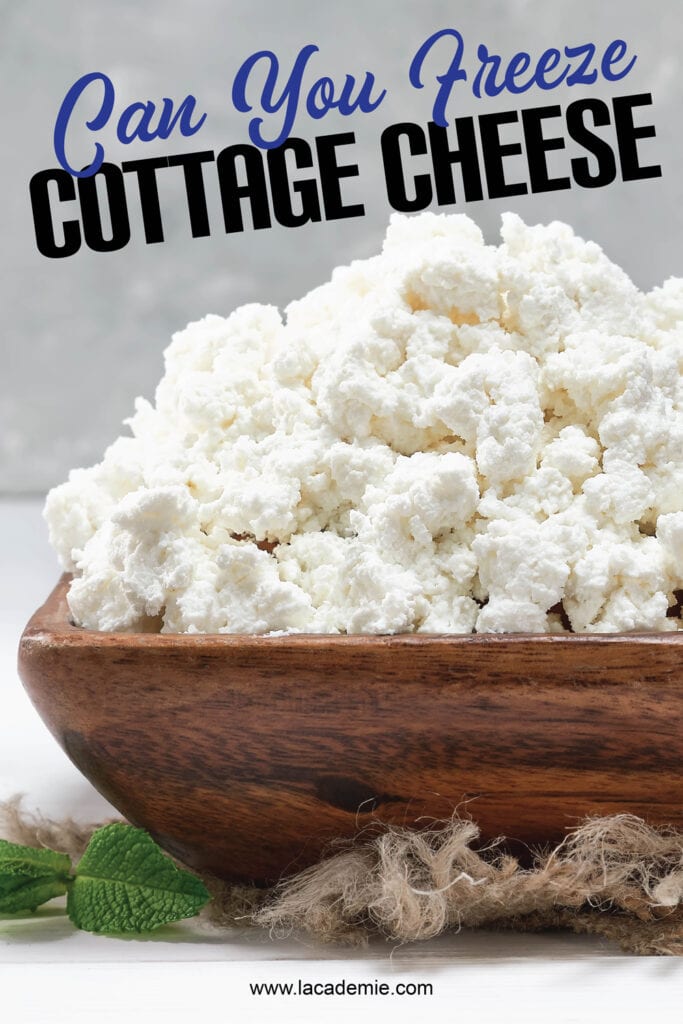 Reference
(1) Insider. 2021. Here's how long food can be left out at room temperature.