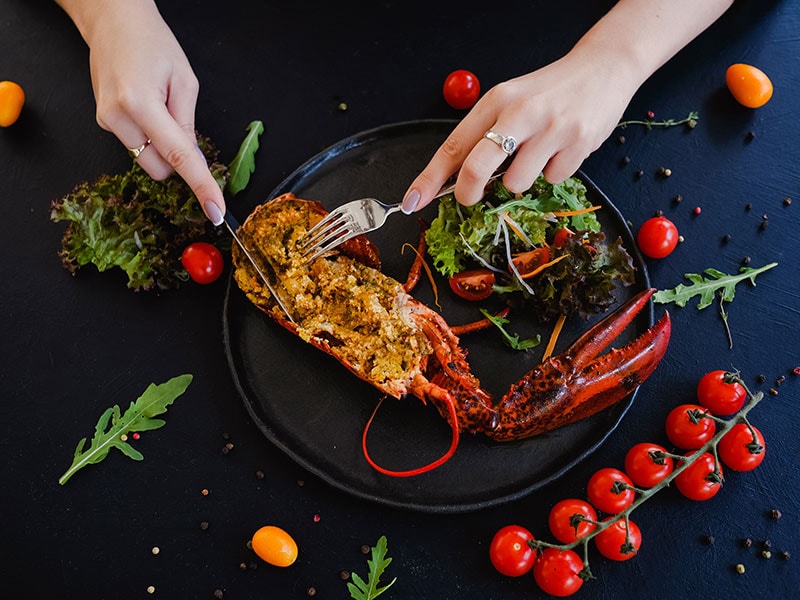 So, what does lobster taste like for real? It might feel like eating shrimp or crabs, but there's a difference in its flavor that other crustaceans can't have!
Please continue reading to gain more insights into the natural flavor of lobster and even how to eat it best!
What Does Lobster Taste Like?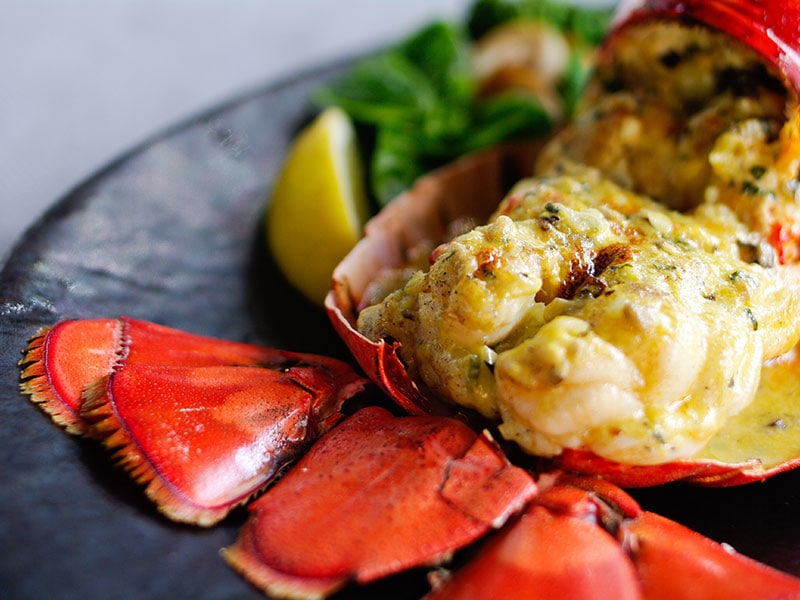 If you're a big fan of nutritious seafood, you may have known thoroughly the flavor of all existing types of shrimp and crab! The flavor of lobster is depicted as a delicate cross between these two crustaceans, without a doubt.
The firmness, smoothness, and softness of the meat all show up in one bite. But more than that, it's the mild sweetness of the lean meat that can knock down anyone.
And while some argue its texture varies based on different lobster types, you can pick any kind to make a perfect dish to satisfy any lunch and dinner craving.
Many people claim lobster has the same flavor as crab. Well, crab and lobster are the most popular sorts of shellfish served in high-end restaurant chains.
But if you pay close attention to it, there's something different making lobster unique. Not only chewy, but the meat is also spongy thanks to the great amounts of protein it has.
Despite being served in the same meals, lobster and crab still have unique flavor profiles that not many people notice.
If crab meat goes somewhat sweet, then lobster stays on the salty side. Besides, the difference here becomes evident as you cook. However, with a buttery touch in the meat, it's hard to distinguish.
Let's see what lobster meat tastes like for the first bites! Watch this video to know more:
Since a lobster lives as long as one hundred years, it can weigh 45 pounds! And consuming this crustacean brings you many heart-healthy omega-3 fats. However, if you try to pair it with melted butter or mayonnaise, the calorie amount will double.
After snapping up some giant lobsters, you immediately think of the fabulous lobster recipes to serve your family and friends. People tend to grill, boil, steam, and fry lobster for cooking. And the flavor of lobster varies based on the way it's cooked.
Such a change comes from the way it gets soaked in, and spices sprinkled on it.
For example, as you boil it, lobster has a sweet and salty flavor, an exquisite choice if you're looking for some unique meat to go with your fondue. But when steaming, the lobster meat almost resembles other seafood. Lobster tastes mildly sweet and soft at the same time.
Moreover, the flavor depends on how chefs serve the dish, whether you make dishes with leftover lobster or fresh ones. Butter is one of the best choices among several seasonings as it makes the meat moister and highlights the seafood flavor.
Nutrition Facts Of Lobster
Like the crab, lobster goes low in calories and fat but high in protein content. Both of them have several nutrients human bodies need, such as protein, iron, zinc, potassium, and selenium.
Following the nutrient database of USDA, a portion (100g) of cooked lobster contains:(1)
| | |
| --- | --- |
| Nutrients | Value |
| Calorie | 89 Kcal |
| Total fat | 1.79 g |
| Protein | 17.86 g |
| Iron | 0.64 mg |
| Sodium | 464 mg |
| Cholesterol | 98 mg |
As you see, lobster meat is a rich source of the healthiest proteins you've ever had. One 100-gram portion here contains only 1.79g of total fat but 17.89 g of protein.
Is Lobster A High-Fat Food?
Lobster does have fatty acids, but these are known as the "good fat" or Omega-3 fatty acids. You can also find them in other seafood, and they tend to relate to good-heart health only.
So the intake of Omega-3 fats per month means a decrease in your risk of cardiac arrest. These fats offer the point to make hormones that aids blood clotting regulation and inflammation. Moreover, the fats may help to:
Lower blood pressure
Lower the risk of heart disease and stroke
Reduce the risk of cardiac arrest for those with heart issues
Lower inflammation, a part of asthma
Drop the levels of stress and depression
Improve stiff joints and joint pain
Omega-3 fats are essential nutrients you'll earn from consuming lobster and other crustaceans.
These build and keep a healthy body and serve as a key to the stable structure of cells. If you need the energy to keep your organs working well, from the heart, lungs, to the immune system, consume at least eight ounces of seafood every week (2).
For pregnant and breastfeeding women, it's recommended to eat from 8 to 12 ounces of one particular seafood each week.
Is Lobster Good For Your Health?
It's undeniable about the health benefits lobster offers aside from the unwanted health risks of overeating it! If you want to keep this shellfish as healthy as possible, do not soak it in butter or mayonnaise.
The lobster itself is an excellent source of vitamins and essential minerals. You provide your body with adequate protein, zinc, vitamin A, vitamin B12, and magnesium by consuming it.
What Are The Health Benefits Of Lobster?
Everyone gets used to lobster already, especially when it becomes a culinary delicacy in different dishes worldwide. Go global and enjoy lobster in pasta dishes, creamy mac & cheese dishes, salads, cozy soups, rice, sushi rolls, and more.
Well, it's hard to feel guilty about calling this delicious meat for your gourmet treats! It's lean meat that is loaded with many nutrients.
It tells why lobster is healthy for you like other seafood! Let's see this video:
Eating it doesn't only help shed more pounds for your waistline but also improves your heart. Check out lobster's health benefits for your cognitive and physical status.
Lower The Risk Of Cognitive Decline
Not only lobster but other seafood varieties are also rich in DHA and EPA. These two can lower the risk of cognitive decline and keep your brain as sharp as possible.
Having a seafood meal at least once per week is a great way to fight against memory loss due to aging (3). In the Pacific Northwest, people seem luckier to have a richer source of varieties of seafood.
And to be honest, it's easy to benefit from a bit of brainpower with a significant amount of seafood like that. Once consuming any healthy food made from fishes, shrimps, crabs, or lobsters, you're successfully reducing your risk of Alzheimer's disease and dementia.
The omega-3s in lobsters also do it well by supporting brain growth in women, infants, and kids. As you see, seafood is a powerful item to store in your kitchen!
Boost Your Wellbeing And Mood
Another nutrient you receive from a lobster is selenium. This chemical element plays a crucial part in keeping your thyroid function healthy. Once receiving more selenium, your body can fight back potential threats from viruses and bacteria.
As an antioxidant, it also helps with the health of your immune system. By expelling your stress, selenium also lowers your inflammation and increases immunity.
For advantages and disadvantages of taking selenium, have a look below:
Pros:
Lowers inflammation and boosts immunity
Good for thyroid health
Prevents cancer
Keeps a balanced mood
Cons:
Decrease thyroid hormones in men
Contributes to type II diabetes
Lower The Risk Of Prostate Cancer
Having a high intake of lobster or other seafood relates to a lower rate of possible prostate cancer.
It's all due to the tremendous amount of omega-3 fatty acids in this food, primarily DHA and EPA. Human bodies cannot release omega-3 fats but only gain them through seafood and seeds.
Note that overeating any food high in fat could be harmful to anyone with this type of cancer.
Improve A Healthier Pregnancy
Lobster brings you a great source of choline. This nutrient resembles vitamin B, and it comes from your liver. You can see it in different types of foods such as beans, nuts, seeds, veggies, and eggs.
Pregnant women who consume enough choline would deliver incredible benefits to their children's memory system.
So you will earn tons of choline and vitamin B-12 from one serving of lobster. All of these nutrients can help promote healthy cells in your nerves. Doing this enhances the whole red blood cell-making process.
Give You A Better Complexion
Who doesn't want to own beautiful and soft skin? If so, then let lobster do it for you. It's good fats that would join other nutrients to make your complexion moister than ever.
By reducing acne and guarding the skin against harmful UV rays, lobster is worth eating no matter what. Better than that, the protein within lobster is believed to calm the itchy and dry condition of eczema.
So whoever has to struggle with patches of inflammation and cracked skin, consuming seafood or lobster might help a lot!
Help Maintain Your Eyesight
Again, you must say thanks to those omega-3 fats derived from lobster as they help improve your eyesight.
Eating seafood is one of the best things you can do to support the vision. Some people even joke that shellfish also enhance human's night vision. Also, these fatty acids protect the eyes from degeneration and dry syndrome.
The good fats also lower the risk of adults' high eye pressure and glaucoma. It's a condition where your optic nerve linking the eye to the brain gets damaged.
Besides, one of the three omega-3 fat forms is claimed to stop age-related vision loss from happening(4).
Ease Your Joint Pain And Inflammation
When histamine (a chemical in the human body) gets produced in the tender tissue of your joints, you're prone to pain due to pressure and swelling.
If you're anxious about aches and stiffness occurring early, hurry to add lobster or other seafood to your diet. Not only reducing your pain, but the shellfish also relieves any severe symptoms of arthritis. This condition tends to get worse with age.
Alleviate The Anemia Symptoms
Some people suffer from anemia which means not having enough red blood cells. If your iron levels decline, you're likely to experience anemia. Only consuming copper can help relieve its symptoms.
With a high amount of copper, lobster is one of the most effective foods you can eat to boost your iron levels. It's ok to raise the iron intake by pairing your seafood with some veggies for more essential minerals.
How To Cook Lobsters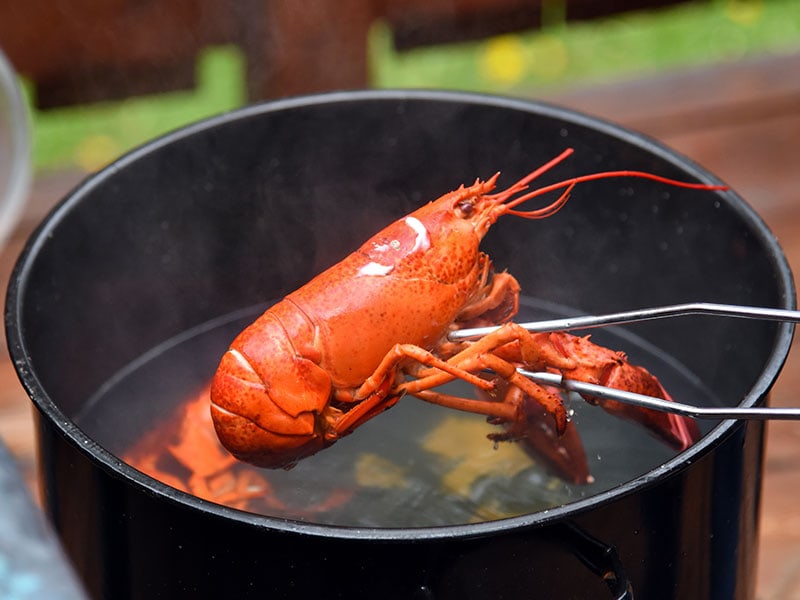 You have come this far! Keep walking through each step to prepare your giant lobster, and ensure it is perfectly cooked.
The lobster is a shellfish prepared in different manners, such as grilling, boiling, and steaming. People love to enjoy it as a main course, while others make lobster into some appetizers for their summer party. Some even add lobster to pasta and sandwiches.
As lobsters are reputed for their sweet flavor and soft texture. Its white flesh, once cooked, becomes more palatable than ever! Since the meat is naturally savory, you don't need any complex preparation method.
Depending on your favorite recipes, you can choose to steam, cook, or grill lobsters. Nowadays, people have different ways to cook this crustacean. But I always recommend boiling first.
That way, Red Lobster dishes recreated at home will taste just like the ones you have tried at the restaurant. Also, boiling doesn't require much time or cooking skills, so any beginner can do it perfectly.
Learn how to boil a lobster creatively now!
It's recommended to store your giant lobster suitably before cooking. Refrigerating it on the ice is the best thing you can do.
Now follow the steps to prepare your seafood in a flash:
Step 1: Prepare A Pot Of Salted Water And Boil It:
Pour ¾ of water into the pot. Add a pinch of salt for each quart of water. Taste it to make sure your water is similar to seawater. Let it come to a quick boil.
Step 2: Put The Lobsters Into Your Large Pot:
In this step, try to lower the lobster into the pot by placing its head into the boiling water. Keep adding the entire crustacean later on. Put a lid on it!
Step 3: Boil The Lobsters Within 10 To 20 Minutes:
Set the timer when re-boiling the water. Ensure to boil lobsters within 10 – 20 minutes. It can last longer, depending on the size of your lobster.
Wait for the shellfish to turn a bold red color. Notice that giant lobsters tend to become bright red before the cooking finishes. It's why you need a timer rather than relying on the color only.
Step 4: Get Lobsters Out Of The Pot For Drainage:
At last, take your lobsters out of the pot with food tongs. Then, you can place them on a serving plate to cool and drain.
After cooking, serve lobsters on the plates and enjoy them! Crack the hard shell and extract the sweet meat from the tail. Use a knife to cut the center down before pulling them apart! As you see, consuming a whole lobster requires a lot of work, but it's worth doing it.
FAQs
"What does lobster taste like?" is not the only question made by seafood eaters. You know about its nutritional content, health benefits, and even how to prepare it. But there are more about it to discover:
Expectation Vs. Reality
So you've got the answer to everyone's big concern "what does lobster taste like?" If you're a big fan of this shellfish, then nothing can replace it, even its flavor. It's a bit sweet and salty, but some people feel it is as strong as a slow-simmered chicken soup.
With such a one-of-a-kind flavor, you only want to eat it many times a week without needing a special occasion.
If I had to compare lobster with crab, I must say that lobster doesn't have too much fishy taste like crab. Instead, lobster owns a unique flavor of its own.
References
(2021). Retrieved 2 June 2021, from https://fdc.nal.usda.gov/fdc-app.html#/food-details/473402/nutrients
Advice About Eating Fish. (2021). Retrieved 2 June 2021, from https://bit.ly/3fHy6H0.
Kim, D. H., Grodstein, F., Rosner, B., Kang, J. H., Cook, N. R., Manson, J. E., Buring, J. E., Willett, W. C., & Okereke, O. I. (2013). Seafood types and age-related cognitive decline in the Women's Health Study. https://doi.org/10.1093/gerona/glt037
(2021). Retrieved 2 June 2021, from https://www.health.harvard.edu/heart-health/omega-3-for-your-eyes