In need of a Goat cheese substitute to perfect the dish to suit the tastes and diets of those who eat it? This easy and similar list of alternatives will help you get rid of your worries.
Goat cheese has very tangy and earthy, which makes it so unique. It has been used for thousands of years and appears in several different dishes. While it has an unusual flavor, Goat cheese still has many substitutes.
This kind of tasty cheese cannot always be found, and I must use replacements for Goat cheese to complete some recipes. Moreover, some people don't fan their scent, tastes, texture, and even costs, so they're looking for other things while making recipes that call for them.
I still seek new twists in my recipes as a cheese lover. So this is the article for you if you are looking for a replacement for Goat's cheese! Here are some perfect Goat cheese alternatives that will provide the same results for you.
So, let's go!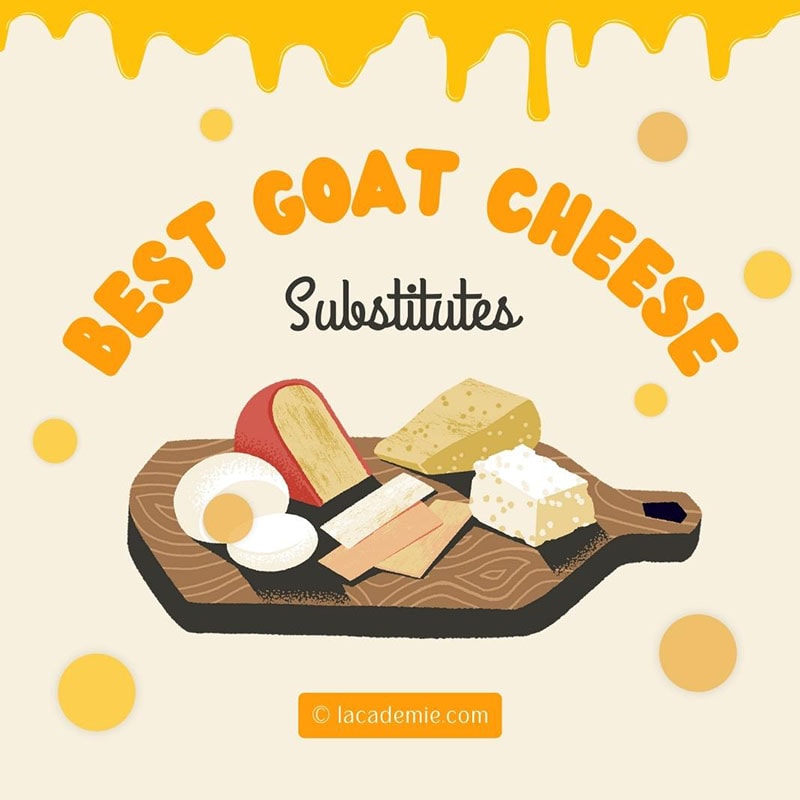 What Can Be Used Instead Of Goat Cheese?
Here's a list of nifty goat cheese substitutes you might consider:
Cream Cheese
Mascarpone
Tofu
Blue Cheese
Feta Cheese
Cottage Cheese
Ricotta Cheese
Fromage Blanc
Greek Yogurt
Parmesan
Emmental Cheese
Gruyere Cheese
What Is Goat Cheese?
Goat cheese is one of the world's most traditional and often eaten cheese. It's still, though, one of the cheeses most people love or dislike.
You can quickly check the following valuable facts on Goat's cheese before you delve into different alternatives. Thanks to its French heritage, Goat cheese is also known as 'chèvre,' which is the expression used to describe Goat milk cheese.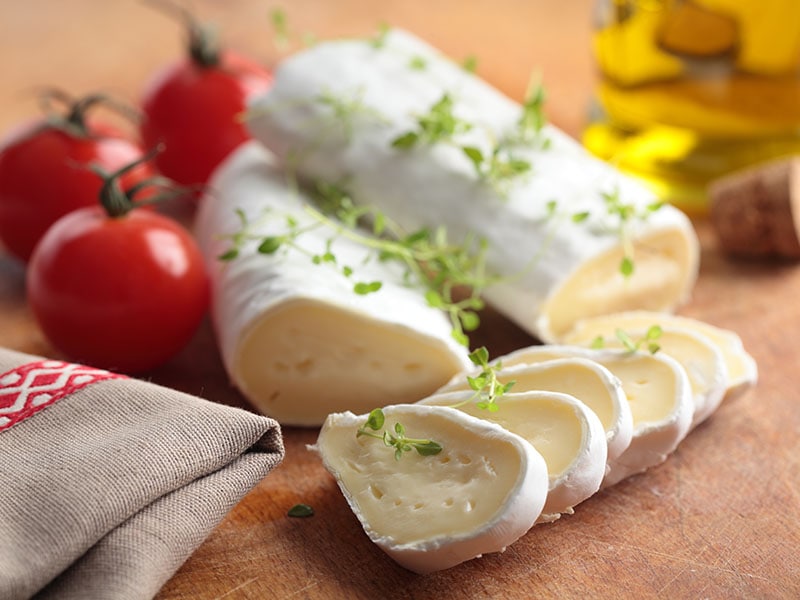 Goat cheese is abundant, even more than cow's milk, in nutritious advantages and good fats. This cheese has unique tangy, and earthy, which you would not get with most other cheeses. The main ingredient, Goat's milk, gives the flavor.
Goat cheese is aged for a couple of months after the milk has been curdled and produced into cheese. While both Goat and cow's cheese have the same fat content, their textures and tastes differ depending on what the animals eat. The fatty acids produce their texture and fragrance in Goat cheese.
Goat cheese is not going to cater to everyone. Its harsh and audacious taste, coupled with a high price, prevents it from becoming a typical food in most countries. So whether it's possible to freeze goat cheese for long storage or not, sometimes you'll need an alternative.
You can easily buy Goat cheese in markets and supermarkets or make your own at home following the steps detailed in this video.
The Unforgettable Health Benefits Of Goat Cheese
Goat cheese is a popular dish in many places worldwide because of its smooth fat, easy to combine with many different foods. In addition, all Goat cheeses contain healthy nutrients.
Contains Beneficial Bacteria
Goat cheese is a rewarding cheese with lots of healthy probiotics. One of the top probiotic-rich foods, goat cheese, has been shown to promote digestive health and boost the immune system.
This effect is due to goat cheese's high-fat content and firm texture. This prevents the beneficial bacteria produced during cheese making from being affected by external factors.
Aged goat cheese made from whole milk provides more probiotics, so if you want to boost your health and get the most out of goat cheese, choose this one.
Easier To Digest Than Cheese Made From Cow's Milk
Milk is a familiar product that provides many nutrients, so it is widely consumed, especially cow's milk. However, some people will experience discomfort if they consume cow's milk because of its high lactose content.
These people may experience abdominal pain, vomiting, and dizziness when consuming cow's milk products, including regular cheeses.
In this case, goat milk products such as goat cheese are a good substitute because it contains less lactose than cow's milk, making it easier for the patient to digest. In addition, the protein in Goat's milk also has a different structure to help limit discomfort, like when using cow's milk.
Lactose intolerance is a disease that causes bloating, abdominal pain, and diarrhea after consuming products high in lactose, such as cow's milk products.
Contains Lots Of Calcium And Protein
According to studies, dairy products provide an excellent amount of calcium for the body, and goat cheese is no exception.
Especially for those who do not usually consume other calcium-containing foods such as green vegetables and seafood, goat cheese is a delicious and reasonable choice to supplement this missing nutrient.
Calcium is an essential mineral that contributes to bone formation, maintains solid skeletal muscles, and supports oral health.
Enjoying 2-3 slices of Goat cheese per day can meet about 10 to 30% of the body's daily calcium needs. In addition, this dish also provides extra protein, which is suitable for eating with bread, fruit as a snack in times of hunger.
In What Situations Are Goat Cheese Substitutes Used?
Now that you know what Goat cheese, you must be sure that there are aspects that you must take into consideration. Goat cheese is many people's main favorite product, but there are reasons to substitute it. Some of the explanations are here:
Vegan Diet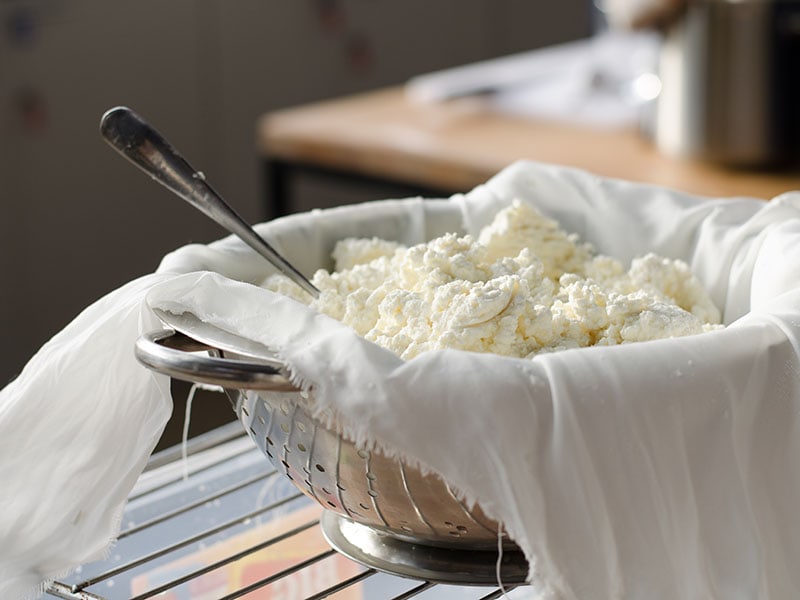 Any animal product is not a choice for people who have a vegan diet, so Goat's cheese is no choice. Most Goat cheese is made from curd and liquid milk. Coagulation of milk is achieved by the addition of rennet present in the stomach of newborn calves.
So it can be concluded that these cheeses have never been considered vegan since they always contain gastric rennet. It's a bit sad to say that it can't be regarded as vegetarian if you use cheeses having a veal stomach.
Lactose Intolerance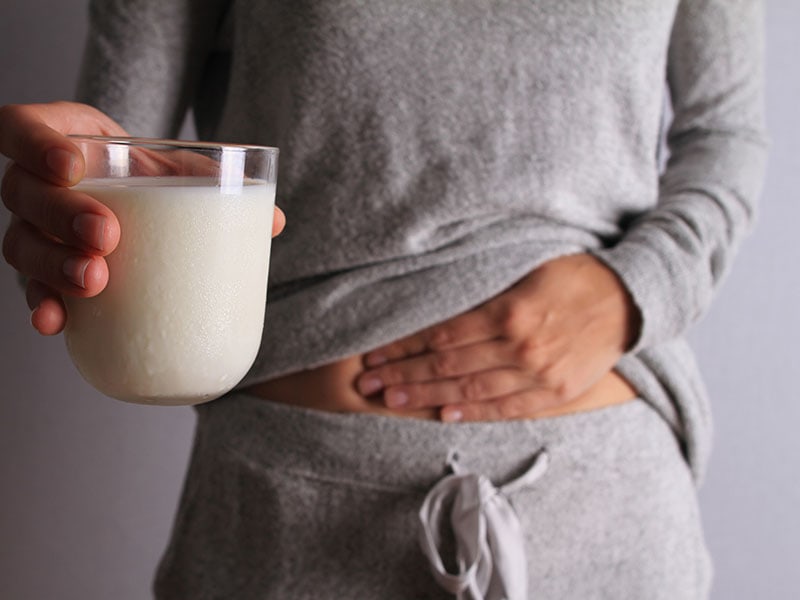 Although this kind of milk is easier to digest and can also be a healthier choice than cow milk, lactose sensitivity symptoms also occur when people eat goat milk.
Some people have digestive problems; if they eat a lot of cheese, including Goat cheese, it can make the disease more serious, easily lead to allergies. So, if you have digestive problems, don't eat much cheese; it will not be suitable for your health.
Goat Milk Allergy
There are countless causes of allergies that may surprise you. As is typical with cow's milk allergy, Goat's milk allergy may be less common, but it can still happen.
Like cow's milk, many people may have a goat's milk allergy, leading to a very harmful and severe reaction. In this situation, goat milk products should be avoided entirely.
Unpleasant Taste
Goat cheese has a strong and slightly salty flavor, many people think it makes the dish more special and unique, but many people don't like the taste. Eliminate Goat's cheese from the recipe and find a replacement for a similar texture if you attempt to tune down the tanginess of a dish.
Goat Cheese Substitutes
Once you've learned valuable information about the characteristics and reasons to substitute Goat cheese, here is a list of the most suitable substitutes that I have researched for you; make the most of it!
Cream Cheese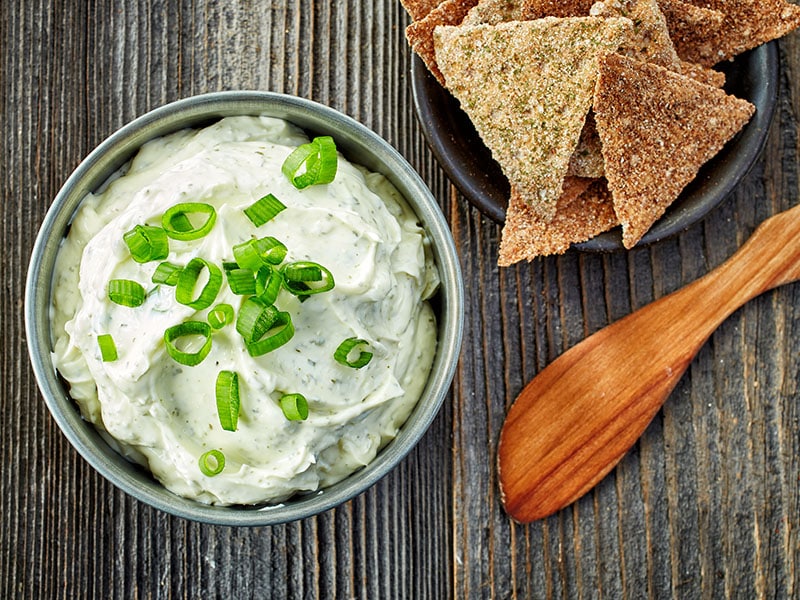 This is a fresh, white, soft cheese with a characteristic sweet and sour taste, so the dishes using Cream cheese are greasy. Although it is very fatty, it does not cause a dull feeling when eating. Therefore, this cheese is always loved by many people.
You don't have to look hard to find that there are many recipes for decadent desserts from cream cheese, such as cheesecake or eaten with bread and decorated drinks and other dishes.
Cream cheese is a smooth substitute for Goat cheese with the perfect creamy texture. However, be aware that the fat content in Cream cheese is usually higher so that less of your Cream cheese you can consider using it.
Although the cheese is well matched by fruit and jams, Cream cheese in the kitchen still has certain limitations. Often it is a little firmer and cannot replace all cooking purposes.
I propose adding some plain yogurt to make the texture more smooth and make up for the lack of Cream cheese tanginess. You can experiment with adding some other seasonings so that the cream cheese tastes and textures like Goat cheese.
Currently, Cream cheese can be easily purchased at supermarkets or shops selling baking ingredients. However, you can also easily make it at home for a much lower price.
Mascarpone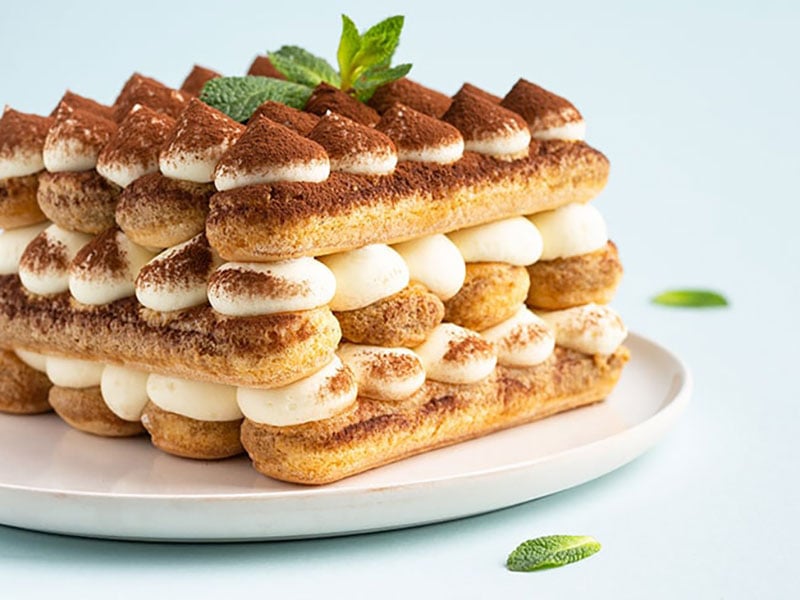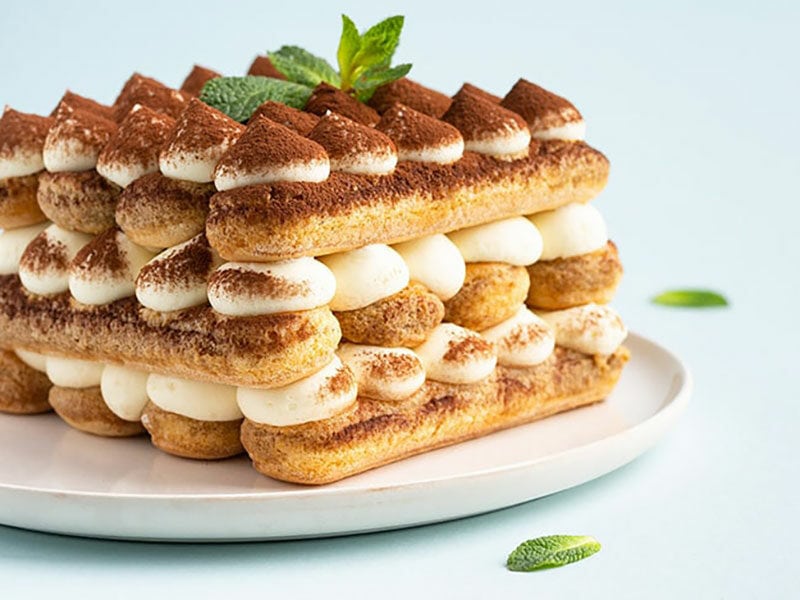 Like Cream cheese, Mascarpone, with its creamy and smooth texture, is a good substitute for Goat cheeses. However, as regards the flavor, you know the Mascarpone has a sweet taste. Thus Mascarpone will effectively replace Goat cheese in dessert recipes, but not really of a similar taste.
Mascarpone is a product of Italian origin, created when an additive is added to separate cream from milk.
Tiramisu, cheesecakes, or pasta sauce are among the many dessert recipes that require Mascarpone. In addition, you can also use Mascarpone to eat with fruit, bread, or cookies depending on your preferences.
Currently, Mascarpone is available in many large and small supermarkets and bakeries. If needed, you can easily buy them.
However, if it is not convenient to go out, you can also make your Mascarpone at home. Just prepare a few simple ingredients. Then, after a few hours of preparation and waiting, you can have a safe batch of Mascarpone to replace Goat cheese.
It'd be nice to replace the smooth Goat cheese texture with Mascarpone. But don't wait for the same flavor. Mascarpone is sweet and has no unique Goat cheese taste. So if your recipe is on the sweeter side, you may want to substitute Goat for Mascarpone.
Tofu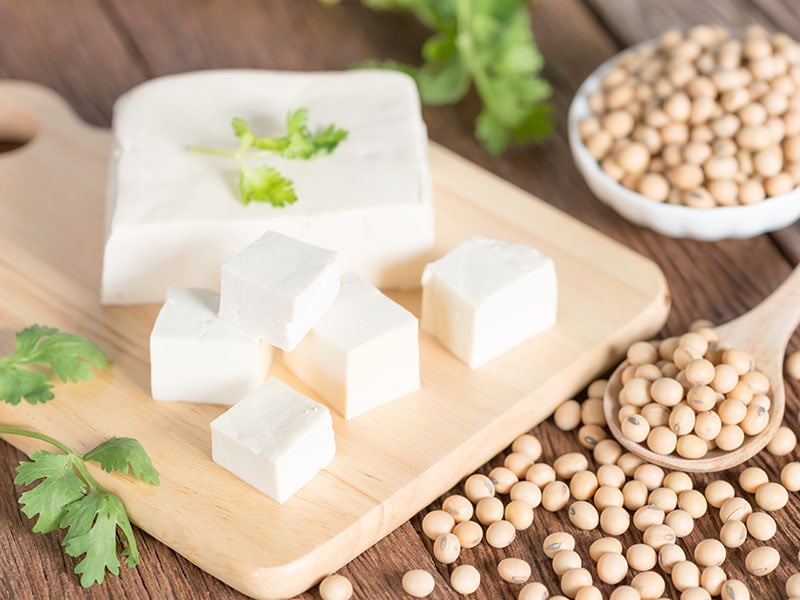 If you are searching for a Goat cheese substitute as a vegan, Tofu is the best replacement for Goat cheese. Tofu is similar to chip cheese, which has a crumbly feel. For anyone with a vegan lifestyle, Tofu is the perfect replacement.
The ingredients to make Tofu are soybeans, which are ground and soaked in water. The starch flows into the water into a self-made shape, and the residue is filtered out. The most common forms are square boxes, round cylinders, or long rectangular pillars.
Tofu is a delicious and nutritious dish and has the effect of preventing disease and protecting health. In addition, regularly eating Tofu is beneficial for people with neurasthenia and malnutrition and has a therapeutic effect on high blood pressure.
For people who might be wondering if tofu is fitting for a gluten-free diet, don't worry. Most tofu types are gluten-free unless they're flavored with seasonings that might or might not include gluten.
The Tofu creates a similar smooth texture with Goat cheese. Tofu can lack a milk-like flavor, but it is undoubtedly crumbly textured. This crumbly cheese can also be ideal for those on a diet as it has fewer calories and is low in fat than Goat cheese.
Tofu can be found in supermarkets and especially in Asian markets. Still, if you want to make your own to ensure freshness and taste, you can watch this tutorial.
Blue Cheese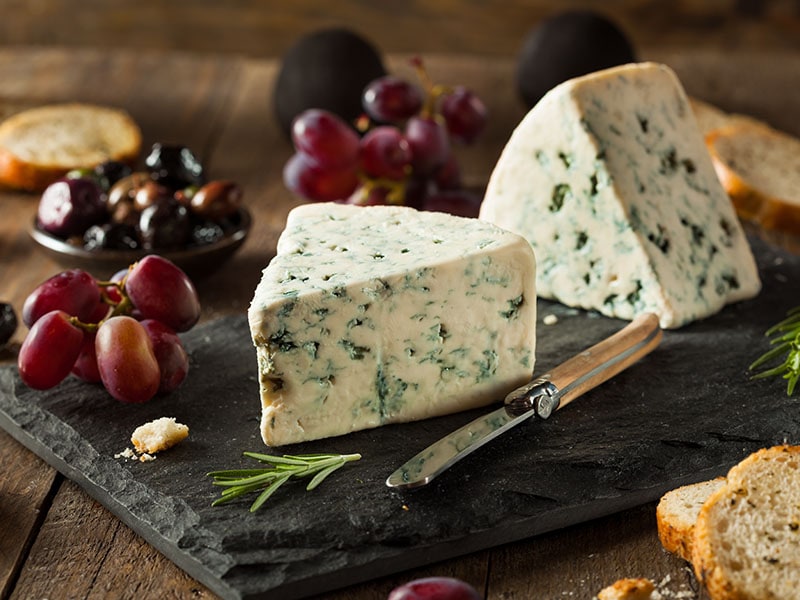 Blue cheese, which has good flavors, is a perfect substitute for Goat Cheeses. You may opt to use a less fluffy yet still solid Blue cheese. You should replace Goat cheese with Blue cheese if you follow the flavor properties of the Fromage, as they are very much the same in taste.
The name of this cheese describes the bluish, sometimes bluish-gray, or blue-green spots in the cheese. It is this blue component that gives the characteristic flavor. This cheese is made from cow, sheep, or goat milk. This Blue cheese is perfect for serving with fruit, crackers, or wine.
Blue cheese, especially high-quality blue cheese, has a relatively strong smell and a slightly tricky taste for those not eating. It's also not a cheap or affordable cheese.
Blue cheese is usually more creamy and salty than Goat cheese, so it is an excellent replacement for Goat cheese. However, if you want to replicate the taste of Goat cheese truly, choose a new Blue cheese version. You will see, the aged Blue cheese is richer than that of the Goat cheese's genuine taste.
Remember those variations as Blue cheese is replaced with Goat cheese. It is best to skip this one if you don't like smelly cheese.
Feta Cheese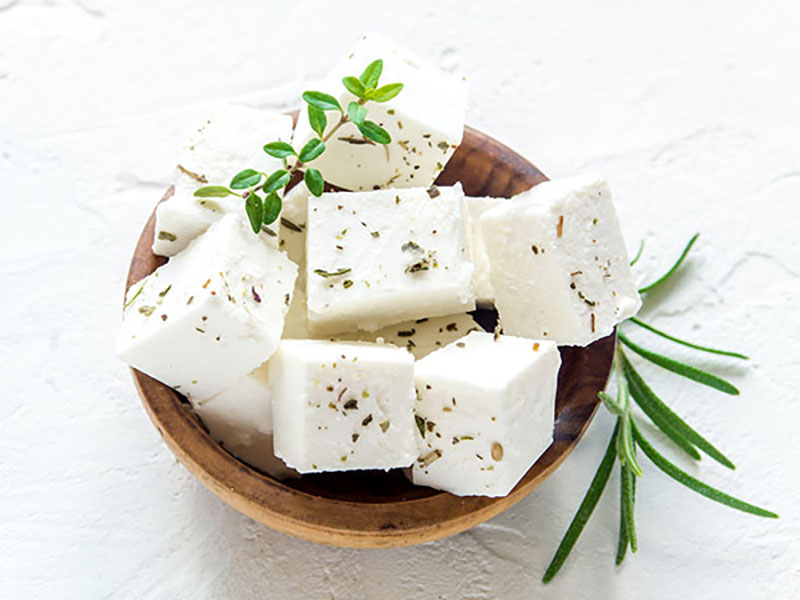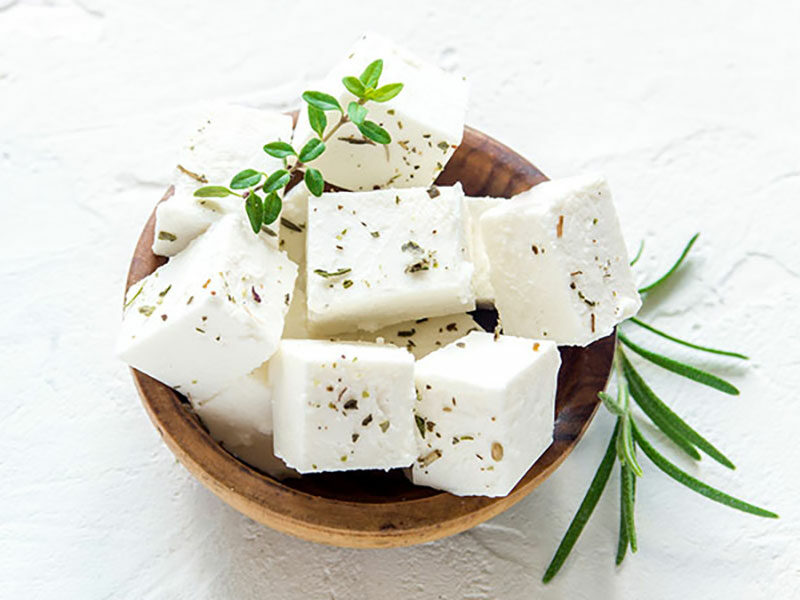 Feta is a perfect choice if you'd like to replace fresh Goat cheese. The flavor you can taste in Feta cheese is suitable for salads, omletes, and sandwiches. Most suitable for Greek-inspired dishes, Feta cheese is a wise choice as it's one of the healthiest cheese varieties.
Feta is the most famous cheese in Greece with a soft, white texture, very nutritious, and high in calcium. This cheese appears quite a lot in Mediterranean cuisine. It can be used to prepare many dishes, from appetizers to desserts.
Feta cheese is made from the milk of naturally grazed sheep or goats. The particular environment is what gives Feta cheese specific unique characteristics. This is a nutrient-rich option. It enhances the flavor of your dishes while ensuring a healthy diet.
The product's antioxidant properties make it attractive for diets. It will help cleanse the body of toxins and start the fat-burning process. In addition, it contains few calories, and it is almost impossible to gain weight in a small portion.
Cottage Cheese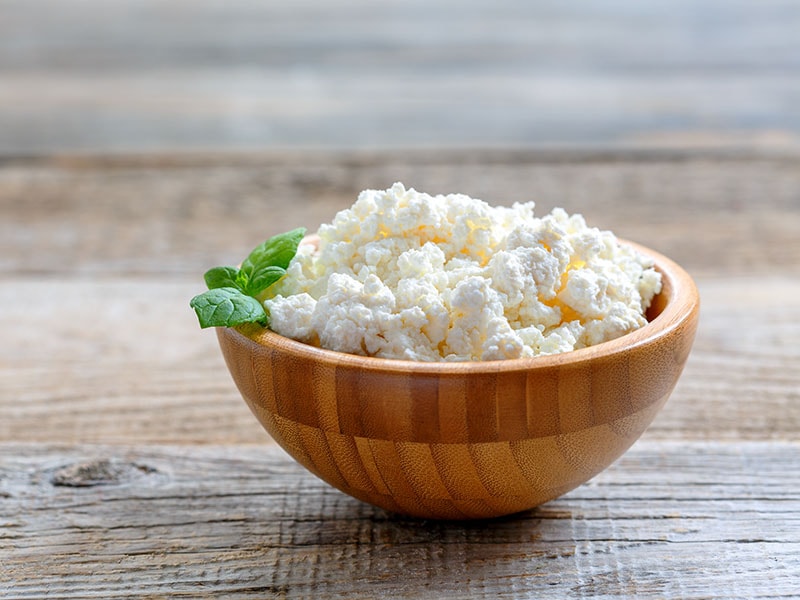 Another traditional replacement is Cottage cheese, whose nutritional values are impressive. Although the prevalent flavor of Cottage cheese is quite like Goat cheese, to achieve a similar texture, some blending is necessary. No worries, Cottage cheese can mix with various foods.
Cottage cheese is a type of fresh cheese originating from the West, containing many good nutrients for the body. This type of cheese is also considered a great dish to combine with the menu of dieters.
Since Cottage cheese is a fresh cheese, this cheese does not undergo aging or needs to be cooked to improve flavor. Therefore, the taste of Cottage cheese is not as strong as other cheeses.
Cottage cheese is often combined with various foods such as fruit, toast, granola, salads, etc., to add flavor to the dish. In addition, it is also used as a substitute for mayonnaise.
Although Cottage cheese will give you the same feel as Goat cheese, it will take you some time. To make Cottage cheese have the same texture as Goat cheese, begin with a mixing machine or mixer of the Cottage cheese until it is completely creamy. Then allow the mixed cheese to sit in the refrigerator for a bit. ​
Ricotta Cheese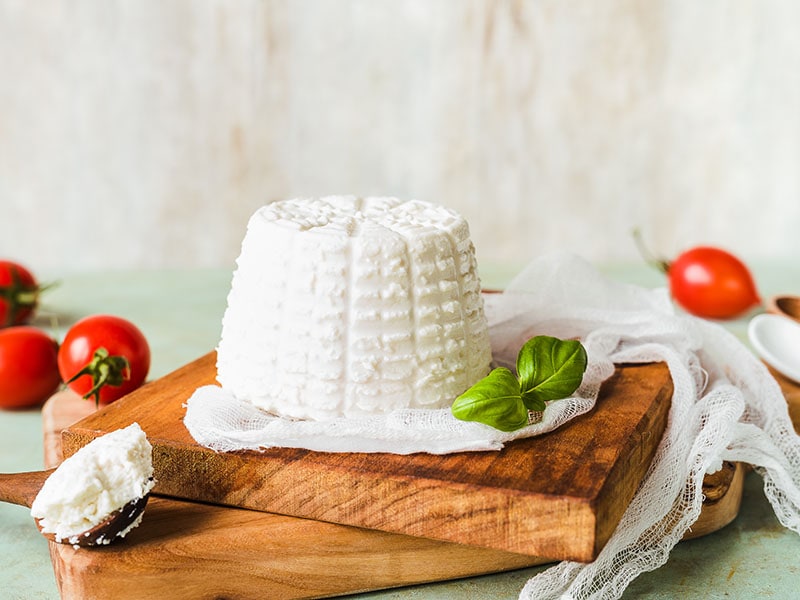 Ricotta's taste is identical to Goat cheese. It provides the right option for those who are hunting for a low-content replacement. Ricotta has a more solid texture than Goat cheese. This is the only drawback. However, this can be seen as a benefit in preparing foods that demand a strong cheese feel.
Ricotta is of Italian origin and is made from the milk of cows or sheep. In the process of separating cream to make cheese, water is separated, and this water is used to make Ricotta.
This cheese is soft, white in color, slightly sweet in taste, and very low in fat. Ricotta is famous for making Italian desserts or accompanying other desserts. Ricotta is also used to make cheesecake and a variety of cookies. Pasta and pizza also have ricotta recipes.
Ricotta is fresh, not greasy, or too fatty like many other kinds of cheese. You can buy Ricotta at any supermarket or even make your own at home with a simple recipe.
Fromage Blanc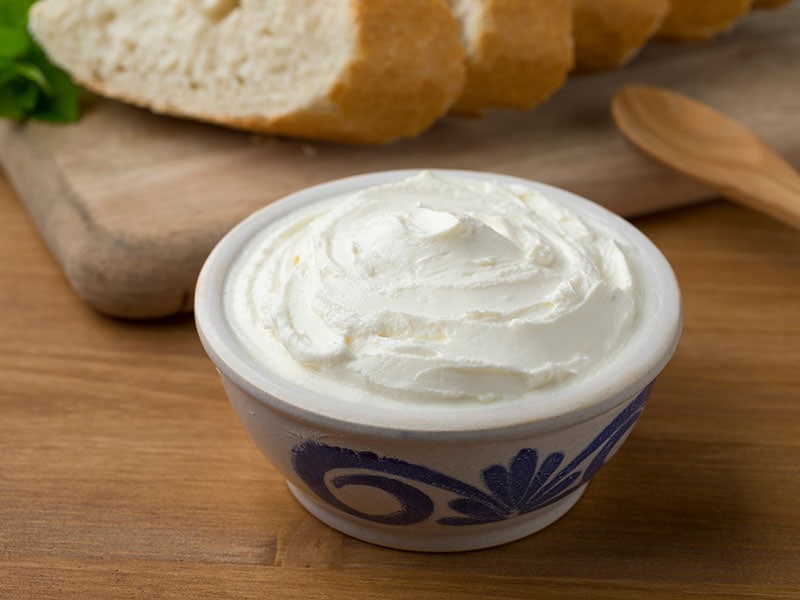 Fromage Blanc is an acceptable replacement for Goat cheese. Fromage Blanc's taste and texture are comparable to Goat cheese.
This cheese is also very creamy, equal to Cream cheese. However, it is not an easy type of cheese to find, and it somewhat reduces the usefulness of Fromage Blanc as a replacement for Goat cheese.
The extraordinarily smooth and silky texture of this Fromage Blanc cheese is frequently mistaken with Cream cheese. After you have sampled it, though, its unique taste and surprising tanginess can delight you.
Due to its delicate taste, Fromage Blanc is sometimes used as an hors d'oeuvre or main course and usually served with fruit so that most vegetarians can be combined.
Keep in mind that it is fatter and sweeter, so it can change the ultimate taste of your dishes. Also, there is even more water in this alternative to going bad faster than standard Goat cheese.
Greek Yogurt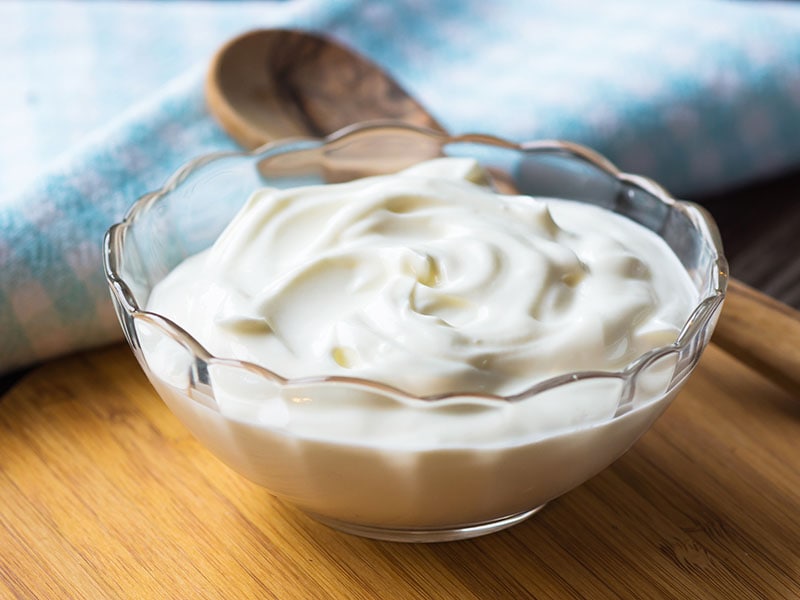 Because of its smooth consistency, Greek yogurt makes a perfect Goat cheese replacement. It is also tangy, much like Goat's flavor, so there are some reasons for a decent replacement for yogurt. Using the same amount of yogurt instead of Goat's cheese.
Greek yogurt is a thicker and creamier version of yogurt than regular yogurt. It has become a favorite food, especially among health-conscious people and girls who want to maintain a slim healthy figure.
Greek yogurt contains almost twice as much protein as regular yogurt. This makes Greek yogurt an excellent choice for those looking for extra protein. Plus, Greek yogurt will keep you fuller longer because of its high protein content, which is vital if you're trying to lose or maintain weight.
Also, making Greek yogurt can remove most of the whey protein that contains lactose so that it may be a better choice for lactose-intolerant people.
The process of making Greek yogurt sounds like a lot of fun, doesn't it? I encourage you to try making it yourself to experience this unique process. This detailed video will help you with step-by-step instructions.
Parmesan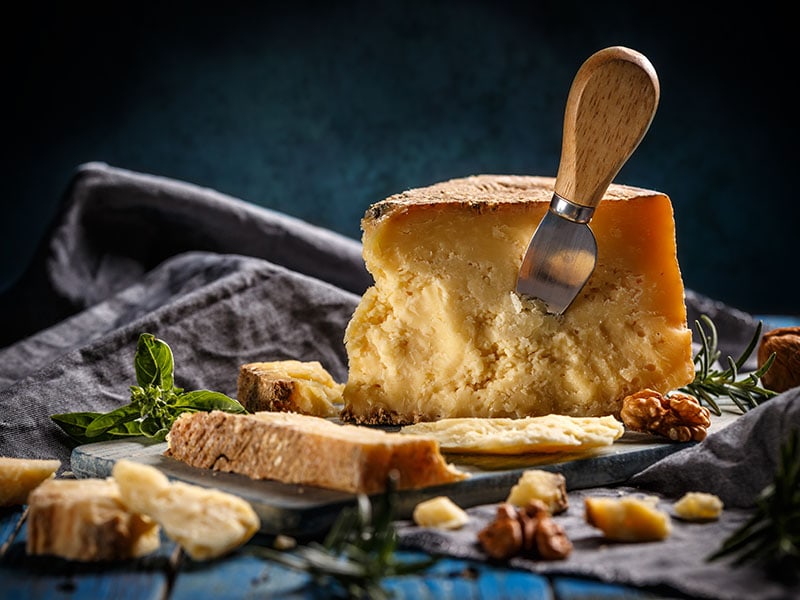 Parmesan is one of the most commonly used cheeses in cooking and baking. Parmesan cheese has a complicated form, with ingredients mainly made from cow's milk.
When used, Parmesan cheese can be eaten directly or used to process some hot dishes and cakes. To use Parmesan, you will need to shred or slice the cheese into small pieces.
Then, this cheese will be sprinkled on dishes or covered on the surface of some baked goods to create a delicious and attractive flavor. For the best preservation of Parmesan, you should buy the whole Parmesan.
Parmesan is the perfect substitute for Goat cheese with its salty and nutty taste. In particular, Parmesan has a hard texture that is quite similar to Goat cheese.
Emmental Cheese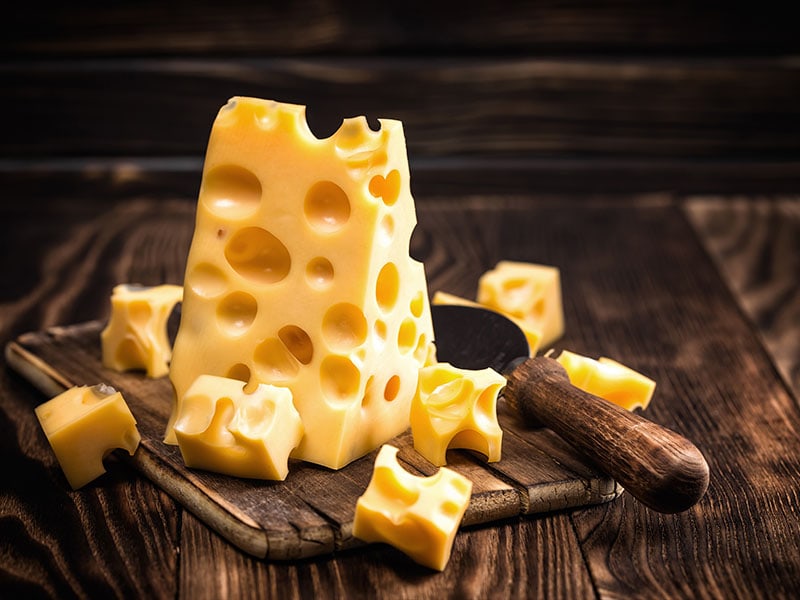 Emmental is a very popular cheese; it is used to serve fresh fruits. Emmental cheese is often produced in thin slices to serve with burgers or sandwiches.
Emmental is the name of a cheese made from cow's milk and aged for a minimum of 4 months. The cheese has a light yellow color, a slightly sour taste that resembles a fruity sour taste, and is relatively easy to eat. Emmental cheese is not soft but slightly pliable with a low melting point.
In the final stage of Emmental cheese production, the bacteria in the cheese will be secreted and formed bubbles that create holes that characterize the cheese.
If you don't like the strong taste of Goat cheese, Emmental cheese is a good choice because of its similar texture but more pleasant taste.
Gruyere Cheese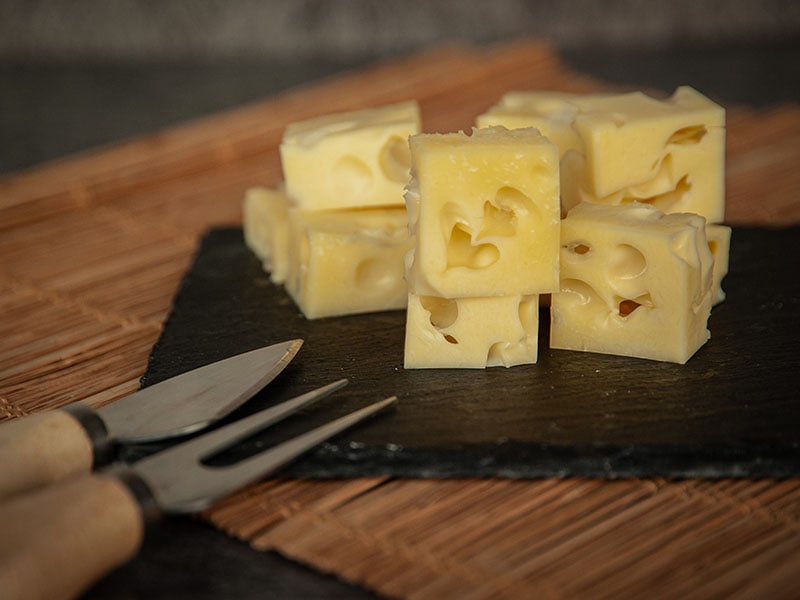 Gruyere belongs to the hard cheese category, with a sweet and slightly salty taste. Gruyere cheese is considered one of the best cheeses when making baked goods, with a characteristic flavor that does not overwhelm other ingredients.
This sort of Swiss cheese is famous for its highly laborious way of making, requiring it to be aged in natural caves with standard humidity to produce the best product. The better the aging process, the better the taste and texture of the cheese, so only a few regions can produce this cheese.
Gruyere cheese has a slightly salty taste and mild aroma similar to Goat cheese, so that you can use it instead.
FAQs
If you did not fully respond to your problems with the above information, check the questions posed periodically. Also, do not hesitate to ask about Goat's cheese or its surrogates, as I am always happy to reply to you!
Additional Experience With Goat Cheese Substitutes
Goat cheese provides a rare mix of salty, sweet, and beautiful smooth mouth-flowing tastes. Its tangy fragrance and texture evolve, from delicate, semisoft, to solid. Although the characteristics of Goat's cheese can be affected by age and brand, they can be easily recognized until you get a bite.
You can soften it using plain yogurt, which will also give it a more tangy taste. A creamy texture can also be added to water or milk, particularly as a substitute for solid cheeses.
When preparing Goat cheese dishes, you will find some replacements to make your dish always delicious and have a perfect quality to enjoy!
The best thing about cooking with cheese is that if you want to change it a little, you have too many choices to choose from. So don't be frightened to try! If you enjoy Goat's flavor, texture or just want to add different tastes, I hope these replacements inspire you!
I hope you'll learn more about what to replace Goat cheese in this post. Then, you know whether to do or do not like the ingredient when you are out of Goat cheese.
Have you found from this article an adequate replacement for Goat Cheese? Leave me a note below let me know. This article can also be shared with your mates who love cheese!
Nutrition Facts
4 servings per container
---
Amount Per ServingCalories277
% Daily Value *
Total Fat 25.9g

39

%
Cholesterol 88mg

30

%
Sodium 485mg

21

%
Potassium 109mg

4

%
Total Carbohydrate 3.8g

1

%

Dietary Fiber 0.4g

0

%
Sugars 1.3g

Protein 8.5g

16

%
---
* The % Daily Value tells you how much a nutrient in a serving of food contributes to a daily diet. 2,000 calories a day is used for general nutrition advice.