Camembert cheese vs. Brie cheese is interchangeable in most recipes as they possess many similarities. Indeed, a wide range of recipes calling for Brie cheese can also match Camembert. However, it doesn't mean that they don't have any difference.
Don't overlook such an exciting post to master the ins and outs of these cheeses! On top of that, this post has a horizon of fun facts along with an all-rounded comparison between these two top-notch kinds of cheese! Stay tuned!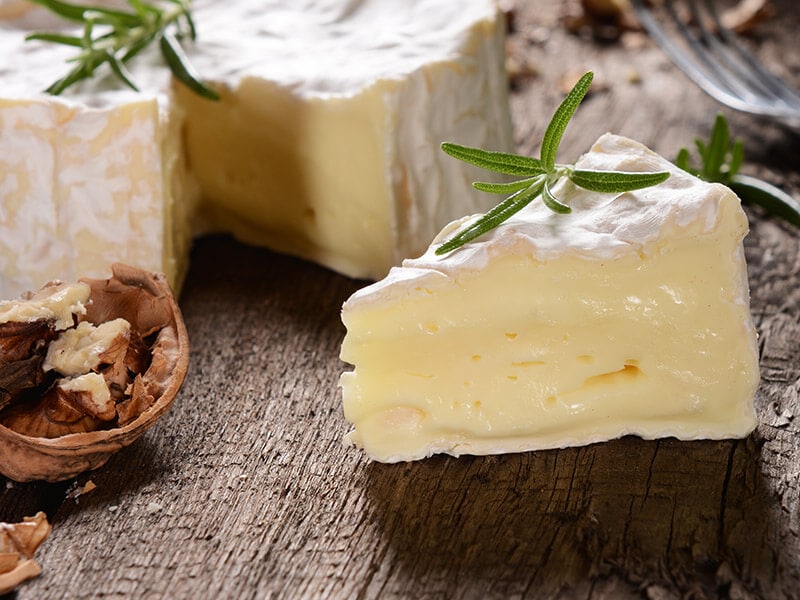 A Quick Camembert Cheese's Overview
Camembert cheese possesses irresistible magic. It can blow your mind if you try it with radishes or smoked bacon, for example. Now, it's time to explore this soft and oozy cow-milk cheese.
What Is Camembert?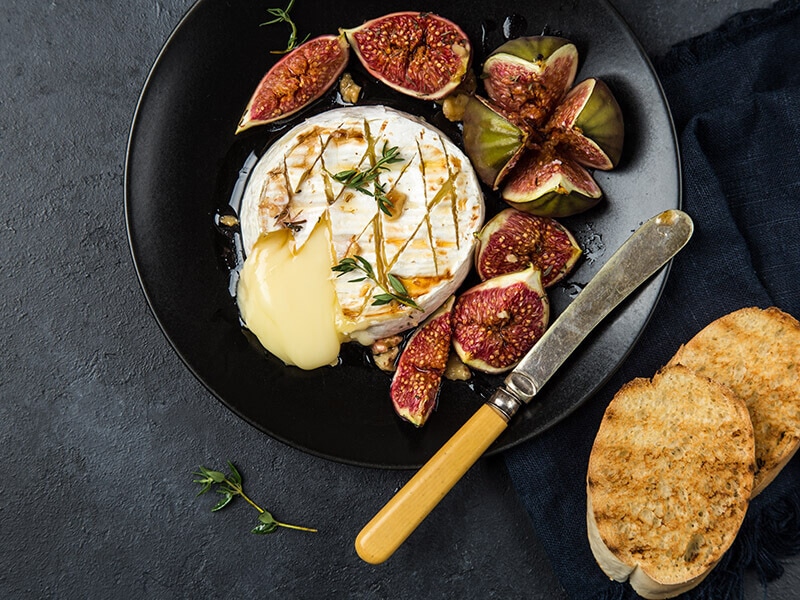 Camembert is pasteurized cow-milk cheese with a creamy and soft texture. This sort of French cheese is available in so many recipes, from baking, grilling, soups, sauce, or salads, to name a few. Its price in the market is somewhat more affordable than Brie cheese.
Overall, Camembert has a slightly more intensive taste than Brie. That said, Camembert and Brie are interchangeably owing to multiple similarities. Indeed, Camembert looks like the most potential substitute for Brie in many dishes.
History Of Camembert
In 1791, Marie Harel, a Norman farmer, invented Camembert in Normandy, France. A priest from Brie inspired him to create such a superb cheese.
She developed Camembert from an existing cheese recipe from the Pays d'Auge region. Afterward, her daughter inherited her secrets and continued her business.
Since Napoleon III recognized this cheese with his royal seal of approval, it has quickly become widespread in other countries and regions.
Up to now, Camembert has maintained its popularity worldwide with high-end quality and spectacular flavor.
Give it a try with Camembert and its traditional production methods!
Brie Cheese 101 – The Basis Of Brie Cheese
It is one of the top-notch kinds of cheese that you can find many quality Brie cheese products in the market. Brie's regarded as the closest to Camembert. More than that, Brie cheese holds lots of lesser-known facts you may not know.
What Is Brie Cheese?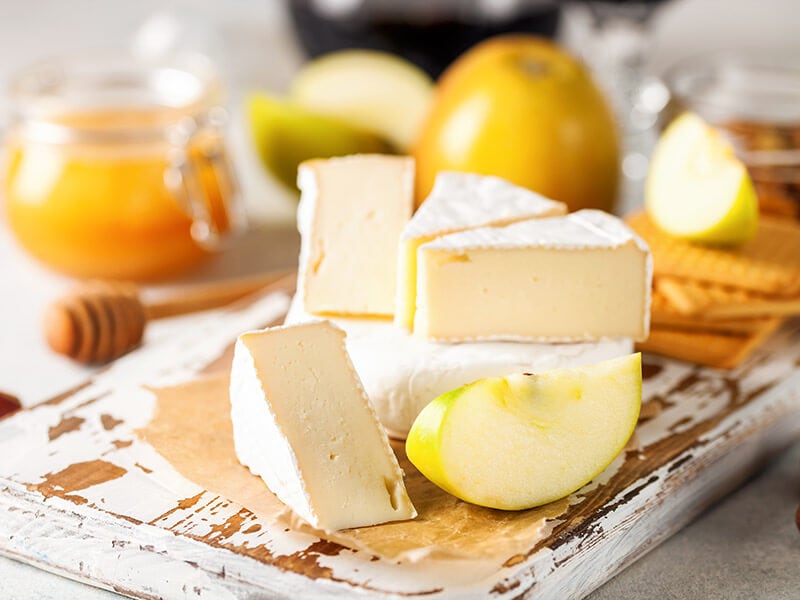 Both Camembert and Brie are soft-ripened cheese. Yet a wheel of Brie is more giant. With that in mind, the market offers the petit Brie or baby Brie for convenience.
Like Camembert, Brie cheese is not just a French delicacy but also wide-reaching in other countries and regions. There are plenty of Brie cheese varieties worldwide but the French government only certifies two types: Brie de Melun and Brie de Meaux.
Brie de Meaux is titled the "King Of Cheeses," which serves as a tribute to French royalty. It is a vital ingredient in lots of party dishes and ceremonies. Brie de Melun is usually smaller than Brie de Meaux, but it has a more potent flavor and smell.
Regarding its production, Penicillium used in Brie production is part of making it famous. You can't get enough of Brie while you try it with fruits and wine or champagne.
History Of Brie Cheese
Brie cheese was invented in the early 7th century in Melun and Meaux, Normandy, France. These regions are near Paris.
Like many French, monks created Brie cheese. Its quality, flavor, and reputation of Brie have improved and advanced over time. Brie cheese always has a high ranking on the top-cheese list worldwide.
Eager to know how Brie cheese got its title "King Of Cheeses"? Click here!
Camembert Cheese Vs. Brie Cheese – Similarities & Differences
It's time to get inside an all-rounded comparison between Camembert Cheese vs. Brie Cheese! Take a quick look at this table to grab some brief information.
Characteristics
Camembert Cheese
Brie Cheese
Definition
Pasteurized or unpasteurized soft-ripened cheese from cow's milk
Unpasteurized soft-ripened cheese from cow's milk
Origin
Normandy, northern France
Normandy, northern France
Production
Take about 4 weeks to ripen
Experienced 5 times of inoculation with stronger lactic starters
Take at least 4 weeks to ripen
Experienced once of inoculation with the lactic starters
Milk Fat
45% milk fat
60% milk fat
Size
10.2 cm (4 inches) in diameter by 3.2 cm (1.26 inches) in thickness
23 - 38 cm (9 - 15 inches) in diameter and 2.5 - 3.8 cm (1–1.5 inches) in thickness
Rind
Edible white bloomy rind (does not cover the sides)
Fully covered in edible white bloomy rind
Weight
Brie de Meaux: about 6.2 pounds
Brie de Melun: about 3.3 pounds
At least 9 ounces
Inner Appearance
Yellowish
Whitish
Smell & Flavor
Milky, fruity, and garlicky aroma with a hint of foraged mushroom and caramelized butter
Have a more intensive and stronger aroma
Buttery, mushroom-like, and earthy fragrance Have a milder flavor
Texture
A bit denser in texture
Creamy, soft, and seamless texture
A bit runnier in texture
Creamy and seamless texture
Shelf-life
At room condition: about 4 hours
In the fridge: 1 - 2 weeks
In the freezer: 3 - 6 months
At room condition: about 4 hours
In the fridge: 1 week - 2 months
In the freezer: up to 6 months
Nutrition Value
Has more fiber, Calories, Protein and Omega 3 and Omega 6.
Rich in Calcium, Vitamin B5, Vitamin A RAE, and Phosphorus
Has more Vitamin B12 and Monounsaturated Fat.
Health Benefits
Improve heart health, bones and immune response, body energy and digestive system
Mitigate osteoporosis' risk
Boost energy production and bone growth, promote vision and skin health, and exert anticancer influences
Alleviate the risk of heart disease
The Best Pairings
Crusty baguette, hazelnuts, pecans, crackers, and fruits
Normandy cider, Calvados brandy, wine, beer and whiskey to balance the flavor
Fruits like apples, pears, grapes or zippy sides like honey and fig jam
Crackers, herbs, and bread
White wine, red wine, and champagne
1. Production And Milk Fat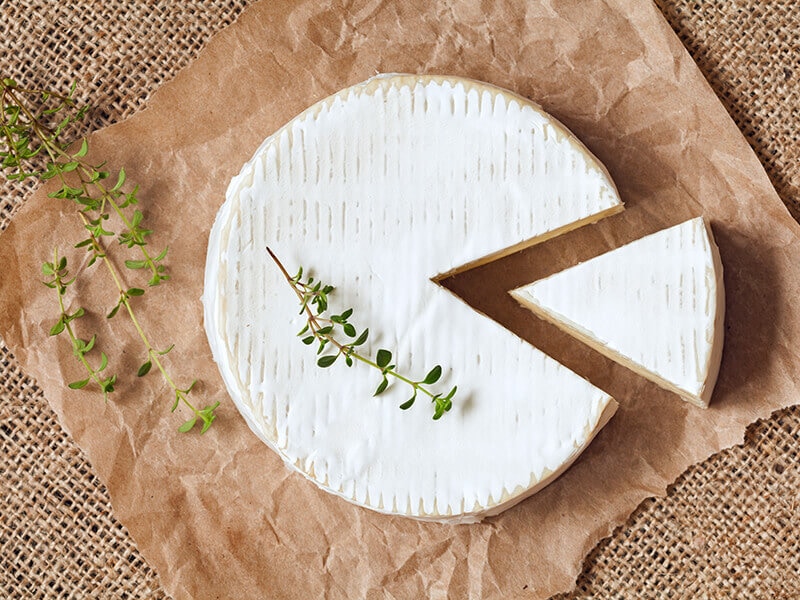 Brie – a food beginning with a B letter, is made from semi-skimmed or whole cow's milk, which went through the Penicillium treatment. To thicken and curdle Brie cheese, the producers often add rennet and enzymes inside the raw milk.
After cutting and ladling the curdle into molds, they drain off the whey entirely. The cheese is then brined and takes about 4 weeks to age. During the production, the lactic starter is just inoculated into the cheese mold once, so its flavor is milder.
Meanwhile, Camembert derives from either unpasteurized or pasteurized cow's milk mixed with a yeast culture. After the milk curdles, they cut, drain the whey, and brine this curdle. Like Brie cheese, it takes at least 4 weeks for Camembert to age and develop the rind and creamy interior.
Camembert uses more robust lactic starters with 5 times inoculation into cheese mold totally. Making its taste deeper and stronger.
Regarding milk fat, Brie cheese contains about 60% milk fat because producers will add cream when making this cheese. On the other hand, this content in Camembert is lower, just 45%. Brie seems more creamy and more prosperous as it contains higher cream content.
2. Appearance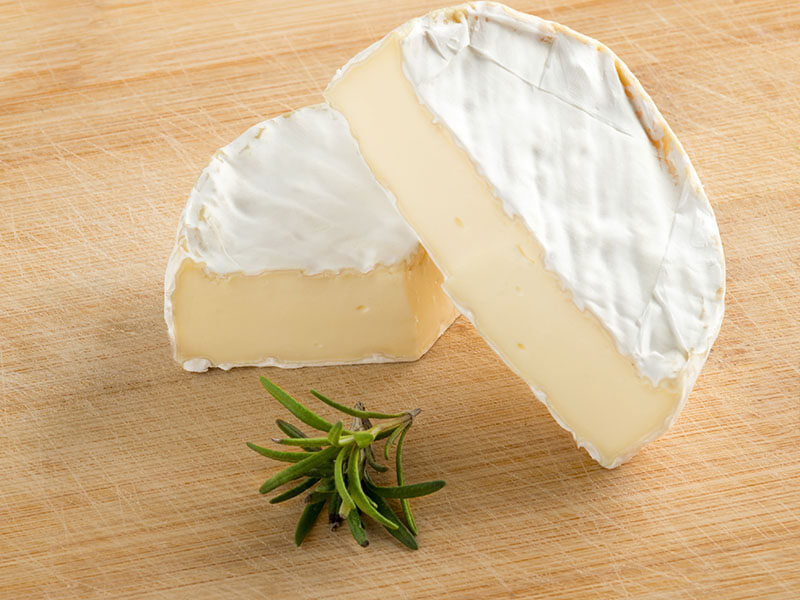 As aforementioned, a Brie cheese wheel is often more extensive than a Camembert one. Beyond that, the outer and inner appearance also have several different points.
The Rinds
Both Brie and Camembert have a white bloomy rind that's edible. The rind adds much flavor to the whole cheese, so, it's not a good idea to discard their rinds. One small difference between the two is that Brie's rind doesn't cover the sides whereas Camembert's rind does.
Sizes
Brie and Camembert are both flat-formed cheeses with a round shape. The Brie's diameter is about 23 – 38 cm (9 – 15 inches), and it's about 2.5 – 3.8 cm (1–1.5 inches) in thickness. Thus, it ripens more slowly than Camembert.
Brie cheese's weight differs depending on the variety. A Brie de Meaux will weigh about 6.2 pounds while Brie de Melun comes in at an average weight of 3.3 pounds.
Camembert comes in a round shape measuring 10.2 cm (4 inches) in diameter by 3.2 cm (1.26 inches) thick. Weight-wise, Camembert cheese should be at least 250 grams (or 9 ounces). Still, this size can vary more or less case by case.
Inner Appearance
Camembert's interior is deeper yellowish while Brie's is whitish. The interior of ripened Camembert and Brie becomes runny and creamy. However, since most Brie sold in America has been stabilized, the center will stay firm.
3. Flavors And Smell
Both kinds of cheese appear in plenty of French dishes, but there are some minor dissimilarities between the flavor and smell of these two.
Camembert emits a milky, fruity, and garlicky aroma, thanks to a hint of foraged mushroom and caramelized butter. Beyond that, Camembert spreads a bit of grassy flavor and a slightly more earthy flavor than its cousin, Brie.
As for the taste of Brie cheese, hardly any cheese can beat its buttery, mushroom-like, and earthy flavor with a salty finish. Overall, it tastes and smells milder than Camembert cheese.
Both taste best at room temperature. The longer the cheese matures, the stronger flavor it has.
4. Texture
Both Brie and Camembert are soft-ripened and derive from cow's milk. No wonder they're all so soft, runny, and creamy.
Their textures are similar, yet Brie tends to be creamier, and Camembert is a bit denser. As mentioned above, Brie's milk fat is higher than Camembert's.
5. Shelf-life
I've rounded up Camembert and Brie cheese shelf-life in different storing conditions. Overall, they have quite similar lifespans.
At Room Temperature
Camembert and Brie cheese (opened and unopened) can last about 4 hours at room temperature.
Hence, it's better if you consume the Brie and Camembert cheese as soon as possible. The leftovers should be stored in the fridge to stay fresh longer.
In The Fridge
Refrigerated Brie cheese may stay fresh for about 1 – 2 weeks after opening. Meanwhile, it stays fresh for about 1 – 2 months with an unopened Brie cheese. On the other hand, refrigerated Camembert cheese has a shelf life of 1 – 2 weeks.
In The Freezer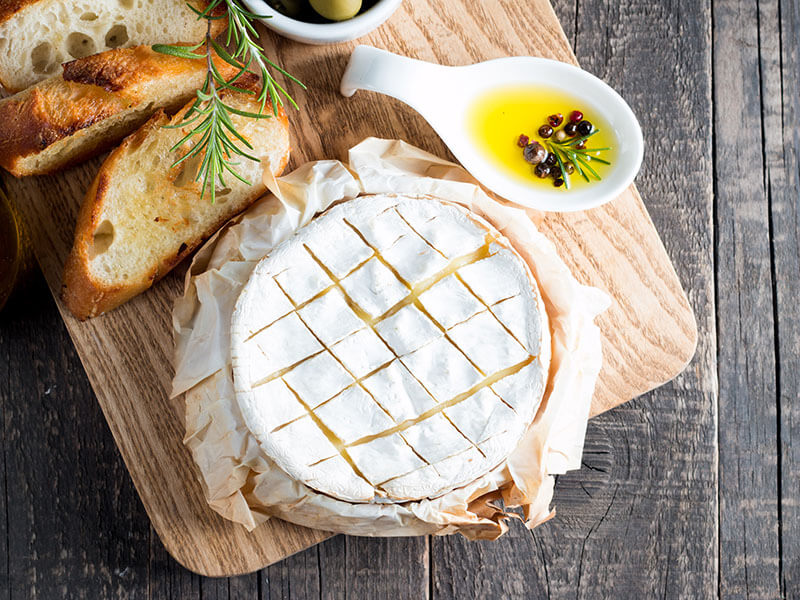 Frozen Brie cheese's shelf-life is estimated at 6 months for both opened and unopened versions.
Unopened and opened Camembert could last for 3 – 6 months in the freezer.
Don't freeze the soft Brie cheese as it will lose its texture and flavor in no time. With the Camembert and harder Brie versions, freezing is good to go. Yet, frozen Brie or Camembert's texture and flavors will decrease more or less.
6. Nutritional Value & Health Benefits
Back again, both of these top-notch cheeses are famous for their rich nutrient content, no doubt. That's a reason for their up rankings in the top-cheese list.
Nutrition Value
Brie and Camembert are rich in vitamins and minerals.
Apart from a higher vitamin B12 and monounsaturated fat source, Brie has a large content of fiber, riboflavin, and calories.
Camembert is dominant in calcium, vitamin B5, vitamin A, and phosphorus. It also offers a great source of fiber, calories, protein, sodium, selenium, omega 3, and omega 6. It's also a substantial source of health-friendly bacteria.
Health Benefits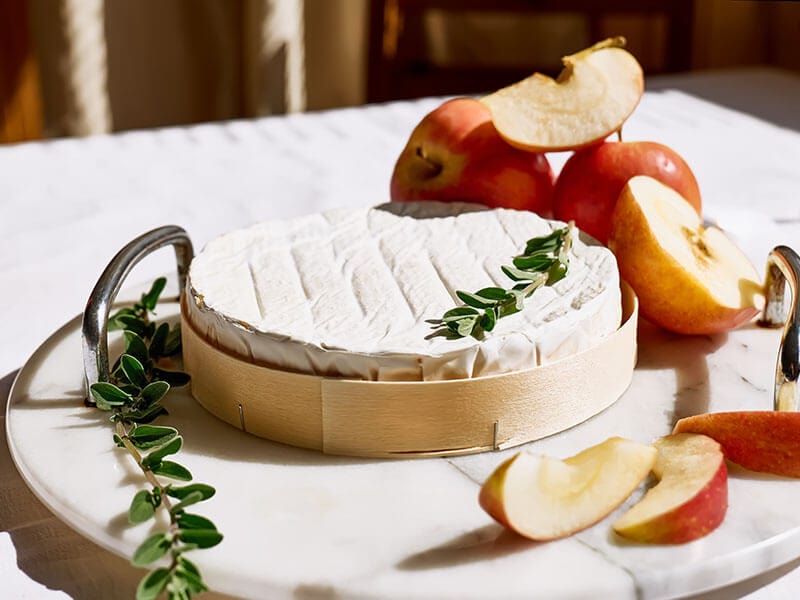 Camembert contributes to heart health, enhances the bones and immune response, and mitigates osteoporosis risk. Protein is vital in boosting your body's energy. Lucky you, Camembert has a high protein content.
The digestive system makes the most of the beneficial bacteria content in Camembert.
Brie fosters energy production and bone growth and promotes vision and skin health. Besides that, nutrient-dense treatment can alleviate the risk of heart disease. Notably, many anti-inflammatory compounds would exert anticancer influences (1).
7. Best Uses And Companions
Camembert and Brie are versatile with their roles in a wide range of dishes and recipes, providing you with a nutrient-dense source.
Affinage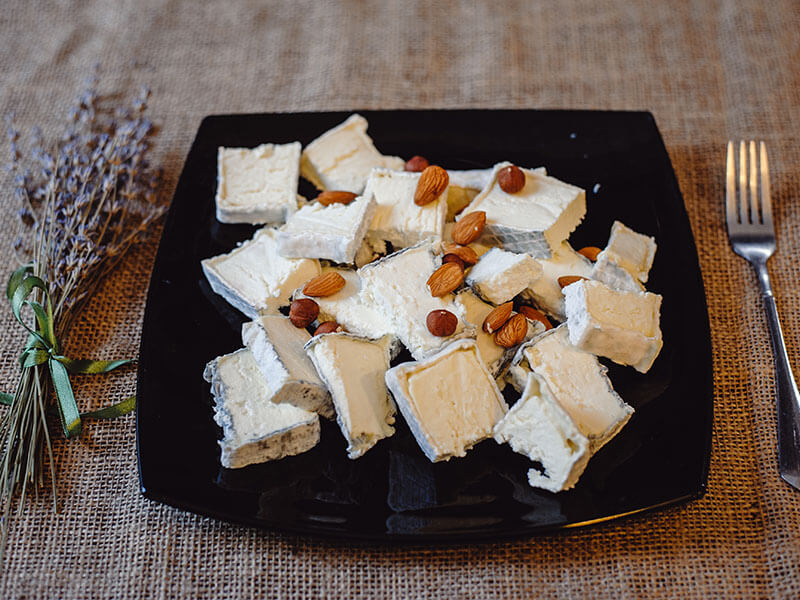 Brie is often used for immediate consumption. Meanwhile, French people like to wait 6 – 8 weeks to enjoy the ripened Camembert. People call this the art of affinage or ripening cheese. Yet Americans prefer the younger Camembert version.
The Best Pairings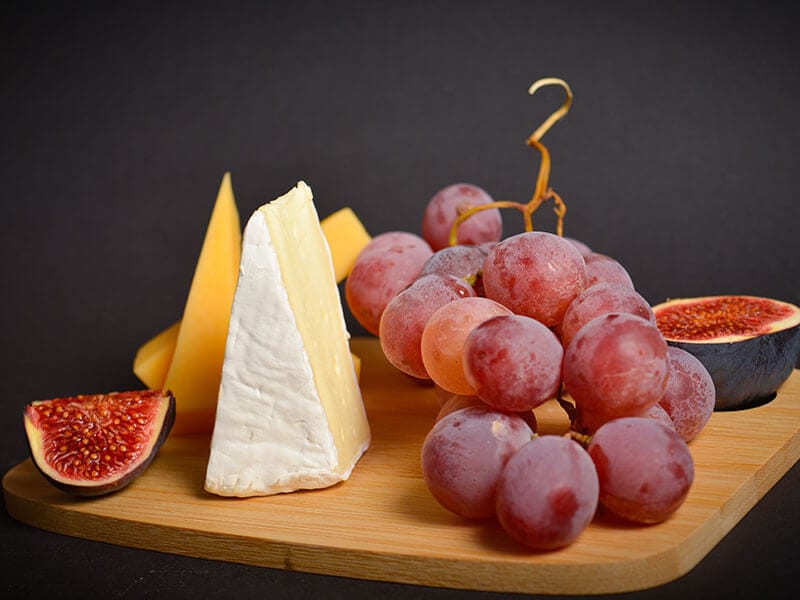 Brie can adapt myriads of fruits like apples, pears, grapes, or zippy sides like honey and fig jam. Beyond that, its taste works wonders with crackers and bread. White wine, red wine, and champagne never detract from the cheese.
Camembert Brie pairs well with crusty baguettes, hazelnuts, pecans, crackers, and fruits (almonds, pears, apples).
A glass of Normandy cider or Calvados will spice things up amazingly. Beyond that, many adore having Camembert with wine, beer, and whiskey to balance the flavor.
Both kinds of cheese melt well and will taste absolutely delicious in baked goods. Try adding melted Brie or Camembert to your casseroles, gratins, sandwiches, pizza, flatbreads, or panini!
A short video surrounding Brie and Camembert that's worth watching!
Can Camembert Cheese Substitute Brie Cheese And Vice Versa?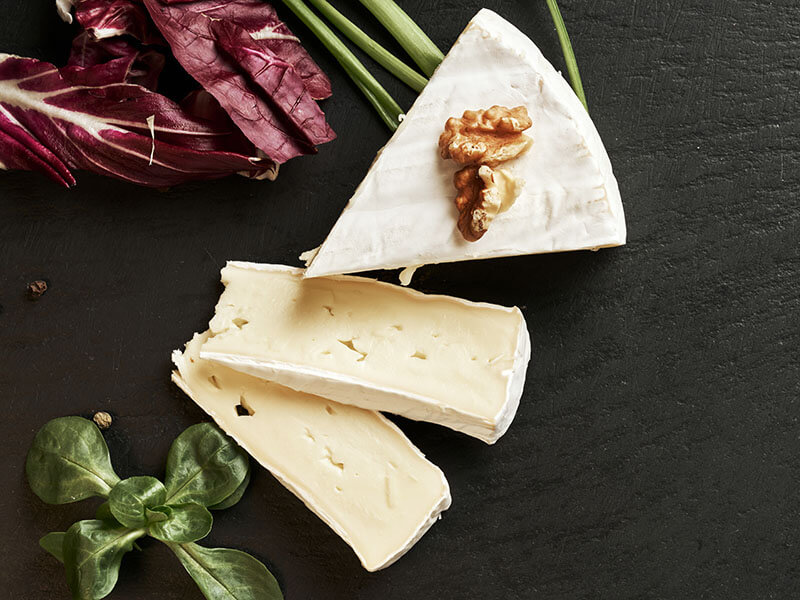 If you're wondering if Camembert cheese is a good alternative to Brie cheese, the answer is "Yes, absolutely". They are both cow's milk cheeses. Camembert is more or less similar to Brie in texture, flavor, and appearance.
They are interchangeable in many recipes, notably soups, grilling, baking, sauces, cheese board, and combining with fruits and wine or champagne.
Still, remember that Camembert spreads a more intensive flavor. If you don't have Brie or Camembert in the kitchen, you can try other cheese types with bloomy rinds, such as Mt Tam, Saint-André, or Brillat-Savarin.
In brief, which cheese to use depends on your appetite and purpose.
Best Camembert And Brie Cheese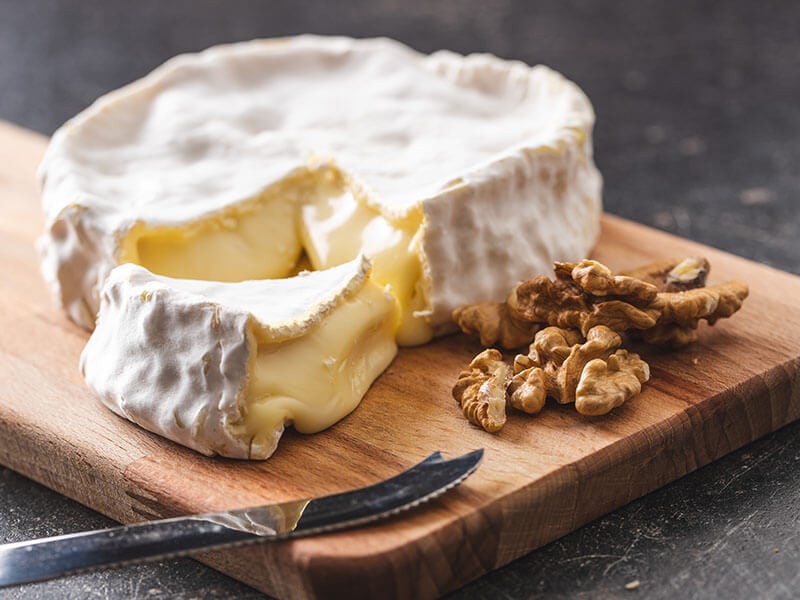 Regarding soft cheese producers, Président may be the first "word" that comes to your mind. Président Camembert cheese and Président Brie cheese are always sought-after with their high-end quality, reputation, and taste.
If you're seeking a baby Brie for your crisp white wines, along with walnuts and apples, then Eiffel Tower Canadian Baby Brie can fit you. La Bonne Vie Brie Mini Wheel is also good with its authentic flavor and top-notch quality.
For Camembert, apart from Président, you can't go wrong with Camembert Le Bocage. Besides, to try a fresh mini cheese wheel for gift-giving, La Bonne Vie Camembert Mini Wheel can please you.
Enticing Recipes For Camembert & Brie
There is a wide range of companions for Brie and Camembert, as I mentioned above. They are versatile. In this section, I'm glad to go through several recipes for them:
Camembert
Here are 3 recipes that are best for Camembert. Try these dishes on your next meal and impress the whole family!
You've certainly known by now that Camembert melts well, and now it's time to experience delicious melted Camembert firsthand. This recipe is incredibly easy to make and takes only 20 minutes.
The complex flavor of Camembert combined excellently with honey's sweetness to make an irresistible dipping for crackers.
Give Roasted Butternut squash with Camembert a go for a comforting dish! You will feel the vibes of creamy Camembert going with butternut squash's sweetness.
Nothing seems to beat such delicious meals. Also, the garlic fragrance and baked potato will amplify the whole dish taste.
This recipe can "wow" your party guests in seconds! It takes a short time to make this easy-to-do dish. Tearing off the pesto pastry twist, then dipping them into the melted cheese, nothing can beat this spectacular combination. Make sure to serve it with a cold glass of wine.
Brie Cheese
These 3 recipes look so epic to level up any occasion and holiday party. Dive into each recipe below to pick the ones you like.
Baked Brie with jam is a jaw-dropping appetizer for any jam-lovers. Plenty of jam could pair with baked Brie like pepper, apricot, raspberry, or fig jam. I think pepper looks good as I'm into the spicy and sweet combination.
If you want to have a good meal with fried Brie, let's go for fried Brie bites. Brie's mild, buttery, creamy, and rich taste highlights other ingredients but doesn't overpower them. Make your party table flawless and colorful with Fried Brie Bites.
When it comes to Pumpkin Pecan baked Brie, you may never get enough of this yummy dish. The buttery and mushroom-like aroma of cheese blends well with the pumpkin's sweetness. Don't forget to top it with pecans and wrap everything in pastry dough.
The best thing is that it takes only 20 minutes to make this simple homemade dish.
FAQs
Camembert vs. Brie's rundown can't cease your curiosity as tons of questions haven't had the answer. With that in mind, I will reveal other facts to please you better.
Camembert Cheese And Brie Cheese: Pick The One You Adore!
There you have it, a full comparison of Camembert and Brie cheese. In brief, the two are both seductive in the recipes you serve. Each of them boasts distinct characteristics that make them well-loved by many people worldwide.
If you plan to replace Camembert for Brie in your dinner dishes, feel free! They both have their ways of captivating you in no time. Finding this post is in-depth and informative? Don't just read, comment, like, and share this post with your fellas!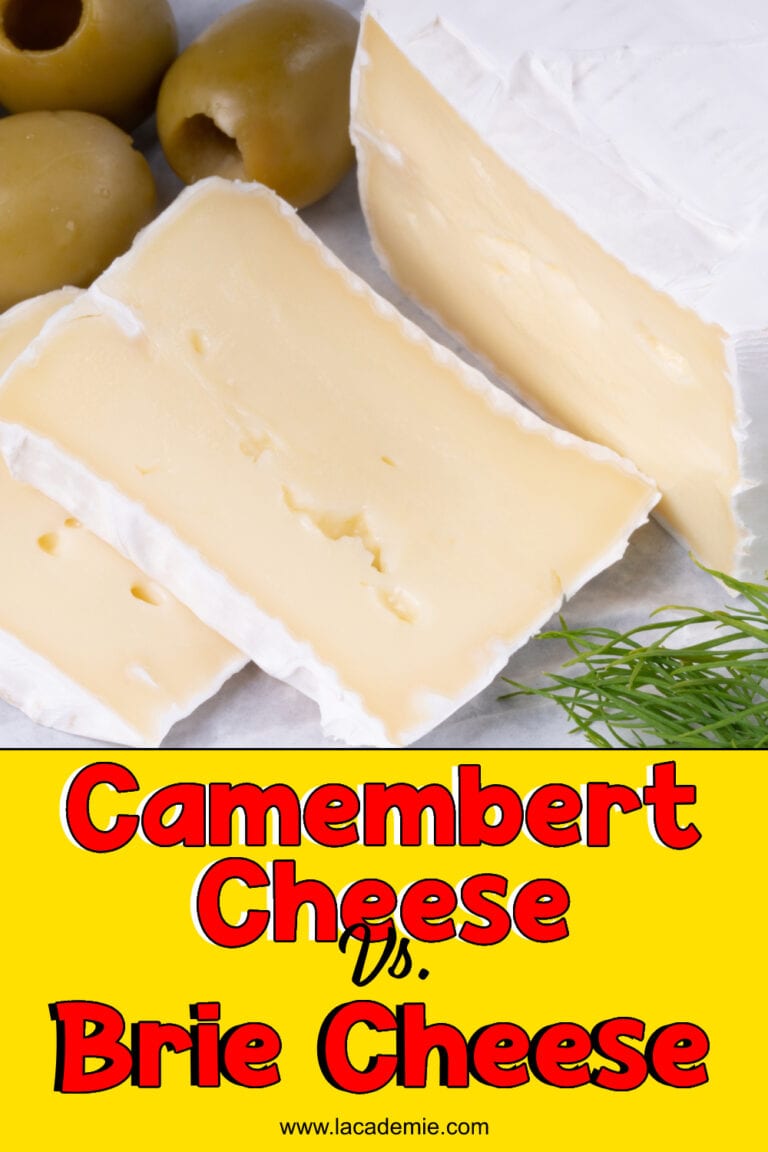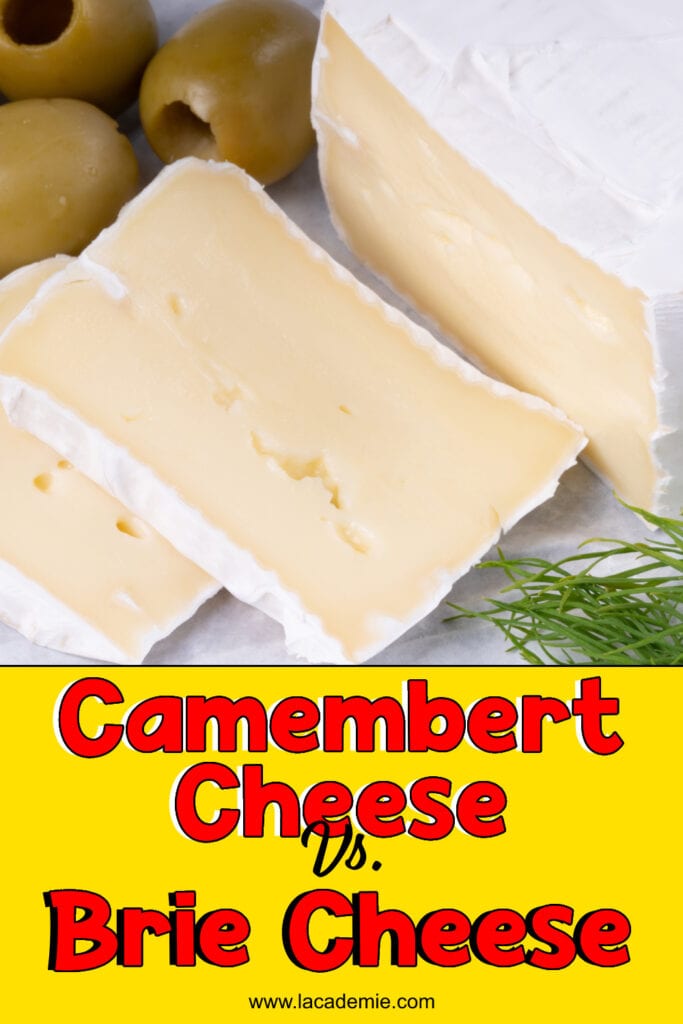 References:
Healthline.com, (2019). What Is Brie? Nutrition, Benefits, and More.
En.wikipedia.org, (2022). Penicillium camemberti.