Puerto Rican street foods won't make you disappointed on the upcoming vacation to this beautiful island. It will never go wrong when having a palatable dish on the appealing, sunny beaches or enjoying the rusticity of the natural scenery.
Because Puerto Rico (or the Commonwealth of Puerto Rico) is an unincorporated territory of the US, this Caribbean island boasts a range of foods that reflect its ties to America. Of course, its foods also show the influences from Spanish and Latin American cuisines.
You can see how diverse and promising Puerto Rico's cuisine is from all of that. There is no reason to ignore my recommendations below.
10 Puerto Rican Finger Snacks That Best To Enjoy On The Streets
Puerto Rico (or PR) is famous for a wide range of fried treats that you can quickly encounter at random street vendors or mobile food trucks. If you are wandering on the Puerto Rican streets and don't know what to eat yet, refer to the dishes here!
You will see various kinds of fritters in today's article, and I would like to start with this Alcapurria (or Stuffed Yuca Fritters). Puerto Ricans changed a Middle Eastern-originated recipe, Kibbi, and turned it into a local delectable street food.
The main ingredient for the Alcapurrias is a unique mixture called "masa" (including mashed green plantains mixed with yautia/yuca and a spice mixture named sofrito). There are also many other variations of " masa " that have additional veggies or potatoes.
A portion of Alcapurrias always has fillings. The most frequently used ones are beef and crab meat. Just thinking about having a bite of this food and tasting an appealing crunchiness on its exterior together with a pleasant sweetness inside makes my mouth water already.
How do local Puerto Ricans make their own Alcapurrias?
The next fritter dish on this list is full of seafood: codfish, to be exact. This Puerto Rican staple snack was a culinary creation from Africans who came to the island on the Spanish explorers' ships. The food is pretty flat and typically offers a golden crust outside.
To make a portion of Bacalaitos, the chefs must go through several processing steps, like removing the codfish flesh, marinating, and chilling it overnight before battering and deep-frying.
But the result is worth every effort, and you can sense a flavor punch from each bite of this dish. It will be a bit crunchy on the exterior and incredibly soft/chewy inside.
In Puerto Rico, especially in San Juan, people usually have it as both snacks and side dishes for everyday meals.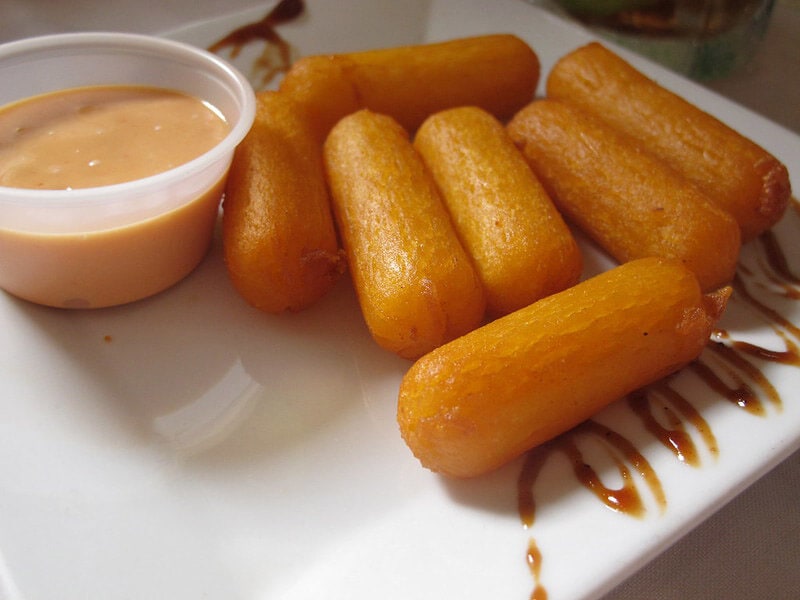 You know how much Puerto Rican people love fritters, so let's add another name to the list: these Sorullitos De Maiz. These finger-like corn fritters consist mainly of cornmeal and other ingredients (such as cheeses or mashed bananas).
The cooks in Puerto Rico need to carefully stuff all the additional fillings into the cornmeal pieces before deep-frying the whole things in hot oil until crispy. Since not many ingredients are used in a portion of Sorullitos De Maiz, it is better to have it as a quick snack.
What about the dipping sauces? Local residents often have this yummy Puerto Rican recipe with a particular type of guava sauce and mayonnaise. Sometimes, they even match this fried treat with coffee for a delicious mix of sweetness and bitterness.
The name, Tostones, of this dish came from a Spanish term. "Tostón" referred to the currency in Spain during the colonial period. It also started developing as a treat from Dominican Republic before spreading to the country's neighbors.
Tostones are simply double-fried plantains, one of a specialty in San Juan, with a unique coin-like shape. They are currently a common dish in several Latin American nations, including Puerto Rico.
Because the method of making Tostones is fairly easy, and plantains are widely available, this delicacy appears almost anywhere. The way to enjoy Tostones is similar to the famous French fries, and they go well with anything from ketchup to mayonnaise to chili sauce.
Empanadilla (or Empanadas in Spanish) has its roots in the Galicia regions of Spain and Portugal. The earliest record of the dish dates back to the 16th century. When the Spaniards came to the New World, they brought their homeland's treat there.
Latin Americans love having these Spanish-inspired street foods very deeply. This treat has been the mainstay of their cuisine for centuries. Many variations of Empanadilla fall under either of the savory or sweet categories.
You can see there are Empanadillas with cheese, beef, veggies, or even fruits (guava). People in Puerto Rico usually have this treat as a snack or a side dish for main meals in their days.
Their most favorite sauce to match with Empanadilla is tomato sauce, and you should try this combination sometimes. Overall, these favorable Puerto Rican Turnovers are fried foods, and it is not good if you eat them every day.
If this Pasteles reminds you of the world-famous Mexican street dish, Tamales, you might be a true fan of the diverse Latin American cuisines. But these local Pasteles originated in Boriquen and have mostly no relation to the previously mentioned Tamales.
The main component of a piece of Pastele is also Masa (consisting of yautia, squash, or cassava) with some kinds of savory fillings like pork and fish. The chefs will also add milk, butter, and annatto oil to the Masa mixture so that your food will be softer and buttery.
Puerto Rican residents often serve it on holidays (especially Christmas) or family gatherings. But foreign tourists can always buy it from a street food stall at any time of the year.
If you are curious about the food's flavor, this taste test is for you!
Move on to the exotic Puerto Rican version of blood sausage! This delicacy came to this island with the Spanish and soon became popular with the locals. Puerto Rican people usually have their Morcilla in their daily lives and on Christmas day.
The cooks will put some rice into the meat mixture to make Morcilla have a more appealing taste and bouncier texture. Other ingredients in an authentic Morcilla are blood, cilantro, and various fresh herbs. Therefore, this unique food tastes absolutely fragrant.
Based on that, a piece of Morcilla has a lot of protein and other nutritions, making it a good side dish besides being a snack.
Mostly every country has its own variation of grilled meat skewers, and Puerto Rico is no exception. Pinchos (chicken kabobs) are such a well-known dish in this territory that many people think of it as one of their national dishes.
Historically, Pinchos (or Pinchitos in Spanish) was a famous grilled meat in Spain derived from Moorish cuisine. After the Spanish arrival in the Latin America region, it gradually captured the heart of the local people and has stayed in their good graces to this date.
To make a portion of Pinchos, the chefs in Puerto Rican need to marinate the protein thoroughly before grilling the skewers on an open fire.
The best way to enjoy a portion of Pinchos is to pair it with BBQ sauce and bread or eat it alone. Both are great and worth trying!
Let's talk first about the origin of this delicacy! Rellenos De Papa started as an easy yet tasty dish native to Peru before its popularity spread to neighboring countries. Puerto Rican people also love these fried stuffed potatoes a lot.
If you are a fan of potatoes and minced meat, you should try this Rellenos De Papa once. To make a portion of this food, the cooks put in mashed potatoes, ground beef, and some kinds of condiments to taste. After that, they will form the ingredients into small balls.
They also mix the potato part with butter so that your food's exterior will be extra crunchy and favorable. Who can resist a fried treat with a gorgeous golden brown color? Definitely not me.
Why not take a look at how to try an authentic Rellenos De Papa in PR here?
My last recommendation for you in this category is Piononos. Even though this fried sweet plantain might be one of the most basic treats in this article, it will not disappoint any eater.
Yet, I have to admit that Piononos are not a healthy option for snacks as it is indeed a fried treat. Therefore, it is not good to consume it all the time. However, you can still have your beloved finger food occasionally.
While gnawing a portion of Piononos, you can experience an amazing combination of sweetness and savoriness from crispy plantains and minced beef stuffings.
8 Meaty Street Food For A Main Meal In Puerto Rico
What to eat if you are in the mood for a more filling dish in Puerto Rico? Besides all the snacks I have mentioned above, you can opt for the foods I will recommend below.
Pork roast may not be the healthiest dish, but it is certainly among the most mouth-watering foods you can try in Puerto Rico. Lechon Asado, the local version of this dish, is a special treat for holidays and festivals since the meat takes a long time to cook.
Although the true origin of Lechon Asado is pretty unclear, one thing for sure is this delicacy is really popular in many Spanish-speaking nations, not only Puerto Rico. Vendors in Puerto Rico often offer you crispy suckling pig skin with juicy meat on a plate.
Once the meat goes into your mouth, the natural sweetness gently touches your tongue, and the pork skin's crunchiness can tempt you from the first time trying.
This illustration shows the closest look about Lechon in a local restaurant.
Pernil Asado also means pork roast in English, but this dish is not the same as the previous Lechon Asado. Instead of using a whole pig to cook this food, they only utilize a part of it.
Pernil Asado was derived from the Spanish dish "pierna" (meaning "legs") and has been a perfect lunchtime treat in Puerto Rico for years.
One special note about the food is the cooks have to marinate the pork meat for a few days before it is ready to cook. In addition, the spices (garlic), herbs (oregano), and condiments (adobo spices, olive oil) need at least 24 hours resting on the main ingredient.
Such a long marination time helps your portion of Pernil Asado is always full of flavor. The chefs will slowly roast the meat with root veggies and fried plantains when cooking. Local people love to serve Pernil Asado with sandwiches, but you can also have it with a side of beans or rice.
Have you ever thought of replacing the bread part in a sandwich with a kind of veggie? If not, then Jibarito is your first experience with this unique combination. Instead of using regular bread, Jibarito calls for two pieces of fried green plantains as the starch base.
The cooks will sandwich this food with standard components: cheese or meat. It is pretty unclear about the story around the creation of this Jibarito, and there is no official information telling who was the first to create this creative dish.
While some say that a Chicago restaurant owner named Juan "Peter" Figueroa created Jibarito in 1996, others claim that this food made its debut in 1991 in Puerto Rico. However, the debate doesn't mar the truth that Jibarito is extremely tasty, and you should try it at least once in Puerto Rico.
Let's know more about Jibarito through this short introduction!
Puerto Ricans love pork a lot, so it isn't so strange to have the third pork dish in this category, which is Chicharrones. This fried pork belly owes its origin to Spain like many other foods in today's article. Locals usually enjoy this delicacy alongside Mofongo.
The pork meats used for Puerto Rican Chicharrones are pork rinds or pork belly. The street vendors' cooks will fry them until crispy and serve them with special sauce and lemon wedges.
Although Chicharrones are pretty filling, you can still have them as a snack on the beaches/streets. Believe me; you won't regret giving it a go.
Many countries have their own variations of rice dishes. But I'm sure the Puerto Rican version, called Arroz Con Gandules, really stands out from the crowd with its wonderful taste and tender texture. Locals prepare it by cooking rice together with pigeon peas and sofrito spices.
Cumin, roasted tomatoes, spices, and other herbs are must-have components in a batch of authentic Arroz Con Gandules. A bowl of this rice dish can serve a starchy side besides a savory dish, but you can also enjoy it nicely enough on its own.
This Arroz Con Gandules can surely tell you what to expect from this PR's delicacy!
A serving of traditional Surf N' Turf is quite high in calories since it includes red meat and seafood (usually lobsters). In its birthplace, which is America, this delicacy suffered a decrease in popularity during the early half of the 20th century before recovering somewhat.
But Surf N' Turf is always a popular meal item in the Caribbean, especially in Puerto Rico. In this country, people can have Volcano Surf N' Turf for their meaty breakfast. The main ingredients in a Puerto Rican variation are shrimps, steaks, mushrooms, and a thick gravy.
Even though each component is cooked separately, they taste well when combined together. They offer a flavor punch that will immediately amaze your taste buds.
Pernil is a renowned Latin American slow-roasted marinated pork dish that Puerto Ricans love to pair with Arroz Con Gandules. But the combination of this holiday meaty dish and sandwiches is so incredibly toothsome that I think it should have its own place here.
Besides the flavorsome Pernil, the cooks will offer you some other fresh components to a standard Pernil sandwich to balance the dish's taste. Some of my favorite ones are carrots and fresh herbs like cilantro. Since I'm talking about Puerto Rico, fried plantains are another obvious choice.
The result is a complete meal with sufficient proteins, carbohydrates, fibers with loaded flavors. Are you ready to give the food a try?
Besides rice, Mofongo is the second most prevalent starch base in Puerto Rico, so you might see it in some of my food recommendations on this list. Like what local people do with Arroz Con Gandules, they don't keep the plantains bland before serving.
Locals prepare the dish by frying the green plantain slices and adding in some spices, condiments, and broth to form a smoother consistency. After that, they will put the whole mashed mixture into a bowl and turn it upside down to create an inverted bowl shape for Mofongo.
People don't often eat this authentic Puerto Rico delicacy alone. They will always pair it with some other savory dish like Chicharrones or Pernil and shrimps to make the whole meal heartier.
This is the best Mofongo taste test you can expect!
8 Amazing Drinks, Fresh Fruits, Or Sweet Treats To Seek In Puerto Rico
Need to find an idea for something lighter than the previously mentioned savory foods? I have your back. Below are some palatable drinks, sweet goods, and exotic fruits you can find in Puerto Rico.
In Spanish, the word "Tembleque" often refers to the shaking or jiggling things, which can indeed tell you about the texture of this Puerto Rico-originated dessert. Your first bite of this Tembleque will leave a lip-smacking good coconut taste to your memory.
In Puerto Rico, the locals often make Tembleque by cooking coconut cream, coconut milk, cinnamon, etc., with cornstarch and putting the mixture into a mold. The cooked coconut mixture will rest until cool, and you can have a spoonful of this PR's Christmas specialty.
Furthermore, the toppings used for Tembleque are varied and contribute a lot to making the food more unique. Some most popular toppings for Tembleque are liqueur, spices, or fruit juice and diced fresh fruits over the base of mellow pudding.
20. Quenepas (Genip Fruit)
Have you ever heard of Quenepas? This tasty Puerto Rican fruit is a stone-bearing fruit. It has many other names in different regions, for example, Genip, Guinep, Limoncillo, etc. You can easily find it in many roadside or market stalls in the country.
Quenépa is typically in season in the summertime. When it is ripe, the outer shells of this delicacy still have a green hue. Take them off, and you can enjoy the succulent, jelly-like flesh inside.
About the fruit's taste, you can expect a mix between a light sourness of the lime and a lovely sweetness of lychee. Quenépa tastes best when eaten fresh, but you can also enjoy it in sweet treats, beverages, or jellies.
Local people love this kind of Puerto Rican fruit so much that they even have a day to celebrate it, called Nacional de la Quenepa (or National Quenépa/ Genip Fruit Days). The festival day was first held in 2008 and usually takes place on the second weekend of August.
Your trip to Puerto Rico is not complete if you neglect these Quenepas!
Where to have this delicacy: local streets/farmers' markets of Puerto Rico (especially San Juan).
Let's move to a prominent Puerto Rican drink! Starting from the Caribe Hilton Hotel in 1954, this drink gradually became more and more popular all over the island. Every time you have a beach day in this country, don't forget to order a cup of Piña Colada.
Ramón "Monchito" Marrero, a bartender, was the "father" of this drink recipe. He experimented with combining rum, pineapple juice, and some rich coconut cream. The idea turned out great, and this luscious drink became a staple in Puerto Rico.
One thing for sure is Coquito is not a drink for kids since it is not a regular eggnog that you find elsewhere. This Puerto Rican beverage contains alcohol (rum) in its ingredients, offering you a stronger and more distinctive taste experience.
It also has a coconut-y scent and flavor because bartenders use various kinds of coconut products to make the drink.
When the liquid goes down to the throat, the rich flavors from the coconut cream and milk will come first, and the pungent and dryness from rum will go right after. These two layers of flavors harmonize well with each other so well, and you can verify my word once you try it.
In Puerto Rico, Coquito is a welcome drink for a party and a beverage for any gatherings or special occasions. If you want to serve it in a family with kids, just ask the makers to omit the rum.
Want to know more about Coquito? This short introduction helps!
Making bread puddings is an effective way to use up stale bread. There are countless recipes for this treat out there, but I recommend you try the flavorful version from Puerto Rico: Budin de Pan. It has delighted generations of locals with its fragrant smell of Latin American spices.

But remember that Puerto Rican Budin belongs to the alcoholic dessert category since it usually includesrum. The other ingredients, besides white bread, are raisins, various kinds of berries, spices, and some vanilla ice cream (used as a topping).
Besides serving Budin as a dessert, local people enjoy it as a light breakfast dish. They also use Coquito as a partner of this delicacy since the soothing liquid helps to combine all the flavors.
Mallorca is a name of an island in the region of Spanish Balearic, which is also the birthplace of a Spanish dessert named Ensaïmadas. In the 19th century, this spiral-shaped sweet treat was brought to Puerto Rico, where it adopted a new name after its place of origin: Pan De Mallorca.
Also consisting of butter, flour, and sugar, this simple Pan De Mallorca can please anyone's taste buds. You can have it anytime you like, but my suggestion is to match it with ham/cheese and a cup of warm coffee for a quick breakfast on the seashore of Puerto Rico.
This Pan De Mallorca instruction can make you even more curious about it!
Thanks to the lush environment on the island of Puerto Rico, fresh fruits are plentiful, and you can always access the freshest products year-round. Because of that, Frappes, a cold drink consisting of ice cream and fresh fruits, is a favorite drink of the local people.
There are many yummy variations of the drink, but coconut Frappes are particularly cooling and refreshing. Nothing can be better than having a glass of it with a dollop of ice cream, whipped creams, and cherry on top for a hot summer day. I'm sure the heat will simply be blown away in a snap.
If you ask Puerto Rican people about the first thing they think of during Christmas time, they will surely recommend Arroz Con Dulce. The name of this food also means "sweet rice" in English, and yes, it describes the food well.
Arroz Con Dulce is quite simple to prepare. Chefs basically make it from a sweet rice pudding with some kinds of spices to better suit the holiday atmosphere. Although Puerto Rican rice pudding is a festive treat, you can still find it in almost all bakeries or street stalls in this country.
Take Your Time And Try These Puerto Rican Delicacies ASAP!
One of the best ways to learn about a country and its culture is through its food. That approach is both informative and delicious. Although many cultures heavily influence traditional Puerto Rican food, the people here have developed their own identities over the years.
If you are interested in learning more about the unique cuisine in Puerto Rico, I hope my article is beneficial for you. Just enjoy the dishes I suggested, and you will have a good grasp of what Puerto Rican foods are all about.
So what have you learned, or do you have something to share? Please leave a comment to let me know. And one last favor: don't forget to share this article! Many thanks!