Make everyone on the dining table swoon with these fantastic African recipes. From simple side dishes to savory main courses and decadent desserts, there are many ways to bring African flavors to your daily meals.
When you're introduced to the world of African cuisine, you might feel overwhelmed with many enticing dishes. Be it Nigeria, Morocco, Kenya, each African country has something to offer when it comes to traditional dishes.
So, if you're feeling that your meals have been lacking diversity lately, it's time to try out these exciting African recipes.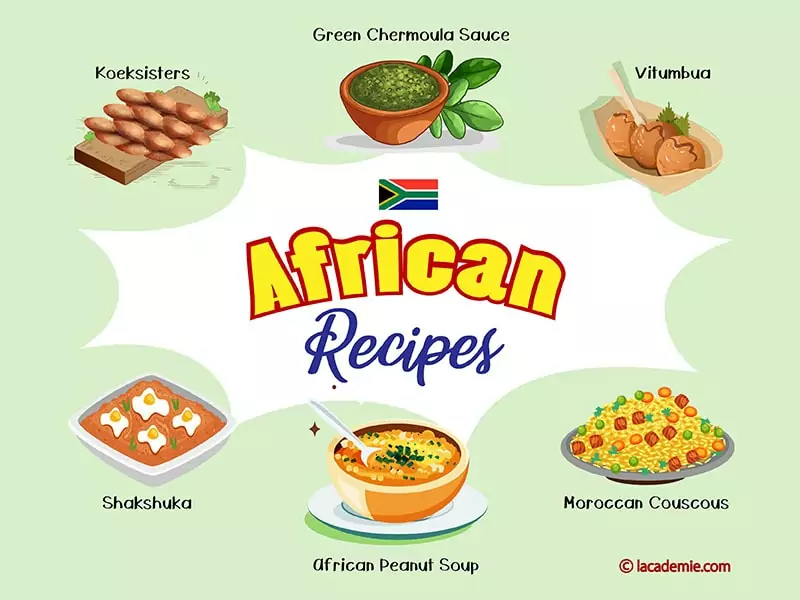 Best African Recipes You Should Try In 2023
The African recipes below are divided into three main categories: main courses, side dishes, desserts, and condiments. Depending on your needs, you can jump right into a specific section to find a suitable dish.
Main Courses
Moroccan Chicken
Moroccan Couscous
Doro Wat (Ethiopian Chicken Curry)
Shakshuka (North African–Style Poached Eggs)
West African Red Bean Stew With Sweet Potatoes
Stewed Spinach (African Style)
African Peanut Soup
Beef Bobotie
Kenyan Chicken Pilau
West African Chicken Stew
Side Dishes
Moroccan Forbidden Rice Salad
Mango And Cucumber Salad
Moroccan Vegetable Tagine
Moroccan Roasted Green Beans
Desserts
Shuku Shuku (Coconut Balls)
Vitumbua (Coconut Donuts)
Koeksisters (Sugared Donuts)
Peppermint Crisp Tart
Akwadu (Baked Bananas)
Maduros (Fried Sweet Plantains)
Chocolate Malva Pudding
Condiments
Harissa Paste (Tunisian Hot Chili Paste)
Niter Kibbeh (Spiced Clarified Butter)
Green Chermoula Sauce
Dukkah
20+ African Recipes That Anyone Can Make At Home
These African recipes are not as daunting as you might think. Even though the dish might be unfamiliar, the detailed instructions in each recipe will ensure that anyone can prepare these dishes.
10 African Recipes To Help You Prepare Exciting Main Course
The main course will be a lot more splendid with these African recipes. Whoever you're cooking for, I'm sure they will find these African main dishes a real treat to the palates.
This African dish is a staple meal in Moroccan cuisine. Featuring flavorsome sauce with various spices and zesty lemon, Moroccan chicken will sweep you off your feet. After all, it's hard to deny the appeal of tender chicken braised with a thick, creamy, and flavorful sauce.
Whenever I prepare Moroccan chicken, I always make sure to use Hungarian sweet paprika, as this always adds a unique twist to the dish. Also, I find that covering the skillet when the chicken is simmered will make sure that the meat can retain more flavors.
To round out this recipe and its flavor, don't forget to pair the chicken with some flavorful side dishes from Moroccan cuisine as well. Brace yourself, for an exciting meal full of exotic African flavors is waiting for you to dig in.
I think it will be a huge oversight if not to mention couscous when talking about African dishes. As a staple in this continent's cuisine, Moroccan couscous is made from wheat semolina and shaped into tiny granules. Some might mistake couscous for small pasta, but it is not the case.
When it comes to taste, couscous is actually very mild in flavor. However, this doesn't mean that couscous is bland or tasteless. If anything, I find that its simple taste allows couscous to absorb the flavors from spices, herbs, and other ingredients prepared with this dish.
If you're a fan of curry, I'm certain that you will also love Doro Wat, an authentic dish from Ethiopia. As one of the most popular African dishes, this chicken curry features boneless chicken cooked in Ethiopian berbere and various other spices. Sometimes, Doro Wat may be topped with boiled eggs.
In order to succeed at making Doro Wat, you'll need to slow-cook it for a few hours. Patience is the key behind this dish, as rushing it will prevent the chicken from absorbing the sauce and its flavors. When served, Doro Wat usually goes with injera bread or vegetable side dishes.
Shakshuka is perhaps one of the best African one-pan recipes that you can prepare for any meal of the day. This hearty and delicious meal with eggs is prepared in thick, savory tomato sauce laced with peppers and spices.
Shakshuka is perhaps one of the most prominent dishes in Algerian cuisine. It's a savory dish that Algerian people usually enjoy for dinner. In this country, you can also refer to shakshuka as chakchouka, which should not be mistaken with Chakhchoukha, a stew flatbread.
If you're familiar with Italian cuisine, perhaps you've noticed that shakshuka looks quite similar to Italian menemen. The key difference between these two seemingly identical dishes is that shakshuka is relatively spicier than menemen with pronounced African flavors.
Look no further for the perfect African vegan stew. Packed with nutritious and exotic flavors, this African stew cleverly combines sweet potatoes with dark red kidney beans inside a thick, savory tomato sauce. If you wish the sauce to be more robust, I'd suggest adding some coconut milk.
This African vegan stew also has quite a long shelf-life. When frozen, the dish can stay fresh for up to three months. This means that if you're busy, you can make African bean stew in bulk to always have a delicious meal to eat when you get hungry in the middle of the day.
Have you grown bored with your typical spinach recipes? Are you looking for some exciting and fun way to prepare spinach? If so, check out this African recipe for stewed spinach. Nutritious and flavorful, stewed spinach is a great way to get even picky children to eat more vegetables.
Aside from the obvious ingredient – spinach, you'll also need to prepare peeled shrimps, turkey, as well as some herbs and spices. While stewed spinach is a solid enough dish to stand on its own, this African-style dish goes exceptionally well with fried plantains.
Try this recipe for stewed spinach; I'm confident your family will love it.
Instead of wondering if it's possible for peanuts to go bad, why don't you whip up some African peanut soup to use up all the remaining peanuts in your kitchen? Hearty and packed with flavors, this African meal will warm your heart and body during the coldest days of winter.
In this African peanut soup, you'll get to enjoy sweet potatoes, tender carrots, savory spinach, and enticing meat. If you want to make this a vegan meal, you can simply remove the meat from the recipe. I guarantee that this won't make the dish any less appetizing.
Peanut soup is perhaps one of the most popular dishes in Senegal, a country in the West of Africa. It usually features lamb (or beef), with meat, and peanut butter sauce.
A national dish in South African regions, beef bobotie is basically a blend of curried beef with milk and egg custard. While the dish description may sound simple enough, it is the spices that make it outstanding. So cinnamon, curry spice, and bay leaves are crucial in this African recipe.
Somewhat similar to meatloaf, beef bobotie is definitely a fantastic dish to serve meat lovers. Depending on personal preferences, it's possible to adjust this dish's consistency. This means that you can make it stiff like traditional meatloaves or softer with a fluffy texture.
Kenya chicken pilau is a famous dish commonly found in East African regions. Featuring pilau – a beloved rice type in East Africa, this popular dish boasts an enticing fragrance due to the various spices used to cook the chicken.
One way to make Kenyan chicken pilau tastier is to cook the dish with chicken broth and coconut milk. Cooking the dish in an airtight pot also allows the chicken to become more tender and flavorful.
I love serving Kenyan chicken pilau with some hot cabbage stew, an iconic dish from Liberian cuisine. Haven't heard of this country before? Liberia is a country in the West of Africa, and while it might be a small country, its culinary world is a force to be reckoned with.
This tasty stew is made with chicken cooked in tomato-based soup. As tomatoes are a crucial ingredient in this dish, you need to make sure to pick fresh and ripe tomatoes. If this fruit isn't ripe enough, the stew might lose its vibrant taste.
You might think that in this stew, the more tender the chicken is, the better. However, the truth is that you'll need to pick "hard" chicken. Remember, the texture of the chicken is very important. If you can't find hard chicken, you'll need to cut the cooking time to maintain the meat's texture.
Take the time to look at this recipe for authentic African chicken stew:
4 African Recipes For Alluring Side Dishes
Let's start with African recipes for side dishes. In this section, I will recommend 8 outstanding side dishes from African cuisine. Hopefully, you'll love them as much as I do.
Even though this side dish is called "forbidden rice salad," there is nothing prohibited about this dish. In fact, "forbidden rice" is just another name to call black rice, which is a type of glutinous rice with a deep dark purple color. This rice is known for its high antioxidant and protein content.
As black rice is known to be one of the healthiest rice, it stands to reason that this Moroccan salad will make a great addition to your diet meal plans. With toasted cumin, cinnamon, toasted pistachios, and chickpeas, this dish is anything but plain and boring.
To make the meal even more appetizing, I usually serve this with Shiro, a signature Eritrean dish featuring ground chickpea. Considered to be a staple Eritrean dish for vegetarians, this hearty soup has such an agreeable taste that it goes well with virtually any African dish.
Whenever summer is around the corner, I always have the urge to make cucumber salad with mangos. Perhaps it's the refreshing, juicy, and tangy taste this salad can bring about that enchanted me so. Whatever the reason is, there's no denying that it's a fantastic summer salad.
Aside from fleshy mango bites and cucumber crunch, this enticing salad also features fresh tomatoes, smoky jalapeno, and zesty lime juice. Even though this dish tastes good on its own, try pairing this salad with grilled meats – I'm certain you will be delighted.
Who says vegan dishes can't be tasty? This African side dish recipe will impress even the most enthusiastic meat lover. Completely vegan, Moroccan tagine features several types of veggies, ranging from tender carrots to sweet potatoes and simple courgettes.
One fantastic thing about Moroccan vegetable tagine is that you can get inventive with the recipes. You don't need to stick to certain vegetables or omit your favorite ones. As this is a very flexible dish, feel free to add any vegetables available in your fridge to the recipe.
For a tasty low-carb and gluten-free side dish, you should consider making Moroccan roasted green beans. Suitable for vegan diets, this African side dish can pair with various stews, soups, or fritters.
While this vegan dish might feature mostly green beans only, it doesn't mean it's bland and boring. Thanks to the minced garlic, cilantro, and black pepper, this African side dish can still deliver a strong kick of enticing flavors.
7 African Recipes You'll Need To Whip Up Enticing Desserts
How can I talk about African recipes without mentioning desserts? Let's be honest – everybody loves desserts, so it'd be a huge oversight not to list out these scrumptious sugary treats.
Arguably one of the easiest African desserts to make, shuku shuku features only four simple ingredients: coconut, eggs, sugar, as well as flour. With only 10 minutes of preparation and 20 minutes of hands-free cooking, you'll have delicious bite-sized cookies to munch on.
One of the reasons behind shuku shuku's popularity is perhaps the contrasting textures between its exterior and inside. While this iconic Nigerian dish's outer layer is incredibly crispy, its inside is mind-blowingly soft and fluffy. Bring these to a party, and surely they will be gone within a second.
Let's learn make decadent shuku shuku with this incredible recipe.
If you've never tried vitumbua before, you're definitely missing out. Incredibly addicting, vitumbua are bite-sized doughnuts made with savory coconut and fragrant rice. Usually served with caramel sauce, vitumbua is a luscious dessert that you'll soon fall in love with.
Completely vegan-friendly, vitumbua is suitable for virtually anyone. With its soft and fluffy texture, vitumbua will be popular among children and adults alike. So if you're not sure what to prepare for your family dessert, do consider making vitumbua.
Koeksisters are more than simple deep-fried dough. Bold in flavors and delicate in texture, Koeksisters are also alluring in the way they are served: scorching hot dough doused in ice-cold syrup. The contrasting temperatures will give you an incredible sensation when eating this dessert.
When preparing syrup for Koeksisters, you should throw in a cinnamon stick as well as a few pieces of ground ginger. This will make the syrup an irresistible flavor. Another tip I have for you is that the syrup should be as cold as possible. Trust me; cold syrup makes all the difference.
Brace yourself, for this amazing South African dessert will knock your socks off. I'm not kidding – peppermint crisp tart is one of the best desserts Africa has to offer. This ambrosial pudding consists of decadent whipping cream, peppermint crisp chocolate bars, biscuits, and condensed milk.
Once you start making peppermint crisp tarts, you'll realize that these are quite a simple and easy dessert. However, if you eat this without knowing the recipes, you might be fooled into thinking that this is a luxurious dessert that can only be found in high-end restaurants.
A treat for those who like simplicity, akwadu is basically bananas baked in coconut, cinnamon, brown sugar, melted butter, orange juice, and lemon juice. The 15-minute baking time in the oven allows the bananas to absorb the other condiments, making them incredibly tasty.
You can improve akwadu by switching regular bananas with plantains, which have a noticeably different flavor profile. When served as dessert, akwadu can go with vanilla ice cream. If you prefer it as breakfast, pour some warm oatmeal atop awakdu.
An amazing fruity dessert that you should try at least once in your life, maduros features plantains, which are quite starchy and firm in texture. Due to their starchy nature, plantains are suitable for culinary purposes.
For maduros, you won't need to douse the fruit in sugar or other sweet condiments. Simply deep-frying it is enough for a tasty dessert. And as I've previously mentioned, fried plantain is an excellent accompaniment with African stewed spinach.
Chocolate malva pudding is a twist on the classic African malva pudding, which is a sweet, buttery, and fluffy treat with apricot jam in the middle. While chocolate malva pudding is a variation of the traditional treat, it has stolen the hearts of many people.
Chocolate malva pudding can be eaten plain or combined with custard and ice cream. It's important to keep in mind that chocolate malva pudding should always be served warm, as the warmth will enhance the dessert's flavor profile.
This video will show you the perfect way to make chocolate malva pudding:
4 African Recipes For Delicious Condiments
These African recipes will pave the way to delicious condiments. With these fantastic African condiments at your disposal, you'll find that there are many ways to flavor up your favorite recipes.
Harrisa paste is a spectacular dish originating in Tunisia that can add flavors beyond your wildest imagination to almost any dish – from stews to roasted vegetables and meat.
An impressive alternative for sambal oelek, especially in marinating proteins, as well as spicing up soups and vegetables.
Harissa paste is ideal as a marinade for various proteins. You can also drizzle this on your favorite salad for an extra kick of spicy flavors. And as strange as it may sound at first, Harissa paste is a fantastic dip for bread and chips.
You can see this video to know more:
If you've grown bored with regular store-bought butter, maybe it's time to consider making Niter Kibbeh, which is Ethiopian spiced clarified butter. As suggested in the name, this creamy butter contains many different herbs and spices, making it incredibly alluring.
My favorite way to enjoy niter kibbeh is spreading it on my morning sandwiches. Of course, this doesn't mean that this is the only way to use this aromatic butter. You can use niter kibbeh to flavor your favorite stews, brown your proteins, or whip up some delicious Doro Wat.
If you love niter kibbeh, perhaps you'll also love the African version of cheese. Gibna Bayda, or Domiati Cheese, is a food that comes from Sudanese cuisine. Whereas most cheese is put in a brine solution, Domiati Cheese is produced by mixing salt directly with milk, resulting in its unique taste.
Although there are many variations to Chermoula sauce, it's safe to say that Green Chermoula is among the most famous. Utilizing aromatic leafy herbs, garlic, and lemon, Green Chermoula sauce boasts a pleasant fragrance with delightful notes of zesty flavors.
One of the most common uses for Green Chermoula sauce is marinating or basting proteins. With this sauce, you can also make Chermoula sandwiches for a hearty breakfast. This African sauce is also ideal as a finishing sauce for meat, roasted potatoes, or grilled seafood.
Another fantastic condiment to add to your kitchen, Dukkah is a delicious blend of various herbs, spices, and nuts. With its robust and earthy flavor, Dukkah offers a wide range of use. You can sprinkle it on soups, add it to your favorite dip, or spread it onto crunchy morning toast.
The secret behind irresistible Dukkah is freshly toasted ingredients. This means that you should start with raw nuts and seeds as well as fresh spices. This will allow your Dukkah to achieve its signature crunchy texture and nutty flavors.
Fill Your Kitchen With Fragrance From African Recipes
This concludes my list of the best African recipes. As you can see, these dishes are all worth a try, and they are all easy to prepare. I'm certain that with these recipes, you'll be able to prepare a full course made with only African dishes to blow everyone's mind.
Did you like my list of the best African recipes? Is there any specific recipe that has caught your attention? Do you happen to know any African recipe you'd want to recommend to other readers and me? Let me know in the comment section below.
Nutrition Facts
6 servings per container
---
Amount Per ServingCalories171
% Daily Value *
Total Fat 12.5g

20

%
Cholesterol 186mg

62

%
Sodium 87mg

4

%
Potassium 478mg

14

%
Total Carbohydrate 9.1g

4

%

Dietary Fiber 2.4g

10

%
Sugars 5.7g

Protein 8g

16

%
---
Calcium

49

%
Iron

2

%
Vitamin D

18

%
* The % Daily Value tells you how much a nutrient in a serving of food contributes to a daily diet. 2,000 calories a day is used for general nutrition advice.