Do you ever think about making any Moroccan side dishes for your party to add some unique tastes? If yes, then you are at the right place. Even if not, it will cost nothing to expand your cooking ideas, right?
Moroccan cuisines are famous for their spiciness and aromatic flavors as they use many herbs in their foods. Besides many heavy main dishes, easy and tasty side dishes are to-go foods that you should prepare.
Therefore, what I am going to tell you here, is the wholesome collection of the best Moroccan side dishes that can perk up any meal. So roll down; your cooking adventure to Morocco is about to start.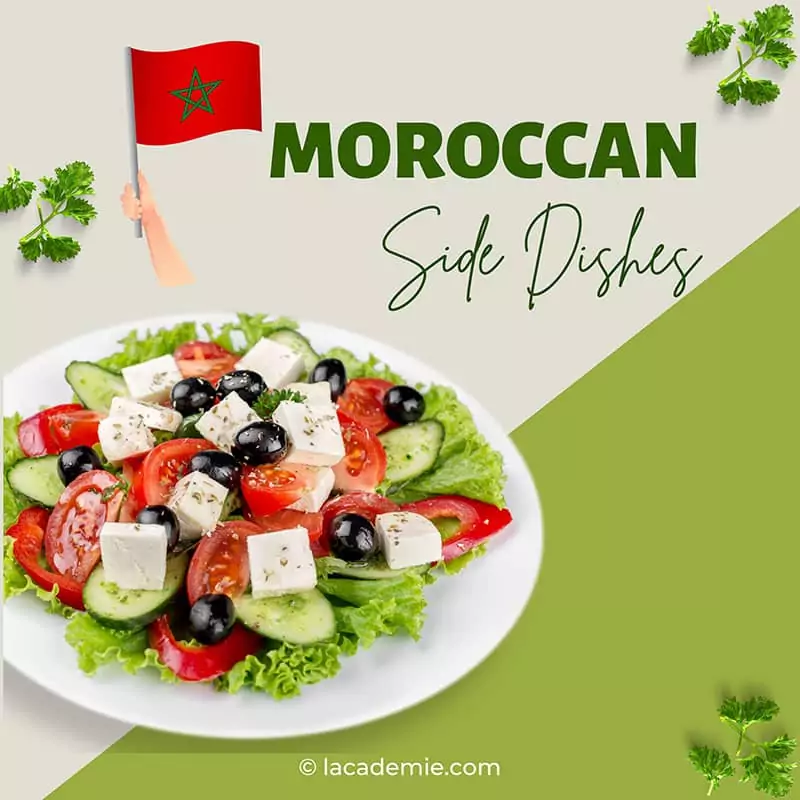 Top 20 Moroccan Side Dish Recipes That You Should Try
Here are the top selected 20 Moroccan side dishes that I am so enthusiastic about introducing to you. Salad, Couscous, Cake/Bread, and Other Moroccan side dishes are the 4 sections of these 20 ideas, which vary from super easy to intermediate level for your better choice.
Moroccan Salad Side Dishes
Zaalouk – Moroccan Eggplant Salad
Moroccan Carrot Salad
Classic Moroccan Tomato Salad
Moroccan Beet Salad
Moroccan Lentil Salad
Moroccan Olives With Harissa
Moroccan Orange Salad
Taktouka Salad
Couscous Moroccan-Style Side Dishes
Moroccan Couscous
Moroccan Peanut Couscous With Peas
Moroccan Vegetable Couscous
Moroccan Apricot Couscous
Cake And Bread Moroccan Side Dishes
Maakouda
Moroccan Bread Khobz
Moroccan Olive Flatbread
Moroccan Vegetable Couscous Cakes
Other Moroccan-Inspired Side Dishes
Moroccan Spiced Roasted Cauliflower
Moroccan Spiced Carrots
Oven-roasted Potatoes Moroccan Style
Moroccan Spiced Cauliflower Almond Soup
Simple And Fresh Salad Side Dishes In Moroccan Style
Salad is an iconic food of side dishes around the world, not only in Morocco. Let's begin your cooking journey to this Northwest country of Africa to see what they have for their salad side dishes.
Zaalouk is one of the most famous recipes in Moroccan cuisine. Two main ingredients to make this side dish are cooked eggplants and tomatoes mixed with other spices, garlic, and olive oil.
For grilling eggplant, you should brush them with oil first to prevent them from sticking on the grill. You can grill the whole eggplant or cut them into 1/4 inch slices' thickness. Then grill/roast them until you see they turn brown.
Cooked eggplant will be chopped into small-sized pieces and mixed with other ingredients. Zaalouk would be much better if you use fresh tomatoes, but in case you do not have them, jarred ones are also fine.
Honestly, I cannot even find a word to describe how easy they are to make because it is all about the carrot – one of the most easy-to-find veggies to come by no matter where you live.
Why worry if your carrots might get spoiled if you have this fantastic carrot salad recipe?
Moroccan-style carrot salad is just about boiled carrot, herbs (could be parsley, cilantro, celery), lemon juice, and spices. The light sweetness and earthiness of carrot combined with a bit of sour lemon juice and the woody flavor of fresh herbs create the easiest and tastiest carrot salad.
Moroccan carrot salad is a fantastic side dish to serve at any party. They can perfectly pair well with any heavy dish. You can also keep them fresh for up to 4 days in the fridge with a food container.
Here is another mouthwatering Moroccan salad that you can not resist at first sight. The colors blended in the big bowl of salad are so eye-catching. And you can feel the freshness even if you have not taken any bite of them.
Tomatoes are the star of this salad, so make sure you can buy the highest quality ones you can. They should be firm yet soft enough to give a moderate squeeze.
Plus, herbs also play an important role in enhancing the flavor of your salad. Cucumber may be included in some Moroccan tomato salad recipes. Cucumber's hardness contrasts with the slight firmness of tomatoes, making them more interesting when eating.
Moroccan tomato salad goes well with meaty, cheesy or fried dishes. It's a side dish that can pair with chicken cordon bleu, lasagna, pulled pork, or fried chicken. Anyone searching for a palate cleanser for heavy dishes should give Moroccan tomato salad a try at least once.
Shining with vibrant colors, this beet salad is a vegetable-packed side dish that every health aware person needs to try. It's a great source of nutrients and fiber to improve your blood condition. So if you have some blood-pressure-related issues, this salad is ideal for you.
The color of this dish is something I genuinely appreciate as the red of beets and the green of herb paint a stunning side dish. Just boil cubed beets in 35 to 40 minutes, then mix them with citrusy flavor ingredients of Moroccan like orange (or lemon) juice and cumin.
Finally, serve them with other herbs. Plus, they can last for 5 days in your fridge if you store them well. Sounds so ideal for those who are always busy preparing some veggies for a meal, doesn't it?
Making a healthy and delicious bowl of Moroccan beet salad cannot be easier with this recipe. Let's see this video:
Lentil is usually seen in curry, gravy, or rice. But how good is it when putting them in a salad bowl? Let's find out with Moroccan lentil salad with me.
Because lentils are a good source of protein, this salad's health benefits are undeniable. Other nutritious and fresh vegetables in this recipe, such as carrot, herbs, onion, and others, help to make this a wonderful side dish.
Because the salad tastes best when all of the ingredients' flavors blend together, you should prepare it in advance, at least a few hours before dinner or party.
If you want to cut down on the effort needed to prepare lentils, you can make it in a rice cooker. The method to cook lentils with a rice cooker is rather straightforward, and you can master it in no time. Once you know how, you'll see how a rice cooker can save you from hours of cooking.
Get ready for some heat in your mouth with Moroccan olives and harissa salad. For your information, harissa is a chili pepper paste originating from Tunisia, a country in North Africa.
However, this side dish might require a little effort and time as you have to prep the olive by marinating them overnight. And if you do not have store-bought harissa on hand, you can make it by yourself. Nothing beats homemade food, right?
You can serve them with many other main dishes. And with leftover olives and harissa, you can store them well in the fridge for weeks without being concerned if olives can spoil. The same goes for harissa, which can last up to 6 weeks if stored properly inside the fridge.
Moroccan orange salad is a common side dish for BBQ parties with grilled foods. And the best thing about it is that it only takes 20 minutes to complete this salad.
This salad is so refreshing and tasty, which makes it perfect for summer days. Make sure that you pick a nice ripe and sweet orange. Top them with onion and olive. Slowly enjoy them in your mouth to feel the mixing of sweet-and-sour orange and a little-bit-bitter of olive.
Don't forget to end the meal with some orange-flavored dessert as well. Want a sweet Moroccan treat with orange hints? Then you gotta try out cinnamon orange. This simple Moroccan dessert will surely end your meal on a positive note.
Taktouka is another traditional salad in Morocco. This is a cooked salad that consists of green bell peppers, tomatoes, garlic, herbs, and spices which only cost you 40 minutes to cook.
Taktouka is a perfect starter for any party as a side dish. They are not only easy to prepare but also healthy. And you know what, they even taste better on the next day, when all of the ingredients can blend their flavors together.
Grilled bell peppers have a light smokey taste that mixes well with juicy and sweet tomatoes. Taktouka can be served with bread or sandwiches and meat dishes to help balance out a heavy dinner.
Healthy Couscous Moroccan-Style Side Dishes
Do you know that people usually eat couscous after every Friday midday prayer in Morocco? Other than Morocco, couscous is a traditional dish in Algeria and many other North African countries. So, please join me to discover what side dish you can make from couscous.
Starting these couscous recipes with the most classic one – Moroccan couscous. They are a typical Moroccan side dish with which you may begin your culinary journey.
Cook couscous with some simple ingredients like shallot, raisin, pine nuts, cumin, and others in 20 minutes. Before serving, add raisins, almonds, and herbs to accentuate the difference in flavors, which may make you feel more thrilling.
This must-have side dish goes great with any high-protein dish, such as meats or seafood; for example, serving couscous as a companion dish with beef stew, grilled chicken, sweet and spicy shrimp is also not a bad idea.
Craving more? Here is a short and straightforward demonstration of cooking Moroccan couscous:
Moroccan peanut couscous with peas is a nutritious and flavorful dish. Plus, this side dish is suitable for cooking beginners because it is effortless.
Mildly salty and sweet peanut butter makes this couscous more distinctive. When all ingredients blend with couscous, you will feel a rich flavor in your mouth. And somehow, it might be too rich for you, so it is also fine if you want to add a slight hint of spiciness to the dish.
This is an easy vegetable version of Moroccan couscous. You can combine couscous with your favorite veggies, but the common ones are bell pepper, zucchini, carrots, and chickpeas.
This side dish will provide mixing sweet, spicy, and salty flavors that make you come back for more. And, of course, nothing can challenge you to make this dish.
If you want to make your tongue a little hotter, add harissa to the broth when boiling the vegetables.
Is regular couscous too boring? How about adding some fruity flavor to it. Moroccan apricot couscous will not fail you. I promise.
With straightforward instruction and easy ingredients, you can easily make this side dish without any worrying. Besides apricot is the soul of this dish, almonds also play an essential part in enhancing the flavor of the overall dish.
They are an excellent side dish that only takes 20 minutes to cook and perfect pair with any main dish. Their bursting flavor is also a highlight which makes you crave more.
Moroccan Side Dishes With Cake And Bread
Besides salad, bread (or cake) can be seen as the popular side dish in any meal. But what are the differences between regular bread and Moroccan bread (or cake)? Let's find out.
What is maakouda? They simply are Moroccan-style fried mashed potatoes that usually are used as an appetizer or a side dish. They are also a famous Moroccan street food that everyone loves.
For making maakouda, mashed potatoes will mix with herb, flour, then be shaped like a small ball before frying. A golden fluffy potato cake with a crunchy exterior and soft interior can be served alone or in a sandwich.
As they are also simple to cook, you do not even have to spend almost 20 hours flying to African to eat these delicious cakes. Make ones for yourself at home and amaze your family.
Let's learn how to cook maakouda and how to serve them with bread. Let's see this video:
Moroccan round bread (or Khobz) is a widely-consumed bread and is usually served with salad in Morocco. So if you want to bring a whole Maroccan atmosphere to your party, try this bread and the above salad recipes that I have just presented.
Indeed, small pieces of this bread can be used as a spoon to scoop salad, tagines, or other side dishes. Therefore, they are a perfect companion with many Moroccan side dishes.
You can use all-purpose flour for the homemade recipe, but it would be better that you use bread flour. And remember to use yeast to make the dough rise.
Here is another famous bread in Morocco called flatbread. If you want to upgrade your cooking (or baking) skills a little bit, this is the right recipe for you.
It might require some techniques to make the dough which should be thin and smooth. Brush the dough with olive oil, then drizzle with Moroccan spices and top with olives before baking.
You can make the dough ahead for 2 days with proper storage. The bread can last in the freezer for up to 1 month as well. So if you want to eat them, remember to thaw the bread by reheating in the oven at 350 F degrees.
With this recipe, cooked couscous with other ingredients will be pan-fried until golden and crispy. The veggies for this couscous cake are varied, depending on your preference. Carrots, bell peppers, onion, zucchini… are all fine.
Regarding the seasoning part, a Moroccan spice called 'ras el hanout' is used to make this cake. You can buy it in the supermarket or home-made it. Ras el hanout is the combination of cinnamon bark, chiles, rose Petals, lavender, mint, and cardamom pods.
This cake is also a perfect way to use your leftover couscous. And within 20 minutes, you can have a delicious Moroccan vegetable couscous cake for a side dish, breakfast, and even a light dinner.
Other Delicious Moroccan Side Dish Recipes
With the below 4 side dish recipes in Morocco style, you can find more ideas to make quick and easy side dishes. Overall, they are super healthy and tasty, so do not miss a thing.
Let's try this roasted side dish with cauliflower with Maroccan-style spices like cumin and turmeric. Nothing is difficult to do, from preparation to the cooking part.
All you have to do is mix all the ingredients (except the cauliflower) into a bowl. Then stir the cauliflower into this mixture and bake in the oven at 400F degrees until they turn golden.
Nutrition fact: Cauliflower is rich in vitamin C, K, and antioxidants. So, not only do you have wonderful Moroccan cuisine, but you also get a nutritious side dish.
Similarly, carrot is also an excellent vegetable for Moroccan dishes. For a more delicious roasted side dish, baby carrots would be better than regular carrots. You do not even have to peel them before cooking.
However, you should pay more attention to the heat and cooking time in the oven, as baby carrots are easily overcooked. With similar Moroccan spices, these roasted carrots will have a more flavourful taste.
Serve them with sour cream with cilantro and pistachios to enhance the overall flavors. Now you have a quick and yummy side dish for your Morocco-theme party.
Want your kids to eat more veggies? Spiced carrots will solve your problems. Let's see this video:
When talking about side dishes, potatoes are the most famous ingredient that many of you use to make, even for main meals. And this one is a friendly-vegan side dish to make your meal more fulfilling.
Roast cubed potatoes with other Moroccan spices (cumin, paprika, and black pepper powder) in less than 30 minutes in the oven, and you will know they are ready when you notice the crispy edges and golden brown color.
For choosing potatoes, you can use any potato variety. Plus, with roasted potatoes, it would be much better that you keep its peel on.
I will finish this list with a delicate side dish with a Moroccan vibe. This soup is also so easy to make, so let's try it one day for your family. Your kids will love it even if they are not a fan of cauliflower.
In fact, they might not even recognize cauliflower as the main ingredient for this soup as this veggie will be processed in a blender for a smoother texture of the soup. You might want to skip a harissa paste if you cook for kids.
Overall, they are perfect for winter days. The spicy harissa and the creamy toasted almonds combined with the soup itself will warm your stomach.
Let Be Inspired With These Moroccan Side Dishes!
If you enjoy spices, Moroccan cooking recipes are great for you as they are so rich and fragrant in flavors due to the various spices they use. Plus, a party would be incomplete without side dishes. So let's make your meal delicious on so many levels with Moroccan side dishes.
So what are the Moroccan side dishes that impress you most? Please share your thoughts in the comment part. And if you love this post, please do not forget to follow and share it so you will not miss anything in your culinary adventure. I appreciate your support.
Nutrition Facts
4 servings per container
---
Amount Per ServingCalories106
% Daily Value *
Total Fat 7.6g

11

%
Sodium 590mg

25

%
Potassium 476mg

14

%
Total Carbohydrate 10.3g

4

%

Dietary Fiber 4.9g

16

%
Sugars 5.5g

Protein 2g

4

%
---
* The % Daily Value tells you how much a nutrient in a serving of food contributes to a daily diet. 2,000 calories a day is used for general nutrition advice.