The flowing Puerto Rican recipes are the harmonization of many Spanish-speaking countries like Spain or Cuba. Puerto Rico's dishes have an aesthetic flavor from using many unique local ingredients.
Most of the dishes in Puerto Rico are rich in flavor with an enchanting scent. This feature also reflects the people in this country – dynamic and hospitable. What to wait for? Let's discover the upcoming dishes!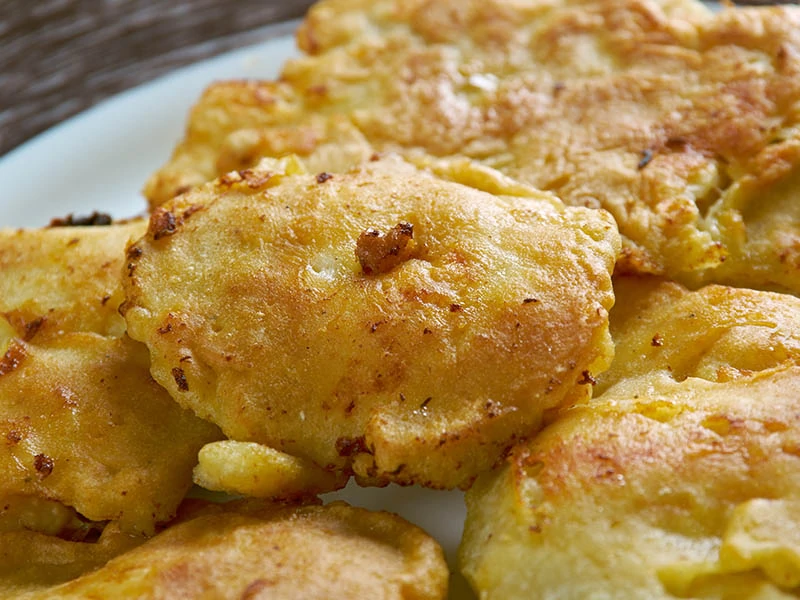 24 Jaw-Dropping Puerto Rican Recipes That Will Blow Your Mind
You don't have to wait any longer. These yummy meals from Puerto Rico will be the best choice to treat your family to a heartwarming gathering.
Let's start with one of the most famous drinks in Puerto Rico – Pina Colada. With a light sweetness from pineapple juice and the rich taste of coconut cream, the robust flavor of white rum is adjusted. Remember to decorate the drink with some maraschino cherries.
Check out this simple way to make a beautiful pina colada now.
Want to give a Puerto Rican touch to your dinner meal? This hearty pollo guisado dish is all you need. The stewed chicken meat is tender and complements the red, sweet, and spicy sauce.
If you are a fan of plantains, you have to try mofongo. The mashed plantains in the recipe give a sweet flavor and a mesmerizing texture. Garlic and olive oil provide the meal with a mouth-watering aroma that is irresistible.
Why not twist your breakfast with delightful Puerto Rican dishes? Try these sweet and cheesy quesitos; they have a rich profile with sweetened cream cheese and a crunchy exterior. Serve this meal with a cup of coffee; your morning will be full of exciting energy.
Hey! If you are seeking perfect stuffings for tacos or burritos, try this recipe. Picadillo is full of fragrant aromas from onion, garlic, and oregano. The beef is a bit salty and has a light sweet taste from bell peppers.
Let's finish your meal with this dazzling Puerto Rican sweet course! The airy and spongy cover hides a sweet and light sour guava paste inside. Just one bite and you will be amazed by the sophisticated taste of the dessert.
This sauce will be an exploding factor for your upcoming party. Cubanelle and ajíes dulce peppers will bring a hot and tasty savory experience to you. And the sauce can be done in a few minutes as you just need to mix all the ingredients in the blender.
I can't wait to make this tasty sofrito myself! Yummy!
Taking after a well-loved treat in Spain, Empanada is a stuffed and crispy dish with a half-circle shape. While the cover is so crunchy and melty, the chicken filling is rich in flavor thanks to the sofrito sauce and red peppers. Add some dried oregano to gain that charming aroma.
The toasted rice in this dish is loose and fluffy, highlighting the perfect pork and pigeon peas flavors. The tomato sauce and sofrito coat the meal with a savory sweetness and a little spiciness. You can use a banana leaf to bring a slightly aromatic scent to the dish.
How about a plate of sweet and creamy coconut pudding for dinner dessert? You can find all the ingredients at any market and make it easily at your home. Plus, sprinkling a bit of cinnamon to enhance the dish's flavor is not a bad idea.
How about spicing up your lunch with Puerto Rican dishes? This asopao de pollo bathes your hot rice into a hearty and comforting sauce. Chicken thighs and harm add a soft texture with a light sweetness to this memorable meal.
Pernil pork is a classic Puerto Rican slow-cooked pulled pork that can be used with rice or bread. The pork texture is so tender and juicy with a spicy touch of pepper and garlic; I believe that you may get enchanted by the dish's taste.
OMG! Such an authentic way to make this delicious pernil recipe.
One unique feature about the jibarito sandwich is all about the plantain buns. These mildly sweet potato-like sandwiches combined with the savory steak and other stuffing create a wonderful taste in a single bite.
This pastelon is an excellent casserole with plenty of nutritious ingredients and a flavorful taste. Therefore, the local people love to make a big casserole at a time to have it any time they want by reheating in the microwave.
Papas rellenas seem to be very popular in many Latino countries. The dish is a combination of delightful fillings, including seasoned ground beef, mashed potatoes, or bread crumbs. You can eat delicious stuffed potatoes like a snack for any time of the day.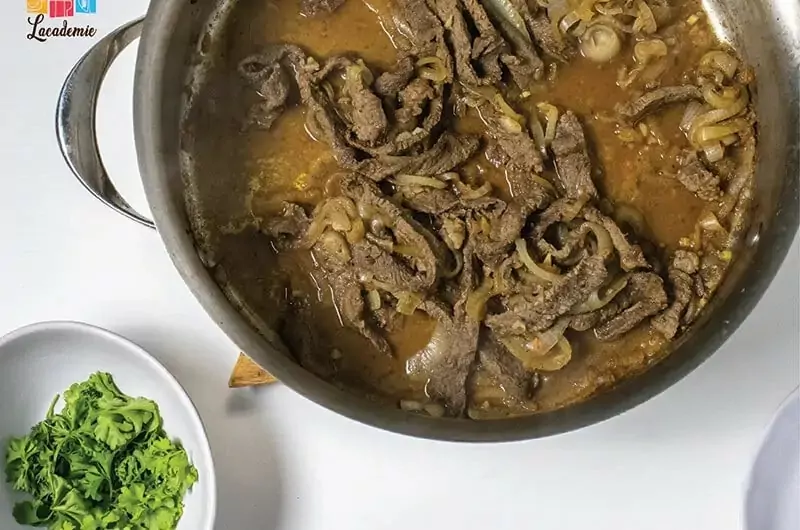 I bet that you've tried the finest Kobe beef before but trust me; this Puerto Rican recipe is also a great option. The dish tastes so savory with a gentle hint of sourness, so you should eat it with rice to balance the flavor.
And you do not need to buy Kobe beef, which is expensive, to make this treat. Instead, I use beef flank steak and it still comes out so tasty and tender.
Here comes an exciting snack that you can enjoy at any time. The dish uses ripe plantain fried until it gets an excellent crispy texture. Plus, these plantain tostones are vegan and gluten-free so that they would fit many diners' tastes.
This is another easy-peasy dish that you can make dinner for your family and friends. The pork is absolutely tender and melty after being marinated. You should add some garlic cloves and spices to enhance the dish flavor.
If you are looking for an exquisite drink, this one is made just for you. Coquito originates in Puerto Rico with a coconut juice base and a light taste of rum. Outside Puerto Rico, it's also a prevalent drink in Dominican and other Caribbean countries.
The beverage tastes delightful and creamy, which is suited for a small party when it's scorching outside.
Coquito is the best authentic Puerto Rican drink ever!
Alcapurria is a traditional street food in Puerto Rico that you can easily run into on the local street. You can make the dish effortlessly by stuffing ground beef into yautia root or taro root and frying until it turns to a golden color. The first bite is super crispy and full of flavor.
What a comfortable dish for a rainy day! You'd love to enjoy this Cuba-originated sweet treat when the weather is cold outside. The taste of the creamy rice pudding will gently enchant your heart.
This charming stew beans soup is straightforward to make, and it is very helpful with leftovers. You can easily taste its gently sweet and sour flavor, so it would be very good with some white rice.
This is a special dessert for you to give your friends and family a complete meal. You can serve the dish warm as the coconut cream is still cozy and rich in taste. The smell of some cinnamon sticks is so delightful that it makes the dish so memorable.
Allow me to introduce a delicious dish that you can serve as an appetizer or just snack on. Making a batch of these tasty codfish fritters is super easy. All you have to do is season the fish and then fry it until it gets a nice golden color.
Amazing! These bacalaitos are so yummy! You have to give them a try now.
Don't Hesitate To Try New Recipes
The best part of making new recipes is that you have a chance to experience a new cooking method. Each method reflects an aspect of the culture that will allow you to comprehend more about the country.
So, what are your favorite Puerto Rican recipes? Don't forget to support us by sharing this post and hitting the subscribe button. Goodbye and have a delightful meal!
Nutrition Facts
4 servings per container
---
Amount Per ServingCalories175
% Daily Value *
Total Fat 4.7g

8

%
Cholesterol 13mg

5

%
Sodium 347mg

15

%
Potassium 203mg

6

%
Total Carbohydrate 27.1g

10

%

Dietary Fiber 0.4g

2

%
Sugars 9.5g

Protein 5.6g

12

%
---
Calcium

148

%
Iron

1

%
Vitamin D

49

%
* The % Daily Value tells you how much a nutrient in a serving of food contributes to a daily diet. 2,000 calories a day is used for general nutrition advice.