Aperol cocktails are the most common varieties of alcohol-based mixed drinks, and there is no reason for you not to try them once in a lifetime. Those drinks are attractive in appearance (with a bright color) and luscious taste. Sounds appealing, isn't it?
If you are a cocktail lover, you might be familiar with the Aperol-based ones because their variants are famous. However, you might haven't found out the best way to create your favorite drinks in your own house. In that case, here are some recommendations for you.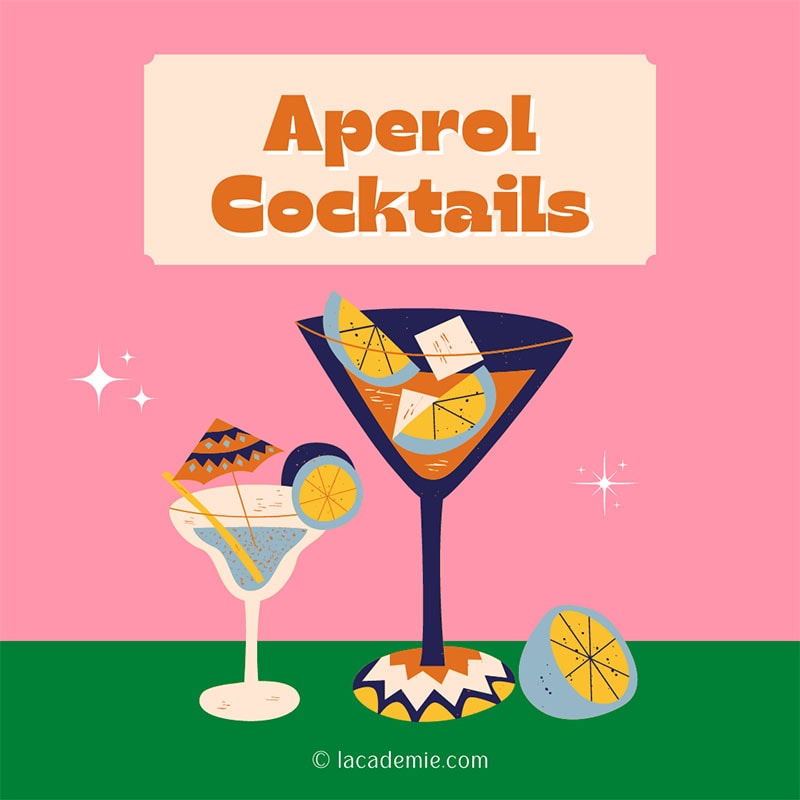 Aperol Facts And Something You Should Know Before Employing It
Aperol has its identity attached to Italian gastronomy, and it is actually a kind of bitter Italian apéritif. The main components of this mainly orange alcohol are rhubarb (a spring vegetable), gentian (a kind of flower with medicinal properties), and cinchona (a flowering plant).
To describe the flavors and general texture of this famous Italian drink, you can expect its tastes to be bitter with an orange-reminiscent scent and citrusy notes. The light sweetness is also prominent here, so Aperol is relatively easy to drink.
You might think of it as sparkling water with a deep-orange hue (which makes the cocktails below have a lovely bright color).
Spritz or aperitif cocktails are the most common varieties among various cocktails that call for Aperol. There are multiple ways to accomplish a glass of Aperol-based Spritz, so you won't need to worry about its versatility.
These Tasty Aperol-Based Cocktails Can Easily Capture Your Attention
Don't miss my recommendations right there if you think you are ready to whip up some cocktails with Aperol now. They are all effortless to make, so you won't have any difficulties while trying to make them the first time.
Total time: About 5 minutes.
To start today's Italian-inspired cocktail list, let me introduce this exquisite Aperol Cosmopolitan. To be honest, the body of this cocktail is Vodka since the ratio between the alcohol and Aperol is 4:1, so you can expect the whole drink to be a bit strong.
Once taking the first sip, the first taste that rushes to your tongue is the prominent citrus notes from lime juice and Aperol. The bitterness and mild sweetness come after and quickly satisfy your taste buds.
A tip to successfully make this drink is to put every component into the shaker and shake them strongly to make everything blend well with each other.
Even if it's not the best, this Aperol Cosmopolitan guide is surely the easiest to follow.
Total time: Approximately 5 minutes.
The ingredients for this fizzy cocktail are quite versatile. Besides the must-have Aperol and grapefruits, the Prosecco can be substituted by dry Champagne or sparkling white wine. About its taste, fruity, tropical, and citrusy are everything I can say to describe it.
The crisp and aromatic effect from Prosecco does help balance the overall flavors of your treat. For this irresistible Prosecco-centered cocktail, you just need to mix the ingredients (without shaking), so it's ideal for beginners.
Moreover, the sugar-free tonic water is better in this case as the alcohols have a lot of calories already. You don't want to enjoy a stress-free drink and still worry that it can lead to weight gain, do you?
Total time: About 5 minutes.
First, let's talk about tonic water cocktails; you can understand it as a toothsome cocktail delicacy going with a typically bitter carbonated drink. This kind of water acts perfectly as the body for various recipes since it can match with many spirits or alcohols.
Sometimes, you can sense the citrusy hints in the tonic, which is also why it can pair with Aperol here. I'm sure you'll love how the bitterness and sweetness from these components harmonize each other.
Other ingredients with your Aperol Tonic Cocktail are Prosecco and orange slices for decorating. The possible alternatives for Prosecco are also dry variants of sparkling white wine or Champagne, and you should drink it right away since it tastes best when it's fresh.
Total time: Around 2 minutes.
Aperol is renowned for its orange-like base; people love pairing it with something zesty, sour, and acidic (like citrus fruits or drinks/sodas). Based on that fact, there are grapefruit bitters and lemon juice in the recipe to improve the prevalent tartness of your drink.
Gin, with a signature pine needles-reminiscent flavor and robust aroma, is a wonderful addition to your Aperol. The ingredient lends a slight bitterness to this Gin-utilizing cocktail.
To concoct the drink, you must adequately shake all Aperol Sour's components (egg white, lemon juice, alcohols, and syrup for additional sweetness). The beautiful bubbles on top of your cocktail glass are from the well-shaken egg white. How lovely!
Not one but two ways to assemble a perfect Aperol Sour? Surely attractive!
Total time: About 5 minutes.
The following recipe is an authentic American cocktail featuring the combination of Gin, blood orange, and lime juice on the side of Aperol. I love using the high-quality brand of Gin because they often encase layers of herbs/spices like coriander and cardamom.
Shake the mixture well, and I guarantee this cocktail is served best for Easter or other special occasions of your family. The aromatic orange zest immediately provides an exquisite effect when the liquid gently touches your tip tongue.
Total time: Around 5 minutes.
As its name tells, this cocktail calls for Bourbon, and this particular alcohol lends a pronounced vanilla-y and sweeter flavors with some notes of caramel. These features are critical to making this alcohol a great match for the bitter Aperol.
However, this drink cannot lack a brightening effect from lemon juice, so you should never neglect this part. Excitingly, this cocktail is a perfect idea for dinner or gathering parties, thanks to its versatility.
It takes you only a few steps of mixing so all of your guests can enjoy your DIY treat in a snap. Moreover, this drink can last in your fridge for up to 3 months. Wonderful!
Total time: About 2 minutes.
If you find some resemblance between this recipe and the previous Bourbon Aperol cocktail, this special Paper Plane requires a herbal, bitter-sweet liqueur called Amaro. Its name means "bitter" in the Italian language, and that's reasonably its dominant flavor.
The ratio between the 4 components of this delight is 1:1:1:1, which is pretty awesome for an incredibly balanced sweet, tart, creamy and bitter cocktail. This America-originated drink might not be as famous as some other recipes on this list, but I'm sure it's no less tasty.
This is another method to create a glass of Paper Plane cocktail for you.
Total time: About 5 minutes.
Another take on the concept of the Aperol-Bourbon mixed cocktail is this favorable Fizz. Just as any other Fizz cocktail, this delight delivers a generally intense sourness through the use of carbonated water. To be more precise, club soda is the best option here.
In comparison to the preceding recipes, which also include Bourbon and Aperol, this one may be a little easier to make. Aside from the two specified alcohols, you won't need anything else, and the rest is just syrup. After all, most people prefer a touch of sweetness in their drinks.
Total time: Approximately 5 minutes.
The next sweet cocktail for a beginner is this luscious Descanso Beach Smash. I describe it that way because it also consists of a moderate amount of syrup. This effortless mixed beverage also calls for Rye Whiskey, lemon, and orange wedges.
The Aperol bite is evident, and the presence of Rye Whiskey merely contributes a layer of peppery and spicy aftertaste. As a result, sipping is the finest way to experience this tasty Whiskey cocktail. Make sure the Whiskey flavors aren't overpowering.
Total time: About 5 minutes.
Be confident in making this drink, as it can hardly go wrong. Looking at the illustration, you can immediately fall in love with this beloved pinkish-hued cocktail, and that feature comes from the grapefruit juice.
More importantly, the secret to this recipe's smoothness lies in the use of St-Germain, a unique, light elderflower liqueur with its renowned floral, fruity, and citrusy oomph.
To accomplish a glass of this pink yet manly treat, add the Vodka, St-Germain, and Aperol with some grapefruit juice into the shaker and shake the whole thing vigorously. Never forget to add some ice to your glass before tossing off this drink.
Total time: About 5 minutes.
Once mentioning Negroni, it might remind you of a famous Campari cocktail originating from Italy. Yet, sometimes, the alcohol is a bit too bitter, so you can consider this recipe that utilizes Aperol instead.
Aperol also has a distinctive bitterness, which is much lighter than Campari. Its color is orange and milder than the dark red hue from the herbaceous Campari. Overall, you should notice these things to distinguish the two cocktail ingredients.
On the other hand, this incredible cocktail adopts Vermouth (both dry and sweet, for easier delivery to the drink) and Gin. One good thing about this treat is you can make it beforehand and store it in the cooler compartment for another time.
Wonder how Italian make their Aperol Negroni? Here is my suggestion!
Total time: About 5 minutes.
"Spicy" is the best adjective to describe this El Chipilo or Tequila-mixed cocktail. Compared to the other Tequila variants, Reposado Tequila (or "rested" Tequila) is somehow milder with signature caramel/vanilla tastes and juicy sweetness.
Therefore, when pairing Reposado Tequila with the typically bitter, citrusy Aperol and the cinnamon-like Angostura Bitters, they can neutralize each other. Syrup and Tabasco sauce are the other ingredients you might need to prepare for the best glass of this drink.
As you might know, the bitters, with about 44,7% ABV, are not recommended to serve alone; yet, it acts well as a flavoring condiment for a cocktail like this El Chipilo Cocktail. To be honest, if you are not a fan of Tabasco sauce in drinks, simply omit it.
Total time: About 8 hours 5 minutes (including 8 hours of making chili-infused Aperol).
Next, this spicy Aperol Paloma cocktail is irresistibly palatable, yet, its characteristic of spiciness might make you hesitate for a while. If it's the case, I ensure that you won't be disappointed deciding to give this beautiful and tasty drink a try.
This recipe is different from the original Mexican cocktail version of Paloma, which includes only Tequila and grapefruit soda like Squirt or Fresca. I love using Fresca here, but I want to make the grapefruit scents more pronounced by adding the fruit juice.
In this twisted or developed variant, you need to flavor your Aperol with Thai chilies for 8 hours before making it. The 8 hours long is necessary since the shorter time of soaking or brewing is not enough to let the alcohol capture all the goodness in the chilies.
Total time: About 5 minutes.
Move to the legend, Aperol Spritz. This delicacy is one of the most popular summer cocktails that many people might think of when having a pool or beach party. Or else, drinking or nibbling a cup of the drink before mealtime is great as well.
In this simplest variation of Aperol Spritz, you just need to incorporate fresh orange juice, Aperol, Prosecco, and a splash of soda water. The perfect ratio between Prosecco and Aperol is 2:1, so that the dryness of the Italian sparkling wine (Prosecco) is more pronounced.
You can replace the orange juice with grapefruit or lime juice without worrying that they might affect your drink's quality. Serve Aperol Spritz with any snack or dessert; this cocktail is surely versatile.
I promise you will regret neglecting this Aperol Spritz guide!
Total time: About 5 minutes.
The next suggested take on the traditional Aperol Spritz is to infuse this cocktail with cranberries. It would be best to serve this drink very chilled, so add as much ice as you can into your glass.
Nothing can go wrong when combining cranberries with orange-flavored alcohol, and you will need to utilize both fresh, whole cranberries (for garnishing) and their juice.
Since Cranberry Orange Aperol Spritz is a stirred cocktail, not the shaken one, it shouldn't be too challenging to make.
Total time: About 2 days, 2 hours, and 15 minutes (including the time to make the flavored syrup).
About Punch, this term does not refer to only alcoholic drinks but also non-alcoholic ones. Its mocktail variants are exquisite, but today, I will suggest you a way to make a Punch cocktail with Aperol.
The other components are Gin, grapefruit/lemon juice, sparkling wine, and a special syrup. Unlike the previous recipes, this Ratterwick Punch requires various steps, but good things take time, and you should never neglect it.
The most time-consuming steps while preparing this cocktail are flavoring the syrup with Aperol and Gin (which lasts about 2 days). This sweet mixture can last in the fridge for 2 weeks, so feel free to store the leftovers for future use. Roll up your sleeves and make some now!
Total time: From 4 or 6 hours 5 minutes to more than 2 days (including the time to prepare the ice cubes).
What do you know about frozen mixed alcoholic drinks? In case you have no idea about what this genre of the drink is about, this frozen Aperol Spritz is for you. The frozen ingredients here are the mixture of Aperol, orange juice, and strawberries.
The secret to perfecting this recipe is to let the frozen components have at least 4 hours or a maximum of 2 days beforehand (to prevent the ice cubes from trapping any freezer odor). After that, toss everything into the blender, and the machine will do the rest for you.
When tasting, the rejuvenating sweet-tart tastes from the berries lift the deliciousness of the delight to another level. Just like the other Aperol-based cocktails on the list, this frozen Aperol Spritz has a bright orange-ish hue that reminds people of tropical-themed parties.
Total time: Around 2 or 3 minutes.
Mezcal, a part of this drink, is a relative of Tequila in that it is likewise the distilled spirit of agave plants. This particular spirit typically offers a dominant smokiness. Philip Ward, who is believed to be the father of this cocktail, named it after an album by the rock band Pink Floyed.
On the other hand, clear Maraschino Liqueur is derived from sour marasca cherries and imparts dryness and bitterness to your cocktail.
Notably, the grapefruit infusion is a must, yet, you don't leave the whole slice of the fruit into your tasty Mezcal cocktail. Remember to squeeze out a light layer of grapefruit on the drink's surface only. This classic yet modern Division Bell has a tempting appearance and attractive flavors.
Don't worry because this guidance to whip up Division Bell is absolutely beginner-friendly!
Total time: Around 5 minutes (more or less).
How about incorporating beer into your Aperol Spritz? The beer bases for this cocktail are the Blonde Ale (with light-bodied, slightly malty, and biscuity flavors) or regular wheat beer for bright and lemony notes.
This part can replace the traditional use of Prosecco, and your drink is still toothsome in a distinctive way. When forming the drink, simply toss all the components into a pilsner glass filled with ice and drizzle some beer in the end.
Total time: About 3 minutes.
To make your guests or family members wow with unique Aperol Spritz, you should try this hybrid of Paloma and Spritz. It might sound fussy, but it's actually not. The whole thing you have to do is put Tequila into the essential combination of Aperol, Prosecco, and lime juice.
I suggest going with the Blanco Tequila since it has a lovely pepper, citrus punch, and agave overtones. There may not be much to talk about Paloma Aperol Spritz, but one thing is certain: you can expect nothing less than the best here.
Total time: About 5 minutes.
Does the bitterness from Aperol go well with peach and form an exquisite peach-flavored cocktail? Yes! Not a treat with lime or orange juice garnishing anymore, now this Bitter Peach Bellini includes peach puree and fresh peach slices for decoration.
However, in case you might feel a bit worried when mixing your drink with the new fruits, don't hesitate too much since Aperol still goes nicely with its best friend: chilled, dry Prosecco.
To provide the cocktail with a smoother consistency, stir Aperol well with peach puree before drizzling the sparkling wine (Prosecco) in. Otherwise, you can lend a personal touch to the drink by creating your own peach puree rather than employing the store-bought ones.
Total time: Approximately 5 minutes.
No matter whether the weather is hot or windy, both are great occasions to enjoy a glass of this bubbly Summer Manhattan cocktail. After some stirring and garnishing, your flavorful cocktail is complete in no time.
Angostura Bitters, with its spiciness and clove-cinnamon scents, and Sweet Vermouth, with an additional sweetness and bitterness undertones, are the companions beside Aperol.
In the worst case that you cannot find or are out of Aperol, substituting it with Campari is the most pleasing way to save your delight. Don't forget to top your cocktail glass with a maraschino cherry (sweetened cherry) for decorating. Munching the fruit is pretty funny.
Concoct Some Aperol Cocktails And Have A Good Drink!
Is there any other thing you want to know about these Aperol-based cocktails, or do you have other recipes to share with me? I'm willing to know your thoughts about today's delicate cocktails so that you and I can all enjoy a great treat together.
If you see my recommendations today are easy to follow and can also benefit your loved ones, don't hesitate to share my article with them. Your approval is excellent support for my future work. Thanks in advance.
Nutrition Facts
1 servings per container
---
Amount Per ServingCalories191
% Daily Value *
Sodium 346mg

15

%
Total Carbohydrate 24.3g

9

%
---
* The % Daily Value tells you how much a nutrient in a serving of food contributes to a daily diet. 2,000 calories a day is used for general nutrition advice.